Weekly Mailing - Friday 5 Ocotober 2018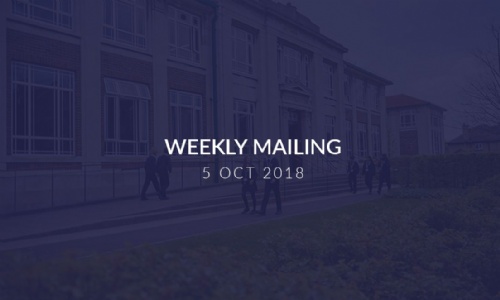 Dear Parents / Carers

Please find below my usual updates on events that have taken place this week, information, letters etc.

Best wishes for the weekend,

Ms Jo Butler
Headteacher
Important Information for Parents/Carers
Safeguarding your children: Changes of parents/carers address, phone numbers or email address
Please let the school know as soon as possible if you have a change of address, or if your contact telephone numbers or email addresses change.
You can:
Email the school using info@cotham.bristol.sch.uk, or Contact your Learning Coordinator for your student's year group, or Write us a message with all the details for your child to bring in, or Send us an email using the Enquiry Form on the Contact Us page of our school website (www.cotham.bristol.sch.uk).
If possible, please could you ensure that the school holds at least two emergency contacts and telephone numbers. We rely on these numbers to contact you in an emergency.
Many thanks
Data Team
Road Safety
Please read this important letter from our Safer Schools Officer, PC Lucy, regarding road safety and a recent incident involving one of our students.
GWR Student Rail Ticketing Scheme
We are very pleased to announce that the Severnside Community Rail Partnership have confirmed that they continuing the Student Rail Ticketing Scheme. This partnership offers our students and families a huge saving on rail travel to and from the school on the Severnside Community Rail. An annual ticket costs £40.00 or families can buy their ticket in instalments. All the details are contained in the letter and application form here.
Reception
Please be advised that we have two receptions at Cotham; one being a Visitor Reception on Cotham Lawn Road and the other being a Student Reception on Cotham Road.
We would like to remind parents and carers that the Student Reception is for both students and parents / carers and the Visitor reception is for visitors who have appointments to visit the school. If you need to come to Cotham school then please make sure that you visit the Student Reception.
Homework Guidelines
Homework is an essential part of students' learning and progress. It provides valuable opportunities for independent work, extension of learning and deliberate practice and consolidation of in class learning.

Please click here to view the Cotham School Homework Guidelines for 2018-19.

The school has a range of free and paid services that can support learners through home and independent learning. All are accessible through the intranet or school website or via the quick links section below, and can be used at home by students on home PCs. Some even support mobile devices or have companion apps that students can download.
School Uniform Shop
Harris's will be in School at the Main Reception (Cotham Lawn Road) on the following dates:

Thursday 25 October from 2.30pm - 4.00pm
Thursday 8 November from 2.30pm – 4.00pm
School uniforms can also be ordered by ringing Harris's on the following contact number 01275 87435. If you do decide to place an order over the phone then orders will be delivered to school for collection. Alternatively, you can visit Famous Brands on 186-190 Henleaze Road, BS9 4NE.
Families in Focus North
In conjunction with Families in Focus North please see our website for their latest bulletin which provides a plethora of information regarding forthcoming goings on in the North area of Bristol.
Design the school Christmas card competition 2018
This competition is open to all year groups to design the school Christmas card. This is a House Competition with the winner receiving a £20 Amazon voucher and £10 for the runner up.The winning design will be used for the school Christmas card. House points will also be awarded for runners up. Hand in your entries to the Visual Arts Office by the deadline of Friday 9 November 2018. For more information click here
Advance Notice of Early School Closures - 2018/2019
Please be advised that the school will close early and students dismissed at 12:00 on the following dates:
Thursday 20 December 2018 (Last day of Term 2)
Tuesday 23 July 2019 (Last day of Term 6)
Word of the week
Each week at Cotham we promote a Word of the Week. This is to help students expand the range of vocabulary they use. Please find the word for the week ahead by clicking here.
KS3 News
Year 7 Activities Week
You will have recently received an email regarding the Year 7 Activities week which takes place in Term 6 2019. We are currently experiencing some technical difficulties uploading the payment schedule for this event to Wisepay. We will email Year 7 parents to advise again once the problem has been resolved, at which point you will be able to log and pay the first installment to secure a place for your child.
Planet Money Podcast
Amy Howe, one of our Year 9 students, sent a question to a very popular economics podcast - and they made a whole episode about it!
It's NPR's Planet Money, which has been around for 10 years and is in the top 10 podcasts - with millions of listeners. They're brilliant American radio producers who explain complicated things in simple and entertaining ways.

Amy had a question about printing money for public services which we couldn't answer, so she recorded it & sent it to them.

They made an episode about it, starting with Amy's question, explaining the way the whole economy works, getting the views of some top economists on Amy's idea, and interviewed Amy at the end.

It's a brilliant question, which challenges what you think you know about money and taxes, government spending... everything. One of those questions that crosses your mind and you can't properly answer so you dismiss it. It takes someone like Amy to ask it to someone who can give a proper answer. An answer that could change the way the whole economy works.

It's 23 minutes long - you can listen to it here.
KS3 Information Evening
Thank you to those that attended the KS3 Information evening. Please find attached here the slides that were shared with parents/carers on the night.

We will offer a further session for those unable to attend in Term 3 with more notice.
KS4 News
Year 11
Bristol Post-16 Directory 2019
The Bristol Post-16 Directory lists subjects and courses on offer at all of Bristol's sixth-forms, colleges and training providers for Sept. 2019 entry, is available here.
It also lists Post-16 Open Evenings that are being held this Autumn:
South Glos. & Stroud College (All campuses): Saturday 6 October, 10.00am-1.00pm
City of Bristol College (All sites): Saturday 13 October, 10.00am-1.00pm
St Brendan's 6th Form College: Saturday 13 October, 10.00am-2.30pm
North Bristol Post-16 Centre (Cotham Site): Thursday 18 October, 6.30-9.00pm
North Bristol Post-16 Centre (Redland Green Site): Thursday 25 October, 6.30-9.00pm
Bristol Technology & Engineering Academy: Thursday 18 October, 6.00pm (please book online)
Access Creative College: Tuesday 30 October, 3.00pm, 4.30pm, 6.00pm (please book online)
There is also a useful careers section on the Cotham School website which has links to the world of work, University, apprenticeships alongside many other post-16 choices.
Year 11 Parents Information Evening
We have a Parent Information session on Thursday 8 November for Year 11 only.

The session is intended to give parents advice on how to support their child with revision in English, Maths, Science, Geography, History and MFL in preparation for mock exams and summer exams. Staff will be on hand during the evening to answer questions.

The session will run from 5.30 to 6.30. Parents should arrive and enter the Main Reception on Cotham Lawn Road. Directions to the main hall will be visible on the day.

Please click here to register your attendance to enable us to gauge numbers in advance.
Post-16 News
Money Week From Monday 8 October to Friday 12 October there will be many opportunities for students to learn about student finance and employment opportunities.
UK Apprenticeship and University Search Fair You will have received a letter via email inviting students to attend on the UK Apprenticeship and University Search Fair on Thursday 11 October. Students need to download their individual ticket by following the link on the letter. Please ensure that you have secured your son/daughter's place by paying on Wisepay and submitting the consent form to Charnwood House reception.
Bursary Applications Bursary application forms need to be handed in to Ms Kaur in G202. The bursary packs can be collected from Charnwood Reception.
Open Evenings NBP16 Open Evenings are on 18 and 28 October .We would be so grateful to have as many students to be Student Ambassadors for these evenings as possible - please encourage your son/daughter to see Mrs Kempt to sign up.
Year 12 Students who would like to move their School Based Study (SBS) must see their form tutor in the first instance.
Year 13 UCAS Please ensure that your son/daughter is using Unifrog to write their personal statement and remind them to email their form tutor to ask them to look at it. The deadline for Oxbridge and Medics/Dentistry is 15 October but students must have paid and sent by 10 October to allow enough time for their references to be uploaded. If you have any questions then please email Corinne Kempt on: kemptc@cotham.bristol.sch.uk
Year 13 Assembly A reminder that all students must attend assembly in G001 on Wednesday Week B
House News
Delta Download
Our House Captain Istahil began the first House Assembly of the year by welcoming our returning Delta students and by extending a particularly warm welcome to students in 7DS and 7RBI as they attended their first Delta House assembly. Istahil outlined who the prefects are for 2018-19 (Harry Roberts, Siobhan Burton and Falah Abdullah) and went on to share what our House Priorities are for the forthcoming year, which are outlined below.

In Delta House everyone will:
Demonstrate our house values consistently (be kind, be diligent and be your best)
Have an opportunity to make a contribution towards revamping our whole school rewards system
Play their part in fundraising for our house charity
Delta House Reps 2018-19
Congratulations to our newly appointed Year 7 House Reps, Samira Marsal and Barney Davies in 7DS and Theo Bradwell and Nadra Jama in 7RBI. They will join the following students in being the voice of Delta students for this year.

Year 8: Abdi Fodey, Sumaya Sharif, Jess Lucas and Emma Chandler
Year 9: Wilf Davies, Brianna Petgrave, Jaheim Atkins and Amina Birdi
Year 10: Walter Penny, Muna Abdi, Finn Davies and Kashygha Wray
Year 11: Archie Rose, Emile Eden Beaver, Harry Roberts and Istahil Abdi

The work that began in term 6 around our whole school rewards system has been continued in our initial house meetings, with students devising a Google Form that will be shared with and completed by all students so that every student across the school has an opportunity for their voice to be heard.
Latest House Event: The Delta Dunk!
On Thursday 25 October, the following members of staff have agreed to take part in the halloween themed 'Delta Dunk' challenge! All in aid of our house charity, Off The Record. However, before these lovely people get dunked, there is some serious fundraising to do! Delta House Reps will be leading the way in trying to raise as much money as we can so we can dunk as many members of staff as we can! Miss Allender, Mr Morton, Mrs Goddard Jones, Mr Cawse, Mr Slane, Miss McDonagh, Mr Lawrence and Mr Emery have all agreed to be dunked and we're fairly certain that there will be some other 'big names' being announced shortly.
Delta Dazzler for September 2018
This student has made a magnificent start to his time here at Cotham, already being known for demonstrating the Delta House values and securing a whopping 46 house points! Louie Chittenden you have made the Delta House squad incredibly proud of you! Well done and keep up the truly awesome effort.
We are looking forward to the upcoming year and with the fantastic team of prefects, Delta House are determined to make a positive difference to our school community.
Welcome from Gamma
A warm welcome back to Cotham school from Gamma House, with upcoming events and an update celebrating their successes can be found here.
Omega Update
Mr Nunn would first of all like to congratulate all members of Omega for a continued fantastic start to the term, in particular to our year 11 students who have come back with an outstanding work ethic in the GCSE year. Recently we had an assembly focusing on Cotham manners and celebrating the concept of respecting others around school. We had three awards to give to students for different elements of respect and would like to congratulate the following students:

Engagement Award: Shawanica Ramsey
Considerate Award: Hafza Daauud
Tenacious Award: Adam Roe

A special mention goes to our Omega Legend for this term: Fabio Campus.
We now have a nominations box at the student reception. This is for students to nominate their friends for an award that they may not have been recognised for. Mr Nunn wants to know the amazing things that students have done either inside or outside of school that the whole house should be proud of.

Keep respecting yourself and others.
Sigma News
Wow what an amazing tutor group 7EH are! They have all shown an act of kindness to a fellow tutee.
Polly Utley Scott designed and made a fabulous card and the whole tutor group signed it and put a kind message in it for a fellow student who was feeling sad and nervous about being new at Cotham School. We are so proud to have 7EH in Sigma. You can see the card here.
Sigma Cake Sale
Thank you to everyone who supported us and bought our cakes. We raised an amazing £145 for our house charity The Rainbow Centre for Children. Thank you to the Prefects: Abir, Paramjeet, Louis and Aineias who worked hard planning and organising the event. Special thanks to Louis Hawkins, Aineias Arango, Luke Velarde all 11MAH and Polly Utley Scott 7EH who stayed after school Thursday and baked the cakes and brownies.
Subject Area News
PE/Sports Update
Jewellery
Just a reminder for all parents/carers that all students need to remove all jewellery in their PE lessons.
Cross Country
Students in years 7 to 11 who wish to compete and represent Cotham at the Bristol Schools Cross Country Competition need to sign up at the PE office by Friday 12 October.

Please click here to view all of our recent results and the upcoming fixtures for the week ahead.
Please click here for a list of all of the PE/Sports Extra-Curricular activities available to students in Term 1
Follow @CothamPE on Twitter for all the latest news and updates from the Cotham School PE department
Visual Arts
Year 7 students have been developing their direct observation skills in art lessons recently. The following students: Parish Singh, Catalina George-Morales and Anne-Marie Feather have created some lovely designs of shoes which can be seen in an online gallery here.
Performing Arts
This term year 7 are looking at the language of drama and learning about the key skills in creating a piece of theatre.
Congratulations to Imogen in 7RBI for an inspired piece of Drama homework, which is has become the Performing Arts Work of the Week. Please have a look the Work of the Work here
Mental Health and Well Being
Yoga Tribe for Teens
Friday lunchtimes in the main hall with Ms Gallien
Tuesdays after school in the main hall with Ms Gallien
Eating Disorders
This week we are sharing some advice on the issues of eating disorders; how to spot the first signs and where to access help.
This poster by Beat is a useful guide on identifying early signs of a potential eating disorder.
Some useful sites to find out more information about accessing support are:

https://cchp.nhs.uk/cchp/explore-cchp/child-family-consultation-services-camhs/family-therapists
https://bristolmind.org.uk/support_type/eating-disorders/
http://www.inourhands.com/contact/

Further information and support on the topic can be accessed in the following book: Anorexia and other eating disorders: how to help your child eat well and live well by Eva Musby
World Mental Health Day
Cotham School is going #helloyellow in support of #worldmentalhealthday on Wednesday 10 October 2018. We are fundraising for the charity #YoungMindsUK on the day itself, and students can show their support by buying a yellow ribbon for 20p in the Hub at break and lunchtime. Assemblies during week and following week will also be promoting positive mental health.
Community News
Friends of Alalay
Friends of Alalay is a charity run by Annie Syrett, a student who used to attend Cotham School. Annie has recently returned to the UK after spending some time working in Ukraine.

In the Autumn 2018 Newsletter, a little background is provided about two girls who have moved on to vocational training. You can read the Autumn edition here.
Bristol Transport Strategy
The Bristol Transport Strategy Consultation is now live. Please have your say by using this link:
http://www.bristol.gov.uk/transportstrategy
Bristol University Short Courses
Bristol University is offering two new courses, specifically aimed at adults without conventional qualifications who want to return to study.
One of them is called Changing Education, and is specifically aimed at those wanting to work in education who may not currently hold a degree:
http://www.bristol.ac.uk/education/study/changingeducation-a-pathway-to-further-study/
The other is called Understanding Society, which is offered by the School for Policy Studies:
http://www.bristol.ac.uk/sps/study/part-time
Both courses are offered:
1 night per week
Over 14 weeks
With no prior qualifications required
For a fee of £350 with bursaries of up to £250
To lead on to a Foundation Year or degree
Please contact sally.jaeckle@bristol.gov.uk or Tom.Sperlinger@bristol.ac.uk if you need more information.
Exchange Bordeaux Bristol
If your child is interested in learning new languages and having adventures and you want them to enjoy an outstanding experience, then the French exchange could be just the thing. Your child will get the opportunity to go to visit France and stay with a French student and their family, and you will get the change to host a French student.
Students aged 14 to 18 from Bristol and the surrounding areas can apply to the programme and are welcome to take part in the exchange.
Students are paired according to their age, family, hobbies and character.
In 2019, the exchange will take place at Easter from Wednesday 10 to Wednesday 24 April and from Wednesday 17 to Wednesday 31 July in Summer for the second leg. The price this year will be EUR550 to cover flights, insurance and administrative costs.
You can visit the Association Bordeaux website under section "Exchanges" for more information.You can also contact contact@bordeaux-bristol.fr or Nell Dand, who is the coordinator at Bristol at dandrichards7@gmail.com.
Fore more information please click here. Applications can be made until 16 November 2018.
Inspiring women and girls in STEM – celebrating Ada Lovelace Day
In celebration of Ada Lovelace Day, the woman who is widely regarded as the first ever computer
programmer, Engine Shed and SETsquared bring together a panel of women in STEM to talk about
their tech careers, which have developed into something much more entrepreneurial.

The event will be a place for girls in STEM education and women in tech to inspire, be inspired,
network and celebrate the original coder, Ada Lovelace.

The panel will be chaired by Marina Traversari, Programme Manager of the Oracle Startup Cloud
Accelerator. The panel will include:

Diane Douglas, Chief Executive Officer and Founder, Vigiles Group
Laura LaFave, Chief Executive Officer, OnCorps
Zara Nanu, Chief Executive Officer and Founder, Gapsquare.

The event will be carried as follows:
Date: Tuesday 9 October
Time: 16.00pm – 18.00pm
Venue: Engine Shed

Find out more and register for free by clicking here
SENDaWelcome
SENDaWelcome are a charity who support children with Special Educational Needs aged 11- 16 years old. They are running 6 music workshops across October and November. For more information and to book a place please click here.
Young Bristol
Young Bristol work in partnership with a range of community based youth groups to ensure that all young people have access to opportunities and experiences so they can realise their capabilities and needs. Find out what the Summer held in store for Young Bristol and what they will get up to in the Autumn by clicking here.
Black Boys Can
Black Boys Can run a Saturday school for children age 10-16. The sessions run from 10-1pm during term times and the school is at Tudor Rd Easton Bristol. Please see the attached flyer for more information
Bristol Giving Day
Bristol Giving Day is happening on 10 October. There was a launch event supported by the Mayor last week and we encourage our students to support the cause. Please see here and here for further information.
Useful quick links
Keep us posted
It would be great if parents/carers could let the school know of any student achievements outside of school please. It is sometimes only at parents' evenings that we find out what students are doing in their own time. Email us: weeklymailing@cotham.bristol.sch.uk
Key Dates
Please click here to view the Key Dates by year group for the 2018-19 academic year. You will be notified of any significant changes/additions, but please can we ask that you check the dates for your year group regularly as they are subject to change.
Parents' Evening Booking System (PES)
Please click here to access the online appointment booking system for Parents Evenings/Family Consultation Day. Please note this is only available if an event is due. We will email you to let you know when booking opens. If you encounter any difficulties with booking your appointments please contact the admin team by email to adminoffice@cotham.bristol.sch.uk or tel: 0117 919 8000
Assessment Calendars for KS3
We are in the process of compiling the Assessment Calendars for 2018/19 and will publish them via the Weekly Mailing and School Website as soon as possible. In the meantime, if you have any questions please email info@cotham.bristol.sch.uk
Homework and Independent Learning timetables
WisePay
WisePay is the Online Payment Service at Cotham School which allows you to pay for trips and visits as well as to add credit to your child's Cashless Catering account. Click here to access your account now. If you have any queries about your account please contact the support team by email to wisepay@cotham.bristol.sch.uk
School Uniform
Please click here to view the compulsory uniform requirements of Cotham School, along with visual examples of uniform and details of our uniform suppliers.
GCSEpod
Click here to access GCSEpod which contains lots of revision resources for most GCSEs. Students self register through the website using their name and school details.
SAM Learning
Click here to access SAM learning which contains revision exercises and self marking quizzes with automatic progress tracking and reporting. Please use the Centre ID: BS6CS. Student usernames and passwords are their birthday formatted as DDMMYY, followed by their Initials.
Diagnostic Questions
Click here to access. This site contains self marking quizzes with lots of templates including some from a range of exam boards. It's easy to make your own questions in Microsoft PowerPoint too. Students sign up with their school Google account using the G+ button to automatically create a school account
Edmodo
Edmodo is an application that can be used on both mobile devices and in the web environment to create an online community of practice. Edmodo is a free social learning platform that allows students to access the course content uploaded by their teachers.
https://www.edmodo.com
Linguascope
The Language Learning Platform
https://www.linguascope.com
Free School Meals
https://www.cloudforedu.org.uk/ofsm/sims to check if your child is eligible for Free School Meals or to apply.
Click here to Contact Us