Weekly Mailing - Friday 9 November 2018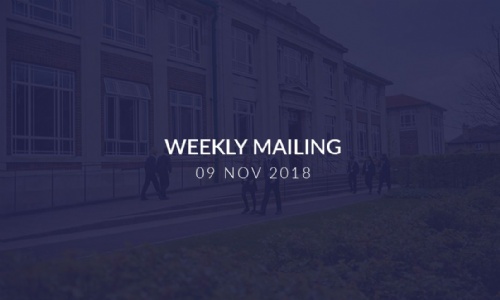 Dear Parents / Carers
Please find below my usual updates on events that have taken place this week, information, letters etc.
Best wishes for the weekend.
Ms Jo Butler
Headteacher
---
Congratulations
---
Swimming Achievement
Congratulations to Reuben West who competed in a Regional Swimming Champs Gala last weekend at Millfield School. He pre qualified in three events, achieved three personal best times in these events and also managed to qualify for the Winter National Championships in Sheffield in December! A fantastic achievement and we wish him well in the next stage which takes place on the weekend of 15 December.
Dance Silver Medal
Congratulations to Tyreece Greenaway 8JBR who took part in a national dance competition at the weekend called the UK Dance Challenge.
Tyreece dances with Hype Juniors in the 12 years and under age group. They came away with a silver medal and a trophy for their dance! Tyreece also secured 4th place with his partner for their 'duo routine'. Well done Tyreece!
---
Important Information for Parents/Carers
---
Parent Governor Elections
We are running Parent Governor Elections this term as there are 3 vacancies on the Governing Body. Letters and nomination forms will be emailed to parent/carers in due course. Deadline for nominations is Friday 23 November 2018.
Online Safety Newsletter: November 2018
Click here to view November's Newsletter.
Reception
Please be advised that we have two receptions at Cotham; one being a Visitor Reception on Cotham Lawn Road and the other being a Student Reception on Cotham Road.
We would like to remind parents and carers that the Student Reception is for both students and parents / carers and the Visitor reception is for visitors who have appointments to visit the school.
Opening Times
Opening times for the receptions are as follows:
Main Reception: 8.00am to 4.00pm - Monday to Thursday and 8.00am to 3.30pm on Friday.
Student Reception: 8.30am to 3.30pm - Monday to Thursday and 8.30am to 3.00pm on Friday.
Contact Details
Please note the following contact numbers and email addresses if you need to contact the school:
Main Reception - 0117 919 8000/ reception@cotham.bristol.sch.uk
Student Reception - 0117 919 8013 / studentreception@cotham.bristol.sch.uk
Absence - 0117 919 8019/ absence@cotham.bristol.sch.uk
NBP16C - 0117 919 8100/ post16@cotham.bristol.sch.uk
Finance - 0117 919 8016/ finance@cotham.bristol.sch.uk
Exams - 0117 919 8024/ examsassistant@cotham.bristol.sch.uk
Admin Office - 01179198053/ adminoffice@cotham.bristol.sch.uk
Visitors to Charnwood House
Please note that all visitors to school, including visitors to Charnwood House, must sign in at the Main Visitor Reception at the Main School before going to Charnwood. This is to make sure that we are fully GDPR compliant. Visitors to be asked to log in through our InVentry system and issued with an ID pass before proceeding to Charnwood house.
Uniform
Please can we remind students about acceptable winter attire now that we are into the winter period
Coats: Plain coats without intrusive logos or brands. No denim jackets. No leather jackets. No fur coats. Coats are only worn outdoors on top of a navy sweatshirt/jumper and not in place of a navy sweatshirt/jumper
Headwear: No caps under any circumstances. Hoods on jackets must not be up so that the face can be clearly seen at all times. Plain woollen hats only worn during winter period, outside (not in school buildings). Headscarves worn for religious or cultural reasons should be plain navy blue, black or white and must not cover the face.
Uniform Sales
Uniform can be purchased from Harris Sports and Famous Branches at any time.
Harris's (School Uniform Suppliers) will be in School, in the Meeting Room, Main Reception on Thursday 10 January 2019 2.30 - 4.00pm.
Our next second hand Uniform Sale will be held in the Meeting Room, Main Reception on Friday 11 January 2019 2.30 - 3.30pm.
Oxbridge Interviews- we need your help!
Are you available to give our Oxbridge applicants a good interview experience?
We are running a joint Oxbridge Interview session at St Mary Redcliffe and Temple 6th Form Centre on Thursday 29 November from 4.00pm to 7.00pm. If you can only manage part of the time then that is fine. Interview slots will be 45 minutes long to allow for a good interview experience followed by some debrief. You will be provided in advance with the student's personal statement. The information you provide about yourself in this questionnaire will be provided to your interviewees to explain who you are. Please complete the form by clicking here to register your interest and availability. Thank you!
Changes to drinks on sale at school - Reducing plastic waste
From the week beginning 12 November there will be some changes to the drinks that can be purchased at school.
We are very committed to reducing plastic waste at school and making the whole school community more environmentally aware and responsible.
In response to that commitment bottled water and plastic juice cups will no longer be sold on site. A new water fountain has been installed which the students from Sigma House have fund raised to provide for the whole school. This will enable students to use refillable water bottles; this is in addition to the water fountains that we already have around the school. Students can bring their own refillable bottle to school and we will also be selling refillable bottles in House colours for sale at a cost of £1.30. These will be available to collect in school once payment has been received through the Wisepay system.
As the juice cups are no longer being sold, the school is introducing the sale of a fruit juice based slushie drink that meets the School's Healthy Food standards, this is in line with our other fruit juice drinks cartons. These will be sold in paper cups with paper straws at the same cost as the carton drinks of 70p.
Our students are very committed to the reduction of plastic waste at the school and have been asking us to do this for a little while. We are very proud of our students for being so environmentally aware and taking a lead on this important issue and would like to thank and encourage them to continue to assist us with making our school site more environmentally friendly.
Remembrance Wreath
Thank you to everyone who sent in knitted poppies. We have created a beautiful Remembrance Wreath which is displayed in student reception to mark the 100th Anniversary of World War One. Click here to see photos.
Thank you to the Sigma Prefects Louis, Aineias and Paramjeet who have been in the Hub at break times this week supporting the poppy appeal. They have been overseeing the donations for Friendship Bracelets, Wristbands, Reflectors and Snap Bands, suggested donations range from 50p to £1.00.
Cotham World War I Memorial
To mark the 100 year anniversary since the end of World War I the Cotham History department in collaboration with the Technology team have created a memorial for the ex-Cotham students who died in World War I.
Cotham School was called the Merchant Venturer's School during World War I. There were only 8 teachers and roughly 350 students in the school between 1900-1920 (there are over 100 staff and 1,600 students now.) The School was originally based in Baldwin street before moving to Cotham Lawn Rd. Due to this move a World War I memorial was never established on the site of where our school is currently. There is a World War II and Gulf War memorial but until November 2018 there was no World War I memorial.
In the Hub there are now 143 poppies, each naming one student of Cotham School that died in World War I 1914-1918. Understanding this number as a proportion of the Cotham School community at the time it is clear the impact would have been huge on those still at the school. The ages of those who died range from 16 – 41, with an average age of 23 years old.
Click here to view pictures and find out more about the project. Congratulations to everyone involved for creating a very moving tribute.
Robot Project - recycled plastics and cardboard
Art are collecting clean plastic containers, cardboard tubes, plastic bottle tops, cardboard for a Recycle Robot project. Please support and bring in any items you can collect. You can bring them to Art dept or Mrs Arnold
Online Safety – Online Gaming
The BBC recently produced a docudrama that retells the true story of Breck Bednar, a 14-year-old schoolboy who was lured to his death after being groomed online while gaming.
It is a hard hitting program and contains some mature elements. It aims to educate both parents and gamers in the threats and dangers of Grooming through online games.
It may be of interest to you if you have children that play a lot of online games.
Network Rail Travel and Safety Information
As you will be aware from Saturday 27 October to Sunday 18 November inclusive, Network Rail are working 24/7 to install two new railway lines between Bristol Temple Meads and Filton Abbey Wood. This will enable an increase in trains to meet growing demand, improve journey times, and also improve the reliability of the network.
The works have inevitably impacted upon those students who normally use trains to get to school. Buses will replace trains between Bristol Temple Meads and Bristol Parkway, as well as along the Severn Beach line. Check here before travelling and allow extra time for journeys to ensure that your child arrives at school on time (by 8.40am)
Please note, the work also means that there has been increased construction traffic (particularly around Station Lane, Dovercourt Road, and Filton Abbey Wood station sites); as well as increased traffic generally with rail replacement buses in operation on routes serving the Filton Bank and Severn Beach stations. If you are using walking routes in these areas then please be particularly vigilant during this period. Equally people travelling by car or crossing roads to get to school are asked to take care and allow a little extra time for their journey.
A helpful guide on how to use rail replacement bus services has been produced by Severnside Community Rail Partnership and Cotham School to assist children and young people. This useful resource can be found here.
A few simple resources that may be helpful that might be useful can be found here:
Filton Bank four-tracking project factsheet
GWRs route map showing area affected and rail replacement
For more information about the project, please visit the national rail website and for updates on the work see #bristolrailupgrade on our @networkrailwest Twitter feed.
Advance Notice of Early School Closures - 2018/2019
Please be advised that the school will close early and students dismissed at 12.00pm on the following dates:
Thursday 20 December 2018 (Last day of Term 2)
Tuesday 23 July 2019 (Last day of Term 6)
Word of the week
Each week at Cotham we promote a Word of the Week. This is to help students expand the range of vocabulary they use. Please find the word for the week ahead by clicking here.
---
Key Stage 3 News
---
Year 7
From week commencing Monday 12 November, Year 7 students will have lunch at 1.05 along with all other year groups.
Year 7 Family Consultation Day
Family Consultation Day for Year 7 only, takes place on Thursday 22 November
This event is an opportunity for parents and carers of Year 7 students to meet their tutor for 15 minutes to discuss how they have settled into the Cotham community. Topics such as attendance, achievements, behaviour and performance can be discussed. Please be aware that no subject teachers will be available so tutors will not be able to discuss individual subjects.
We ask that all parents and carers book a 15 minute appointment with their child's tutor between 8.30am - 5.00pm to take advantage of this valuable opportunity to discuss how your children have settled into life at Cotham. During your appointment you will be able to to discuss your child's engagement and well-being, participation in the wider life of the school, and to set targets for the remainder of the year.
Your child's Learning Coordinator Mrs Wilkie will also be available to talk to. Mrs Reed, our Attendance Officer, will also be on hand to discuss any concerns you may have regarding attendance.
To book your appointment and for more information please click here
We remind all parents/carers that parking is very limited in local roads and is controlled by parking meters until 6pm
---
Key Stage 4 News
---
Year 10
Year 10 Welcome to GCSE Parents Information Evening on Tuesday 20 November
We have a Welcome to GCSE Parents Information Evening Tuesday 20 November for Year 10 only.
The session is intended to give parents advice on how to support their child with their GCSEs in English, Maths, Science, Geography, History and MFL. Staff will be on hand during the evening to answer questions.
The session will run from 5.30pm to 6.30pm Parents should arrive and enter the Main Reception on Cotham Lawn Road. Directions to the main hall will be visible on the day.
Please click here to register your attendance to enable us to gauge numbers in advance.
Year 10: Parents Evening on Thursday 29 November.
We have our Year 10 Parents Evening on Thursday 29 November. The PES booking system will open on Friday 16 November. You will an email to inform you that bookings are open and a reminder of how to log in etc.
Year 10 Work Experience
Circomedia Work Experience 2019
Circomedia are once again inviting Year 10 students interested in arts based Work Experience to apply for a placement in summer 2019. Our week long placement will be held at the start of July, dates to be finalised very soon.
Our aim for the placement is to give Year 10 students a broad taste of working behind the scenes within a mixed arts organisation. Of course there will be an opportunity to have a go at some circus and physical theatre - it wouldn't be Circomedia without it! - but the intention is to provide a much wider experience that accommodates all, not just those who like to perform.
The young people will learn all about marketing and fundraising within the arts with our Marketing and Development teams. They will get to work with our technicians to help prepare for a show. They will experience what it's like to work in Front of House for a busy theatre as they assist members of the public and Box Office staff at one of our events.
Please see Mrs Arnold for application forms.
St Monica Trust Work Experience Open Evening Event
Thursday 29 November 2018
The St Monica Trust would like to invite you to its work experience open evening on Thursday 29 November 2018, from 4.00 – 6.00pm.
This exciting event will provide students, parents and teachers with an opportunity to learn more about our organisation, gain an overview of our work experience programme and a large group work experience week (TBC) during Summer 2019, the roles that we are able to offer and how students are able to submit an application.
Drinks and nibbles will also be available and attendees will be provided with time to ask questions and speak with members of our dedicated Training and Development team. Please click here to view the poster detailing full information about the event, along with a map of site.
Year 11
Year 11 Parents Information Evening on Thursday 8 November
Thanks to all who were able to attend this valuable information session.
Click here to access the presentation from the evening for your reference.
Click here to access the Year 11 Assessment Calendar for mock exams as well as a useful template to help students to compile a revision timetable.
---
Post-16 News
---
Progress Reports will be issued shortly to both year 12 and 13 students. All students have had an assembly about these and you will receive a copy of these reports via email. If there are any queries regarding these progress reports please contact your son/daughter's form tutor.
There is an open evening on Monday 12 November 5.30pm-8pm at the Learning and Research Building, Southmead Hospital for all students interested in a career in healthcare.
Our final Open Morning is Thursday 15 November should you have any younger children who are interested in attending the NBP16 Centre. Please email to book your place.
The Year 12s have been sent a settling in survey via email - please encourage them to complete it if they have not already.
A Wellbeing drop in session is held every Thursday lunchtime in G208 - all students are very welcome to attend.
Year 12 Family Consultation Day 21 November 2018
You should have received a letter inviting you to meet for a 15 minutes appointment with your son/daughter's form tutor. Please ensure that they have made an appointment for you. If you are unable to attend on this day then please let their tutor know and they will phone you. Your son/daughter should still attend their meeting. There will be no timetables classes on this day.
To find out more about recent events and achievements in Post 16, please visit the 'This Term at Cotham Post 16' section of our website.
---
Subject Area News
---
PE/Sports Update
Please click here for a list of all of the PE/Sports Extra-Curricular activities available to students in Term 2.
Follow @CothamPE on Twitter for all the latest news and updates from the Cotham School PE department
Visual Arts
Art Work of the Week
This weeks Art WOW goes to Milo Jady 7CBR and Catalina George-Morales 7EH for their lovely examples of using different materials and techniques in one piece of work. Click here to view.
Performing Arts
Now available in Cotham School - tuition with Perform For Life!
Perform For Life is a locally-based Arts organisation. They offer children and young people the opportunity to develop and refine their performance skills, while at the same time building additional life skills and embracing their individuality.
Students can focus on Acting, Devising Drama, Public Speaking, Singing, Musical Theatre or Performance Arts. They'll also be encouraged to work towards a certificate with the prestigious LAMDA, Trinity College London or Rockschool London examination boards.
Through their Perform For Life lessons, and in working towards a Performing Arts exam, Cotham's students will:
Be awarded with an Internationally recognised qualification
Gain measure of and accreditation for their commitment, progress and ability in an Extra Curricular activity
Expand their performance ability and technique
Develop additional life skills, such as public speaking or interview skills; improved memory and coordination; self-discipline; creative and collaboration skills; increased awareness of and appreciation for theatre and literature
Have the opportunity to gain UCAS points through taking exams at higher grades
Perform For Life's tutors have a 100% pass rate, with 60% gaining a High Merit or Distinction, and are friendly, communicative, qualified and experienced.
Tuition is available on a one-to-one, duo, small group or after-school group basis.
Interested students should register for lessons with a parents / guardian, using the Registration form available on Perform For Life's website here. To view flyer click here.
Contact Perform For Life with any questions on hello@weperformforlife.com.
They also offer small-group sessions every Saturday morning during term-time at the 1532 Performing Arts Centre in Clifton - email to find out more.
Performing Arts Work of the Week
Congratulations to Honor (7DS) for her vibrant drama homework. Over half term, we saw the finale of the Great British Bake-Off. These cakes, baked by Daisy (7EH) and George (7CBR) were certainly deserving of a handshake from Miss Miles, our resident cake tester. Click here to view all.
This term, year 7 will be exploring how to create a piece of drama from a stimulus. The stimuli that we will be looking at include poems, newspaper articles, paintings and even a work by Banksy.
Mental Health and Well Being
Yoga Tribe for Teens
Friday lunchtimes in the main hall with Ms Gallien.
Tuesdays after school in the main hall with Ms Gallien.
---
Community News
---
BYHA Nominations
Nominations Open for Bristol Young Heroes Awards 2019 from 5 November 2019.
The Bristol Young Heroes Awards are a gala dinner and award ceremony to recognise and celebrate the valuable contributions that Bristol's Young People aged 11-19 make to the City.
BYHA 2019 will be a star studded event hosted by BBC Radio Bristol's Emma Britton held in the inspiring We the Curious building on the evening of Friday 5 April.
To see a short video from the 2018 awards or if you know a young hero to nominate go to www.communityofpurpose.com/byha-2019/
Closing date is Friday 22 December 2019 at 5.00pm
For any questions or queries, please do not hesitate to get in touch with Holly Maurice at holly.maurice@communityofpurpose.com or 07813828988
Comic Club
Do you love making comics? Then come along to our Comic Club at Bristol Central Library on Mondays 4-5.30pm until 3 December. Click here for more info
---
Useful quick links
---
Keep us posted
It would be great if parents/carers could let the school know of any student achievements outside of school please. It is sometimes only at parents' evenings that we find out what students are doing in their own time. Email us: weeklymailing@cotham.bristol.sch.uk
Key Dates
Please click here to view the Key Dates by year group for the 2018-19 academic year. You will be notified of any significant changes/additions, but please can we ask that you check the dates for your year group regularly as they are subject to change.
Parents' Evening Booking System (PES)
Please click here to access the online appointment booking system for Parents Evenings/Family Consultation Day. Please note this is only available if an event is due. We will email you to let you know when booking opens. If you encounter any difficulties with booking your appointments please contact the admin team by email to adminoffice@cotham.bristol.sch.uk or tel: 0117 919 8000
Assessment Calendars for KS3
We have created Assessment Calendars for 2018/19. Each Assessment Calendar contains details of the class assessments that will take place in their subjects. The final column contains a link which gives information about each of the assessments.
To see the Year 7 Assessment Calendar click here
To see the Year 8 Assessment Calendar click here
To see the Year 9 Assessment Calendar click here
To see the Year 10 Assessment Calendar click here
Homework and Independent Learning timetables
Please see the attached link describing our Homework Guidelines for students in the school.
In KS3 we do not have homework timetables.
Homework and Independent Learning Timetable for Year 10
Homework and Independent Learning Timetable for Year 11
WisePay
WisePay is the Online Payment Service at Cotham School which allows you to pay for trips and visits as well as to add credit to your child's Cashless Catering account. Click here to access your account now. If you have any queries about your account please contact the support team by email to wisepay@cotham.bristol.sch.uk
School Uniform
Please click here to view the compulsory uniform requirements of Cotham School, along with visual examples of uniform and details of our uniform suppliers.
GCSEpod
Click here to access GCSEpod which contains lots of revision resources for most GCSEs. Students self register through the website using their name and school details.
SAM Learning
Click here to access SAM learning which contains revision exercises and self marking quizzes with automatic progress tracking and reporting. Please use the Centre ID: BS6CS. Student usernames and passwords are their birthday formatted as DDMMYY, followed by their Initials.
Diagnostic Questions
Click here to access. This site contains self marking quizzes with lots of templates including some from a range of exam boards. It's easy to make your own questions in Microsoft PowerPoint too. Students sign up with their school Google account using the G+ button to automatically create a school account
Edmodo
Edmodo is an application that can be used on both mobile devices and in the web environment to create an online community of practice. Edmodo is a free social learning platform that allows students to access the course content uploaded by their teachers.
Linguascope
The Language Learning Platform
Free School Meals
https://www.cloudforedu.org.uk/ofsm/sims to check if your child is eligible for Free School Meals or to apply.
Click here to Contact Us