Weekly Mailing - Friday 19 October 2018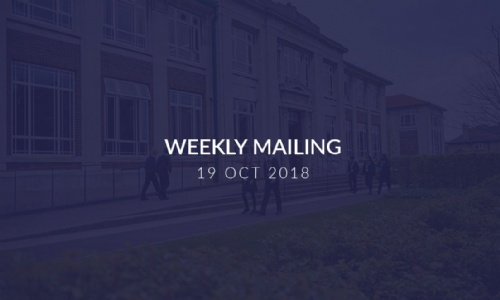 Dear Parents / Carers
Please find below my usual updates on events that have taken place this week, information, letters etc.
Best wishes for the weekend
Ms Jo Butler
Headteacher
---
CONGRATULATIONS
---
Year 11
Congratulations to Laurel Jelbert-Cook, Esme Tagg Foster and Leonie Riley who all successfully completed their Bronze Arts Award whilst on year 10 work experience at Bristol Old Vic.
---
IMPORTANT INFORMATION FOR PARENTS/CARERS
---
Safeguarding your children: Changes of parents/carers address, phone numbers or email address
Please let the school know as soon as possible if you have a change of address, or if your contact telephone numbers or email addresses change.
You can:
Email the school using info@cotham.bristol.sch.uk, or Contact your Learning Coordinator for your student's year group, or Write us a message with all the details for your child to bring in, or Send us an email using the Enquiry Form on the Contact Us page of our school website (www.cotham.bristol.sch.uk).
If possible, please could you ensure that the school holds at least two emergency contacts and telephone numbers. We rely on these numbers to contact you in an emergency.
Many thanks
Data Team
Reception
Please be advised that we have two receptions at Cotham; one being a Visitor Reception on Cotham Lawn Road and the other being a Student Reception on Cotham Road.
We would like to remind parents and carers that the Student Reception is for both students and parents / carers and the Visitor reception is for visitors who have appointments to visit the school.
Opening Times
Opening times for the receptions are as follows:
Main Reception: 8.00am to 4.00pm - Monday to Thursday and 8.00am to 3.30pm on Friday.
Student Reception: 8.30am to 3.30pm - Monday to Thursday and 8.30am to 3.00pm on Friday.
Contact Details
Please note the following contact numbers and email addresses if you need to contact the school:
Main Reception - 0117 919 8000/ reception@cotham.bristol.sch.uk
Student Reception - 0117 919 8013 / studentreception@cotham.bristol.sch.uk
Absence - 0117 919 8019/ absence@cotham.bristol.sch.uk
NBP16C - 0117 919 8100/ post16@cotham.bristol.sch.uk
Finance - 0117 919 8016/ finance@cotham.bristol.sch.uk
Exams - 0117 919 8024/ examsassistant@cotham.bristol.sch.uk
Knitted poppies for Remembrance day
Calling all knitters-we would like to collect as many knitted red poppies for Remembrance day as possible in the next few weeks. Our aim is to stitch them all together to display around the pillars in the hub. If you would like to support us then please click here to access a knitting pattern to get you started. You are welcome to use your own pattern if you would prefer.
Thank you to everyone who has already sent in poppies.
GWR Student Rail Ticketing Scheme
We are very pleased to announce that the Severnside Community Rail Partnership have confirmed that they continuing the Student Rail Ticketing Scheme. This partnership offers our students and families a huge saving on rail travel to and from the school on the Severnside Community Rail. An annual ticket costs £40 or families can buy their ticket in instalments. All the details are contained in the letter and application form here.
Library Updates
The autumnal weather has been affecting the condition of the library books, for more information click here.
Eureka is an Education Umbrella scheme, which helps school whilst helping you to save money on educational books and resources. You can find out more here.
School Uniform Shop
Harris's will be in School at the Main Reception (Cotham Lawn Road) on the following dates:
Thursday 25 October from 2.30pm - 4.00pm
Thursday 8 November from 2.30pm – 4.00pm
School uniforms can also be ordered by ringing Harris's on the following contact number 01275 874351. If you do decide to place an order over the phone then orders will be delivered to school for collection. Alternatively, you can visit Famous Brands on 186-190 Henleaze Road, BS9 4NE.
Design the school Christmas card competition 2018
This competition is open to all year groups to design the school Christmas card. This is a House Competition with the winner receiving a £20 Amazon voucher and £10 for the runner up.The winning design will be used for the school Christmas card. House points will also be awarded for runners up. Hand in your entries to the Visual Arts Office by the deadline of Friday 9 November 2018. For more information click here
Advance Notice of Early School Closures - 2018/2019
Please be advised that the school will close early and students dismissed at 12.00pm on the following dates:
Thursday 20 December 2018 (Last day of Term 2)
Tuesday 23 July 2019 (Last day of Term 6)
A Halloween message from the catering team
We are doing a Halloween Theme day on Thursday 25 October. On the menu for the day will include:
Pumpkin soup with Spider Legs Croutons, Witches Brew Pasta, Devils dogs with Bat juice, Freaky Fries, Bloody Beans, RIP Cupcakes and Hocus Pocus Chicken Sandwich or Baguette!
Non Uniform Day
There will be a non uniform day on Thursday 25 October. Students will need to pay £1 to participate. The money will be split between the four house charities.
Word of the week
Each week at Cotham we promote a Word of the Week. This is to help students expand the range of vocabulary they use. Please find the word for the week ahead by clicking here.
---
KEY STAGE 3 NEWS
---
Key Stage 3 Information Evening
Thank you to those that attended the KS3 Information evening. Please find attached here the slides that were shared with parents/carers on the night. We will offer a further session for those unable to attend in Term 3 with more notice.
---
KEY STAGE 4 NEWS
---
Year 10
Year 10 Parents Evening
We have our Year 10 Parents Evening on Thursday 29 November. We will email you to let you know once booking opens but please add the date to your diary.
Year 10 Welcome to GCSE Parents Information Evening
We have a Welcome to GCSE Parents Information Evening Tuesday 20 November for Year 10 only.
The session is intended to give parents advice on how to support their child with their GCSEs in English, Maths, Science, Geography, History and MFL. Staff will be on hand during the evening to answer questions.
The session will run from 5.30pm to 6.30pm Parents should arrive and enter the Main Reception on Cotham Lawn Road. Directions to the main hall will be visible on the day.
Please click here to register your attendance to enable us to gauge numbers in advance.
Year 11
Year 11 Parents Information Evening
We have a Parent Information session on Thursday 8 November for Year 11 only.
The session is intended to give parents advice on how to support their child with revision in English, Maths, Science, Geography, History and MFL in preparation for mock exams and summer exams. Staff will be on hand during the evening to answer questions.
The session will run from 5.30pm to 6.30pm Parents should arrive and enter the Main Reception on Cotham Lawn Road. Directions to the main hall will be visible on the day.
Please click here to register your attendance to enable us to gauge numbers in advance.
Year 11 Parent/Carer Questionnaire
Thank you to all parents/carers who attended our Year 11 Parents' Evening on Thursday evening. We strive to ensure that the educational experience of all students at Cotham School is outstanding and we really value your feedback in helping us to achieve this. If you have not already done so, please can we ask you to take a moment to complete the questionnaire here to help inform our planning.
Bristol Post-16 Directory 2019
The Bristol Post-16 Directory lists subjects and courses on offer at all of Bristol's sixth-forms, colleges and training providers for Sept. 2019 entry, is available here.
It also lists Post-16 Open Evenings that are being held this Autumn:
North Bristol Post-16 Centre (Redland Green Site): Thursday 25 October, 6.30-9.00pm
Access Creative College: Tuesday 30 October, 3.00pm, 4.30pm, 6.00pm (please book online)
There is also a useful careers section on the Cotham School website which has links to the world of work, University, apprenticeships alongside many other post-16 choices.
BFI Film Academy
Are you aged 16-19 and love film?
Applications for the BFI Academy in Bristol are open until Monday 5 November. There are two courses available, you can choose to train in documentary film-making on the course at Watershed or a drama/animation film-making on the course at the Bristol Old Theatre School. Each course takes place over 12 weekday evenings and some weekends during term time, running from December 2018 to March 2019. Each course gives you the chance to make your own films, whilst learning from filmmaking professionals and to grow your creative network. A Film Academy promo can be found here .
These courses are part of a UK- wide BFI Film Academy network of extra-curricular, DFE funded courses for young people interested in careers in the Screen Industries. Students are able to apply now by visiting the following website.
If students are unable to pay then there is a nominal £25 fee which students can opt out of, and travel bursaries are also available.
More information can be found here, alternatively email Bex Rose - bex.r@watershed.co.uk.
---
​POST-16 NEWS
---
Year 13
Calling all Computer Programmers and Software Engineers
Our Year 13 A-Level Computer Science students are now into the early stages of their Year 13 programming projects. We are looking for mentors to support students with the programming and development of these projects.
The students are doing a range of projects from programming NXT robots to pathfinding to app programming.Being a mentor would involve visiting students after school at Cotham to assist them with their projects. These meeting could happen monthly or less frequently depending on the needs of the student.
Students have benefited in previous years from mentors so please get in contact with Terry Watts on wattst@cotham.bristol.sch.uk if you would be interested in helping out.
Open Evenings
Many thanks to all our Student Ambassadors who helped out at our successful and well attended Open Evening yesterday. There is another Open Evening at RGS on Thursday 25 October 6.30pm - 9pm
We would be so grateful to have as many students to be Student Ambassadors for this evening as possible - please encourage your son/daughter to see Mrs Kempt to sign up.
Oxbridge
Are you available to give our Oxbridge applicants a good interview experience?
We are running a joint Oxbridge Interview session at St Mary Redcliffe and Temple 6th Form Centre on Thursday 29 November from 4.00pm to 7.00pm. If you can only manage a part of the time then that is fine. Interview slots will be 45 minutes long to allow for a good interview experience followed by some debrief. You will be provided in advance with the student's personal statement. The information you provide about yourself in this questionnaire will be provided to your interviewees to explain who you are. Please complete the form by clicking here register your interest and availability.
INSET Day
An INSET day will be held on Friday 26 October and so no lessons will be held for students.
We Run Workshops
We are holding a "Sex and Consent" workshop run by We Run Workshops,as part of the Year 12 Core Programme . This will be carried out on Wednesday 24 October during lesson 3 in room G001. Year 12 students will have been notified but should you have any questions about the content of the session please email Mrs Kempt at kemptc@cotham.bristol.sch.uk.
RESPECT
This week, The RESPECT Ambassadors will be launching the RESPECT programme for students from Year 7 to Year 10 students in the afternoon assembly. This is a brilliant programme set up to support students and promote healthy relationships
---
SUBJECT AREA NEWS
---
PE/Sports Update
Jewellery
Just a reminder for all parents/carers that all students need to remove all jewellery in their PE lessons.
Cross Country
Students in years 7 to 11 who wish to compete and represent Cotham at the Bristol Schools Cross Country Competition need to sign up at the PE office by Friday 12 October.
Please click here to view all of our recent results and the upcoming fixtures for the week ahead.
Please click here for a list of all of the PE/Sports Extra-Curricular activities available to students in Term 1
Follow @CothamPE on Twitter for all the latest news and updates from the Cotham School PE department
Visual Arts
Students have been creating artwork inspired by natural forms. You can view a natural forms drawing using a variety of materials from Oakley Davies in Year 8, and Natural Form designs inspired by Georgia O'Keefe created by Naomi Wood in Year 10 here.
Performing Arts
Performing Arts Work of the Week
Thank you to students for sharing their work, the office is starting to amass quite the collection of cakes, models, and masks. We've seen some wonderful films and even a stop motion animation.
Congratulations to Martha (7JPG) and Rafferty (7RBI) for their incredible dance homeworks. We look forward to seeing more of your work in the future. This term, in dance, year 7 are choreographing using the 6 basic actions that form the foundation of dance (Jump, Turn, Travel, Stillness, Gesture and Fall).
We were also very impressed with Jaiya (7JLL) and Djanu (7EH) for their meticulously crafted sculptures of Shakespeare and an ensemble of characters with felt curtains.
Finally, we'd like to thank Giulio (7JPG) who really embraced nature of the 'surprise me' homework with his mask, as modeled by our resident costume tester, Miss Miles. While you cannot see it in the photo, she is certainly surprised.
You can view the work of students in our gallery here.
Girls Coding Club
Girls coding club will be taking place on Tuesday nights at 3.05-4.30pm in B002. This is a fantastic chance to build technologies with an industry expert and learn new skills for your GCSE and future career.
If you are interested in attending the club then please come and see Mrs White for a permission slip, send an email to swhite@cotham.bristol.sch.uk.
New members are always welcome.
Mental Health and Well Being
Yoga Tribe for Teens
Friday lunchtimes in the main hall with Ms Gallien.
Tuesdays after school in the main hall with Ms Gallien.
---
CAREERS NEWS
---
Wessex Water
Wessex Water is holding its annual Apprenticeship Open Day on Saturday 20 October at their Operations Centre in Bath from 10.00am - 3.00pm.This event provides a chance for students to find out about their opportunities for young people, talk with existing apprentices, learn about the wide range of career opportunities and what apprenticeship training involves. Students need to register here.
---
COMMUNITY NEWS
---
Papaya
Papaya (Parents Against Phone Addiction in Young Adolescents) is a charity driven to promote wellness and improve mental health in adolescents by helping empower parents and children to make informed, positive choices with regards to technology in their lives. More information can be found on their website.
As Papaya are a fairly new charity they will be hosting a launch evening on Thursday 8 November from 7.00pm - 9.00pm, if you would be interested in attending the event then click here.
Life Cycle UK
Life Cycle UK is a charity that focuses on improving individual lives, local communities and the environment through cycling. The Bristol branch will be running Level 2 and Level 3 Bikeability courses on 25 and 26 October 2018. Please click here if you would like to know more.
Classical Bristol
Please click here to view the latest newsletter.
Creative Futures
The next round of the Creative Futures project is now open!
We are looking for 5 young people aged 16-25 to take part in this paid 6 month opportunity to set themselves up as a freelancer, make and show their own work and get mentoring.
Please see attached for more information about the project and details on how to apply as well as a printable flyer. We welcome applications from care leavers, those receiving income support and NEET young people.
We are holding drop in days every Friday morning in May for young people to come into The Station(Bristol, BS1 2AG) and meet with us to find out more about the project.
Deadline for applications: Friday 30 November 2018, 5.00pm.
Interview day: Tuesday 11 December 2018,11am – 3pm
Project start: Monday 7 January 2019
End of project: Friday 28 June 2019
If you have any queries or would like further information the get in touch on 0117 947 7948 or
creative.dept@creativeyouthnetwork.org.uk.
Bristol Womens Voice
Do you like drawing, writing stories, recording silly sounds, playing games and sharing ideas? Bristol Women's Voice are running workshops based on amazing women from history. These workshops are running on 13, 20 and 27 October, from 1.00pm - 3.00 pm at Acta Community Theatre. For more information click here.
Epilepsy Action
The charity Epilepsy Action will be running an event in Bristol on Saturday 17 November from 10.00am until 4.00pm at We The Curious, Anchor Road, Harbourside, Bristol. If your child has epilepsy then this event will provide them with the chance to take part in a range of workshops led by the education team at We The Curious. At the same time consultants from the Bristol hospitals will talk to parents and carers, whilst also providing information about epilepsy surgery for children and the impact of epilepsy on children's memory, learning and thinking.
You will also have the opportunity to meet other families and share experiences on living with epilepsy, talk to experts and asks questions and gain further information about local support groups, services and volunteering activities.
Booking is essential as the venue only has capacity for 30 families.To book visit: epilepsy.org.uk/bristolevent or contact local services on 0113 210 8781. A £5 booking fee applies. More information can also be found here.
---
USEFUL QUICK LINKS
---
Keep us posted
It would be great if parents/carers could let the school know of any student achievements outside of school please. It is sometimes only at parents' evenings that we find out what students are doing in their own time. Email us: weeklymailing@cotham.bristol.sch.uk
Key Dates
Please click here to view the Key Dates by year group for the 2018-19 academic year. You will be notified of any significant changes/additions, but please can we ask that you check the dates for your year group regularly as they are subject to change.
Parents' Evening Booking System (PES)
Please click here to access the online appointment booking system for Parents Evenings/Family Consultation Day. Please note this is only available if an event is due. We will email you to let you know when booking opens. If you encounter any difficulties with booking your appointments please contact the admin team by email to adminoffice@cotham.bristol.sch.uk or tel: 0117 919 8000
Assessment Calendars for KS3
We have created Assessment Calendars for 2018/19. Each Assessment Calendar contains details of the class assessments that will take place in their subjects. The final column contains a link which gives information about each of the assessments.
To see the Year 7 Assessment Calendar click here
To see the Year 8 Assessment Calendar click here
To see the Year 9 Assessment Calendar click here
To see the Year 10 Assessment Calendar click here
Homework and Independent Learning timetables
Please see the attached link describing our Homework Guidelines for students in the school.
In KS3 we do not have homework timetables.
Homework and Independent Learning Timetable for Year 10
Homework and Independent Learning Timetable for Year 11
WisePay
WisePay is the Online Payment Service at Cotham School which allows you to pay for trips and visits as well as to add credit to your child's Cashless Catering account. Click here to access your account now. If you have any queries about your account please contact the support team by email to wisepay@cotham.bristol.sch.uk
School Uniform
Please click here to view the compulsory uniform requirements of Cotham School, along with visual examples of uniform and details of our uniform suppliers.
GCSEpod
Click here to access GCSEpod which contains lots of revision resources for most GCSEs. Students self register through the website using their name and school details.
SAM Learning
Click here to access SAM learning which contains revision exercises and self marking quizzes with automatic progress tracking and reporting. Please use the Centre ID: BS6CS. Student usernames and passwords are their birthday formatted as DDMMYY, followed by their Initials.
Diagnostic Questions
Click here to access. This site contains self marking quizzes with lots of templates including some from a range of exam boards. It's easy to make your own questions in Microsoft PowerPoint too. Students sign up with their school Google account using the G+ button to automatically create a school account
Edmodo
Edmodo is an application that can be used on both mobile devices and in the web environment to create an online community of practice. Edmodo is a free social learning platform that allows students to access the course content uploaded by their teachers.
Linguascope
The Language Learning Platform
Free School Meals
https://www.cloudforedu.org.uk/ofsm/sims to check if your child is eligible for Free School Meals or to apply.
Click here to Contact Us