Weekly Mailing- 26 October 2018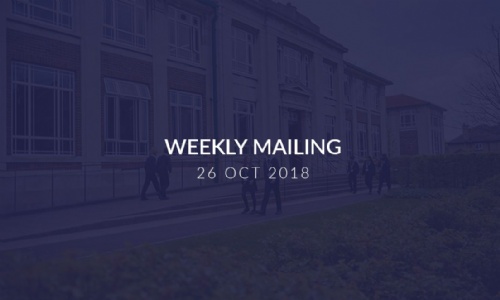 Dear Parents / Carers
Please find below my usual updates on events that have taken place this week, information, letters etc.
Best wishes for the weekend and for the half term break.
Ms Jo Butler
Headteacher
---
Congratulations
---
Non-Uniform Day
We are delighted to announce that the non-uniform day held on Thursday 25 October raised an incredible £880! Thank you to everyone who donated, all the money raised will be split across for the four house charities.
Sporting Achievements
We would also like to congratulate Sam Spilling in Year 11, who recently represented Cotham at the British Schools Regional Championships, held in Weston Super Mare. Having fought some tough matches, he earned a well deserved Silver medal in his category. Sam has also qualified for the British Schools finals in Sheffield next year.
Congratulations to Jonathan Roche in Year 10, who plays Water polo for City of Bristol,he recently came 4 out of 18 contestants in the National Under 15s competition which was held in Manchester.
---
Important Information for Parents/Carers
---
Reception
Please be advised that we have two receptions at Cotham; one being a Visitor Reception on Cotham Lawn Road and the other being a Student Reception on Cotham Road.
We would like to remind parents and carers that the Student Reception is for both students and parents / carers and the Visitor reception is for visitors who have appointments to visit the school.
Opening Times
Opening times for the receptions are as follows:
Main Reception: 8.00am to 4.00pm - Monday to Thursday and 8.00am to 3.30pm on Friday.
Student Reception: 8.30am to 3.30pm - Monday to Thursday and 8.30am to 3.00pm on Friday.
Contact Details
Please note the following contact numbers and email addresses if you need to contact the school:
Main Reception - 0117 919 8000/ reception@cotham.bristol.sch.uk
Student Reception - 0117 919 8013 / studentreception@cotham.bristol.sch.uk
Absence - 0117 919 8019/ absence@cotham.bristol.sch.uk
NBP16C - 0117 919 8100/ post16@cotham.bristol.sch.uk
Finance - 0117 919 8016/ finance@cotham.bristol.sch.uk
Exams - 0117 919 8024/ examsassistant@cotham.bristol.sch.uk
Oxbridge Interviews- we need your help!
Are you available to give our Oxbridge applicants a good interview experience?
We are running a joint Oxbridge Interview session at St Mary Redcliffe and Temple 6th Form Centre on Thursday 29 November from 4.00pm to 7.00pm. If you can only manage part of the time then that is fine. Interview slots will be 45 minutes long to allow for a good interview experience followed by some debrief. You will be provided in advance with the student's personal statement. The information you provide about yourself in this questionnaire will be provided to your interviewees to explain who you are. Please complete the form by clicking here register your interest and availability. Thank you!
Junk Food ban
As you will be aware, the bringing in and consumption of junk food is now completely banned at Cotham. We have become increasingly concerned about students bringing 'junk' food and drinks into school. The cheapness of large 'family size' bags of crisps, sweets and bars/ 4 packs of chocolate and large bottles/ cartons of sugary and fizzy drinks has led to an increase in such items being brought into school. The impact on children's long term health is considerable. In addition the additional litter created has phenomenal and represents a huge burden on our site team. We are delighted to report that we have noticed a considerable improvement in the amount of litter on the school site since the ban was introduced, and we thank you all for your continued support in this matter.
In order to help your children please provide a packed lunch or pre- pay their cards via WISEpay and please don't give them cash! All junk food is bought on the way to or from school in large supermarkets or corner shops.
Changes to drinks on sale at school - Reducing plastic waste
From the week beginning 12 November there will be some changes to the drinks that can be purchased at school.
We are very committed to reducing plastic waste at school and making the whole school community more environmentally aware and responsible.
In response to that commitment bottled water and plastic juice cups will no longer be sold on site. A water fountain is being installed which the students from Sigma House have fund raised to provide for the whole school. This will enable students to use refillable water bottles; this is in addition to the water fountains that we already have around the school. Students can bring their own refillable bottle to school and we will also be selling refillable bottles in House colours for sale at a cost of £1.30. These will be available to collect in school once payment has been received through the Wisepay system.
As the juice cups are no longer being sold, the school is introducing the sale of a fruit juice based slushie drink that meets the School's Healthy Food standards, this is in line with our other fruit juice drinks cartons. These will be sold in paper cups with paper straws at the same cost as the carton drinks of 80p. They will only be sold if a student also purchases food.
Our students are very committed to the reduction of plastic waste at the school and have been asking us to do this for a little while. We are very proud of our students for being so environmentally aware and taking a lead on this important issue and would like to thank and encourage them to continue to assist us with making our school site more environmentally friendly.
Safeguarding your children: Changes of parents/carers address, phone numbers or email address
Please let the school know as soon as possible if you have a change of address, or if your contact telephone numbers or email addresses change.
You can:
Email the school using info@cotham.bristol.sch.uk, or Contact your Learning Coordinator for your student's year group, or Write us a message with all the details for your child to bring in, or Send us an email using the Enquiry Form on the Contact Us page of our school website (www.cotham.bristol.sch.uk).
If possible, please could you ensure that the school holds at least two emergency contacts and telephone numbers. We rely on these numbers to contact you in an emergency.
Many thanks
Data Team
Halloween Treat
You will see from the photograph that our catering team organised a spooky treat for the students when the school canteen and staff dressed up to compliment the spooky menu. The students really enjoyed the special menu and the fantastically decorated canteen and staff. Look out for their other theme days and special events next term.
Knitted poppies for Remembrance day
Calling all knitters-we would like to collect as many knitted red poppies for Remembrance day as possible in the next few weeks. Our aim is to stitch them all together to display around the pillars in the hub. If you would like to support us then please click here to access a knitting pattern to get you started. You are welcome to use your own pattern if you would prefer.
Thank you to everyone who has already sent in poppies.
Library Updates
The autumnal weather has been affecting the condition of the library books, for more information click here.
Eureka is an Education Umbrella scheme, which helps school whilst helping you to save money on educational books and resources. You can find out more here.
School Uniform Shop
Harris's will be in School at the Main Reception (Cotham Lawn Road) on the following dates:
Thursday 8 November from 2.30pm – 4.00pm
School uniforms can also be ordered by ringing Harris's on the following contact number 01275 874351. If you do decide to place an order over the phone then orders will be delivered to school for collection. Alternatively, you can visit Famous Brands on 186-190 Henleaze Road, BS9 4NE.
The HOPE 2018 Poetry Competition
The HOPE's Mary Palmer Poetry Competition for 2018 is now open! This year the theme is 'Wildlife'. We know you will have fabulous ideas for poems on that topic, so please get typing or writing and send them to us. The deadline for all entries is Friday 9 October. For more information click here.
Design the school Christmas card competition 2018
This competition is open to all year groups to design the school Christmas card. This is a House Competition with the winner receiving a £20 Amazon voucher and £10 for the runner up.The winning design will be used for the school Christmas card. House points will also be awarded for runners up. Hand in your entries to the Visual Arts Office by the deadline of Friday 9 November 2018. For more information click here
Network Rail Travel and Safety Information
From Saturday 27 October to Sunday 18 November ,including the week days, Network Rail are working 24/7 to install two new railway lines between Bristol Temple Meads and Filton Abbey Wood. This will enable an increase in trains to meet growing demand, improve journey times, and also improve the reliability of the network.
If students normally use trains to get to school, there will most likely be implications for their travel arrangements during this period, as buses will replace trains between Bristol Temple Meads and Bristol Parkway, as well as along the Severn Beach line. Check here before travelling and allow extra time for journeys during this 3-week period.
Please note, the work also means that there is the likelihood of increased construction traffic (particularly around Station Lane, Dovercourt Road, and Filton Abbey Wood station sites); as well as increased traffic generally with rail replacement buses in operation on routes serving the Filton Bank and Severn Beach stations. If you are using walking routes in these areas then please be particularly vigilant during this period. Equally people travelling by car or crossing roads to get to school are asked to take care and allow a little extra time for their journey.
A helpful guide on how to use rail replacement bus services has been produced by Severnside Community Rail Partnership and Cotham School to assist children and young people. This useful resource can be found here.
A few simple resources that may be helpful that might be useful can be found here:
For more information about the project, please visit the national rail website and for updates on the work see #bristolrailupgrade on our @networkrailwest Twitter feed.
Advance Notice of Early School Closures - 2018/2019
Please be advised that the school will close early and students dismissed at 12.00pm on the following dates:
Thursday 20 December 2018 (Last day of Term 2)
Tuesday 23 July 2019 (Last day of Term 6)
Word of the week
Each week at Cotham we promote a Word of the Week. This is to help students expand the range of vocabulary they use. Please find the word for the week ahead by clicking here.
---
Key Stage 4 News
---
Year 10
Work Experience- Bristol Old Vic
Applications are now open for this year's Year 10 work experience week which will take place from 1-5 July, 2019. Please note that the Old Vic are unable to accept placements outside of this week.
During this week the group will:
Gain an insight into the everyday runnings of a leading regional theatre
Learn about the diverse range of jobs available in the theatre
Take part in a variety of workshops led by different departments such as Box Office, Producing, Marketing and Engagement
Meet a range of other young people interested in theatre
Complete the Bronze Arts Award
If your child would like to apply then they will need to complete an application form or application video before the deadline. If successful, they will be invited to an interview at Bristol Old Vic. From there, the Old Vic choose the participants for the 2019 experience programme.
Applications close on Monday 14 January 2019, 5pm. Applications need to be sent to Hattie.desantis@bristololdvic.org.uk. Interviews will take place between Monday 4- Friday 15 February 2019
For more information please visit the Old Vic website here
Burges Salmon 2019 Law Information Days
During February half-term, Burges Salmon will be hosting two Law Information days to provide students, who have an interest in law, with an insight into a career in the profession. The sessions will include talks from different lawyers in the firm, external speakers as well as interactive group exercises and an optional advice clinic, facilitated by their HR team, on the application and recruitment process. Burges Salmon receive excellent feedback from students who attend these open days and our events are always oversubscribed.
The dates are as follows:
GCSE day – Tuesday 19 February 2019
A Level day – Thursday 21 February 2019
The above events will commence at 10.30am (with registration from 10.15am) until 3pm (with an optional careers advice clinic from 3 until 4pm). Places are limited to 5 students per school, on a first-come first-served basis. If students would like to register please ask them to email: Corporate.resp@burges-salmon.com and include the following information: Name, Male/Female, School they are attending, year group and date they would like to attend. An email will be sent to confirm that their place has been reserved.
For more information click here.
Bright Sparks - Work Experience Programme
Launched in 2013 the Bright Sparks programme at Burges Salmon was developed to allow school students from a variety of backgrounds to gain skills and experience by participating in workshops and group projects, presenting to business people as well as experiencing life in a busy law firm. It forms part of our commitment to offer fair access to quality work experience which is part of the legal sectors collaboration as part of PRIME .Over the years the programme have received very positive feedback from the students themselves, parents and teachers.
Each summer they provide 24 placements, 12 students per week, aimed at Year 10 to Year 12.
Dates are as follows:
Week 1: 8 - 12 July 2019
Week 2: 15 – 19 July 2019
Students will be required to apply on-line via our website. The application form will be available on our website at the end of October.
Further information about both programmes is available on their website.
If you have any questions, please do not hesitate to contact the following:
Sarah Hamnett: sarah.hamnett@burges-salmon.com
Kerrie Baxter: kerrie.baxter@burges-salmon.com
Kirsty Green-Mann: Kirsty.green-Mann@burges-salmon.com
Year 10 Welcome to GCSE Parents Information Evening on Tuesday 20 November
We have a Welcome to GCSE Parents Information Evening Tuesday 20 November for Year 10 only.
The session is intended to give parents advice on how to support their child with their GCSEs in English, Maths, Science, Geography, History and MFL. Staff will be on hand during the evening to answer questions.
The session will run from 5.30pm to 6.30pm Parents should arrive and enter the Main Reception on Cotham Lawn Road. Directions to the main hall will be visible on the day.
Please click here to register your attendance to enable us to gauge numbers in advance.
Year 10 : Parents Evening on Thursday 29 November.
We have our Year 10 Parents Evening on Thursday 29 November. We will email you to let you know once booking opens but please add the date to your diary.
Year 11
Year 11 Parents Information Evening on Thursday 8 November
We have a Parent Information session on Thursday 8 November for Year 11 only.
The session is intended to give parents advice on how to support their child with revision in English, Maths, Science, Geography, History and MFL in preparation for mock exams and summer exams. Staff will be on hand during the evening to answer questions.
The session will run from 5.30pm to 6.30pm Parents should arrive and enter the Main Reception on Cotham Lawn Road. Directions to the main hall will be visible on the day.
Please click here to register your attendance to enable us to gauge numbers in advance.
Year 11 Parent/Carer Questionnaire
Thank you to all parents/carers who attended our Year 11 Parents' Evening. We strive to ensure that the educational experience of all students at Cotham School is outstanding and we really value your feedback in helping us to achieve this. If you have not already done so, please can we ask you to take a moment to complete the questionnaire here to help inform our planning.
BFI Film Academy
Is your child aged 16-19 and love film?
Applications for the BFI Academy in Bristol are open until Monday 5 November. There are two courses available, you can choose to train in documentary film-making on the course at Watershed or a drama/animation film-making on the course at the Bristol Old Theatre School. Each course takes place over 12 weekday evenings and some weekends during term time, running from December 2018 to March 2019. Each course gives you the chance to make your own films, whilst learning from filmmaking professionals and to grow your creative network. A Film Academy promo can be found here .
These courses are part of a UK- wide BFI Film Academy network of extra-curricular, DFE funded courses for young people interested in careers in the Screen Industries. Students are able to apply now by visiting the following website.
If students are unable to pay then there is a nominal £25 fee which students can opt out of, and travel bursaries are also available.
More information can be found here, alternatively email Bex Rose - bex.r@watershed.co.uk.
---
Post-16 News
---
Post 16 French Exchange visit to Bristol
On Friday 19 October, 27 students from our partner school - an agricultural college in Auch, SW France, spent the day with our Y13 A level French group.
The majority of our A level students went to Auch in May and stayed with families for the full immersion experience which was amazing, so we were keen to give our French friends the same treatment.
After walking from the centre of town to the docks, spotting street art en route, we did a photo treasure hunt challenge on the SS Great Britain and had Bacon rolls and English tea at Brunel's Buttery in beautiful (typical Bristolian) sunshine.
We then had a mini golf session in Cabot Circus and walked back up to school via Christmas Steps for games - including very funny and 'educational' Kahoot quizzes made by our Cotham students on Bristol slang, culture and food.
Finally, before the students spent the weekend with their Bristol partners, and for an authentic Bristol culinary experience, we treated them to Pieminister Pies and mash. This got got mixed reactions - not what they expected for a typical English afternoon tea - but delicious all the same!
Already looking forward to the return visit to Auch next year!
Year 13
It has been a very busy term at the North Bristol Post 16 Centre and we hope that all our students had a restful half term break.
Core Programme
On 24 October, the Core Programme was delivered by the excellent "We Run Workshops" about Sex and Consent. The year 12s behaved impeccably and were a credit to our centre. There is an opportunity for students to ask any follow up questions should they want to do this. Any further questions please ask them to see Mrs Kempt.
Opening Evenings
Both our Open Evenings were a great success and very well attended, many thanks again to all the Student Ambassadors who helped out - they are a vital part of the NBP16 Centre.
RESPECT Ambassador Programme
The RESPECT Ambassador Programme was launched on the last week of term in assemblies - more information is on the Cotham School website.
Attendance
You will have received a letter regarding your son/daughter's attendance last term. Please ensure that they complete any blue absence forms explaining their absence and ask them to speak to their form tutor to discuss any issues.
UCAS
UCAS deadline - year 13s should be working on their personal statements on Unifrog and asking their form tutor to check it over.
To find out more about recent events and achievements in Post 16, please visit the 'This Term at Cotham Post 16' section of our website.
---
House News
---
Sigma round up
Congratulations to Polly Utley Scott 7EH who is October Sigma Superstar
Polly has made a great start to Cotham. Polly is enthusiastic, caring, and helpful. She is a great asset to 7EH and Sigma House. Polly has shown kindness within her tutor group and has given up her own time to support Sigma fundraising events. Polly will receive a Sigma drink bottle and £3 to spend in the canteen
We are super proud to have Polly in Sigma.
Recycle old clothes, shoes and bags for our House Charity
We recycled our first load of clothing this term and raised £36 for our house charity -The rainbow Centre for Children.If you would like to donate any old clothing, shoes and bags please send them into school. We will be continuing this throughout the year.
Recycle Robot
Sigma and the Art department are collecting clean plastic containers, cardboard tubes, plastic bottle tops, cardboard for a Recycle Robot project. Please support and bring in any items you can collect. You can bring them to Art dept or Mrs Arnold.
Sigma Cake Sale
We held our first cake sale this term. Thank you to everyone who supported us and bought our cakes. We raised an amazing £145 for our house charity The Rainbow Centre for Children. Thank you to the Prefects: Abir, Paramjeet, Louis and Aineias who worked hard planning and organising the event. Special thanks to Louis Hawkins, Aineias Arango, Luke Velarde all 11MAH and Polly Utley Scott 7EH who stayed after school Thursday and baked the cakes and brownies.
Congratulations to 7EH
7EH have their own Cotham Manners poster - Always Act Kindly. They have all shown an act of kindness to a fellow tutee. Polly Utley Scott designed and made a fabulous card and the whole tutor group signed it and put a kind message in it for a fellow student who was feeling sad and nervous about being new at Cotham School. We are so proud to have 7EH in Sigma.To view the poster click here.
Sigma House Representatives
Congratulations to the following students who have been elected as year 7 tutor reps, Maja Maksimowicz, 7EH Lucas Faria-Cantera 7EH, Alma Ososki 7JLL and Xavier George Morales 7JLL. We are also pleased to welcome Kadija Mohamed who has been elected as the new rep for 10JF. They join the other Sigma Reps.
Adam Davey Takolia 8BSA
Lola Gurvitz 8BSA
Jasmin Nunn 8BAK
Zai Tan 8BAK
Daniel Medus 9SL
Rosa Evans 9SL
Ali Hussain 9ID
Christine Wierzbicki 9ID
Harry Giles 10ACL
Kynaat Bibi 10ACL
Kadija Mohamed 10JF
Zach Mason 10JF
Esme Tagg Foster 11MAH
Paulo Antonio 11MAH
Lili Stuwe 11RMO
Reuben Bowtell 11RMO
Wishing you all a restful half term.
Mrs Arnold
Gamma round up
It has been another fantastic and fulfilling term for Gamma within the House System which we are pleased to be celebrating. Our ongoing focus on teaching and learning has been progressing well with the School Newspaper group up and running again. Students have come together multiple times to discuss and collaborate on News ideas. Upcoming articles will include- teacher jokes, an exploration of what it means to be a Millennial, and an exploration of mental health.
Ella Madeley in 7RBA particularly is investigating mental health and wellbeing and has produced a 3 page report with tips and strategies for fellow students which we believe is an invaluable contribution to the school, especially with our recent World Mental Health day activities. Look out for this in the next issue of the paper. We would like to award Ella with this month's Gamma House Champion award. We are extremely proud of the start she has made to Cotham School. She has achieved 66 achievement points, no behaviour points and is a shining example of a Gamma and Cotham student! She will receive a Gamma House Champion trophy, £3 on her lanyard and a certificate.
Gamma has also achieved massive success with our Spookfest event which was held this week. Gamma prefects were extremely keen to repeat the success of last year's event by replicating it this year. There was an absolute rush to take part initially so the only photos we have is from the very end of a successful cake sale!
In total, Gamma raised over £125 for our Gamma House Charity- Above and Beyond. Thank you to everyone who took part! A special thanks goes to Rhys, Soha, Sophie, Hannah, Miss Quirke and Miss Papworth.
We are looking forward to another successful upcoming term, but for the moment, we wish everyone a happy, healthy and well-deserved half-term break
Delta House Heroes
As we approached the end of our first term, Delta tutors were asked to nominate one of their tutees to be a Delta House Hero for the way in which they have begun the new school year.
The House Heroes each received a Delta water bottle, postcard and treats to say well done for being selected by their tutor as the Delta House Hero for Term 1. It goes without saying that we are exceptionally proud to have the following students in our house.
Ismail has been chosen by his tutor, Miss Bird to be a Delta House Hero for being brilliant and working hard in lessons.
Hannah has been has been chosen by her tutors, Mrs Oxenham and Mrs Grice to be a Delta House Hero for her continued level of service towards charitable causes.
Jack has been chosen by his tutor, Miss McDonagh to be a Delta House Hero for being brilliant each and every day. Jack, it continues to be a pleasure to have you in the tutor group.
Mussa has been chosen by his tutor, Mr Dignan to be a Delta House Hero for having an extremely positive approach to tutor time and for responding very positively to feedback.
Lucy has been chosen by her tutor, Mr Slane to be a Delta House Hero for being a polite, friendly and happy student who has integrated in well to our school.
Oscar has been chosen by his tutor, Mr Cony to be a Delta House Hero for being so enthusiastic, so helpful, so polite, and so well-behaved.
Shahek has been has been chosen by his tutor, Mr Emery to be a Delta House Hero for receiving lots of positive comments from his teachers about his attitude to learning.
Delta Tutor Group of the Term
This was the first time this award was distributed and the worthy winners were none other than the mighty 7RBI! They have made without doubt the most superb start to life at Cotham, securing an astronomical amount of house points! They were given some treats to say a huge well done and to keep up their level of effort as we head into term 2.
Coming soon
Delta Dunk! Ahead of the end of term 2 the Delta Dunk will be taking place. This will be the big event that will sign off what is sure to be a jam packed term. We need to make sure we get behind the Delta Dunk to try and raise as much money as we can for our House Charity, Off The Record.
Have a happy, fun filled and safe half term.
Miss McDonagh and the Delta Team
Omega House Update
Omega house have had a fantastic end to a very long term, with plenty of excitement for the short holidays. I would like to wish everyone a restful break and enjoy the Halloween celebrations. Stay safe and have fun!
I would also like to highlight the following students who have all managed to top their tutor group in house points so far this term:
11DU- Jeremy Cross​​​​​​​
11LAL- Sam Spilling​​​​​​​
10JSB - Mohamed Abdulkaliq
10KBO- Zaki Ahmed
9GC- Mario Watson
9RM- Mahgoub Mohamed​​​​​​​
8JBA- Taja Daniels / Caitlyn Shields​​​​​​​
8JBR- Eebe Perrett / Fabio Campus​​​​​​​
7KBK- Jessica Bradfield
7OH- Ibtisam Mead
Thank you to all of you who donated on Thursday for non-uniform day, raising money for the house charity Jessie May. Jessie May is a Children's Hospice at Home service caring for local terminally ill children. Jessie May Nurses provide vital respite care, emotional support, end of life care, and bereavement support alongside family events that help create treasured memories. Jessie May Nurses work throughout Bristol, South Gloucestershire, North Somerset, Wiltshire, Bath and North East Somerset.
A final huge congratulations goes to the brand new tutor representatives in Year 7; they are Hafza Daauud and Jimmy Byrne (both are in 7KBK) as well as Sarah Pring and Sameer Kahn (who are in 7OH). These individuals will be involved in making active changes to the school and to represent Omega and their tutor groups in school meetings and discussions. They will team up with the rest of the Omega tutor reps next term.
Enjoy the break!
Mr Nunn
---
Subject Area News
---
PE/Sports Update
Gold Duke of Edinburgh
Last weekend an entriped group of explorers set off in search of an adventure! The Gold Duke of Edinburgh Award students ventured into the Black mountains for their practice expedition. Accompanied by Mrs Coney and Mr Emery, they left a sunny Cotham School on Thursday morning for a surprisingly sunny and warm weekend in the mountains. The group completed a four day expedition covering a distance of 80KM. Students picked up valuable experience in navigation, camp craft and fitness. They worked incredibly hard and showed some amazing team work.
Bristol School Bouldering Championship
Cotham has entered 4 teams into the competition this year. The First round took place this week and will continue with another 3 rounds over the next couple of terms. The students showed some excellent climbing skills, teamwork and motivational speeches! Best of luck to them for future rounds.
Please click here to view all of our recent results and the upcoming fixtures for the week ahead.
Please click here for a list of all of the PE/Sports Extra-Curricular activities available to students in Term 1
Follow @CothamPE on Twitter for all the latest news and updates from the Cotham School PE department
Visual Arts
Art Work of the Week
Rex Brimfield-Little (10SME) has produced a really interesting Photography piece. To view Rex's work click here.
Performing Arts
Performing Arts Work of the Week
Congratulations to Jonah (7JLL), Herbert (7JLL) and Louis (7CBR) for their excellent posters on Samba music. This term in music, year 7 have been completing a scheme of work on World Music and alongside samba, students have also been studying Indonesian Gamelan music. Cotham School obtained its gamelan (a multi-timbre ensemble consisting of metallophones, xylophones, flutes, gongs, voices, as well as bowed and plucked strings) in the 90s and became the first place in Bristol to own a gamelan. Today, along with forming a part of our Key Stage 3 music curriculum our gamelan is also used by Bristol Community Gamelan.
Click here to view the gallery of posters.
Mental Health and Well Being
Yoga Tribe for Teens
Friday lunchtimes in the main hall with Ms Gallien.
Tuesdays after school in the main hall with Ms Gallien.
---
Careers News
---
Apprenticeship and school leaver schemes: the following local events are coming up - get the dates in your diary!
Burges Salmon
Burges Salmon are holding an open evening on Thursday 8 November from 7-9pm at their Glass Wharf offices, BS2 0ZX to publicise their Legal apprenticeship opportunities. Register to attend here
National Heritage Training Group
National Heritage Training Group are holding free workshops on Saturday 10 November at Hayles & Howe at Templegate, BS3 4RP, where you can find out about traditional English building trades, their role in historic building restoration and apprenticeship opportunities. Email your name, DOB and preferred session (10am or 1pm) to info@haylesandhowe.co.uk
North Bristol NHS Trust
North Bristol NHS Trust are having a Healthcare careers open evening on Monday 12 November from 5.30-8pm in the Learning & Research Building at Southmead Hospital, BS10 5NB. A wide range of professionals will be there to give advice about routes into different job roles and how to get work experience. There is no need to book for the evening.
Rolls Royce
Rolls Royce are holding an Apprentice and School Leaver open evening for Y11-Y13 students on Tuesday 27 November from 6-8pm in Filton, BS34 6QA. Click here for more information and to register.
On Site Bristol
On Site Bristol are holding an open evening about their Construction apprenticeships on Wednesday 28 November from 5-7.30pm at the Create Centre in Hotwells, BS1 6XN. No need to book.
PwC
PwC (a top professional services firm) is holding an open evening for Y11-Y13 students and parents on Wed 28 November from 5-7pm at their Glass Wharf offices, BS2 0FR, where you can learn about their higher and degree level apprenticeship schemes Register to attend here.
More information about apprenticeships and school leaver schemes, including some current local opportunities, can be found here.
---
Community News
---
Parenting Courses
The Families In Focus team's parenting practitioners will be running a series of courses during Term 2, starting in November, please click here for more information which includes contact details if you wish to book a place for each course.
Creative Futures
The next round of the Creative Futures project is now open!
We are looking for 5 young people aged 16-25 to take part in this paid 6 month opportunity to set themselves up as a freelancer, make and show their own work and get mentoring.
Please see attached for more information about the project and details on how to apply as well as a printable flyer. We welcome applications from care leavers, those receiving income support and NEET young people.
We are holding drop in days every Friday morning in May for young people to come into The Station(Bristol, BS1 2AG) and meet with us to find out more about the project.
Deadline for applications: Friday 30 November 2018, 5.00pm.
Interview day: Tuesday 11 December 2018,11am – 3pm
Project start: Monday 7 January 2019
End of project: Friday 28 June 2019
If you have any queries or would like further information the get in touch on 0117 947 7948 or
creative.dept@creativeyouthnetwork.org.uk.
Bristol Womens Voice
Do you like drawing, writing stories, recording silly sounds, playing games and sharing ideas? Bristol Women's Voice are running workshops based on amazing women from history. These workshops are running on 13, 20 and 27 October, from 1.00pm - 3.00 pm at Acta Community Theatre. For more information click here.
Epilepsy Action
The charity Epilepsy Action will be running an event in Bristol on Saturday 17 November from 10.00am until 4.00pm at We The Curious, Anchor Road, Harbourside, Bristol. If your child has epilepsy then this event will provide them with the chance to take part in a range of workshops led by the education team at We The Curious. At the same time consultants from the Bristol hospitals will talk to parents and carers, whilst also providing information about epilepsy surgery for children and the impact of epilepsy on children's memory, learning and thinking.
You will also have the opportunity to meet other families and share experiences on living with epilepsy, talk to experts and asks questions and gain further information about local support groups, services and volunteering activities.
Booking is essential as the venue only has capacity for 30 families.To book visit: epilepsy.org.uk/bristolevent or contact local services on 0113 210 8781. A £5 booking fee applies. More information can also be found here.
---
Useful quick links
---
Keep us posted
It would be great if parents/carers could let the school know of any student achievements outside of school please. It is sometimes only at parents' evenings that we find out what students are doing in their own time. Email us: weeklymailing@cotham.bristol.sch.uk
Key Dates
Please click here to view the Key Dates by year group for the 2018-19 academic year. You will be notified of any significant changes/additions, but please can we ask that you check the dates for your year group regularly as they are subject to change.
Parents' Evening Booking System (PES)
Please click here to access the online appointment booking system for Parents Evenings/Family Consultation Day. Please note this is only available if an event is due. We will email you to let you know when booking opens. If you encounter any difficulties with booking your appointments please contact the admin team by email to adminoffice@cotham.bristol.sch.uk or tel: 0117 919 8000
Assessment Calendars for KS3
We have created Assessment Calendars for 2018/19. Each Assessment Calendar contains details of the class assessments that will take place in their subjects. The final column contains a link which gives information about each of the assessments.
To see the Year 7 Assessment Calendar click here
To see the Year 8 Assessment Calendar click here
To see the Year 9 Assessment Calendar click here
To see the Year 10 Assessment Calendar click here
Homework and Independent Learning timetables
Please see the attached link describing our Homework Guidelines for students in the school.
In KS3 we do not have homework timetables.
Homework and Independent Learning Timetable for Year 10
Homework and Independent Learning Timetable for Year 11
WisePay
WisePay is the Online Payment Service at Cotham School which allows you to pay for trips and visits as well as to add credit to your child's Cashless Catering account. Click here to access your account now. If you have any queries about your account please contact the support team by email to wisepay@cotham.bristol.sch.uk
School Uniform
Please click here to view the compulsory uniform requirements of Cotham School, along with visual examples of uniform and details of our uniform suppliers.
GCSEpod
Click here to access GCSEpod which contains lots of revision resources for most GCSEs. Students self register through the website using their name and school details.
SAM Learning
Click here to access SAM learning which contains revision exercises and self marking quizzes with automatic progress tracking and reporting. Please use the Centre ID: BS6CS. Student usernames and passwords are their birthday formatted as DDMMYY, followed by their Initials.
Diagnostic Questions
Click here to access. This site contains self marking quizzes with lots of templates including some from a range of exam boards. It's easy to make your own questions in Microsoft PowerPoint too. Students sign up with their school Google account using the G+ button to automatically create a school account
Edmodo
Edmodo is an application that can be used on both mobile devices and in the web environment to create an online community of practice. Edmodo is a free social learning platform that allows students to access the course content uploaded by their teachers.
Linguascope
The Language Learning Platform
Free School Meals
https://www.cloudforedu.org.uk/ofsm/sims to check if your child is eligible for Free School Meals or to apply.
Click here to Contact Us