Weekly Mailing - Friday 16 November 2018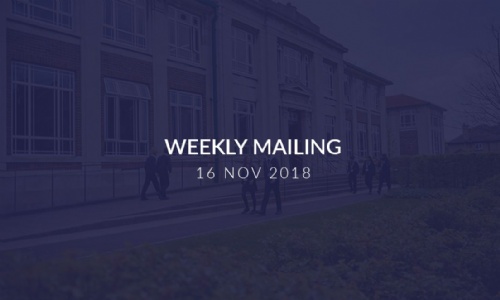 Dear Parents / Carers

Please find below my usual updates on events that have taken place this week, information, letters etc.

Best wishes for the weekend.

Ms Jo Butler
Headteacher
---
CONGRATULATIONS
---
ESU Public Speaking Competition
On Tuesday 13 November, six Cotham students participated in the first round of the ESU Public Speaking Competition which was also hosted by Cotham School. Esme Russell, Ed Ledgard, Talulla Harris, Charlotte Omiotek, Greg Cony and Esme Pykett made up two teams for the competition and all performed brilliantly on the night.
The Cotham teams worked tirelessly over the last month to prepare - practicing questioning, summarising and creating speeches for the event. On the night all members of the team were articulate, confident and hugely engaging; they were an absolute credit to themselves and the school. Greg Cony gave an insightful and incredibly well researched speech on 'Important national resources and utilities should not be held in private hands' and Charlotte Omiotek gave a passionate and riveting speech on 'The media controls how and what we think'. The standard of competition this year was incredibly high and the Cotham teams rose to this challenge. Esme Russell won the award for Best Chairperson of the night and Ed, Charlotte and Esme Pykett were placed as runners up in the competition.
Congratulations to all the students involved for their dedication and hard work and many thanks to Ms Hepworth for her support on the night and Ms Bird for helping to coach both teams.
Ms Clement
---
IMPORTANT INFORMATION FOR PARENTS/CARERS
---
Parent Governor Elections
Information on the parent governor elections running this term has now been shared. Please click here for more information. Deadline for nominations is Friday 23 November 2018
Online Safety Newsletter: November 2018
Click here to view November's Newsletter.
Uniform
Please can we remind students about acceptable winter attire now that we are into the winter period
Coats: Plain coats without intrusive logos or brands. No denim jackets. No leather jackets. No fur coats. Coats are only worn outdoors on top of a navy sweatshirt/jumper and not in place of a navy sweatshirt/jumper
Headwear: No caps under any circumstances. Hoods on jackets must not be up so that the face can be clearly seen at all times. Plain woollen hats only worn during winter period, outside (not in school buildings). Headscarves worn for religious or cultural reasons should be plain navy blue, black or white and must not cover the face.
Uniform Sales
Uniform can be purchased from Harris Sports and Famous Branches at any time.
Harris's (School Uniform Suppliers) will be in School, in the Meeting Room, Main Reception on Thursday 10 January 2019 2.30 - 4.00pm.
Our next second hand Uniform Sale will be held in the Meeting Room, Main Reception on Friday 11 January 2019 2.30 - 3.30pm.
Advance Notice of Early School Closures - 2018/2019
Please be advised that the school will close early and students dismissed at 12.00pm on the following dates:
Thursday 20 December 2018 (Last day of Term 2)
Tuesday 23 July 2019 (Last day of Term 6)
Word of the week
Each week at Cotham we promote a Word of the Week. This is to help students expand the range of vocabulary they use. Please find the word for the week ahead by clicking here.
---
KEY STAGE 3 NEWS
---
Year 7 Family Consultation Day
Family Consultation Day for Year 7 only, takes place on Thursday 22 November
This event is an opportunity for parents and carers of Year 7 students to meet their tutor for 15 minutes to discuss how they have settled into the Cotham community. Topics such as attendance, achievements, behaviour and performance can be discussed. Please be aware that no subject teachers will be available so tutors will not be able to discuss individual subjects.
We ask that all parents and carers book a 15 minute appointment with their child's tutor between 8.30am - 5.00pm to take advantage of this valuable opportunity to discuss how your children have settled into life at Cotham. During your appointment you will be able to to discuss your child's engagement and well-being, participation in the wider life of the school, and to set targets for the remainder of the year.
Your child's Learning Coordinator Mrs Wilkie will also be available to talk to. Mrs Reed, our Attendance Officer, will also be on hand to discuss any concerns you may have regarding attendance.
To book your appointment and for more information please click here
We remind all parents/carers that parking is very limited in local roads and is controlled by parking meters until 6pm
---
KEY STAGE 4 NEWS
---
Year 10
Year 10 Welcome to GCSE Parents Information Evening on Tuesday 20 November
We have a Welcome to GCSE Parents Information Evening Tuesday 20 November for Year 10 only.
The session is intended to give parents advice on how to support their child with their GCSEs in English, Maths, Science, Geography, History and MFL. Staff will be on hand during the evening to answer questions.

The session will run from 5.30pm to 6.30pm Parents should arrive and enter the Main Reception on Cotham Lawn Road. Directions to the main hall will be visible on the day.

Please click here to register your attendance to enable us to gauge numbers in advance.
Year 10: Parents Evening on Thursday 29 November.
We have our Year 10 Parents Evening on Thursday 29 November. The PES booking system will open on Friday 16 November. You will an email to inform you that bookings are open and a reminder of how to log in etc.
Work Experience
Travelling Light
Travelling Light Theatre Company has been creating exciting and groundbreaking theatre for and with children & young people since 1984. Our mission is to inspire their imaginations, fire their emotions and make them think!
What do we offer? We are able to offer students (aged 14-18) the opportunity to join us for one full week's work experience 1-5 July 2019.. We are unable to accept placements outside of this week.
What will it involve? Working in the office of Travelling Light Theatre Company where we produce touring theatre and a range of participation projects in and out of school time. Learning about the different roles and responsibilities within a theatre company. Independent research project and skill sharing. Completing the Bronze Arts Award
Placements involve experiences across the company's professional productions, participatory projects and administrative work and this may include some evening work.
How do I apply? You will need to return a completed application form or application video to us before the deadline. If successful, we will invite you to an interview to discuss your needs and interests. From there, a decision will be made about whether we can offer you a placement. Deadlines Applications must be received by 31 January 2019

Applications are on the School WEX site or from Mrs Arnold.
Year 11
Year 11 Parents Information Evening on Thursday 8 November
Thanks to all who were able to attend this valuable information session.
Click here to access the presentation from the evening for your reference.
Click here to access the Year 11 Assessment Calendar.
---
POST-16 NEWS
---
Year 12 Family Consultation Day 21 November 2018
Family Consultation Day is this Wednesday 21 November at Charnwood House, there are no year 12 lessons this day. Your son/daughter should have made an appointment for you to meet their tutor - if you cannot make this day please contact their form tutor to make another appointment or to speak to them on the phone.
To find out more about recent events and achievements in Post 16, please visit the 'This Term at Cotham Post 16' section of our website.
Year 12 and 13 progress reviews will be emailed out to parents/carers shortly. Please contact your son/daughter's form tutor should you have any queries
Year 12 Core Programme last week was a useful session on First Aid focussing on how to help a friend out in need and how to administer the recovery position whilst looking out for themselves.
STRIDE Lunch is Thursday 22 November at 1.05pm in G104 - this is an excellent opportunity for students to show teachers and senior staff members their folders and work and allow them to voice their thoughts regarding their learning and support at the NBP16 Centre. Please encourage your son/daughter to sign up - there will be free lunch.
Wellbeing drop in sessions continue on a Thursday lunchtime in G208 - all are welcome.
Your son/daughter's mental health and wellbeing is very important to us - please encourage them to talk to Mrs Kempt should they have any concerns or worries.
---
CAREERS NEWS
---
There are a lot of local careers and apprenticeship events happening soon:
Digital Cities Bristol - 26-30 November - a range of free creative and digital training and events - see here for more information.

Boomsatsuma is running an "Ask Me Anything" event on Tuesday 27 November from 4.30-7.00pm at Engine Shed, BS1 6QH, offering 14-18 year olds unique career insights into the creative industries, including games, music, film and TV production. Tickets must be booked here.

Rolls Royce are holding an Apprentice and School Leaver open evening for Y11-Y13 students on Tuesday 27 November from 6.00-8.00pm in Filton, BS34 6QA. For more information and to register, see here

On Site Bristol are holding an open evening about their Construction apprenticeships on Wednesday 28 November from 5.00-7.30pm at the Create Centre in Hotwells, BS1 6XN. No need to book.

PwC (a top professional services firm) is holding an open evening for Y11-Y13 students and parents on Wednesday 28 November. from 5.00-7.00pm at their Glass Wharf offices, BS2 0FR, where you can learn about their higher and degree level apprenticeship schemes. Register to attend here.

Renishaws are holding an information evening about their opportunities in Engineering and Computing on Wednesday 28 November from 5.00 - 6.30pm and 7.00-8.30pm near Wotton-under-Edge GL12 8JR. For more information and to book click here.

As well as the above, note that the following companies are now advertising their apprenticeship and school leaver schemes - many of them at higher and degree level: Atkins - engineering; Aldi - retail ; Army -various; Border Force - Civil Service; Burges Salmon - law; CGI - ICT; Deloitte and KPMG - professional services, incl. Accountancy, IBM - Business and Technology. Links to some of them are on our website here or see their websites for more details.
---
SUBJECT AREA NEWS
---
PE/Sports Update
Sportshall Athletics - Years 7 and 8 boys and girls
Well done to everyone who took part in this competition, especially year 7 as this was their first experience of a inter-school fixture.
Bristol Schools Swimming Gala
Well done to all the swimmers who competed at the Bristol Schools swimming gala at Easton on Thursday evening. There were some notable performances from Reuben West, Max West, Lucas Down, Sarah Walsh, Nora Gorst and Jonathan Roche.
Fixtures w/c Monday 19 November
Wednesday 21 November
Year 9 and 10 boys and girls sportshall athletics at Orchard (6pm return)
Year 8 netball at Clifton College Sports Centre (5.30pm return)

Please click here for a list of all of the PE/Sports Extra-Curricular activities available to students in Term 2.
Follow @CothamPE on Twitter for all the latest news and updates from the Cotham School PE department
Visual Arts
Art Work of the Week
This weeks Art WOW goes to Ed Ledgard in Year 10 for his beautiful photograph of flowers and leaves frozen in ice. Click here to view.
Performing Arts
Work of the Week
Congratulations to Ryan (10JF) for his set design with a working light! The set has been designed for The Government Inspector, a black comedy by Russian playwright Nikolai Gogol. The play is studied in GCSE Drama in preparation for the written exam.
This term in GCSE Drama, Year 10 students are preparing for their component one mock exams. This involves working in a group to devise a piece of Drama alongside creating a portfolio to show the creative process. Alongside acting, students also have the choice to be assessed in performance support roles such as costume, set, lighting or sound design. Good luck to all year 10 students, we're looking forward to see what you create this term!
Now available in Cotham School - tuition with Perform For Life!
Perform For Life is a locally-based Arts organisation. They offer children and young people the opportunity to develop and refine their performance skills, while at the same time building additional life skills and embracing their individuality.
Students can focus on Acting, Devising Drama, Public Speaking, Singing, Musical Theatre or Performance Arts. They'll also be encouraged to work towards a certificate with the prestigious LAMDA, Trinity College London or Rockschool London examination boards.
Through their Perform For Life lessons, and in working towards a Performing Arts exam, Cotham's students will:
Be awarded with an Internationally recognised qualification
Gain measure of and accreditation for their commitment, progress and ability in an Extra-Curricular activity
Expand their performance ability and technique
Develop additional life skills, such as public speaking or interview skills; improved memory and coordination; self-discipline; creative and collaboration skills; increased awareness of and appreciation for theatre and literature
Have the opportunity to gain UCAS points through taking exams at higher grades
Perform For Life's tutors have a 100% pass rate, with 60% gaining a High Merit or Distinction, and are friendly, communicative, qualified and experienced.
Tuition is available on a one-to-one, duo, small group or after-school group basis.
Interested students should register for lessons with a parents / guardian, using the Registration form available on Perform For Life's website here. To view flyer click here.

Contact Perform For Life with any questions on hello@weperformforlife.com.
They also offer small-group sessions every Saturday morning during term-time at the 1532 Performing Arts Centre in Clifton - email to find out more.
Mental Health and Well Being
Yoga Tribe for Teens
After school on Tuesday and during Friday lunchtimes in the main hall with Ms Gallien.
Yoga Tribe now has a Loyalty Card Students who attend 6 times in a row will get a price the 7th time.
We also have a homepage on google classroom with 49 subscribers!
---
COMMUNITY NEWS
---
BYHA Nominations
Nominations Open for Bristol Young Heroes Awards 2019 from 5 November 2019.

The Bristol Young Heroes Awards are a gala dinner and award ceremony to recognise and celebrate the valuable contributions that Bristol's Young People aged 11-19 make to the City.

BYHA 2019 will be a star studded event hosted by BBC Radio Bristol's Emma Britton held in the inspiring We the Curious building on the evening of Friday 5 April.

To see a short video from the 2018 awards or if you know a young hero to nominate go to www.communityofpurpose.com/byha-2019/

Closing date is Friday 22 December 2019 at 5.00pm

For any questions or queries, please do not hesitate to get in touch with Holly Maurice at holly.maurice@communityofpurpose.com or 07813828988
---
USEFUL QUICK LINKS
---
Keep us posted
It would be great if parents/carers could let the school know of any student achievements outside of school please. It is sometimes only at parents' evenings that we find out what students are doing in their own time. Email us: weeklymailing@cotham.bristol.sch.uk
Key Dates
Please click here to view the Key Dates by year group for the 2018-19 academic year. You will be notified of any significant changes/additions, but please can we ask that you check the dates for your year group regularly as they are subject to change.
Parents' Evening Booking System (PES)
Please click here to access the online appointment booking system for Parents Evenings/Family Consultation Day. Please note this is only available if an event is due. We will email you to let you know when booking opens. If you encounter any difficulties with booking your appointments please contact the admin team by email to adminoffice@cotham.bristol.sch.uk or tel: 0117 919 8000
Assessment Calendars for KS3
We have created Assessment Calendars for 2018/19. Each Assessment Calendar contains details of the class assessments that will take place in their subjects. The final column contains a link which gives information about each of the assessments.
To see the Year 7 Assessment Calendar click here
To see the Year 8 Assessment Calendar click here
To see the Year 9 Assessment Calendar click here
To see the Year 10 Assessment Calendar click here
To see the Year 11 Assessment Calendar click here
Homework and Independent Learning timetables
Please see the attached link describing our Homework Guidelines for students in the school.
In KS3 we do not have homework timetables.
Homework and Independent Learning Timetable for Year 10
Homework and Independent Learning Timetable for Year 11
WisePay
WisePay is the Online Payment Service at Cotham School which allows you to pay for trips and visits as well as to add credit to your child's Cashless Catering account. Click here to access your account now. If you have any queries about your account please contact the support team by email to wisepay@cotham.bristol.sch.uk
School Uniform
Please click here to view the compulsory uniform requirements of Cotham School, along with visual examples of uniform and details of our uniform suppliers.
GCSEpod
Click here to access GCSEpod which contains lots of revision resources for most GCSEs. Students self register through the website using their name and school details.
SAM Learning
Click here to access SAM learning which contains revision exercises and self marking quizzes with automatic progress tracking and reporting. Please use the Centre ID: BS6CS. Student usernames and passwords are their birthday formatted as DDMMYY, followed by their Initials.
Diagnostic Questions
Click here to access. This site contains self marking quizzes with lots of templates including some from a range of exam boards. It's easy to make your own questions in Microsoft PowerPoint too. Students sign up with their school Google account using the G+ button to automatically create a school account
Edmodo
Edmodo is an application that can be used on both mobile devices and in the web environment to create an online community of practice. Edmodo is a free social learning platform that allows students to access the course content uploaded by their teachers.
https://www.edmodo.com
Linguascope
The Language Learning Platform
https://www.linguascope.com
Free School Meals
https://www.cloudforedu.org.uk/ofsm/sims to check if your child is eligible for Free School Meals or to apply.
Contact Details
Please note the following contact numbers and email addresses if you need to contact the school:

Main Reception - 0117 919 8000/ reception@cotham.bristol.sch.uk
Student Reception - 0117 919 8013 / studentreception@cotham.bristol.sch.uk
Absence - 0117 919 8019/ absence@cotham.bristol.sch.uk
NBP16C - 0117 919 8100/ post16@cotham.bristol.sch.uk
Finance - 0117 919 8016/ finance@cotham.bristol.sch.uk
Exams - 0117 919 8024/ examsassistant@cotham.bristol.sch.uk
Admin Office - 01179198053/ adminoffice@cotham.bristol.sch.uk