Weekly Mailing - Friday 23 November 2018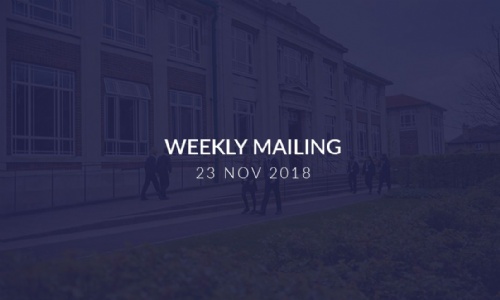 Dear Parents / Carers
Please find below my usual updates on events that have taken place this week, information, letters etc.
Best wishes for the weekend.
Ms Jo Butler
Headteacher

CONGRATULATION

Cricket Achievement
Fiontan plays cricket at Bedminster CC for the U13s Competing in both the North Somerset Youth Cricket League and the Bristol Youth Cricket League. The Team won both leagues and were presented with medals and Trophies at the recent Youth presentation evening at Bedminster CC.
Fiontan also plays for the Bedminster C XI senior team, who also won their Bristol and District league this year. Well done Fiontan!
Design the School Christmas Card Competition 2018
Congratulations and thank you to everyone who entered the competition. With such a very high standard of jolly and colourful designs, it was so difficult to choose a winner but the results are here!
Our Winner is Prerena Nerlige Prasl 9ID with her jolly Cotham Elves. Click here to see Prerena's design.
Our Runner up is Salu De Oliveira, 9GC with his pop up Christmas card and lovely words. Unfortunately we cannot replicate the pop up version here but trust you will agree it is a lovely design.
Highly Commended Students include: Stella Hutchins 8BSA, Amy Howe 9ABI, Patrick Rolt 7JPG, Martha Pykett 7JPG and Daisy Dimbleby 7CBR. Click here to see the collage of their wonderful designs.
As this was a House competition 3 of the entrants received points for Gamma, 2 entrants for Sigma and 1 entrant for Omega - very well done! Each student will also receive an Amazon voucher as a prize and a pack of cards using their design.

IMPORTANT INFORMATION FOR PARENTS/CARERS

Online Safety Newsletter: November 2018
Click here to view November's Newsletter.
Advance Notice of Early School Closures - 2018/2019
Please be advised that the school will close early and students dismissed at 12.00pm on the following dates:
Thursday 20 December 2018 (Last day of Term 2)
Tuesday 23 July 2019 (Last day of Term 6)
Word of the week
Each week at Cotham we promote a Word of the Week. This is to help students expand the range of vocabulary they use. Please find the word for the week ahead by clicking here.
Special Educational Needs and Disabilities Information Advice and Support Service
Commissioning Consultation Event for Professionals working with Children and Families, 3 December 2018, 4.30pm to 6.00 pm at City Hall, College Green, Bristol, BS1 5TR.
Bristol City Council has a duty under the Children and Families Act 2014 to provide impartial, confidential and accessible information, advice and support to children and young people with special educational needs and/or a disability (SEND), and their parents or carers, regarding their education, and any health or social care needs related to their education. This support is currently delivered through Supportive Parents, Bristol's SEND Information, Advice and Support Service (SENDIAS service).
In partnership, Bristol City Council and Bristol, North Somerset and South Gloucestershire Clinical Commissioning Group propose to re-commission Bristol's SENDIAS service from 2019-2022 with an increased budget of £140,000 each year.
As part of the commissioning process Bristol City Council are engaging in a public consultation ending on 8 January 2019 with professionals, children and young people with SEND and/or disabilities, and their parents and carers. This event is an opportunity for professionals to share their views on how the SENDIAS service should operate going forward.
To book a place at the event please visit: https://www.eventbrite.co.uk/e/special-educational-needsand-disabilities-information-advice-and-support-service-commissioning-tickets-52665024506
You are welcome to feedback on the consultation using the following link and we also ask that you encourage children, young people, parents and carers to complete the survey too: bristol.citizenspace.com/adults-children-and-education/sendias
Event to Recruit More Black Asian and Minority Ethnic Teachers
The last DFE statistics showed that in Bristol, only 9.5% of our teachers are from a Black, Asian or Minority Ethnic (BAME) background. This compares to nearly 14% nationally, 32% in Birmingham, 30% in Leicester, 14% in Manchester and over 40 % in most London boroughs. We have 15% BAME teaching assistants , which is slightly close to the national average of 14.5%, but again way lower than comparative cities. It is well evidenced that having diverse positive role models supports our young people's education and inspires and motivates them to achieve. The LA's Race Equality in Education Group and the Mayor's Commission on Race Equality have organised an event at City Hall on Saturday 8 December 2018 for anyone who might be interested in teaching as a career to come and find out more and talk to providers about the pathways available. Click here to view the flyer
Lost Property
May we remind Parents and Carers that the Lost Property Coat Rail is located at the Student Reception side of School Parents and Carers are welcome to come in between the hours of 08.30 - 3.30 (Monday to Thursday) and 08:30 - 3.00 (Friday). Students are welcome to come and retrieve their coats at the start of the School day or at break times.
This week our Lost Property Office had several V neck jumpers handed in that had been found around the School. Unfortunately we are unable to return them to their owners as none of them are named. Please name all items of Uniform so we can trace the Student and return the item to them.
Many thanks for your co-operation.
Cotham School Receptionists
Christmas Lunch - Wednesday 19 December
Roast Turkey, Pigs in blankets and Apricot Stuffing
Roast Potatoes, Parsnips, Sprouts and carrots.
Chocolate & Black-cherry Iced Muffin
Vegetarian option instead of turkey will be offered too, also jackets, soup and pasta.

KEY STAGE 3 NEWS

Year 7 Family Consultation Day
Thank you to all the those Parents/Carers who attended appointments with the Year 7 form tutors on Thursday 22 November. We were pleased to see so many of you on the day. The meetings were a chance to discuss how our Year 7's have settled in, to talk through any concerns, and to plan how home & school can work together to give students the best possible start at Cotham.
Many thanks to everyone who took a moment to complete our questionnaire on the day. This is a valuable opportunity for you to provide feedback to the school. It is still possible for you to complete the questionnaire online by clicking here.

KEY STAGE 4 NEWS

Year 10
Year 10 Welcome to GCSE Parents Information Evening on Tuesday 20 November
Thank you to those parents that were able to attend our Welcome to GCSE Evening on Tuesday 20 November.
The presentation used on the evening can be found here.
The presentation contains links to the following resources referred to in the evening:
KS4 Curriculum Booklet
Year 10 Assessment Calendar
Exam Command words
Revision Guides and websites
Year 10: Parents Evening on Thursday 29 November.
We have our Year 10 Parents Evening on Thursday 29 November. Bookings for this are now well underway and filling up fast so please do book early to avoid disappointment.
Year 11
Upgrade
Upgrade has now launched for all students who we believe will benefit from extra support in the run up to mock examinations in January. Initial student feedback has been really positive, with many finding the time useful and productive. Students say they find Upgrade particularly helpful for organisation, time management and in the development of effective revision methods. They can access support from both staff and peers in each session.
Affected students have received new timetables with their Upgrade lessons added. Please ask your child to show you their timetable and support our staff by reminding them they must attend.
Mock exams
Formal mock examinations will take place from 21 January to 1 February. Timetables will be supplied nearer the time.
NBP16 Applications
The deadline for application to the North Bristol Post 16 Centre is 7 December. Applications can be made online here
Supporting your child's learning at home
Please see the presentation from the recent Parents' Information evening here for lots of useful information on supporting your child in Y11.
Managing Stress
Lots of students feel worried and stressed in the run up to exams. We recommend students keep a good sleep schedule, eat well, get outdoors and do regular exercise to support their well-being.
In school, we have Yoga on Tuesdays and Fridays and Headspace, a place for quiet mindfulness, running every day.
There are also a wealth of apps available that can be accessed on phones/ tablets at home. 'Headspace' and 'Calm' are two that come highly recommended and offer tips, anxiety advice and guided meditation. Both are available on IOS and android and offer free 7 day trials.
Final Post-16 Open Events of this term:
South Gloucester and Stroud College - all campuses - Saturday 24 November 10.00am-1.00pm
City of Bristol College - all sites - Tuesday 27 November 5.00-7.30pm
Access Creative College (now moved to City Centre) - Tuesday 27 November 5.00pm and 6.30pm (please book online)
Maths Mock Exams
A reminder for Year 11 (both sides): the Maths Mock Exam Paper 2 will be on Friday 30 November, Periods 1-2.
For this exam students should ensure they bring a calculator, compass and protractor, as well as all the usual equipment.
Maths specific revision advice is contained within the recent Y11 parent info presentation here and the recent letter to Y11 parents here.

POST-16 NEWS

Year 12: Many thanks to all parents and carers who attended the Family Consultation Day last Wednesday. We hope it was as useful experience for you. If you were unable to attend then your son/daughter's form tutor will be in touch with you soon.
Year 13: Your son/daughter's Progress Review will be emailed out to you soon. Should you have any concerns or queries please contact your son/daughter's form tutor to discuss.
UCAS - please remind your son/daughter that they should be arranging one to one meetings with their form tutor to go through their personal statement. The deadline to "pay and send" is Monday 3 December. This allows Mrs Kempt to check their application, upload their reference and send to UCAS.
Year 12: Core Programme this week is on wellbeing and mental health - Kooth the online counselling service will be presenting this session.
DSA - The Disabled Student Allowance is a brilliant scheme to support SEND students and those with Medical and mental health needs at university. A representative from Contact Associates will be coming in on Monday 3 December 5pm - 6pm to explain what is involved. There will be letters going out soon.
Wellbeing drop in on Thursday lunchtime continues in G208 - all are welcome.

CAREERS NEWS

A reminder that there are a lot of local careers and apprenticeship events happening in the week ahead:
Digital Cities Bristol - 26-30 November - a range of free creative and digital training and events - see here for more information.
Boomsatsuma is running an "Ask Me Anything" event on Tuesday 27 November from 4.30-7.00pm at Engine Shed, BS1 6QH, offering 14-18 year olds unique career insights into the creative industries, including games, music, film and TV production. Tickets must be booked here.
Rolls Royce are holding an Apprentice and School Leaver open evening for Y11-Y13 students on Tuesday 27 November from 6.00-8.00pm in Filton, BS34 6QA. For more information and to register, see here
On Site Bristol are holding an open evening about their Construction apprenticeships on Wednesday 28 November from 5.00-7.30pm at the Create Centre in Hotwells, BS1 6XN. No need to book.
PwC (a top professional services firm) is holding an open evening for Y11-Y13 students and parents on Wednesday 28 November. from 5.00-7.00pm at their Glass Wharf offices, BS2 0FR, where you can learn about their higher and degree level apprenticeship schemes. Register to attend here.
Renishaws are holding an information evening about their opportunities in Engineering and Computing on Wednesday 28 November from 5.00 - 6.30pm and 7.00-8.30pm near Wotton-under-Edge GL12 8JR. For more information and to book click here.
As well as the above, note that the following companies are now advertising their apprenticeship and school leaver schemes - many of them at higher and degree level: Atkins - engineering; Aldi - retail ; Army -various; Border Force - Civil Service; Burges Salmon - law; CGI - ICT; Deloitte and KPMG - professional services, incl. Accountancy, IBM - Business and Technology. Links to some of them are on our website here or see their websites for more details.

SUBJECT AREA NEWS

Bristol Schools Swimming success
Congratulations to Reuben West (10KBO) who has qualified for the Bristol Schools Swimming Finals in the 50m freestyle, 50m butterfly and 50m breaststroke by winning all his heats. He also set a new Bristol Schools record for the 50m freestyle 25.29secs.
Fixtures w/c Monday 26 November
Wednesday 28 November
Junior (h) & senior (a) Basketball vs St Bedes
Cross Country Trials at BGS playing fields
Year 7 netball festival at Clifton Sports Centre.
Please click here for a list of all of the PE/Sports Extra-Curricular activities available to students in Term 2
Follow @CothamPE on Twitter for all the latest news and updates from the Cotham School PE departme
nt
Performing Arts
Performing Arts Winter Sharing
Join us for an evening of Performing Arts, celebrating the achievement of our students from all key stages across Dance, Drama and Music.
The evening will feature performances from all of Cotham's legendary steel pan groups, year 7 drama club, Pulse, year 7 and year 8 dance companies. Next week, year 9 students will be taking part in a full day dance workshop where they will create a dance to be performed at the winter sharing. There will also be performances from GCSE Drama and A Level Theatre Studies students. If your child will be performing in the evening, you will be receiving a letter soon and we appreciate the prompt return of the permission slip.
The performing arts winter sharing will be on Tuesday 11 December at 18:00 in the Main Hall. Tickets cost £5 (£3 concessions) and are available through Wisepay.
Work of the Week
Congratulations to Grace in 7DS for their Drama homework. We were all very impressed with the creative use of an egg box to create "the world's smallest theatre, showing Pride and Prejudice". Click here to view.
Now available in Cotham School - tuition with Perform For Life!
Perform For Life is a locally-based Arts organisation. They offer children and young people the opportunity to develop and refine their performance skills, while at the same time building additional life skills and embracing their individuality.
Students can focus on Acting, Devising Drama, Public Speaking, Singing, Musical Theatre or Performance Arts. They'll also be encouraged to work towards a certificate with the prestigious LAMDA, Trinity College London or Rockschool London examination boards.
Through their Perform For Life lessons, and in working towards a Performing Arts exam, Cotham's students will:
Be awarded with an Internationally recognised qualification
Gain measure of and accreditation for their commitment, progress and ability in an Extra-Curricular activity
Expand their performance ability and technique
Develop additional life skills, such as public speaking or interview skills; improved memory and coordination; self-discipline; creative and collaboration skills; increased awareness of and appreciation for theatre and literature
Have the opportunity to gain UCAS points through taking exams at higher grades
Perform For Life's tutors have a 100% pass rate, with 60% gaining a High Merit or Distinction, and are friendly, communicative, qualified and experienced.
Tuition is available on a one-to-one, duo, small group or after-school group basis.
Interested students should register for lessons with a parents / guardian, using the Registration form available on Perform For Life's website here. To view flyer click here.
Contact Perform For Life with any questions on hello@weperformforlife.com.
They also offer small-group sessions every Saturday morning during term-time at the 1532 Performing Arts Centre in Clifton - email to find out more.

HOUSE NEWS

SIGMA ROUND UP
Our House assembly spoke about how together as a House we can make a difference. Sigma will be supporting Omega this term with their School Charity Collection. Students have been asked to bring in donations of non-perishable items, toiletries, nappies. There will be collection points around school for students to drop items off. Sigma Please support and let's make a difference to someone's life.
Sigma Highflyers
The following students were rewarded for making a positive difference to their tutor group.
Congratulations
7JLL Havana Kent
7EH Polly Utley Scott
8BSA Ilhaan Ali
8BAK Liban Mahamud
9ID Cashelle Carter-Hartley
9SL Yassir Hassan
10ACL Zeeshan Hussain
10JF Erin White
11MAH Ida Kaser
1RMO Reuben Bowtell
November Sigma Superstar
Congratulations to Max Bragonier 9ID who is November Sigma Superstar.
Max is friendly, polite, and always happy to support and help others. He is a shining example of a Sigma Superstar.
Sigma Challenge
This term we are setting Sigma a challenge - How far can your SIGMA water bottle travel?
When you are out and about visiting different places, please get a photo of your water bottle, this can be just the bottle in front of a sign post, on top of a mountain, at a sporting event. Or even yourself holding the bottle in your favourite place.
Please send Mrs Arnold your photos so they can be displayed on the Sigma notice board.
Prizes for most original and furthest travelled.
Sigma Events coming up
Christmas Bake sale Friday 7th December in the Hub at break time
All cakes and cookies 50p
Sigma Christmas raffle
All tickets 20p. Tickets on sale in the Hub form Monday 10th December.
Green Santa Hats will also be available for £1
All money raised from our house events will go to our house charity The Rainbow Centre for Children.
YEAR 7 INTER HOUSE COMPETITIONS
Robot Wars
Year 7 will be battling it out to create the best Robot.
This is a project being held in Art lessons. The best robots will be sprayed in their house colours.
There will be prizes for best designs
Good luck year 7.
Cotham's Got Talent
Post 16 are organising this event.
Heats will be Monday 10 – Thursday 13 December and the Final Friday 14 December.
Entrance fee £1 per person.
Money will be split between house charities.
To enter you need to sign up on Friday 23 and Tuesday 27 November in the HUB at lunch time.
Fill in a form and pay your entrance fee.
Final deadline to enter Tuesday 27th November
Prizes for first and second place.
Sigma would like to wish Good luck to the Be Friendly Gardeners
Eva Liberman, Bram Bourbon, Misha Evans, Oscar De Havilland, Anna Alvarez Stodulkova, Prerana Nerlige Prashanth
They go to the RHS Green Plan It final next week at Bristol Botanical Gardens.
The team have worked extremely hard at planning, designing and building a 3D model. They now have to present and pitch their design to a judging panel.
Water Fountain
The new water fountain has been installed. Sigma would like to thank the Cotham Co-fund for supporting us with this and a big thank you to all the students who have helped us raise money to fund the fountain. We will continue to fundraise as this is an ongoing water project for Sigma.
Thank you to Sigma Prefects Louis and Aineias who have worked so hard this term planning the House fundraising events and delivering the House assembly.
DELTA DOWNLOAD
During our house assembly this week we shared lots of information on upcoming activities, lots of which have a festive theme around getting involved and making a difference in the community.
We kicked off in assembly with an update on the revamp of our rewards system. Delta House are keen to make sure that every student has an opportunity to have their voice heard so every tutor group from year 7 to year 11 will be visiting the computer rooms over the next three weeks to complete a Google Form devised by the Delta House reps that asks students how they feel about the rewards system and what they would like to see in the newly revised edition that will be launched next year.
We are currently in the process of evaluating systems available and would welcome parental feedback on how you feel we are doing as a school when it comes to positive communication home. What information would you like to receive about your child? If you have any thoughts / comments please email McDonaghK@cotham.bristol.sch.uk
Over the upcoming House Assemblies, the Delta House Tutor Squad will be nominating their tutees to receive an award based on them demonstrating our Delta House values. This time we focused on our absolute core value - kindness. The students below are our House Heroes for November 2018 and each received a Delta House water bottle, certificate and gold chocolate coins because it 'pays to be kind'. Our House Captain, Istahil shared the good news with the students and distributed prizes.
"This student is consistently nice and kind to everyone" Grace 7DS

"A friendly, positive student and an excellent role model to others" Imogen 7RBI

"For always being caring towards others and stepping in to help without the need to be asked" Amelia 8CGR/JOX

"For being kind and thoughtful to other KMers" Saquaina (8KM)

"For consistently caring about and helping the tutor group (and tutor!)" Thomas (9DD)

"For welcoming a new student and taking her under her wing" Sude 10SH

"Is always kind and polite to staff and other pupils" Connor 10TS

"A very kind and helpful young man!" Alex DM (11CCY)
It was so lovely for me to receive such lovely words from tutors about their tutees. Next up will be the Delta Diligence awards. Could you be our next house hero?
Delta Dazzler
This student is an absolute dream. He is polite, positive, friendly and his warmth is infectious! Adrian Pricop in 8CGR/JOX is our Delta House Dazzler for the way in which he conducts himself each and every single day. Adrian always makes a point of saying hello and smiling and generally making people's day! Well done Adrian!
Cotham's Got Talent
Yes, Cotham has got talent! Specifically, students in Delta House do in abundance! It's now your time to show off those dazzling gymnastic skills, that great comedy routine you've been preparing or for you to showcase your songwriting skills. Whatever your talent, be brave and get involved! There's a £30 Cabot Circus voucher up for grabs so you know what they say, you've got to be in it to win it!
When is it?
From Monday 10 until Friday 14 December.
How much is it?
Entrance fee £1 per person.
Money will be split between house charities.
Delta House Christmas Tree
People of Delta, we need you! The now annual Inter-house Christmas Tree competition will soon be upon us and we need your help to make it blue and beautiful! If you are keen on crafts and would like to make a decoration for our tree, please do!
Santa Dash!
Yes, it is back! The Santa Dash will be taking place on 8th December. Have some fun, dress up as Santa and feel all festive as we race around the field!
Christmas Collection
It is at this time of year that we think about the gift of giving. We would like to offer our support to the homeless this Christmas in providing them with a range of products. We are asking students to bring in one of the following where possible so that collectively we can make a positive difference to those who are not as fortunate as ourselves.
Non-perishable foods? Eg: canned/jars/pasta/rice
Toothbrushes/Dental hygiene?
Toiletries? Deodorants/soap/ shower gels?
Tampons & Pads?
Nappies?
Over the next 3 weeks we are looking to collect any donated items. Donation boxes will be by student reception, the hub and also brought to tutor sessions by Omega Reps. Please do your bit and make Delta PROUD!
Final Thank You
A huge thank you to Delta House Activity Sheep for the way in which their energy and enthusiasm means that we have a selection of events coming up this term. More details coming soon
OMEGA
This week, Omega house has launched a whole school Christmas Collection initiative. We have been focusing the house assemblies on the ideas of how, in our local community, there are many who are much less fortunate than ourselves and do not get to enjoy some of the things that we take for granted. Small acts of kindness can go a long way and as a school collective, we can help others at this time of year when we are all looking forward to spending time with our families and appreciating the things we are grateful for.
Over the next 3 weeks we are looking to collect items to donate to local food banks and shelters. We would like to collect any items that students and parents are wishing to donate including:
Non perishable food items (cans, tins, rice, pasta)
Dental hygiene/ toothbrushes
Toiletries (soap, shower gel, deodorant)
Sanitary products & Diapers
Donation boxes will be found in Student Reception, The Hub, and Omega prefects & reps will also be collecting from tutor groups.
On the same note, I had the opportunity to congratulate a select few students who, over the past few weeks have all demonstrated kindness and giving towards others. Congratulations to the following who all received prizes for their amazing individual efforts:
Avea Archer (11DU)
Sion Mowatt (9RM)
Frank Parsons (8JBR)
Becky Lloyd (7KBK)
Our Omega Legend this term is Nada Marsal (10JSB)
Congratulations to all! Thank you for being outstanding members of the Omega community and making a difference around the Cotham site.
On a final note, Sigma have introduced a new water fountain with an aim to cut down single use plastic waste, we have started to sell our own Omega water bottles for £1.30 not for profit. We have had a lot of interest in these and they can be purchased from myself in Science, room C203.
GAMMA
These last few week have been very busy for Gamma with our House assembly and lots to celebrate.
Firstly, we would like to welcome the following six students into our student voice representatives-
7CBR- Rushon Walker-Brown, Jasmine Yuille
7JPG- Alfie Blackmore, Sonny Phuntsok
7RA- Khalid Farah, Ella Madeley​​​​​​​
Each one of these students have shown a real interest and dedication to the house system and we are excited to start sharing year 7 student opinions. Over the next few weeks these students as well as older Gamma representatives will be meeting with Ms Butler to discuss Gamma's focus of Teaching and Learning. Expect updates over the next few weeks!
This past week saw Gamma's house assembly where we introduced the joint House Christmas appeal. We
shared reasons to be grateful and explored the rising problem Bristol is experiencing with homelessness.
Omega is focused on helping the local community and are therefore leading the collection for the homeless.
In line with this message, Gamma tutors were asked to nominate one student each from their tutor group which they felt have shown kind and giving qualities. These students were praised and rewarded with a £5.00 amazon gift voucher and a new Gamma water bottle which has been introduced to help support Cotham's reduction in plastic consumption. A massive congratulations to the students listed below-
7JPG- Sajeeda Ahmed- Very sweet and polite
7RA- Shouq Aleissa-Thoughtful and considerate by bringing in doughnuts
7CBR- Eiliyah Rehman- Extremely polite and always says good morning and holds door open
8SD/IJ- Najib Ullah Raj- Has been an absolute star with Fahim, in translating and working with him.
8MPI: Klio Konstantopoulou- quietly considerate and caring and always sensitive to others
9ABI- Amy Howe- She's ready to help her friends out at a drop of a hat.
9RD- Cassie McKenzie- Very helpful to other students and teachers
10SME: Nasim Khan- Very caring and supportive of his friends in the tutor group
10SHA: Norah Farah- General loveliness and amazingness. Always says good morning, always says have a nice weekend. Looks after her friends
11WN: Lili Riley- for being thoughtful and kind to others
11AWO: Rosie Wright- she supports other tutees really well when they are having difficulties
Miss Madge would also like to congratulate all of the students who have taken part in the photography competition for the Cotham Newspaper (google classroom code- qk1qkj). The winning student happens to be a Gamma student- Rose Carolan 8SD/IJ with the edited photograph seen here. She will receive a £5.00 amazon gift voucher as well as being published on the front page of the newspaper. There were tonnes of great entries but the creativity shown by Rose was exemplary. Well done!

COMMUNITY NEWS

BYHA Nominations
Nominations Open for Bristol Young Heroes Awards 2019 from 5 November 2019.
The Bristol Young Heroes Awards are a gala dinner and award ceremony to recognise and celebrate the valuable contributions that Bristol's Young People aged 11-19 make to the City.
BYHA 2019 will be a star studded event hosted by BBC Radio Bristol's Emma Britton held in the inspiring We the Curious building on the evening of Friday 5 April.
To see a short video from the 2018 awards or if you know a young hero to nominate go to www.communityofpurpose.com/byha-2019/
Closing date is Friday 22 December 2019 at 5.00pm
For any questions or queries, please do not hesitate to get in touch with Holly Maurice at holly.maurice@communityofpurpose.com or 07813828988
Bristol Libraries offer workshops
Responding to the unprecedented crisis of 65 million displaced people. Click here to find our more about events with Rissa Mohabir - Author of 'Under the Shade of a Tree - Somali Women Speak.

USEFUL QUICK LINKS

Keep us posted
It would be great if parents/carers could let the school know of any student achievements outside of school please. It is sometimes only at parents' evenings that we find out what students are doing in their own time. Email us: weeklymailing@cotham.bristol.sch.uk
Key Dates
Please click here to view the Key Dates by year group for the 2018-19 academic year. You will be notified of any significant changes/additions, but please can we ask that you check the dates for your year group regularly as they are subject to change.
Parents' Evening Booking System (PES)
Please click here to access the online appointment booking system for Parents Evenings/Family Consultation Day. Please note this is only available if an event is due. We will email you to let you know when booking opens. If you encounter any difficulties with booking your appointments please contact the admin team by email to adminoffice@cotham.bristol.sch.uk or tel: 0117 919 8000
Assessment Calendars for KS3
We have created Assessment Calendars for 2018/19. Each Assessment Calendar contains details of the class assessments that will take place in their subjects. The final column contains a link which gives information about each of the assessments.
To see the Year 7 Assessment Calendar click here
To see the Year 8 Assessment Calendar click here
To see the Year 9 Assessment Calendar click here
To see the Year 10 Assessment Calendar click here
To see the Year 11 Assessment Calendar click here
Parents Information Sessions
KS3 Parent Information Session 4th October 2018 - click here
KS4 Year 10 Parent Information Session 20th November 2018 - click here
KS4 Year 11 Parent Information Session 8th November 2018 - click here
Homework and Independent Learning timetables
Please see the attached link describing our Homework Guidelines for students in the school.
In KS3 we do not have homework timetables.
Homework and Independent Learning Timetable for Year 10
Homework and Independent Learning Timetable for Year 11
WisePay
WisePay is the Online Payment Service at Cotham School which allows you to pay for trips and visits as well as to add credit to your child's Cashless Catering account. Click here to access your account now. If you have any queries about your account please contact the support team by email to wisepay@cotham.bristol.sch.uk
School Uniform
Please click here to view the compulsory uniform requirements of Cotham School, along with visual examples of uniform and details of our uniform suppliers.
GCSEpod
Click here to access GCSEpod which contains lots of revision resources for most GCSEs. Students self register through the website using their name and school details.
SAM Learning
Click here to access SAM learning which contains revision exercises and self marking quizzes with automatic progress tracking and reporting. Please use the Centre ID: BS6CS. Student usernames and passwords are their birthday formatted as DDMMYY, followed by their Initials.
Diagnostic Questions
Click here to access. This site contains self marking quizzes with lots of templates including some from a range of exam boards. It's easy to make your own questions in Microsoft PowerPoint too. Students sign up with their school Google account using the G+ button to automatically create a school account
Edmodo
Edmodo is an application that can be used on both mobile devices and in the web environment to create an online community of practice. Edmodo is a free social learning platform that allows students to access the course content uploaded by their teachers.
Linguascope
The Language Learning Platform
Free School Meals
https://www.cloudforedu.org.uk/ofsm/sims to check if your child is eligible for Free School Meals or to apply.
Contact Details
Please note the following contact numbers and email addresses if you need to contact the school:
Main Reception - 0117 919 8000/ reception@cotham.bristol.sch.uk
Student Reception - 0117 919 8013 / studentreception@cotham.bristol.sch.uk
Absence - 0117 919 8019/ absence@cotham.bristol.sch.uk
NBP16C - 0117 919 8100/ post16@cotham.bristol.sch.uk
Finance - 0117 919 8016/ finance@cotham.bristol.sch.uk
Exams - 0117 919 8024/ examsassistant@cotham.bristol.sch.uk
Admin Office - 01179198053/ adminoffice@cotham.bristol.sch.uk