Weekly Mailing - Friday 30 November 2018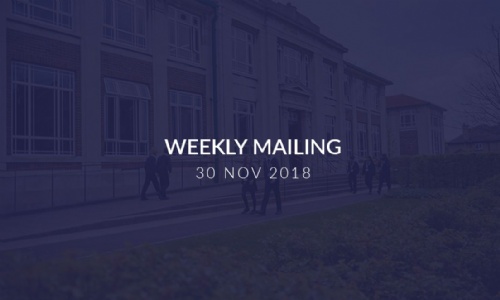 Dear Parents and Carers
I have some brilliant news regarding our school playing fields at Stoke Lodge; I am delighted to announce that students will be returning to the fields very soon! Please see our press release below
30 November 2018 - Press Release Cotham School Playing Fields at Stoke Lodge
The Headteacher and Governors at Cotham School are pleased to release this statement to advise Bristol City residents of the facts and up to date information regarding Stoke Lodge Playing fields.
We are delighted to announce that students will be returning to the school playing fields at Stoke Lodge very soon. Students have not been able to use the sports fields since 2014.
Having previously used the playing fields, in 2011 Cotham School entered into a long lease with Bristol City Council for the playing fields as part of the schools academisation requirements. This means the school is entitled to exercise control over its playing fields and their use for education and other sports activities. Our responsibilities include the maintenance of the land and ensuring that it is fit for purpose.
As an academy, the school is solely responsible for the steps that it deems necessary to protect the health and safety of students and staff. The school will now therefore erect a perimeter fence and replace the worn out sports pavilion.
We have worked with Bristol City Council on this and they have confirmed the following:
'The sports fields DO NOT fall within the curtilage of the listed Stoke Lodge building. As a result any enclosure would benefit from normal permitted development rights.'
And
'The school does not require the council's consent as landlord should the school wish to proceed with its proposals to erect a fence at Stoke Lodge playing fields'
The school will now begin its planned improvements to the site. The first phase of these improvements will include the remarking of the sports pitches and the erection of the perimeter fence. We then hope to build a new pavilion; this is currently the subject of a planning appeal. The pavilion will enhance the enjoyment and participation in sports lessons and extra-curricular activities for Cotham students and also for grass roots sports clubs who will now return to the sports fields.
The school has secured financial support in the form of a grant from the Education Skills Funding Agency to assist with the cost of the fence and new pavilion. Moving forward, we would welcome enquiries from clubs who may wish to lease these facilities in the near future
Should any member of the public have an enquiry regarding our Playing Fields at Stoke Lodge this should be directed only to Cotham School to answer.
Ms Jo Butler
Headteacher

CONGRATULATIONS

Sporting Achievements
Badminton
Huge congratulations to Darong Huang (9RM) and Mike Ye (9EM) as a badminton double pair participated in Avon County Junior Doubles Tournament last Sunday. They won U14 Boys second place and were both presented with medals.
Swimming Success
Maximillian West swam at a Level 3 swim meet last weekend for his club, Bristol Henleaze, where he managed a personal best time and came home with a bronze, silver and gold medal. Well done Maximilian, what a fantastic achievement!!
Congratulations also to Reuben West (10KBO) who won the 50m Freestyle and 50m Butterfly events at the Bristol Schools Swimming Finals at Easton yesterday. In both races, Reuben set two new records winning the freestyle race in 25.16secs and butterfly in 28.33 secs.
Bristol Schools Cross Country Success
Well done to all the students who took part in the Bristol Schools cross country trials at BGS playing fields on Wednesday in very tricky conditions. In particular well done to Misha Evans (8BAK) who came third and Salu De'Oliveira (9GC) who came 11th in their events.

IMPORTANT INFORMATION FOR PARENTS/CARERS

Talks by Paul Hannaford to Years 7-11 on Wednesday 5 December
To complement your child's Social, Moral, Spiritual and Cultural Education curriculum in school, we are hosting a speaker recommended by Avon and Somerset Police on 5 December.
Whilst the majority of young people within our communities will transition into adulthood without incident some may have to navigate many challenges in order to do so.
Some of the challenges in and around Bristol are around drugs and substance misuse and in some cases gangs and the associated pressures of carrying weapons such as knives.
Sadly such gangs can be promoted to young people, in particular via online platforms, as providing an attractive lifestyle due to the associated 'power' and financial gain that can be afforded to members. Avon and Somerset Police have therefore been exploring resources that might help young people gain the knowledge needed to help them make informed choices and assist them in building their own resilience so that they are able to resist.
The speaker, Paul Hannaford, is an engaging and emotional presenter and advocate for youth, who although now reformed, has a chequered history involving drugs and other criminal activity. He now travels the country as a professional speaker, visiting schools and youth groups to share his past and the poor choices that he made. In his talks he explains how his dependency resulted in crime to pay for his escalating drug habit. He shares the consequences of his choices, the damaged relationships with those he loved, the loss of friends to drugs and their poor mental health as a result of their drug use. Paul's following on Instagram and alike suggests that young people relate to him which is why his talks in schools have been so successful.
Paul has visited other schools in Bristol, North Somerset and elsewhere in the region already and comes highly recommended. However, if for any reason you would not like your child to hear Paul speak please contact their Learning Coordinator at the school.
Thursday 20 December
Please be advised that the school will close early and students dismissed at 12.00pm on Thursday 20 December 2018 (Last day of Term 2)
Attendance
At Cotham School we take attendance and punctuality very seriously and have high expectations of all our students. There is a proven link between the level of attendance to school and the student's level of achievement.
90% attendance means that a pupil is missing lessons equivalent to one half day a week. This then equates to four whole weeks a year. If a pupil continued to do this between Year 7 and Year 11, they will have missed the equivalent of one half of a school year. Children with less than 90% attendance are now classed by the Government as persistent non attenders
Registration: The register is marked at 8.40am; if a student arrives as the register is being taken an L (Late) mark is given. If a student is late, they must go to Student Reception to sign in . Students arriving after 9.30am are marked as U (unauthorised) this is an absence for the AM session. Afternoon registration is at 1.45pm. Please note that if a child has 8 unauthorised absences (1 day = 2 sessions) in a 10 week period, a Penalty Notice of £60 is issued by the Local Authority to each parent/carer.
Students must always sign out at Student Reception when they leave school during school hours and sign back in on their return. Please meet your child at the Student Reception entrance on Cotham Road. There is no student access through Main Reception. If a student is marked absent at registration and does not sign in each parent/carer will receive a text message.
Punctuality: Being on time is as vital as good attendance. Arriving late is disruptive for the student, the teacher and others in the class. The following reasons are seen as unacceptable by the courts for lateness to school if used regularly are:-volume of traffic, missed the train/bus/lift, car broke down, overslept, parent leaving for work before child leaves for school.
Holidays: National government guidelines and legislation means schools are not allowed to authorise absence during term time unless there are very exceptional circumstances If an absence is taken without permission being granted this will count as an unauthorised absence and show as G on a student's record. Penalty Fines will be issued when Holiday is taken in Term time
Illness: We expect parents/carers to contact the school on each day of absence on 0117 919 8019. Alternatively, you can submit an absence form via the school website – 'Contact us' page.
Medical Appointments: We would normally expect these appointments to be made out of school hours, or in exceptional circumstances, for your child to attend at least either Morning or Afternoon registration.
Parent Governor Elections
The nominations are in! Two nominations were received. One from Jo Feather and one from Jane Chamberlin.
Click here to read their Personal Descriptions. Congratulations to Jo and Jane and we look forwarding to welcoming them to the school's Governing Body.
As two nominations were received there is no need to run an election.
Calling App Developers, Software Developers & Programmers
Our Post 16 A-Level Computer Science students are now well into their programming projects. We are looking for Mentors for two of the projects:
Developing a Tablet App to record Sports stats
How to Encrypt and Decrypt data
If you could help out it would really help the students involved. The mentors act as guides for the students with their project. They review code and help them solve programming problems while providing suggestions for the next stages of development could be.
If you would be able to help please contact Mr Watts on wattst@cotham.bristol.sch.uk
Word of the week
Each week at Cotham we promote a Word of the Week. This is to help students expand the range of vocabulary they use. Please find the word for the week ahead by clicking here.
Christmas Lunch - Wednesday 19 December
Roast Turkey, Pigs in blankets and Apricot Stuffing
Roast Potatoes, Parsnips, Sprouts and carrots.
Chocolate & Black-cherry Iced Muffin
Vegetarian option instead of turkey will be offered too, also jackets, soup and pasta.
Online Safety Newsletter: December 2018
Click here to view December's Newsletter.

KEY STAGE 4 NEWS

Year 10
Year 10 Welcome to GCSE Parents Information Evening on Tuesday 20 November
Thank you to those parents that were able to attend our Welcome to GCSE Evening on Tuesday 20 November.
The presentation used on the evening can be found here.
The presentation contains links to the following resources referred to in the evening:
KS4 Curriculum Booklet
Year 10 Assessment Calendar
Exam Command words
Revision Guides and websites
Year 10 Parents Evening on Thursday 29 November.
Thank you to those parents that attended our Parents Evening on Thursday 29 November. If you were not able to complete a questionnaire on the evening but would like to give feedback please click here.
Year 11
Well done to all our Year 11 students who have been working hard to revise and prepare for informal mocks in History, Maths and Science this week. Staff have been really impressed by their commitment to their studies - well done!
Mock exams
Formal mock examinations will take place from 21 January to 1 February. Timetables will be supplied nearer the time.
A template revision schedule can be found here.
A list of recommended revision guides can be found here.
Students should also make use of GCSE Pod and SamLearning online revision resources.
Upgrade
Upgrade is now running for all students who we believe will benefit from extra support in the run up to mock examinations in January. Initial student feedback has been really positive, with many finding the time useful and productive. Students say they find Upgrade particularly helpful for organisation, time management and in the development of effective revision methods. They can access support from both staff and peers in each session.
Upgrade sessions appear on students' timetables. Please ask your child to show you their timetable and support our staff by reminding them to attend.
Supporting your child's learning at home
Please see the presentation from the recent Parents' Information evening here for lots of useful information on supporting your child in Y11.
Managing Stress
Many students feel worried and stressed in the run up to exams. We recommend students keep a good sleep schedule, eat well, get outdoors and do regular exercise to support their well-being.
In school, we have Yoga on Tuesdays and Fridays and Headspace, a place for quiet mindfulness, running every day.
There are also a wealth of apps available that can be accessed on phones/ tablets at home. 'Headspace' and 'Calm' are two that come highly recommended and offer tips, anxiety advice and guided meditation. Both are available on IOS and android and offer free 7 day trials.
NBP16 Applications
The deadline for application to the North Bristol Post 16 Centre is 7 December. Applications can be made online here
All Year 11 students will soon be offered a 1-2-1 meeting with a NBP16 admissions adviser to discuss their post-16 learning options. Students will receive more information about this next week
Year 11 Prom
We appreciate that this is very soon in the year and that Year 11s will be with us for some time as we prepare them for the demands of their GCSE Exams next summer.
Last year, a number of our parents got together and organised the Year 11 Prom to celebrate the end of our students Key Stage 4 education. The Prom, which was held at the Mercure Bristol Grand (near St Nicholas' Market) was a real success and was well attended by both our students and our Parent Prom group.
If you are interested in working with a group of parents to organise a Prom for Year 11 students next summer then we would be more than happy to share each of your names and contact details with each other so that you can achieve this.
Last year, the school was able to provide advice and support with communications to students and parents, suggesting possible venues, as well as organising payment for tickets using our wisepay system.
Please get in touch with us if you would like to be involved in organising the prom by contacting Ms Pierce the Learning Coordinator for Year 11 by email at piercep@cotham.bristol.sch.uk.

Post-16 News

The Disabled Student Allowance (DSA) meeting is on Monday 3 December 5 - 6pm at Charnwood house for all parents/carers - all are most welcome. There is a workshop at the same time for all students with any Exam Access Arrangements (e.g. extra time) run by our specialist learning support teacher and our SENCO Julia Chapman.
UCAS - please remind your son/daughter that they must be showing their personal statements to their form tutor before they 'pay and send' and upload it to UCAS. It will then go to Mrs Kempt for a final check and she will upload their reference and send to UCAS.
'Core Programme' last week was a brilliant session run by the online counselling service KOOTH. There was a lot of great feedback from the students. A reminder that the wellbeing drop in sessions continue for all in G208 on a Thursday lunchtime and that we have a school counsellor available on a Wednesday - please see Mrs Kempt for more details.
UNIFROG - the Careers and Guidance company are coming in to launch UNIFROG to year 12s on the 12 December during Core Programme.
Progress Reviews have been emailed out for both year 12 and year 13 students, any queries please contact your son/daughter's form tutor.
Year 13 students - a reminder that your son/daughter should be swiping in via our INVENTRY system before 08.40am. On a Wednesday Week B they MUST attend assembly in G001 at 08.30am
Mental Health and Wellbeing Update
This week we have begun the steady progress towards becoming a Mindfulness-practicing school. Six members of staff attended training this week to begin delivering daily mindfulness sessions with selected Year 7 and Year 8 classes from next term as part of a DfE research trial in which we are participating.
Following the trial period, we plan to roll this out across the school through the tutor programme so that in September 2019 we are a fully Mindfulness-practicing school. This builds on the work that we have done so far in delivering mindfulness assemblies to students before any exam period, a six-week mindfulness programme for Y8 last year and Ms Gallien using mindfulness at the start of each of her lessons.
This week, we have also launched the use of mindfulness activities for students in red card detention at lunchtimes: activities such as dot-to-dot, mindful drawing and zentangles which have proven benefits in calming the mind and centering students. Students find dot-to-dot particularly calming!

SUBJECT AREA NEWS

PE
Fixtures week commencing Monday 3 December
Tuesday 4 December - Senior Boys basketball vs Orchard (h)
Thursday 6 December - Junior boys basketball vs St Bedes and Orchard (h)
Please click here for a list of all of the PE/Sports Extra-Curricular activities available to students in Term 2
Follow @CothamPE on Twitter for all the latest news and updates from the Cotham School PE department
Performing Arts
Performing Arts Winter Sharing - Tuesday 11 December
Join us for an evening of Performing Arts, celebrating the achievement of our students from all key stages across Dance, Drama and Music.
The evening will feature performances from all of Cotham's legendary steel pan groups, year 7 drama club, Pulse, year 7 and year 8 dance companies. Next week, year 9 students will be taking part in a full day dance workshop where they will create a dance to be performed at the winter sharing. There will also be performances from GCSE Drama and A Level Theatre Studies students. If your child will be performing in the evening, you will be receiving a letter soon and we appreciate the prompt return of the permission slip.
The performing arts winter sharing will be on Tuesday 11 December at 18:00 in the Main Hall. Tickets cost £5 (£3 concessions) and are available through Wisepay.
Work of the Week
This week, Year 12 BTEC Music Technology students were in the recording studio to record the piano part for 'Easy' by the Commodores. As part of the studio recording techniques unit, all students will be producing their own multi-track recording. Over the coming weeks, our students will be recording and layering additional instruments to create a full recording. We were very impressed with all students who showed great maturity and professionalism in running the recording sessions. We look forward to being able to share the final product the near future. Click here for some images.
Visual Arts
Work of the Week
This week's Art WOW goes to Till Dubuisson in Year 11 for her colourful graphic screen print. Click here to view.
Humanities
Following on from the 100th anniversary of Armistice day we were very fortunate to be contacted by a great friend of the school Graham Syrett, who kindly provided us with some fascinating facts about Cotham during the Great Wars.
Cotham school lost around 270 boys in the two World Wars.
Whilst under Merchant Venturers' control, nearly 150 boys were killed in WW1 (one died of fever contracted in the Boer War and another afterwards from wounds received in the War) and boys from the school received 54 medals (including Military Medals and Crosses and the Croix de Guerre).
Teachers of the time painstakingly recorded the details in "copperplate" writing against each boy's name in the register, and it makes sad reading. The list of medals awarded can be seen here.
A further 119 were killed in WW2 and one in the Falklands' conflict.
Graham also shared with us an old Cotham School tradition from 1940s/50s that he was told by an Cotham 'Old Boy' recently:
"As young Cotham pupils of a more recent era, we filed out through the double doors of the main entrance after the annual Remembrance Service in the Hall and cast our poppies at the foot of the memorial tablets but never could we pause to take in how many names were engraved upon them (that entrance was always 'out of bounds' to pupils the rest of the year, anyway!) and to be able to take in the scale of the sacrifice. Perhaps one needs to be in more mature years to be truly mindful of that".
Graham attended the Remembrance Service at Tyndale Baptist, attended by about 8/9 old boys (and a girl) from Cotham - the oldest was 92 and a lad named Jack the youngest at 30. Graham was inspired to share this information with us and we are very grateful for all his research.
Library
The Day online subscription - Click here to find out more about this online resource that allows students to access current affairs.

COMMUNITY NEWS

Southmead Hospital Charity Christmas campaign
Celebrate the NHS and support your local hospital by downloading the heart-warming charity single 'We Are The Same Inside' - for just 99p.
'We Are The Same Inside' by 'Melody Makers Choir and Horfield Primary School Choir for the NHS' is a thank you to recognise the amazing work of our staff and the wider NHS in its 70th year.
It's a very special and unique way to fundraise and children, staff and parents can support the hospital simply by downloading the song for just 99p on iTunes, Google Play, Amazon or across other download sites from November 30. It is also available via Spotify.
Money raised from the song will support the hospital, its patients and help fund projects that improve the NHS for future generations.
Watch the music video and find out more.
You can also support us by sharing the song and video on your social media pages. Click here to go to our Facebook or Twitter pages and share 'We Are The Same Inside'.
Best wishes,
Ian Riddell
Corporate and Community Officer
Southmead Hospital Charity
ian.riddell@southmeadhospitalchrity.org.uk
Bristol Old Vic Theatre School's Nativity - A Donkeys Tale
The production is being held in various venues in the city, and we are pleased to be hosting two free performances in Cotham Parish Church this coming Sunday. Full details can be found here.

USEFUL QUICK LINKS

Keep us posted
It would be great if parents/carers could let the school know of any student achievements outside of school please. It is sometimes only at parents' evenings that we find out what students are doing in their own time. Email us: weeklymailing@cotham.bristol.sch.uk
Key Dates
Please click here to view the Key Dates by year group for the 2018-19 academic year. You will be notified of any significant changes/additions, but please can we ask that you check the dates for your year group regularly as they are subject to change.
Parents' Evening Booking System (PES)
Please click here to access the online appointment booking system for Parents Evenings/Family Consultation Day. Please note this is only available if an event is due. We will email you to let you know when booking opens. If you encounter any difficulties with booking your appointments please contact the admin team by email to adminoffice@cotham.bristol.sch.uk or tel: 0117 919 8000
Assessment Calendars for KS3
We have created Assessment Calendars for 2018/19. Each Assessment Calendar contains details of the class assessments that will take place in their subjects. The final column contains a link which gives information about each of the assessments.
To see the Year 7 Assessment Calendar click here
To see the Year 8 Assessment Calendar click here
To see the Year 9 Assessment Calendar click here
To see the Year 10 Assessment Calendar click here
To see the Year 11 Assessment Calendar click here
Parents Information Sessions
KS3 Parent Information Session 4th October 2018 - click here
KS4 Year 10 Parent Information Session 20th November 2018 - click here
KS4 Year 11 Parent Information Session 8th November 2018 - click here
Homework and Independent Learning timetables
Please see the attached link describing our Homework Guidelines for students in the school.
In KS3 we do not have homework timetables.
Homework and Independent Learning Timetable for Year 10
Homework and Independent Learning Timetable for Year 11
WisePay
WisePay is the Online Payment Service at Cotham School which allows you to pay for trips and visits as well as to add credit to your child's Cashless Catering account. Click here to access your account now. If you have any queries about your account please contact the support team by email to wisepay@cotham.bristol.sch.uk
School Uniform
Please click here to view the compulsory uniform requirements of Cotham School, along with visual examples of uniform and details of our uniform suppliers.
GCSEpod
Click here to access GCSEpod which contains lots of revision resources for most GCSEs. Students self register through the website using their name and school details.
SAM Learning
Click here to access SAM learning which contains revision exercises and self marking quizzes with automatic progress tracking and reporting. Please use the Centre ID: BS6CS. Student usernames and passwords are their birthday formatted as DDMMYY, followed by their Initials.
Diagnostic Questions
Click here to access. This site contains self marking quizzes with lots of templates including some from a range of exam boards. It's easy to make your own questions in Microsoft PowerPoint too. Students sign up with their school Google account using the G+ button to automatically create a school account
Edmodo
Edmodo is an application that can be used on both mobile devices and in the web environment to create an online community of practice. Edmodo is a free social learning platform that allows students to access the course content uploaded by their teachers.
Linguascope
The Language Learning Platform
Free School Meals
https://www.cloudforedu.org.uk/ofsm/sims to check if your child is eligible for Free School Meals or to apply.
Contact Details
Please note the following contact numbers and email addresses if you need to contact the school:
Main Reception - 0117 919 8000/ reception@cotham.bristol.sch.uk
Student Reception - 0117 919 8013 / studentreception@cotham.bristol.sch.uk
Absence - 0117 919 8019/ absence@cotham.bristol.sch.uk
NBP16C - 0117 919 8100/ post16@cotham.bristol.sch.uk
Finance - 0117 919 8016/ finance@cotham.bristol.sch.uk
Exams - 0117 919 8024/ examsassistant@cotham.bristol.sch.uk
Admin Office - 01179198053/ adminoffice@cotham.bristol.sch.uk