Weekly Mailing - Friday 7 December 2018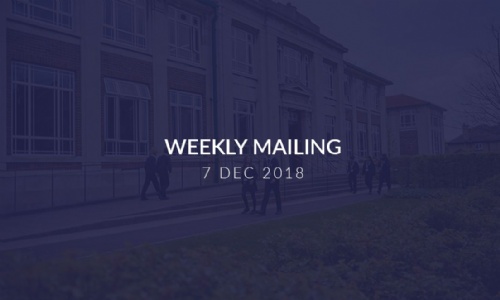 Dear Parents and Carers

Please find below my usual updates on events that have taken place this week, information, letters etc.

Best wishes for the weekend.

Ms Jo Butler
Headteacher

Stoke Lodge Playing Fields

Last week I shared with you all that our students will be returning to our playing fields and shared our press release with you. Thank you for your many messages of shared delight at this. We've also had many messages of support from local children's sports clubs and requests to make use of the site.

Sadly, there still seems to be some misinformation about the school's intentions (despite repeated reassurances from us) in relation to the land being put into the public domain. Depressingly, petty acts of vandalism are also being perpetrated at the site, Click here for images. I am therefore re-sharing information (below) that I first shared with you after the outcome of the Judicial Review last year and asking for your support. I am doing this in the hope that you can spread the word about what our intentions are for the playing fields (and what they have always been) to help stop the school being misrepresented.
"Following a long legal process, Cotham School have welcomed the outcome of the Judicial Review which returned in favour of the school and found that the decision by the Council's Public Rights of Way and Greens Committee on 12 December 2016 to register the land as a Town/Village Green (TVG) was unlawful.
Throughout the whole of the process Cotham have expressed the need to safeguard their students whilst they use the playing fields for PE and other sports activities. After carrying out a risk assessment on the site in 2014 (updated in 2018), it was deemed necessary for a fence to be put into place to ensure that the playing fields are secure. Without the introduction of a fence, the site poses a risk of someone entering the space at any time without permission. This ability to enter the site puts students, staff and other users at risk of interruption or attack. The only reasonable solution that the school considers will manage and mitigate this risk is to erect a fence which will enable a secure playing field.
Understandably, Cotham is very aware of the strength of public feeling that surrounds the playing fields and its continued use by members of the public. The school have always expressed an intention to want to work with the community, to find an agreed way of being able to share the playing fields more widely with the local residents, whilst maintaining its duty of care to its students and staff. Despite a number of attempts to engage positively with representatives of the local population over the years, this has been met with anger and refusal. This statement intends to share, with everyone, the proposal which has been made to try to find a way of allowing the public to continue to use the space alongside the school and other users in a harmonious way.
Fencing
The School does intend to put up a fence. This will sit inside of the boundary of the fields, giving a secure internal space to the playing field, whilst retaining a pathway around the outside which will facilitate public walkways around the whole of the site. It should be noted that this will in some parts require the use of existing public footpaths, particularly along Ebeneezer Lane. The fence will not obstruct the private easement rights to Stoke Lodge Cottage.
The fence will be a 2m high weld mesh sports fencing. There will be a number of gates into the secured playing fields. The School have worked with a landscape architect to produce the proposed plan.
Public Walkway
There will be access for the public to walk around the perimeter of the site. This will be between 2 and 10 metres wide (varying in places).

Public Use
The School welcomes the public to use the walkway around the perimeter with open and unfettered access. This will also include the ability for people to walk their dogs. Dogs will not be allowed at any time to go into the fenced playing fields.
When the School and other sports users are on site, the gates to the playing field will be locked. Outside of times where the School or other sports user are using the pitches a gate will be unlocked for members of the public to use.

Congratulations

Congratulations to Joseph Duncan (8KM) who has been selected for the South Wales Regional Development squad of the Welsh Regional and National Football Team. This is an amazing opportunity for Joe and possible selection for international representation is one of the highest honours in any sport not just football.

Important Information for Parents/Carers

Cotham among top 500 schools in England!
These Bristol secondary schools are among the best in England, says Sunday Times School Guide.
Thursday 20 December
Please be advised that the school will close early and students dismissed at 12.00pm on Thursday 20 December 2018 (Last day of Term 2)
Paul Hannaford talks
On Wednesday 5 December we were very fortunate to have a visit from Paul Hannaford who delivered a very hard hitting but hugely inspirational talk to our students, giving them a real life insight into drug addiction, alcohol, gang life, gun and knife crime, prison life, self harm and bullying. We have received lots of positive feedback from both students and parents/carers. The visit has really made our students think seriously about their life choices.
'I would like to thank you for inviting Paul Hannaford to speak at Cotham yesterday. My son talked to me about it in great detail last night. I was overwhelmed by how much he had engaged with Paul's amazing story and how he fully understood and appreciated the point of his visit and the seriousness of the subject matter. So once again a massive thank you for an inspired and hopefully enlightening student experience'.
'I just wanted to say how impactful the talk was. My daughter came back and wanted to tell us about it. It sounds like it has given her lots to think about. Mainly how easy it is to go from 'fun recreational' drug use to something very serious, and potentially life changing. We are always looking at ways to help her make good choices. So thank you for the assembly today'.

'My daughter came home today full of praise for this talk and keen to tell me about it! So many thanks to Paul Hannaford and to the school for hosting this presentation'.

'Both our boys (Year 11 and 9) talked about him over dinner last night. They and we thought it was an interesting and thought provoking session. Keep it up!'.

@paulhannaford one of the most inspirational people thank you for coming today your story is amazing!
@paulhannaford Thank you for such an inspirational talk at my school today , you are so inspiring and have taught me that I can't take life for granted anymore . I have mad respect for you and It's so brave of you to express your experience with drugs , alcohol, prison etc
@paulhannaford thank you so much for visiting my school today and spreading your amazing inspirational words! Keep doing what you're doing you're incredible!
Attendance and its impact on learning
At Cotham School we take student attendance and punctuality very seriously and have high expectations of all our students. There is a proven link between the level of attendance to school and the student's level of achievement.
In March 2016 the Department for Education (DfE) published a report on the link between absence and its impact on attainment. The report found that 'Pupils with no absence are 2.2 times more likely to achieve 5+ GCSEs A*-C or equivalent and 2.8 times more likely to achieve 5+ GCSEs A*-C or equivalent including English and mathematics, than pupils missing 15-20% of Key Stage 4 lessons.'
The report also highlights that 73% of students who have over 95% attendance achieve five or more GCSEs at grades A*-C and explains that students with persistent absences are less likely to attain at school, and – very importantly in terms of the future of the UK workforce – are unlikely stay in education after the age of 16 years.
If a student attendance during one school year is at 95% this is the equivalent of 2 weeks of school missed; 90% is four weeks missed and 80% is 8 weeks school missed.
The Cotham School Attendance Target for all students in Years 7-11 is 96%.
Cotham's Got Talent
As part of their BTEC Level 3 Business Studies qualification a group of Year 13 students are putting on a "Cotham's Got Talent" event. All students from Years 7-11 are invited to participate and the entry fee is £1 per person. The competition will take place at lunchtime in the Dance Studio with Years 7 and 8 heats on Tuesday 11 December and Years 9, 10 and 11 on Thursday 13 December. The final will be held on the 14 of December. It is not too late for students to enter, they can email Ammaar Hussain 11168Ahus@cotham.bristol.sch.uk with their name, tutor group and act. Payment can be made on the day. We would love students to come and watch and entry is 50p per person with all proceeds going to the House charities.
Facebook Groups hosted by Parents and Carers
2018 entry Cotham Parents & Carers is a Facebook group set up and run for and by parents and carers of Year 7 students to provide a platform to talk to each other, share useful information and support the school. Past year groups have found it useful to arrange meet-ups before the new school year begins and ask questions that can help with the transition to secondary school.
These Social Media pages are run by parents and carers themselves and not the school; therefore any comments shared are not official school communication and are not endorsed by the school.
School uniform - How to purchase
School uniform can be purchased at any time from Harris's TEL: 01275 874351 order and pay by phone and they will deliver direct to School. Famous Brands (School Uniform Suppliers) Shop located at 186-190 Henleaze Road, BS9 4NE or Telephone: 0117 9620011.
Dates for your Diary:
Thursday 10 January 2019 – Harris's will be in School (Main Reception) from 2.30 – 4.00pm.
Friday 11 January 2019 – Cotham Parents Support Group will be in School (Main Reception from 2.30 – 4.00pm selling pre-owned school uniform for just £1.00 per item.
The pre-owned school uniform sales are held on the first Friday of every term 2.30pm to 4pm in Main Reception. All money goes into school funds. Donations of good condition uniform can be handed in to Main/Student Reception at any time.
Student Christmas lunch - Wednesday 19 December
Roast Turkey, Pigs in blankets and Apricot Stuffing
Roast Potatoes, Parsnips, Sprouts and carrots.
Chocolate & Black-cherry Iced Muffin
Vegetarian option instead of turkey will be offered too, also jackets, soup and pasta.
Word of the week
Each week at Cotham we promote a Word of the Week. This is to help students expand the range of vocabulary they use. Please find the word for the week ahead by clicking here.
Online Safety Newsletter: December 2018
Click here to view December's Newsletter.

Key Stage 3 News

Year 7
Humanities Exam
Next week, all Year 7 students will be sitting their Term 2 Humanities exam. This exam will cover all content covered since late September. For more information on how to support students in their revision at home, please visit https://cothamschoolhumanities.weebly.com/y7-humanities.html. The date of each class' exam has been posted on Google Classroom.
Year 8
Year 8 Academic Monitoring Reports will be emailed to parents and carers shortly. Please contact your child's tutor if you have any questions.
Year 9
Year 9 Academic Monitoring Reports were sent home to parents via your child recently. An electronic copy of these will be emailed to parents shortly. Please contact your child's tutor if you have any questions.

Key Stage 4 News

Year 10
Year 10 Welcome to GCSE Parents Information Evening
Thank you to those of you who were able to attend our Welcome to GCSE Evening on Tuesday 20 November.
The presentation used on the evening can be found here. It contains links to the following resources referred to on the evening:
KS4 Curriculum Booklet
Year 10 Assessment Calendar
Exam Command words
Revision Guides and websites
Year 10 Mock Interviews
On Tuesday 4 December, we welcomed 28 professionals into school to hold mock interviews with the whole of Year 10. These have occurred at a particularly relevant time for the Year Group providing them with useful practice ahead of work experience placements later this year and for sixth form and college interviews next year.
The interviewers included 25 civil servants and three parents who all kindly gave up their time and expertise to interview our students throughout the morning. 15 to 20 minute interviews were held with each student and they were provided with both personal verbal feedback and a written feedback sheet to keep and refer to in future.
Year 10 really rose to the occasion and it was lovely to see them taking the process so seriously. Our guests commented on how well our students had done and what good impressions they gave. The students overwhelmingly enjoyed the experience and can be proud of how they conducted themselves - well done!
Here are just a few examples of the feedback provided to our students:

"An excellent communicator and has researched his options for the future well and I believe will see these through and succeed."
"Knows strengths (of which he has so many). Very inspiring."
"A very good interview. He is confident but self aware, answers were honest and comprehensive."
"Easy to talk to, very engaging, had some really interesting things to talk about, a very pleasant student."
"Took on advice and asked intelligent questions - well done."

Miss Allender - Year 10 Learning Co-ordinator
Can you help offer Year 10 Work Experience 1-5 July 2019?
Can you or anyone you know offer a Work Experience placement to one of our Year 10 students?
Following on from a very successful morning of Year 10 interviews, our students are looking for a wide range of placements. Are you able to support and offer a placement? If you are please contact Mrs Arnold arnoldl@cotham.bristol.sch.uk
Work experience opportunities
Bristol Music Trust
For the first time Bristol Music Trust is inviting 10 young people in Year 10 from across Bristol to come behind the scenes and join us for a week of work experience from 1-5 July 2019.

This will include:
Finding out about the work of Bristol Music Trust and how we run our world class music venue.
Learning about the different roles and opportunities for working within music and the arts, through masterclasses from across our departments including Education, Marketing, Technical and Programming
Completing an independent project and skill sharing activity
Attending and reviewing a live performance
Completing a Bronze Arts Award
Further information and details of how to apply can be found on our website at https://www.bristolplaysmusic.org/about/job-opportunities/.

Bristol Zoo
Applications are now open. Students need to fill in the form on the Zoo website. Click here.
Year 11
Well done to all of Year 11 on the completion of their Biology mock exam this week. We are very proud of how hard so many of our students have worked and are sure they will be rewarded with great results.
Y11 Academic Monitoring Reports
Your child's last Academic Monitoring Report was in Year 10 Term 6. An up to date report will be emailed to parents and carers next week, with:
Current GCSE Grade
Predicted GCSE Grade
Attitude to Learning and
Homework
Please contact your child's tutor if you have any questions.
NB: The next Academic Monitoring Report will be sent to you after your child has completed their formal mock exams in January 2019.
Mock exams
The formal mock examination season will take place from 21 January to 1 February 2019. Timetables will be supplied nearer the time.
A template revision schedule can be found here.
A list of recommended revision guides can be found here.
If you're worried that your child is not revising enough, a single page sheet for each subject with ideas of what they could be doing now can be found here
Students should also make use of GCSE Pod and SamLearning online revision resources.
'Upgrade' Sessions
'Upgrade' sessions are now part of the school's provision for all students who will benefit from extra support in the run up to their mock examinations in January. Initial student feedback has been really positive, with many finding the time useful and productive. Students say they find Upgrade particularly helpful for organisation, time management and in the development of effective revision methods.
Students can access support from both staff and peers in each session.
Upgrade sessions appear on students' timetables. Please ask your child to show you their timetable and please support our staff by reminding them to attend.
Supporting your child's learning at home
Please see the presentation from the recent Parents' Information evening here for lots of useful information on supporting your child in Y11.
Managing Stress
Many students feel worried and stressed in the run up to exams. We recommend students keep a good sleep schedule, eat well, get outdoors and do regular exercise to support their well-being.
In school, we have Yoga on Tuesdays and Fridays and Headspace, a place for quiet mindfulness, running every day.
There are also a wealth of apps available that can be accessed on phones/ tablets at home. 'Headspace' and 'Calm' are two that come highly recommended and offer tips, anxiety advice and guided meditation. Both are available on IOS and android and offer free 7 day trials.
Year 11 Prom
Last year, a number of our parents got together and organised the Year 11 Prom to celebrate the end of our students Key Stage 4 education. The Prom, which was held at the Mercure Bristol Grand (near St Nicholas' Market) was a real success and was well attended by both our students and our Parent Prom group.
If you are interested in working with a group of parents to organise a Prom for Year 11 students next summer then we would be more than happy to share each of your names and contact details with each other so that you can achieve this.

Last year, the school was able to provide advice and support with communications to students and parents, suggesting possible venues, as well as organising payment for tickets using our wisepay system.
Please get in touch with us if you would like to be involved in organising the prom by contacting Ms Pierce the Learning Coordinator for Year 11 by email at piercep@cotham.bristol.sch.uk.
Business Studies Students- GCSE Finance Exam on 13 December
Many of our Business Studies students will be sitting their GCSE Unit 2 Finance Exam on 13 December during Periods 1 and 2. Students should register as normal then make their way down to Charnwood promptly. A text message reminder will go out to the parents of the relevant students in advance. Please encourage your child to prepare thoroughly. We wish students good luck!
MFL: 'Speaking' element Mock Exam from Monday 10 to Wednesday 12 December inclusive
'Speaking' element mock exams for students studying French or German continue Monday - Wednesday of next week. Students have been given a specific time slot. All speaking exams take place in Charnwood House. Students must arrive 5 minutes before their allotted time. Please encourage your child to practise as much as possible from their scripts and arrive promptly. Good luck Year 11 linguists!

Post-16 News

Year 12 Core Programme on Wednesday 12 December, Lesson 3 - is the launch of UNIFROG - which is a careers tool and an easy way for students to choose the best Universities and Apprenticeships for them, and for teachers to track their progress. All year 12 students who do not have lessons must attend.
UCAS - the final internal deadline to receive UCAS applications is the last day of term Thursday 20 December - well done to all those Year 13s who have submitted them, Mrs Kempt has very much enjoyed reading all the brilliant personal statements.
Year 13s: There is a student finance drop in session on Thursday 13 December in G013 for any student wishing to find out about loans, budgeting and fees at university - all are very welcome.
A reminder that the wellbeing drop in is on Thursday lunchtime and there is a school counsellor available on a Wednesday (please contact Mrs Kempt for more info) There is also a wellbeing library in Mrs Kempt's office for students to borrow self help books.
For more information on Post 16 please visit the parent section of the Post 16 Website: http://www.nbp16c.org.uk/parentinfo/

Careers News

Renishaw Apprenticeship scheme is now open
Please click here to visit the Renishaw careers pages where you can apply for all available schemes, please note the closing date for applications is 1 March 2019.

As a world-renowned engineering and scientific technology company, Renishaw offer a complete range of real-world apprenticeships, spanning all kinds of innovative engineering. They offer opportunities for people interested in STEM subjects, including technical, manufacturing, engineering, software and embedded electronic engineering apprenticeships.

Subject Area News

PE Update
Avon Schools Cross Country
Well done to Misha Evans (8BAK) and Abdifaatah Hasan (yr12) who have been selected to represent Bristol Schools at the Avon School Championship on Saturday 19 January 2019 at St Katherine's School, Pill.
Basketball results
Senior team lost 21-31 against Orchard
Junior team played a triangular matches against St Bedes and Orchard.
Lost to St Bedes 3-16
Lost to Orchard 4-7
Fixtures week commencing Monday 10 December
Wednesday 12 December - Junior and senior boys basketball vs City Academy (away). 5.30pm return.
Please click here for a list of all of the PE/Sports Extra-Curricular activities available to students in Term 2
Follow @CothamPE on Twitter for all the latest news and updates from the Cotham School PE department
Performing Arts News
Work of the Week
Congratulations to Seth (7RA), Catarina (7RA), Flo (7JLL) and Grace (7DS) for their amazing costume design homeworks. This term in dance, year 7 are applying the 'action and dynamics' skills explored in term 1 to learn, rehearse and perform Pressure Point, a dance exploring tension and dynamics. We were very impressed with these detailed costume designs which incorporated the idea of tension, some of which even included sampled of the fabrics to be used. Click here to view.
Performing Arts Winter Sharing - Tuesday 11 December at 6pm
Only a few days to go now. Our performing students are adding the final touches to their pieces and the mince pies have been ordered. Tickets have sold fast with only a few remaining, don't miss out if you have not already purchased your tickets.
Join us for an evening of Performing Arts, celebrating the achievement of our students from all key stages across Dance, Drama and Music.
The evening will feature performances from all of Cotham's legendary steel pan groups, year 7 drama club, Pulse, year 7 and year 8 dance companies. Next week, year 9 students will be taking part in a full day dance workshop where they will create a dance to be performed at the winter sharing. There will also be performances from GCSE Drama and A Level Theatre Studies students. If your child will be performing in the evening, you will be receiving a letter soon and we appreciate the prompt return of the permission slip.
The performing arts winter sharing will be on Tuesday 11 December at 18.00 in the Main Hall. Tickets cost £5 (£3 concessions) and are available through Wisepay.
STEAM Update
Flying Start Challenge 2018 - Tuesday 4 December 2018
This week KS3 students from Cotham and Colston's Girls' School worked with engineers from MBDA based in Filton. Hosted by the STEAM faculty 40 students worked for the whole day alongside their peers in teams to design, cost, build, test and fly a hand powered glider with advice and encouragement on hand from visiting aerospace design engineers from a local employer. Click here for more.
Calling App Developers, Software Developers and Programmers
Our Post 16 A-Level Computer Science students are now well into their programming projects. We are looking for Mentors for two of the projects:
Developing a Tablet App to record Sports stats
How to Encrypt and Decrypt data
If you could help out it would really help the students involved. The mentors act as guides for the students with their project. They review code and help them solve programming problems while providing suggestions for the next stages of development could be.
If you would be able to help please contact Mr Watts on wattst@cotham.bristol.sch.uk
Visual Arts
Work of the Week
This weeks accolade goes to Terry Bickerton, Olivia Hall, Ruari Halson and Paloma Kemp in Year 10 for their clay sculptures created in response to researching a sculpture artist and creating their own piece of clay work inspired by their artist. Click here to view.

Community News

Southmead Hospital Charity Christmas campaign
Celebrate the NHS and support your local hospital by downloading the heart-warming charity single 'We Are The Same Inside' - for just 99p.
'We Are The Same Inside' by 'Melody Makers Choir and Horfield Primary School Choir for the NHS' is a thank you to recognise the amazing work of our staff and the wider NHS in its 70th year.
It's a very special and unique way to fundraise and children, staff and parents can support the hospital simply by downloading the song for just 99p on iTunes, Google Play, Amazon or across other download sites from November 30. It is also available via Spotify.
Money raised from the song will support the hospital, its patients and help fund projects that improve the NHS for future generations.
Watch the music video and find out more.
You can also support us by sharing the song and video on your social media pages. Click here to go to our Facebook or Twitter pages and share 'We Are The Same Inside'.

Best wishes,
Ian Riddell
Corporate and Community Officer
Southmead Hospital Charity
ian.riddell@southmeadhospitalcharity.org.uk
Lego Masters
Do you or does someone in your house eat, sleep and breathe the LEGO bricks?

Is the LEGO MASTERS build room with over 1 million bricks your idea of heaven?

The producers of the popular Channel 4 series LEGO MASTERS are looking for a new bunch of imaginative building pairs to take part in a third series of the bold brick-building competition. If you think you, a family member or a friend have the creativity, skill and imagination to be crowned Britain's best amateur building team then please email build@tuesdayschild.tv - Applicants must be aged 9+ by 03/02/2019 in order to take part.
Bristol City Council Bikeability Programme
Inclusive Bikeability at Bristol Family Cycling Centre
Inclusive cycling sessions are designed to make cycling accessible to all, whatever their age, abilities or needs, by providing a range of specialist cycles, dedicated support and training at a purpose built cycle centre with a 400m athletics track and traffic free paths on site.
http://www.betterbybike.info/start-cycling/get-confidence/family-cycling-centre-hengrove

Useful Quick Links

Keep us posted
It would be great if parents/carers could let the school know of any student achievements outside of school please. It is sometimes only at parents' evenings that we find out what students are doing in their own time. Email us: weeklymailing@cotham.bristol.sch.uk
Key Dates
Please click here to view the Key Dates by year group for the 2018-19 academic year. You will be notified of any significant changes/additions, but please can we ask that you check the dates for your year group regularly as they are subject to change.
Parents' Evening Booking System (PES)
Please click here to access the online appointment booking system for Parents Evenings/Family Consultation Day. Please note this is only available if an event is due. We will email you to let you know when booking opens. If you encounter any difficulties with booking your appointments please contact the admin team by email to adminoffice@cotham.bristol.sch.uk or tel: 0117 919 8000
Assessment Calendars for KS3
We have created Assessment Calendars for 2018/19. Each Assessment Calendar contains details of the class assessments that will take place in their subjects. The final column contains a link which gives information about each of the assessments.
To see the Year 7 Assessment Calendar click here
To see the Year 8 Assessment Calendar click here
To see the Year 9 Assessment Calendar click here
To see the Year 10 Assessment Calendar click here
To see the Year 11 Assessment Calendar click here
Parents Information Sessions
KS3 Parent Information Session 4th October 2018 - click here
KS4 Year 10 Parent Information Session 20th November 2018 - click here
KS4 Year 11 Parent Information Session 8th November 2018 - click here
Homework and Independent Learning timetables
Please see the attached link describing our Homework Guidelines for students in the school.
In KS3 we do not have homework timetables.
Homework and Independent Learning Timetable for Year 10
Homework and Independent Learning Timetable for Year 11
WisePay
WisePay is the Online Payment Service at Cotham School which allows you to pay for trips and visits as well as to add credit to your child's Cashless Catering account. Click here to access your account now. If you have any queries about your account please contact the support team by email to wisepay@cotham.bristol.sch.uk
School Uniform
Please click here to view the compulsory uniform requirements of Cotham School, along with visual examples of uniform and details of our uniform suppliers.
GCSEpod
Click here to access GCSEpod which contains lots of revision resources for most GCSEs. Students self register through the website using their name and school details.
SAM Learning
Click here to access SAM learning which contains revision exercises and self marking quizzes with automatic progress tracking and reporting. Please use the Centre ID: BS6CS. Student usernames and passwords are their birthday formatted as DDMMYY, followed by their Initials.
Diagnostic Questions
Click here to access. This site contains self marking quizzes with lots of templates including some from a range of exam boards. It's easy to make your own questions in Microsoft PowerPoint too. Students sign up with their school Google account using the G+ button to automatically create a school account
Edmodo
Edmodo is an application that can be used on both mobile devices and in the web environment to create an online community of practice. Edmodo is a free social learning platform that allows students to access the course content uploaded by their teachers.
https://www.edmodo.com
Linguascope
The Language Learning Platform
https://www.linguascope.com
Seneca
All students and teachers now have free access to Seneca - a revision and homework platform making studying more fun. Seneca is an interactive way to learn official course content. Their web app covers 150+ exam board specific courses condensing what students need to know for their exams. The software is able to identify gaps in learning. For instance, when you get a question wrong, the platform will repeat the topic in different formats and their smart algorithm has proven to make students remember topics 2x faster. Seneca is totally free for students, teacher and parents. You can sign up via senecalearning.com
Free School Meals
https://www.cloudforedu.org.uk/ofsm/sims to check if your child is eligible for Free School Meals or to apply.
Contact Details
Please note the following contact numbers and email addresses if you need to contact the school:

Main Reception - 0117 919 8000/ reception@cotham.bristol.sch.uk
Student Reception - 0117 919 8013 / studentreception@cotham.bristol.sch.uk
Absence - 0117 919 8019/ absence@cotham.bristol.sch.uk
NBP16C - 0117 919 8100/ post16@cotham.bristol.sch.uk
Finance - 0117 919 8016/ finance@cotham.bristol.sch.uk
Exams - 0117 919 8024/ examsassistant@cotham.bristol.sch.uk
Admin Office - 01179198053/ adminoffice@cotham.bristol.sch.uk