Weekly Mailing - Friday 14 December 2018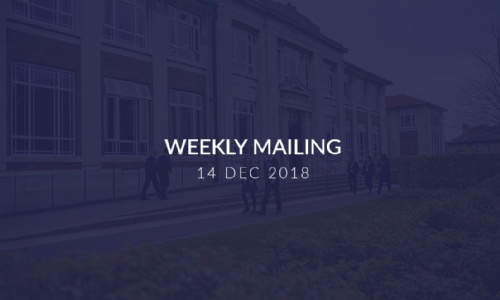 Dear Parents and Carers
Please find below my usual updates on events that have taken place this week, information, letters etc.
Best wishes for the weekend.
Ms Jo Butler
Headteacher
Our playing fields at Stoke Lodge
Thank you to all of you who have added your voices of support over the last few days. More information on our playing fields at Stoke Lodge can be found here. I hope that the detail will be useful.
Can you help offer Year 10 Work Experience 1-5 July 2019?
Can you or anyone you know offer a Work Experience placement to one of our Year 10 students?
Following on from a very successful morning of Year 10 interviews, our students are looking for a wide range of placements. Are you able to support and offer a placement? If you are please contact Mrs Arnold arnoldl@cotham.bristol.sch.uk

CONGRATULATIONS

Identity Workshop Event
Ruth Pitter from Black Artists on the Move came to Cotham on Thursday last week to facilitate a workshop involving 15 Year 7 students. The aim of the workshop was to explore identity and celebrate diversity using a range of different performing art styles. During the session the students produced statements about their name, how they identify with it and where they place themselves in terms of their geographical connections. They also discussed issues around power and identity.
It was an exciting, inspiring and fun workshop which held students' interest throughout. Ruth commented that she thought
"…the young people were a credit to the school, attentive, engaged, thoughtful, questioning, embracing of challenge…it was a pleasure to be at the school and to witness how they developed over the course of the session".
One of the participating students wrote
"On Thursday, Ruth visited our school to do a workshop with a group of students about identity and heritage. There was a range of different and fun activities to learn about. We found out why each and every one of us are unique and special in our own ways. It was very enjoyable, because some of it was based around drama. We thank Ruth for coming to our school, we had an amazing experience. We hope that in the future our school can take part in more workshops like this one" Havana (7JLL)
Thank you Ruth and well done to all the students involved.
Mrs Kelly
Performance Poet visit
Students in Key Stage 3 were treated to an assembly from performance poet 'Dreadlock Alien' on Monday 3 December. Dreadlock Alien started with a freestyle poem incorporating student's names into the rhyming scheme which caused delight and hilarity amongst the students!
Another highlight was a beatbox competition between staff and students. My favourite was Mr Emery's incredibly posh sounding 'boots and cats and boots and cats' and I have to admit Ms Gallien was very impressive. The students definitely had the edge though.
After the assemblies 60 students from Years 7, 8 and 9 had the opportunity to do a workshop with Dreadlock Alien. In the space of an hour everyone created and performed their own poem. I was really impressed with the engagement of students and how confident and supportive students were. Teachers and students were buzzing after his visit and we hope to welcome him back again as he was really inspirational.

IMPORTANT INFORMATION FOR PARENTS/CARERS

New School Classroom Block
We are delighted to report that our new school block of classrooms, offices, a new dining hall, and conference rooms is really taking shape and is on target to be handed over to the school in February 2019. The school will then begin using the space shortly afterwards. This has been built by utilising an area of the school car park and is in response to the growing need to provide more school places for children in the city. Please see some of the photos of how well it is coming along.
Thursday 20 December
Please be advised that the school will close early and students dismissed at 12.00pm on Thursday 20 December 2018 (Last day of Term 2)
Student Christmas lunch - Wednesday 19 December
Roast Turkey, Pigs in blankets and Apricot Stuffing
Roast Potatoes, Parsnips, Sprouts and carrots.
Chocolate & Black-cherry Iced Muffin
Vegetarian option instead of turkey will be offered too, also jackets, soup and pasta.
Online Safety Newsletter: December 2018
Click here to view December's Newsletter.

KEY STAGE 4 NEWS

Year 10
Science Mock Exams
All year 10 students will sit paper 1 science mocks throughout year 10
Physics paper 1 (units P1 - P7) - 31 Jan
Chemistry paper 1 (units C1 - C7) - 21 March
Physics paper 1 (units B1 - B9) - in whole school mocks in June
Please encourage students to revise. Revision guides and workbooks available on wisepay. Personalised Learning checklists available on the science VLE on the school website
Year 11
Y11 Academic Monitoring Reports
Your child's last Academic Monitoring Report was in Year 10 Term 6. An up to date report will be emailed to parents and carers this week, with:
Current GCSE Grade
Predicted GCSE Grade
Attitude to Learning and
Homework
Please contact your child's tutor if you have any questions.
NB: The next Academic Monitoring Report will be sent to you after your child has completed their formal mock exams in January 2019.
Mock exams
The formal mock examination season will take place from 21 January to 1 February 2019. Timetables will be supplied nearer the time.
A template revision schedule can be found here.
A list of recommended revision guides can be found here.
If you're worried that your child is not revising enough, a single page sheet for each subject with ideas of what they could be doing now can be found here
Students should also make use of GCSE Pod and SamLearning online revision resources.
'Upgrade' Sessions
'Upgrade' sessions are now part of the school's provision for all students who will benefit from extra support in the run up to their mock examinations in January. Initial student feedback has been really positive, with many finding the time useful and productive. Students say they find Upgrade particularly helpful for organisation, time management and in the development of effective revision methods.
Students can access support from both staff and peers in each session.
Upgrade sessions appear on students' timetables. Please ask your child to show you their timetable and please support our staff by reminding them to attend.
Supporting your child's learning at home
Please see the presentation from the recent Parents' Information evening here for lots of useful information on supporting your child in Y11.
Managing Stress
Many students feel worried and stressed in the run up to exams. We recommend students keep a good sleep schedule, eat well, get outdoors and do regular exercise to support their well-being.
In school, we have Yoga on Tuesdays and Fridays and Headspace, a place for quiet mindfulness, running every day.
There are also a wealth of apps available that can be accessed on phones/ tablets at home. 'Headspace' and 'Calm' are two that come highly recommended and offer tips, anxiety advice and guided meditation. Both are available on IOS and android and offer free 7 day trials.
Year 11 Prom
Last year, a number of our parents got together and organised the Year 11 Prom to celebrate the end of our students Key Stage 4 education. The Prom, which was held at the Mercure Bristol Grand (near St Nicholas' Market) was a real success and was well attended by both our students and our Parent Prom group.
If you are interested in working with a group of parents to organise a Prom for Year 11 students next summer then we would be more than happy to share each of your names and contact details with each other so that you can achieve this.
Last year, the school was able to provide advice and support with communications to students and parents, suggesting possible venues, as well as organising payment for tickets using our wisepay system.
Please get in touch with us if you would like to be involved in organising the prom by contacting Ms Pierce the Learning Coordinator for Year 11 by email at piercep@cotham.bristol.sch.uk.

Post-16 News

Year 12 had an introduction to UNIFROG as part of their Core Programme. There will be another introduction to this in assembly on Wednesday 19th December at 08.30am
Year 13 mocks are the week beginning 14 January
UCAS - all UCAS applications must be in by the 20 December - students should have met with their form tutor to go through their personal statement and when they are happy they should pay and send and upload their personal statement. This then goes to Mrs Kempt who will upload their subject and tutor reference. Any queries please email Mrs Kempt: kemptc@cotham.bristol.sch.uk
Winter Fair - Tuesday 18 Dec at lunchtime: There will be refreshments, cakes and lovely gifts to buy in the Charnwood Canteen.
Both year 12 and 13 students have had a very busy term here at the North Bristol Post 16 Centre and have been working very hard. We would like to wish them all a relaxing break.
For further information on Post 16 please see the website: http://www.nbp16c.org.uk/parentinfo

CAREERS NEWS

There are a lot of great apprenticeship opportunities around at the moment with top companies. Check closing dates for application as some close in January, although not starting until Sept. 2019:
LAW: RPC Bristol are offering paralegal apprenticeships with the potential to qualify as a solicitor over time. Click here.
ECONOMICS: The Government Economic Service is offering a degree apprenticeship which enables students to get a full economics degree over four years with tuition fees paid and a minimum salary of £20,000pa. More info here and application link here. Some are based in Bristol and students don't have to be studying A-Level Economics to apply.
BUSINESS & FINANCE: These top business services firms offer various work experience opportunities, supported degrees and/or apprenticeships leading to professional qualifications:
PwC: Work experience (Y12) opps. and Flying Start Degree programmes:
EY: Business apprenticeships:
Deloitte: BrightStart higher apprenticeships:
SCIENCE: A rare opportunity for scientific apprenticeships with GSK (= GlaxoSmithKline - a global pharmaceutical company). See here for more info and apply here
COMPUTING & IT: IBM have a gap year Futures Scheme as well as a range of apprenticeships
ENGINEERING:
Renishaws (in Gloucestershire): engineering & IT apprenticeships
Airbus: engineering, finance, business, digital & technical apprenticeships, some at degree level
Rolls Royce: a variety of apprenticeships
Wessex Water: a range of technical apprenticeships, some at a higher level
Atkins: a civil engineering company with a range of apprenticeships, incl. digital:
RETAIL:
Business & Management degree apprenticeships with Morrison's

SUBJECT AREA NEWS

PE
Basketball Results vs City Academy
Junior boys lost 16-34
Senior boys won 27-21
Please click here for a list of all of the PE/Sports Extra-Curricular activities available to students in Term 2
Follow @CothamPE on Twitter for all the latest news and updates from the Cotham School PE department
Performing Arts
We would like to congratulate all of those who have performed over the past week. On Monday and Wednesday, BTEC Music Technology students were back in the studio to record drums for their recreations of Easy by The Commodores. On Tuesday, over 180 students performed in the sell out Winter Sharing. All performances were well received and it was great to see the variety of what Cotham School's students are involved with. On Wednesday and Thursday, Year 10 Drama students performed the devised pieces that they have been working on this past term. We saw plays that covered a range of topics from domestic violence to war.
Visual Arts
Work of the Week
This weeks accolade goes to GCSE arts student Rosa Miles in Year 11 for her beautifully detailed oil painting. Click here to view.

MENTAL HEALTH AND WELLBEING

Three Year 7 Aand three Year 8 classes will begin a 12-week programme of 5-minute mindfulness three times a week as part of a DfE research project into mental health interventions for young people. We hope that the success of this project will mean that we can roll this out across the whole school in the summer term and become a fully Mindfulness-practising school by September 2019. Please find attached the information about the mindfulness work that we will be doing with students and a useful parent/carer guide to practising some basic mindfulness techniques at home with your child, whether they are part of the initial research project or not.

USEFUL QUICK LINKS

Keep us posted
It would be great if parents/carers could let the school know of any student achievements outside of school please. It is sometimes only at parents' evenings that we find out what students are doing in their own time. Email us: weeklymailing@cotham.bristol.sch.uk
Key Dates
Please click here to view the Key Dates by year group for the 2018-19 academic year. You will be notified of any significant changes/additions, but please can we ask that you check the dates for your year group regularly as they are subject to change.
Parents' Evening Booking System (PES)
Please click here to access the online appointment booking system for Parents Evenings/Family Consultation Day. Please note this is only available if an event is due. We will email you to let you know when booking opens. If you encounter any difficulties with booking your appointments please contact the admin team by email to adminoffice@cotham.bristol.sch.uk or tel: 0117 919 8000
Assessment Calendars for KS3
We have created Assessment Calendars for 2018/19. Each Assessment Calendar contains details of the class assessments that will take place in their subjects. The final column contains a link which gives information about each of the assessments.
To see the Year 7 Assessment Calendar click here
To see the Year 8 Assessment Calendar click here
To see the Year 9 Assessment Calendar click here
To see the Year 10 Assessment Calendar click here
To see the Year 11 Assessment Calendar click here
Parents Information Sessions
KS3 Parent Information Session 4th October 2018 - click here
KS4 Year 10 Parent Information Session 20th November 2018 - click here
KS4 Year 11 Parent Information Session 8th November 2018 - click here
Homework and Independent Learning timetables
Please see the attached link describing our Homework Guidelines for students in the school.
In KS3 we do not have homework timetables.
Homework and Independent Learning Timetable for Year 10
Homework and Independent Learning Timetable for Year 11
WisePay
WisePay is the Online Payment Service at Cotham School which allows you to pay for trips and visits as well as to add credit to your child's Cashless Catering account. Click here to access your account now. If you have any queries about your account please contact the support team by email to wisepay@cotham.bristol.sch.uk
School Uniform
Please click here to view the compulsory uniform requirements of Cotham School, along with visual examples of uniform and details of our uniform suppliers.
GCSEpod
Click here to access GCSEpod which contains lots of revision resources for most GCSEs. Students self register through the website using their name and school details.
SAM Learning
Click here to access SAM learning which contains revision exercises and self marking quizzes with automatic progress tracking and reporting. Please use the Centre ID: BS6CS. Student usernames and passwords are their birthday formatted as DDMMYY, followed by their Initials.
Diagnostic Questions
Click here to access. This site contains self marking quizzes with lots of templates including some from a range of exam boards. It's easy to make your own questions in Microsoft PowerPoint too. Students sign up with their school Google account using the G+ button to automatically create a school account
Edmodo
Edmodo is an application that can be used on both mobile devices and in the web environment to create an online community of practice. Edmodo is a free social learning platform that allows students to access the course content uploaded by their teachers.
Linguascope
The Language Learning Platform
Seneca
All students and teachers now have free access to Seneca - a revision and homework platform making studying more fun. Seneca is an interactive way to learn official course content. Their web app covers 150+ exam board specific courses condensing what students need to know for their exams. The software is able to identify gaps in learning. For instance, when you get a question wrong, the platform will repeat the topic in different formats and their smart algorithm has proven to make students remember topics 2x faster. Seneca is totally free for students, teacher and parents. You can sign up via senecalearning.com
Free School Meals
https://www.cloudforedu.org.uk/ofsm/sims to check if your child is eligible for Free School Meals or to apply.
Contact Details
Please note the following contact numbers and email addresses if you need to contact the school:
Main Reception - 0117 919 8000/ reception@cotham.bristol.sch.uk
Student Reception - 0117 919 8013 / studentreception@cotham.bristol.sch.uk
Absence - 0117 919 8019/ absence@cotham.bristol.sch.uk
NBP16C - 0117 919 8100/ post16@cotham.bristol.sch.uk
Finance - 0117 919 8016/ finance@cotham.bristol.sch.uk
Exams - 0117 919 8024/ examsassistant@cotham.bristol.sch.uk
Admin Office - 01179198053/ adminoffice@cotham.bristol.sch.uk