Weekly Mailing - Friday 21 December 2018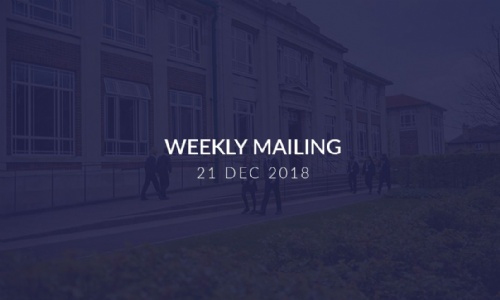 Dear Parents and Carers

Please find below my usual updates on events that have taken place this week, information, letters etc.

I am sure you will join with me in thanking all Cotham staff for their hard work during Term 2 but I would also like to take this opportunity to thank you and your children too. I wish all our families a restful seasonal break and a Happy New Year.

Ms Jo Butler
Headteacher

Our playing fields at Stoke Lodge

Thank you to our wonderful and committed parents and carers who continue to lobby on our behalf to get our students back onto safe and secure playing fields. Please keep going as we need all the support we can get!

Congratulations

Misha Evans (8BAK) won silver medal in the u13 Avon AA cross country championships at Bath University on Sunday 9 Dec. This qualifies him for regional and national championships. His mum reports that he is looking forward to doing speedy laps of the school playing field soon. Congratulations Misha!

Important Information for Parents/Carers

Can you help offer Year 10 Work Experience 1-5 July 2019?
Can you or anyone you know offer a Work Experience placement to one of our Year 10 students?
Following on from a very successful morning of Year 10 interviews, our students are looking for a wide range of placements. Are you able to support and offer a placement? If you are please contact Mrs Arnold arnoldl@cotham.bristol.sch.uk
Online Safety Newsletter: January 2019
Click here to view January's Newsletter.

Key Stage 4 News

Year 11
Mock exams
The formal mock examination season will take place from 21 January to 1 February 2019. Timetables will be supplied nearer the time.
A template revision schedule can be found here.
A list of recommended revision guides can be found here.
If you're worried that your child is not revising enough, a single page sheet for each subject with ideas of what they could be doing now can be found here
Students should also make use of GCSE Pod and SamLearning online revision resources.
'Upgrade' Sessions
'Upgrade' sessions are now part of the school's provision for all students who will benefit from extra support in therun up to their mock examinations in January. Initial student feedback has been really positive, with many finding the time useful and productive. Students say they find Upgrade particularly helpful for organisation, time management and in the development of effective revision methods.
Students can access support from both staff and peers in each session.
Upgrade sessions appear on students' timetables. Please ask your child to show you their timetable and please support our staff by reminding them to attend.
Supporting your child's learning at home
Please see the presentation from the recent Parents' Information evening here for lots of useful information on supporting your child in Y11.
Managing Stress
Many students feel worried and stressed in the run up to exams. We recommend students keep a good sleep schedule, eat well, get outdoors and do regular exercise to support their well-being.
In school, we have Yoga on Tuesdays and Fridays and Headspace, a place for quiet mindfulness, running every day.
There are also a wealth of apps available that can be accessed on phones/ tablets at home. 'Headspace' and 'Calm' are two that come highly recommended and offer tips, anxiety advice and guided meditation. Both are available on IOS andandroid and offer free 7 day trials.

Post-16 News

For further information on Post 16 please see the website: http://www.nbp16c.org.uk/parentinfo/

House News

Cothams Got Talent
Last week a group of Year 13 BTEC L3 Business students put on 'Cothams Got Talent' to great success! The competition willtook place at lunchtime in the Dance Studio on Tuesday and Thursday and the Final was held on Friday.
"As part of our BTEC L3 Business course we had to complete a unit where we managed an event. We chose Cotham's Got talent because we thought it would be nice to hold an event for the younger students at Cotham School. It was aimed at years 7 to 11 and money raised was split between the four house charities. After two intense heats, eight acts went through to the final. The person who won Cotham's got Talent was Louie Chittenden from 7BRI who did a fantastic comic routine. The runner up was Hannah Foster from 11WN who sang an amazing original song. Well done to all the contestants and thanks to all the teachers for helping".

By Daniela Raymond and the 13 BTEC L3 class.
Click here to view a photograph of our winner in action!
Student Leadership
Two students from the Student Council, Isaac Kane and Amira Birdi, attended a leadership day organised by Bedminster Down and Clifton College. This is a course where students get to explore and develop various aspects of leadership, it is supported by the University of Bristol. Our students have attended two days of events and have been so positive and enthusiastic about their experiences on returning back to school.
This is what Amira said...
"On Wednesday 12 December Isaac and I went to a student leadership skills day at Aerospace Bristol. It started with a tour around the museum, where we got to see the Concorde. Then there was a challenge where the teams had to build a Mars rover to pick up magnetic "rocks" and avoid obstacles. After that, the whole group had to work together to make a scale model of a village. This was quite hard and required a lot of communication because we had to all use the same scale and decide who made what. Finally, we did some work on our own leadership styles using cards with personality traits to find out our leadership style".
Delta Download
This has been an interesting term for Delta House as a lot of initial work has been going on behind the scenes as our house focus of behaviour and rewards has taken priority of our actions.

Delta House reps devised a Google Form with a range of questions about how students feel about the existing rewards system. This also offered students the opportunity to make their suggestions for what they'd like to see in place to help create a more positive classroom culture.

So far more than 520 students have taken the time to complete the Google Form and every response thus far has been read by a member of the Delta Team. This is a vital piece of work that the Delta Team are undertaking as it has the potential to have a hugely positive impact on the whole student body. Teachers have also had their voices heard and are keen to support the development of a system that focuses on celebrating the great things students are doing.

More details on the progress of the rewards system will be shared throughout the year.

If any parents would like to share thoughts, feedback or suggestions on how we can share the great things your child is doing, please do get in touch via McDonaghK@cotham.bristol.sch.uk
Louis' Got Talent!
It goes without saying Louis in 7RBI is utterly brilliant. He had the Dance Studio in stitches on Friday lunchtime when he absolutely nailed his comedy act. Louis created afeel good vibe with lots of laughter which saw him being crowned as the winner of a fabulous Cotham's Got Talent event that the Y13 Business students organised. Huge well done Louis, you did Delta proud!
Christmas tree, oh Christmas tree
A huge thank you to all Delta students who brought in decorations for our Christmas tree. My thanks especially for the energy, exuberance and enthusiasm that the 8CX superstars brought with them. Amelia, Orla, Ria and Hannah - thank you so much for taking the time to care so much about all things Delta. You are absolute superstars and set a fantastic example to us all. Your relentless positivity is what makes being Head of House such a wonderful role. Thank you.
All that is left for me to say is I wish you and your families a joyful and peaceful break and the warmest of wishes for 2019.

Miss McDonagh and the Delta Squad
Gamma Update
From everybody in Gamma, we would like to say thank you for such an enjoyable final term of 2018. Students and Staff across Cotham have been in an extremely festive mood in these past few weeks and this is due in part to the events run by Omega, Delta, Sigma and Gamma. Whether this be a Christmas raffle, a Santa dash, a celebratory assembly or a candy cane gram, we have all come together to fund raise for those less fortunate than ourselves.
Gamma students have contributed a great amount of non-perishable items and food to Omega's Christmas donation scheme which has led to-

100 cans (20 soup, 29 beans, 15 baked beans, many others too)
19 packs of pasta, rice, daal, lentils, noodles.
30 Bottles of shower gel/shampoo/conditioner
154 pads & tampons
25 nappies
16 Tubes toothpaste & toothbrushes
Cereal, Pasta sauce, deodorants, soaps, biscuits, cakes, blankets, razors and much more!

This is being donated to The Julian Trust, a homeless shelter in St Pauls- near to St Pauls Nursery & Cabot Primary School. Somewhere Mr Nunn feels will resonate with a lot of our students

Gamma have been doing our annual Candy cane delivery this week which is where students have been sending lovely messages to each other which are then delivered by Santa's helpers (our lovely prefects!). We are still totaling up the profit, but it looks to be well over £50 which is fantastic. Thank you to everyone who helped.

All around school Gamma students have been showing brilliant Cotham manners and appreciation of each other in this season of goodwill. This was shown none more than by this months Gamma House Champion which is Khalid Farah in 7RA. Khalid is the most polite, friendly and downright charming member of Gamma house and goes above and beyond to greet staff and older students with compassion and care. He is a star. He will receive £3.00 on his lanyard, a trophy and a certificate.

Finally, the second issue of our awesome Cotham newspaper came out in the last couple of weeks and is being read across the school! The issue took a long time to make but we wanted it to showcase the best student work that our school has to offer. As Gamma's focus is teaching and learning, we included articles on 'How to revise,' 'Exam stress management,' and exemplar work from the creative arts department. We hope to have an even bigger and better third issue so keep an eye out around school, on the website or in future weekly mailings.

From Miss Madge and everyone at Gamma, we wish youa happy and restful holidays. We look forward to a brilliant 2019!"
Sigma festive round up
We would like to welcome Paulo Antonio to the Sigma team. Paulo has been appointed as a Sigma Prefect.
Green Plan it Challenge
In November our Be Friendly Gardeners presented their project at final of the GreenPlan it Challenge. We had a great day and the level of competition was very high. We had very positive comments about our design. The team designed a sensory garden. As a House our role is the Environment,we will be putting elements of the garden design in and around the school. For the sight section, the team have now planted bulbs in one of the large planters on the school playground. For the taste section we will be planting herbs in two large planters outside the Food Technology rooms, so students can use them during lessons for flavouring dishes. We will be continuing with this over the coming months with bulbs and seeds that are seasonal. If anyone would like to donate plants and seeds please let us know.
December Superstar - Eva Liberman
Eva has become more confident and given up so much of her time over the last few months. Eva has been part of the Be Friendly Gardeners team. Through being involved with the project Eva has become confident, organised and shown brilliant team work. Eva is moving to Cornwall at the end of this term and Sigma wishes her, she will be missed by everyone in Sigma.
Fundraising
We have been very busy fund raising for our House Charity, The Rainbow Centre for Children. The Prefects have organised cakes sales, Christmas raffle and the sale of Santa hats. The events have all been well supported by students and staff. Our Tutor challenge for this term was to fill the smartie tubes with loose change. This has been very successful with lots of full tubes being handed in once all the smarties had been eaten!
The Bin it Roadshow
In November we organised for 'The Bin It Roadshow' to come into school. They performed to the Year 8 students and the message was about helping young people explore a sense of personal responsibility and allowing them to see the impact of anti-social behaviour, such as the consequences of dropping gum. It was a fun and noisy afternoon.
Sigma Christmas Tree
The students have been busy making and bringing in decorations to decorate the Sigma tree. As our theme is the environment our tree has lots of woodland style decorations, we have fir cones, wooden laser cut baubles, fresh holly and lots of homemade pompoms. Thank you to everyone who supported this.
Cothams Got Talent
Our Year 13 Business students organised 'Cotham's Got Talent'. This was very successful with lots of Sigma students performing and supporting the event. Sigma are looking forward to next year's competition.Sigma challenge - How far can your Sigma water bottle travel
Please remember if you are out and about over he holiday to take your Sigma water bottle with you and get a photo. We will be putting the photos on the Sigma notice board and there will be prizes for most original and distance travelled.
Prefects
A huge thank you to Louis Hawkins, Aineias Arango and Paulo Antonio who have worked extremely hard this term, they are an incredible team. We would like to send a "Get Well Soon" to Abir Jama our House Captain and look forward to her return in the New Year.

We would like to wish you all a very happy and restful holiday.

Mrs Arnold and the Sigma team.
Omega Update
The Omega update will be included in the first mailing of the new year.

Subject Area News

PE
Beaufort Badminton Club
Cotham school hosts the Beaufort Badminton Club for young people aged 11-18 years. Click here to find out more
Please click here for a list of all of the PE/Sports Extra-Curricular activities available to students in Term 3
Follow @CothamPE on Twitter for all the latest news and updates from the Cotham School PE department
Performing Arts
For our final work of the week for term 2, we'd like to congratulate Jake (7JLL) and Djanu (7EH) for their unique approaches to the keywords and definitions homework. Djanu created a tiered display with each definition on an individual stand up card while Jake created an interactive web-page using Adobe Spark. Next term in Drama, year 7 will be exploring the play Shadow of a Boy by Gary Owen and exploring the skills required to take a play from the page to the stage. Merry Christmas from all of us in performing arts. We look forward to sharing more great work with you in 2019! Click here to view.
Science
Last Tuesday Emily Galliford, Natasha Puttick and Owen Lowrey-Pearson and I went to the Royal Society in London. When we arrived we received a talk from the Royal Society President and Nobel Prize winner Dr Venki Ramakrishnan followed by Radio 4 presenter and researcher Jim Al-Khalili who spoke to us of the importance of scientific conferences and his favourite scientific discoveries.
Feeling inspired, we went on to present our work in small groups to other schools. We had an opportunity to show what we have been doing for the past year and also for our project to bepeer reviewed. Then we had lunch and presented to more people at a stand we were given. It was really fun to showcase our work and also look into other schools research from all around the country.
We finished the day with a talk from Sir James Hough who works in the field of gravitational waves. He gave us an insight into scientific research and we left the Royal Society feeling inspired to continue with our own research.
Overall it was a great day and we all thoroughly enjoyed being able to presentthe our research from the past year at the prestigious Royal Society! - Svenja Helmold (13AMU)

Community News

Christmas TV listings
Please click here to access a resource compiled by school librarians; it's a list of all of the book-based TV over the holidays.
Classical Bristol
Click here to view the calendar of events for December 2018 - February 2019

Useful quick links

Keep us posted
It would be great if parents/carers could let the school know of any student achievements outside of school please. It is sometimes only at parents' evenings that we find out what students are doing in their own time. Email us: weeklymailing@cotham.bristol.sch.uk
Key Dates
Please click here to view the Key Dates by year group for the 2018-19 academic year. You will be notified of any significant changes/additions, but please can we ask that you check the dates for your year group regularly as they are subject to change.
Parents' Evening Booking System (PES)
Please click here to access the online appointment booking system for Parents Evenings/Family Consultation Day. Please note this is only available if an event is due. We will email you to let you know when booking opens. If you encounter any difficulties with booking your appointments please contact the admin team by email to adminoffice@cotham.bristol.sch.uk or tel: 0117 919 8000
Assessment Calendars for KS3
We have created Assessment Calendars for 2018/19. Each Assessment Calendar contains details of the class assessments that will take place in their subjects. The final column contains a link which gives information about each of the assessments.
To see the Year 7 Assessment Calendar click here
To see the Year 8 Assessment Calendar click here
To see the Year 9 Assessment Calendar click here
To see the Year 10 Assessment Calendar click here
To see the Year 11 Assessment Calendar click here
Parents Information Sessions
KS3 Parent Information Session 4th October 2018 - click here
KS4 Year 10 Parent Information Session 20th November 2018 - click here
KS4 Year 11 Parent Information Session 8th November 2018 - click here
Homework and Independent Learning timetables
Please see the attached link describing our Homework Guidelines for students in the school.
In KS3 we do not have homework timetables.
Homework and Independent Learning Timetable for Year 10
Homework and Independent Learning Timetable for Year 11
WisePay
WisePay is the Online Payment Service at Cotham School which allows you to pay for trips and visits as well as to add credit to your child's Cashless Catering account. Click here to access your account now. If you have any queries about your account please contact the support team by email to wisepay@cotham.bristol.sch.uk
School Uniform
Please click here to view the compulsory uniform requirements of Cotham School, along with visual examples of uniform and details of our uniform suppliers.
GCSEpod ​​​​​​
Click here to access GCSEpod which contains lots of revision resources for most GCSEs. Students self register through the website using their name and school details.
SAM Learning
Click here to access SAM learning which contains revision exercises and self marking quizzes with automatic progress tracking and reporting. Please use the Centre ID: BS6CS. Student usernames and passwords are their birthday formatted as DDMMYY, followed by their Initials.
Diagnostic Questions
Click here to access. This site contains self marking quizzes with lots of templates including some from a range of exam boards. It's easy to make your own questions in Microsoft PowerPoint too. Students sign up with their school Google account using the G+ button to automatically create a school account
Edmodo
Edmodo is an application that can be used on both mobile devices and in the web environment to create an online community of practice. Edmodo is a free social learning platform that allows students to access the course content uploaded by their teachers.
https://www.edmodo.com
Linguascope
The Language Learning Platform
https://www.linguascope.com
Seneca
All students and teachers now have free access to Seneca - a revision and homework platform making studying more fun. Seneca is an interactive way to learn official course content. Their web app covers 150+ exam board specific courses condensing what students need to know for their exams. The software is able to identify gaps in learning. For instance, when you get a question wrong, the platform will repeat the topic in different formats and their smart algorithm has proven to make students remember topics 2x faster. Seneca is totally free for students, teacher and parents. You can sign up via senecalearning.com
Free School Meals
https://www.cloudforedu.org.uk/ofsm/sims to check if your child is eligible for Free School Meals or to apply.
Contact Details
Please note the following contact numbers and email addresses if you need to contact the school:

Main Reception - 0117 919 8000/ reception@cotham.bristol.sch.uk
Student Reception - 0117 919 8013 / studentreception@cotham.bristol.sch.uk
Absence - 0117 919 8019/ absence@cotham.bristol.sch.uk
NBP16C - 0117 919 8100/ post16@cotham.bristol.sch.uk
Finance - 0117 919 8016/ finance@cotham.bristol.sch.uk
Exams - 0117 919 8024/ examsassistant@cotham.bristol.sch.uk
Admin Office - 01179198053/ adminoffice@cotham.bristol.sch.uk