Weekly Mailing - Friday 11 January 2019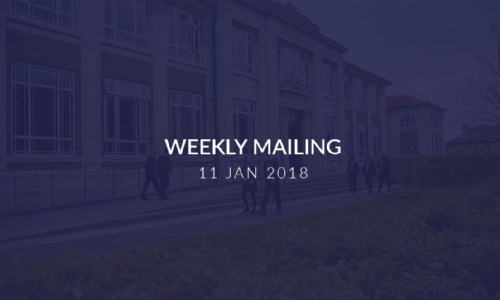 Dear Parents and Carers

Thank you for all your continued efforts to support us on our fight to ensure that current this and future generations of Cotham School students have safe and secure access to our dedicated school playing fields at Stoke Lodge. For your reference please click here to view the proposed plan for fencing, including gates and (indicative) pitches.

It is with some disappointment that I have to tell you that a body called the Commons Registration Authority has decided that a second application by Emma Burgess of the We Love Stoke Lodge group to register our school playing fields as a Town and Village Green (TVG) has been 'duly made'. This does not mean that the land has been registered as a TVG. Bristol City Council and Cotham both opposed this application on the same or very similar grounds and now have the opportunity to submit objections which the applicant must respond to. We'll be submitting objections and fully expect that Bristol City Council will also continue to object to the registration of this land and support our school. I will keep you updated on our progress on this matter.

None of this affects our mobilisation plans to get back onto our playing fields and we'll continue to roll these out as planned.

We still need your support, so if you haven't already, please sign our petition and view, 'like' and share the accompanying film made by friends and supporters of the School.

This campaign means a lot to our school and the more support we can get behind it, the better chance we have of succeeding. You can read more and sign the petition here:

https://you.38degrees.org.uk/petitions/justice-for-cotham-school

Watch our film "Justice for Cotham School here:

https://www.youtube.com/watch?v=aqaKY5ELNhQ&feature=youtu.be

Lots of lively discussion about Stoke Lodge can be found on the 'Cotham Parent Discussion Group - all years' Facebook group. https://www.facebook.com/groups/128780160913396/
Topics include how to support the school ensuring safe and secure access to our playing fields. The group is open to all parents and carers with children at the school. Please note that the page is run by parents and is not an official school Facebook Page.

Please also find below my usual updates on events that have taken place this week, information, letters etc.

Best wishes for the weekend.

Ms Jo Butler
Headteacher

Congratulations

Huge congratulations to Hannah Foster and Fenn Elliot (Year 11) who spent the first day of their christmas holiday singing in the galleries to raise money for 'War Child'.

Important Information for Parents/Carers

Online Safety Newsletter: January 2019
Click here to view January's Newsletter.

Key Stage 3 News

Year 8
Year 8 exams take place in the weeks commencing Monday 4 February and Monday 11 February. Details of the style and content of each exam, as well as details of revision are given in the document here.
A useful Revision Timetable template can be found here.
The exams represent a good opportunity for students to get used to the demands of reformed GCSEs. Please encourage your child to complete revision over the next two weeks in advance of their exams.

A timetable showing the days / times of the exams will be shared with parents and students in next week's weekly mailing.
Year 9
Options Information Evening 5.30pm – 7.30pm on Wednesday 16 January.
We warmly invite you to the Year 9 Options Information Evening. There will be presentations by members of the Leadership team in the main hall at 5.45pm and 6.45pm and the Information, Advice and Guidance Advisor, Mrs Chester, will also be present to offer advice on possible Post 16 education and careers options. Students will have seen the same presentation during assembly that day.
The focus of the rest of the presentation will be the 2019-21 Key Stage 4 Curriculum and an outline of the procedure and the timeline for finalising options. There will also be an opportunity to take individual questions at the end of each presentation. Subject staff will be available to answer any questions that you may have. The Options Booklet will be distributed at this event.
The Year 9 Parents' Evening - Wednesday 23 January - 4.00pm - 6.30pm
At the evening you will be able to discuss your child's progress and suitability for particular subjects at Key Stage 4. Appointments for Parents Evening can be made using the online booking system (PES) accessed via the school website. Subject teachers are available from 4.00pm until 6.30pm. Students should attend the Parents Evening with you.

In addition, Ms Quirke (Assistant Headteacher) and Mrs Bajic-Raymond (Senior Deputy Headteacher) will be running an Options Surgery to help with any queries, on Tuesday 29 January from 6.00 pm to 7.00 pm.
Real Game - Thursday 17 January
As part of their careers and work-related programme and to support them in their upcoming GCSE option decisions, all Year 9 students will be playing the Real Game in P1-4 on Thursday 17 January. The Real Game provides students with an opportunity to explore different aspects of the world beyond education in a safe and enjoyable way. As part of the game, students are given a random job role and tasks which help them to develop employability skills and gain an appreciation of how qualifications relate to income levels and how adults need to balance income and expenditure in everyday life.
Coming soon: Raising Aspirations Event - Tuesday 29 January
All Year 9 students will be going on a trip to UWE Exhibition Centre on Tuesday 29 January where they will take part in a variety of activities involving sixth-forms, colleges, universities, training and apprenticeship providers and employers. The event will open their eyes to the wide range of options available to them at 16 and 18, introduce them to new careers and help them to see the relevance of their choices for GCSE Options. More details will be provided nearer the time
Meningococcal ACWY vaccination and Diphtheria/Polio and Tetanus vaccination
All Year 9 students are being offered the Meningococcal ACWY vaccination and Diphtheria/Polio and Tetanus vaccination in school on Thursday 24 and Friday 25 January 2019.
All students have received a letter, consent form and booklet via tutors and parents have been e-mailed the letter and consent form.
Consent forms need to be returned to the Student Reception by Monday 14 January 2019. Students will not be vaccinated if no consent form is received.

Key Stage 4 News

Year 10
Work Experience
All information can be found on the school website here.
Dates to return Work Experience forms
Outside Bristol 8 February
Bristol 5 April
Applications closing soon......
Bristol Old Vic - applications close Monday 14 January 5pm.
Travelling Light - applications close on 31 January
Bristol Music Trust - applications close 28 January
Work Experience opportunities
Drummer Television are offering Work Experience. Interview to take place at school. Please see Mrs Arnold if interested.

HSBC - please see Mrs Arnold for application form

Circomedia - https://www.circomedia.com/work-experience/

Arup - applications to be sent direct to Arup please see application form

SS Great Britain are offering placements - interviews will take place in school Monday 11 February.
Application form to be returned to Mrs Arnold by 1 February.

Careers in Science/ Engineering (1-5 July) – the week will include hands-on experiments with our Ship's Conservation Engineer, how we communicate science to the public and taking care of artefacts (including the ship's hull). Students will work as a team exploring a range of different science-based challenges and projects. There will be an opportunity to present their ideas to staff, students and parents at the end of the week. The week would particularly suit students interested in exploring careers in STEM.

Careers in Museums/ Heritage (1-5 July) – during the week students will have the opportunity to explore what working for a museum and Bristol's number one tourist attraction is really like. They will have the opportunity to take part in workshops with our marketing, interpretation, visitor experience and conservation teams. The students will be working on a group project which will also benefit the SS Great Britain with the opportunity to present their ideas to staff, students and parents at the end of the week. It might particularly suit students with an interest in history, tourism or the arts.
Year 11
Mock exams
Mock exams for Year 11 will take place from 21 January to 1 February 2019. The timetable for these exams can be seen here.
All exams will take place in the Sports Hall unless otherwise stated. Students must be in full and correct school uniform and have their lanyard with them at all times. They need to ensure that they are in school for 8.35am every day. Students taking morning exams at 8.40am should go straight to the exam hall (they do not need to see their tutor).
All students will be given a copy of their own individual timetable showing their seating plan, which they must carry with them at all times. Some students will have exam clashes but their timetable will confirm which exam they should attend. Any exam missed as a result of a clash or absence will be completed during Thursday 31st January and Friday 1st February. It is important that every student ensures that they are in school to complete these mock exams.
Exam rules are strict and we want the mock exam period to replicate the period of GCSE exams as closely as possible. Students are not permitted to take mobile phones into the exam hall. We are unable to guarantee the security of students mobile phones whilst they are in exams and advise all students to leave their phones at home.
Teachers will be working with students and preparing them for their exams but all students should be revising independently at home in preparation for both the mock exams and the summer exam season. If you are worried that your child is not revising enough at home then the following may be helpful resources:
A template revision schedule can be found here.
A list of recommended revision guides can be found here.
Single page sheets for each subject with ideas of what they could be doing now can be found here

Students should also make use of GCSE Pod and SamLearning online revision resources.
Post Mock Parent Information Session Thursday 7 February.
Term 3 ends on Friday 15 February. When we return on Monday 25 February Year 11 will have only 35 school days of learning before their formal GCSE exams commence.
We therefore want to ensure that all of our students are using the February holiday to thoroughly review their strengths and weaknesses identified by the January mock exams and acting on the feedback given to them by their teachers.

We would like to invite our Year 11 Parents in so that you understand how feedback will be given to students following their mock exams and so that you can support your child with their revision over the February half term and during the 35 school days that remain when we return on February 25.
The session will run on Thursday 7 February from 5.30pm to 6.30pm. Parents should arrive and enter the Main Reception on Cotham Lawn Road. Directions to the main hall will be visible on the day.
Please click here to register your attendance to enable us to gauge numbers in advance.
'Upgrade' Sessions
'Upgrade' sessions are now part of the school's provision for all students who will benefit from extra support intherun up to their mock examinations in January. Initial student feedback has been really positive, with many finding the time useful and productive. Students say they find Upgrade particularly helpful for organisation, time management and in the development of effective revision methods.
Students can access support from both staff and peers in each session.
Upgrade sessions appear on students' timetables. Please ask your child to show you their timetable and please support our staff by reminding them to attend.
Managing Stress
Many students feel worried and stressed intherun up to exams. We recommend students keep a good sleep schedule, eat well, get outdoors and do regular exercise to support their well-being.
In school, we have Yoga on Tuesdays and Fridays and Headspace, a place for quiet mindfulness, running every day.
There are also a wealth of apps available that can be accessed on phones/ tablets at home. 'Headspace' and 'Calm' are two that come highly recommended and offer tips, anxiety advice and guided meditation. Both are available on IOSandandroid and offer free 7 day trials.

Post-16 News

Both the year 12s and 13s have made an excellent start to the new term, we look forward to hearing about university replies from those year 13s who applied to UCAS for 2019 entry or deferred 2020 entry.

Year 13 mock week is 14 - 18 January - all year 13s have been issued an exam timetable, a copy of which has been emailed home. Students should arrive at least 15 minutes before the start of their exam and wait in the canteen to be called down. They must ensure that they have at least 2 pens with them and any other equipment that they need. Those students with EAA (Exam Access Arrangements) should try to remember to make a mark on the paper where their extra time starts - this is useful for evidence of need.

Year 12: Core Programme last week was a really useful talk from the Western Outreach Network (WON) regarding Higher Education and course choices. There will be an email circulated soon with the presentation for those who missed it.

You will have received an email inviting you to our next PEG meeting which is at RGS on Wednesday 16 January, we look forward to seeing you there. A representative from Bristol University will be there to discuss student finance.

For further information on Post 16 please see the website: http://www.nbp16c.org.uk/parentinfo/

Careers News

There will be a Careers Fair at Ashton Park School (BS3 2JL) on Monday 21 January from 4.45-7.00pm. The event is open to students and parents/carers from any school who are interested in exploring future career pathways, further and higher education, work experience and apprenticeships, with over 60 exhibitors from a wide range of sectors present. No need to book.
For forthcoming college open days and links to university and local career-related events, see: https://www.cotham.bristol.sch.uk/page/?title=Open+days+and+events&pid=118
For a range of excellent apprenticeship opportunities, including at degree level, see: https://www.cotham.bristol.sch.uk/page/?title=Apprenticeships+and+school+leaver+schemes&pid=119

Subject Area News

PE
PE Extra-Curricular Clubs
Clubs started last week and it was good to see a large number attending them. Just a reminder that students needs to wear appropriate sports kit and footwear please. For boys football, students will need to wear football boots and shin pads.
Please click here for a list of all of the PE/Sports Extra-Curricular activities available to students in Term 3.

Follow @CothamPE on Twitter for all the latest news and updates from the Cotham School PE department
Ski Trip
A place has become available for the 2019 Easter Ski Trip. If you are interested, please contact Mr Collin collinj@cotham.bristol.sch.uk urgently.
Visual Arts
Work of the Week
This weeks WOTW from Visual Arts is a collage of the work produced by Year 7 during theRobotinter house competition. Click here to view
Performing Arts
Bristol Sessions Youth Choir
Auditions will be held at The Elmgrove Centre in March. Please click here for more information

House News

Omega Update
A warm welcome back to all students after the Christmas break. Last term Omega house was very busy in the school community and I would like to congratulate all that took part in the various fundraisers and competitions!
Last term we organised a whole school collection for Bristol homelessness, which was delivered to the Julian Trust in St Pauls on the Friday after the end of term. Thank you to my prefects who were awesome collecting from tutor groups and a huge thank you to all those who kindly donated. Staff and students. The Julian Trust were so grateful for all your donations and they asked me to pass on a heartfelt thank you to all who got involved!
We also organised the annual Santa Dash which was a great success, initially our winner this year was, for the second year, Mr Slane however after a VAR replay across the finish line the Fourth Official noticed the offender in non-regulation rugby boots, giving him a competitive edge over all the other competitors. Therefore after disqualification Tazz Clarke-Downer (11WN) was given the overall win.
There have been a few students who have stood out over the past two terms and I am pleased to announce that our Omega Legends for term 1 and term 2 were Fab Campus (8JBR) and Nada Marsal (10JSB) Commendations go out to Sion Mowatt (9RM), Becky Lloyd (7KBK), Frank Parsons (8JBR), Avea Archer (11DU), Shawanica Ramsey (11DU), Adam Roe (10JSB) and Hafza Dauud (7KBK).
Finally, Omega house was successful in winning the Overall House Trophy for the very first time! Not only this, we also managed to win the trophy for Cotham Manners! A brilliant success, however holding onto the trophy will be an even greater task. Thank you to all my amazing house who have worked incredibly hard in school to make this happen.
All the best for the new term, keep on being awesome Omega!
Bristol City Youth Council Election
Elections for the Bristol City Youth Council elections are taking place from January 14 to January 25 2019 across Bristol. Young people across Bristol aged 11 to 18 will be voting to decide who will be the next thirty two members of the Bristol City Youth Council (BCYC). Cotham School has agreed to be a polling station in the elections of 2019. All students will have an opportunity to cast their vote during a tutorial session where the candidate manifestoes and process will also be shared.
Click here to view all candidate manifestos or here to watch a video of each of the candidates.
We wish all candidates the very best of luck in running their campaigns, particular good wishes to Theodore Bradwell andDorianErlic who are both Cotham students.

Useful quick links

Keep us posted
It would be great if parents/carers could let the school know of any student achievements outside of school please. It is sometimes only at parents' evenings that we find out what students are doing in their own time. Email us: weeklymailing@cotham.bristol.sch.uk
Key Dates
Please click here to view the Key Dates by year group for the 2018-19 academic year. You will be notified of any significant changes/additions, but please can we ask that you check the dates for your year group regularly as they are subject to change.
Parents' Evening Booking System (PES)
Please click here to access the online appointment booking system for Parents Evenings/Family Consultation Day. Please note this is only available if an event is due. We will email you to let you know when booking opens. If you encounter any difficulties with booking your appointments please contact the admin team by email to adminoffice@cotham.bristol.sch.uk or tel: 0117 919 8000
Assessment Calendars for KS3
We have created Assessment Calendars for 2018/19. Each Assessment Calendar contains details of the class assessments that will take place in their subjects. The final column contains a link which gives information about each of the assessments.
To see the Year 7 Assessment Calendar click here
To see the Year 8 Assessment Calendar click here
To see the Year 9 Assessment Calendar click here
To see the Year 10 Assessment Calendar click here
To see the Year 11 Assessment Calendar click here
Parents Information Sessions
KS3 Parent Information Session 4th October 2018 - click here
KS4 Year 10 Parent Information Session 20th November 2018 - click here
KS4 Year 11 Parent Information Session 8th November 2018 - click here
Homework and Independent Learning timetables
Please see the attached link describing our Homework Guidelines for students in the school.
In KS3 we do not have homework timetables.
Homework and Independent Learning Timetable for Year 10
Homework and Independent Learning Timetable for Year 11
WisePay
WisePay is the Online Payment Service at Cotham School which allows you to pay for trips and visits as well as to add credit to your child's Cashless Catering account. Click here to access your account now. If you have any queries about your account please contact the support team by email to wisepay@cotham.bristol.sch.uk
School Uniform
Please click here to view the compulsory uniform requirements of Cotham School, along with visual examples of uniform and details of our uniform suppliers.
GCSEpod
Click here to access GCSEpod which contains lots of revision resources for most GCSEs. Students self register through the website using their name and school details.
SAM Learning
Click here to access SAM learning which contains revision exercises and self marking quizzes with automatic progress tracking and reporting. Please use the Centre ID: BS6CS. Student usernames and passwords are their birthday formatted as DDMMYY, followed by their Initials.
Diagnostic Questions
Click here to access. This site contains self marking quizzes with lots of templates including some from a range of exam boards. It's easy to make your own questions in Microsoft PowerPoint too. Students sign up with their school Google account using the G+ button to automatically create a school account
Edmodo
Edmodo is an application that can be used on both mobile devices and in the web environment to create an online community of practice. Edmodo is a free social learning platform that allows students to access the course content uploaded by their teachers.
https://www.edmodo.com/
Linguascope
The Language Learning Platform
https://www.linguascope.com
Seneca
All students and teachers now have free access to Seneca - a revision and homework platform making studying more fun. Seneca is an interactive way to learn official course content. Their web app covers 150+ exam board specific courses condensing what students need to know for their exams. The software is able to identify gaps in learning. For instance, when you get a question wrong, the platform will repeat the topic in different formats and their smart algorithm has proven to make students remember topics 2x faster. Seneca is totally free for students, teacher and parents. You can sign up via senecalearning.com
Free School Meals
https://www.cloudforedu.org.uk/ofsm/sims to check if your child is eligible for Free School Meals or to apply.
Contact Details
Please note the following contact numbers and email addresses if you need to contact the school:

Main Reception - 0117 919 8000/ reception@cotham.bristol.sch.uk
Student Reception - 0117 919 8013 / studentreception@cotham.bristol.sch.uk
Absence - 0117 919 8019/ absence@cotham.bristol.sch.uk
NBP16C - 0117 919 8100/ post16@cotham.bristol.sch.uk
Finance - 0117 919 8016/ finance@cotham.bristol.sch.uk
Exams - 0117 919 8024/ examsassistant@cotham.bristol.sch.uk
Admin Office - 01179198053/ adminoffice@cotham.bristol.sch.uk