Weekly Mailing - Friday 18 January 2019 ​​​​​​​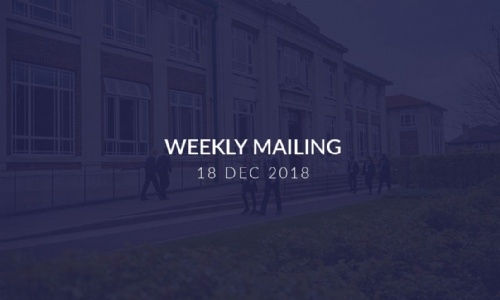 Dear Parents and carers

Safeguarding and toilet use during lesson time
Thank you for the concerns that a few of you have raised this week regarding the recent news coverage of the school. Please let me reassure you that our staff care deeply about the health and wellbeing of our students, and we are saddened that a student of ours has had this experience which is under investigation.

Like most secondary schools in Bristol, and across the country, we have a general procedure of discouraging students from being out of lessons during lesson time, in large part due to multiple Safeguarding concerns; although staff have always been supported in exercising their professional judgement over this and students do often leave the lesson for multiple reasons, including accessing the toilet. However, taking the concerns that a small number of parents have contacted us about into consideration, in order to create more consistency we will be formalising our current procedures by issuing staff with a green toilet pass card to give to students if they request to use the toilet during lesson time.

Some students, e.g. those with a medical condition such as IBS, will still retain their own toilet pass as well in case they feel the need to use it. Equally, some students, in agreement with their parents, may have more regulated access to toilets in order to best safeguard them.

We still believe that there are safeguarding concerns around toilet use during lesson time in schools; however, having taken advice from the Bristol Safeguarding in Education team, we have been advised that children accessing toilets at any time outweighs the multiple safeguarding risks. We have strongly requested of the Safeguarding in Education team that this advice is therefore also given to all schools in Bristol to follow. We will also be writing to the Bristol Post regarding the misrepresentation of the school in some of their articles; for example, all schools were already invited to the Period Poverty summit at City Hall on Monday which, as an advocate of the Red Box Project that we launched in September, the school has always been keen to attend to share the good practice that we already have in place. As with all of our policies and procedures we will continue to keep this one under review to ensure that it is working effectively.

An update on our playing field at Stoke Lodge.
You will have no doubt seen lots of information in the press and on social media concerning the playing fields at Stoke Lodge over the last week. It has been a particularly difficult environment for staff to operate in and I would like to take this opportunity to publicly thank them. Special thanks in particular to Mrs Crossland, Mr Allen and Mr Carpenter.

Following support from Officers at Bristol City Council and Avon and Somerset Constabulary the fence installation Is now ready to begin. However, the nature of the site, consideration of access for contractor vehicles, our obvious need to be compliant in managing the protected trees on site along with the risk of new vandalism have resulted in preparatory works which have had to be meticulously planned and carefully orchestrated. This has taken a little longer than anticipated.

Works to begin the actual installation of the fence will now start imminently. The fence will be installed broadly in keeping with the plan that we have already published with a small amendment to the fence line near the Luckham Oak. The tree will now be located outside of the fenced sports fields allowing a larger area of free access. Following feedback about the colour of the fence, including comments from some local community members, the fence is now to be green in colour which is in keeping with those on our main site.

Our works are compliant to install the fence and have been completely funded by our Condition Improvement Funding Grant (CIF) from the DfE. It should be noted that the fence is the first part of the project. Part two is the replacement of a new pavitlion building. The majority of the CIF grant was paid to the school some time ago when the project first began to roll out. There are only two phased payments left to be made, one a completion payment and the second in line with progress on the building of the pavilion.

We continue to be grateful for all of your kind messages of support and offers of help. I will, as always, keep you accurately informed of our progress.

Please also find below my usual updates on events that have taken place this week, information, letters etc.

Best wishes for the weekend.

Ms Jo Butler
Headteacher

Congratulations

Congratulations to Olivia Dunne (9EM) for passing her LAMDA Bronze award with a distinction! A superb achievement, well done Olivia

Many congratulations to brothers Maximilian (8JBR) and Reuben West (10KBO) who raced in the Bristol Henleaze and Bristol University Long Course swimming gala last weekend.

Max achieved 2 personal bests, a Gold medal in 50m Freestyle and a Bronze medal in 50m Butterfly.
Reuben managed 3 Gold medals, 50m Back, 50m Freestyle and 100 Freestyle. Amazing achievements both!
We are so proud of Nevina Shawe and Sophie Cocking (8SD/IJ) who recently acted very responsibly in the community when they were alerted by a barking dog who directed them to its unconscious owner. The lady had tripped over whilst walking her dog. Nevina contacted her parents immediately and arranged for an ambulance to attend to the lady. The two students probably saved this lady's life who had suffered a cracked skull. Well done to Nevina and Sophie for being such excellent role models and for setting such a good example on behalf of Cotham School students.

Congratulations also go to Seb Wright, one of last year's A level Film Studies students who has been shortlisted for the Moving Image Awards at the BFI with his A level film "Silva". Both Seb, and Cotham School are up for an award in the Film Extract category in this national competition. This is a big deal and we are hugely proud to have got this far! Here is a link to the film: https://www.youtube.com/watch?v=VsDc1Szxd-g&feature=youtu.be

Mr Gayford and Miss Hepworth will be attending the Awards ceremony on 8 February we will keep you informed.

Important Information for Parents/Carers

GWR Student Rail Ticketing Scheme
We would like to remind parents/carers that Severnside Community Rail Partnership are continuing the Student Rail Ticketing Scheme in 2019. This partnership offers our students and families a huge saving on rail travel to and from the school on the Severnside Community Rail. An annual ticket costs £40.00 or families can buy their ticket in instalments. All the details are contained in the letter and application form here.
Swimathon Charity Event
A Swimathon Event is taking place Sunday 3 March 2019 at Clifton High School's Pool, the event is open to all students.

Sigma's House Charity, The Rainbow Centre have invited Cotham School to take part in The 2019 Swimathon to support The Rainbow Centre. All monies raised will go towards the funds here at the centre to ensure it has stability in 2019 to continue supporting the local families of Bristol through their bereavement.

Teams of swimmers between four and eight students swim for an hour and team members encourage people to sponsor the team per length or for some total amount. We will set up a Just Giving page for donations.

We have asked for two lanes and for a time slot of 10.30am - 11.30am. (This is to be confirmed). If your child is interested in being on the team, please email or see Mrs Arnold.

It is not a race, swimmers can swim at their own pace, so a great way to test those PBs. It's fun, and provides an opportunity to raise a lot of funds for charity. Clifton Rotary Club provides the swimming pool and qualified lifeguards.
Online Safety Newsletter: January 2019
Click here to view January's Newsletter.
Word of the week
Each week at Cotham we promote a Word of the Week. This is to help students expand the range of vocabulary they use. Please find the word for the week ahead by clicking here.
Catering Menu for Chinese New Year - Tuesday 5 February 2019
Soup - Coconut and Vegetable Broth
Mains - Sticky Lemon Chicken
Vegetarian Mains - Sticky Hoisin Quorn
Main meals are served with egg fried rice, peas and prawn crackers
Noodle - Noodles with Stir Fried Chili Vegetables
Pudding - Toffee Apple Cake
Sandwich Hut - Chicken Noodle Salad

Key Stage 3 News

Year 8
Year 8 exams take place in the weeks commencing Monday 4 February and Monday 11 February. Details of the style and content of each exam, as well as details of revision are given in the document here.
A useful Revision Timetable template can be found here.

The exams represent a good opportunity for students to get used to the demands of reformed GCSEs. Please encourage your child to complete revision over the next two weeks in advance of their exams.
Year 9
The Year 9 Parents' Evening - Wednesday 23 January - 4.00pm - 6.30pm
At the evening you will be able to discuss your child's progress and suitability for particular subjects at Key Stage 4. Appointments for Parents Evening can be made using the online booking system (PES) accessed via the school website. Subject teachers are available from 4.00pm until 6.30pm. Students should attend the Parents Evening with you.

In addition, Ms Quirke (Assistant Headteacher) and Mrs Bajic-Raymond (Senior Deputy Headteacher) will be running an Options Surgery to help with any queries, on Tuesday 29 January from 6.00 pm to 7.00 pm.
Coming soon: Raising Aspirations Event - Tuesday 29 January
All Year 9 students will be going on a trip to UWE Exhibition Centre on Tuesday 29 January where they will take part in a variety of activities involving sixth-forms, colleges, universities, training and apprenticeship providers and employers. The event will open their eyes to the wide range of options available to them at 16 and 18, introduce them to new careers and help them to see the relevance of their choices for GCSE Options. More details will be provided nearer the time
Meningococcal ACWY vaccination and Diphtheria/Polio and Tetanus vaccination
All Year 9 students are being offered the Meningococcal ACWY vaccination and Diphtheria/Polio and Tetanus vaccination in school on Thursday 24 and Friday 25 January 2019.

A reminder please that all consent forms need to be returned to the Student Reception by Monday 14 January 2019. Students will not be vaccinated if no consent form is received.

Key Stage 4 News

Year 10
Science
All year 10 students are sitting a mock paper on units P1 - P7 on the 31 January 2019.
Please support your child with revision at home. There will be revision sessions advertised in school.
Resources available:
checklists and past papers on the VLE science page
kerboodle
GCSEpod
Revision guides and workbooks on wisepay on the school website
Youtube - primrose kitten and freescience lessons
BBC bitesize
Work Experience (WEX)
Wonderful opportunities for Year 10 students.

All information can be found on the school website-student area.

Dates to return WEX form
Outside Bristol - 8 February
Bristol - 5 April

Applications closing soon......
Travelling Light - applications close on 31 January
Bristol Music Trust - applications close 28 January

WEX opportunities
Drummer Television are offering Work Experience. Interview to take place at school. Please see Mrs Arnold if interested.

HSBC - please see Mrs Arnold for application form

Circomedia - https://www.circomedia.com/work-experience/

Arup - Application forms to be sent direct to Arup.

SS Great Britain are offering placements - interviews will take place in school Monday 11 February.
Application form to be returned to Mrs Arnold by 1 February.

Careers in Science/ Engineering (1-5 July) – the week will include hands-on experiments with our Ship's Conservation Engineer, how we communicate science to the public and taking care of artefacts (including the ship's hull). Students will work as a team exploring a range of different science-based challenges and projects. There will be an opportunity to present their ideas to staff, students and parents at the end of the week. The week would particularly suit students interested in exploring careers in STEM.

Careers in Museums/ Heritage (1-5 July) – during the week students will have the opportunity to explore what working for a museum and Bristol's number one tourist attraction is really like. They will have the opportunity to take part in workshops with our marketing, interpretation, visitor experience and conservation teams. The students will be working on a group project which will also benefit the SS Great Britain with the opportunity to present their ideas to staff, students and parents at the end of the week. It might particularly suit students with an interest in history, tourism or the arts.

Atkins are offering work experience 1-5 July.
Students need to complete the application form and return it to workexperience@atkinsglobal.com by March 30th.
Atkins ask that in the final box in section 4.2 of the application form that students state "Bristol Y10 week 2" (1-5 July)
Year 11
Mock exams
Mock exams for Year 11 commence next week. The timetable for these exams can be seen here.

All exams will take place in the Sports Hall unless otherwise stated. Students must be in full and correct school uniform and have their lanyard with them at all times. They need to ensure that they are in school for 8.35am every day. Students taking morning exams at 8.40am should go straight to the exam hall (they do not need to see their tutor).

All students have been given a copy of their own individual timetable showing their seating plan, which they must carry with them at all times. A small number of students will have exam clashes but their timetable will confirm which exam they should attend. Any exam missed as a result of a clash or absence will be completed during Thursday 31st January and Friday 1st February. It is important that every student ensures that they are in school to complete these mock exams.
Exam rules are strict and we want the mock exam period to replicate the period of GCSE exams as closely as possible. Students are not permitted to take mobile phones into the exam hall. We are unable to guarantee the security of students mobile phones whilst they are in exams and advise all students to leave their phones at home.
Teachers will be working with students and preparing them for their exams but all students should be revising independently at home in preparation for both the mock exams and the summer exam season. If you are worried that your child is not revising enough at home then the following may be helpful resources:
A template revision schedule can be found here.
A list of recommended revision guides can be found here.
Single page sheets for each subject with ideas of what they could be doing now can be found here

Students should also make use of GCSE Pod and SamLearning online revision resources.
Post Year 11 Mock Exams Parent Information Session on Thursday 7 February, 5.30pm-6.30pm.
Term 3 ends on Friday 15 February. When we return on Monday 25 February Year 11 will have only 35 school days of learning before their formal GCSE exams commence. We therefore want to ensure that all of our students are using the February holiday to thoroughly review their strengths and weaknesses identified by the January mock exams and acting on the feedback given to them by their teachers.

We would like to invite our Year 11 Parents and carers into school so that you understand how feedback will be given to students following their mock exams and so that you can support your child with their revision.

Parents should arrive and enter the Main Reception on Cotham Lawn Road. Directions to the main hall will be visible on the day.

Please click here to register your attendance to enable us to gauge numbers in advance.
'Upgrade' Sessions
'Upgrade' sessions are now part of the school's provision for all students who will benefit from extra support in the run up to their mock examinations in January. Initial student feedback has been really positive, with many finding the time useful and productive. Students say they find Upgrade particularly helpful for organisation, time management and in the development of effective revision methods.
Students can access support from both staff and peers in each session.
Upgrade sessions appear on students' timetables. Please ask your child to show you their timetable and please support our staff by reminding them to attend.
Managing Stress
Many students feel worried and stressed in the run up to exams. We recommend students keep a good sleep schedule, eat well, get outdoors and do regular exercise to support their well-being.
In school, we have Yoga on Tuesdays and Fridays and Headspace, a place for quiet mindfulness, running every day.
There are also a wealth of apps available that can be accessed on phones/ tablets at home. 'Headspace' and 'Calm' are two that come highly recommended and offer tips, anxiety advice and guided meditation. Both are available on IOS and android and offer free 7 day trials.
Post-16 News
This week is 'Money Week' where we have several companies coming in to discuss student finance, how to budget, bank account information and to distribute other useful information. There will also be pop- up stands every lunchtime in the canteen.
The Year 12 CORE Programme on Wednesday this week will be delivered by Bristol University and will be on student finance.
Thank you to all those parents and carers who attended the PEG meeting last Wednesday on student finance run by Bristol University. If you have any further queries please do not hesitate to contact us.
UCAS - well done to all those Year 13s who applied to UCAS this year - a total of 139 students applied and we very much look forward to hearing about offers.
OXBRIDGE - A record number of 7 students have received offers from Oxbridge which is fantastic news.
Year 12: We will shortly be emailing out a letter inviting students to attend the UCAS Convention on Tuesday 12th March 1.30 - 3pm. A coach will be provided.
For more information please visit the "This Term at Post -16" section of our website and the parent information page: http://www.nbp16c.org.uk/parentinfo

Mental Health and Wellbeing update

Six classes in Years 7 and 8 have begun receiving Mindfulness exercises sessions three times a week as part of the DfE Inspire Research trial that we are participating in, in conjunction with the Anna Freud Centre. This week the exercises have focused on using our senses to become more mindful and still. Students have responded positively to this and are enjoying participating either at the start of their English lesson or their afternoon tutor time. Click here to access some techniques that you can try out at home with your child.

'Looking after yourself during exams' sessions have begun today with some Year 11 students working in small groups during tutor time with a trained mentor or one of our Inclusion managers, focusing on positive mental health and building resilience during this time in our students' lives.

Planning is well underway to work with Off The Record on their Resilience Lab programme, starting with Year 11 and Post-16 this term who will all take part in a workshop with Off The Record which will focus on one of the following areas: Pressure Proof - Tried and tested techniques for when things get tough; Making Friends with Stress; Thinking Traps - What's your self-talk style?; SuperMe - What are 'strengths' and why are they useful?; Reach Out - Resilient people know how to ask for help, but why is that sometimes so difficult?; The Gift of Failure - exploring some of the silver linings of failures and how to have a healthier relationship with it. After this term, all other year groups will also participate in these workshops.
Yoga Tribe for Teens
Yoga for students takes place on Friday lunchtimes in the main hall from 1.10 to 1.50pm. Students come with their friends for a quiet lunch and have access to various relaxing activities: mindful drawing and colouring, yoga cards, yoga video and relaxing music. We end the session with yoga nidra (relaxation on the mat, lying down) focusing on your breath to help students to be in control of their emotions.

Subject Area News

PE
Basketball results
Senior boys beat Fairfield 34-23
Junior boys lost to Fairfield 17-31

Please click here for a list of all of the PE/Sports Extra-Curricular activities available to students in Term 3.

Follow @CothamPE on Twitter for all the latest news and updates from the Cotham School PE department
Visual Arts
Work of the Week
This weeks WOTW comes from two students in Key Stage 3. The first is from Prerana Prashanth in Year 9 and is a lovely detailed planning page for her Frank Gehry inspired slab pot.

The other is from Hannah Robbins in Year 8 and is a beautifully detailed Day of the Dead page with skull designs.

Click here to view both.
Performing Arts
Are you passionate about performing?
Click here to find out about how you can get involved with 'Perform for Life' a locally-based Arts organisation, and earn UCAS points, work towards grades with LAMDA, Trinity College London and Rockschool London working with friendly, qualified and experienced tutors. They offer children and young people the opportunity to develop and refine their performance skills, while at the same time building additional life skills and embracing their individuality. Students can focus on Acting, Devising Drama, Public Speaking, Singing, Musical Theatre or Performance Arts.

House News

Delta Download January 2019
This week saw our first assembly of the new year, in which we navigated our way through the following:
Bristol Youth Vote
Our House Priorities 2018-19
Lessons learnt from Miss McD's life at sea
Recognition - Delta Diligence and 100 Club Members!
House Priorities 2018-19:
This was a busy week for our Delta House Reps, who met with Miss McDonagh twice so that she could share the findings from the 605 student responses to the Google Form about 'Rewards'. Students were also informed as to what staff have said about whole school rewards. Students have now begun to come up with ideas and designs as to what our newly revised rewards system may look like. This is an exciting time for our House as we have the potential to help foster and nurture an even more positive classroom climate.
Lessons learnt from Miss McD's life at sea:
Here, I reflected on the two weeks I spent at sea and what I learnt from the experience. This was an interesting and fantastically fun experience for me, in which I challenged myself to do things that I wouldn't normally ever consider and my 5 main lessons are outlined below.
Grab opportunities when they come your way
Push yourself out of your comfort zone
Listen to others
Try new things
Have fun!
House Heroes:
Delta House Tutors were asked to nominate a student in their tutor group who consistently demonstrates one of our core house values, diligence. The following students were chosen by their tutors and rewarded with a Delta water bottle and House Hero postcard.
Adam was chosen by his tutor, Miss Bird to be a Delta House Hero. Miss Bird said that Adam is a polite and respectful student who always works hard.
Honor was chosen by her tutor, Mr Saddler to be a Delta House Hero for consistently demonstrating one of our core house values, diligence.Keep being awesome! You are a credit to our house!
Clarice was chosen by her tutors, Mrs Oxenham and Mrs Grice to be a Delta House Hero. Clarice's tutors said that she is always organised, polite and co-operative and gets involved in other aspects of school life.
Iola was chosen by her tutor, Miss McDonagh to be a Delta House Hero. Miss McDonagh said that Iola is one of the most hardworking and diligent students she has ever had the privilege to work with.
Itziar was chosen by her tutor Mr Dignan to be a Delta House Hero. Itziar's tutor said that she is always smiling and demonstrates a helpful and caring approach to her fellow tutees.
Alfie was chosen by his tutor, Mr Slane to be a Delta House Hero. Mr Slane said that Alfie is a nice lad and is always friendly and polite.
Aaliyah was chosen by her tutor, Mr Cony to be a Delta House Hero. Mr Cony said that Aaliyah has been working so hard, particularly on her artwork.
First members of the 2018-19 Delta 100 Club!
The 'magnificent seven' students below were the first crop of Delta students to secure 100 house points this academic year. It goes without saying that this is a brilliant achievement and highlights the fantastic job these students are doing in getting things right, day in, day out. These students were awarded a Delta water bottle and a golden certificate.
Ethan Davies
Theo Bradwell
Imogen Bassett
Ismail Hersi
Nadra Jama
Nhi Vu
Rafferty Al-Habib
*BREAKING DELTA NEWS*
Robot Wars! Year 7s designed and created a robot for the inter house recycle robot project. The winners for Delta can be revealed as Louie, Adam, Theo and Aisha's robot! Their robot is going to be sprayed blue for our house, which I'm sure will make it look even more fantastic! I look forward to being able to share with you the completed version.

Miss McDonagh and the Delta Team
Community News
Casting for a CBBC Children's Cooking Competition Series
Lion TV are currently making an exciting, new kids TV show for CBBC called RESTAURANT DREAM TEAM – a cooking competition where children will compete to see who will be able to run their very own restaurant. They'll be working closely with celebrity foodies, Allegra McEvedy and Fred Sirieux who will judge them on their front of house skills as well as their cooking.

They are looking for both boys and girls to apply, aged 10-14. Some of the students will be working on the restaurant floor, coming up with a restaurant theme, welcoming and serving guests, as well as dealing with customers. The other students will be creating their own menu and cooking to a high standard, under pressure, whilst remaining calm. It's a fun, but demanding challenge, so we are looking for candidates who are capable of working independently in the kitchen or are confident when talking to adults.

If you would like any further information please click here.
Lifecycle Uk - Transforming lives through cycling
Click here to find out about Advanced Cycle training lessons available during the February Half Term.

Useful quick links

Keep us posted
It would be great if parents/carers could let the school know of any student achievements outside of school please. It is sometimes only at parents' evenings that we find out what students are doing in their own time. Email us: weeklymailing@cotham.bristol.sch.uk
Key Dates
Please click here to view the Key Dates by year group for the 2018-19 academic year. You will be notified of any significant changes/additions, but please can we ask that you check the dates for your year group regularly as they are subject to change.
Parents' Evening Booking System (PES)
Please click here to access the online appointment booking system for Parents Evenings/Family Consultation Day. Please note this is only available if an event is due. We will email you to let you know when booking opens. If you encounter any difficulties with booking your appointments please contact the admin team by email to adminoffice@cotham.bristol.sch.uk or tel: 0117 919 8000
Assessment Calendars for KS3
We have created Assessment Calendars for 2018/19. Each Assessment Calendar contains details of the class assessments that will take place in their subjects. The final column contains a link which gives information about each of the assessments.
To see the Year 7 Assessment Calendar click here
To see the Year 8 Assessment Calendar click here
To see the Year 9 Assessment Calendar click here
To see the Year 10 Assessment Calendar click here
To see the Year 11 Assessment Calendar click here
Parents Information Sessions
KS3 Parent Information Session 4th October 2018 - click here
KS4 Year 10 Parent Information Session 20th November 2018 - click here
KS4 Year 11 Parent Information Session 8th November 2018 - click here
Homework and Independent Learning timetables
Please see the attached link describing our Homework Guidelines for students in the school.
In KS3 we do not have homework timetables.
Homework and Independent Learning Timetable for Year 10
Homework and Independent Learning Timetable for Year 11
WisePay
WisePay is the Online Payment Service at Cotham School which allows you to pay for trips and visits as well as to add credit to your child's Cashless Catering account. Click here to access your account now. If you have any queries about your account please contact the support team by email to wisepay@cotham.bristol.sch.uk
School Uniform
Please click here to view the compulsory uniform requirements of Cotham School, along with visual examples of uniform and details of our uniform suppliers.
GCSEpod
Click here to access GCSEpod which contains lots of revision resources for most GCSEs. Students self register through the website using their name and school details.
SAM Learning
Click here to access SAM learning which contains revision exercises and self marking quizzes with automatic progress tracking and reporting. Please use the Centre ID: BS6CS. Student usernames and passwords are their birthday formatted as DDMMYY, followed by their Initials.
Diagnostic Questions
Click here to access. This site contains self marking quizzes with lots of templates including some from a range of exam boards. It's easy to make your own questions in Microsoft PowerPoint too. Students sign up with their school Google account using the G+ button to automatically create a school account
Edmodo
Edmodo is an application that can be used on both mobile devices and in the web environment to create an online community of practice. Edmodo is a free social learning platform that allows students to access the course content uploaded by their teachers.
https://www.edmodo.com
Linguascope
The Language Learning Platform
https://www.linguascope.com
Seneca
All students and teachers now have free access to Seneca - a revision and homework platform making studying more fun. Seneca is an interactive way to learn official course content. Their web app covers 150+ exam board specific courses condensing what students need to know for their exams. The software is able to identify gaps in learning. For instance, when you get a question wrong, the platform will repeat the topic in different formats and their smart algorithm has proven to make students remember topics 2x faster. Seneca is totally free for students, teacher and parents. You can sign up via senecalearning.com
Free School Meals
https://www.cloudforedu.org.uk/ofsm/sims to check if your child is eligible for Free School Meals or to apply.
Contact Details
Please note the following contact numbers and email addresses if you need to contact the school:

Main Reception - 0117 919 8000/ reception@cotham.bristol.sch.uk
Student Reception - 0117 919 8013 / studentreception@cotham.bristol.sch.uk
Absence - 0117 919 8019/ absence@cotham.bristol.sch.uk
NBP16C - 0117 919 8100/ post16@cotham.bristol.sch.uk
Finance - 0117 919 8016/ finance@cotham.bristol.sch.uk
Exams - 0117 919 8024/ examsassistant@cotham.bristol.sch.uk
Admin Office - 01179198053/ adminoffice@cotham.bristol.sch.uk