Weekly Mailing - Friday 25 January 2019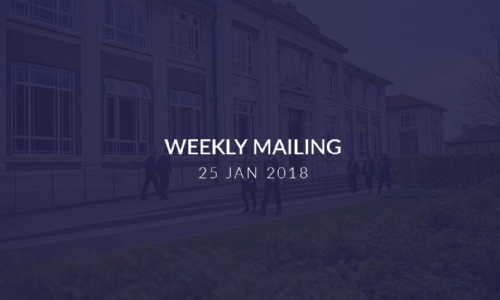 Dear Parents and carers
Statement from Cotham School on Stoke Lodge Playing Fields
I am delighted to say that we are now in the process of getting back to using our playing fields at Stoke Lodge and I am now able to let you have more details about how we plan to manage and share our playing fields.
It has always been our intention to share the playing fields with local sports groups, the University and members of the public when not in use by the school. This is how we plan to do this:
There will be no public access to the playing fields during school or agreed sports club/group use.
We will have remote controlled gates, and other gates that are locked and unlocked by staff and users.
There will be CCTV on site.
Outside of these times members of the public will be able to use the playing fields area for appropriate activities.
Dogs will not be allowed onto the playing field area.
The plan is to improve the standard of the pitches and there may be times when some areas cannot be used by anyone (including the school).
Once the site is ready for school and sports group use we will establish a user group including sports clubs, the University and community groups.
The success of our vision of sharing our playing fields will depend on us trusting members of the public who will use the playing fields. We hope that we will not be proved wrong in having this level of trust and optimism.

For more information click here to access the Frequently Asked Questions that are also published on the school website.

Please accept our apologies for the technical difficulties that have delayed the sharing of this week's mailing until today.

Kind regards

Jo Butler
Headteacher

Congratulations

ESU public speaking competition
Congratulations to Esme Pykett, Ed Ledgard and Charlotte Omiotek for competing in the Bristol finals of the ESU public speaking competition on Thursday 24 January. Esme was thoughtful, thorough and inquisitive in her role as questioner, Ed was a welcoming, helpful and confident chair and Charlotte's speech on the dangers of social media was riveting and thought-provoking. The standard of competition was incredibly high and thanks to their hard work and careful preparation the Cotham team held their own and performed brilliantly. Charlotte was awarded the prize for best speaker, beating students from seven other Bristol schools to claim the prize. All three students did a fantastic job and should be very proud of what they achieved

​​​​​​Important Information for Parents/Carers

GWR Student Rail Ticketing Scheme
We would like to remind parents/carers that Severnside Community Rail Partnership are continuing the Student Rail Ticketing Scheme in 2019. This partnership offers our students and families a huge saving on rail travel to and from the school on the Severnside Community Rail. An annual ticket costs £40.00 or families can buy their ticket in instalments. All the details are contained in the letter and application form here.
Swimathon Charity Event
A Swimathon Event is taking place Sunday 3 March 2019 at Clifton High School's Pool, the event is open to all students.
Sigmas House Charity, The Rainbow Centre have invited Cotham School to take part in The 2019 Swimathon to support The Rainbow Centre. All monies raised will go towards the funds here at the centre to ensure it has stability in 2019 to continue supporting the local families of Bristol through their bereavement.
Teams of swimmers between four and eight students swim for an hour and team members encourage people to sponsor the team per length or for some total amount. We will set up a Just Giving page for donations.
We have two lanes and a time slot of 10.30am - 11.30am. If you are interested in being on the team, please email or see Mrs Arnold.
It is not a race so swimmers can swim at their own pace, great way to test those PB's. It's fun, and provides an opportunity to raise a lot of funds for charity. Clifton Rotary Club provides the swimming pool and qualified lifeguards.
Online Safety Newsletter: January 2019
Click here to view January's Newsletter.
Word of the week
Each week at Cotham we promote a Word of the Week. This is to help students expand the range of vocabulary they use. Please find the word for the week ahead by clicking here.
Catering Menu for Chinese New Year - Tuesday 5 February 2019
Soup - Coconut and Vegetable Broth
Mains - Sticky Lemon Chicken
Vegetarian Mains - Sticky Hoisin Quorn
Main meals are served with egg fried rice, peas and prawn crackers
Noodle - Noodles with Stir Fried Chili Vegetables
Pudding - Toffee Apple Cake

Sandwich Hut - Chicken Noodle Salad

Key Stage 3 News

Year 8
Year 8 exams take place in the weeks commencing Monday 4 February and Monday 11 February. Details of the style and content of each exam, as well as details of revision are given in the document here.
A useful Revision Timetable template can be found here.
The exams represent a good opportunity for students to get used to the demands of reformed GCSEs. Please encourage your child to complete revision over the next two weeks in advance of their exams.

A timetable showing thedays / times of the exams will be shared with parents and students in next week's weekly mailing.
Year 9
The Year 9 Parents' Evening - Wednesday 23 January
Thank you to everyone who was able to attend another really positive Year 9 parents evening. We were delighted by how many parents commented on how happy their children are at Cotham. Thank you to those who completed the questionnaire on the night. If you would still like to complete this you can access our online questionnaire here. This is a very useful means of parents feedback to help us inform our planning so we would be very grateful if you could take a minute to have your say.
Raising Aspirations event - Tuesday 29 January
All Year 9 students will be going on a trip to UWE Exhibition & Conference Centre next Tuesday (29 Jan) as previously advised by letter. Click here for access to the letter. Thank you to parents who have contributed towards the cost of coach hire. If you have not done so, you are invited to contribute £4.00 using Wisepay.
Key points to note:
Please ensure that your child has breakfast at the start of the day.
Students should be smartly dressed in Cotham uniform and wearing their ID badges.
Students need to be in their tutor-rooms by 8.30am ready for registration, before they go to board the coaches.
They will be back in school by 3.05pm at the latest and will be allowed to go home if back a little earlier.
Students must bring their own pen, a packed lunch, a bottle of water and perhaps a small snack.
Students who get free school meals will be provided with a packed lunch.

Key Stage 4 News
Year 10
Science
All year 10 students are sitting a mock paper on units P1 - P7 on the 31 January 2019.
Please support your child with revision at home. There will be revision sessions advertised in school.
Resources available:
Checklists and past papers on the VLE science page
kerboodle
GCSEpod
Revision guides and workbooks on wisepay on the school website
Youtube - primrose kitten and freescience lessons
BBC bitesize
Work Experience (WEX)
Wonderful opportunities for Year 10 students.

All information can be found on the school website-student area.

Dates to return WEX form
Outside Bristol - 8 February
Bristol - 5 April

Applications closing soon......
Travelling Light - applications close on 31 January
Bristol Music Trust - applications close 28 January

WEX opportunities
Drummer Television are offering Work Experience. Interview to take place at school. Please see Mrs Arnold if interested.

HSBC - please see Mrs Arnold forapplication form

Circomedia - https://www.circomedia.com/work-experience/

Arup - Application forms to be sent direct to Arup.

SS Great Britain are offering placements - interviews will take place in school Monday 11 February.
Application form to be returned to Mrs Arnold by 1 February.

Careers in Science/ Engineering (1-5 July) – the week will include hands-on experiments with our Ship's Conservation Engineer, how we communicate science to the public and taking care of artefacts (including the ship's hull). Students will work as a team exploring a range of different science-based challenges and projects. There will be an opportunity to present their ideas to staff, students and parents at the end of the week. The week would particularly suit students interested in exploring careers in STEM.

Careers in Museums/ Heritage (1-5 July) – during the week students will have the opportunity to explore what working for a museum and Bristol's number one tourist attraction is really like. They will have the opportunity to take part in workshops with our marketing, interpretation, visitor experience and conservation teams. The students will be working on a group project which will also benefit the SS Great Britain with the opportunity to present their ideas to staff, students and parents at the end of the week. It might particularly suit students with an interest in history, tourism or the arts.

Atkinsare offering work experience 1-5 July.
Students need to complete the application form and return it to workexperience@atkinsglobal.com by March 30th.
Atkins ask that in the final box in section 4.2 of the application form that students state "Bristol Y10 week 2" (1-5 July)
Year 11
Year 11 Prom
The Year 11 Prom is organised by a group of parents and students together. Parents have already met and arrangements are taking shape. The Prom organisers are looking for student volunteers to help with the organisation of the event.

Please speak to your Prefects/Ms Pierce, Learning Co-Ordinator for Year 11 if you are interested in working with the parent group to look at venues for the Prom during half term. This is an exciting way to get involved in organising your event!
College Open Days
If your child has not already sorted a place in sixth-form or college for next September, the following open days may be worth attending:
South Glos. and Stroud (SGS) College - Saturday 26 January 10.00am-1.00pm.
St Brendan's 6th Form College - Thursday 7 February 5.00-8.00pm - the final open event of this academic year.

Post-16 News

Year 12 OXBRIDGE conference: letters have been emailed out to those students who have expressed an interest in applying to Oxbridge. To book a place on the trip on the 19 March please complete the consent form and pay on WISEPAY.
Year 13 mock results will be issued from Monday. Please encourage your son/daughter to speak to their teachers and the Academic Mentors on how best to improve their grade - we are all here to support them.
A reminder that there are many self help books available to borrow in Mrs Kempt's office plus a school counsellor. There is also a wellbeing drop in lunchtime on Thursday in G208 - all are welcome.
For more information from Post 16 please see the "This Term at Post 16" section of the website: https://www.cotham.bristol.sch.uk/news/?pid=130&nid=20

Mental Health and Wellbeing update

Yoga Tribe for Teens
Yoga for students takes place on Friday lunchtimes in the main hall from 1.10 to 1.50pm. Students come with their friends for a quiet lunch and have access to various relaxing activities: mindful drawing and colouring, yoga cards, yoga video and relaxing music. We end the session with yoganidra (relaxation on the mat, lying down) focusing on your breath to help students to be in control of their emotions.

Subject Area News

PE
Please click here for a list of all of the PE/Sports Extra-Curricular activities available to students in Term 3.

Follow @CothamPE on Twitter for all the latest news and updates from the Cotham School PE department
Visual Arts
Work of the Week
This weeks WOTW comes from Shaista Shabir in Year 7. A beautiful, detailed mandala design. Students had to work on symmetry and repetition. Click here to view.
Performing Arts
Are you passionate about performing?
Click here to find out about how you can get involved with 'Perform for Life' a locally-based Arts organisation, and earn UCAS points, work towards grades with LAMDA, Trinity College London and Rockschool London working with friendly, qualified and experienced tutors. They offer children and young people the opportunity to develop and refine their performance skills, while at the same time building additional life skills and embracing their individuality. Students can focus on Acting, Devising Drama, Public Speaking, Singing, Musical Theatre or Performance Arts.

Community News

Lifecycle Uk - Transforming lives through cycling
Click here to find out about Advanced Cycle training lessons available during the February Half Term.
Useful quick links
Keep us posted
It would be great if parents/carers could let the school know of any student achievements outside of school please. It is sometimes only at parents' evenings that we find out what students are doing in their own time. Email us: weeklymailing@cotham.bristol.sch.uk

Key Dates

Please click here to view the Key Dates by year group for the 2018-19 academic year. You will be notified of any significant changes/additions, but please can we ask that you check the dates for your year group regularly as they are subject to change.
Parents' Evening Booking System (PES)
Please click here to access the online appointment booking system for Parents Evenings/Family Consultation Day. Please note this is only available if an event is due. We will email you to let you know when booking opens. If you encounter any difficulties with booking your appointments please contact the admin team by email to adminoffice@cotham.bristol.sch.uk or tel: 0117 919 8000
Assessment Calendars for KS3
We have created Assessment Calendars for 2018/19. Each Assessment Calendar contains details of the class assessments that will take place in their subjects. The final column contains a link which gives information about each of the assessments.
To see the Year 7 Assessment Calendar click here
To see the Year 8 Assessment Calendar click here
To see the Year 9 Assessment Calendar click here
To see the Year 10 Assessment Calendar click here
To see the Year 11 Assessment Calendar click here
Parents Information Sessions
KS3 Parent Information Session 4th October 2018 - click here
KS4 Year 10 Parent Information Session 20th November 2018 - click here
KS4 Year 11 Parent Information Session 8th November 2018 - click here
Homework and Independent Learning timetables
Please see the attached link describing our Homework Guidelines for students in the school.
In KS3 we do not have homework timetables.
Homework and Independent Learning Timetable for Year 10
Homework and Independent Learning Timetable for Year 11
WisePay
WisePay is the Online Payment Service at Cotham School which allows you to pay for trips and visits as well as to add credit to your child's Cashless Catering account. Click here to access your account now. If you have any queries about your account please contact the support team by email to wisepay@cotham.bristol.sch.uk
School Uniform
Please click here to view the compulsory uniform requirements of Cotham School, along with visual examples of uniform and details of our uniform suppliers.
GCSEpod
Click here to access GCSEpod which contains lots of revision resources for most GCSEs. Students self register through the website using their name and school details.
SAM Learning
Click here to access SAM learning which contains revision exercises and self marking quizzes with automatic progress tracking and reporting. Please use the Centre ID: BS6CS. Student usernames and passwords are their birthday formatted as DDMMYY, followed by their Initials.
Diagnostic Questions
Click here to access. This site contains self marking quizzes with lots of templates including some from a range of exam boards. It's easy to make your own questions in Microsoft PowerPoint too. Students sign up with their school Google account using the G+ button to automatically create a school account
Edmodo
Edmodo is an application that can be used on both mobile devices and in the web environment to create an online community of practice. Edmodo is a free social learning platform that allows students to access the course content uploaded by their teachers.
https://www.edmodo.com
Linguascope
The Language Learning Platform
https://www.linguascope.com
Seneca
All students and teachers now have free access to Seneca - a revision and homework platform making studying more fun. Seneca is an interactive way to learn official course content. Their web app covers 150+ exam board specific courses condensing what students need to know for their exams. The software is able to identify gaps in learning. For instance, when you get a question wrong, the platform will repeat the topic in different formats and their smart algorithm has proven to make students remember topics 2x faster. Seneca is totally free for students, teacher and parents. You can sign up via senecalearning.com
Free School Meals
https://www.cloudforedu.org.uk/ofsm/sims to check if your child is eligible for Free School Meals or to apply.
Contact Details
Please note the following contact numbers and email addresses if you need to contact the school:

Main Reception - 0117 919 8000/ reception@cotham.bristol.sch.uk
Student Reception - 0117 919 8013 / studentreception@cotham.bristol.sch.uk
Absence - 0117 919 8019/ absence@cotham.bristol.sch.uk
NBP16C - 0117 919 8100/ post16@cotham.bristol.sch.uk
Finance - 0117 919 8016/ finance@cotham.bristol.sch.uk
Exams - 0117 919 8024/ examsassistant@cotham.bristol.sch.uk
Admin Office - 01179198053/ adminoffice@cotham.bristol.sch.uk