Weekly Mailing - Friday 8 Feb 2019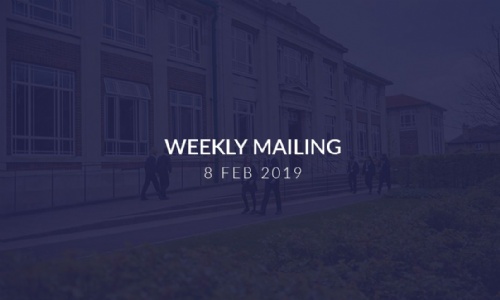 An update on our playing fields at Stoke Lodge
Our playing fields at Stoke Lodge continue to be an exceptionally difficult environment for staff to operate in and I would like to take this opportunity to once again thank them for all of their hard work as we continue to make preparations to get back to using the site. The fence installation is now progressing well, despite some very frustrating delays, and groundsmen are beginning work on preparing the ground so that pitches can be re-marked.
The school has continued to make every effort possible to ensure that all of the works to install the fence are completely compliant. In the spirit of this, we originally submitted an Arboricultural Method Statement and landscape architect plans to Bristol City Council (BCC) at their request last Autumn when we met with them to take our plans forward. Despite this we have been asked by BCC to make last minute adjustments to our plans and methods very late in the day, after works had started. This has been very frustrating as we have always sought to follow due process and supply BCC with our plans well in advance. However, despite the delays this has caused we have willingly done everything asked of us to BCC's satisfaction and I am pleased to say they have now confirmed this in a letter that we received yesterday morning.
We continue to be grateful for all of your kind messages of support and offers of help. We hope to get a 'user group' up and running as soon as we have the time and capacity to do so and look forward to seeing some of you there.
As always, we'll keep you accurately informed of our progress. We will continue to update the Frequently Asked Questions that have been put together to provide information concerning the future use of Stoke Lodge Playing Fields. This is not intended to be a definitive list, nor a legal document, but rather a place to share information. We hope you will find this helpful.
Although the process of erecting the fences has now begun, we are still in the position of needing to justify the need for fencing, rather than some of the alternatives that have been presented, to ensure the safeguarding of our students during the time that they are off-site. We still need your support, so if you haven't already, please sign our petition and view, 'like' and share the accompanying film made by friends and supporters of the School.
This campaign means a lot to our school and the more support we can get behind it, the better chance we have of succeeding. You can read more and sign the petition here:
https://you.38degrees.org.uk/petitions/justice-for-cotham-school
Watch our film "Justice for Cotham School here:
https://www.youtube.com/watch?v=aqaKY5ELNhQ&feature=youtu.be
Please also find below my usual updates on events that have taken place this week, information, letters etc.
Best wishes for the weekend
Ms J Butler
Headteacher

Good News

A Well Deserved Thank you
Three of our Cotham students kindly helped a cyclist during a recent road accident, where a young man was knocked off his bike by a hit and run at the end of Cotham Road and St Michael's Hill.
Finn Wilday (Year 8) came back into school to get someone to help, whilst both Thomas and Jonathan Rich (Year 9) went into the Doctors surgery to get some assistance. All the students that walked past were also kindly checking the man was OK. They were all a real credit to the school!
The young man, called Joe, would like to thank the boys for their help and also for the good wishes he received from the students. Joe should be OK and has a badly injured elbow. Thanks also to Mrs White and Mrs Meek for their support and involvement.
90 Second Film about Bristol
We are proud to announce that a former Cotham student Patch De Salis has won the Bristol 24/7 "Our City" competition. To see the winning video which features several former Cotham students click here.
University of Oxford - Inspirational Teacher Award
Each year the University of Oxford's Undergraduate Admissions and Outreach Office runs an award scheme which recognises the crucial role teachers play in encouraging talented students in school. A selection of current first-year Oxford Undergraduates are asked to nominate those who inspired them to apply to Oxford, fostered their passion for a particular subject or supported them through the application process. We are delighted to learn that Mrs C Swayne, MFL Teacher at Cotham School has been nominated for this prestigious award by former student Bethany (Betty) Barber:
"I nominate Mrs Swayne as my inspirational teacher, although she inspires every student she meets, as she brings so much enthusiasm to languages! She has always encouraged us to form our own personal love and appreciation for language by introducing us to interesting cultural aspects while pushing us to progress quickly and efficiently with our grasp of Spanish grammar and vocabulary. Mrs Swayne finds the perfect balance between being a teacher who encourages and inspires her students while offering the freedom to independently find your own love for the language and push yourself. Many students from my class went on to study Spanish due to her passion" - Click here to see Ms Swayne's certificate.
BBC Radio Bristol
Click here to listen to Sophie Cocking and Nevina Shawe, our brave two Year 8 students who saved a lady's life, being interviewed on BBC Radio Bristol. The interview with Sophie and Nevina starts at about 22 minutes into the programme.
Moving Image Awards
Seb Wright, one of last year's A level Film Studies students, has been shortlisted for the Moving Image Awards at the British Film Institute with his A level film "Silva". Click here to view the film.
Both Seb and Cotham School are up for an award in the Film Extract category in this national competition.
This is fantastic for Seb and Cotham School and we are hugely proud to have got this far! Mr Gayford and Ms Hepworth who co-teach the course will be attending the award ceremony on 8 February to represent the school. We will keep you updated following the Awards Ceremony.
Cross Country Success
Congratulation to Abdifaatah Hasan (year 12) on winning the Senior boys Avon Schools Cross Country event. He will now represent Avon Schools at the South West Championships.
Also well done to Misha Evans (year 8) who finish 16th out of over 50 boys in the Junior (years 8&9) boys competition. Misha also ran in the Midlands Cross Country Championship on last Saturday and came in 10th out of a field of 150 boys, helping to secure an emphatic team victory for Bristol & West AC
British Youth Championships
Rachael Adams (Year 8) came 3rd in the U14 South West Foil Fencing Championships on 27 January! She has qualified for the British Youth Championships which will be held in Sheffield in May. Thank you so much for the ongoing support from Cotham which has contributed to her success.
Trips and Visits
At Cotham School we are very proud of the range of Trips and Visits that are available to students throughout the school. Click here for an overview of everything that has taken place so far this academic year.

Important Information for Parents/Carers

Mobile Phone Policy
We are finding an increasing number of mobile phones being held at the Student Reception as a minority of students are breaking school rules and are using their mobile phones during school hours. We operate a very reasonable mobile phone policy at Cotham for students in Years 7-11 of which all of our students are aware:
From the sound of first bell at 8.35am until last bell at 3.05pm phones must be switched off (not on silent mode) and kept in students' school bags (not pockets)
Phones must not be used for any purpose (e.g. phoning, texting, surfing the internet, taking photos, taking films, listening to music) during the school day
Phones must not be taken into examinations.
If a student breaches these rules and they are seen by a member of staff:
The phone will be confiscated and placed in a safe at Student Reception.
The phone will be returned to the student's parents or carers the following day. It will need to be collected from Student Reception, no earlier than the end of the school day.
If a student persistently has a phone confiscated, the period for which it is retained will be extended, at the discretion of a member of the Senior Leadership Team.
We can make no exceptions to these rules.
The school accepts no responsibility or liability whatsoever, for theft, loss or damage to mobile phones. It is the responsibility of parents, carers and students to ensure mobile phones are properly insured.
Safeguarding Update
Tuesday 5 February was Safer Internet Day. Assemblies were delivered this week on the topic and on Wednesday and Thursday lunchtime a number of Y8 and Y9 students,who have been working with doctoral researcher Kate Marston from Cardiff University, held a cafe-style workshop in the main hall showcasing the work they have been doing on exploring digital body cultures portrayed on social media.
The assembly, a video of our students' work and a factsheet on an app called TikTok can be found here.
Job advert: Bristol Learning City
Bristol Learning City is seeking a project lead with the right skills, knowledge, and experience, to lead the work of the Bristol Education Partnership into the delivery phase. They will be highly professional, with a positive and convincing approach to partnership working and its advocacy, with the advantage of having a working background with senior leaders in schools, if possible. For all further information click here
GWR Student Rail Ticketing Scheme
We would like to remind parents/carers that Severnside Community Rail Partnership are continuing the Student Rail Ticketing Scheme in 2019. This partnership offers our students and families a huge saving on rail travel to and from the school on the Severnside Community Rail. An annual ticket costs £40.00 or families can buy their ticket in instalments. All the details are contained in the letter and application form here.
Swimathon Charity Event
A Swimathon Event is taking place Sunday 3 March 2019 at Clifton High School's Pool, the event is open to all students.
Sigmas House Charity, The Rainbow Centre have invited Cotham School to take part in The 2019 Swimathon to support The Rainbow Centre. All monies raised will go towards the funds here at the centre to ensure it has stability in 2019 to continue supporting the local families of Bristol through their bereavement.
Teams of swimmers between four and eight students swim for an hour and team members encourage people to sponsor the team per length or for some total amount. We will set up a Just Giving page for donations.
We have asked for two lanes and for a time slot of 10.30am - 11.30am. If you are interested in being on the team, please email or see Mrs Arnold.
It is not a race so swimmers can swim at their own pace, great way to test those PB's. It's fun, and provides an opportunity to raise a lot of funds for charity.
Clifton Rotary Club provides the swimming pool and qualified lifeguards.
Online Safety Newsletter: February 2019
Click here to view February's Newsletter.
Word of the week
Each week at Cotham we promote a Word of the Week. This is to help students expand the range of vocabulary they use. Please find the word for the week ahead by clicking here.

Key Stage 3 News

Year 7
Humanities Homework Support for Y7 students
If your child's recent report flagged up concerns about their homework in Humanities, we are running a homework support session at lunchtime on Wednesday 13 February.
This pilot session is only for students who received a U for their Humanities homework in their recent report.
Students should have a written reminder about the session in their planner and parents/carers have already received a letter/email with further details.
If this session is successful we will consider running something similar for all students in the run-up to the June exam. In the meantime, if you would like more information about homework in Humanities please do refer to our VLE page
Year 8
Year 8 exams take place in the weeks commencing Monday 4 February and Monday 11 February. Details of the style and content of each exam, as well as details of revision are given in the document here.
A useful Revision Timetable template can be found here.
The exams represent a good opportunity for students to get used to the demands of reformed GCSEs. Please encourage your child to complete revision over the next two weeks in advance of their exams.
A timetable showing the days / times of the exams will be shared with parents and students in next week's weekly mailing.
Year 9
Real Game
On 17 January, Year 9 spent a morning off timetable recently playing the Real Game. This gave them a taster of what it is like to be a young adult in the working world, doing a particular job and having to pay typical bills and live within their financial means.
The students gained an understanding of how to manage their money. One student states, "I learnt about taxes and budgeting", whilst another student claims "Once you pay the bills you don't have a lot left".
The day also gave students an insight to the variety of jobs on offer, "There are some really interesting jobs that I didn't know about".
Some students also empathised with their parents, stating "I understand why my parents go through".
Raising Aspirations Event
All Year 9 students spent an interesting day at the Raising Aspirations event on 29 January. They met with local university students, heard about what sixth-forms and colleges offer and learning what apprenticeships are about.
Students took part in an employability skills session run by the Civil Service. Employers from a wide range of sectors including healthcare, catering, finance and media ran activities that gave students a sense of what they do, as well as the opportunities they can offer young people.
In her introduction, Councillor Anna Keen, Cabinet Member with responsibility for Education and Skills addressed that the jobs our students find will contribute to the success of Bristol.
We hope this event has given students ideas for their own future choices and careers, helping them to choose their GCSE options wisely.

Key Stage 4 News

Year 11
Year 11 Mock Exams
Year 11 have completed their mock exams and have started to receive their mock exam results.
All students will be given very clear feedback about their areas of strength and weakness in each of their mock exams.
This will allow them to create a plan so that they can work on any areas of weakness identified by the mock exam.
We are encouraging all of our students to think carefully about how they will add 10 / 15 / 20 raw marks to their mock exam result. 20 Raw Marks will often be enough to move a student from their current grade to the next grade. With this in mind we are encouraging all of our students to use the attached Challenge Plan to structure their revision around the feedback given to them.
It is important that all of our students are using the February Revision week break to consolidate their learning and address their areas of weakness.
If you are worried that your child is not revising enough at home then the following may be helpful resources:
Support your child in preparing a summer exam preparation schedule so that they complete revision tasks - a template revision schedule can be found here
Ensure that all homework assignments are completed
Ensure your child has revision guides that can help to support their learning - a list of these is enclosed and attached here along with details of useful revision websites for each subject
Read and discuss the Examination Command Words document attached here with your child
See the Top Tips for Parents sheet attached here which contains useful reminders about 'what to do' and 'what not to do'
The End of Year 10 Mock exams and Year 11 November mock exams can be accessed here. There is value in students re-completing these and demonstrating that they can recall knowledge previously assessed, and act on feedback already given to them to improve their original raw mark. Our school challenge is for all students to increase their recent mock exam result by 10 or 15 or 20 marks over the February Revision week break.
Use the Subject 'to do' sheets which highlight the type of acts that students should be completing as part of their revision.
Academic Monitoring Reports will be sent home in the week commencing 25th February. However all students will know their mock exam grade now so please do ask them about their grades and marks and plans for revision.

Thank you to those parents that attended the Parent Post Mock Information Sessions this week. The presentation contains lots of useful links to many of the resources designed to support Year 11 students with their revision.
Year 11 Prom
The Year 11 Prom is organised by a group of parents and students together. Parents have already met and arrangements are taking shape. The Prom organisers are looking for student volunteers to help with the organisation of the event.

Please speak to your Prefects/Tutors if you are interested in working with the parent group to look at venues for the Prom during half term. This is an exciting way to get involved in organising your event!
Year 11s Intended Destinations after GCSEs
Please remind your son/daughter that they need to complete a short survey about their preferred Post-16 destination(s) on Year 11 Google classroom by Monday 11 February at the latest.

It should only take a few minutes and helps us to see which students have secured places in education or training for next September and which still need to take action, for which we will give appropriate support.

Post-16 News

A level French Debating Competition - Clifton College
Our two awesome debate teams from North Bristol Post-16 Centre did us proud on Wednesday 30 January at the Clifton College MFL debate evening. They had to argue (in French!) against a motion that immigration had more positives than negatives, and it was testament to their skills, linguistic and oratory, that that they could argue so convincingly for something which they did not believe.
Both teams absolutely held their own during the debate! Each team opened with two speeches outlining their arguments, followed by a debate of ten minutes and a final and emotional speech to tie up their argument. Eddie, Jack and Abby gave a stellar performance to draw with Clifton College, their debate getting pretty heated, while Emily, Sasha and Nadia (last minute very brave y12 addition from RGS) quietly and systematically challenged all the LLandaff boys' arguments but, Llandaff's own teacher decided that the Llandaff boys had won.
In the words of Badminton School's Head of Languages, 'You were robbed!'. In speeches worthy of actual politicians, they countered the opposition and brought passion to the debate where their opponents had been unable to. From the teachers, 'Well done!'
For our first ever debate and being the only state school involved, the prospect of arguing in a foreign language seemed daunting but, the evening was fantastic. We loved being involved and all came away keen to carry on debating!
It was a really fun and practical way to expand on critical thinking skills and confidence in spoken French, as well as supporting our A-Level syllabus and allowing us to meet other enthusiastic linguists from across the South West and Wales. We are all hoping to carry on debating and encourage others around the school to get involved. From the students, 'Thank you to Clifton College for organising a great evening!'
Click here to see photos of the teams.
Students with Special Educational Needs/Disabilities (SEND): Some students in Year 12 and 13 have been tested for potential Exam Access Arrangements (EAA). If you think that your son/daughter could potentially require EAA then please let Mrs Kempt know as soon as possible: kemptc@cotham.bristol.sch.uk as the deadline for the summer 2019 exam season is approaching.
Year 12: UCAS conference letters have been emailed out - the trip to UWE conference centre is on the 12 March. To reserve a place please pay on WISEPAY, complete the consent form and hand it in to Charnwood House reception. There are limited places available so please complete as soon as possible.
Year 12 OXBRIDGE conference: letters have been emailed out to those students who have expressed an interest in applying to Oxbridge. To book a place on the trip on the 19 March please complete the consent form and pay on WISEPAY.
Year 13 As students have received their mock results, please encourage your son/daughter to speak to their teachers and the Academic Mentors on how best to improve their grade - we are all here to support them.
Year 13 SEND students - for more information regarding the Disabled Student Allowance (DSA) please contact Mrs Kempt.
Year 13: All year 13s should have received their mock grades. Please encourage your son/daughter to speak to their teachers to find out how best to improve. Please remember that there is always support available.
A reminder that there are many self help books available to borrow in Mrs Kempt's office plus a school counsellor. There is also a wellbeing drop in lunchtime on Thursday in G208 - all are welcome.
Year 13 Parents evening is on Thursday 14 February - please encourage your son/daughter to make appointments with their teacher. If you would like an appointment to see Mrs Potter (Head of Sixth Form and Assistant Head) or Mrs Kempt (Student Services Leader) please email to arrange.
For more information from Post 16 please see the "This Term at Post 16" section of the website

House News

Omega House are proud to announce a new initiative for all students. "Cotham Manners Golden Tickets".
Each fortnight Mr Nunn will be selecting a particular Cotham Manner for students to focus on demonstrating to all around the school site. He will have 5 mystery members of staff, each with golden tickets to secretly award to those they see going the extra mile to demonstrate the Cotham Manner.
Students will show Mr Nunn their Golden Ticket and at the end of the fortnight, those awarded golden tickets will be entered into a prize draw! These can be tickets to see Bristol sporting matches, free meal vouchers for local restaurants, tickets to local attractions such as the Hippodrome, Aquarium, Cinema and many more!
Small positive actions around the school make a massive impact on the day to day experience for other pupils and members of staff, and this initiative will provide an opportunity to highlight those making an impact, positively, towards their school community and ethos!
The first prize draw will happen on the last day of term, Friday 15 February. Good luck hunting out those Golden Tickets!

Careers

Burges Salmon Business Professional Apprenticeship Open Evening
Top Law Firm Burges Salmon invites Post-16 students and their parents to find out more about their new Business Apprenticeships. The Open Evening will be held on Wednesday 13 February at 18.30-21.00 at their offices near Bristol Temple Meads Station (BS2 0ZX). Sign up via their website
Radiology Open Day with University Hospitals Bristol NHS Foundation Trust
The next open day is on Saturday 23 February at the BRI (BS2 8HW). Students who are thinking of a career in diagnostic radiography - or are curious to know more - can book onto an open day here
Nuffield Research Placements
Placements are still open for Year 12 STEM students who would like summer holiday work experience in the STEM research sector. Find out more here. The deadline for applications is now 28 February.
To apply and find about more about eligibility go to Nuffield Research Website

Subject Area News

Performing Arts
We are excited to announce that Cotham's school musical this year is "Little Shop of Horrors". Featuring students from all year groups (Cast list here) and co-directed by Peggy Edwards and Esther Weisselberg from Year 13, this should not be missed!
Skid Row florist's clerk Seymour Krelborn is too shy to declare his love for his co-worker Audrey – until a mysterious exotic plant brings him unexpected fame and fortune. There's just one problem: the plant has ambitions of its own, and it thrives on only one food – human blood.
Awesome puppets, a tender love story and a fabulous sixties-style score all combine to make this deliciously campy sci-fi spoof a "monster" hit!
Tickets are on sale now and can be purchased through wisepay. Adults £8, Concessions £5 - All proceeds go towards covering the costs of putting on this large scale musical.
Be there or be (potentially) eaten by a giant alien plant!
Click here to view the poster and cast list
Are you passionate about performing?
Click here to find out about how you can get involved with 'Perform for Life' a locally-based Arts organisation, and earn UCAS points, work towards grades with LAMDA, Trinity College London and Rockschool London working with friendly, qualified and experienced tutors. They offer children and young people the opportunity to develop and refine their performance skills, while at the same time building additional life skills and embracing their individuality. Students can focus on Acting, Devising Drama, Public Speaking, Singing, Musical Theatre or Performance Arts.
PE
Extra-Curricular Clubs
All clubs that take place in the sportshall will restart this week as the Year 11 mocks are over. Apologies if this hiatus has caused any inconvenience to parents/carers and students. Please click here for a list of all of the PE/Sports Extra-Curricular activities available to students in Term 3.
Please click here to view all of our recent results and the upcoming fixtures for the week ahead.
Follow @CothamPE on Twitter for all the latest news and updates from the Cotham School PE department
Visual Arts
Work of the Week
Our Year 8 students have been designing Day of the Dead themed tattoos! Click here to see the beautiful artwork created by Hannah Robbins, Fabio Campus and Grace Williamson.

Community News

Cue Bristol Sharing Evening
Cue Bristol Youth Theatre Group invite you to come and watch some of their work on Monday 11 Feb at 6pm in the Dance Studio, with an 8pm finish. Tickets are £3 on the door and refreshments are available.
Cue Bristol is a popular, fun Drama group for pupils in year 7 -11. Although our year 8 group is currently full, there are some places available in other year groups. If your child loves Drama and would like to try Cue Bristol, please come along to watch on Monday or email: ashcrofth@cotham.bristol.sch.uk
Lifecycle Uk - Transforming lives through cycling
Click here to find out about Advanced Cycle training lessons available during the February Half Term.
Together Through Music
As you may know, Bristol Plays Music and Colston Hall are run by Bristol Music Trust, who have launched a consultation on the future vision for Colston Hall following the £48.8 million redevelopment of the venue over the next two years.
They have opened a public survey to gather feedback on how people engage with the Hall. They are keen to hear from as many people as possible and have set up a dedicated link to the survey for you to take part. Please follow the link here.
North Bristol Families
The termly bulletin from the North Bristol Families in Focus team as a range of information about activities available for young people, parents and families. Please click here to view the bulletin.

Useful Quick Links

Keep us posted
It would be great if parents/carers could let the school know of any student achievements outside of school please. It is sometimes only at parents' evenings that we find out what students are doing in their own time. Email us: weeklymailing@cotham.bristol.sch.uk
Key Dates
Please click here to view the Key Dates by year group for the 2018-19 academic year. You will be notified of any significant changes/additions, but please can we ask that you check the dates for your year group regularly as they are subject to change.
Parents' Evening Booking System (PES)
Please click here to access the online appointment booking system for Parents Evenings/Family Consultation Day. Please note this is only available if an event is due. We will email you to let you know when booking opens. If you encounter any difficulties with booking your appointments please contact the admin team by email to adminoffice@cotham.bristol.sch.uk or tel: 0117 919 8000
Assessment Calendars for KS3
We have created Assessment Calendars for 2018/19. Each Assessment Calendar contains details of the class assessments that will take place in their subjects. The final column contains a link which gives information about each of the assessments.
To see the Year 7 Assessment Calendar click here
To see the Year 8 Assessment Calendar click here
To see the Year 9 Assessment Calendar click here
To see the Year 10 Assessment Calendar click here
To see the Year 11 Assessment Calendar click here
Parents Information Sessions
KS3 Parent Information Session 4th October 2018 - click here
KS4 Year 10 Parent Information Session 20th November 2018 - click here
KS4 Year 11 Parent Information Session 8th November 2018 - click here
KS4 Year 11 Parent Information Morning Session 7th February 2019 - click here
KS4 Year 11 Parent 'Post Mock' Information Session 7th February 2019 - click here
Homework and Independent Learning timetables
Please see the attached link describing our Homework Guidelines for students in the school.
In KS3 we do not have homework timetables.
Homework and Independent Learning Timetable for Year 10
Homework and Independent Learning Timetable for Year 11
WisePay
WisePay is the Online Payment Service at Cotham School which allows you to pay for trips and visits as well as to add credit to your child's Cashless Catering account. Click here to access your account now. If you have any queries about your account please contact the support team by email to wisepay@cotham.bristol.sch.uk
School Uniform
Please click here to view the compulsory uniform requirements of Cotham School, along with visual examples of uniform and details of our uniform suppliers.
GCSEpod
Click here to access GCSEpod which contains lots of revision resources for most GCSEs. Students self register through the website using their name and school details.
SAM Learning
Click here to access SAM learning which contains revision exercises and self marking quizzes with automatic progress tracking and reporting. Please use the Centre ID: BS6CS. Student usernames and passwords are their birthday formatted as DDMMYY, followed by their Initials.
Diagnostic Questions
Click here to access. This site contains self marking quizzes with lots of templates including some from a range of exam boards. It's easy to make your own questions in Microsoft PowerPoint too. Students sign up with their school Google account using the G+ button to automatically create a school account
Edmodo
Edmodo is an application that can be used on both mobile devices and in the web environment to create an online community of practice. Edmodo is a free social learning platform that allows students to access the course content uploaded by their teachers.
Linguascope
The Language Learning Platform
https://www.linguascope.com
Seneca
All students and teachers now have free access to Seneca - a revision and homework platform making studying more fun. Seneca is an interactive way to learn official course content. Their web app covers 150+ exam board specific courses condensing what students need to know for their exams. The software is able to identify gaps in learning. For instance, when you get a question wrong, the platform will repeat the topic in different formats and their smart algorithm has proven to make students remember topics 2x faster. Seneca is totally free for students, teacher and parents. You can sign up via senecalearning.com
Free School Meals
https://www.cloudforedu.org.uk/ofsm/sims to check if your child is eligible for Free School Meals or to apply.
Contact Details
Please note the following contact numbers and email addresses if you need to contact the school:
Main Reception - 0117 919 8000/ reception@cotham.bristol.sch.uk
Student Reception - 0117 919 8013 / studentreception@cotham.bristol.sch.uk
Absence - 0117 919 8019/ absence@cotham.bristol.sch.uk
NBP16C - 0117 919 8100/ post16@cotham.bristol.sch.uk
Finance - 0117 919 8016/ finance@cotham.bristol.sch.uk
Exams - 0117 919 8024/ examsassistant@cotham.bristol.sch.uk
Admin Office - 01179198053/ adminoffice@cotham.bristol.sch.uk