Weekly Mailing - Friday 15 Feb 2019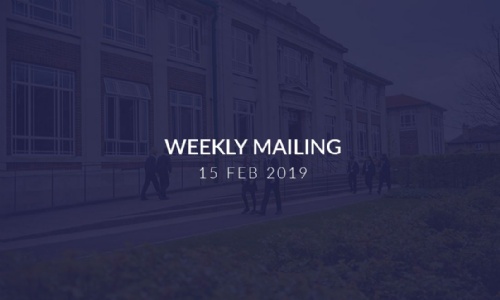 Dear Parents and Carers

Please find below my usual updates on events that have taken place this week, information, letters etc.
I'd like to thank you and your children and of course Cotham staff for a really positive Term 3. What a lovely sunny day we've had today! Let's hope this finer weather lasts into next week.

Best wishes for the weekend and the holiday,

Ms Jo Butler
Headteacher

An update on our playing fields at Stoke Lodge

Work continues on the fence which is due for completion around about the start of next term. As always, we'll keep you accurately informed of our progress and continue to update the Frequently Asked Questions that have been put together to provide information concerning the future use of Stoke Lodge Playing Fields. This is not intended to be a definitive list, nor a legal document, but rather a place to share information. We hope you will find this helpful.

We are still in the position of needing to justify the need for fencing, rather than some of the alternatives that have been presented, to ensure the safeguarding of our students during the time that they are off-site. We still need your support, so if you haven't already, please sign our petition and view, 'like' and share the accompanying film made by friends and supporters of the School.

This campaign means a lot to our school and the more support we can get behind it, the better chance we have of succeeding. You can read more and sign the petition here:
https://you.38degrees.org.uk/petitions/justice-for-cotham-school

Watch our film "Justice for Cotham School here:
https://www.youtube.com/watch?v=aqaKY5ELNhQ&feature=youtu.be

Good News

Moving Image Awards
We are pleased to announce that Seb Wright - whose A Level film Silva, was nominated for the WJEC Moving Image awards - won in the Best Film Extract category at the ceremony last Friday!

Seb is travelling in Japan and was unable to collect the award, so Mr Gayford and Ms Hepworth attended the ceremony at the BFI in London on his behalf. You can see photos from the ceremony here

It was a fantastic day which included a Q&A session and workshop with screenwriter Matt Charman (Bridge of Spies) and an opportunity to watch all of the nominated films. The standard of filmmaking was impressively high and we are exceptionally proud of Seb's achievement. You can watch Seb's brilliant film, Silva here
House Disco
Years 7 and 8 are invited to a House Disco on Friday 22 March at 5.00p.m. - 7.00p.m. Tickets are £3 and will be on sale in the hub and on Wisepay from Monday 25 February.

On the evening, there will be a Tuck shop, face painting, glow sticks and more to buy. All money raised will be split between the four house charities.
Trips and Visits
At Cotham School we are very proud of the range of Trips and Visits that are available to students throughout the school. Click here for an overview of everything that has taken place so far this academic year.

Important Information for Parents/Carers


Important- Our Mobile Phone Policy
We are finding an increasing number of mobile phones being held at the Student Reception as a minority of students are breaking school rules and are using their mobile phones during school hours. We operate a very reasonable mobile phone policy at Cotham for students in Years 7-11 of which all of our students are aware:
From the sound of first bell at 8.35a.m. until last bell at 3.05p.m. phones must be switched off (not on silent mode) and kept in students' school bags (not pockets)
Phones must not be used for any purpose (e.g. phoning, texting, surfing the internet, taking photos, taking films, listening to music) during the school day
Phones must not be taken into examinations.
If a student breaches these rules and they are seen by a member of staff:
The phone will be confiscated and placed in a safe at Student Reception.
The phone will be returned to the student's parents or carers the following day. It will need to be collected from Student Reception, no earlier than the end of the school day.
If a student persistently has a phone confiscated, the period for which it is retained will be extended, at the discretion of a member of the Senior Leadership Team.
We can make no exceptions to these rules.
The school accepts no responsibility or liability whatsoever, for theft, loss or damage to mobile phones. It is the responsibility of parents, carers and students to ensure mobile phones are properly insured.

GWR Student Rail Ticketing Scheme
We would like to remind parents/carers that Severnside Community Rail Partnership are continuing the Student Rail Ticketing Scheme in 2019. This partnership offers our students and families a huge saving on rail travel to and from the school on the Severnside Community Rail. An annual ticket costs £40.00 or families can buy their ticket in instalments. All the details are contained in the letter and application form here.
School Uniform
Harris
The School Uniform Suppliers, Harris, will be selling uniform on Thursday 28 February at 2.30p.m.- 4.00p.m in the Main Reception at Cotham Lawn Road.

Second Hand Uniform Sale
Our Parent/Carer volunteers will be selling second hand uniform items on Friday 1 March at 2.30p.m. - 4.00pm. All items cost £1 and the money raised will go to School Funds.
Our Parent/Carer Committee are always looking for volunteers to sell Uniform on Parents Evenings and first Friday of every Term, if you can spare a few hours please contact Main Reception

Job advert: Bristol Learning City
Bristol Learning City is seeking a project lead with the right skills, knowledge, and experience, to lead the work of the Bristol Education Partnership into the delivery phase. They will be highly professional, with a positive and convincing approach to partnership working and its advocacy, with the advantage of having a working background with senior leaders in schools, if possible. The deadline is Tuesday 19 February. For all further information click here
World Book Day Tokens
Students will be receiving their World Book Day Tokens after half term. More information can be found here.

Access Belong Bristol

We are teaming up with Belong to host a series of 2-hour games workshops on the 20 February.

Budding games developers will get the chance to learn how to create their favourite computer games. Each workshop will then be followed by a games tournament where the winner walks away with a pile of Bristol Smugglers merch!

We have invested £5m to build a new games and media campus in Bristol city centre, which launches in March. So, as we gear up to open our doors to students next month, we're working with Belong to give you a sneak peek at the types of courses on offer.

13's and over only and it's free to come along but with only very limited spaces available, don't hang around!

Sign up here

Swimathon Charity Event
A Swimathon Event is taking place Sunday 3 March 2019 at Clifton High School's Pool, the event is open to all students.

Sigmas House Charity, The Rainbow Centre have invited Cotham School to take part in The 2019 Swimathon to support The Rainbow Centre. All monies raised will go towards the funds here at the centre to ensure it has stability in 2019 to continue supporting the local families of Bristol through their bereavement.
Teams of swimmers between four and eight students swim for an hour and team members encourage people to sponsor the team per length or for some total amount. We will set up a Just Giving page for donations.

We have asked for two lanes and for a time slot of 10.30a.m. - 11.30a.m. If you are interested in being on the team, please email or see Mrs Arnold.

It is not a race so swimmers can swim at their own pace, great way to test those PB's. It's fun, and provides an opportunity to raise a lot of funds for charity.

Clifton Rotary Club provides the swimming pool and qualified lifeguards.

Online Safety Newsletter: February 2019
Click here to view February's Newsletter.

Word of the week
Each week at Cotham we promote a Word of the Week. This is to help students expand the range of vocabulary they use. Please find the word for the week ahead by clicking here.


Key Stage 3 News

Year 7

German
7JPG are well underway with their UK/German school project. Please click here and scroll down to see a mention of Cotham School on this website.

During Term 4 students will record nursery rhymes to send over to their partner school in Germany and have already sent a package with greetings from the class and information about Bristol and Cotham School. Sehr gut 7JPG!

Year 9

Year 9 exams take place in the weeks commencing Monday 18 March and Monday 25 March.
Details of the style and content of each exam, as well as details of revision are given in the document here.
A useful Revision Timetable template can be found here.

The exams represent a good opportunity for students to get used to the demands of reformed (ie. much more challenging...) GCSEs. Please encourage your child to complete revision in advance of their exams.

Facebook Group
There is a facebook group for Year 9 Parents and Carers (the same exists for Years 7,8, 10 and 11) created by Cotham Parents and Carers. If you would like to join please click here. Please note that this page is not authorised or controlled by the school and any comments made or opinions voiced are not those of the School.

Key Stage 4 News

Year 10

Year 10 Science mock: Chemistry Paper 1 (units C1 - C7) on 21 March
Well done to all Year 10 students for the excellent preparation for their first physics mock. Almost half the year group attended after school revision for a week prior to the exam and they all worked hard at home.

A reminder that revision guides and workbooks are available on wisepay for students yet to buy them.

The next Year 10 Science mock is the Chemistry paper 1 (units C1 - C7) on 21 March. Students should now start preparing for this.

Mock Exam Entry Tiers:
All students who achieved a Grade 5 or higher on the physics mock exam will sit a Higher paper.
All students who achieved up to grade 4 will sit a Foundation paper.

NB: Guidance from the exam board AQA is that students must show that they are working at a strong Grade 5 before they should sit a Higher paper.

Final GCSE entries will not be made until this time next year so there is time for students to gain confidence, exam technique etc before a final decision is made on exam entry tier in Year 11.

Year 11

Year 11 Mock Exams
Year 11 students have now completed their mock exams and received their results from each subject.

All students will be given very clear feedback about their areas of strength and weakness in each of their mock exams. This will allow them to create a plan so that they can work on any areas of weakness identified by the mock exam.

Adding 20 Raw Marks will often be enough to move a student from their current grade to the next grade.
We are asking all of our students to think carefully about how they will add 10 / 15 / 20 Raw Marks to their mock exam result. 20 Raw Marks will often be enough to move a student from their current grade to the next grade. With this in mind we are encouraging them to use the attached Challenge Plan to structure their revision around the feedback given to them.

It is important that all students are using the February Revision week break to consolidate their learning and address their areas of weakness.

Helpful Resources to support your child's revision

If you are worried that your child is not revising enough at home then the following may be helpful resources:
Support your child in preparing a summer exam preparation schedule so that they complete revision tasks - a template revision schedule can be found here
Ensure that all homework assignments are completed
Ensure your child has revision guides that can help to support their learning - a list of these is enclosed and attached here along with details of useful revision websites for each subject
Read and discuss the Examination Command Words document attached here with your child
See the Top Tips for Parents sheet attached here which contains useful reminders about 'what to do' and 'what not to do'
The End of Year 10 Mock exams and Year 11 November mock exams can be accessed here. There is value in students re-completing these and demonstrating that they can recall knowledge previously assessed, and act on feedback already given to them to improve their original raw mark. Our school challenge is for all students to increase their recent mock exam result by 10 or 15 or 20 marks over the February Revision week break.
Use the Subject 'to do' sheets which highlight the type of acts that students should be completing as part of their revision.
Reports- Week commencing 25 February
Academic Monitoring Reports will be sent home in the week commencing 25 February.

Thank you to those parents that attended the Parent Post Mock Information Sessions last week. This linked presentation contains lots of useful links to many of the resources designed to support Year 11 students with their revision.

Post 16 Offer Letters
Offer letters for the North Bristol Post-16 Centre have been sent to students' school email accounts. Students need to accept/reject the offer by 1 March by following the link provided in the letter.
All communications from the North Bristol Post-16 Centre will be made using students' school e-mail accounts therefore it is important that they regularly check their e-mails.

After School Science Revision: Tuesday after school at 3.05p.m. - 4.05p.m
Year 11 revision sessions are now running every Tuesday after school at 3.05p.m. -4.05p.m. with their own teacher. Please encourage all students to attend.

Half Term Science Revision
Science revision is running next week in half term:
Tuesday 19 February 10.00am - 3.00pm Paper 1 Revision
Thursday 21 February 10.00am - 3.00pm Paper 2 Revision
The sessions will be held in the upstairs science classrooms.

Please encourage your child to come on one or both days and to make the most of this free intensive revision particularly if their mock exam result was below their target.

Year 11 Prom
The Year 11 Prom is being organised by a group of parents/ carers and students. Parents and carers have already met and arrangements are taking shape. The Prom organisers are looking for student volunteers to help with the organisation of the event.

Please ask your child to speak to your Prefects/Tutors if they are interested in working with the parent/ carer group to look at venues for the Prom during half term. This is an exciting way to get involved in organising the event!


Post-16 News

Year 13
Thank you for attending the Year 13 parents evening. We hope that you found it a useful opportunity to meet with your child's teacher. If you have any further questions or queries then please do get in touch.

Year 12
Year 12 parents evening: Thursday 28 March at 4.30p.m. - 7.00p.m
Year 12 parents evening is on Thursday 28 March at 4.30p.m. - 7.00p.m. More details will be provided soon.

UCAS Convention: Tuesday 12 March
The Year 12 UCAS convention is on Tuesday 12 March. There are still a few places available please pay on WISEPAY, complete the consent form and return the form to Mrs Kempt.
Oxbridge: Tuesday 19 March.
The Year 12 OXBRIDGE convention is on Tuesday 19 March. There are still places available for this trip to Birmingham. Please see Mrs Kempt for more information.
For more information from Post 16 please see the "This Term at Post 16" section of the website


House News

Gamma House

Gamma has had a great start to this new 2019 with lots of schemes and initiatives to welcome students back. Our House assembly concentrated on the importance of new beginnings and how students should take advantage of a new term to set goals and be the best versions of themselves.
Miss Madge is setting her new Year's resolution to read more books, she was particularly encouraged by Gamma House who have 48 students who have read over 50 books! As our focus is teaching and learning, Gamma house wants to encourage its students and the school to increase their literacy skills. Gamma is therefore setting a challenge to get students to read as many books from the library as possible with the Top 5 readers in the year gaining a £10 Waterstones voucher in our next assembly.
Our assembly also celebrated the incredible efforts of 2 Gamma students; Sophie Cocking and Nevina Shawe, both in Year 8, who saved a lady's life a few weeks ago by alerting parents to a woman who had collapsed in the street. We are incredibly proud of the two girl's bravery. They were even interviewed on BBC Radio Bristol. The interview with Sophie and Nevina starts at about 22 minutes into the programme. Click here to listen to the interview.
Our Gamma House Champion this month was Khalid Farah in Year 7 who is consistently polite, friendly and extremely charming to all those he encounters. He wins a trophy, certificate and free lunch. Well done for all your hard work Khalid!

Gamma has also been getting in a loving mood by setting up a Valentine's day raffle during the last week of term. Prizes included; 5 chocolate roses, boxes of chocolate, a giant teddy bear and a dinner for two in the canteen. Students have been very charitable and given lots of money to Above and Beyond with the hopes of winning a prize. Winners will be announced at the end of the week.

Thank you to all students who have been showing incredible Cotham manners and therefore won a golden ticket to support Omega's drive in the school community. We look forward to more celebrations this next term.

Omega House
First of all, our Omega Legend for this term, is Elia Gerolemou (Yr 10). Elia has stood out as being trustworthy, respectful of others, hardworking, self-disciplined, and a fantastic role model for younger students in the school.
Commendations to the following students who also received awards for standing out:
Hard Worker - Sacad Ali (Yr.11)
Kind- Yassin Odhiambo (Yr.11)
Polite- Jasmin Kitchen (Yr.11)
Focused- Reuben West (Yr.10)
Responsible- Tamzin Harris (Yr.10)
Honest- Rufus Buchan (Yr.8)
Friendly- Aron Balazs (Yr.8)
Humility- Rafa Allport (Yr.8)
Smiley- Esme Jones (Yr.7)
Courageous- Luken Chan (Yr.7)
Positive Mindset- Sahara Pring (Yr.7)
As we are currently in the depths of winter, and our Year 11s are past their mocks and getting closer and closer to their GCSE exams, it is important to maintain positive mental health through this period. These are three very important ways we can look after our mental health:
Release Endorphins (Join a sports team, do some exercise, set yourself a goal to beat, go outside when possible, challenge yourself!)
Connect with others (Be sociable, face to face, reduce social media usage, find common interests, talk to someone new, join a club!)
Ask for help! (Help to manage stress/workload/anxiety/ Talk to someone you trust- Tutor, Parent or Carer, Friends.)
With mental health at the forefront of many of our communities' thoughts,Mr W Nunn will be running the London Marathon for MIND, the mental health charity in support of Cotham Students, Staff and Parents who may be struggling with their own mental health, or caring for someone who is. For more information please visit https://uk.virginmoneygiving.com/WilliamNunn1
Thank you again to all Omega Students, we are very proud of you all, look after yourselves and keep up the good work!
Mr W Nunn

Sigma House

In Sigma's first House assembly for the New Year we spoke about each month being a new chapter.

During a Sigma House meeting, the tutor Reps and Prefects shared what they would like to achieve and set goals for the year. The goals included; spending more time with family, getting a balance between studying and voluntary work, recycling crisp packets and revising harder for GCSEs.

This was shared with the House, explaining that if goals were not reached then we could begin a new chapter next month and start again until we reach our goal.

Recycle crisp packets and support charity
Sigma have signed up with Walkers to recycle any brand of crisp packet, and we have a recycling box for empty crisp packets. Once we have 400 we will send them back to Walkers to be recycled. The packets are then cleaned and shredded they are turn them into plastic pellets, which are transformed into park benches, plant pots, watering cans and cool bags.

Thank you to Erin White who has collected them in her dance class and Kushal Vijay who has collected them at home.

If you would like recycle your crisp packets and support our House Charity in the process, please send them in to school. Students can take them to Mrs Arnold.

The Rainbow Centre for Children Swimarathon Charity Event: Sunday 3 March
Sigma have been invited to take part in a Charity Swimarathon on Sunday 3 March at Clifton High School's Pool at 10.30a.m. -11.30a.m. This will raise money for our House Charity, and participants can be sponsored as a team, swimmer of length.

Thank you to those students who have signed up to be part of Team Cotham. We still have spaces in the team if you wish to enter. Please collect a form from Mrs Arnold.

If you would like to support The Rainbow Centre for Children and sponsor Team Cotham in the Swimathon click here

Sigma Celebrates
We would like to share and celebrate achievements that are gained outside of school. Congratulations to the following students who were awarded a £10 Amazon voucher:
Fenn Elliot (Yr.11) spent the first day of his Christmas holiday singing in the Galleries to raise money for 'War Child' and Misha Evans (Yr.8) won a silver medal in the u13 Avon AA cross country championships at Bath University.

Year 7 Robot Wars
There was a very high standard of entries for the Sigma Robot Wars but there could only be one winning team. Congratulations to the following students from 7JLL; Flo Elvin-Robinson, Gasper Anwandter, Jonah Thomas, Xavier George Morales, Nurhaan Bouh and Layba Bibi, who have all been awarded a £10 Amazon voucher each. Their winning Robot will be sprayed in the House colour – Green and displayed in school.

Sigma High Flyers
Congratulations to the following students who have been nominated by their tutor for making a positive start to the New Year; Abdul-Gani Jama (Yr.7), Dhru Vader (Yr.7), Hugo Serrano-Chan (Yr.8), Elliott Ritchie (Yr.8), Yankuba Janneh (Yr.9), Khateejah Ilyas (Yr.9), Daiyaan Asif (Yr.10) and Ted Strange (Yr.10), Rio Goodman (Y.11) and Hassan Hussain (Yr.11).

Sigma Superstar
Congratulations to Iuliana Cioaca 8BSA who is our Sigma Superstar. Iuliana has shown great team work when in lessons, she is organised and polite.We are super proud to have Iuliana is Sigma.

Sigma Fundraising
We are very excited to announce that we have raised an amazing £1,030 so far for our House Charity the Rainbow Centre for Children. The Rainbow Centre provides a haven of peace for children and their families suffering from the effects of a life threatening illness or death in the family.
Sigma's Valentine Cookie Sale on Thursday 14 February raised an amazing £101 for The Rainbow Centre,and the heart shaped cookies sold out in 10 minutes!
Thank you to all who supported the cake sale, and special thanks to Aineias Arango, Louis Hawkins, Ruby Thorn and Tiger Davies-Burgoyne who all stayed and baked cookies after school and to the school Catering team who also supported us and baked cookies.

Clothing Drive
We are collecting clothes, shoes and bags to recycle. Please drop them in to school. We will then sort them and arrange for a collection from Bristol Textile Recycling. All money raised will go to our charity, this was very popular last year and we raised over £180.

Bristol Youth Vote 2019
In January 2019 young people in schools, colleges and youth centres across Bristol will be voting in 32 young people to the Bristol City Youth Council for a 2 year term of office. If voted in, their role will be to represent young people's views to adult decision makers like the Mayor, Councillors, Council Officers, and Members of Parliament, and influence the decisions they take.

Congratulations to Theodore Bradwell (Yr.7) and Dorian Erlic (Yr.9) who have been elected onto the council; they were up against 15 other candidates from around the Bristol North area.
Thank you for your continued support with all our events and we hope you all have a very restful half term.

Mrs Arnold and the fantastic Sigma team!

Delta House

*New 100 Club Members!*
Since our last communications, I am pleased to report that 15 Delta House students have become members of the Delta 100 Club. These students will be recognised in our House Assembly on Monday 4 March. .

National Careers Week
Delta House are organising a trail and quiz as part of National Careers Week which will be focusing upon the jobs that staff had when they were teenagers! Students will be able to complete a trail around the school site to learn some weird and wonderful facts about the jobs that our staff had when they were (much!) younger. Prizes will be up for grabs and details will be shared via tutors.

Whole School Rewards
Lots of behind the scenes work is happening with the school rewards. We are currently in the design process and lots of people are involved so we're quietly grafting away to create a rewards system that is meaningful and motivational for students.

Doing our bit
Delta House have signed up to take part in the Soccer Aid for Unicef Playground Challenge on Friday 14 June. As part of this, Delta House students will be invited to design a Soccer Aid obstacle course with and raise money to help children everywhere grow up healthy, happy and able simply to play; just like children should be.

Focusing on our House Values
Our next house assembly will see tutors nominating their tutees for demonstrating our third house value, "being your best". Here, tutors will be invited to nominate two of their tutees who day in, day out conduct themselves in an exemplary way and deserve to have a shout out.

Keep your eyes peeled
Over the past 12 months Kate Marston (PhD student from Cardiff University) has been working with a remarkable group of students on the concept of digital relationships. Appearing on the screens across site will be some of the work and key messages that have been developed as a result of this project. A huge thank you to our year 8 students who have been the driving force behind this project; Amelia, Ria, Orla, Hannah, Lola and Cecilia!


Careers


Radiology Open Day with University Hospitals Bristol NHS Foundation Trust
The next open day is on Saturday 23 February at the BRI (BS2 8HW). Students who are thinking of a career in diagnostic radiography - or are curious to know more - can book onto an open day here

Nuffield Research Placements
Placements are still open for Year 12 STEM students who would like summer holiday work experience in the STEM research sector. Find out more here. The deadline for applications is now 28 February.

To apply and find about more about eligibility go to Nuffield Research Website


Subject Area News

Steam

D&T: Champions at the Flying Start Challenge 2019 Regional Finals
Three teams were successful in qualifying for the regional finals of the Flying Start Challenge 2019 which took place this week. Cotham taking 1st and 2nd place and taking them through to the UK Grand Final in March.

After a successful STEM Workshop back in December, the competition saw MBDA visit the school and teach the students about the basics of flight, aerodynamics and various aspects of engineering and technology that go into producing a finished aircraft. Following on from the initial workshop day,the teams were asked to ready their aircraft and produce a poster outlining their design and budget for presentation to judges at the Aerospace Museum in Filton.

Working over a few evenings with engineers visiting from MBDA to offer advice and make sure they stuck to the rules, (as well as a lot of lunchtimes and a frantic 10 minutes before getting on the minibus) the teams were able to get their aircraft up and flying and created a range of colourful and informative posters to show off to the judges from MBDA, GKN Aerospace, Airbus and Rolls Royce who were at the event.

During the day, our students schools from across Bristol, South Gloucestershire and North Somerset. Impressing the senior engineers from these worldwide companies, our students used their posters and presentation skills to confidently talk about their design and answer any questions. One team did so well with their presentation that the panel couldn't think of any questions to ask, bagging them a perfect score!

The afternoon also saw the fly off, with gliders of all shapes and sizes being thrown, right underneath
Concorde, with Team Hermes and The Flying Ninja flying far enough to put them 1st and 2nd place overall fort the day.

Well done to all those who took part and here's looking forward to the finals!

Food Science
Year 10 have produced some fantastic food products since the start of the school year; students have portioned chicken and used all of the bird to make jerk chicken and rice, chicken pies with homemade pastry and stock as a roux sauce base. We have also been working with pheasant supplied to us from a scheme which encourages students to use and be aware of game meat 'A Taste of Game'. Enriched doughs have featured with a range of swedish tea rings and chelsea buns. Students have also made fresh pasta to make orecchiette with broccoli and tomatoes.
Our Cotham Food Twitter account is very active and we try to feature our students work frequently please follow us here
KS3 Reminders
Students should be checking and getting their ingredients ready the night before the lesson. If scales are at home weighing and measuring are applications of numeracy ahead of the lesson. Recipe lists on paper are issued and are also on Google Classroom; we have sent an email with all cooking dates for students currently studying Food Science as part of Design and Technology. Final dishes are kept in the food room until the end of the school day we will store appropriately any food item for two days after. Boxes and containers left behind are washed but we can reunite these with students if they are labelled.
We welcome any donations of empty plastic sweet containers, ramekin dishes, if you are replacing any kitchen equipment it might be of use to us so please contact school and let us know.

Performing Arts

Little Shop of Horrors - 13 - 16 March 2019
We are excited to announce that Cotham's school musical this year is "Little Shop of Horrors". Featuring students from all year groups (Cast list here) and co-directed by Peggy Edwards and Esther Weisselberg from Year 13, this should not be missed!

Skid Row florist's clerk Seymour Krelborn is too shy to declare his love for his co-worker Audrey – until a mysterious exotic plant brings him unexpected fame and fortune. There's just one problem: the plant has ambitions of its own, and it thrives on only one food – human blood.

Awesome puppets, a tender love story and a fabulous sixties-style score all combine to make this deliciously campy sci-fi spoof a "monster" hit!
Tickets are on sale now and can be purchased through wisepay. Adults £8, Concessions £5 - All proceeds go towards covering the costs of putting on this large scale musical.
Be there or be (potentially) eaten by a giant alien plant!


Are you passionate about performing?
Click here to find out about how you can get involved with 'Perform for Life' a locally-based Arts organisation, and earn UCAS points, work towards grades with LAMDA, Trinity College London and Rockschool London working with friendly, qualified and experienced tutors. They offer children and young people the opportunity to develop and refine their performance skills, while at the same time building additional life skills and embracing their individuality. Students can focus on Acting, Devising Drama, Public Speaking, Singing, Musical Theatre or Performance Arts.

PE

Extra-Curricular Clubs
All clubs that take place in the sportshall will restart this week as the Year 11 mocks are over. Apologies if this hiatus has caused any inconvenience to parents/carers and students. Please click here for a list of all of the PE/Sports Extra-Curricular activities available to students in Term 3.

Please click here to view all of our recent results and the upcoming fixtures for the week ahead.

Follow @CothamPE on Twitter for all the latest news and updates from the Cotham School PE department

Visual Arts

Work of the Week

Our work of the week is a beautiful slab pot created by Luke Kim in Year 9. This project is inspired by the architecture of Frank Gehry.

Students had to research his work and then design their own 3 dimensional slab pot using perspective drawing techniques and then bring their design to life in clay. Click here to see Luke's pot, which is very detailed and intricate.


Community News


Lifecycle Uk - Transforming lives through cycling
Click here to find out about Advanced Cycle training lessons available during the February Half Term.

Together Through Music
As you may know, Bristol Plays Music and Colston Hall are run by Bristol Music Trust, who have launched a consultation on the future vision for Colston Hall following the £48.8 million redevelopment of the venue over the next two years.

They have opened a public survey to gather feedback on how people engage with the Hall. They are keen to hear from as many people as possible and have set up a dedicated link to the survey for you to take part. Please follow the link here.

North Bristol Families
The termly bulletin from the North Bristol Families in Focus team as a range of information about activities available for young people, parents and families. Please click here to view the bulletin.


Useful quick links

Keep us posted
It would be great if parents/carers could let the school know of any student achievements outside of school please. It is sometimes only at parents' evenings that we find out what students are doing in their own time. Email us: weeklymailing@cotham.bristol.sch.uk

Key Dates
Please click here to view the Key Dates by year group for the 2018-19 academic year. You will be notified of any significant changes/additions, but please can we ask that you check the dates for your year group regularly as they are subject to change.

Parents' Evening Booking System (PES)
Please click here to access the online appointment booking system for Parents Evenings/Family Consultation Day. Please note this is only available if an event is due. We will email you to let you know when booking opens. If you encounter any difficulties with booking your appointments please contact the admin team by email to adminoffice@cotham.bristol.sch.uk or tel: 0117 919 8000

Assessment Calendars for KS3

We have created Assessment Calendars for 2018/19. Each Assessment Calendar contains details of the class assessments that will take place in their subjects. The final column contains a link which gives information about each of the assessments.
To see the Year 7 Assessment Calendar click here
To see the Year 8 Assessment Calendar click here
To see the Year 9 Assessment Calendar click here
To see the Year 10 Assessment Calendar click here
To see the Year 11 Assessment Calendar click here

Parents Information Sessions
KS3 Parent Information Session 4th October 2018 - click here
KS4 Year 10 Parent Information Session 20th November 2018 - click here
KS4 Year 11 Parent Information Session 8th November 2018 - click here
KS4 Year 11 Parent Information Morning Session 7th February 2019 - click here
KS4 Year 11 Parent 'Post Mock' Information Session 7th February 2019 - click here

Homework and Independent Learning timetables
Please see the attached link describing our Homework Guidelines for students in the school.
In KS3 we do not have homework timetables.
Homework and Independent Learning Timetable for Year 10
Homework and Independent Learning Timetable for Year 11

WisePay
WisePay is the Online Payment Service at Cotham School which allows you to pay for trips and visits as well as to add credit to your child's Cashless Catering account. Click here to access your account now. If you have any queries about your account please contact the support team by email to wisepay@cotham.bristol.sch.uk

School Uniform
Please click here to view the compulsory uniform requirements of Cotham School, along with visual examples of uniform and details of our uniform suppliers.

GCSEpod
Click here to access GCSEpod which contains lots of revision resources for most GCSEs. Students self register through the website using their name and school details.

SAM Learning
Click here to access SAM learning which contains revision exercises and self marking quizzes with automatic progress tracking and reporting. Please use the Centre ID: BS6CS. Student usernames and passwords are their birthday formatted as DDMMYY, followed by their Initials.

Diagnostic Questions
Click here to access. This site contains self marking quizzes with lots of templates including some from a range of exam boards. It's easy to make your own questions in Microsoft PowerPoint too. Students sign up with their school Google account using the G+ button to automatically create a school account

Edmodo
Edmodo is an application that can be used on both mobile devices and in the web environment to create an online community of practice. Edmodo is a free social learning platform that allows students to access the course content uploaded by their teachers.
https://www.edmodo.com/

Linguascope
The Language Learning Platform
https://www.linguascope.com/

Seneca
All students and teachers now have free access to Seneca - a revision and homework platform making studying more fun. Seneca is an interactive way to learn official course content. Their web app covers 150+ exam board specific courses condensing what students need to know for their exams. The software is able to identify gaps in learning. For instance, when you get a question wrong, the platform will repeat the topic in different formats and their smart algorithm has proven to make students remember topics 2x faster. Seneca is totally free for students, teacher and parents. You can sign up via senecalearning.com

Free School Meals
https://www.cloudforedu.org.uk/ofsm/sims to check if your child is eligible for Free School Meals or to apply.

Contact Details
Please note the following contact numbers and email addresses if you need to contact the school:

Main Reception - 0117 919 8000/ reception@cotham.bristol.sch.uk
Student Reception - 0117 919 8013 / studentreception@cotham.bristol.sch.uk
Absence - 0117 919 8019/ absence@cotham.bristol.sch.uk
NBP16C - 0117 919 8100/ post16@cotham.bristol.sch.uk
Finance - 0117 919 8016/ finance@cotham.bristol.sch.uk
Exams - 0117 919 8024/ examsassistant@cotham.bristol.sch.uk
Admin Office - 01179198053/ adminoffice@cotham.bristol.sch.uk