Weekly Mailing - Friday 1 March 2019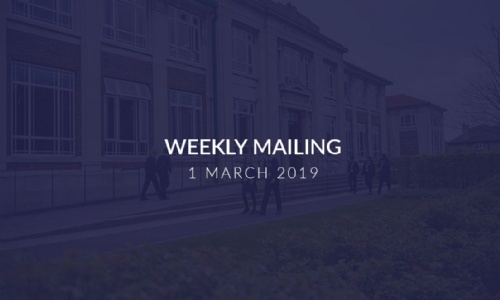 Dear Parents and Carers

An update on our playing fields at Stoke Lodge
We are delighted to announce that there will be students back playing sport at Stoke Lodge this half term. The fence will be completed early next week, the pitches will be marked out and the sports posts put in place. We have made temporary arrangements for health and wellbeing facilities. We will not have any changing rooms on site.

In preparation for school use we now ask that members of the public desist from taking dogs onto our playing fields. There is now a circular walk around the edge of our fields which we hope members of the public out with their dogs will use. The walkway will be available to all during school hours be they dog walkers, joggers or people on their way to the shops, bus stops or school. We thank you for your cooperation.

Members of the public will still be able to use our playing fields when not in use by the school, local sports clubs, or the University.

Please click here to view the updated FAQ document (new FAQs from number 23). In these new FAQs we are hoping to answer questions that keep coming up and to ensure everyone understands the facts.

These questions have been put together to provide information concerning the future use of Stoke Lodge Playing Fields. This is not intended to be a definitive list, nor a legal document, but rather a place to share information. We hope you will find this helpful. We will add to these as our projects develop further.

Our sincere thanks for your ongoing support and tireless campaigning on behalf of the school.

Please find below my usual updates on events that have taken place this week, information, letters etc.

Best wishes for the weekend,

Ms Jo Butler
Headteacher

Good News

Trips and Visits
At Cotham School we are very proud of the range of Trips and Visits that are available to students throughout the school. Click here for an overview of everything that has taken place so far this academic year.
Bristol City Youth Council
Congratulations to Dorian Erlic Y.9 and Theo Bradwell Y.7 who were both elected to Bristol City Youth Council before half term. Both students will hold their seat for a two year term and it is a fantastic opportunity to make sure children and young people can express their views on the decisions that are important to them and that their opinions are voiced and heard.

A special thanks goes to the student council for running the polling station at Cotham.

Important Information for Parents/Carers

INSET Days
A reminder that the remaining school INSET days for this year are as follows:
Wednesday 13 March
Friday 5 April
Wednesday 10 July
The School will be closed to students for staff training on these dates.
Important - Our Mobile Phone Policy
We are finding an increasing number of mobile phones being held at the Student Reception as a minority of students are breaking school rules and are using their mobile phones during school hours. We operate a very reasonable mobile phone policy at Cotham for students in Years 7-11 of which all of our students are aware:
From the sound of first bell at 8.35a.m. until last bell at 3.05p.m. phones must be switched off (not on silent mode) and kept in students' school bags (not pockets)
Phones must not be used for any purpose (e.g. phoning, texting, surfing the internet, taking photos, taking films, listening to music) during the school day
Phones must not be taken into examinations.
If a student breaches these rules and they are seen by a member of staff:
The phone will be confiscated and placed in a safe at Student Reception.
The phone will be returned to the student's parents or carers the following day. It will need to be collected from Student Reception, no earlier than the end of the school day.
If a student persistently has a phone confiscated, the period for which it is retained will be extended, at the discretion of a member of the Senior Leadership Team.
We can make no exceptions to these rules.

The school accepts no responsibility or liability whatsoever, for theft, loss or damage to mobile phones. It is the responsibility of parents, carers and students to ensure mobile phones are properly insured.
National Careers Week
National Careers Week runs from 4-8 March. Outside speakers will be coming into House assemblies to talk to students about the jobs they do and their journey through the world of work.

There will also be a quiz for tutor-time and a poster trail based on a recent survey of the jobs that Cotham staff did as teenagers. We are hoping to raise students' awareness of possibilities for their own futures and show them that skills and attitudes are important, as well as good qualifications, and all forms of work experience are valuable.

See the 'Careers' section for more information and local events below.
We are excited to announce that Cotham's school musical this year is "Little Shop of Horrors". Featuring students from all year groups (Cast list here) and co-directed by Peggy Edwards and Esther Weisselberg from Year 13, this should not be missed!
Skid Row florist's clerk Seymour Krelborn is too shy to declare his love for his co-worker Audrey – until a mysterious exotic plant brings him unexpected fame and fortune. There's just one problem: the plant has ambitions of its own, and it thrives on only one food – human blood.
Awesome puppets, a tender love story and a fabulous sixties-style score all combine to make this deliciously campy sci-fi spoof a "monster" hit!
Tickets are on sale now and can be purchased through wisepay. Adults £8, Concessions £5 - All proceeds go towards covering the costs of putting on this large scale musical.
Be there or be (potentially) eaten by a giant alien plant!
Click here to view the poster and cast list
GWR Student Rail Ticketing Scheme
We would like to remind parents/carers that Severnside Community Rail Partnership are continuing the Student Rail Ticketing Scheme in 2019. This partnership offers our students and families a huge saving on rail travel to and from the school on the Severnside Community Rail. An annual ticket costs £40.00 or families can buy their ticket in instalments. All the details are contained in the letter and application form here.
Swimathon Charity Event
A Swimathon Event is taking place Sunday 3 March 2019 at Clifton High School's Pool, the event is open to all students.

Good Luck to Team Cotham Oscar de Havilland, Harry Giles, Max West, Rufus Buchan, Jonathan Roche and ZuheibSaid Obsi as they take part in they Charity Swimathon.

They will be swimming to raise money for The Rainbow Centre for Children.If you would like to support and sponsor them please see our link.
World Book Day on 7 March 2019
Students from Year 7 to Year 11 should have received their World Book Day tokens this week. To find out how to use the tokens, please click here.

Students are also being invited to dress as book characters in exchange for £1 for Book Aid International. There will be a prize for the best costume.
Online Safety Newsletter: March 2019
Click here to view March's Newsletter.
Word of the week
Each week at Cotham we promote a Word of the Week. This is to help students expand the range of vocabulary they use. Please find the word for the week ahead by clicking here.
Mental Health and Wellbeing
Off the Record
Off The Record have a new and exciting therapeutic group for people aged 11-18 called Shameless which is about body image and self-esteem. The group runs for 6 weeks and the first session runs in the evening on Tuesday 12 March. The event will be held at Off The Record, 2 Horfield Road, Bristol, BS2 8EA (Just around the corner from the BRI).
Students can find out more information on how to sign up by clicking here.

Key Stage 3 News

Year 9
Year 9 Exams: weeks commencing Monday 18 and 25 March
Year 9 exams take place in the weeks commencing Monday 18 March and 25 March.
Details of the style and content of each exam, as well as details of revision are given in the document here.
A useful Revision Timetable template can be found here.
The exams represent a good opportunity for students to get used to the demands of reformed (ie. much more challenging...) GCSEs. Please encourage your child to complete revision in advance of their exams.

Key Stage 4 News

Year 10
SS Great Britain Trust
SS Great Britain Trust have been in touch to say how impressed they were with the Year 10 students they interviewed on Monday 11 February, who had expressed an interest in taking part in their work experience programme this summer at the SS Great Britain.

The trust have stated that it was a real pleasure to meet the students and were very impressed with the professional approach they took towards the interviews. Sadly they weren't able to accommodate all those that applied on the programme but want to thank all of the students for their interest and enthusiasm – they are a real credit to Cotham School.

They also give their thanks to Ms Arnold who organised the interviews and made sure everything ran smoothly on the day.
Year 10 Science mock: Chemistry Paper 1 (units C1 - C7) on 21 March
A reminder that revision guides and workbooks are available on wisepay for students yet to buy them.

The next Year 10 Science mock is the Chemistry paper 1 (units C1 - C7) on 21 March. Students should now start preparing for this.
Mock Exam Entry Tiers:
All students who achieved a Grade 5 or higher on the physics mock exam will sit a Higher paper.
All students who achieved up to grade 4 will sit a Foundation paper.

NB: Guidance from the exam board AQA is that students must show that they are working at a strong Grade 5 before they should sit a Higher paper.

Final GCSE entries will not be made until this time next year so there is time for students to gain confidence, exam technique etc before a final decision is made on exam entry tier in Year 11.
Year 11
Year 11 Mock Exams
Year 11 students have now completed their mock exams and received their results from each subject.

All students will be given very clear feedback about their areas of strength and weakness in each of their mock exams. This will allow them to create a plan so that they can work on any areas of weakness identified by the mock exam.
Adding 20 Raw Marks will often be enough to move a student from their current grade to the next grade.
We are asking all of our students to think carefully about how they will add 10 / 15 / 20 Raw Marks to their mock exam result. 20 Raw Marks will often be enough to move a student from their current grade to the next grade. With this in mind we are encouraging them to use the attached Challenge Plan to structure their revision around the feedback given to them.
Helpful Resources to support your child's revision
If you are worried that your child is not revising enough at home then the following may be helpful resources:
Support your child in preparing a summer exam preparation schedule so that they complete revision tasks - a template revision schedule can be found here
Ensure that all homework assignments are completed
Ensure your child has revision guides that can help to support their learning - a list of these is enclosed and attached here along with details of useful revision websites for each subject
Read and discuss the Examination Command Words document attached here with your child
See the Top Tips for Parents sheet attached here which contains useful reminders about 'what to do' and 'what not to do'
The End of Year 10 Mock exams and Year 11 November mock exams can be accessed here. There is value in students re-completing these and demonstrating that they can recall knowledge previously assessed, and act on feedback already given to them to improve their original raw mark. Our school challenge is for all students to increase their recent mock exam result by 10 or 15 or 20 marks over the February Revision week break.
Use the Subject 'to do' sheets which highlight the type of acts that students should be completing as part of their revision.
Summer Exams
The provisional timetable for summer GCSE exams is attached here.
Please note that these dates are provisional but will be confirmed soon.
All students will be given their own Exam Timetable in the next week. Once seating plans are confirmed for the exams, and exam tiers finalised, students will be given a further copy of their timetable showing confirmed tiers and seats.
The final GCSE exam is due to take place on Wednesday 19th June. However, the Joint Council for Qualifications have stipulated that all students must be available to sit exams until Wednesday 26th June. This is to ensure that any GCSE exams which may have to be cancelled as a result of a national emergency or disaster can be rescheduled. Please bear this date in mind if you are planning on booking a holiday for your child or your family.
Essential Examination Equipment
Your child will be more successful in their summer exams if they have the correct equipment. Please support them by purchasing any missing items over the next month.

Clear pencil case, black Pens x2, pencils x2, eraser, sharpener, ruler, protractor, compass, highlighter, working non-programmable scientific calculator (preferably Casio).

Students taking examinations in Design and Technology will also need colour pencils.

Students should have calculators with them for Maths, Science, DT, Geography, Psychology, and Preparation for Working Life.
Post 16 Offer Letters
Offer letters for the North Bristol Post-16 Centre have been sent to students' school email accounts.Students need to accept/reject the offer by 1 March by following the link provided in the letter.

All communications from the North Bristol Post-16 Centre will be made using students' school e-mail accounts therefore it is important that they regularly check their e-mails.
After School Science Revision: Tuesday after school at 3.05p.m. - 4.05p.m
Year 11 revision sessions are now running every Tuesday after school at 3.05p.m. -4.05p.m. with their own teacher. Please encourage all students to attend.
Please encourage your child to come on one or both days and to make the most of this free intensive revision particularly if their mock exam result was below their target.
Year 11 Prom
Please click here to access the letter sent to parents/carers this week.
The Year 11 Prom is being organised by a group of parents/ carers and students. Parents and carers have already met and arrangements are taking shape. The Prom organisers are looking for student volunteers to help with the organisation of the event.

Please ask your child to speak to your Prefects/Tutors if they are interested in working with the parent/ carer group to look at venues for the Prom during half term. This is an exciting way to get involved in organising the event!

Post-16 News

Year 12 Workshop
On Wednesday, Year 12 attended a workshop ran by a trainee Clinical Psychologist who provided lots of tips on how to deal with stress and anxiety and build resilience. This was ran as part of their fortnightly CORE programme.
Year 12 UCAS Conference
The UCAS Conference will be held on Tuesday 12 March. The deadline has now passed but if your son/daughter still wishes to attend, then please pay on WISEPAY as soon as possible and complete the consent form and had into Mrs Kempt. There are only a handful of places left.
Year 12 Oxbridge Trip
The Oxbridge Trip will go ahead on Tuesday 19 March. There are still a few places left should your son/daughter wish to attend please pay on WISEPAY and hand in the consent form to Mrs Kempt.
Year 12 Parents Evening
A reminder that year 12 parents evening is on Thursday 28 March 4.30 - 7pm.
Self Help Books
A reminder that there are lots of self help and wellbeing books available in Mrs Kempt's office
Thangam Debonnaire
Thangam Debbonaire is doing a school visit on Friday 8 March to talk with some of our post 16 students about the cancer research they were doing.
Post 16 Reflection Room
We have created a brand new Post 16 Reflection Room in Charnwood (G112) for students who need to have some quiet time or for those who would like to pray. There are comfy chairs, reading resources, soft lighting, plants and prayer mats and all students are welcome to use this room when required. If they would like to use it please tell them to pop into reception or to Mrs Kempt to open it.
For more information from Post 16 please see the "This Term at Post 16" section of the website

Careers

National Careers Week
For National Careers Week Careerpilot has created 3 online quizzes that can be accessed here. Also, see here for helpful information about choosing a career.
National Apprenticeship Week
National Apprenticeship Week runs from 4-8 March. Check out how much you actually know about apprenticeships via this quiz
A host of current apprenticeships can be found here, but note that applications for some big companies close soon, so students should apply soon if interested.
Bristol Apprenticeship Fair
The fair is at We The Curious (BS1 5DB) on Monday 4 March, from 11.00am-3.00pm. There is no need to book a place for the fair.
Legal Apprenticeship Opportunities
Find out about legal apprenticeship opportunities with commercial law firm RPC at an information evening for students and parents/carers on Thursday 7 March from 6.00-8.00pm at their Bristol office (BS1 6LW). More information can be found here. If interested e-mail strikinglyreal@rpc.co.uk
NHS Careers Evening
The free NHS Careers Evening includes NHS apprenticeships for students and parents/carers on Thursday 14 March at the Learning and Research Building at Southmead Hospital (BS10 5NB) from 5.30-8.00pm
Students looking for Saturday jobs can find good advice through this website

Subject Area News

Steam
KS3 Reminders
Students should be checking and getting their ingredients ready the night before the lesson. If scales are at home weighing and measuring are applications of numeracy ahead of the lesson. Recipe lists on paper are issued and are also on Google Classroom; we have sent an email with all cooking dates for students currently studying Food Science as part of Design and Technology. Final dishes are kept in the food room until the end of the school day we will store appropriately any food item for two days after. Boxes and containers left behind are washed but we can reunite these with students if they are labelled.
We welcome any donations of empty plastic sweet containers, ramekin dishes, if you are replacing any kitchen equipment it might be of use to us so please contact school and let us know.
Performing Arts
Are you passionate about performing?
Click here to find out about how you can get involved with 'Perform for Life' a locally-based Arts organisation, and earn UCAS points, work towards grades with LAMDA, Trinity College London and Rockschool London working with friendly, qualified and experienced tutors. They offer children and young people the opportunity to develop and refine their performance skills, while at the same time building additional life skills and embracing their individuality. Students can focus on Acting, Devising Drama, Public Speaking, Singing, Musical Theatre or Performance Arts.
PE
Extra-Curricular Clubs
Please click here for a list of all of the PE/Sports Extra-Curricular activities available to students in Term 4.
Please click here to view all of our recent results and the upcoming fixtures for the week ahead.
Follow @CothamPE on Twitter for all the latest news and updates from the Cotham School PE department
Community News
Parents/Carers Group
Docklands Youth Centre are hosting a Parents and Carers Group on Monday 4 March at 6pm. For more information click here.
Lifecycle Uk - Transforming lives through cycling
Click here to find out about Advanced Cycle training lessons available during the February Half Term.
Together Through Music
As you may know, Bristol Plays Music and Colston Hall are run by Bristol Music Trust, who have launched a consultation on the future vision for Colston Hall following the £48.8 million redevelopment of the venue over the next two years.
They have opened a public survey to gather feedback on how people engage with the Hall. They are keen to hear from as many people as possible and have set up a dedicated link to the survey for you to take part. Please follow the link here.

Useful quick links

Keep us posted
It would be great if parents/carers could let the school know of any student achievements outside of school please. It is sometimes only at parents' evenings that we find out what students are doing in their own time. Email us: weeklymailing@cotham.bristol.sch.uk
Key Dates
Please click here to view the Key Dates by year group for the 2018-19 academic year. You will be notified of any significant changes/additions, but please can we ask that you check the dates for your year group regularly as they are subject to change.
Parents' Evening Booking System (PES)
Please click here to access the online appointment booking system for Parents Evenings/Family Consultation Day. Please note this is only available if an event is due. We will email you to let you know when booking opens. If you encounter any difficulties with booking your appointments please contact the admin team by email to adminoffice@cotham.bristol.sch.uk or tel: 0117 919 8000
Assessment Calendars for KS3
We have created Assessment Calendars for 2018/19. Each Assessment Calendar contains details of the class assessments that will take place in their subjects. The final column contains a link which gives information about each of the assessments.
Parents Information Sessions
KS3 Parent Information Session 4th October 2018 - click here
KS4 Year 10 Parent Information Session 20th November 2018 - click here
KS4 Year 11 Parent Information Session 8th November 2018 - click here
KS4 Year 11 Parent Information Morning Session 7th February 2019 - click here
KS4 Year 11 Parent 'Post Mock' Information Session 7th February 2019 - click here
Homework and Independent Learning timetables
Please see the attached link describing our Homework Guidelines for students in the school.
In KS3 we do not have homework timetables.
Homework and Independent Learning Timetable for Year 10
Homework and Independent Learning Timetable for Year 11
WisePay
WisePay is the Online Payment Service at Cotham School which allows you to pay for trips and visits as well as to add credit to your child's Cashless Catering account. Click here to access your account now. If you have any queries about your account please contact the support team by email to wisepay@cotham.bristol.sch.uk
School Uniform
Please click here to view the compulsory uniform requirements of Cotham School, along with visual examples of uniform and details of our uniform suppliers.
GCSEpod
Click here to access GCSEpod which contains lots of revision resources for most GCSEs. Students self register through the website using their name and school details.
SAM Learning
Click here to access SAM learning which contains revision exercises and self marking quizzes with automatic progress tracking and reporting. Please use the Centre ID: BS6CS. Student usernames and passwords are their birthday formatted as DDMMYY, followed by their Initials.
Diagnostic Questions
Click here to access. This site contains self marking quizzes with lots of templates including some from a range of exam boards. It's easy to make your own questions in Microsoft PowerPoint too. Students sign up with their school Google account using the G+ button to automatically create a school account
Edmodo
Edmodo is an application that can be used on both mobile devices and in the web environment to create an online community of practice. Edmodo is a free social learning platform that allows students to access the course content uploaded by their teachers.
https://www.edmodo.com
Linguascope
The Language Learning Platform
https://www.linguascope.com
Seneca
All students and teachers now have free access to Seneca - a revision and homework platform making studying more fun. Seneca is an interactive way to learn official course content. Their web app covers 150+ exam board specific courses condensing what students need to know for their exams. The software is able to identify gaps in learning. For instance, when you get a question wrong, the platform will repeat the topic in different formats and their smart algorithm has proven to make students remember topics 2x faster. Seneca is totally free for students, teacher and parents. You can sign up via senecalearning.com
Free School Meals
https://www.cloudforedu.org.uk/ofsm/sims to check if your child is eligible for Free School Meals or to apply.
Contact Details
Please note the following contact numbers and email addresses if you need to contact the school:

Main Reception - 0117 919 8000/ reception@cotham.bristol.sch.uk
Student Reception - 0117 919 8013 / studentreception@cotham.bristol.sch.uk
Absence - 0117 919 8019/ absence@cotham.bristol.sch.uk
NBP16C - 0117 919 8100/ post16@cotham.bristol.sch.uk
Finance - 0117 919 8016/ finance@cotham.bristol.sch.uk
Exams - 0117 919 8024/ examsassistant@cotham.bristol.sch.uk
Admin Office - 01179198053/ adminoffice@cotham.bristol.sch.uk