Weekly Mailing - Friday 8 March 2019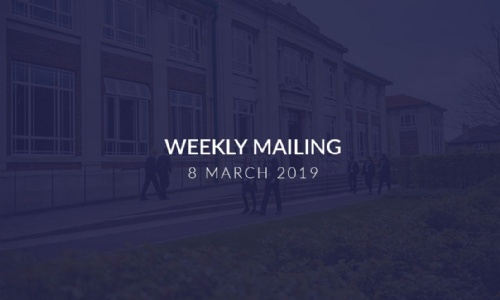 Dear Parents and Carers
Please find below my usual updates on events that have taken place this week, information, letters etc.
Best wishes for the weekend,
Ms Jo Butler
Headteacher

Good News

Jets Doubles Badminton Tournament
Nathanael Song and Douyhan Kwon in Year 7 have won third place for Jets Doubles Badminton Tournament on Friday 22 February, which was held at Gordano School in Portishead.
University of Bristol Linguistic Trip
On Wednesday 6 March, 18 great linguists amongst our Year 9 students were invited to take part in a languages event at the university of Bristol. Their engagement, their participation and the perfect behaviour they displayed throughout the day is a real credit to Cotham School and they made their teachers proud. To read an account of the day from one of our students, please click here.
Thank you to the teachers who made this happen. Miss Duffas, Miss Andouard, Maria (German FLA) and Mr Hardwick. Merci/Danke
World Book Day 2019
Much fun was had by students and staff alike as many of us dressed as book characters. The costume competition was won by two students from 7CBR: Louis Baker Vickers, who survived a day as The Invisible Man, and George Harding who was his namesake from George's Marvellous Medicine.
Students had assemblies, last week, on the positive links between reading and well-being in which there were also student and staff readings. In all, Cotham's World Book Day raised £160 for Book Aid International. Thanks for all your support.

Important Information for Parents/Carers

INSET Days
A reminder that the remaining school INSET days for this year are as follows:
Wednesday 13 March
Friday 5 April
Wednesday 10 July
The School will be closed to students for staff training on these dates.
Important- Our Mobile Phone Policy
We are finding an increasing number of mobile phones being held at the Student Reception as a minority of students are breaking school rules and are using their mobile phones during school hours. We operate a very reasonable mobile phone policy at Cotham for students in Years 7-11 of which all of our students are aware:
From the sound of first bell at 8.35a.m. until last bell at 3.05p.m. phones must be switched off (not on silent mode) and kept in students' school bags (not pockets)
Phones must not be used for any purpose (e.g. phoning, texting, surfing the internet, taking photos, taking films, listening to music) during the school day
Phones must not be taken into examinations.
If a student breaches these rules and they are seen by a member of staff:
The phone will be confiscated and placed in a safe at Student Reception.
The phone will be returned to the student's parents or carers the following day. It will need to be collected from Student Reception, no earlier than the end of the school day.
If a student persistently has a phone confiscated, the period for which it is retained will be extended, at the discretion of a member of the Senior Leadership Team.
We can make no exceptions to these rules.
The school accepts no responsibility or liability whatsoever, for theft, loss or damage to mobile phones. It is the responsibility of parents, carers and students to ensure mobile phones are properly insured.
Thangam Debbonaire Visit
Thangam Debbonaire visited school this Friday to see the work on cancer research our post 16 students had taken part in. Firstly she gave an insightful talk to a range of students from all year groups. The talk was on current government affairs, followed by a Q&A where our students took the opportunity to ask some brilliant questions.
Thangam then met the group of Post 16 students from Authentic Biology and spoke to them about their nationally recognized project. She seemed delighted at the knowledge and passion our students had shown regarding higher level scientific research and meaningful contributions to researching genes associated with cancer.
The students were a real credit to the school and we hope that this project can continue to develop in the future and inspire the next generation of geneticists. Click here to see photos for Thangham's visit.
Sigma House Disco
Year 7 and 8 Disco tickets are now on sale for £3 and are available on Wise Pay or from Mrs Arnold. The disco will go ahead on Friday 22 March at 5-7pm.
All money raised will be split between the four house charities.
Little Shop of Horrors 13-16 March 2019
We are excited to announce that Cotham's school musical this year is "Little Shop of Horrors". Featuring students from all year groups (Cast list here) and co-directed by Peggy Edwards and Esther Weisselberg from Year 13, this should not be missed!
Skid Row florist's clerk Seymour Krelborn is too shy to declare his love for his co-worker Audrey – until a mysterious exotic plant brings him unexpected fame and fortune. There's just one problem: the plant has ambitions of its own, and it thrives on only one food – human blood.
Awesome puppets, a tender love story and a fabulous sixties-style score all combine to make this deliciously campy sci-fi spoof a "monster" hit!
Tickets are on sale now and can be purchased through wisepay. Adults £8, Concessions £5 - All proceeds go towards covering the costs of putting on this large scale musical.
Be there or be (potentially) eaten by a giant alien plant!
Click here to view the poster and cast list
Airbus Community Award
Please show your support for Cotham School Sigma House Charity, The Rainbow Centre for Children, by collecting "Airbus Community Award" tokens which are featured daily in the Bristol Post Newspaper until 18 March.
We are collecting votes for The Rainbow Centre for Children, a local bereavement Charity that supports children, young people and their families suffering from the loss of a parent or sibling. They are one of 30 charities hoping to gain a share of the £20,000 prize.The charity who receives the most votes will win £7,000.
Please collect up your token votes and at the end of the voting period on 18 March, take them into the registered group, The Rainbow Centre, 27 Lilymead Avenue, Bristol, BS4 2BY or post them in one package along with one completed voting form to Bristol Post. (The form and address can be found in the paper with the token.) We are also collecting them into our school collection box at the Reception.
Votes need to be in by March 18, thank you for your support.
GWR Student Rail Ticketing Scheme
We would like to remind parents/carers that Severnside Community Rail Partnership are continuing the Student Rail Ticketing Scheme in 2019. This partnership offers our students and families a huge saving on rail travel to and from the school on the Severnside Community Rail. An annual ticket costs £40.00 or families can buy their ticket in instalments. All the details are contained in the letter and application form here.
Online Safety Newsletter: March 2019
Click here to view March's Newsletter.
Word of the week
Each week at Cotham we promote a Word of the Week. This is to help students expand the range of vocabulary they use. Please find the word for the week ahead by clicking here.
Mental Health and Wellbeing
Off the Record
Off The Record have a new and exciting therapeutic group for people aged 11-18 called Shameless which is about body image and self-esteem. The group runs for 6 weeks and the first session runs in the evening on Tuesday 12 March. The event will be held at Off The Record, 2 Horfield Road, Bristol, BS2 8EA (Just around the corner from the BRI).
Students can find out more information on how to sign up by clicking here.

Key Stage 3 News

Year 9
Year 9 Exams: weeks commencing Monday 18 and 25 March
Year 9 exams take place in the weeks commencing Monday 18 March and 25 March.
Details of the style and content of each exam, as well as details of revision are given in the document here.
A useful Revision Timetable template can be found here.
The exams represent a good opportunity for students to get used to the demands of reformed (ie. much more challenging...) GCSEs. Please encourage your child to complete revision in advance of their exams.
Science revision - year 9
Science revision will run after school in the lead up to the y9 science exam. Come up to the science office and you will be shown which room to go to.
Wednesday 20 March - B1
Thursday 21 March - B2 and B3
Friday 22 March - C1
Monday 25 March - C2
Tuesday 26 March - P1
Wednesday 27 March - P2 and P

Key Stage 4 News

Year 10
Year 10 Science mock: Chemistry Paper 1 (units C1 - C7) on Thursday 21 March
A reminder that revision guides and workbooks are available on wisepay for students yet to buy them.
The next Year 10 Science mock is the Chemistry paper 1 (units C1 - C7) on Thursday 21 March. Students should now start preparing for this.
Mock Exam Entry Tiers:
All students who achieved a Grade 5 or higher on the physics mock exam will sit a Higher paper.
All students who achieved up to grade 4 will sit a Foundation paper.
NB: Guidance from the exam board AQA is that students must show that they are working at a strong Grade 5 before they should sit a Higher paper.
Final GCSE entries will not be made until this time next year so there is time for students to gain confidence, exam technique etc before a final decision is made on exam entry tier in Year 11.
Science revision - year 10
Science revision will run after school in the lead up to the next y10 science mock exam (21st March). Come up to the science office and you will be shown which room to go to.
Tuesday 12 March - C1 and C2
Thursday 14 March - C3
Friday 15 March - C4
Tuesday 19 March - C5
Wednesday 20 March - C6 and C7
Work Experience
A one week long work placement within a local Civil Service department, this might include for example; the Home Office, the Department for Work and Pensions or HMRC depending on your location.
The chance to learn broad employability skills including team working, communication skills, time keeping and taking part in tasks.
Valuable networking opportunities.
An insight into the role of government, the work of Civil Servants and how it affects people on a daily basis.
Increased confidence and raised aspirations.
Information about Civil Service entry routes and Talent Programmes such as Apprenticeship Scheme and Civil Service Fast Stream.
The roles which we have in your area are in the Ministry of Defence however each role will be in a different department.
MOD Engineering
The roles will allow individuals to gain an understanding of what is involved in technological problem-solving capability of engineering (including science and technology) and the organisational, administrative, and planning abilities of management in order to oversee complex enterprises from conception to completion.
MOD Strategic Supplier Management Team
The role forms part of the Strategic Supplier Management (SSM) Team, whose primary objective is to influence the behaviours of MOD suppliers and commercial staff, to develop a robust, competitive, innovative and capable supply chain for defence. The post holder will support the delivery of these policy objectives.
MOD Defence Statistics
Defence Statistics provide a range of statistical, economic, analytical, planning and consultancy services for the Ministry of Defence (MOD). The areas covered include military and civilian personnel, finance, logistics, equipment procurement, health of the Armed Forces, health and safety incidents, surveys of MOD personnel, and all National and Official Statistics on Defence.
Please make sure you fill in the School WEX week in the availability section 1-5 July 2019. Please fill in the attached an application form. Return completed applications to rebecca.pell@cabinetoffice.gov.uk.
SS Great Britain Trust
SS Great Britain Trust have been in touch to say how impressed they were with the Year 10 students they interviewed on Monday 11 February, who had expressed an interest in taking part in their work experience programme this summer at the SS Great Britain.
The trust have stated that it was a real pleasure to meet the students and were very impressed with the professional approach they took towards the interviews. Sadly they weren't able to accommodate all those that applied on the programme but want to thank all of the students for their interest and enthusiasm – they are a real credit to Cotham School.
They also give their thanks to Ms Arnold who organised the interviews and made sure everything ran smoothly on the day.
Year 11
Academic Monitoring Reports
This week, all parents/ carers have received a copy of their child's latest Academic Monitoring Report, which includes all their mock examination results. Please review this with your child. Students have been given clear feedback on areas of strength and weakness and should now have completed their exam improvement work.
Using a Challenge Plan to add 20 raw marks to a paper will often be enough to move a student up to the next grade.
GCSE Summer Exam Timetables
Individual GCSE Summer Exam Timetables were issued to all students this week. These show the dates and times of all their summer examinations. A further timetable will follow in April with their final tiers of entry and seating information.
The final GCSE exam is due to take place on Wednesday 19 June. However, the Joint Council for Qualifications have stipulated that all students must be available to sit exams until Wednesday 26th June. This is to ensure that any GCSE exams which may have to be cancelled as a result of a national emergency or disaster can be rescheduled. Please bear this date in mind if you are planning on booking a holiday for your child or your family.
Upgrade
Following the mock exams, teachers have revised their Upgrade revision session offers to provide support to those who would benefit most during the summer exam preparation process.
Students will be receiving new timetables on Monday that show which sessions they are expected to attend. Please ask your child to show you their timetable and support our staff by reminding them to attend.
More information about Upgrade can be found here
Supporting your child's revision
With just a few weeks left until final GCSE examinations begin, students' revision preparations should be well underway.
If you are worried that your child is not revising enough at home then the following may be helpful resources:
Support your child in preparing a summer exam preparation schedule so that they complete revision tasks - a template revision schedule can be found here
Ensure that all homework assignments are completed
Ensure your child has revision guides that can help to support their learning - a list of these is enclosed and attached here along with details of useful revision websites for each subject
Read and discuss the Examination Command Words document attached here with your child
See the Top Tips for Parents sheet attached here which contains useful reminders about 'what to do' and 'what not to do'
The End of Year 10 Mock exams and Year 11 November mock exams can be accessed here. There is value in students re-completing these and demonstrating that they can recall knowledge previously assessed, and act on feedback already given to them to improve their original raw mark. Our school challenge is for all students to increase their recent mock exam result by 10 or 15 or 20 marks over the February Revision week break.
Use the Subject 'to do' sheets which highlight the type of acts that students should be completing as part of their revision.
Essential Examination Equipment
Your child will be more successful in their summer exams if they have the correct equipment. Please support them by purchasing any missing items over the next month:
Clear pencil case, black
Pens x2, pencils x2, eraser, sharpener, ruler, protractor, compass,
highlighter, working non-programmable scientific calculator (preferably Casio).

Students taking examinations in Design and Technology will also need colour pencils.
Students should have calculators with them for Maths, Science, DT, Geography, Psychology, and Preparation for Working Life.
Study Leave and Leavers Arrangements
The final day of school for Year 11 students will be Friday 17th May. Lessons will continue as normal up until this date, after which students will only attend school to sit their remaining exams and attend subject
revision sessions (details of which will be communicated in May). Students must continue to wear full school uniform, including their lanyard, whenever they are on the school site.
Our Year 11 Leavers' Assembly will be held on Friday 14th June, following the morning's physics exam. The assembly will finish before 1pm and all Year 11 will leave the school by that time. We ask that students return
all textbooks to the library prior to the Leavers' Assembly.
Off the record
We were delighted to welcome Off the Record into school on Monday 4th March to run some of their Resilience Lab workshops with the B side of the year group. Students learned how to identify and challenge negative thinking traps and discussed the importance of reaching out for help when it is needed. Students engaged brilliantly with the sessions and were able to build valuable skills around maintaining good mental health and building resilience. OTR will be back on Monday 18th March to see the A side tutor groups.
Year 11 Prom
Tickets are selling outcast, has you child got their ticket yet? Payment can be made by Wisepay under General Payments or by cash at the office. Please click here for the letter that must be be signed in order for your child to attend.

Post-16 News

The Post 16 Reflection Room
The post 16 reflection room has been well used this week. We are pleased that students are finding it a valuable space. Please do remind your son/daughter that it is available and can be opened by any member of the Post 16 team.
UCAS
The UCAS convention is Tuesday 12 March leaving at 12.45pm and returning soon after the end of school. Your son/daughter does not need to complete a green absence in advance form as I have notified reception but they MUST have submitted their consent form signed by you otherwise they will be unable to attend. If they need a consent form please ask them to see Mrs Kempt ASAP.
Year 12 Oxbridge Trip
The Oxbridge trip will be on Tuesday 19 March.If your son/daughter would like to attend please ask them to see Mrs Kempt. If you have paid on WISEPAY please ensure that you have submitted the consent form.
Year 12 Parents Evening
Year 12 Parents Evening (PEG) is at RGS on 28 March 4.30 - 7pm. Please ensure that your son/daughter has made appointments with their teachers. The Academic Mentors, Careers Advisers and Student Services Leaders will also be present all evening should you wish to see them.
For more information from Post 16 please see the "This Term at Post 16" section of the website

Careers

National Careers Week - 4-8 March
We welcomed outside speakers into the House assemblies this week as follows. Our house prefects asked them similar questions and there will be more about their answers and the other NCW activities in next week's House reports.
Monday 4 March (Delta house)
Focus: Business Services and Environmental Protection
Katie Stevens, Director of Greyhound Accountancy, and Siriol Leach, Policy Adviser for Wildlife, International, Climate and Forestry Policy at DEFRA
Tuesday 5 March (Gamma house)
Focus: Digital / high-tech and Small start-ups (both based in Engine Shed, a hub in Bristol's innovative Temple Quarter)
Emily Kent, Director of One Big Circle, and Azir Razzak, Managing Director of A2ZTech
Wednesday 6 March (Omega house)
Focus: Social Services and Local Government
Charlene Richardson, Senior Manager for Youth, Serious Violence and Child Exploitation and Marlene McAllister, Youth and Community Worker, both from Bristol City Council
Thursday 7 March (Sigma house)
Focus: Creative & Media
Correll Johnson, Production Technician Assistant, and Darrel Lambert, Junior Production Coordinator, both from Icon Films
To enable students to hear what was said in other assemblies there are films of all the speakers on Google Classroom. We would like to thank our new Enterprise Advisor, Sibusiso Tshabalala, who suggested five of these speakers.
National Apprenticeship Week 4-8 March has lots of new opportunities. You can visit there website here.
Explore Law
Students in Years 10-13 can find out what it's like to be a solicitor or barrister through interactive law taster workshops and a Q&A panel with trainee solicitors.This will run from 4.00-6.45pm at the University of Law (BS1 6HG) on Wednesday 13 March.Email hannah.pike@law.ac.uk to book.
Osborne Clarke
A local law firm (BS1 6EG) are holding an open evening from on Wednesday 13 March at 6.00pm to tell students and parents/carers about their Solicitor Apprenticeship schemes. To book a place email apprenticeships@osborneclarke.com.
NHS Careers Evening
The free NHS Careers Evening includes NHS apprenticeships for students and parents/carers on Thursday 14 March at the Learning and Research Building at Southmead Hospital (BS10 5NB) from 5.30-8.00pm.
Study Abroad event
On Sunday 17 March from 10.30am-2.00pm meet international universities and find out how to apply and learn about study abroad options at Bristol Novotel Hotel (BS1 6HY). Book free tickets here
Students looking for Saturday jobs can find good advice through this website

Subject Area News

Science
Science week
It is science week next week and students will be doing some exciting practicals in lessons. If you have any plastic drinks bottles at home in your recycling please bring them up to the science prep room so we can make rockets from them - the more the better!
Steam
KS3 Reminders
Students should be checking and getting their ingredients ready the night before the lesson. If scales are at home weighing and measuring are applications of numeracy ahead of the lesson. Recipe lists on paper are issued and are also on Google Classroom; we have sent an email with all cooking dates for students currently studying Food Science as part of Design and Technology. Final dishes are kept in the food room until the end of the school day we will store appropriately any food item for two days after. Boxes and containers left behind are washed but we can reunite these with students if they are labelled.
We welcome any donations of empty plastic sweet containers, ramekin dishes, if you are replacing any kitchen equipment it might be of use to us so please contact school and let us know.
Visual Arts
Charlie Baker's artwork (Yr.11) features in Work of the week ; this is a work in progress in response to his exam unit titled 'texture'. You can view the work here.
Performing Arts
Are you passionate about performing?
Click here to find out about how you can get involved with 'Perform for Life' a locally-based Arts organisation, and earn UCAS points, work towards grades with LAMDA, Trinity College London and Rockschool London working with friendly, qualified and experienced tutors. They offer children and young people the opportunity to develop and refine their performance skills, while at the same time building additional life skills and embracing their individuality. Students can focus on Acting, Devising Drama, Public Speaking, Singing, Musical Theatre or Performance Arts.
Cassian Coster of 7CBR is appearing at the Bristol Old Vic in Shakespeare's Richard III, as one of the Princes in the Tower. It's on Friday 8 and Saturday 9 March, and also the first two weeks in April.
PE
Extra-Curricular Clubs
Please click here for a list of all of the PE/Sports Extra-Curricular activities available to students in Term 4.
Please click here to view all of our recent results and the upcoming fixtures for the week ahead.
Follow @CothamPE on Twitter for all the latest news and updates from the Cotham School PE department

Community News

Parents/Carers Group
Docklands Youth Centre are hosting a Parents and Carers Group on Monday 4 March at 6pm. For more information click here.
Lifecycle Uk - Transforming lives through cycling
Click here to find out about Advanced Cycle training lessons available during the February Half Term.
Together Through Music
As you may know, Bristol Plays Music and Colston Hall are run by Bristol Music Trust, who have launched a consultation on the future vision for Colston Hall following the £48.8 million redevelopment of the venue over the next two years.
They have opened a public survey to gather feedback on how people engage with the Hall. They are keen to hear from as many people as possible and have set up a dedicated link to the survey for you to take part. Please follow the link here.
Families in Focus
Families in Focus are running courses in Bristol during Term 4. For more information click here.
Bristol Plays Music
Find out what Bristol Plays Music are up to over March and April by clicking here.

Useful quick links

Keep us posted
It would be great if parents/carers could let the school know of any student achievements outside of school please. It is sometimes only at parents' evenings that we find out what students are doing in their own time. Email us: weeklymailing@cotham.bristol.sch.uk
Key Dates
Please click here to view the Key Dates by year group for the 2018-19 academic year. You will be notified of any significant changes/additions, but please can we ask that you check the dates for your year group regularly as they are subject to change.
Parents' Evening Booking System (PES)
Please click here to access the online appointment booking system for Parents Evenings/Family Consultation Day. Please note this is only available if an event is due. We will email you to let you know when booking opens. If you encounter any difficulties with booking your appointments please contact the admin team by email to adminoffice@cotham.bristol.sch.uk or tel: 0117 919 8000
Assessment Calendars for KS3
We have created Assessment Calendars for 2018/19. Each Assessment Calendar contains details of the class assessments that will take place in their subjects. The final column contains a link which gives information about each of the assessments.
To see the Year 7 Assessment Calendar click here
To see the Year 8 Assessment Calendar click here
To see the Year 9 Assessment Calendar click here
To see the Year 10 Assessment Calendar click here
To see the Year 11 Assessment Calendar click here
Parents Information Sessions
KS3 Parent Information Session 4th October 2018 - click here
KS4 Year 10 Parent Information Session 20th November 2018 - click here
KS4 Year 11 Parent Information Session 8th November 2018 - click here
KS4 Year 11 Parent Information Morning Session 7th February 2019 - click here
KS4 Year 11 Parent 'Post Mock' Information Session 7th February 2019 - click here
Homework and Independent Learning timetables
Please see the attached link describing our Homework Guidelines for students in the school.
In KS3 we do not have homework timetables.
Homework and Independent Learning Timetable for Year 10
Homework and Independent Learning Timetable for Year 11
WisePay
WisePay is the Online Payment Service at Cotham School which allows you to pay for trips and visits as well as to add credit to your child's Cashless Catering account. Click here to access your account now. If you have any queries about your account please contact the support team by email to wisepay@cotham.bristol.sch.uk
School Uniform
Please click here to view the compulsory uniform requirements of Cotham School, along with visual examples of uniform and details of our uniform suppliers.
GCSEpod
Click here to access GCSEpod which contains lots of revision resources for most GCSEs. Students self register through the website using their name and school details.
SAM Learning
Click here to access SAM learning which contains revision exercises and self marking quizzes with automatic progress tracking and reporting. Please use the Centre ID: BS6CS. Student usernames and passwords are their birthday formatted as DDMMYY, followed by their Initials.
Diagnostic Questions
Click here to access. This site contains self marking quizzes with lots of templates including some from a range of exam boards. It's easy to make your own questions in Microsoft PowerPoint too. Students sign up with their school Google account using the G+ button to automatically create a school account
Edmodo
Edmodo is an application that can be used on both mobile devices and in the web environment to create an online community of practice. Edmodo is a free social learning platform that allows students to access the course content uploaded by their teachers.
Linguascope
The Language Learning Platform
Seneca
All students and teachers now have free access to Seneca - a revision and homework platform making studying more fun. Seneca is an interactive way to learn official course content. Their web app covers 150+ exam board specific courses condensing what students need to know for their exams. The software is able to identify gaps in learning. For instance, when you get a question wrong, the platform will repeat the topic in different formats and their smart algorithm has proven to make students remember topics 2x faster. Seneca is totally free for students, teacher and parents. You can sign up via senecalearning.com
Free School Meals
https://www.cloudforedu.org.uk/ofsm/sims to check if your child is eligible for Free School Meals or to apply.
Contact Details
Please note the following contact numbers and email addresses if you need to contact the school:
Main Reception - 0117 919 8000/ reception@cotham.bristol.sch.uk
Student Reception - 0117 919 8013 / studentreception@cotham.bristol.sch.uk
Absence - 0117 919 8019/ absence@cotham.bristol.sch.uk
NBP16C - 0117 919 8100/ post16@cotham.bristol.sch.uk
Finance - 0117 919 8016/ finance@cotham.bristol.sch.uk
Exams - 0117 919 8024/ examsassistant@cotham.bristol.sch.uk
Admin Office - 01179198053/ adminoffice@cotham.bristol.sch.uk