Weekly Mailing - Friday 3 May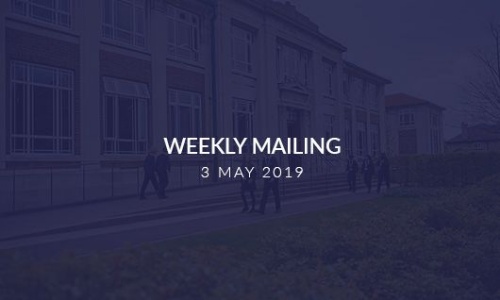 Dear Parents and Carers

Please find below this week's important information for Parents/Carers and students as well as updates on School events, activities and opportunities for your reference.

Best wishes for the Bank Holiday weekend,

Ms Jo Butler
Headteacher


Important Information for Parents/Carers

Important Information about changes to the Timing of the School Day from September 2019
From 1 September 2019 the Governors have agreed with the Headteacher's proposal to make small changes to the structure and end of the standard school day. This is not a cost saving measure and will not result in a loss of any teaching time for our students or numbers of lessons. Click here to see and comment on the Headteacher's proposal.

Ramadan
The month of Ramadan will soon start and I want to take this opportunity to wish those of you observing it a Ramadhan al-mubarak. I know this will be a very special time for many of you and your children. As you are aware the fasts this year will be very long and can be difficult for some children. I know that you will have thought carefully about whether your child fasts and school will be respectful of your decisions. At school we very much appreciate that Ramadan is an extremely important month for Muslims and we wish to work with parents and carers to ensure that we support children's experience.

As I know you will be aware, Muslims are encouraged not to use Ramadan as an opportunity to avoid aspects of normal life but rather to cope with normal life under a different set of guidelines. Therefore, we will also be delivering our curriculum in its entirety to all Cotham students according to our usual format and will not be making any exceptions or exemptions to this. Further information in the link here

The letter has also been translated into Somali here

INSET Days
A reminder that the final school INSET day for this year is on Wednesday 10 July. The School will be closed to students for staff training on that day.


Online Safety Newsletter: May 2019

Click here to view May's Newsletter.


Free School Meals
Please click here to check if your child is eligible for Free School Meals or to apply.
GWR Student Rail Ticketing Scheme
We would like to remind parents/carers that Severnside Community Rail Partnership are continuing the Student Rail Ticketing Scheme in 2019. This partnership offers our students and families a huge saving on rail travel to and from the school on the Severnside Community Rail. An annual ticket costs £40.00 or families can buy their ticket in instalments. All the details are contained in the letter and application form here.

School Uniform
Our Parent/Carer Committee are always looking for volunteers to sell Uniform on Parents Evenings and afterschool on the first Friday of every Term, if you can spare a few hours please contact Main Reception.
Lost Property
We have a display of Lost Property mainly jackets/coats in Student Reception, Cotham Road, with the better weather on it's way (we hope!) any items not claimed during the first 2 weeks of the new term will be donated to the Sigma House textile collection and the money donated to their House Charity. Parents/Carers please feel free to come up during Student Reception opening hours to look through the Lost Property rail.
Library Books
If your child is feeling anxious about exams then there are books available in the library which provide coping mechanisms. Click here to find out more.

Word of the week
Each week at Cotham we promote a Word of the Week. This is to help students expand the range of vocabulary they use. Please find the word for the week ahead by clicking here.

Good News

Pulse Youth Dance at Stages
On Sunday 28 April, the youth dance company Pulse that is based at Cotham School performed a fantastic dance at the annual Stages performance. They had worked incredibly hard in the run up to the performance and were rewarded with a high energy piece of work that explores African rhythms and movements.

Congratulations to all who took part !

There are currently four places available in Pulse which is open for Y6-8. Please talk to your dance teachers if interested.

Subject Area News

Visual Arts
Students in Year 7 have been working hard on a Futurism Project. Flo Elvin has created a beautiful pencil drawing as part of the project, which you can view by clicking here.


PE
PE Kit
Reminder to parents/carers that if students are injured or ill they still need to bring their PE kit for their PE lesson. This is because they can take on a different role such as a coach and if it is raining, they can change back into their dry school uniform.

Extra-Curricular Clubs
Please click here for a list of all of the PE/Sports Extra-Curricular activities available to students in Term 5.
Please click here to view all of our recent results and the upcoming fixtures for the week ahead.
Follow @CothamPE on Twitter for all the latest news and updates from the Cotham School PE department


Key Stage 3 News

Year 7
Year 7 End of Year Exams take place from Thursday 6 June to Friday 14 June. The End of Year Exams represent an important opportunity for your child to become used to preparing for exams and consolidating their learning of the content studied in Year 7.
A document detailing the format of each of their exams and suggested preparation and revision activities can be found in the attached link.
This will allow all of our parents and carers to support their child with their revision.
A timetable showing the dates and times of each of their exams will be shared with parents soon.

Key Stage 4 News

Year 11
GSCE examinations are now just days away. We hope each and every one of our students is preparing thoroughly so they are able to do their best this summer. Below is all the key information for the the exam period.

GCSE Summer Exam Timetables
Individual GCSE Summer Exam Timetables have been issued to students. These show the dates and times of all their summer examinations. A further timetable will follow shortly with their final tiers of entry and seating information.

Important!
The final GCSE exam is due to take place on Wednesday 19 June. However, the Joint Council for Qualifications have stipulated that all students must be available to sit exams until Wednesday 26 June. This is to ensure that any GCSE exams which may have to be cancelled as a result of a national emergency or disaster can be rescheduled. Please bear this date in mind if you are planning on booking a holiday for your child or your family.

Essential Examination Equipment
Your child will be more successful in their summer exams if they have the correct equipment. Please support them by purchasing any missing items over the next month:
Clear pencil case, black
Pens x2, pencils x2, eraser, sharpener, ruler, protractor, compass,
highlighter, working non-programmable scientific calculator (preferably Casio).
Students taking examinations in Design and Technology will also need coloured pencils.
Students should have calculators with them for Maths, Science, DT, Geography, Psychology, and Preparation for Working Life.
Study Leave and Leavers' Arrangements
The final day of school for Year 11 students will be Friday 17 May. Lessons will continue as normal up until this date, after which students will only attend school to sit their remaining exams and attend exam preparation sessions. These sessions will be offered on an invite only basis. Parents/ carers will shortly receive a letter detailing any classes your child should attend. A timetable can be found here.
A limited number of library passes will be available for independent study each day. These are available on a first come first served basis. Students not attending exam preparation sessions must sign in and base themselves in the library with a library pass.
Students must continue to wear full school uniform, including their lanyard, whenever they are on the school site.
Our Year 11 Leavers' Assembly will be held on Friday 14 June, following the morning's physics exam. The assembly will finish before 1pm and all Year 11 will leave the school by that time. We ask that students return
all textbooks to the library prior to the Leavers' Assembly.

Supporting your child's revision
Some helpful resources to support your child's final revision preparations:
English Revision
The timetable for English Twilight Open Door Revision for Term 5 is now available. Please click here to view the timetable.

Student Well-being
Maintaining a healthy diet, getting plenty of sleep, taking regular exercise and making time for relaxation will all help your child manage the demands of GCSE revision and the exam season. See some top tips on how to help your child 'prepare to perform' here.


Year 11 Prom
The event is now in its final stages of preparation and seems sure to be a wonderful evening for all.
Please note: there are a number of students who have purchased a ticket but not yet returned a signed behaviour contract. These must be completed for your child to be granted entry to the event.

Post 16 News

Year 12 Mocks
Well done and thank you to all the year 12s for being so well behaved and punctual for their mock exams the past week. A reminder that results will be issued week beginning 13 May and there will be a report emailed home soon after.

Year 12 Progression
Year 12 students must keep checking their emails as there will be communication from Mrs Potter with guidance about their progression into year 13 and what happens if they achieve a U grade in any of their mocks.

Year 12 Core Programme
Next week's brilliant TIGER team will deliver a session on gender and sexuality in the media and looking at the impact that the representation of sex and relationships has on real life. Click here for more.

Year 12 SEND Students
there is a drop in session for all those students who have SEND or who think that they may need to be tested for extra time. Please come to G101 at lunchtime on Friday 10 May for more information.

Year 13
Year 13 Leavers assembly is on their last day, which is May 17. Students will meet in Charnwood canteen at break time and walk to Cotham School for their assembly. They are then free to go at lunchtime. There are lessons as normal lessons 1 and 2 that day.
Mental Health and Wellbeing
A reminder that there is a school counsellor, a Post 16 Reflection room and many places that your son/daughter can study alone should they wish to. Please see Mrs Kempt for more information. There is a also a mindfulness drop in session on a Thursday lunchtime.

For more information from Post 16 please see the "This Term at Post 16" section of the website here.
Staff Vacancies
Cotham School are currently recruiting new members of staff to work with us at the school. We are currently looking to hire an Assistant IT Services Manager and 3 x Learning Co-ordinators at Cotham School.

For more information about school roles please click here.


Student Careers Update

Welcome to our new Careers Adviser/ Leader at Cotham and NBP16 Suzanne Paice. Suzanne has succeeded our Careers Adviser Kerry Chester who retired last term.

Ms Paice has over 20 years experience in Careers provision ranging from National Careers Service days at Connexions, and Careers Leader at Bristol Brunel Academy. Ms Paice is qualified to level 6 in Careers Guidance (as recommended by Good Career Guidance) and is able to demonstrate a wealth of knowledge around all aspects of Careers, education, information and Guidance (C.E.I.A.G.).

Ms Paice will be meeting students with immediate effect starting with KS4 students and Post-16 leavers.

Please keep your eyes on the Careers section of the website for updates.

Engine Shed
Engine Shed is working with ADLIB and the University of Bristol's Jean Golding Institute on an event on 20 May, aimed at secondary, FE and university undergraduate students. It will involve some hands-on work so that students really see data being brought to life.

Details of the event be found here and students can book a place here. There are only 40 places for students.

Bristol Jobs Fair
Bristol Jobs Fair will be held on Wednesday 22 May 2019 at the Colston Hall from 10.00a.m. to 2.00p.m. There will be more than 25 local employers attending this event.

The Jobs Fair is free to attend for those looking to gain employment and suitable for anyone ages 16- 65.
Please find attached a poster for the upcoming Jobs Fair here. You can also click here for the Bristol Jobs Fair Facebook event.

Bristol City Council
Bristol City Council's Bristol Post 16 Participation Team have launched a new website with lots of useful information. Click here for more information.
Apprenticeships
City of Bristol College Apprenticeship Bulletin and South West Apprenticeship Company have apprenticeship vacancies here and here.

Other apprenticeships can be found through the Gov website here, Target Careers, Success at School , Get My First Job and Not Going to Uni.

City College of Bristol
City College of Bristol have introduced a Foundation Degree in Educational Support. Click here to find out more.

Students looking for Saturday jobs can find good advice through this website

Important- Our Mobile Phone Policy
Mobile phones and teenage mental health

Over the last few weeks there has been much media coverage about the topic of 'students and their mobile phones in school' and whether they should be banned completely. There have also been articles on the dangerous effect that social media, mostly accessed by mobile phones, can have on young people's' mental health with a number of very sad personal stories.

The Department for Education (DfE) has also raised concerns. Damian Hinds, Education Secretary, has said that it should be down to individual Headteachers to set their own mobile phone policy although the DfE would support any school which did choose to ban student mobile phones.

At Cotham School we firmly believe that mobile phones, whilst a really useful addition to modern life, can be detrimental to students learning, relationships and mental health and that they are not needed in school. We believe that young people should be learning and socialising in school without the pressures and distractions of mobiles.

However, we have adopted a sensible policy which we expect all students in Years 7-11 to comply with and parents and carers to support us with.
From the sound of first bell at 8.35a.m. until last bell at 3.05p.m. phones must be switched off (not on silent mode) and kept in students' school bags (not pockets)
Phones must not be used for any purpose (e.g. phoning, texting, surfing the internet, taking photos, taking films, listening to music) during the school day
Phones must not be taken into examinations.
If a student breaches these rules and they are seen by a member of staff:
The phone will be confiscated and placed in a safe at Student Reception.
The phone will be returned to the student's parents or carers the following day. It will need to be collected from Student Reception, no earlier than the end of the school day.
If a student persistently has a phone confiscated, the period for which it is retained will be extended, at the discretion of a member of the Senior Leadership Team.
We can make no exceptions to these rules.

The school accepts no responsibility or liability whatsoever, for theft, loss or damage to mobile phones. It is the responsibility of parents, carers and students to ensure mobile phones are properly insured.

Community News

Foster Carer Takeover
This Foster Care Fortnight, 13 - 26 May, the foster carers are taking over! Between 10a.m. and 12.00p.m. each day during the fortnight an expert - aka a foster carer - will be answering our enquiry line on 0117 353 4200. For more details visit our fostering events page. Bristol City Council is in need of foster carers to ensure that children coming into care can stay local to their communities and schools. #FCF19

Online Consultation: Safeguarding and Community Safety Partnerships Transformation
As part of the Safeguarding and Community Safety Partnerships Transformation project involving proposed changes to Bristol partnership boards we are now launching a public consultation for the Bristol population.

They want to hear public opinions on the proposed changes, as well as priorities, improvements to services and how to work better with the public. An online questionnaire is now live and can be found here.

This will remain open until 10 May. If you require this questionnaire in Easy Read or a different format, please contact Bristol Safeguarding Children Board on 0117 35 76257 or bsab@bristol.gov.uk.

They will also be holding a number of drop-in sessions where members of the public can attend to hear about the plans and let us know their priorities about the future in discussion. Click hereto view the drop in sessions, where you can hear about the plans.

Junior Bake Off
Love Productions, the team behind the UK's much loved baking show The Great British Bake Off and The Great British Sewing Bee, are delighted to announce that a 5th Series of Junior Bake Off is coming soon and applications are now open for this new Channel 4 show!

They are seeking talented young bakers between 9-15 Years old. Filming is due to take place from late July 2019 and applications close on Monday 6 May 2019.

If you know of any budding young bakers that you think should apply then please encourage them to do so through this link.

Please do spread the word about this very exciting opportunity! It would be amazing to have a student from Cotham School involved in the show. Click here for more information.

This is Classical Bristol
Click here to see Issue 29 of 'This is Classical Bristol' which features a series of boastful performances from performers such as Bristol Bach Choir.


Useful quick links

Keep us posted
It would be great if parents/carers could let the school know of any student achievements outside of school please. It is sometimes only at parents' evenings that we find out what students are doing in their own time. Email us: weeklymailing@cotham.bristol.sch.uk
Key Dates
Please click here to view the Key Dates by year group for the 2018-19 academic year. You will be notified of any significant changes/additions, but please can we ask that you check the dates for your year group regularly as they are subject to change.
Parents' Evening Booking System (PES)
Please click here to access the online appointment booking system for Parents Evenings/Family Consultation Day. Please note this is only available if an event is due. We will email you to let you know when booking opens. If you encounter any difficulties with booking your appointments please contact the admin team by email to adminoffice@cotham.bristol.sch.uk or tel: 0117 919 8000
Assessment Calendars for KS3
We have created Assessment Calendars for 2018/19. Each Assessment Calendar contains details of the class assessments that will take place in their subjects. The final column contains a link which gives information about each of the assessments.
To see the Year 7 Assessment Calendar click here
To see the Year 8 Assessment Calendar click here
To see the Year 9 Assessment Calendar click here
To see the Year 10 Assessment Calendar click here
To see the Year 11 Assessment Calendar click here
Parents Information Sessions
KS3 Parent Information Session 4th October 2018 - click here
KS4 Year 10 Parent Information Session 20th November 2018 - click here
KS4 Year 11 Parent Information Session 8th November 2018 - click here
KS4 Year 11 Parent Information Morning Session 7th February 2019 - click here
KS4 Year 11 Parent 'Post Mock' Information Session 7th February 2019 - click here
Homework and Independent Learning timetables
Please see the attached link describing our Homework Guidelines for students in the school.
In KS3 we do not have homework timetables.
Homework and Independent Learning Timetable for Year 10
Homework and Independent Learning Timetable for Year 11
WisePay
WisePay is the Online Payment Service at Cotham School which allows you to pay for trips and visits as well as to add credit to your child's Cashless Catering account. Click here to access your account now. If you have any queries about your account please contact the support team by email to wisepay@cotham.bristol.sch.uk
School Uniform
Please click here to view the compulsory uniform requirements of Cotham School, along with visual examples of uniform and details of our uniform suppliers.
GCSEpod
Click here to access GCSEpod which contains lots of revision resources for most GCSEs. Students self register through the website using their name and school details.
Diagnostic Questions
Click here to access. This site contains self marking quizzes with lots of templates including some from a range of exam boards. It's easy to make your own questions in Microsoft PowerPoint too. Students sign up with their school Google account using the G+ button to automatically create a school account
Edmodo
Edmodo is an application that can be used on both mobile devices and in the web environment to create an online community of practice. Edmodo is a free social learning platform that allows students to access the course content uploaded by their teachers. https://www.edmodo.com
Seneca
All students and teachers now have free access to Seneca - a revision and homework platform making studying more fun. Seneca is an interactive way to learn official course content. Their web app covers 150+ exam board specific courses condensing what students need to know for their exams. The software is able to identify gaps in learning. For instance, when you get a question wrong, the platform will repeat the topic in different formats and their smart algorithm has proven to make students remember topics 2x faster. Seneca is totally free for students, teacher and parents. You can sign up via senecalearning.com
Contact Details
Please note the following contact numbers and email addresses if you need to contact the school:

Main Reception - 0117 919 8000/ reception@cotham.bristol.sch.uk
Student Reception - 0117 919 8013 / studentreception@cotham.bristol.sch.uk
Absence - 0117 919 8019/ absence@cotham.bristol.sch.uk
NBP16C - 0117 919 8100/ post16@cotham.bristol.sch.uk
Finance - 0117 919 8016/ finance@cotham.bristol.sch.uk
Exams - 0117 919 8024/ examsassistant@cotham.bristol.sch.uk
Admin Office - 01179198053/ adminoffice@cotham.bristol.sch.uk