Weekly Mailing - Friday 17 May 2019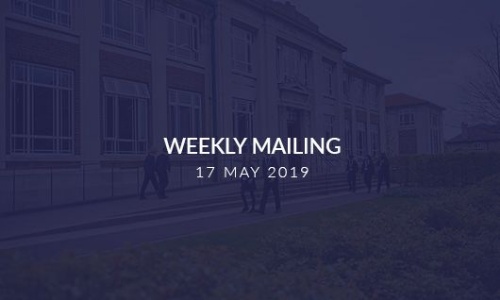 Dear Parents and Carers

Please find below this week's important information for Parents/Carers and students as well as updates on School events, activities and opportunities for your reference. Wishing you a relaxing weekend.

Ms Jo Butler
Headteacher


Good News

Maya Jama's visit to Cotham
Maya Jama, Alumni, Radio 1 DJ and TV presenter paid a surprise visit to Cotham this week with a number of her friends to raise awareness of Mental Health week. Maya was so happy to come back and it was a brilliant day. It goes without saying that our students were a real credit to themselves and the school.

Please see links below for online articles from her visit.
https://www.itv.com/news/westcountry/2019-05-16/bristol-born-radio-and-tv-presenter-maya-jama-speaks-to-students-about-their-mental-health/
https://www.bristolpost.co.uk/news/bristol-news/radio-1-dj-maya-jama-2873369

Ten Tors
Last weekend a large number of students took part in Ten Tors. This is an amazing event organised by the Army in which student navigate themselves independently around Dartmoor over various distances - 35 miles, 45 miles or 55 miles. The students have worked incredibly hard and trained all year for this incredible challenge. We had one team from Cotham but a large number this year entered externally with Scout or Cadet groups. It is a huge challenge that required a significant commitment, strong team work and some impressive skills. We are really proud of all who took part in this event. Please see some pictures from the event here.
Bishopston United under 14's Success
Congratulations to Freddie Bass (9GC) and his football team Bishopston United under 14's who won the Severn Valley league and the cup final last week. A great achievement.
Well done Aineais!
Last week Aineais Arango (11MAH), was presented with a cheque for £100 from the Bristol-Bordeaux Town Twinning Association for producing a fantastic video following his visit to Bordeaux. This will allow Aineais to buy a flight to Bordeaux to stay with his exchange partner.

Important Information for Parents/Carers

Can you help? Bristol Women's Commission Girls' Conference 2019
A call for women volunteers to assist with this conference. On 1 July some girls from Years 10 and 12 will be attending the Bristol Women's Commission Girls' Conference at Redmaids' School. Ms Butler is looking for women to support the 'Human Library' between 11.00am and 12.30pm please see linked letter for further information.

Cyberbullying Guide
An online organisation called HomeGuides has developed guidance to help children, parents and teachers to understand what cyberbullying is and what can be done about it. Download the guide here.

School Uniform Sale
Dates for your Diary
If you wish to purchase new school uniform, our Suppliers Harris', will be in Main Reception, Cotham Lawn Road on Thursday 6 June between 2.30pm – 4.00pm.
Our Parents Group will be running the 2nd hand uniform sale again located in Main Reception, Cotham Lawn Road on Friday 7 June between 2.30pm – 4.00pm.
We are always very glad to receive donations of 2nd hand uniform at Main Reception which can be sold at our regular sales throughout the year.


Subject Area News

Word of the week
Each week at Cotham we promote a Word of the Week. This is to help students expand the range of vocabulary they use. Please find the word for the week ahead by clicking here.

Visual Arts
Work of the Week

Lili Riley (11WN) has created a 3D pyramid, with photographs printed onto acetate and lit from inside. Click here to see Lili's work.

Herbie Delor (10ACL) has created a clever photo within a photo composition, click here to view Herbie's photo.

MFL
Onatti Theatre Productions
Next week we are pleased to welcome professional actors from Onatti to perform plays in French and German to our Year 7 and 8 students.
Year 7 and 8 German students- Wednesday 22 May, Period 1, in the Main Hall
Year 7 and 8 French students- Friday 24 May, Period 1, in the Main Hall
We are asking for a voluntary contribution of £3 towards the event, if you would like to contribute please pay through your wisepay account.

PE
Extra-Curricular Clubs
Please click here for a list of all of the PE/Sports Extra-Curricular activities available to students in Term 5.
Please click here to view all of our recent results and the upcoming fixtures for the week ahead.
Follow @CothamPE on Twitter for all the latest news and updates from the Cotham School PE department


Key Stage 3 News

Year 7
Year 7 End of Year Exams take place from Thursday 6 June to Friday 14 June. The End of Year Exams represent an important opportunity for your child to become used to preparing for exams and consolidating their learning of the content studied in Year 7.
A document detailing the format of each of their exams and suggested preparation and revision activities can be found in the attached link.

This will allow all of our parents and carers to support their child with their revision.
A timetable showing the dates and times of each of their exams can be seen here.

Year 9
Parents and Carers of Year 9 students are invited to join Mrs Wood and Ms Quirke for a 'Stepping Up to Year 10' information evening about how best to support their children as they make the transition from Key Stage 3 to 4 on Wednesday 12 June at 5.30pm in the Main Hall.


Key Stage 4 News

Year 10
Year 10 Mock Exams take place from Monday 17 June - Friday 28 June 2019.

Attached is a timetable for the exams. Some students will have clashes and so all students will be given a copy of their own timetable showing the confirmed times of each of their exams in the next 2 weeks. Students must carry this with them at all times during the mock exam season. Please encourage them to check their arrangements the night before each exam.

Information about the content and resources needed for these exams can be found here.

Exam preparation
Students will need to start preparation for the exams now and should organise their time using a revision timetable template can be found here. Students will need a full set of equipment for these exams including calculators, pens, pencils and rulers. These exams are important for our learners in getting experience in taking exams but are also a good indication of how our students are making progress in their GCSE courses. Please support your child to find quiet revision time.

Essential Examination Equipment
Your child will be more successful in their summer exams if they have the correct equipment. Please support them by purchasing any missing items over the next month:
Clear pencil case, black
Pens x2, pencils x2, eraser, sharpener, ruler, protractor, compass,
highlighter, working non-programmable scientific calculator (preferably Casio).
Students taking examinations in Design and Technology will also need coloured pencils.
Students should have calculators with them for Maths, Science, Design Technology, Geography and Psychology.
Year 11
Study Leave and Leavers' Arrangements
The final day of school for Year 11 students will be Friday 17 May. Lessons will continue as normal up until this date. After this date, students will only attend school to:

Attend an exam
Attend an Exam Preparation session
Complete independent revision in the library

GCSE Summer Exam Timetables
Individual GCSE Summer Exam Timetables have been issued to students. These show the dates and times of all their summer examinations. An electronic copy of their timetable can be found on the Year 11 Google Classroom page. If you're aware that your child has lost theirs they can find a copy of it there.

Exam Preparation Sessions
Exam Preparation sessions will be offered on an invite only basis. Parents/ carers have received a letter this week detailing any classes your child should attend. A timetable showing the dates and times of the sessions can be here. Please encourage your child to attend these sessions promptly and in their full school uniform. Their space will be given to someone else if they do not arrive on time. Full details of the sessions and the students invited to them can be found on the Year 11 Google Classroom page.

Exam Day Breakfasts
Over the study leave period, we would like to invite all Year 11 students to enjoy a free exam day breakfast before their morning exams in English, Maths, Science, History and Geography. Breakfast will be served in the canteen from 8:15am-8:30am. Your child's tutor and subject teachers will be present to welcome them, offer last minute advice and provide reassurance. We hope this gives our students the final boost they need to go in and do their absolute best! Poster can be viewed here

Independent Revision in the Library
A limited number of library passes will be available for independent study each day. These are available on a first come first served basis and need to be collected from Student Reception when students sign in.

Students must continue to wear full school uniform, including their lanyard, whenever they are on the school site.

Year 11 Textbook Returns
Please ensure that all resources on loan to Year 11 students are returned by Friday 14 June. The school needs to ensure that GCSE textbooks are available for the next year group therefore all books must be returned, even if your child plans to study at the Post-16 Centre.
Failure to return books will result in an invoice from school for payment. Please note that it is the student's responsibility to return all resources directly to the library. Please ask students to ensure they do not give books to teaching staff or leave them in exam rooms.
Please contact me if you have any queries on library@cotham.bristol.sch.uk
Miss Davies, Librarian

Year 11 Locker Key Returns
Please can all Year 11 students return their locker keys to the Facilities Office as soon as possible and no later than Friday 14th June. We have a limited number of lockers and want to make these available to our new students in September.

Important!
The final GCSE exam is due to take place on Wednesday 19 June. However, the Joint Council for Qualifications have stipulated that all students must be available to sit exams until Wednesday 26 June. This is to ensure that any GCSE exams which may have to be cancelled as a result of a national emergency or disaster can be rescheduled. Please bear this date in mind if you are planning on booking a holiday for your child or your family.

Essential Examination Equipment
Your child will be more successful in their summer exams if they have the correct equipment. Please support them by purchasing any missing items so that they are fully equipped for each of their exams:
Clear pencil case, black
Pens x2, pencils x2, eraser, sharpener, ruler, protractor, compass,
highlighter, working non-programmable scientific calculator (preferably Casio).
Students taking examinations in Design and Technology will also need coloured pencils.
Students should have calculators with them for Maths, Science, DT, Geography, Psychology, and Preparation for Working Life.

Student Well-being
Maintaining a healthy diet, getting plenty of sleep, taking regular exercise and making time for relaxation will all help your child manage the demands of GCSE revision and the exam season. See some top tips on how to help your child 'prepare to perform' here.


Post 16 News

Maya Jama Visit - Mental Health
The Student Leadership team were brilliant ambassadors for the NBP16 Centre speaking confidently and eloquently about the support we offer regarding students mental health and wellbeing.

Ten Tors
Well done to all the Ten Tors participants - the weather shone for you all!

Exam Information
Year 12 students should now have received their mock results and they have all received an email from Mrs Potter with guidance about their progression into year 13 and what happens if they achieved a U grade in any of their mocks.
If your son/daughter found that they ran out of time for their mock exams or think that they might have some barriers to their learning please ask them to see Mrs Kempt.
Summer exams- Final exam timetables with rooms and seat allocations are in Charnwood reception. Any issues with rooming/SEND needs/Exam Access Arrangements please see Mrs Kempt or Ms Potter
If there any concerns over the exam season please encourage your son/daughter to speak to Mrs Kempt or Mrs Potter - we understand what a stressful time this can be.

Student Wellbeing
Off the Record (OTR) are offering weekly Resilience Lab drop in sessions on Perry Road http://www.otrbristol.org.uk/what-we-do/resilience-lab/ there is no waiting list and all students are very welcome.
A reminder that there is a school counsellor, a Post 16 Reflection room and many places that your son/daughter can study alone should they wish to. Please see Mrs Kempt for more information. There is a also a mindfulness drop in session on a Thursday lunchtime

Year 13 Book Returns
As the exam period approaches, it is vital that students are aware of the importance of returning all textbooks and library books promptly. Students are requested to return all resources as soon as their exams have finished. The latest date for returning books is Friday 28 June 2019.

The £25 library deposits will be refunded once students have returned all of their books and cleared their accounts. Failure to return all books by the Friday 28 June may result in the forfeit of the deposit.

For more information from Post 16 please see the "This Term at Post 16" section of the website here.


House News

Sigma, Delta, Gamma and Omega House have lots of exciting news to share already from the start of term 5. Please click here to see what Sigma have achieved so far this term, click here for Delta's download, find out about Gamma here and Omega here.


Staff Vacancies

Cotham School are currently recruiting new members of staff to work with us at the school. We are currently looking to hire an Teacher of Humanities and Deputy Faculty Leader (Geography specialism) at Cotham School.

For more information about school roles please click here.


Student Careers Update

Please keep your eyes on the Careers section of the website for updates.

Engine Shed
Engine Shed is working with ADLIB and the University of Bristol's Jean Golding Institute on an event on 20 May, aimed at secondary, FE and university undergraduate students. It will involve some hands-on work so that students really see data being brought to life.

Details of the event be found here and students can book a place here. There are only 40 places for students.

Bristol Jobs Fair
Bristol Jobs Fair will be held on Wednesday 22 May 2019 at the Colston Hall from 10.00a.m. to 2.00p.m. There will be more than 25 local employers attending this event.

The Jobs Fair is free to attend for those looking to gain employment and suitable for anyone ages 16- 65.

Please find attached a poster for the upcoming Jobs Fair here. You can also click here for the Bristol Jobs Fair Facebook event.

Apprenticeships

City of Bristol College Apprenticeship Bulletin and South West Apprenticeship Company have apprenticeship vacancies here and here.
Other apprenticeships can be found through the Gov website here, Target Careers, Success at School , Get My First Job and Not Going to Uni.

City College of Bristol
City College of Bristol have introduced a Foundation Degree in Educational Support. Click here to find out more.
Students looking for Saturday jobs can find good advice through this website


Community News

AQA ENGLISH LANGUAGE GCSE REVISION
Bristol Grammar school are hosting English Language GCSE Revision sessions. Click here for more information.

Foster Carer Takeover
This Foster Care Fortnight, 13 - 26 May, the foster carers are taking over! Between 10a.m. and 12.00p.m each day during the fortnight an expert - aka a foster carer - will be answering our enquiry line on 0117 353 4200. For more details visit our fostering events page. Bristol City Council is in need of foster carers to ensure that children coming into care can stay local to their communities and schools. #FCF19

Participation Matters - 6 June 2019, Trinity Centre, day and evening
Now more than ever it is vital the parent carer voice is heard in Bristol about services and support for our children. The Bristol Parent Carer annual event at the Trinity Centre, Bristol, on 6 June is a key opportunity to have your voice heard with senior managers at the council and in health, and to find out more about what's happening with services. There are identical daytime and evening sessions to make sure everyone has the opportunity to participate and for the voice of parent carers to be heard, with the sign up via www.bristolparentcarers.org.uk.