Weekly Mailing - Friday 24 May 2019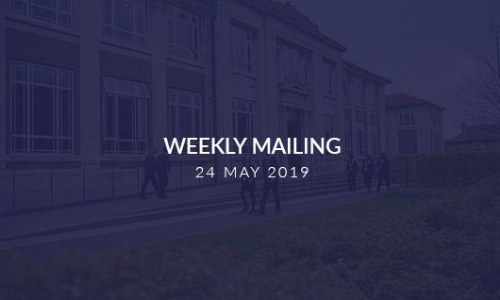 Dear Parents and Carers

Please find below this week's important information for Parents/Carers and students as well as updates on School events, activities and opportunities for your reference. Wishing you and your children a very relaxing half term.

Ms Jo Butler
Headteacher

Good News

STEAM: Food Science
2019 GCSE Food Year 10 Squid and Sea Bream Workshop
Simon from Papadeli kindly came into school this week to work with our GCSE Food Preparation and Nutrition students, giving them the the opportunity to make Calamari with home made Mayonnaise and Sea Bream with an Orange and Fennel Salad.
Simon ran the workshop to link to the GCSE examination of how to buy, store and prepare fish. Simon informed and questioned the class on what to look for when buying fresh fish and why supplies of fresh fish can vary daily. Students in pairs prepared the squid, pulling out the spine and slicing into rings, the tentacles were also cooked by Chef Harlem! Abdi also was a very capable sous chef helping Simon prepare the mayonnaise. Oranges were segmented and Fennel sliced to make the salad with dried Moroccan olives. Students enjoyed the session very much, especially as they could either eat the food made straight away or take it home to enjoy with their family. With thanks to Simon at Papadeli, we look forward to offer more opportunities to our GCSE students.

Please find some photographs from the workshop here.

Winning Recycled Bottle Sculpture Design
Congratulations to Ayaan Abdulla Nashid (7OH) who was Cotham School's winning entry for the design a recycled bottle sculpture. Sponsored by City to Sea. Ayaan has won a £10 Amazon voucher.
Ayaan's design was entered into the national competition and was one of the shortlisted entries.
The judges loved the idea of your whale sliced in half. As a shortlisted school we would love to include your design and logo to display at St Botolph's by Bishopsgate when the sculpture is installed. We hope that through sharing the designs and stories from school we can inspire people. To view Ayaan's design please click here.

Important Information for Parents/Carers

Cyberbullying Guide
An online organisation called HomeGuides has developed guidance to help children, parents and teachers to understand what cyberbullying is and what can be done about it. Download the guide here.

School Uniform Sale
Dates for your Diary
If you wish to purchase new school uniform, our Suppliers Harris', will be in Main Reception,
Cotham Lawn Road on Thursday 6 June between 2.30pm – 4.00pm.
Our Parents Group will be running the 2nd hand uniform sale again located in Main Reception,
Cotham Lawn Road on Friday 7 June between 2.30pm – 4.00pm.
We are always very glad to receive donations of 2nd hand uniform at Main Reception which can be
sold at our regular sales throughout the year.

Subject Area News

Visual Arts
Work of the Week

Click here to view Máire Bradley's (8MPI) Portrait tonal drawing.

Click here to view Lila Fenn's (9SL) Microbiology tonal drawing.

End of year show for Visual Arts
Please see here for the Visual Arts end of Year show details.

MFL
Bath Spa University - Network for Languages Event, Pupil Speaking Practice Days - June and July 2019

Bath Spa University are holding these fun and creative activity days which are suitable for MFL pupils and will encourage them to use their imaginations, broaden their knowledge, vocabulary and find creative solutions to problems. The activities help students to develop skills that will be valuable back in the classroom and in their future examinations. Please see links below for more details, more information can also be obtained from Mr Morton or Mrs Bingham in the MFL office.

June - Speaking Day for Year 8 & 9
French Spanish German

June - GCSE Speaking Preparation for Year 10
French Spanish German

July - Speaking Day for Year 8 & 9
French

July - GCSE Speaking Preparation for Year 10
French

Performing Arts
Free taster lessons in school with Perform For Life - Thursday 13 June

Any budding performers at Cotham School should ensure they sign up for a free taster lesson with Perform For Life, taking place in school on Thursday 13 June.

Lessons are offered in Singing (Pop / Musical Theatre), Acting, Devising Drama, Musical Theatre Performance, Public Speaking, and more.

Students can sign up for a one-to-one or duo lesson during the school day, or a group session after school. They will get a taster of a weekly lesson with Perform For Life, with no obligation to commit to lessons afterwards. Tutors are experienced, qualified and friendly. They are committed to encouraging young people's interests and developing performance skills they can use on the stage and in everyday life.

Perform For Life is also an experienced provider of tuition for LAMDA, Trinity College London and Rockschool exams, each of whom have international reputations for excellence in the Performing Arts. Perform For Life has a 100% pass rate, with almost half of students gaining High Merits and Distinctions.

Students will be able to sign up for their free taster lesson in the Performing Arts department after half-term.

For more information, see www.weperformforlife.com.

PE
Extra-Curricular Clubs
Please click here for a list of all of the PE/Sports Extra-Curricular activities available to students in Term 5.
Please click here to view all of our recent results and the upcoming fixtures for the week after half term.
Follow @CothamPE on Twitter for all the latest news and updates from the Cotham School PE department

Key Stage 3 News

Year 7
Year 7 End of Year Exams take place from Thursday 6 June to Friday 14 June. The End of Year Exams represent an important opportunity for your child to become used to preparing for exams and consolidating their learning of the content studied in Year 7.
A document detailing the format of each of their exams and suggested preparation and revision activities can be found in the attached link.

This will allow all of our parents and carers to support their child with their revision.
A timetable showing the dates and times of each of their exams can be seen here.

Year 9
Parents and Carers of Year 9 students are invited to join Mrs Wood and Ms Quirke for a 'Stepping Up to Year 10 information evening about how best to support their children as they make the transition from Key Stage 3 to 4 on Wednesday 12 June at 5.30pm in the Main Hall.


Key Stage 4 News

Year 10
Year 10 Mock Exams take place from Monday 17 June - Friday 28 June 2019.

Attached is a timetable for the exams. Some students will have clashes and so all students will be given a copy of their own timetable showing the confirmed times of each of their exams in the next 2 weeks. Students must carry this with them at all times during the mock exam season. Please encourage them to check their arrangements the night before each exam.

Information about the content and resources needed for these exams can be found here.

Exam preparation
Students will need to start preparation for the exams now and should organise their time using a revision timetable template can be found here. Students will need a full set of equipment for these exams including calculators, pens, pencils and rulers. These exams are important for our learners in getting experience in taking exams but are also a good indication of how our students are making progress in their GCSE courses. Please support your child to find quiet revision time.
Essential Examination Equipment
Your child will be more successful in their summer exams if they have the correct equipment. Please support them by purchasing any missing items over the next month:
Clear pencil case, black
Pens x2, pencils x2, eraser, sharpener, ruler, protractor, compass,
highlighter, working non-programmable scientific calculator (preferably Casio).
Students taking examinations in Design and Technology will also need coloured pencils.
Students should have calculators with them for Maths, Science, Design Technology, Geography and Psychology.
Year 11
Study Leave and Leavers' Arrangements
The final day of school for Year 11 students was Friday 17 May. Lessons will continue as normal up until this date. After this date, students will only attend school to:

Attend an exam
Attend an Exam Preparation session
Complete independent revision in the library

GCSE Summer Exam Timetables
Individual GCSE Summer Exam Timetables have been issued to students. These show the dates and times of all their summer examinations. An electronic copy of their timetable can be found on the Year 11 Google Classroom page. If you're aware that your child has lost theirs they can find a copy of it there.

Exam Preparation Sessions
Exam Preparation sessions will be offered on an invite only basis. Parents/ carers have received a letter this week detailing any classes your child should attend. A timetable showing the dates and times of the sessions can be here. Please encourage your child to attend these sessions promptly and in their full school uniform. Their space will be given to someone else if they do not arrive on time. Full details of the sessions and the students invited to them can be found on the Year 11 Google Classroom page.

Exam Day Breakfasts
Over the study leave period, we would like to invite all Year 11 students to enjoy a free exam day breakfast before their morning exams in English, Maths, Science, History and Geography. Breakfast will be served in the canteen from 8:15am-8:30am. Your child's tutor and subject teachers will be present to welcome them, offer last minute advice and provide reassurance. We hope this gives our students the final boost they need to go in and do their absolute best! Poster can be viewed here

Independent Revision in the Library
A limited number of library passes will be available for independent study each day. These are available on a first come first served basis and need to be collected from Student Reception when students sign in.

Students must continue to wear full school uniform, including their lanyard, whenever they are on the school site.

Year 11 Textbook Returns
Please ensure that all resources on loan to Year 11 students are returned by Friday 14 June. The school needs to ensure that GCSE textbooks are available for the next year group therefore all books must be returned, even if your child plans to study at the Post-16 Centre.
Failure to return books will result in an invoice from school for payment. Please note that it is the student's responsibility to return all resources directly to the library. Please ask students to ensure they do not give books to teaching staff or leave them in exam rooms.
Please contact me if you have any queries on library@cotham.bristol.sch.uk
Miss Davies, Librarian

Year 11 Locker Key Returns
Please can all Year 11 students return their locker keys to the Facilities Office as soon as possible and no later than Friday 14 June. We have a limited number of lockers and want to make these available to our new students in September.

Important!
The final GCSE exam is due to take place on Wednesday 19 June. However, the Joint Council for Qualifications have stipulated that all students must be available to sit exams until Wednesday 26 June. This is to ensure that any GCSE exams which may have to be cancelled as a result of a national emergency or disaster can be rescheduled. Please bear this date in mind if you are planning on booking a holiday for your child or your family.

Essential Examination Equipment
Your child will be more successful in their summer exams if they have the correct equipment. Please support them by purchasing any missing items so that they are fully equipped for each of their exams:
Clear pencil case, black
Pens x2, pencils x2, eraser, sharpener, ruler, protractor, compass,
highlighter, working non-programmable scientific calculator (preferably Casio).
Students taking examinations in Design and Technology will also need coloured pencils.
Students should have calculators with them for Maths, Science, DT, Geography, Psychology, and Preparation for Working Life.

Student Well-being
Maintaining a healthy diet, getting plenty of sleep, taking regular exercise and making time for relaxation will all help your child manage the demands of GCSE revision and the exam season. See some top tips on how to help your child 'prepare to perform' here.

Post 16 News

Exam Information
Exam season is well under way, if there are any concerns over the exam season please encourage your son/daughter to speak to Mrs Kempt or Mrs Potter. We understand what a stressful time this can be, if there are any issues with rooming/SEND needs/Exam Access Arrangements please see Mrs Kempt or Ms Potter.
Year 12 students should now have received their mock results and will have all received an email from Mrs Potter with guidance about their progression into year 13 and what happens if they achieved a U grade in any of their mocks. Parents/carers will have also received an email from Mrs Potter explaining the next steps regarding those students who received a U grade for their mocks. Mock retakes will take place in the 2 weeks following the half term holiday.

Student Wellbeing
Please encourage your son/daughter to speak to Mrs Kempt if they are worried or concerned about their wellbeing. A reminder that Off the Record (OTR) are offering weekly Resilience Lab drop in sessions on Perry Road http://www.otrbristol.org.uk/what-we-do/resilience-lab/ there is no waiting list and all students are very welcome.
The school counsellor is available in Charnwood every Wednesday, there is also a Post 16 Reflection room and many places that your son/daughter can study alone should they wish to. Please see Mrs Kempt for more information. There is a also a mindfulness drop in session on a Thursday lunchtime

Year 13 Book Returns
As the exam period approaches, it is vital that students are aware of the importance of returning all textbooks and library books promptly. Students are requested to return all resources as soon as their exams have finished. The latest date for returning books is Friday 28 June 2019.

The £25 library deposits will be refunded once students have returned all of their books and cleared their accounts. Failure to return all books by the Friday 28 June may result in the forfeit of the deposit.

For more information from Post 16 please see the "This Term at Post 16" section of the website here.


Staff Vacancies

There are currently no vacancies at Cotham School.


Student Careers Update


Would your son/daughter like to become and Engineer? Click here for lots of useful parent information. https://mailchi.mp/tomorrowsengineers/a-special-look-at-our-careers-resources?e=23beb04c99. You don't need to have studies GCSE Engineering or Design Technology; if you are creative thinking and like problem solving and would like a truly active and rewarding career take a look.

Following my visit, this week, to the National Careers Guidance Conference 2019 please ask me about Careers at the UK's top Graduate Employers. At the conference were Senior recruiters from the Civil Service Fast Stream, Barclays, the British Army, PwC, RICS and MI5 to introduce careers at the heart of Government, the world of finance, the Armed Services, technology degree apprenticeships, opportunities in surveying, and careers in security.
I have received the very latest research statistics and opportunity information about Higher and Degree Apprenticeships (offering a real alternative to traditional university degrees). I will be sharing the information with Teaching staff and Tutors to enable them to disseminate to students the truly amazing level of opportunity currently available for dedicated and hardworking young people.

Apprenticeships

City of Bristol College Apprenticeship Bulletin and South West Apprenticeship Company have apprenticeship vacancies here and here.

BT are looking for IT Service Desk Apprentices, you will need to be predicted to achieve at least 5 x GCSE grades 4-9 and will work towards a Level 3 ICT qualification. Click here to apply online: https://bt.taleo.net/careersection/apprenticeship/jobdetail.ftl?job=108216&lang=en&src=SNS-101

Other apprenticeships can be found through the Gov website here, Target Careers, Success at School , Get My First Job and Not Going to Uni.

City College of Bristol
City College of Bristol have introduced a Foundation Degree in Educational Support. Click here to find out more.

I am currently meeting with all Year 10 students to introduce myself and explore their interests and answer any questions ready for year 11. In September, I will be producing a schedule of open day events for students and will be encouraging them to visit and consider all options. This will enable students to be in the best position possible to help and support their decisions making for their next phase of learning.

I look forward to meeting parents and carers next autumn, in the meantime, please feel free to contact me with any questions you have as we navigate this path together: Suzanne Paice, Careers Leader - paices@cotham.bristol.sch.uk


Students looking for Saturday jobs can find good advice through this website

Please keep your eyes on the Careers section of the website for updates.


Community News

Supportive Parents News (E-bulletin)
Feedback from our BAWA event
It was fantastic to see so many of you at our 30th anniversary event, 'Ready, Steady, SEND', at BAWA in Bristol on 7 May. Many of you took the opportunity to speak on a one-to-one basis with one of our information, advice and support workers about your particular SEND query or concern. Our staff were certainly kept busy!
One of the highlights of the event was listening to Jim Bartlett, who volunteers for Supportive Parents in North Somerset and Carolyn Simms who is a founder member and trustee of Supportive Parents. Both reflected on the difficulties they had encountered in securing SEND support for a child. The desire to improve the experience for others had led them to volunteer. If anyone else was inspired and would like to know more about volunteering for our organisation, please do get in touch!
We've had some very positive feedback about the event, with people commenting for example: "very interesting … good information on stalls"; "Such a well organised, informative event with a good range of people / organisations".
We also listened to a presentation from Daisy Russell, the Information, Advice and Support Service Network Manager, based in London. Daisy explained about the new minimum standards that all SENDIAS services are now required to follow. In addition, Professor Sally Tomlinson spoke about 'Children Missing Education'. If you were unable to attend, you can view Daisy's presentation and notes from Sally's talk HERE.

Online resources
All of our new 'easy reads' and resources for children and young people which we launched at our event are available on our website.
Alternatively, you can get in touch with us and we can post them to you. Please have a look at the video for young people on our website too. Any feedback would be much appreciated. It would be good to know if this is a helpful way to provide information and if there are other topics which you would like us to cover. See our website HERE.

Reference Group – members needed
In accordance with the minimum standards, we are setting up a 'reference group' to help inform and shape our service. This group will act as an advisory group or 'critical friend' to our service. It will include representatives from service user groups and key stakeholders from education, social care and health. It will review our development plan annually, and will suggest specific actions and improvement targets. It will support and advise our service in ensuring accessibility to all sections of the community and ensure our service is responsive to the requirements of national legislation.
We aim to include parents and carers of children with SEND in this group, as well as representatives from a number of other organisations including the local authority and schools. You can read more about our proposals in the 'terms of reference' document on our website HERE. If you are interested in becoming part of the group, we'd love to hear from you, so please email us on mail@supportiveparents.org.uk and we will contact you about this.

Funding
We are really pleased to announce that Bristol City Council have confirmed that we will be their service provider. In addition, we bid successfully for funding from the Council for Disabled Children. This funding is to support SENDIAS services to develop their practice as an 'all year round' provider. We look forward to working with you on this.

Training and Events Evening Surgeries
These have continued to be popular and fully booked. Our May surgery took place on Tuesday 14. We had a wide variety of queries from those attending. A further surgery will be held on Thursday 18 July. It will be bookable through Eventbrite and advertised on our website, Facebook and newsletter. Please check our website and social media feed closer to the time to see when booking is open.
Our AGM This takes place on 8 July at 7.30pm. If you're interested in meeting some of our staff and trustees and finding out more about our work, please come along. It will be held at our offices in the ground floor meeting room, at Royal Oak House, Royal Oak Avenue, Bristol BS1 4GB. No need to book, just turn up!

Bristol Parent Carers' Annual event
This is taking place at the Trinity Centre, Bristol, on 6 June. There are identical daytime and evening sessions. For more info and to sign up click HERE.

Support Groups
Our own support Groups
Supportive Parents runs regular support groups for parents and carers. There's no need to book for these, just come along. Share your queries and concerns with our local co-ordinator in a friendly, supportive setting and chat to other parents like you. Free tea, coffee and biscuits supplied! Check our website HERE and social media feeds for details of where and when these are on.
Forthcoming groups:

We are holding an evening support group on Monday 3 June from 6.30pm - 8.00pm in the meeting room at Royal Oak House. This is a pilot to see if there is demand for an evening support group.
We will be holding a daytime support group with the help of Rosemary Nursery School and Children's Centre. This group will be held in the Community Room at Ropewalk House, River Street, Bristol BS2 9EG, on Thursday 20 June, from 10am - 11.30am. Please note that the entrance to Ropewalk House is actually on Little George Street, just around the corner from River Street (It is also near the entrance to Whitson House). At the entrance door there is no intercom buzzer for the Community Room itself, so please just knock on the door and our staff will let you in. Parking is available at Cabot Circus and buses serve Old Market, Temple Way and Cabot Circus, with a 5 minute walk to the venue.

Other Support Groups
A member of our team will be available at most Bristol Parent Carer Support Groups. If you want to make sure that we will be at a particular group, please get in touch and we can confirm whether we will be there. We are happy to speak to you at these groups and to check through any paperwork, suggest resources etc. See Bristol Parent Carer support group dates HERE.

Groups & Activities
Out and About Youth Session- Hillfields Youth Centre, Thicket Road, Bristol BS16 4EH
Regular Saturday club for disabled young people aged 13-18 living in the Bristol area, providing respite for parents and carers. These sessions are part of the 'Out and About' programme, which offers a range of services for young disabled people, children and their families to access short breaks. WECIL leads a consortium of organisations that together provide: residential trips, after school clubs, holiday activities, a befriender service and a targeted BME service. For more information contact WECIL's Youth Service Manager, Matt Peall on mailto:Matt.Peall@wecil.co.uk or call WECIL on 0117 947 9911.

Worlds of Wonder – Children's Scrapstore: Friday 31 May, 1.45pm - 3.15pm
Inclusive holiday stay and play session. The play room will be filled with sensory stations and small worlds – come and explore arctic ice floes, a sandy summer seaside a host of playful miniature landscapes! The session has been planned with ages 5-10 in mind, but all ages are welcome. Adults stay for the duration. £5 / £4 each additional sibling. This inclusive session has been planned with children with SEND in mind and is for any children who would benefit from more supporting adults and room to move. Click HERE for more info and to see other sessions running. For any queries email: eventsatchildrensscrapstore.co.uk https://www.eventbrite.co.uk/e/free-to-book-better-bilingual-end-of-year-celebration-event-ealapproaches-to-enhancing-maths-tickets-60368689375

Free Creative Youth Workshops
Boomtown and Bassline Circus have been collaborating now for 6 years to offer free Carnival Arts/Music/Dance/Costume/Banner making workshops.

2 days of free workshops will be offered on Saturday 13 and Sunday 14 July at St Paul's Adventure Playground, for ages 6-16. This also comes with the added option of a free sunday ticket and free coach for a day trip to Boomtown Fair for all the family to take part in the Carnival parade. Please click here for more information.

Family Takeover Day at the SS Great Britain
Are you looking for something fun and different to do as a family?
Would you like to go behind the scenes at Brunel's SS Great Britain and become part of the crew for a day?
Are you keen to learn new things, share your skills and discover what your kids/mum/grandad are capable of?
Then join the SS Great Britain for a free Family Takeover Day.
As a family you will become part of the crew, working together to help deliver a fantastic experience for other visitors. You might be encouraging other families to get dressed up in Victorian costumes, teaching visitors how to play a traditional game of quoits on the ship's deck, demonstrating how rivets were used in her construction or even running a coal-shovelling activity in the Dockyard.

Upcoming dates:
Wednesday 29 May 2019, 11.00am-2.30pm
Thursday 30 May 2019, 11.00am-2.30pm
For more information go to https://www.ssgreatbritain.org/support-us/volunteer/family-takeover-days.

AQA ENGLISH LANGUAGE GCSE REVISION
Bristol Grammar school are hosting English Language GCSE Revision sessions. Click here for more information.

Bristol Plays Music- Colston Hall Family Day: Hall Explorers!
Join workshop leaders and musicians on Saturday 25 May for an interactive musical journey into the treasures, characters and legends of Colston Hall's 150 year history. Meet wrestlers, suffragettes, pop stars and rock stars as they uncover the hidden stories of the hall, create new music and song, join together to sing and perform together at the end of the day in an informal concert for friends and family. For further information please go to https://www.colstonhall.org/shows/family-day-hall-explorers/