Weekly Mailing - Friday 14 June 2019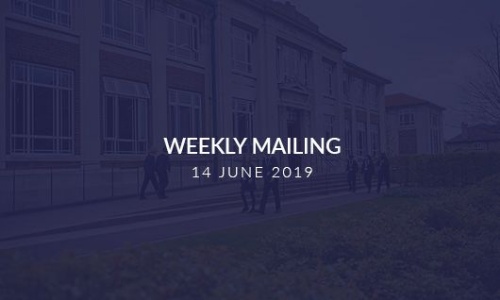 Dear Parents and Carers

Please find below this week's important information for Parents/Carers and students as well as updates on School events, activities and opportunities for your reference.

Ms Jo Butler
Headteacher

Good News

Year 8 Enterprise Day
This week Year 8 took part in an all day Enterprise Event which saw them working in Teams to design, cost, brand, communicate and present their ideas for a brand new restaurant. With five or six teams in each Tutor group the students had to assign roles and responsibilities, share their ideas, decide upon the best course of action, put together a presentation and present it to their peers to a very tight timescale. To assist them teachers were accompanied by a member of our esteemed Alumni from a variety of backgrounds and levels of experience from existing year 12 students to retired professionals.
"I was so impressed with the whole Yr 8 cohort and particularly with so much talent in action during the course of the day with tutor group 8JBA, and which the final assembly indicated was replicated in all groups. I had to keep reminding myself that the pupils taking part are but 12 years old in many cases. School should be justly proud of the results of this event, at which it could easily compete at a national level on the basis of what I saw today." Paul Jenkins (Alumni)
From the first round of presentations, each tutor group put forward a winning entry. All winning entries then presented to the entire year group, Tutors, Heads of Year, and Alumni and received a gift of stationery (colouring pencils). I am delighted to report that the standard was extremely high and it was a difficult decision to make, however in the end Team "Iceberg" was chosen and each student was presented with a certificate and a small monetary prize. We are all extremely proud of all of our students and would commend you to congratulate any year 8 student on their enthusiastic participation.

Keep us posted
It would be great if parents/carers could let the school know of any student achievements outside of school. It is sometimes only at parents' evenings that we find out what students are doing in their own time. Email us: weeklymailing@cotham.bristol.sch.uk

Important Information for Parents/Carers

Word of the week
Each week at Cotham we promote a Word of the Week. This is to help students expand the range of vocabulary they use. Please find the word for the week ahead byclicking here.

Attendance Competition- for all year groups
All students who achieve 100% attendance in term 6 will be guaranteed a prize and then entered into a bigger £25 prize draw. Please encourage your child to maintain 100% attendance throughout the term.

May 2020 Bank Holiday
The Government has announced that the May bank holiday for 2020 originally scheduled for Monday 4 May 2020 will be taking place on Friday 8 May 2020 to coincide with the 75th anniversary of VE Day.

Cyberbullying Guide
An online organisation called HomeGuides has developed guidance to help children, parents and teachers to understand what cyberbullying is and what can be done about it. Download the guide here.

Online Safety Newsletter
Please click here to view this month's online safety newsletter.

Black Forest Trip 2019- Parent Information Evening on Tuesday 18 June
An information evening for the trip will be held on Tuesday 18 June 5.30pm - 6.15pm in A214 providing a chance to meet the trip leader, pick up an information pack and ask any questions.

Opal Coast French Trip 2019- Parents Information Evening on Thursday 20 June
An information evening for the trip will be held on Thursday 20 June 6.30pm - 7.15pm in A215 providing a chance to meet the trip leader, pick up an information pack and ask any questions.

Sigma House Charity Events
Sigma are having an Ice lolly sale on Friday 21 June, all lollies 50p each.
Please support, all proceeds to Sigma House Charity.

Student Summer Fete Friday 28 June
If you have any new unwanted gifts/presents you have received but feel they are not for you and they are just sitting in a drawer or cupboard, please pass them onto us. We would like to set up a stall at the Student Summer Fete, Friday 28 June (details to follow) and sell these items, raising money for the house charities. Please drop any that you have to Mrs Arnold.

2020 Ski Trip
If any Year 7, 8 and 9 students are interested in going on the 2020 Easter ski trip, they can collect a letter with all the relevant information from the PE office. WISE PAY will be open from Monday 17 June at 3.05pm to pay deposits for the trip.

Cue Bristol Youth Theatre Sharing Evening Monday 17 June 6PM
Cue Bristol Youth Theatre group runs at Cotham every Monday evening for pupils in all year groups who love Drama. Cue members will be sharing some of their performance work on Monday evening in the Dance Studio at 6pm. Entry is £3 on the door, everyone is welcome to come along and watch.
For more information about Cue Bristol please email: ashcrofth@cotham.bristol.sch.uk

Performing Arts Summer Sharing
Join us for an evening of Performing Arts, celebrating the achievement of our students from all key stages across Dance, Drama and Music. The evening will feature performances from a variety of musical soloists from across the key stages, Year 7 drama club, Year 10 theatre company, Pulse, Year 7 and Year 8 dance company & Year 9 dance company.

The performing arts summer sharing will be held in the main hall at 18:00 on Tuesday 25 June. Tickets are £5 or £3 for concessions and are available through wisepay. A poster for the event can be viewed here.

Subject Area News

Physical Education (PE)
Extra-Curricular Clubs
Please click here for a list of all of the PE/Sports Extra-Curricular activities available to students in Term 6.
Please click here to view all of our recent results and the upcoming fixtures for next week.
Follow @CothamPE on Twitter for all the latest news and updates from the Cotham School PE department
Visual Arts
Work of the Week
Year 9 students who have been looking at Artist Klari Reis microbiology work, please see 4 mono prints inspired by this from EP 9RD here, JW 9RM here, KS 9EM hereand SM 9RM here.

End of year show for Visual Arts - 15 - 19 June - 11.00 am to 5.00 pm
Come and see an exhibition of Visual Arts from North Bristol Post 16 Students at Centrespace Gallery. The exhibition is set up and run by students, we would encourage all students and families to visit during the exhibition. For students studying Art at GCSE and A Level it would be a great opportunity for them to visit the exhibition and see the superb standard of the final pieces.
Click here for more details.

English
The Foyle Young Poets of the Year Award- Calling all budding rappers/poets/spoken word performers
There is an opportunity for any young poets aged 11-17 to accelerate their writing career, in the largest competition of its kind. Thanks to funding from the Foyle Foundation the competition remains completely free to enter. For information on the competition including the rules of entry please see the below links.
https://foyleyoungpoets.org/
https://foyleyoungpoets.org/rules/

Deadline for entry: 31 July 2019

STEAM
Visual Arts and Photography Year 11 and Year 13
Students will be able to collect their examination work between Monday 4 November and Thursday 7 November after school from 2.45pm until 3.15pm We will contact parents in advance as a reminder in October.

Year 11 GCSE Food Preparation and Nutrition
This week Mrs Arnold ran a food presentation master class. The lesson encouraged students to look at how to present dishes to enhance the food product made. In Year 11 as part of the NEA 2 students must demonstrate good presentation of their dishes. This lesson has been adopted by many food teachers across the country and has developed a reputation as the 'Tunnocks Tea Cake challenge'; it is also quite fitting this week as Boyd Tunnock was given a Knighthood for services to the food industry and charity. Please click here for images, Mrs Brock has set this as a competition and we have yet to choose the winners!!

Modern Foreign Languages (MfL)
Bordeaux Bristol School Exchange
Click here for further information regarding the next school exchange programme organised by Bordeaux Bristol.

Bath Spa University - Network for Languages Event, Student Speaking Practice Days - June and July 2019
Bath Spa University are holding these fun and creative activity days which are suitable for MFL students and will encourage them to use their imaginations, broaden their knowledge, vocabulary and find creative solutions to problems. The activities help students to develop skills that will be valuable back in the classroom and in their future examinations. Please see links below for more details, more information can also be obtained from Mr Morton or Mrs Bingham in the MFL office.

June - Speaking Day for Year 8 and 9
French Spanish German

June - GCSE Speaking Preparation for Year 10
French Spanish German

July - Speaking Day for Year 8 and 9
French

July - GCSE Speaking Preparation for Year 10
French


Key Stage 3 News

Attendance Competition- for all year groups
All students who achieve 100% attendance in term 6 will be guaranteed a prize and then entered into a bigger £25 prize draw. Please encourage your child to maintain 100% attendance throughout the term.

Year 8
Due to a clash with Year 8 trips, the dates for the end of year Maths tests need to be brought forward to the week beginning 24 June 2019.
Please click here to view the latest Maths revision lists.

Year 9
Year 9 Stepping up to GCSE's
Thank you to those parents that came to our Stepping up to GCSE Parent Information session on Wednesday 12 June. The powerpoint from the session can be seenhere. Here is also a link to the resources that your children can access for pre-reading, research and study in their GCSE subjects. There's a real range here from films to websites to literature.

There will a further Welcome to GCSE Parent Information Session on Thursday 7 November 5.30 - 6.30pm. Arrangements will be issued closer to the date.

Year 9 Science
All year 9 students are sitting a real past GCSE exam paper in July. This is Physics paper 1 and covers topics P1 - P7. The dates are as follows:

9YE - JBA - Wed 17 July- period 1
9YI - MAH - Mon 15 July- period 4
9YO - KMA - Mon 15 July -period 5
9YU - GHO - Mon 15 July- period 5
9ZE - MAH - Tues 16 July- period 5
9ZI - SBR - Tues 16 July- period 4
9ZO - KMA - Tues 16 July- period 2
9ZU - GHO - Weds 15 July- period 5

We will run revision sessions after school in the lead up to the exam, between Wednesday 3 - Friday 12 July. We will run separate groups for foundation and higher students, please see below for details.

Weds 3 July - Topic P1
Thurs 4 July - Topic P2
Fri 5 July - Topic P3
Mon 8 July - Topic P4
Tues 9 July - Topic P5
Weds 10 July - INSET, no session
Thurs 11 July - Topic P6
Fri 12 July - Topic P7

Key Stage 4 News

Attendance Competition- for all year groups
All students who achieve 100% attendance in term 6 will be guaranteed a prize and then entered into a bigger £25 prize draw. Please encourage your child to maintain 100% attendance throughout the term.

Year 10
Year 10 Mock Exams take place from Monday 17 June - Friday 28 June 2019.

Attached is a timetable for the exams. Some students will have clashes and so all students will be given a copy of their own timetable showing the confirmed times of each of their exams in the next 2 weeks. Students must carry this with them at all times during the mock exam season. Please encourage them to check their arrangements the night before each exam.

Information about the content and resources needed for these exams can be found here.

Exam preparation
Students will need to start preparation for the exams now and should organise their time using a revision timetable template can be found here. Students will need a full set of equipment for these exams including calculators, pens, pencils and rulers. These exams are important for our learners in getting experience in taking exams but are also a good indication of how our students are making progress in their GCSE courses. Please support your child to find quiet revision time.

Essential Examination Equipment
Your child will be more successful in their summer exams if they have the correct equipment. Please support them by purchasing any missing items over the next month:
Clear pencil case,
Black pens x2, pencils x2, eraser, sharpener, ruler, protractor, compass,
highlighter, working non-programmable scientific calculator (preferably Casio).
Students taking examinations in Design and Technology will also need coloured pencils.
Students should have calculators with them for Maths, Science, Design Technology, Geography and Psychology.
Year 11
Today we said goodbye to our Year 11 students with our Leavers' Celebration Assembly. It was a wonderful opportunity to recognise some of the many fantastic achievements of our pupils, and look back fondly over the five years they have spent with us. Students also nominated each other for a range of awards and had the opportunity to thank their tutors, who have supported them throughout their school career.
Students studying German will return on Monday for one final exam.

Post-16 Transition Day
On Wednesday 26 June 2019 there is a post-16 transition day at the North Bristol Post-16 Centre. This Transition Day gives applicants to the Post-16 Centre the opportunity to meet the staff, students and attend taser sessions for the courses. Please see a letter with details about the day here.

Year 11 Textbook Returns
Please ensure that all resources on loan to Year 11 students are returned by Friday 14 June. The school needs to ensure that GCSE textbooks are available for the next year group therefore all books must be returned, even if your child plans to study at the Post-16 Centre.
Failure to return books will result in an invoice from school for payment. Please note that it is the student's responsibility to return all resources directly to the library. Please ask students to ensure they do not give books to teaching staff or leave them in exam rooms.
Please contact me if you have any queries on library@cotham.bristol.sch.uk
Miss Davies, Librarian

Year 11 Prom
If your child is going to the Year 11 prom on 27 June, then please return the permission form which can be accessed at the back of the letter here. The form also gives details of dietary requirements which cannot be accommodated unless we know about them. Many thanks The Parent Prom Committee

GCSE Results Day
GCSE results are available from 10am to 12noon on Thursday 22 August 2019 from Charnwood. Results can only be given to pupils. Permission for someone else to collect results must be supplied in writing before the end of Term 6 and proof of identification provided on the day.

All uncollected results will be posted home; results will not be issued by telephone or email. North Bristol Post-16 team and our Careers Adviser will be available on results day for advice and guidance on post-16 courses. We hope all our students will be proud of the results they achieve and wish them the very best of luck in their future studies.

Post 16 News

Year 12 Assembly - Wednesday 19 June
It is essential that your son/daughter attends assembly this Wednesday as important information will be given out - 8.30am in G001 at Charnwood

Futures 18: Thursday 4 and Friday 5 July
All students and parents/carers have been sent an email with information regarding Futures 18. There are no timetabled lessons on either day, Thursday is based at RGS and Friday is based at Charnwood House.
Your son/daughter will soon be sent a programme of sessions soon and there are a great choice of sessions available for them to choose from.The Friday session will be based around applying and signing up to UCAS along with expert careers advice and guidance regarding apprenticeships.
Please let Mrs Kempt know if your son/daughter will not be available either day.

Careers and guidance
Here is the link to our Careers Bulletin which is updated weekly. Our Careers adviser is based at Charnwood every Wednesday - please contact Ms Paice to make an appointment, paices@cotham.bristol.sch.uk or pop up to see her in G402

Student Wellbeing
As students come to the end of Year 12 some students may be concerned about the lack of structure and support over the summer holidays. Please encourage your son/daughter to speak to Mrs Kempt if they are worried or concerned about their wellbeing

A reminder that Off the Record (OTR) are offering weekly Resilience Lab drop in sessions on Perry Road http://www.otrbristol.org.uk/what-we-do/resilience-lab/ there is no waiting list and all students are very welcome.

The school counsellor is available in Charnwood every Wednesday, there is also a Post 16 Reflection room and many places that your son/daughter can study alone should they wish to. Please see Mrs Kempt for more information. There is a also a mindfulness drop in session on a Thursday lunchtime

Year 13 Book Returns
As the exam period approaches, it is vital that students are aware of the importance of returning all textbooks and library books promptly. Students are requested to return all resources as soon as their exams have finished. The latest date for returning books is Friday 28 June 2019.

The £25 library deposits will be refunded once students have returned all of their books and cleared their accounts. Failure to return all books by the Friday 28 June may result in the forfeit of the deposit.

For more information from Post 16 please see the "This Term at Post 16" section of the website here.

Staff Vacancies

Cotham School are currently recruiting new members of staff to work with us at the school. We are currently looking to hire a Senior Inclusion Manager and Data Administrator at Cotham School.

For more information about school roles please click here.

Student Careers Update

Last chance for students who would like to apply for an apprenticeship in the following trades: Bricklaying, Bench Joinery, Carpentry, Plastering, Painting and Decorating, Electrical or Plumbing. Please encourage students to apply online at https://www.onsitebristol.co.uk/apply/
All On Site applications for starting an apprenticeship in September 2019 will close on 1 July 2019. (For September 2020 Construction Apprenticeships the online application will open in December 2019)

Wessex Water's Young People's Panel
Wessex Water have an exciting opportunity for sixth formers and Year 11 students to get involved in the running of one of the largest businesses in our region. This is the fourth year of Wessex Water's Young People's Panel which brings the views of young adults into the decision-making they do to plan their future operations. For more information on what is involved and how to apply please click here.

Apprenticeships

City of Bristol College Apprenticeship Bulletin and South West Apprenticeship Company have apprenticeship vacancies here and here.

Other apprenticeships can be found through the Gov website here, Target Careers, Success at School , Get My First Job and Not Going to Uni.

Students looking for Saturday jobs can find good advice through this website

Please keep your eyes on the Careers section of the website for updates.

Community News

DigiMakers Free Summer School
The Digimakers Summer School run by the University of Bristol offers students the opportunity to digitally innovate and create a new product, bringing their ideas and designs to life. They would like to invite students aged 10-13 years old who are local to Barton Hill Settlement and are excited about joining us for some Digifun this summer! For more information please click here.

Cotham and Redland Community Sponsorship
Cotham and Redland Community Sponsorship is a new group made up of local people and organisations, including Cotham School. We have been brought together by a shared desire to make a positive difference in the face of the ongoing refugee crisis. With the support of Citizens UK we are working to develop a local Community Sponsorship scheme to welcome a Syrian refugee family. We believe that we are able to offer this support and that we have much to gain.
To read about our first fundraising event 'A Syrian Night in Bristol' on 22 June, and to buy tickets, click here.
To find out more or to offer help please email cothamredlandwelcome@gmail.com

16 June is Lets' Ride Bristol 2019 - for families and school children
On Sunday 16 June an exciting day of cycling returns to Bristol city centre and all school children and their families are invited. Organised by the council and HSBC UK/British Cycling, Let's Ride is another fun opportunity for young people to get involved in a healthy, weekend biking activity with family, friends and fellow students. To find out more information about the event and how to take part please see here.