Weekly Mailing - Friday 21 June 2019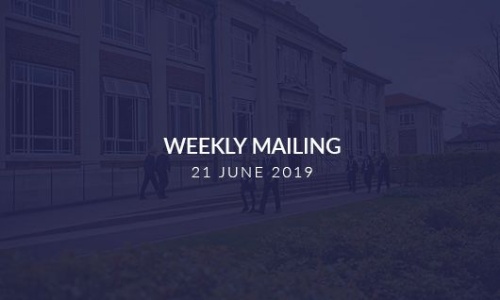 Dear Parents and Carers

Please find below this week's important information for Parents/Carers and students as well as updates on School events, activities and opportunities for your reference.

Ms Jo Butler
Headteacher


Good News

Empowering Bristol's Young Women
On Monday 17 June, 10 of our Year 8 girls were among over 80 Year 8 students from schools across Bristol who took part in a conference organised by the Bristol Women's Commission. The event was hosted at Redmaids' High School and co-organised with Cotham School.

The commission works to address inequalities in work, public, social or family life for women and wants to ensure that the experience, know-how, skills and creativity of women in Bristol are taken into account. The specific object of the day was to bring girls from across the city together to learn about issues which may impact them.

In small, mixed-school groups the students worked with specialists in a number of fields including e-safety, communications and friendships and safety on the streets. The girls were also taught CPR by the qualified nurses based at Redmaids' High School. Overall, it proved to be a fast-paced and highly-interactive day.

Keep us posted
It would be great if parents/carers could let the school know of any student achievements outside of school. It is sometimes only at parents' evenings that we find out what students are doing in their own time. Email us: weeklymailing@cotham.bristol.sch.uk

Important Information for Parents/Carers

Word of the week
Each week at Cotham we promote a Word of the Week. This is to help students expand the range of vocabulary they use. Please find the word for the week ahead by clicking here.

Student Summer Fair Friday 28 June- 1.05pm - 1.45pm
On Friday 28 June we will be running this year's summer fete between 1.05pm - 1.45pm. It will be comprised of stalls which will host various games and activities along with some food and refreshments. For the activity and game stalls there will be prizes such as pens and rulers available. Prices will vary from 20p to 50p. All money raised will be going to house charities. Please view a poster for the event here.

If you have any new unwanted gifts/presents you have received but feel they are not for you and they are just sitting in a drawer or cupboard, please pass them onto us. We would like to set up a stall at the Student Summer Fete and sell these items, raising money for the house charities. Please drop any that you have to Mrs Arnold.

2020 Ski Trip
If any Year 7, 8 and 9 students are interested in going on the 2020 Easter ski trip, they can collect a letter with all the relevant information from the PE office. WISE PAY will be open from Monday 17 June at 3.05pm to pay deposits for the trip.

Performing Arts Summer Sharing
Join us for an evening of Performing Arts, celebrating the achievement of our students from all key stages across Dance, Drama and Music. The evening will feature performances from a variety of musical soloists from across the Key stages, Year 7 drama club, Year 10 Theatre Company, Pulse, Year 7 and Year 8 Dance Company and Year 9 Dance Company.

The Performing Arts Summer Sharing will be held in the main hall at 6.00p.m. on Tuesday 25 June. Tickets are £5 or £3 for concessions and are available through wisepay. A poster for the event can be viewed here.

Bristol Teen Book Award 2019
The Bristol Teen Book Award is a YA book award voted on by students in Year 9 and above. Every year the titles celebrate diversity in some way. To see this year's shortlist please click here.
If you are interested in shadowing the award or if you would like to read the shortlist over the summer holidays, please speak to Miss Davies in the Library.

Stepping up to Year 11 Parent Information Session on Thursday 11 July
There will be a Stepping up to Year 11 Parent Information Session for parents and carers of students in Year 10. This will take place in the Main Hall on Thursday 11 July between 5.30p.m. - 6.30p.m.
The session will detail our expectations for students over the summer to ensure that they are ready for Year 11 in September and describe ways in which parents can support students following their recent end of Year 10 Exams. We would like to see as many Year 10 parents at the session as possible. Please add the date to your diary and join us at 5.30p.m. via the main reception on Cotham School Road (the main hall is located directly inside the school, signs will be posted to show you the way).

Call-out for Sanitary Products
As you may know, since October, we have been involved in the Red Box project, a project committed to providing free and accessible sanitary products for our female students, as much and whenever they need to ensure that access to such products is never a reason for them to miss school. We received a very large donation from local businesses back at the start of the year and generous donations from parents but are starting to run low on our supplies. If you are able to donate a pack or two of sanitary products, particularly sanitary pads, that would be greatly appreciated. They can be dropped off either at Student Reception or Main Reception.

Metal Combs
Please can we remind parents and students that sharp metal combs are not allowed in school. They are dangerous and should not be carried by students. If seen in school or on the way to/from school they will be confiscated and disposed of for the safety of children in our care. Thank you for your cooperation.

Headspace Lunchtime Club- K007
Headspace is a lunchtime club providing a space for students to get away from the hustle and bustle and have some quiet time to either just sit quietly or do some mindful activities. A poster with more information can be found here.

Prayer/Reflection Room - A118
A118 is a supervised quiet space between 1.10 p.m. and 1.30 p.m. every lunchtime for students/staff to reflect/pray.

Cyberbullying Guide
An online organisation called HomeGuides has developed guidance to help children, parents and teachers to understand what cyberbullying is and what can be done about it. Download the guide here.

Online Safety Newsletter
Please click here to view this month's online safety newsletter.

Subject Area News

Physical Education (PE)
Extra-Curricular Clubs
Please click here for a list of all of the PE/Sports Extra-Curricular activities available to students in Term 6.
Follow @CothamPE on Twitter for all the latest news and updates from the Cotham School PE department

Girls Rugby
If you are interested in playing girls rugby, Dings RFU are running sessions starting on Sunday 14 July 12.30pm at Shaftesbury Park, Frenchay. Please see this flyer for details.

Sports Awards Evening
This will be taking place on Thursday 11 July between 5pm-6.30pm. Invitations will be sent out to students and parents / carers shortly.

Sport Day
This year we will be holding two sports days on Friday 12 July for years 7 & 8 and Monday 15 July for years 9 & 10. More information will be published in the next weekly newsletter.

English
The Foyle Young Poets of the Year Award- Calling all budding rappers/poets/spoken word performers
There is an opportunity for any young poets aged 11-17 to accelerate their writing career, in the largest competition of its kind. Thanks to funding from the Foyle Foundation the competition remains completely free to enter. For information on the competition including the rules of entry please see the below links.
https://foyleyoungpoets.org/
https://foyleyoungpoets.org/rules/

Deadline for entry: 31 July 2019

STEAM
Visual Arts and Photography Year 11 and Year 13
Students will be able to collect their examination work between Monday 4 November and Thursday 7 November after school from 2.45p.m. until 3.15p.m. We will contact parents in advance as a reminder in October.

Performing Arts
Year 10 GCSE Drama Students
Don't forget to get to get your ticket for 'Deaddog in a Suitcase' by Kneehigh at the Bristol Old Vic on Thursday 11 July. Tickets are available to purchase on Wisepay, more information on the play can be found here.

Modern Foreign Languages (MfL)
Bordeaux Bristol School Exchange

Click here for further information regarding the next school exchange programme organised by Bordeaux Bristol.

Bath Spa University - Network for Languages Event, Student Speaking Practice Days - Update
Unfortunately, due to low numbers Bath Spa will not be running the MFL days in June for KS3. We will update you of any new events which may be running in the future.

Key Stage 3 News

Attendance Competition- for all year groups
All students who achieve 100% attendance in term 6 will be guaranteed a prize and then entered into a bigger £25 prize draw. Please encourage your child to maintain 100% attendance throughout the term.

Year 8
Due to a clash with Year 8 trips, the dates for the end of year Maths tests need to be brought forward to the week beginning 24 June 2019.
Please click here to view the latest Maths revision lists.

Year 9

Year 9 Science
All Year 9 students are sitting a real past GCSE exam paper in July. This is Physics paper 1 and covers topics P1 - P7. The dates are as follows:

9YE - JBA - Wed 17 July- period 1
9YI - MAH - Mon 15 July- period 4
9YO - KMA - Mon 15 July -period 5
9YU - GHO - Mon 15 July- period 5
9ZE - MAH - Tues 16 July- period 5
9ZI - SBR - Tues 16 July- period 4
9ZO - KMA - Tues 16 July- period 2
9ZU - GHO - Weds 15 July- period 5

We will run revision sessions after school in the lead up to the exam, between Wednesday 3 and Friday 12 July. We will run separate groups for foundation and higher students, please see below for details.

Weds 3 July - Topic P1
Thurs 4 July - Topic P2
Fri 5 July - Topic P3
Mon 8 July - Topic P4
Tues 9 July - Topic P5
Weds 10 July - INSET, no session
Thurs 11 July - Topic P6
Fri 12 July - Topic P7

Key Stage 4 News

Attendance Competition- for all year groups
All students who achieve 100% attendance in term 6 will be guaranteed a prize and then entered into a bigger £25 prize draw. Please encourage your child to maintain 100% attendance throughout the term.

Year 10
Year 10 Work Experience
Year 10 students will be on Work Experience from 1-5 July. All students have been given a copy of their job description and a WEX diary. Please ensure students make contact with their employer to find out timings and dress code for their placement. Please help them plan their journey so they arrive in time to start the day, as hours may be different to school. The diary needs to be completed every day. This will go towards an achievement certificate. Any absences must be reported to school and employer. An emergency out of hours mobile number has been given to all students.
We have a small group out on work experience next week 24 June. Good luck and enjoy your week.
Remember, be polite, work hard. You are an ambassador for your school.

Year 10 Mock Exams
Year 10 Mock Exams take place from Monday 17 June to Friday 28 June 2019.

Attached is a timetable for the exams. Some students will have clashes and so all students will be given a copy of their own timetable showing the confirmed times of each of their exams in the next 2 weeks. Students must carry this with them at all times during the mock exam season. Please encourage them to check their arrangements the night before each exam.

Information about the content and resources needed for these exams can be found here.

Exam preparation
Students will need to start preparation for the exams now and should organise their time using a revision timetable template can be found here. Students will need a full set of equipment for these exams including calculators, pens, pencils and rulers. These exams are important for our learners in getting experience in taking exams but are also a good indication of how our students are making progress in their GCSE courses. Please support your child to find quiet revision time.
Essential Examination Equipment
Your child will be more successful in their summer exams if they have the correct equipment. Please support them by purchasing any missing items over the next month:
1. Clear pencil case
2. Black pens x2, pencils x2, eraser, sharpener, ruler, protractor, compass, highlighter, working non-programmable scientific calculator (preferably Casio).
3. Students taking examinations in Design and Technology will also need coloured pencils.
4. Students should have calculators with them for Maths, Science, Design Technology, Geography and Psychology.
Year 11
The final GCSE examinations concluded this week, and we would like to say a huge well done to all our Year 11 students for their outstanding effort throughout the exam season.
Staff were very appreciative of all the thank yous they received from our class of 2019 - special mention goes IG 11AWO, who baked this amazing cake for her teachers!
We would like to wish all of Year 11 a wonderful, well-earned summer break.

Post-16 Transition Day
On Wednesday 26 June 2019 there is a Post-16 transition day at the North Bristol Post-16 Centre. This Transition Day gives applicants to the Post-16 Centre the opportunity to meet the staff, students and attend taser sessions for the courses. Please see a letter with details about the day here.

Cotham Email
Year 11 students should continue to regularly check their Cotham email over the summer for important updates and information from Post 16.

Year 11 Prom
If your child is going to the Year 11 prom on 27 June, then please return the permission form which can be accessed at the back of the letter here. The form also gives details of dietary requirements which cannot be accommodated unless we know about them. Many thanks The Parent Prom Committee

GCSE Results Day
GCSE results are available from 10.00 a.m. to 1 2noon on Thursday 22 August 2019 from Charnwood. Results can only be given to pupils. Permission for someone else to collect results must be supplied in writing before the end of Term 6 and proof of identification provided on the day.

All uncollected results will be posted home; results will not be issued by telephone or email. North Bristol Post-16 team and our Careers Adviser will be available on results day for advice and guidance on Post-16 courses. We hope all our students will be proud of the results they achieve and wish them the very best of luck in their future studies.


Post 16 News


Year 11 Transition Day Wednesday 26 June
There are no Year 12 lessons on this day however we do need student ambassadors to help support on the day, please see Mrs Kempt if you are able to help, a big thank you to all those who have already volunteered.

Parent Engagement Meeting (PEG) Wednesday 3 July
An email has been sent out inviting you to our next PEG meeting, all are very welcome, this meeting will focus on moving into Year 13, UCAS applications and Higher Education.

Futures 18 Thursday 4 and Friday 5 July
All students and parents/carers have been sent an email with information regarding Futures 18. There are no timetabled lessons on either day, Thursday is based at RGS and Friday is based at Charnwood House.
Your son/daughter will soon be sent a programme of sessions soon and there are a great choice of sessions available for them to choose from. The Friday session will be based around applying and signing up to UCAS along with expert careers advice and guidance regarding apprenticeships.
The year group has been split into two halves and your son/daughter will either be in Group 1: 08.30 - 11am (tutor groups 12SHE, 12NP, 12GH, 12SPA) Or Group 2: 11am - 1.30pm (tutor groups 12RTO (EK), 12CBI (NK) , 12CSW, 12HA)
If you haven't already done so, please let Mrs Kempt know if your son/daughter will not be available either day.

Careers and guidance
Here is the link to our Careers Bulletin which is updated weekly:
Our Careers adviser is based at Charnwood every Wednesday - please contact Ms Paice to make an appointment, paices@cotham.bristol.sch.uk or pop up to see her in G402

Student Wellbeing
As students come to the end of Year 12 some students may be concerned about the lack of structure and support over the summer holidays. Please encourage your son/daughter to speak to Mrs Kempt if they are worried or concerned about their wellbeing
A reminder that Off the Record (OTR) are offering weekly Resilience Lab drop in sessions on Perry Road http://www.otrbristol.org.uk/what-we-do/resilience-lab/ there is no waiting list and all students are very welcome.
The school counsellor is available in Charnwood every Wednesday, there is also a Post 16 Reflection room and many places that your son/daughter can study alone should they wish to. Please see Mrs Kempt for more information. There is a also a mindfulness drop in session on a Thursday lunchtime

Year 13 Book Returns
As the exam period approaches, it is vital that students are aware of the importance of returning all textbooks and library books promptly. Students are requested to return all resources as soon as their exams have finished. The latest date for returning books is Friday 28 June 2019.

The £25 library deposits will be refunded once students have returned all of their books and cleared their accounts. Failure to return all books by Friday 28 June may result in the forfeit of the deposit.

For more information from Post 16 please see the "This Term at Post 16" section of the website here.

Staff Vacancies

Cotham School are currently recruiting new members of staff to work with us at the school. We are currently looking to hire a Data Administrator, Cover Supervisor, Food Technician, Learning and Behaviour Support Assistant and Careers Administrator and Senior Inclusion Manager at Cotham School.

For more information about school roles please click here.

Student Careers Update

Last chance for students who would like to apply for an apprenticeship in the following trades: Bricklaying, Bench Joinery, Carpentry, Plastering, Painting and Decorating, Electrical or Plumbing.
Please encourage students to apply online at https://www.onsitebristol.co.uk/apply/
All On Site applications for starting an apprenticeship in September 2019 will close on 1 July 2019. (For September 2020 Construction Apprenticeships the online application will open in December 2019)

Wessex Water's Young People's Panel
Wessex Water have an exciting opportunity for sixth formers and Year 11 students to get involved in the running of one of the largest businesses in our region. This is the fourth year of Wessex Water's Young People's Panel which brings the views of young adults into the decision-making they do to plan their future operations. For more information on what is involved and how to apply please click here.

Apprenticeships

City of Bristol College Apprenticeship Bulletin and South West Apprenticeship Company have apprenticeship vacancies here and here.

Other apprenticeships can be found through the Gov website here, Target Careers, Success at School , Get My First Job and Not Going to Uni.


Students looking for Saturday jobs can find good advice through this website

Please keep your eyes on the Careers section of the website for updates.
​​​

Community News

Nominations are now open for the EPIC Awards (children in care) and STARS Awards (care leavers)
The EPIC and STARS Awards are the annual red carpet events for Bristol's children in care and care leavers, and are an opportunity to recognise and celebrate their achievements. The events bring together partners from across Bristol who want to support our children and young people and provide inspiration and motivation for a successful life beyond care.

Anyone can nominate a child or young person for an award. There are two age groups for the EPIC Awards, 5-11 and 12-17 year olds. The STARS Awards are for 18-25 year old care leavers.

Find out more about the awards and how to nominate a young person in or leaving care for an award here.

The deadline to nominate is 7 July 2019

This is Classical Bristol
Click here to see information about the final concerts from 'This is Classical Bristol'. St George's Bristol have some stunning performances of classical favourites lined up, all with an added twist. Among them there's a unique rendition of Vivaldi's The Four Seasons from the ever-inventive Orchestra of the Age of Enlightenment, a summer edition of Classical Mixtape Live featuring five young classical stars, and an evening of summer opera with Puccini's Madama Butterfly matched with delicious food.

Bristol North Police Cadets Unit- Recruiting for 3 September 2019
Bristol North Police Cadets unit are currently recruiting for new recruits to start 3 September 2019. The cadet scheme is open to teenagers aged between 14 and 18 who live or attend school in the Avon and Somerset Policing area. The unit is run by police officers, police staff and volunteers. Cadets meet 2 hours a week during term time and have the chance to volunteer to take part in activities and events. The unit meets Tuesday evenings between 7.15pm - 9.15pm at Patchway Police station. Please click here for further information on how to apply.

Bristol Plays Music Summer E-news
Click this link to view the Bristol plays Music Summer E-News, including events for June and July.

Judging without Knowing- New Original Theatre by Bristol Somali Women
Created by Talo, a women-led Somali organisation working with the community, Judging without Knowing is a play presented by Acta Theatre on Monday 1 and Tuesday 2 July at 7.00p.m. Further information can be found here and here, tickets can be booked by following this link.

DigiMakers Free Summer School- Change of dates
The Digimakers Summer School run by the University of Bristol offers students the opportunity to digitally innovate and create a new product, bringing their ideas and designs to life. They would like to invite students aged 10-13 years old who are local to Barton Hill Settlement and are excited about joining us for some Digifun this summer! For more information please click here, dates have slightly changed from previous information sent out.

Cotham and Redland Community Sponsorship
Cotham and Redland Community Sponsorship is a new group made up of local people and organisations, including Cotham School. We have been brought together by a shared desire to make a positive difference in the face of the ongoing refugee crisis. With the support of Citizens UK we are working to develop a local Community Sponsorship scheme to welcome a Syrian refugee family. We believe that we are able to offer this support and that we have much to gain.
To read about our first fundraising event 'A Syrian Night in Bristol' on 22 June, and to buy tickets, click here.
To find out more or to offer help please email cothamredlandwelcome@gmail.com