Weekly Mailing - Friday 28 June 2019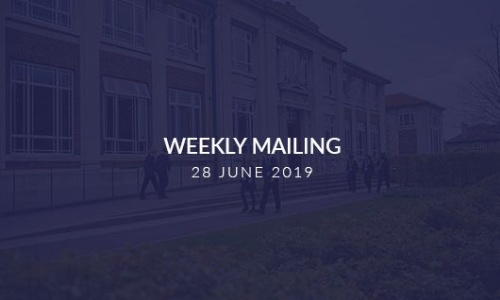 Dear Parents and Carers

Please find below this week's important information for Parents/Carers and students as well as updates on School events, activities and opportunities for your reference.

Ms Jo Butler
Headteacher


Good News

Pay it Forward Campaign
'Pay it Forward' is an international movement which promotes the undertaking of random (or not so random) acts of kindness. Using the ethos of 'Pay it Forward', the Governors and I feel that now is the time to launch our very own campaign.

For the remainder of this year and subsequently through campaign updates and new termly initiatives next year, we will be providing details of how parents, carers, ex-students, our community and alumni can 'Pay it Forward' to support Cotham School students. Please find a letter here explaining more about the campaign and how you can take part, your 'Pay it Forward' contributions will make a significant difference to our school whether they are financial, helping with resource upcycling or the giving of your time and skills.

The Year 11 Prom- thanks to all who helped organise
The Year 11 prom took place on Thursday last week. The evening was a huge success and students had a wonderful time. A huge thanks to the parents and carers who helped to organise the event- it would not have happened without you! Thanks are also due to the student prom committee.

School Alliance Table-Top Finals
Joe in Year 8 and Huxley in Year 9 competed in the School Alliance Table-Top Finals last week. Joe and Huxley came in at a very respectable 16th place out of 20 schools and out of the 150+ clubs that took part in the initial phase of the tournament in the UK, came in just under the top 10%. A fantastic achievement in only our first year. While on the trip the students also got a very rare opportunity to meet and speak with Duncan Rhodes who is a very well known member of the Warhammer team, who has taught thousands of hobbyists. Well done both.

Performing Arts Summer Sharing
Many congratulations and thanks to the wonderful students who performed in the Performing Arts Summer Sharing last Tuesday. It was an inspiring evening of Dance, Drama and Music from Year 7-10 performing to a packed out auditorium. Thank you to parents for your support and making such a receptive audience and huge thanks to the students for your time, energy and commitment.

Drumming Success
Congratulations to LW in 7OH for passing his RSL Grade 3 Drumming exam, well done.

Keep us posted
It would be great if parents/carers could let the school know of any student achievements outside of school. It is sometimes only at parents' evenings that we find out what students are doing in their own time. Email us: weeklymailing@cotham.bristol.sch.uk

Important Information for Parents/Carers

New addition to the school uniform from September
The Famous School Branches, one of our uniform suppliers, has sourced shorts as an addition to the school uniform which can be worn by all genders, all year round. The shorts will be black with the school logo sewn into one of the legs in the corner. Only these authorised shorts with the school logo can be worn in school and this will be strictly enforced. The supplier will have stocks of the shorts in store from the end of July when parents/carers are welcome to go to the store to check sizes/fittings and place orders. We are told that the orders should be in place for September.

The Famous School Branches will have samples of the new shorts for the Year. 6 Parents' Evening on 4 July to promote and take orders.

Stepping up to Year 11 Parent Information Session on Thursday 11 July
There will be a Stepping up to Year 11 Parent Information Session for parents and carers of students in Year 10. This will take place in the Main Hall on Thursday 11 July between 5.30p.m. - 6.30p.m.
The session will detail our expectations for students over the summer to ensure that they are ready for Year 11 in September and describe ways in which parents can support students following their recent end of Year 10 Exams. We would like to see as many Year 10 parents at the session as possible. Please add the date to your diary and join us at 5.30p.m. via the main reception on Cotham School Road (the main hall is located directly inside the school, signs will be posted to show you the way).

Word of the week
Each week at Cotham we promote a Word of the Week. This is to help students expand the range of vocabulary they use. Please find the word for the week ahead by clicking here.

Sports Awards Evening on Thursday 11 July
This will be taking place on Thursday 11 July between 5pm-6.30pm. Invitations will be sent out to students and parents / carers shortly.

Cotham School Sport Days – Stoke Lodge Playing Fields on Friday 12 July and Monday 15 July
We are proud to announce that we are holding two Sports Day events the first on Friday 12 July 2019 for Years 7 and 8 and then on Monday 15 July 2019 for Years 9 and 10. We are excited to once again be staging such an enjoyable event that will celebrate the whole school community involved in the joy of sport. All students will be asked to participate to win points for their House and all will be involved either as competitors, team managers, helpers, or spectators.

Students will be registered as normal at 8.40am, and then escorted by tutors to be transported by coach to Stoke Lodge playing fields from 8.45am onwards. At the end of the event, students will be taken back to school by coach

Students will be required to wear a plain coloured t-shirt in their House colour, black shorts or skirt, or tracksuit bottoms, white sport socks and trainers. If you are unsure of which House your child is in and the House colour they need to wear for Sports Day, please refer to the colour of their lanyard.

We advise that students should be prepared for varying weather conditions, i.e. sun cream, cap/sun hat, waterproof clothing etc. If the weather forecast is particularly bad and the event needs to be cancelled, a decision will be taken early on the day and a normal school day will run. A message will be placed on the school website and the school answering machine stating whether or not the event is taking place.

It would be great to see as many parents / carers as possible at the playing fields to support what is always a thoroughly enjoyable event.

If you have any questions, please do not hesitate to contact the PE Faculty.

Headspace Lunchtime Club- K007
Headspace is a lunchtime club providing a space for students to get away from the hustle and bustle and have some quiet time to either just sit quietly or do some mindful activities. A poster with more information can be found here.

Student Wellbeing
Guided meditation and mindful yoga with 'Yoga Tribe for Teens' led by Miss Gallien is available on a Friday lunchtime between 1.10pm - 1.50pm in the main hall, a calming space for all students.

Cyberbullying Guide
An online organisation called HomeGuides has developed guidance to help children, parents and teachers to understand what cyberbullying is and what can be done about it. Download the guide here.

Online Safety Newsletter
Please click here to view this month's online safety newsletter.

Subject Area News

Physical Education (PE)
Extra-Curricular Clubs
Please click here for a list of all of the PE/Sports Extra-Curricular activities available to students in Term 6.
Follow @CothamPE on Twitter for all the latest news and updates from the Cotham School PE department

Girls Rugby
If you are interested in playing girls rugby, Dings RFU are running sessions starting on Sunday 14 July 12.30pm at Shaftesbury Park, Frenchay. Please see this flyer for details.

Visual Arts
Work of the Week
This weeks work comes from Year 7 students AA 7JLL, LC 7JLL and HK 7JLL who have completed their Futurism project with their exam piece. To view the pieces please click here.

STEAM
Visual Arts and Photography Year 11 and Year 13 - collection of exam work on 4 and 7 November
Students will be able to collect their examination work between Monday 4 November and Thursday 7 November after school from 2.45p.m. until 3.15p.m. We will contact parents in advance as a reminder in October.

Performing Arts
Year 10 GCSE Drama Students
Don't forget to get to get your ticket for 'Deaddog in a Suitcase' by Kneehigh at the Bristol Old Vic on Thursday 11 July. Tickets are available to purchase on Wisepay, more information on the play can be found here.

Year 8 into Year 9 Dance & PE Options
All Year 8 parents & carers will have received an email regarding Dance & PE in Year 9. In Year 9, Dance is integrated into the PE curriculum and students can opt to continue with both Dance & PE or just PE. It is essential that the document attached to the email sent is completed by Monday 8 July.

Modern Foreign Languages (MfL)
Last week a number of our Year 10 students trialled a new exam called Saving Lives! in French, German, Spanish and Welsh and we hope to extend it to more languages next year.

Saving Lives is a 'real world' multiple choice listening comprehension exam suitable for those taking a Duke of Edinburgh Award or anyone with an interest in the outdoor world, helping others and the emergency services. All of our students who took part were brilliant and embraced the challenge.

For more information on this new exam, follow this link.

Key Stage 3 News

Attendance Competition- for all year groups
All students who achieve 100% attendance in term 6 will be guaranteed a prize and then entered into a bigger £25 prize draw. Please encourage your child to maintain 100% attendance throughout the term.

Year 9

Year 9 Science- Updated
All Year 9 students are sitting a real past GCSE exam paper in July. This is Physics paper 1 and covers topics P1 - P7.

The exam is 1h45 so will be split over 2 lessons.

9YE - JBA - Wed 17 July period 1 & Fri 19 July period 3
9YI - MAH - Fri 12 July period 4 & Fri 19 July period 2
9YO - KMA - Tue 16 July period 3 & Fri 19 July period 4
9YU - GHO - Thu 11 July period 1 & Tue 16 July period 3
9ZE - MAH - Tues 16 July period 5 & Wed 17 July period 4
9ZI - SBR - Tues 16 July period 4 & Wed 17 July period 5
9ZO - KMA - Tues 16 July period 2 & Wed 17 July period 4
9ZU - GHO - Wed 17 July period 5 & Fri 19 July period 5

We will run revision sessions after school in the lead up to the exam, between Monday 1 and Tuesday 9 July, please see below for details.

Mon. 1 July - Topic P1
Tues. 2 July - Topic P2
Wed. 3 July - Topic P3
Thurs. 4 July - Topic P4
Fri. 5 July - Topic P5
Mon. 8 July - Topic P6
Tues. 9 July - Topic P7

Key Stage 4 News

Attendance Competition- for all year groups
All students who achieve 100% attendance in term 6 will be guaranteed a prize and then entered into a bigger £25 prize draw. Please encourage your child to maintain 100% attendance throughout the term.

Year 10
Year 10 Work Experience
Year 10 students will be on Work Experience from 1-5 July. All students have been given a copy of their job description and a WEX diary. Please ensure students make contact with their employer to find out timings and dress code for their placement. Please help them plan their journey so they arrive in time to start the day, as hours may be different to school. The diary needs to be completed every day. This will go towards an achievement certificate. Any absences must be reported to school and employer. An emergency out of hours mobile number has been given to all students.
Good luck and enjoy your week.
Remember, be polite, work hard. You are an ambassador for your school.
Students who have not secured a placement are expected in school for the week.

Year 11
Cotham Email
Year 11 students should continue to regularly check their Cotham email over the summer for important updates and information from Post 16.

GCSE Results Day
GCSE results are available from 10.00a.m. to 12noon on Thursday 22 August 2019 from Charnwood. Results can only be given to pupils. Permission for someone else to collect results must be supplied in writing before the end of Term 6 and proof of identification provided on the day.

All uncollected results will be posted home; results will not be issued by telephone or email. North Bristol Post-16 team and our Careers Adviser will be available on results day for advice and guidance on Post-16 courses. We hope all our students will be proud of the results they achieve and wish them the very best of luck in their future studies.


Post 16 News

Parent Engagement Meeting (PEG) Wednesday 3 July
An email has been sent out inviting you to our next PEG meeting, all are very welcome, this meeting will focus on moving into Year 13, UCAS applications and Higher Education.

Futures 18 Thursday 4 and Friday 5 July
The final programme has been shared with Year 12 students, please encourage your son/daughter to decide which sessions they would like to attend. For your information the programme is linked here.
There is also a "guide to talks" for your information which has also been sent to your son/daughter to help them decide which sessions will be of most use, this can be viewed here.
There are no timetabled lessons on either day, Thursday is based at RGS and Friday is based at Charnwood House.
The Friday session will be based around applying and signing up to UCAS along with expert careers advice and guidance regarding apprenticeships, the year group has been split into two halves and your son/daughter will either be in Group 1: 08.30 - 11am (tutor groups 12SHE, 12NP, 12GH, 12SPA) Or Group 2: 11am - 1.30pm (tutor groups 12RTO (EK), 12CBI (NK) , 12CSW, 12HA). Here is the programme.

Careers and guidance
Here is the link to our Careers Bulletin which is updated weekly. Our Careers adviser is based at Charnwood every Wednesday - please contact Ms Paice to make an appointment, paices@cotham.bristol.sch.uk or pop up to see her in G402

Volunteer opportunity in Nicaragua post-A level for students of Spanish
An opportunity has arisen for a cohort of young people in Bristol interested in a) receiving training in the delivery of an English language teaching programme and b) spending some time during the summer months out in Nicaragua delivering that teaching (using materials that have been specifically designed for this purpose under the supervision of professional staff). If you have a child currently studying Spanish A level and who might be interested in undertaking a volunteer programme post-A Level please contact simon.tepper@northport.co.uk

2019 Catalyst Bootcamp & Mentoring Programme, 24-26 July at Bristol University
A few free bursary places are being made available to girls and young women who are interested in tackling the climate emergency and social injustice agendas. This is a residential sustainability summer camp run by Catalyse Change CIC, a Bristol-based social enterprise. The programme has been set up to empower and skill girls and young women (aged 14 – 24 yrs) who want to pursue futures as sustainability leaders and change makers. Following the event participants receive ongoing mentoring support from a professional woman already working in sustainability, to help with setting and achieving goals concerning education and future career. For more information go to www.catalysechange.com or to apply contact: Traci Lewis, Programme Manager,traci@catalysechange.com

End of term arrangements
After careful reflection, we have made the decision to end P16 lessons on Friday 19 July. Our partner school, Redland Green School, have Inset days on the final two days of term (22-23 July) so we will be using this time at Cotham P16 to run progression and summer study clinics. Students will have access to their teachers during timetabled lesson slots, but attendance will not be compulsory. Some staff will be making appointments with students they especially want to see and students will be expected to attend these as required. The P16 team will also be available to students on both days for progression support, especially UCAS.

Trip Reminders
Year 12 Biologists are going to Slapton Sands on an Ecology trip between Monday 1 - Wednesday 3 July.
Year 12 Authentic Biologists are taking part in a science outreach activity at We the Curious on Friday 5 and Saturday 6 July.
For more information from Post 16 please see the "This Term at Post 16" section of the website here.

Staff Vacancies

Cotham School are currently recruiting new members of staff to work with us at the school. We are currently looking to hire a Food Technician, Learning and Behaviour Support Assistant and Careers Administrator and Attendance Admin Officer at Cotham School.

For more information about school roles please click here.

Student Careers Update

Apprenticeships

City of Bristol College Apprenticeship Bulletin and South West Apprenticeship Company have apprenticeship vacancies here and here.

Other apprenticeships can be found through the Gov website here, Target Careers, Success at School , Get My First Job and Not Going to Uni.


Students looking for Saturday jobs can find good advice through this website

Please keep your eyes on the Careers section of the website for updates.

Community News

Home to School Travel
Home to School Travel work with Families Children and Young People, Schools and other Local Area Partners to find innovative, inclusive and creative ways for individuals who meet criteria for support with travel under Bristol City Council's Travel Policy in line with DFE Guidance to travel to School.
The City's focus is on ensuring ordinary lives experiences for children and young people who have SEND whilst also giving families choice and control with their child's travel to School.
For more information, please see: https://www.bristol.gov.uk/web/bristol-local-offer/support-withtravel-for-children-and-young-people-with-send
Applications can be made online https://www.bristol.gov.uk/schools-learning-early-years/schooltravel
The team is focusing on supporting settings and families to enable children and young people to develop independent travel skills and positive outcomes and would be happy to come into settings to meet with Parent/Carers /Staff and deliver our presentation as well as answering any queries . Children and young people respond best with Travel Training from the people they know and when it becomes part of their ordinary life. https://www.bristol.gov.uk/documents/20182/1994284/Travel+training+tips+for+parents+carers.pdf/0 e3daeb9-c7bd-e389-977e-43dda0576c8e
There are a variety of ways that families can be supported. We have Walking /Bus Buddies , Electric Outdoor Wheelchairs, Motability Scooters , Personal Travel Budgets, Bus Passes for young people and adults accompanying their child. Travel to School has to be about building skills to take forward into your future life. School is only 190 days a year and there are another 175 days when our children and young people live their lives.
You can contact the Home to School Travel Team at home.school.travel@bristol.gov.uk

Facebook Group for Parents and Carers of Students Joining Cotham School in September 2019
A Facebook group has been set up for parents and carers of children starting Cotham in 2019. The group offers a place to introduce yourself, ask questions, post information and chat. In previous years, it has also been used to set up social events so children can get to know each other before term begins. If you would like to join the group the following link will take you to the page 2019 entry Parents and Carers. The Facebook page is run by parents of Cotham School and none of the comments on the page are endorsed by the school.

Nominations are now open for the EPIC Awards (children in care) and STARS Awards (care leavers)
The EPIC and STARS Awards are the annual red carpet events for Bristol's children in care and care leavers, and are an opportunity to recognise and celebrate their achievements. The events bring together partners from across Bristol who want to support our children and young people and provide inspiration and motivation for a successful life beyond care.

Anyone can nominate a child or young person for an award. There are two age groups for the EPIC Awards, 5-11 and 12-17 year olds. The STARS Awards are for 18-25 year old care leavers.

Find out more about the awards and how to nominate a young person in or leaving care for an award here.

The deadline to nominate is 7 July 2019

Bristol North Police Cadets Unit- Recruiting for 3 September 2019
Bristol North Police Cadets unit are currently recruiting for new recruits to start 3 September 2019. The cadet scheme is open to teenagers aged between 14 and 18 who live or attend school in the Avon and Somerset Policing area. The unit is run by police officers, police staff and volunteers. Cadets meet 2 hours a week during term time and have the chance to volunteer to take part in activities and events. The unit meets Tuesday evenings between 7.15pm - 9.15pm at Patchway Police station. Please click here for further information on how to apply.