Weekly Mailing - Friday 5 July 2019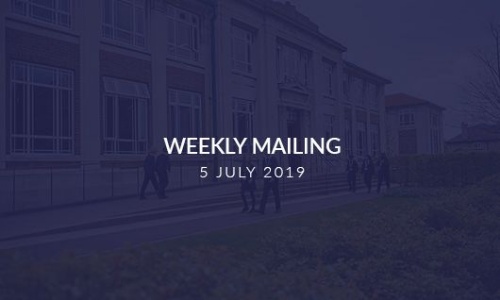 Dear Parents and Carers

Please find below this week's important information for Parents/Carers and students as well as updates on School events, activities and opportunities for your reference.

Ms Jo Butler
Headteacher


Good News

Pay it Forward Campaign
'Pay it Forward' is an international movement which promotes the undertaking of random (or not so random) acts of kindness. Using the ethos of 'Pay it Forward', the Governors and I feel that now is the time to launch our very own campaign.

For the remainder of this year and subsequently through campaign updates and new termly initiatives next year, we will be providing details of how parents, carers, ex-students, our community and alumni can 'Pay it Forward' to support Cotham School students. Please find a letter here explaining more about the campaign and how you can take part, your 'Pay it Forward' contributions will make a significant difference to our school whether they are financial, helping with resource upcycling or the giving of your time and skills.

Praise Indeed!
From time to time we like to share positive feedback/praise the school receives. Please see below recent messages of praise.

"I was at the Young Blood theatre festival today. The Cotham piece was really powerful. This was a really significant moment for the arts in Bristol."
"I must say thank you for sending a very courteous and polite young person this morning. The student was punctual, and whilst a little quiet, he was ready for any task presented. He presented me with is CV first thing and today he has been given information on the companies and the businesses he will be learning about, and a basic induction. He was given a main task to be completed and one attribute which we liked was he was happy to ask questions and not afraid if he didn't understand to ask again or check his choices. A tough thing to do in a new place with unknown people. But we hope he found everyone helpful. We have several things planned this week and an itinerary that will hopefully give him a broad base and snap shot of all we do here. I look forward to the rest of an educational and informative week. And I hope he enjoys his time with us too."
"Now the GCSE dust has settled I wanted to contact you to ask if you could please pass on my thanks to your fantastic staff. Could I say particular thanks to your lovely reception staff. I have contacted the office many times. They are unfailingly calm, helpful and friendly. This shouldn't be a rarity but it is and they are tremendous ambassadors for the school.
We are looking forward to the next adventure in post-16.

I wish all of you an enjoyable and well earned Summer break."

Inspiring talk for Year 9 from Holocaust survivor Janie Webber
Year 9 were visited in an extended assembly by Janie Webber, an 87 year old Holocaust survivor. She talked openly about her harrowing experience, she was just 9 years old in 1941 when the Germans occupied Lvov and forced the Jews into a ghetto. Janine went into hiding and spent the next 4 years doing whatever she could to avoid being captured. Many members of staff took the opportunity to hear Janine talk and they and Year 9 asked Janine some excellent questions afterwards. Year 9 were a credit to the school. I don't think anyone there will ever forget what we heard. Many thanks to Janine, the Holocaust Education Trust & Year 9 for being so brilliant.

Bristol Women's Commissions Girls Leadership conference
On 1 July ten Year 9 and twelve Year 12 girls took part in the Bristol Women's Commissions Girls Leadership conference at The University of Bristol. The girls took part in a 'Human Library' which was made up of local, inspirational women who had volunteered their time to talk to them about their careers and gender issues (including eight parents from Cotham). The girls interacted with a number of specialists ranging from a leader in a space agency to border force officers. The girls took an active part in the discussion and were eager to find out about different professions and get advice on being a woman in the workplace. The day also included talks by keynote speakers including Dr Roisin Mcnaney (a computer scientist) and Briony Williams from Bake Off.

The girls had a fantastic time and left feeling empowered and with lots of positive messages to take away. We would like to give special thanks to the Cotham parents; Verity Jones, Henrietta Wilson, Bronwen Wright, Annabel Bennett, Faye Lewis, Jo Feather, Catrin MacDonnell, and Yasmin Ismail who kindly gave up their time to be part of such a positive event.

Fun at the Fete
As part of their BTEC Level 3 Business course some of our Year 12 students were required to manage an event and were involved in the managing of the school fete. The Marketing team have provided the following summary of the event.

We worked with the Heads of House and Prefects to help create a fun and entertaining fete. It was a hot, sweltering day which meant the ice creams were in high demand. Students especially seem to enjoy the penalty shoot out, tug of war and tin can alley. However, the most popular event was definitely the delta dunk with 14 brave teachers getting soaked Miss Allender, Mrs Arnold, Mr Barber, Mr Cawse, Miss Clement, Mr Emery, Mr Fagan, Ms Gallien, Mrs Grice, Miss Hepworth, Miss Madge, Mr Meakin, Mr Nunn and Mrs Oxenham. The main aim was to raise money for house charities and the fete raised, £291.47.
Many thanks to everybody who participated.

Jack Barclay, Jack Tomkins, George Stagg, Joe Mason and Olli Harris-Dansie (Marketing Team)
The Seven Saints of St Pauls(R) Art & Heritage Trail
A representative of Cotham School was given the brilliant opportunity to attend the Seven Saints of St Paul's Art and Heritage trail launch last week. She found the speeches made by the Jamaican High Commissioner and HM Lord Lieutenant of Bristol particularly inspiring. There is now an App available to download which will be fascinating to those who may have a particular interest in local and British history or to those who may have links to St Pauls. The stories of the Seven Saints and their determined intentions are both motivational and encouraging.

Here is a link to the app which includes an interesting You Tube clip too:

Swimming Achievement
At the end of June British Swimming confirmed that RW 10KBO had qualified in 50m and 100m Freestyle for this year's British Swimming Championships which will be held in Glasgow between 23 - 28 July 2019. He has also qualified for the English Championships in Sheffield in 50m Backstroke the following week. Well done Reuben for all your hard work and dedication.

Keep us posted
It would be great if parents/carers could let the school know of any student achievements outside of school. It is sometimes only at parents' evenings that we find out what students are doing in their own time. Email us: weeklymailing@cotham.bristol.sch.uk

Important Information for Parents/Carers

INSET Day Reminder
A reminder that the final school INSET day for this year is on Wednesday 10 July. The School will be closed to students for staff training on that day.

Sports Awards Evening on Thursday 11 July
All invitations have now been emailed out to parents for the Sports Award Evening which is taking place on Thursday 11 July between 5.00pm-6.30pm. Please can we ask for all responses to be returned by Tuesday 9 July.

End of Term Arrangements and early finish for students on Tuesday 23 July at 10.45am
Last day of term for students is Tuesday 23 July. Following the House Assembly, students will be dismissed at 10.45am. Free school meal students will be able to collect a lunch from the sandwich hut between 10.45a.m. and 11.00a.m. This will be a non school uniform day and all monies raised will be split between the four House Charities

Term Dates/INSET Days, Revised Timings to the School Day and Early Closures 2019-2020 Academic Year
Click here to see the Term Dates/INSET Days, Revised Timings to the School Day and Early School Closures for the next academic year under the tab "Term Dates 2019 - 2020"

Addition of Shorts to the School Uniform from September 2019
From September we have a new addition of Shorts to the school uniform, a sample of what they look like can be viewed here. These are available to purchase from our uniform provider Famous Branches both online and from their shops 190 Henleaze Rd, Bristol BS9 4NE and 140 East St, Bristol BS3 4EW. To guarantee that your order will be ready in time for September, orders need to be placed by 29 July 2019. Only the Cothamised school short from this supplier will be accepted as part of the uniform.

Stepping up to Year 11 Parent Information Session on Thursday 11 July
There will be a Stepping up to Year 11 Parent Information Session for parents and carers of students in Year 10. This will take place in Charnwood room G001 on Thursday 11 July between 5.30p.m. - 6.30p.m.
The session will detail our expectations for students over the summer to ensure that they are ready for Year 11 in September and describe ways in which parents can support students following their recent end of Year 10 Exams. We would like to see as many Year 10 parents at the session as possible. Please add the date to your diary and join us at 5.30p.m. via the main reception on Cotham School Road (the main hall is located directly inside the school, signs will be posted to show you the way).

Word of the week
Each week at Cotham we promote a Word of the Week. This is to help students expand the range of vocabulary they use. Please find the word for the week ahead by clicking here.

Cotham School Sport Days – Stoke Lodge Playing Fields on Friday 12 July and Monday 15 July
We are proud to announce that we are holding two Sports Day events the first on Friday 12 July 2019 for Years 7 and 8 and then on Monday 15 July 2019 for Years 9 and 10. We are excited to once again be staging such an enjoyable event that will celebrate the whole school community involved in the joy of sport. All students will be asked to participate to win points for their House and all will be involved either as competitors, team managers, helpers, or spectators.

Students will be registered as normal at 8.40am, and then escorted by tutors to be transported by coach to Stoke Lodge playing fields from 8.45am onwards. At the end of the event, students will be taken back to school by coach

Students will be required to wear a plain coloured t-shirt in their House colour, black shorts or skirt, or tracksuit bottoms, white sport socks and trainers. If you are unsure of which House your child is in and the House colour they need to wear for Sports Day, please refer to the colour of their lanyard.

We advise that students should be prepared for varying weather conditions, i.e. sun cream, cap/sun hat, waterproof clothing etc. If the weather forecast is particularly bad and the event needs to be cancelled, a decision will be taken early on the day and a normal school day will run. A message will be placed on the school website and the school answering machine stating whether or not the event is taking place.

It would be great to see as many parents / carers as possible at the playing fields to support what is always a thoroughly enjoyable event.

If you have any questions, please do not hesitate to contact the PE Faculty.

2020 Ski Trip- 10 places remaining
There are 10 places remaining on the 2020 Ski Trip, if any Year 7, 8 and 9 students are interested in going they can collect a letter with all the relevant information from the PE office. WISE PAY will be open from Monday 17 June at 3.05pm to pay deposits for the trip.

Headspace Lunchtime Club- K007
Headspace is a lunchtime club providing a space for students to get away from the hustle and bustle and have some quiet time to either just sit quietly or do some mindful activities. A poster with more information can be found here.

Cyberbullying Guide
An online organisation called HomeGuides has developed guidance to help children, parents and teachers to understand what cyberbullying is and what can be done about it. Download the guide here.

Online Safety Newsletter
Please click here to view this month's online safety newsletter.
Please click here to view an online Safety booklet which includes an overview of key parental controls.

Subject Area News

Physical Education (PE)

Extra-Curricular Clubs
Please click here for a list of all of the PE/Sports Extra-Curricular activities available to students in Term 6.
Follow @CothamPE on Twitter for all the latest news and updates from the Cotham School PE department

Girls Rugby
If you are interested in playing girls rugby, Dings RFU are running sessions starting on Sunday 14 July 12.30pm at Shaftesbury Park, Frenchay. Please see this flyer for details.

Visual Arts
Work of the Week
This weeks work comes from Year 8 students RB 8KM, AH 8JBR, LG 8BSA and BC 8MPI who did a one off lesson based on the work of Ginny Grayson. To view the pieces please click here.

STEAM
Visual Arts and Photography Year 11 and Year 13 - collection of exam work on 4 and 7 November
Students will be able to collect their examination work between Monday 4 November and Thursday 7 November after school from 2.45p.m. until 3.15p.m. We will contact parents in advance as a reminder in October.

Performing Arts
Year 10 GCSE Drama Students
Don't forget to get to get your ticket for 'Deaddog in a Suitcase' by Kneehigh at the Bristol Old Vic on Thursday 11 July. Tickets are available to purchase on Wisepay, more information on the play can be found here.

Year 8 into Year 9 Dance & PE Options
All Year 8 Parents and Carers will have received an email regarding Dance & PE in Year 9. In Year 9, Dance is integrated into the PE curriculum and students can opt to continue with both Dance and PE or just PE. It is essential that the document attached to the email sent is completed by Monday 8 July.

Key Stage 3 News

Attendance Competition- for all year groups
All students who achieve 100% attendance in term 6 will be guaranteed a prize and then entered into a bigger £25 prize draw. Please encourage your child to maintain 100% attendance throughout the term.

Year 9
Year 9 Science- Updated
All Year 9 students are sitting a real past GCSE exam paper in July. This is Physics paper 1 and covers topics P1 - P7.

The exam is 1h45 so will be split over 2 lessons.

9YE - JBA - Wed 17 July period 1 & Fri 19 July period 3
9YI - MAH - Fri 12 July period 4 & Fri 19 July period 2
9YO - KMA - Tue 16 July period 3 & Fri 19 July period 4
9YU - GHO - Thu 11 July period 1 & Tue 16 July period 3
9ZE - MAH - Tues 16 July period 5 & Wed 17 July period 4
9ZI - SBR - Tues 16 July period 4 & Wed 17 July period 5
9ZO - KMA - Tues 16 July period 2 & Wed 17 July period 4
9ZU - GHO - Wed 17 July period 5 & Fri 19 July period 5

We will run revision sessions after school in the lead up to the exam, between Monday 1 and Tuesday 9 July, please see below for details.

Mon. 1 July - Topic P1
Tues. 2 July - Topic P2
Wed. 3 July - Topic P3
Thurs. 4 July - Topic P4
Fri. 5 July - Topic P5
Mon. 8 July - Topic P6
Tues. 9 July - Topic P7

Key Stage 4 News

Attendance Competition- for all year groups
All students who achieve 100% attendance in term 6 will be guaranteed a prize and then entered into a bigger £25 prize draw. Please encourage your child to maintain 100% attendance throughout the term.

Year 11
Cotham Email
Year 11 students should continue to regularly check their Cotham email over the summer for important updates and information from Post 16.

GCSE Results Day
GCSE results are available from 10.00a.m. to 12 noon on Thursday 22 August 2019 from Charnwood. Results can only be given to pupils. Permission for someone else to collect results must be supplied in writing before the end of Term 6 and proof of identification provided on the day.

All uncollected results will be posted home; results will not be issued by telephone or email. North Bristol Post-16 team and our Careers Adviser will be available on results day for advice and guidance on Post-16 courses. We hope all our students will be proud of the results they achieve and wish them the very best of luck in their future studies.

Post 16 News


Parent Engagement Meeting (PEG)
Many thanks to all those who attended the PEG last Wednesday evening, here is a useful link to support your child through their UCAS application process. Here is the link to the presentation which has also been added to the NBP16 Website under parent info.

Futures 18 Event- 4 and 5 July
Our Futures 18 two day conference was a great success with students having the opportunity to talk to many professionals and different agencies.
UCAS - if your son/daughter did not sign up to UCAS last Friday please ask them to come and see Mrs Kempt.

Student Leadership
Student Leadership applications for Year 13 are underway and voting will occur on Thursday 11 July.

Careers and guidance
Here is the link to our Careers Bulletin which is updated weekly:
Our Careers adviser is based at Charnwood every Wednesday - please contact Ms Paice to make an appointment, paices@cotham.bristol.sch.uk or pop up to see her in G402

End of term arrangements
After careful reflection, we have made the decision to end P16 lessons on Friday 19 July. Our partner school, Redland Green School, have Inset days on the final two days of term (22-23 July) so we will be using this time at Cotham P16 to run progression and summer study clinics. Students will have access to their teachers during timetabled lesson slots, but attendance will not be compulsory. Some staff will be making appointments with students they especially want to see and students will be expected to attend these as required. The P16 team will also be available to students on both days for progression support, especially UCAS.
For more information from Post 16 please see the "This Term at Post 16" section of the website here.

Staff Vacancies

Cotham School are currently recruiting new members of staff to work with us at the school. We are currently looking to hire a Senior Inclusion Manager and Mental Health Lead, Learning and Behaviour Support Assistant, HLTA Numeracy, Catering Assistant and Attendance Admin Officer at Cotham School.

For more information about school roles please click here.

Student Careers Update

Apprenticeships

City of Bristol College Apprenticeship Bulletin and South West Apprenticeship Company have apprenticeship vacancies here and here.

Other apprenticeships can be found through the Gov website here, Target Careers, Success at School , Get My First Job and Not Going to Uni.


Students looking for Saturday jobs can find good advice through this website

Please keep your eyes on the Careers section of the website for updates.


Community News

Consultation on Traffic Clean Air Zone options
Bristol City Council is asking for feedback on two options for a Traffic Clean Air Zone to control the effects of vehicle pollution. The two options aim to protect public health and reduce harmful levels of nitrogen dioxide to within legal limits. Click here for further information. The consultation closes Monday 12 August 2019

Advanced Cycle Training
Life Cycle Uk supported by Bristol City Council are offering Level 3 Bikeability Courses in August 2019 for children aged between 11 - 15 Years old. The course is £35 per child, more information can be found here, bookings can be made online or by calling 0117 3534580.

Colston Hall Bristol's Home of Music- What's New?
Significant Progress in works to transform Colston Hall
To view the progress on the works at the Colston Hall please click this link.

Terrace Sessions
Colston Hall presents its sixth year of Terrace Sessions, and this year it's a series of five parties featuring the cream of party-organisers from Bristol and beyond, taking place on our sun-drenched terrace looking out over the city – all for FREE!
Taking place every Friday in August, each session starts straight after work at 6pm for the ultimate weekend party vibes. So head on over, crack open a beer and soak up some summer rays. For more information please click here.

Supporting St Pauls Carnival
Following a spectacular 50th anniversary in 2018, Bristol Music Trust is once again pleased to be supporting St Pauls Carnival, which returns this Saturday, 6 July.

Since its beginnings back in 1968, St Pauls Carnival has grown in size and reputation to become one of Bristol's biggest attractions and last year we were proud to work with young people from St Pauls to create the official 50th anniversary anthem.

This year Colston Hall are pleased to be supporting the education programme in schools as well as the general organisation of the event, ensuring that Carnival's spirit and ethos of music, unity and community is shared by all ages. Read more here.