Weekly Mailing - Friday 12 July 2019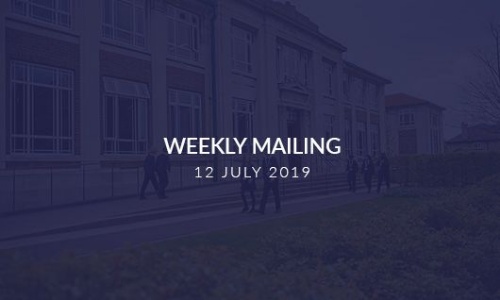 Dear Parents and Carers

Please find below this week's important information for Parents/Carers and students as well as updates on School events, activities and opportunities for your reference.

Ms Jo Butler
Headteacher

Good News

Pay it Forward Campaign
'Pay it Forward' is an international movement which promotes the undertaking of random (or not so random) acts of kindness. Using the ethos of 'Pay it Forward', the Governors and I feel that now is the time to launch our very own campaign.

For the remainder of this year and subsequently through campaign updates and new termly initiatives next year, we will be providing details of how parents, carers, ex-students, our community and alumni can 'Pay it Forward' to support Cotham School students. Please find a letter here explaining more about the campaign and how you can take part, your 'Pay it Forward' contributions will make a significant difference to our school whether they are financial, helping with resource upcycling or the giving of your time and skills.

Opal Coast Trip 2019
Last week, 29 Year 8 students set off for an exciting adventure to the Opal Coast region of France.
We had an action-packed five days, including a wide range of activities. Highlights included a high ropes adventure at 'Opalaventure', sand yachting on Boulogne beach and a trip to the 'Aqualud' water park in Le Touquet. Students were introduced to French culinary delights whilst visiting a bakery, a goat farm, a snail farm and a chocolate factory.

Students had the chance to improve their French by listening to French people describe how they run their businesses. Students had a fantastic time, behaved well and enjoyed the lovely sunny weather.

Thank you to Miss Siab for organising the trip with excellent support from her team of Mr Fagan, Miss Smith and Mr Morton.

We had some lovely feedback from our coach driver Anthony from Eurocoaches.
"I must say a huge thank you to the children, they really are a credit to your organisation, polite and really respectful of the coach which is rare."

EINFACH KLASSE!
Last Monday 40 Year 8 students flew to Basel in Switzerland and travelled to the Black Forest. There they spent a fun filled week of activities enjoying the dramatic landscape and sunny weather. Highlights included a 7-kilometre toboggan run down a mountain followed by an afternoon daring the waterslides at Badeparadies. Students were then able to have a paddle in the beautiful Lake-Titisee. Part of the trip included a walk around Mundenhof animal park and visiting the historic market town of Freiburg. Students could take in the culture of the region, speak some German and try some local delicacies. We enjoyed a cable car ride up on one of the highest mountains in the region which provided a stunning panoramic view of France, Germany and Switzerland. To finish students visited the Theme Park Europa-Park and braved the roller coasters and rides there.
Year 8 were a fun and engaged group who made the most of the trip. A big thanks to Mr Nunn, Miss Morgan, Mr Millard and Mrs Bingham for all your hard work.
'I really enjoyed the German trip. It was great to see the similarities and differences between life in Germany and England – especially with the food' – MH 8MPI
'The trip was really fun and I enjoyed it a lot especially the Theme park. I had so much fun' MS 8BSA
Please click here to view some photographs from the trip.

Lost Property Display
Location: Student Reception
Dates: Monday 22 and Tuesday 23 July 2019
Parents and Carers: Can come look during school hours 8.45am - 3.05pm
Students: Can look during morning break, lunchtime and after school
Any items not claimed will be donated to charity.

Wonderful Work Experience Feedback
We had some fantastic feedback from one of our work experience placements, ST 10SH completed her work experience at Didac in Bristol, they sent an email to let us know how "very hardworking, punctual she was and how she engaged in all the activities presented to her, being a credit to our school" What fantastic feedback, you can also see a picture here of the foot stool ST made during her work experience.

Soar Dance Competition Success
TG 8JBR recently competed in the Soar dance competition, doing a solo, duo and team dance. The team came 3rd in there group dance, Tyreese came 4th in his solo dance and 1st in the duo. What a fantastic result, well done.

Keep us posted
It would be great if parents/carers could let the school know of any student achievements outside of school. It is sometimes only at parents' evenings that we find out what students are doing in their own time. Email us: weeklymailing@cotham.bristol.sch.uk

Important Information for Parents/Carers

Youth Strike 4 Climate

The next Youth Strike 4 Climate protest is scheduled for 19 July between 11.00am and 2.00pm. Please click here to see the Headteacher's letter about this together with a link to a form to advise if you give permission for your child to attend the protest. As per previous events, parents or guardians must collect students from the Student Reception on Cotham Road at 10.15am.

End of Term Arrangements and early finish for students on Tuesday 23 July at 10.45am
Last day of term for students is Tuesday 23 July. Following the House Assembly, students will be dismissed at 10.45am. Free school meal students will be able to collect a lunch from the sandwich hut between 10.45am and 11.00am This will be a non school uniform day and all monies raised will be split between the four House Charities

Term Dates/INSET Days, Revised Timings to the School Day and Early Closures 2019-2020 Academic Year
Click here to see the Term Dates/INSET Days, Revised Timings to the School Day and Early School Closures for the next academic year under the tab "Term Dates 2019 - 2020". There was an omission last week from the early finishes. The school will also finish early on Wednesday 18 September to allow staff to prepare for the school's Open Evening.

Arrangements for the start of term September 2019
Firstly, an apology about mixed communication about the start of term arrangements for our new Year 7 students. The final and definitive arrangements are:
Monday 2 September - INSET day for Cotham School staff. NO STUDENTS IN SCHOOL
Tuesday 3 September - Year 7 only in School. Arrival at 8.30 am at Cotham Road Student Entrance where tutors will meet and greet the children
Wednesday 4 September - Year 7 arrive for 8.30 am at Cotham Road Student Entrance where tutors will meet and greet the children. All other Cotham students arrive for 10.45 am
The school day finishes at 2.45 pm
Students will be expected to be in full school uniform from Tuesday 3 September
We look forward to welcoming our Year 7 students on Tuesday 3 September and wish them all a restful summer break.
Addition of Shorts to the School Uniform from September 2019
From September we have a new addition of Shorts to the school uniform, a sample of what they look like can be viewed here. These are available to purchase from our uniform provider Famous Branches both online and from their shops 190 Henleaze Rd, Bristol BS9 4NE and 140 East St, Bristol BS3 4EW. To guarantee that your order will be ready in time for September, orders need to be placed by 29 July 2019. Only the Cothamised school short from this supplier will be accepted as part of the uniform.

Opportunity to buy School Uniform
There will be one more opportunity to come into School to purchase uniform items before the end of Term, details as follows:

Harris Sport will be selling new uniform on Thursday 18 July between 2.30pm and 4.00pm in Main Reception, Cotham Lawn Road.

Our Parent/Carer volunteers will be selling pre-loved uniform items also on Thursday 18 July between 12.00pm and 1.30pm. All pre-loved items cost £1 and monies raised go to School Funds.

If you have any items of uniform that you no longer require, please think of us! We are always happy to receive donated uniform either here on Main Reception or Student Reception. Our Parent/Carer Committee welcome volunteers to sell uniform on Parents Evenings and after school on the first Friday of every Term, if you can spare a few hours please contact Main Reception.

Cotham School Sport Day Year 9 and 10 – Stoke Lodge Playing Fields on Monday 15 July
We are proud to announce that we are holding two Sports Day events the first on Friday 12 July 2019 for Years 7 and 8 and then on Monday 15 July 2019 for Years 9 and 10. We are excited to once again be staging such an enjoyable event that will celebrate the whole school community involved in the joy of sport. All students will be asked to participate to win points for their House and all will be involved either as competitors, team managers, helpers, or spectators.

Students will be registered as normal at 8.40am, and then escorted by tutors to be transported by coach to Stoke Lodge playing fields from 8.45am onwards. At the end of the event, students will be taken back to school by coach

Students will be required to wear a plain coloured t-shirt in their House colour, black shorts or skirt, or tracksuit bottoms, white sport socks and trainers. If you are unsure of which House your child is in and the House colour they need to wear for Sports Day, please refer to the colour of their lanyard.

We advise that students should be prepared for varying weather conditions, i.e. sun cream, cap/sun hat, waterproof clothing etc. If the weather forecast is particularly bad and the event needs to be cancelled, a decision will be taken early on the day and a normal school day will run. A message will be placed on the school website and the school answering machine stating whether or not the event is taking place.

It would be great to see as many parents / carers as possible at the playing fields to support what is always a thoroughly enjoyable event.

If you have any questions, please do not hesitate to contact the PE Faculty.

Word of the week
Each week at Cotham we promote a Word of the Week. This is to help students expand the range of vocabulary they use. Please find the word for the week ahead by clicking here.

Cyberbullying Guide
An online organisation called HomeGuides has developed guidance to help children, parents and teachers to understand what cyberbullying is and what can be done about it. Download the guide here.

Online Safety Newsletter
Please click here to view this month's online safety newsletter.
Please click here to view an online Safety booklet which includes an overview of key parental controls.

Subject Area News

Physical Education (PE)
Extra-Curricular Clubs
Please click here for a list of all of the PE/Sports Extra-Curricular activities available to students in Term 6.
Follow @CothamPE on Twitter for all the latest news and updates from the Cotham School PE department

Key Stage 3 News

Attendance Competition- for all year groups
All students who achieve 100% attendance in term 6 will be guaranteed a prize and then entered into a bigger £25 prize draw. Please encourage your child to maintain 100% attendance throughout the term.

Year 9

Year 9 Science- Updated
All Year 9 students are sitting a real past GCSE exam paper in July. This is Physics paper 1 and covers topics P1 - P7.

The exam is 1h45 so will be split over 2 lessons.

9YE - JBA - Wed 17 July period 1 & Fri 19 July period 3
9YI - MAH - Fri 12 July period 4 & Fri 19 July period 2
9YO - KMA - Tue 16 July period 3 & Fri 19 July period 4
9YU - GHO - Thu 11 July period 1 & Tue 16 July period 3
9ZE - MAH - Tues 16 July period 5 & Wed 17 July period 4
9ZI - SBR - Tues 16 July period 4 & Wed 17 July period 5
9ZO - KMA - Tues 16 July period 2 & Wed 17 July period 4
9ZU - GHO - Wed 17 July period 5 & Fri 19 July period 5

Key Stage 4 News

Attendance Competition- for all year groups
All students who achieve 100% attendance in term 6 will be guaranteed a prize and then entered into a bigger £25 prize draw. Please encourage your child to maintain 100% attendance throughout the term.

Year 10
Thank you to all of the parents and carers that attended our Stepping up to Year 11 information session on Thursday 11 July. It was great to see so many of you there to hear about how you can support your child over the summer to ensure that they return in September ready for the demands of Year 11.

The presentation from the evening can be found here.

Year 10 students have recently completed their mock exams and will have started to receive marked papers showing their raw marks and their mock exam grade. All students will have had an opportunity to review their mock exam paper, understand their areas of strength and weakness, and create a plan to allow them to think carefully about the work that they need to complete over the summer. Teachers will have provided students with really clear feedback about their areas of weakness so that they are clear about the areas / topics / concepts that they need to improve.

Students will be required to re-complete their end of year 10 mock exam paper if they did not achieve their Minimum Expected Grade in their mock exam. The Minimum Expected Grade set for your son/daughter is based on their exam results at the end of primary school and is the same for all subjects.

Some subjects have also set additional tasks over the summer period. These can all be found here.

Electronic copies of the end of year 10 mock exam papers and mark schemes can be found here.

Your child's End of Year Academic Monitoring Report will let you see their Mock Exam grade and their Minimum Expected Grade in each subject so that you and they are clear about which papers this will apply to. This will be given to students to bring home next week.

Please encourage your child to print off any mock exam papers that they need to re-complete before the end of term if they are unable to print at home.

Year 11
Cotham Email
Year 11 students should continue to regularly check their Cotham email over the summer for important updates and information regarding results and enrolment from the Post 16 Centre.

GCSE Results Day
GCSE results are available from 10.00am to 12 noon on Thursday 22 August 2019 from Charnwood. Results can only be given to pupils. Permission for someone else to collect results must be supplied in writing before the end of Term 6 and proof of identification provided on the day.

All uncollected results will be posted home; results will not be issued by telephone or email. North Bristol Post-16 team and our Careers Adviser will be available on results day for advice and guidance on Post-16 courses. We hope all our students will be proud of the results they achieve and wish them the very best of luck in their future studies.

Post 16 News

UCAS
For those students who did not sign up to UCAS there are mop up sessions on Monday 15 and Tuesday 16 July in G005 at lunchtime.

Wellbeing over the summer break
Some students suffer from the lack of routine and company over the summer holidays. I have emailed all students with a "surviving the summer" package with some excellent websites and resources, please encourage your son/daughter to come and have a chat with Mrs Kempt should they need some extra support over the holidays. She also has many self-help books that students can borrow over the holidays.

Careers and guidance
Here is the link to our Careers Bulletin which is updated weekly, our Careers adviser is based at Charnwood every Wednesday, please contact Ms Paice to make an appointment: paices@cotham.bristol.sch.uk or pop up to see her in G402

End of term arrangements
After careful reflection, we have made the decision to end P16 lessons on Friday 19 July. Our partner school, Redland Green School, have Inset days on the final two days of term (22-23 July) so we will be using this time at Cotham P16 to run progression and summer study clinics. Students will have access to their teachers during timetabled lesson slots, but attendance will not be compulsory. Some staff will be making appointments with students they especially want to see and students will be expected to attend these as required. The P16 team will also be available to students on both days for progression support, especially UCAS.
For more information from Post 16 please see the "This Term at Post 16" section of the website here.

House News

Sigma, Delta, Gamma and Omega have all had a fantastic year, please click on the following links to hear more from each house. Please click here to hear from Sigma, click here for Delta's download, find out about Gamma here and Omega here.

Staff Vacancies

Cotham School are currently recruiting new members of staff to work with us at the school. We are currently looking to hire a Senior Inclusion Manager and Mental Health Lead, Learning and Behaviour Support, Catering Assistant at Cotham School.

For more information about school roles please click here.


Student Careers Update

Last week our Year 9 "High Fliers" took part in an "Urban Planning" workshop with Legal and General employees from Real Estate Investment Management. The workshop was brilliantly facilitated by two trained teachers with Legal & General there to add context. The students were shown how a piece of under used land can be designed and brought back to vibrant life with the right investment, planning, bidding and commitment. Students were encouraged to put together a realistic bid in teams and present it to the panel. There was an overall winner but Legal & General were keen to stress how magnificently the students worked and it was an incredibly hard decision; well done to everyone who took part.

Apprenticeships

City of Bristol College Apprenticeship Bulletin and South West Apprenticeship Company have apprenticeship vacancies here and here.

Other apprenticeships can be found through the Gov website here, Target Careers, Success at School , Get My First Job and Not Going to Uni.


Students looking for Saturday jobs can find good advice through this website

Please keep your eyes on the Careers section of the website for updates.

Community News

Consultation on Traffic Clean Air Zone options
Bristol City Council is asking for feedback on two options for a Traffic Clean Air Zone to control the effects of vehicle pollution. The two options aim to protect public health and reduce harmful levels of nitrogen dioxide to within legal limits. Click here for further information. The consultation closes Monday 12 August 2019

HappyMaps Website- Providing resources for Parents and Carers around Children's mental health
HappyMaps is a website providing a one stop shop of resources around children's mental health from babies to young adults and includes websites, videos, books, Apps and links to ways to find counselling and other support. The website was funded by NHS England with input form specialist services (CAMHS) and local charities and is supported by Bristol Mind. Please click here to view the website.

Colston Hall Bristol's Home of Music- What's New?
Hoo-Ha! 2019
The summer holidays are nearly here and the Colston Hall are making plans for their Hoo-Ha, their annual hullabaloo for children and their families. For the 2019 festival they've got lots of new entertainment and activities in store, as well as old friends and familiar faces. On Thursday 8 August they have a free performance from children's TV star Mr Bloom and His Band, performing parodies like Queen, ABBA, and Guns 'n' Roses. Also new for 2019 are Bristol Forest School, Rubbish Portraits, Conductive Music, Bruce Airhead and the Bonkers Balloon Science Show to name just a few.
Click here to find out more about all the jam-packed fun they have in store!

Space Chase Summer Reading Challenge – Mayor's Award
The Space Chase Summer Reading Challenge is run each year in libraries on behalf of the Reading Agency, taking part is simple, when the summer holidays start you can sign up for free at your local library. You will receive your own Space Chase mission folder and collect special stickers to add to the folder when you read six library books or more! By taking part you may also win a prize for the school, Bristol Libraries will be collecting school information from children taking part in the challenge and will reveal the winning schools at the end of September. The winning schools will receive a presentation copy of A Year Full of Stories by Angela McAllister signed by the Mayor. For more information on the challenge please click here.