Weekly Mailing - Friday 13 September 2019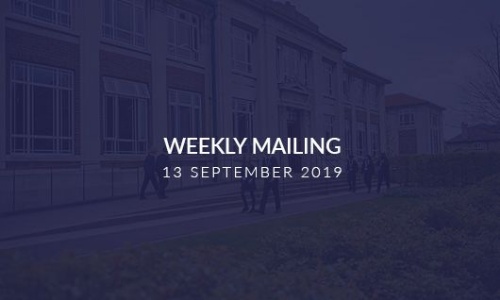 Dear Parents and Carers

Please find below this week's important information for Parents/Carers and students as well as updates on School events, activities and opportunities for your reference. Wishing you a relaxing weekend.

Ms Jo Butler
Headteacher

Good News

GWR Student Rail Ticketing Scheme
We are very pleased to announce that the Severnside Community Rail Partnership have confirmed that they are willing to continue with the Student Rail Ticketing Scheme. This partnership offers our students and families a huge saving on rail travel to and from the school on the Severnside Community Rail. An annual ticket costs £40.00 or families can buy their ticket in instalments. All the details are contained in the letter and application form here.

Charity Fundraising 2018/19 Academic Year
We are delighted to be able to report that our Houses raised a total of £6379.87 for their nominated charities.

Sigma House raised £2055.58 for the Rainbow Centre for Children

Delta House raised £1339.78 for Off The Record

Gamma House raised £1644.64 for the Above and Beyond charity

Omega House raised £1339.86 for the Jessie May Foundation

All money will be paid to the charities this week, well done to all involved in the fundraising.

Student Achievements
A huge congratulations to Freddie Bass who passed his piano grade 3 with a merit.

Another huge congratulations to Fiontan Firth-Williams was selected by Bristol Bears Rugby for the first Under 15 game of the season, away to Rhondda Schools Rugby at Porth Harlequins RFC

Both are fantastic achievements!

Well done 9KM
During a recent Year 9 fire drill practice, 9KM showed they could perform the drill perfectly. As a reward they were treated to Juice and Pain au Chocolates in the canteen at tutor time.

Well done 9KM

Keep us posted
It would be great if parents/carers could let the school know of any student achievements outside of school. It is sometimes only at parents' evenings that we find out what students are doing in their own time. Email us: weeklymailing@cotham.bristol.sch.uk

Important Information for Parents/Carers

Early School Closure- Wednesday 18 September 2019
The School's Open Evening for Year 6 parents and families will be held on Wednesday 18 September between 6.30 - 8.30 pm. As you will appreciate this is one of the most important events in the school year, therefore the school will close early for students to help staff prepare.

The school day for students in Years 7 - 11 will end at Midday. Any student eligible for a Free School Meal will be able to collect it from the dining hall before they leave.

Work will be set for students to complete as independent study in lieu of the lessons missed. Sixth Form lessons will continue as normal at the Charnwood site for all Post-16 students.

Thank you for your continued support of the school and its work.

Behaviour and Rewards at Cotham- 'Getting Every Day Right'
All students deserve the opportunity to receive a good education that enables them to live a positive, happy and successful life beyond school. We request your support as parents / carers to encourage your child to meet our behaviour expectations every day. Please click here for further information on expectations and how you can support your child.

Junk Food ban
As you will be aware, the bringing in and consumption of junk food is completely banned at Cotham. We have become increasingly concerned about students bringing 'junk' food and drinks into school. The cheapness of large 'family size' bags of crisps, sweets and bars/ 4 packs of chocolate and large bottles/ cartons of sugary and fizzy drinks, energy drinks has led to an increase in such items being brought into school. The impact on children's long term health is considerable. In addition the additional litter created has phenomenal and represents a huge burden on our site team.

In order to help your children please provide a packed lunch or pre- pay their cards via WISEpay and please don't give them cash! All junk food is bought on the way to or from school in large supermarkets or corner shops.

Please can we also ask you to remind students that they should be drinking plenty of water during the day. There are water fountains across the school site.

Extra-Curricular Activities
The full extra-curricular timetable will be coming soon.

Climate Change Youth Protest Friday 20 September 2019
There is another climate change youth protest event planned on the above date. Please see letter here. If you plan for your child to take part in the protest, you must notify the school by completing the form embedded in the letter by 2.45 p.m. on Thursday 19 September 2019.

Word of the week
Each week at Cotham we promote a Word of the Week. This is to help students expand the range of vocabulary they use. Please find the word for the week ahead by clicking here.

Cyberbullying Guide
An online organisation called HomeGuides has developed guidance to help children, parents and teachers to understand what cyberbullying is and what can be done about it. Download the guide here.

Online Safety Newsletter
Please click here to view this month's online safety newsletter.
Please click here to view an online Safety booklet which includes an overview of key parental controls.

Subject Area News

Physical Education (PE)
Extra-Curricular Clubs
Please click here for a list of all of the PE/Sports Extra-Curricular activities available to students in Term 1.
Please click here to view all upcoming fixtures for Terms 1 & 2.
Follow @CothamPE on Twitter for all the latest news and updates from the Cotham School PE department

Parental Consent for Sports Fixtures 2019- 2020
Please complete the parental consent form which can be found here and return to school as soon as possible if your child is taking part in school fixtures this year. Once on file we can then select your child for these fixtures and we will confirm by email or text the details nearer the date that these are taking place.

Performing Arts
Extra-Curricular Clubs
Please click here for more information of the extra-curricular clubs from the Performing Arts department.

STEAM: Food Science
If there are any keen knitters or textiles enthusiasts I am looking to create a knitted display of the Eat Well Guide - I am seeking small knitted examples of fruit, vegetables, bread etc this will then be used on display in the Food practical rooms. If you are interested in sending in your creations these can be passed through reception to Mrs Brock or passed directly to myself by students. Please pass the word on through families and the local community.

Also sought for Food lessons are the small ramekin/pudding dishes if you have any of these at home they will be used regularly as part of Mise en Place when students prepare ingredients for practicals and for Food Science experiments.

You can follow us on twitter @Cothamfood

Key Stage 4 News

Revision Support from Home
GCSEpod
Click here to access GCSEpod which contains lots of revision resources for most GCSEs. Students self register through the website using their name and school details.

Diagnostic Questions
Click here to access. This site contains self marking quizzes with lots of templates including some from a range of exam boards. It's easy to make your own questions in Microsoft PowerPoint too. Students sign up with their school Google account using the G+ button to automatically create a school account

Edmodo
Edmodo is an application that can be used on both mobile devices and in the web environment to create an online community of practice. Edmodo is a free social learning platform that allows students to access the course content uploaded by their teachers.
https://www.edmodo.com/

Seneca
All students and teachers now have free access to Seneca - a revision and homework platform making studying more fun. Seneca is an interactive way to learn official course content. Their web app covers 150+ exam board specific courses condensing what students need to know for their exams. The software is able to identify gaps in learning. For instance, when you get a question wrong, the platform will repeat the topic in different formats and their smart algorithm has proven to make students remember topics 2x faster. Seneca is totally free for students, teacher and parents. You can sign up via senecalearning.com


Post 16 News

Year 12
All students have made a great start to student life here at the North Bristol Post 16 and we hope that they had a successful first week.
Many thanks for those that attended the Parent Engagement Group meeting this week, there will be another one later on in the term.
A reminder that lanyards must be worn by all Post 16 students at all times, you will be notified if your son/daughter is regularly without their lanyard.

Year 12 subject change week - 23 September
No changes can be made to your son/daughter's timetable until the week beginning 23 September. There will be an assembly about subject changes on Wednesday 18 September at 8.30am in G001 - all Year 12 students must attend.

Year 13- UCAS
Students must ensure that they have contacted their form tutor to make an appointment for their 1:1 meeting. They should be emailing drafts of their personal statement to their form tutor. A reminder that students interested in Medicine, Veterinary Science, Dentistry and Oxbridge must notify Mrs Kempt as soon as possible if they have not already done so. The internal deadline for these applications is the beginning of October - please contact Mrs Kempt for more information. Students should be emailing their tutors with their personal statements in the first instance before they come to Mrs Kempt for final checking.

Student Wellbeing
We take your son/daughter's wellbeing very seriously, we have many avenues of support available. A reminder that there is a school counsellor, a Post 16 Reflection room which is available for all students and many places that your son/daughter can study alone should they wish to. Please see Mrs Kempt for more information. There is a also a mindfulness drop in session on a Thursday lunchtime.
Off the Record (OTR) are offering weekly Resilience Lab drop in sessions on Perry Road there is no waiting list and all students are very welcome. More information can be found here.

Careers and guidance

Here is the link to our Careers Bulletin which is updated weekly.

Student Careers Update

Apprenticeships

City of Bristol College Apprenticeship Bulletin and South West Apprenticeship Company have apprenticeship vacancies here and here.

Other apprenticeships can be found through the Gov website here, Target Careers, Success at School , Get My First Job and Not Going to Uni.


Students looking for Saturday jobs can find good advice through this website

Please keep your eyes on the Careers section of the website for updates.

Staff Vacancies

Cotham School are currently recruiting new members of staff to work with us at the school. We are currently looking to hire a Catering Assistant, Lead Exam Invigilator, Cover Supervisor and Tutor/Link Tutor, Learning Support Assistant, Senior Inclusion Manager and a SEND, Careers and Wellbeing Leader (P16).

For more information about school roles please click here.

Community News

Iris Murdoch, Novelist, Philosopher, Badmintonian. Centenary lecture with Dr Miles Leeson, Director of the Iris Murdoch Research Centre
Badminton School is organising a free event on 3 October, 5.30-6.30pm to celebrate the life and work of Iris Murdoch to which partner schools are invited. This event is aimed at 6th Formers planning to read English or Philosophy at university. It is also open to anyone in the local community who would like to attend.
For more information and to book tickets please click here.

Brexit - Non UK passport holders
If you are a non UK passport holder you may be considering applying for settled or pre-settled status to continue working in the UK. More information about settled status can be found on gov.uk or on the following settled status pages for further information click here.

Towards the Child Friendly City Conference, 27 – 29 November 2019, Bristol City Hall
An international conference on children's rights in the built environment is to be held in Bristol 27-29 November 2019, hosted by Bristol City Council and curated by the European Network for Child Friendly Cities and partners. As children take centre stage in the movement for sustainable living, this event will be an opportunity to explore how the public realm is responding. This three-day conference is for those engaged in research, policy and practice in the built environment sectors; for practitioners and advocates working with children and young people to champion their rights as citizens and stakeholders; and for developers and planners who want to meet the needs of their youngest residents. Book your place here

Supporting Children's Mental Health, Wednesday 18 September, 18.30-19.45, Badminton School
Dick Moore (former head teacher and expert on children's mental health) will be giving a talk about how parents can support the mental health and wellbeing of their children. Dick Moore is an inspiring speaker and his TED talk, Dancing or Drowning in the Rain can be viewed online. He is an associate of the Charlie Waller Memorial Trust which was set up to educate young people about the importance of staying mentally well www.cwmt.org.uk/ This event is free of charge and is open to Cotham parents. For more information or to book places please contact: juniorschool@badmintonschool.co.uk


Bike to School Week 2019, Monday 23 September - Friday 27 September 2019
It isn't long until Bike to School Week begins and it's time for students to make sure their bikes ready for the event. Like any machine, a bicycle will work better and last longer if it's cared for properly. Please click here for a guide on how to check your bike is safe to ride.

How does weight and body size affect learning? Research participants needed by University of Bristol
Researchers from the University of Bristol are looking for young people to take part in the 'Everybody Learning' study exploring how weight and body size affect their experiences at school and their ability to learn.

Studies have shown that some young people who are above a healthy weight do less well in school. But we don't really understand how or why this happens.

The researchers want to hear from young people (11-18 years) who are above a healthy weight to learn more about their experiences. They're inviting young people to take part in an interview (lasting about an hour) and they will be given £20 in shopping vouchers as a thank you for taking part.

If you'd like to take part or have any questions, please get in touch!

Text 'Take Part to 07565068426 or email everybodylearning-study@bristol.ac.uk with 'Take Part' as the subject (no need to write anything else), and the researchers will get in contact with more information.

Please click here for further information.

Useful Quick Links

Key Dates
Please click here to view the Key Dates by year group for the 2019-20 academic year. You will be notified of any significant changes/additions, but please can we ask that you check the dates for your year group regularly as they are subject to change.

Parents' Evening Booking System (PES)
Please click here to access the online appointment booking system for Parents Evenings/Family Consultation Day. Please note this is only available if an event is due. We will email you to let you know when booking opens. If you encounter any difficulties with booking your appointments please contact the admin team by email to adminoffice@cotham.bristol.sch.uk or tel: 0117 919 8000

Assessment Calendars for KS3
We have created Assessment Calendars for 2019/20. Each Assessment Calendar contains details of the class assessments that will take place in their subjects. The final column contains a link which gives information about each of the assessments.
To see the Year 7 Assessment Calendar click here
To see the Year 8 Assessment Calendar click here
To see the Year 9 Assessment Calendar click here
To see the Year 10 Assessment Calendar click here
To see the Year 11 Assessment Calendar click here

Homework and Independent Learning timetables
Please see the attached link describing our Homework Guidelines for students in the school.
In KS3 we do not have homework timetables.
Homework and Independent Learning Timetable for Year 10
Homework and Independent Learning Timetable for Year 11

WisePay
WisePay is the Online Payment Service at Cotham School which allows you to pay for trips and visits as well as to add credit to your child's Cashless Catering account. Click here to access your account now. If you have any queries about your account please contact the support team by email to wisepay@cotham.bristol.sch.uk

School Uniform
Please click here to view the compulsory uniform requirements of Cotham School, along with visual examples of uniform and details of our uniform suppliers.

Contact Details
Please note the following contact numbers and email addresses if you need to contact the school:

Main Reception - 0117 919 8000/ reception@cotham.bristol.sch.uk
Student Reception - 0117 919 8013 / studentreception@cotham.bristol.sch.uk
Absence - 0117 919 8019/ absence@cotham.bristol.sch.uk
NBP16C - 0117 919 8100/ post16@cotham.bristol.sch.uk
Finance - 0117 919 8016/ finance@cotham.bristol.sch.uk
Exams - 0117 919 8024/ exams@cotham.bristol.sch.uk
Admin Office - 01179198053/ adminoffice@cotham.bristol.sch.uk
Library- library@cotham.bristol.sch.uk