Weekly Mailing 3 February 2017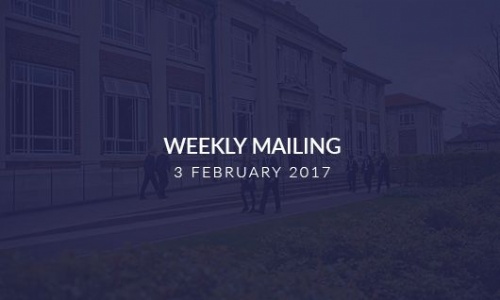 Please find my usual information, letters and updates on events that have taken place this week.
I would like to offer my sincere apologies to all of our parents, carers and students who were affected by the enforced emergency school closures for Years 7-9 this week due to a collapsed ceiling. A structural engineer and a team of professionals have assessed the damage and emergency repair work is now underway to ensure that the school will be open to all students as usual from Monday 6 February. Thank you all for your patience, support and understanding this week.
Ms Jo Butler
Headteacher
SCHOOL NEWS
Next week (Week commencing Monday 6 February) is a WEEK B
Planned Early Closure on Friday 10 February for staff training- now re-scheduled
Please note that the planned early closure will no longer take place due to the unexpected school closures this week.
Instead School will finish for students at 12.45pm on Thursday 6 April (the last day of term for students) to allow for this staff training to take place.
Staff leavers and new appointments
Caroline Francis has now left the school and her workload is being managed by other members of the Senior Leadership Team. We say farewell to Paul Baker and Dan Hedges from the catering team who have decided to leave the school to explore new opportunities. We wish them all the best for the future.
Our congratulations to Kerry Chester who has taken over the post of Careers Leader from 1 January and to Louise Arnold who has taken up the post of Careers Assistant from the same date.
We extend warm welcomes to Natalie Burt who joined the Catering Team on 24 January and Anne Gallien who joins us from Monday 30 January as Cover Supervisor attached to the English team.
Joanna Weiss also joins us as a permanent member of staff in post as Learning Support Assistant and Morag Pirie in the role of English as an Additional Language Higher Level Teaching Assistant from 27 February.
INFORMATION FOR ALL YEAR GROUPS
Safer Internet Day 2017 – Tuesday 7 February 2017
Tuesday 7 February 2017 is Safer Internet Day, a day that is very important to our school and pupils. Safer Internet Day is coordinated by the Insafe network and is celebrated every year across Europe, and in other countries worldwide. Our school is participating alongside hundreds of other schools across the UK and students will be learning about how to use the internet safely and positively. Please click here for more information
Cotham Co Fund is open NOW!
Students can apply for money of between £50 and £500 to set up a project that makes our school even better!
Four Steps to applying:
Think of a project that would make Cotham School even better and find out from your friends whether they agree.
Work out how much your project would cost (you can ask a teacher or the Co fund to help)
Download and fill out a grant form and get a teacher to sign it (forms available here)
Submit your form by 20 February 2017 to cofundgrants@cotham.bristol.sch.uk
You will know whether you have a grant by 27 February 2017
There are three more deadlines during the school year if you miss this one. If you have any questions please email cofundgrants@cotham.bristol.sch.uk For full details of the rules of the Co Fund please see the rule book on the school website. Funds must be used for projects that benefit a significant number of students and are also available to teachers or members of the Cotham Co operative Forum constituencies.
Cotham Parents' Cultural Group meeting
As you are all aware, Cotham School is an extraordinarily diverse school. We would like to capitalise on this diversity, by encouraging parents/carers from different cultures to have the opportunity to meet together a couple of times during the academic year.
We would appreciate your participation at this initial session to explore how this forum can best be used to encourage and help you as parents/carers to get involved with your children's education. We also hope this forum will give you the opportunity to feel an integral part of the Cotham school community.
Our first meeting will take place on Wednesday 8 February 2017
Venue: Cotham School Library
Time: 6-7pm
Refreshments will be provided. Please confirm your attendance by email to kellym@cotham.bristol.sch.uk
Lost Property
Lost Property will be available for parents and students to look through on the last day of term, Friday 10 February 2017, between 8am and 12noon. Please access the building via Main Reception on Cotham Lawn Road.
Please remember to name ALL property brought into school, especially clothing and uniform items, to enable lost items to be returned to their correct owners more easily.
KEY STAGE 3 (KS3) INFORMATION
YEAR 7
Parents Evening - Thursday 2 March
At this event you will be able to meet with subject teachers to discuss your child's progress. Subject teachers are available from 5.00pm until 7.30pm. Appointments can be made using the online booking system (PES) accessed via the school website or by clicking here.
Food Class - Monday 6 February
Please bring ingredients for Fruit Salad and Shortbread as per instructions on Google Classroom/Planner.

YEAR 8
Exams Monday 30 January - Friday 10 February 2017
Year 8 exams will take place during normal lesson time during this period. Please refer to the attached document here which details exam content and suggested revision activities.
Food Class - Tuesday 7 February
Please bring ingredients for Soup as per instructions on Google Classroom/Planner remember a strong container.
M-Shed Performance
Cotham School was invited to the M-Shed on January 20 2017 to take part in the celebration of the 70th Anniversary of the twinning of Hannover, Bordeaux and Bristol. Click here to find out more
YEAR 9
Science Exam
Year 9 will start their GCSE after half term. There will be an exam at the end of the year to determine which students are offered to do Separate Sciences, and which will do Combined Sciences. Click here to find out more.
KEY STAGE 4/5 (KS4/5) INFORMATION
National Citizen Service (NCS)
NCS is a government funded initiative for all 15 - 17 year olds in England. It's a chance to embark on exhilarating challenges, make a mark in the local community and build valuable skills for work and life. The NCS Team will be in school on Thursday 23 February to talk to Year 11. Click here to find out more about this once-in- a-lifetime opportunity!
YEAR 10
Online revision resources
A number of you have asked for a quick guide to online revision resources. A list of the top sites recommended by subject areas can be found on the school website or by clicking here.
GCSE Year 10 Child Development
Please click here or in link below, to see information regarding the RealCare Baby Project
Work Experience
If your child has a placement outside Bristol, forms need to be returned to Mrs Arnold no later than 10 February

YEAR 11
Safeguarding - Friday Lunchtime
Due to the school's increasing need to adhere to current Safeguarding guidelines for schools, Year 11 students will no longer be allowed off-site during Friday lunchtime. We strongly advise that Year 11 students ensure that they have sufficient credit for school meals on their school cards (this can be done via your wisepay account online or with cash in the machine in the Student Hub) as the canteen is unable to accept cash payment. Post-16 students will continue to be allowed off-site as usual
GCSE Child Development Year 11 Practical Exam
Students in Year 11 completed Unit 3 Child Focused Task which accounts for 30% of their final grade. Please click here to read more and to view photos of all of their culinary delights!
The deadline date for the completion of Unit 3 is Friday 24 February
GCSE Catering Year 11
Practical exam Mrs Brock's Group - Thursday 9 February and Friday 10 February. All the information for students is available on Google Classroom.
The deadline date for the completion of Unit 2 - International Cuisine is Friday 24 February (Mrs Quinton's and Mrs Brock teaching groups).
GCSE exam timetable
Please note that the GCSE Visual Arts exams have now been added to this. Click here to view the timetableto view the timetable. This is 'provisional' at this stage and therefore subject to some changes by the Exam Boards. The GCSE exam period will finish on 28 June. Students will receive their individual timetable week commencing 20 February.
Year 11 Prom
Yr 11 Prom is at Ashton Court on 23 June. The next instalment of £11.50 is due before February half term. Please can this payment be made via your Wisepay account as a matter of urgency. If you have not yet paid the £10 deposit for Prom then you will need to pay £21.50 by February half term.
Post 16 options
Last chance to see St Brendans 6th Form College next Wed 8 February, 5-8pm - students need to have been to an open day to be offered a place.
Half term taster days at Access to Music: Games Design & Digital Media - Tuesday 14 February 10am-3pm
Music Performance, Music Technology, Vocal Artist - Friday 17 February 10am-3pm
Seehttp://www.accesstomusic.co.uk for more information and to book a place
PE/SPORTS UPDATE
Please click here to view all of the Fixtures for the week ahead.
PERFORMING ARTS UPDATE
Drama - Work of the Week
Congratulations to Ellie Clutterbuck & Zaki Abudeip, both in 8AF, for their set designs for the play Blue Remembered Hills. Click here to see their great work.
Macbeth - Whole School Show – Tickets now on Sale!
Macbeth will be showing on 22, 23 and 24 February in the Main Hall at 7.30pm. Click here for more information. Tickets are available now on Wisepay. (£7/£5 Conc.)
VISUAl ARTS UPDATE
A big well done to all Year 11 Visual Arts students who have completed and handed in all of their GCSE coursework this week. They've worked really hard and produced some lovely work.
This week we have 3 'Artworks of the Week' featuring final pieces for coursework produced by Year 11 students. Art (Minnie Strange 11ZC), Photography (Flo Adey Meadows 11JBR) and Textiles (Lauren Bagnall 11ZC). Click here to view the artwork.
EXTRA CURRICULAR ACTIVITES
To view the timetables of extra curricular activities available to your child at Cotham please click on the links below:
TRIPS AND VISITS
Ski Trip 2018
We are planning the annual Cotham School ski trip for 2018. Recent years have seen us travel to ski resorts in Bulgaria, Italy and Spain; the 2018 trip will be to the resort of Prato Nevoso in Italy and will take place during the Easter holiday Saturday 24 March – Sunday 31 March 2018 (9 days 6 nights). Please click here for more information.
CAREERS NEWS
Bank of England Scholarship Programme for black or mixed African/Caribbean students
Please click here to find out more about this fantastic opportunity for financial support to study. - Deadline for applications is 26 February 2017
COMMUNITY NEWS
National Autistic Society Masquerade Ball
This exciting event in aid of World Autism Awareness Day takes place on Saturday 1 April at the Gloucestershire County Cricket Ground. We strongly encourage you to support the valuable work of the Bristol Autism Society who we work closely with as a school. A special guest appearance has just been announced: John Williams - author of 'My Son's Not Rainman' will be attending (and speaking) at the ball. Click here for more information.
Bristol Children's Hospital - Grand Appeal
Please click here to view the 2017 fundraising events guide for this very important Bristol Charity
Shakespeare at the Tobacco Factory
The Tobacco Factory are offering Saturday morning Drama workshops. Suitable for ages 13-18. Please click here for more information.
Life Cycle UK
Life Cycle UK are running Bikeability level 2 & 3 courses during the February schools break – ideal catch up for anyone who has missed the training in school. Please click here for more information.
Windmill Hill City Farm - Half Term Activities
Please click here to view the list of activities that are taking place for children in the coming half term break
What's happening in your local Library?
Please click here to view the February newsletter for the Bristol area
Clifton Library Drama Performance of Jane Austen on Saturday 11 February at 7.30pm Click here to see flyer.
GOOD NEWS!
Well done to Joe Hall in 11JBR for being one of only 6 selected from the Under 16's team for a 2 year scholarship at Bristol City Football Club. This is a great achievement and something Joe has been working hard towards since he joined the BCFC academy as an under 11s player. We are very proud of him!
Project Trust
From time to time we will publicise our students' charitable endeavours, to give you the chance to find out more about the great work they are doing and to offer an opportunity to support them should you choose to do so. One Year 13 student, Abigail Hall is currently fundraising for a charity called Project Trust, please click here if you would like to learn more.
RECENT LETTERS HOME
| Topic (week ending 03/02/2017) | For the attention of: |
| --- | --- |
| | Years 7, 8 and 9 |
| | Year 9 |
| | Year 10 Child Development |
All files are in PDF format. You need Adobe Reader to open these files.
You can download Adobe Reader for free from adobe.com/reader