Weekly Mailing - Friday 27 September 2019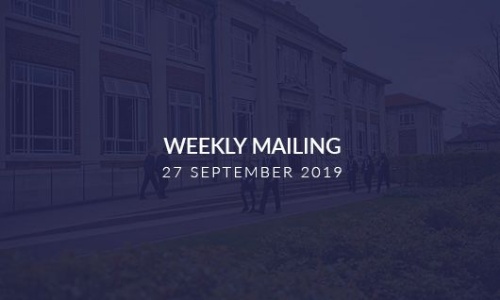 Dear Parents and Carers

Please find below this week's important information for Parents/Carers and students as well as updates on School events, activities and opportunities for your reference. I wish you a very relaxing, if wet, weekend.

Ms Jo Butler
Headteacher

Good News

School Feedback
The school is always proud of positive feedback. We had our Open Evening last week which was full to the rafters. This week we've received such positive feedback and I'm exceptionally proud of our students and staff as a result. These are just two pieces of praise the school has received over the last week:

'Out of the four schools we've seen now, Cotham is definitely at the top for the least pretentious and most inspiring Science teachers.'

'I attended your open evening last night. I just wanted to say that the atmosphere was wonderful. Everyone was friendly, confident and welcoming.

The student in upper sixth called Arun greeted us at the door and was an excellent showcase for the school. His parents and teachers should be very proud.

Two year 8 boys called Lucas and Mark showed us around the school. Again, they were brilliant. Confident to chat, answer questions and proud of their school.

I really feel that they did their school and parents proud.

I felt it be important that their achievements be recognised.

The staff also seemed very enthusiastic and to have a genuine care for their students. I chatted to a heavily pregnant modern languages teacher who was super helpful.

Congratulations all round for your hard work.'

Keep us posted
It would be great if parents/carers could let the school know of any student achievements outside of school. It is sometimes only at parents' evenings that we find out what students are doing in their own time. Email us: weeklymailing@cotham.bristol.sch.uk


Important Information for Parents/Carers

Design the School Christmas Card Competition
Every year we run this competition and are always impressed with the standard of entries. The competition is open to all year groups. Further information on the poster attached here.

Inclusion Homework Club
Inclusion Homework Club runs every Wednesday for Years 7 and 8, and Thursday for Years 9 and 10 between 2.45 - 3.45pm in room C205.
Homework Club is open to all students supported by the Inclusion Department. Staff are there to support with getting organised and completing homework.

Free School Meals
To check if your child is eligible for Free School Meals or to apply please click on this link.

GWR Student Rail Ticketing Scheme
We are very pleased to announce that the Severnside Community Rail Partnership have confirmed that they are willing to continue with the Student Rail Ticketing Scheme. This partnership offers our students and families a huge saving on rail travel to and from the school on the Severnside Community Rail. An annual ticket costs £40.00 or families can buy their ticket in instalments. All the details are contained in the letter and application form here.

Word of the week
Each week at Cotham we promote a Word of the Week. This is to help students expand the range of vocabulary they use. Please find the word for the week ahead by clicking here.

Cyberbullying Guide
An online organisation called HomeGuides has developed guidance to help children, parents and teachers to understand what cyberbullying is and what can be done about it. Download the guide here.

Online Safety Newsletter
Please click here to view this month's online safety newsletter.
Please click here to view an online Safety booklet which includes an overview of key parental controls.

Subject Area News

Physical Education (PE)
Extra-Curricular Clubs
Please click here for a list of all of the PE/Sports Extra-Curricular activities available to students in Term 1.
Please click here to view all upcoming fixtures for Terms 1 & 2.
Follow @CothamPE on Twitter for all the latest news and updates from the Cotham School PE department

Parental Consent for Sports Fixtures 2019- 2020
Please complete the parental consent form which can be found here and return to school as soon as possible if your child is taking part in school fixtures this year. Once on file we can then select your child for these fixtures and we will confirm by email or text the details nearer the date that these are taking place.

Key Stage 3 News

KS3 Parent Information Session on Thursday 3 October
We have a Parent Information Session for the parents and carers of students in Years 7, 8 and 9 on Thursday 3 October. The session will be led by our Leadership Team and there will be presentations from our Faculty Leaders in English, Maths, Science, Modern Foreign Languages and Humanities (Geography and History). The session will offer advice and tips about how to support your child in their studies.

The session will take place in our North Bristol Post 16 Charnwood Centre from 5.00 pm to 6.00 pm. Parents and carers should enter the building, and follow the signs directing them downstairs towards G001. We hope to see lots of you there.

Key Stage 4 News

Year 11 Parents Evening on Thursday 10 October 4.30pm - 6.30pm
Booking is now open for the Year 11 parents evening on Thursday 10 October. Please access the booking system either through our school website or by using this link to make appointments.

Post 16 News

Year 12
Ms Paice the Careers Adviser is running assembly this Wednesday and will be talking about Work Experience, all must attend at 8.30am in G001. She is also available every Wednesday at Charnwood in G402 for drop in sessions. Please email her to make an appointment paices@cotham.bristol.sch.uk
Core Programme last week was a brilliant and inspirational talk from Leah Newton, we hope that the students gained a lot from it.
A reminder that lanyards must be worn by all Post 16 students at all times, you will be notified if your son/daughter is regularly without their lanyard

Year 13
Students must ensure that they have contacted their form tutor to make an appointment for their 1:1 meeting. They should be emailing drafts of their personal statement to their form tutor in the first instance.
Students are encouraged to meet with Ms Paice our school careers adviser on a Wednesday, she can be emailed directly to make an appointment paices@cotham.bristol.sch.uk and is available every Wednesday registration in the canteen.

Student Wellbeing
We take your son/daughter's wellbeing very seriously, we have many avenues of support available. A reminder that there is a school counsellor, a Post 16 Reflection room which is available for all students and many places that your son/daughter can study alone should they wish to. Please see Mrs Kempt for more information. There is a also a mindfulness drop in session on a Thursday lunchtime.
Off the Record (OTR) are offering weekly Resilience Lab drop in sessions on Perry Road there is no waiting list and all students are very welcome. More information can be found here.

Careers and guidance

Here is the link to our Careers Bulletin which is updated weekly.

House News

Sigma, Delta, Gamma and Omega have all had a fantastic start to the year, please click on the following links to hear more from each house. Please click here to hear from Sigma, click here for Delta's download, find out about Gamma here and Omega here.

Student Careers Update

Apprenticeships

City of Bristol College Apprenticeship Bulletin and South West Apprenticeship Company have apprenticeship vacancies here and here.

Other apprenticeships can be found through the Gov website here, Target Careers, Success at School , Get My First Job and Not Going to Uni.


Students looking for Saturday jobs can find good advice through this website

Please keep your eyes on the Careers section of the website for updates.

Staff Vacancies

Cotham School are currently recruiting new members of staff to work with us at the school. We are currently looking to hire a Higher Level Teaching Assistant (Literacy and EAL).

For more information about school roles please click here.

Useful Quick Links

Key Dates
Please click here to view the Key Dates by year group for the 2019-20 academic year. You will be notified of any significant changes/additions, but please can we ask that you check the dates for your year group regularly as they are subject to change.

Parents' Evening Booking System (PES)
Please click here to access the online appointment booking system for Parents Evenings/Family Consultation Day. Please note this is only available if an event is due. We will email you to let you know when booking opens. If you encounter any difficulties with booking your appointments please contact the admin team by email to adminoffice@cotham.bristol.sch.uk or tel: 0117 919 8000

Assessment Calendars for KS3
We have created Assessment Calendars for 2019/20. Each Assessment Calendar contains details of the class assessments that will take place in their subjects. The final column contains a link which gives information about each of the assessments.
To see the Year 7 Assessment Calendar click here
To see the Year 8 Assessment Calendar click here
To see the Year 9 Assessment Calendar click here
To see the Year 10 Assessment Calendar click here
To see the Year 11 Assessment Calendar click here

Homework and Independent Learning timetables
Please see the attached link describing our Homework Guidelines for students in the school.
In KS3 we do not have homework timetables.
Homework and Independent Learning Timetable for Year 10
Homework and Independent Learning Timetable for Year 11

GCSEpod
Click here to access GCSEpod which contains lots of revision resources for most GCSEs. Students self register through the website using their name and school details.

Diagnostic Questions
Click here to access. This site contains self marking quizzes with lots of templates including some from a range of exam boards. It's easy to make your own questions in Microsoft PowerPoint too. Students sign up with their school Google account using the G+ button to automatically create a school account

Edmodo
Edmodo is an application that can be used on both mobile devices and in the web environment to create an online community of practice. Edmodo is a free social learning platform that allows students to access the course content uploaded by their teachers.
https://www.edmodo.com/

Seneca
All students and teachers now have free access to Seneca - a revision and homework platform making studying more fun. Seneca is an interactive way to learn official course content. Their web app covers 150+ exam board specific courses condensing what students need to know for their exams. The software is able to identify gaps in learning. For instance, when you get a question wrong, the platform will repeat the topic in different formats and their smart algorithm has proven to make students remember topics 2x faster. Seneca is totally free for students, teacher and parents. You can sign up via senecalearning.com

WisePay
WisePay is the Online Payment Service at Cotham School which allows you to pay for trips and visits as well as to add credit to your child's Cashless Catering account. Click here to access your account now. If you have any queries about your account please contact the support team by email to wisepay@cotham.bristol.sch.uk

School Uniform
Please click here to view the compulsory uniform requirements of Cotham School, along with visual examples of uniform and details of our uniform suppliers.

Contact Details
Please note the following contact numbers and email addresses if you need to contact the school:

Main Reception - 0117 919 8000/ reception@cotham.bristol.sch.uk
Student Reception - 0117 919 8013 / studentreception@cotham.bristol.sch.uk
Absence - 0117 919 8019/ absence@cotham.bristol.sch.uk
NBP16C - 0117 919 8100/ post16@cotham.bristol.sch.uk
Finance - 0117 919 8016/ finance@cotham.bristol.sch.uk
Exams - 0117 919 8024/ exams@cotham.bristol.sch.uk
Admin Office - 01179198053/ adminoffice@cotham.bristol.sch.uk
Library- library@cotham.bristol.sch.uk