Weekly Mailing - Friday 11 October 2019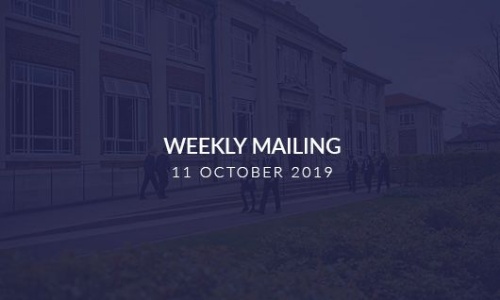 Dear Parents and Carers

Please find below this week's important information for Parents/Carers and students as well as updates on School events, activities and opportunities for your reference. I wish you a very relaxing weekend.

Ms Jo Butler
Headteacher

Good News

Celebration of Year 9 Art work
We have had some amazing pieces of Art from Year 9 during their art lesson and would love to share them with you. Please click here to see the pieces.

Praise Indeed!
We are always proud of positive feedback. George from Avon Wildlife Trust who has been working with some students from Cotham over the past couple weeks at the Bristol Education Partnership Climate Challenge emailed to say:

' I wanted to pass on my congratulations to them all for their ideas, wish them good luck with their projects and if they would like any assistance please get in touch!'

Year 7 and 8 Netball match report- Tuesday 1 October 2019
Our first match, against St Bede's, was a great start to the season. The final score was 7-1 to St Bede's, many congratulations to them. Nevertheless, we have learnt what we need to improve on in the future as a team, such as getting into space and steady play. As a group, this match will hopefully make us more confident and find play easier in terms of teamwork. For many of our players, it was a first netball match ever played, not just the first of the season! Especially well done to Morgan, who was our player's player for great strategic defence techniques, and Alma, our manager's player, who scored our goal! Superb play from both teams and a tense and exciting match to watch. Also, congratulations to Martha who was selected by the opposing team as player of the match for her accurate passing down the court. All of our players worked well together and achieved a lot for the first match. Fantastic work from everyone who came and you all played a very important role in our game!

Keep us posted
It would be great if parents/carers could let the school know of any student achievements outside of school. It is sometimes only at parents' evenings that we find out what students are doing in their own time. Email us: weeklymailing@cotham.bristol.sch.uk

Important Information for Parents/Carers

Design the School Christmas Card Competition
Every year we run this competition and are always impressed with the standard of entries. The competition is open to all year groups. Further information on the poster attached here.

Word of the week
Each week at Cotham we promote a Word of the Week. This is to help students expand the range of vocabulary they use. Please find the word for the week ahead by clicking here.

Cyberbullying Guide
An online organisation called HomeGuides has developed guidance to help children, parents and teachers to understand what cyberbullying is and what can be done about it. Download the guide here.

Online Safety Newsletter
Please click here to view this month's online safety newsletter.
Please click here to view an online Safety booklet which includes an overview of key parental controls.

Subject Area News

Physical Education (PE)
Fixtures Week Commencing 14 October

Monday 14 October
Cross Country Trials- After school on Monday 14 October there will be cross country trials for those students wishing to compete at the Bristol Schools Championships. Please come to the PE office at 2.45pm with your kit and a water bottle.

Tuesday 15 October
Year 7 and 8 Netball vs Blaise High (A) return to school by 5.30pm

Wednesday 16 October
Year 8 Rugby Festival @ Oasis Brightstowe 2.30pm-5pm. Return to school by 5.30pm
Year 10 Netball Festival @ Clifton College Sports Centre 2.30pm-5pm. Return to school by 5.30pm

Extra-Curricular Clubs

Please click here for a list of all of the PE/Sports Extra-Curricular activities available to students in Term 1.

Please click here to view an updated fixture list for all upcoming fixtures for Terms 1 & 2.

Follow @CothamPE on Twitter for all the latest news and updates from the Cotham School PE department

Parental Consent for Sports Fixtures 2019- 2020

Please complete the parental consent form which can be found here and return to school as soon as possible if your child is taking part in school fixtures this year. Once on file we can then select your child for these fixtures and we will confirm by email or text the details nearer the date that these are taking place.

Modern Foreign Language (MFL)
New Language Exam! A first for the country and for Cotham School

In the summer, 40 of our students in Year 10 took on the challenge of trialling a new exam created by the Chartered Institute of Linguists. Saving Lives is a real world multiple choice listening comprehension exam using a rescue scenario with the emergency services and was definitely challenging!

A number of our students did particularly well and achieved Distinctions and Merits and all of our students rose to the challenge and did brilliantly! This year the exam was taken in French, German, Spanish and Welsh! The exam can also be taken in Russian, Mandarin & Arabic and after discussion with the Institute, they have agreed to write a Somali version for next year, which is great news!

Being able to speak a language in a REAL LIFE situation is, after all, why we all need to learn as many as we can!

Key Stage 3 News

KS3 Information Evening
Thank you to those that attended the KS3 Information evening. Please find attached here the slides that were shared with parents/carers on the night.

Key Stage 4 News

Year 10 Work Experience Monday 29 June - Friday 3 July 2020
This week, we introduced our Year 10 students to Work Experience 2020. This is a hugely exciting opportunity for students to experience a week in the professional world. Work Experience Week will be 29 June- 3 July 2020 and all students will need to arrange a placement with an employer for this period. Every student will have a 1-2-1 meeting with the careers advisor between now and the end of Term 2 to help them explore areas of interest.

A copy of the work experience letter can be found here

Further details and key dates will be shared via the Weekly Mailing throughout the school year.

Year 10 Parents' Information Evening Thursday 7 November
All parents of Year 10 students are warmly invited to attend a Year 10 Parents' Information Evening on Thursday 7 November. The session will feature presentations from the English, Maths, Science, Languages and Humanities leaders, as well as general information on how best to support your child through their GCSE studies.

The event will take place in our North Bristol Post 16 Charnwood Centre from 5.00 pm to 6.00 pm. Parents and carers should enter the building, and follow the signs directing them downstairs towards G001.
We hope you are able to join us.

Year 11 - North Bristol Post-16 Centre Open Evenings
Parents and carers of Year 11 students are warmly invited to the North Bristol Post 16 Centre Open Evenings. Thursday 17 October (Redland Green Learning Community) and Thursday 24 October (Cotham Learning Community) 6.30 pm. to 8.30 pm. No need to book we look forward to seeing you there, further information can be found here.

Year 11 'in class' Mock Exams Monday 4 November - Friday 16 November
These exams will take place between Monday 4 November - Friday 16 November during students' lessons.
Attached is a summary of the content that will be tested in these mocks. The final column shows the date and time of these exams (not all of these are complete but they will be complete soon). We wanted to share the information sooner rather than later so that parents and carers are able to support their children with their preparations for these mock exams.

Year 11 Parents' Information Evening Thursday 14 November
All parents of Year 11 students are warmly invited to attend a Year 11 Parents' Information Evening on Thursday 14 November. The session will feature presentations from the English, Maths, Science, Languages and Humanities leaders (plus presentations from some of our options subject leaders), as well as general information on how best to support your child through their GCSE studies.

The event will take place in our North Bristol Post 16 Charnwood Centre from 5.00 pm to 6.30 pm. Parents and carers should enter the building, and follow the signs directing them downstairs towards G001.
We hope you are able to join us.


Post 16 News

Money week was a great success with Future Quest coming in to deliver a talk on finance and managing money to our year 12 students, Bath University and Allied Health running pop up stands in the canteen along with many tutor time activities based around everything financial. Please encourage your son/daughter to collect the very useful money guide which is in the canteen.

A reminder that lanyards must be worn by all Post 16 students at all times, you will be notified if your son/daughter is regularly without their lanyard.

Year 12
A reminder that if your son/daughter had any Exam Access Arrangements (EAA) in Year 11 and they did not attend Cotham School then they must see Mrs Kempt as soon as possible to get tested.

Year 13
Oxbridge/Medic FINAL deadline is Tuesday 15 October.
Students must ensure that they have contacted their form tutor to make an appointment for their 1:1 meeting. They should be emailing drafts of their personal statement to their form tutor in the first instance.
Students are encouraged to meet with Ms Paice our school careers adviser on a Wednesday, she can be emailed directly to make an appointment paices@cotham.bristol.sch.uk and is available every Wednesday registration in the canteen.

Student Wellbeing
We take your child's well being very seriously, we have many avenues of support available. A reminder that there is a school counsellor, a Post 16 Reflection room which is available for all students and many places that your son/daughter can study alone should they wish to. Please see Mrs Kempt for more information. There is a also a mindfulness drop in session on a Thursday lunchtime.

Off the Record (OTR)
OTR are offering weekly Resilience Lab drop in sessions on Perry Road there is no waiting list and all students are very welcome. More information can be found here.

Careers and guidance
Here is the link to our Careers Bulletin which is updated weekly.

Student Careers News

Apprenticeships

City of Bristol College Apprenticeship Bulletin and South West Apprenticeship Company have apprenticeship vacancies here and here.

Other apprenticeships can be found through the Gov website here, Target Careers, Success at School , Get My First Job and Not Going to Uni.


Saturday jobs
Students looking for Saturday jobs can find good advice through this website

Please keep your eyes on the Careers section of the website for updates.

Staff Vacancies

Cotham School are currently recruiting new members of staff to work with us at the school. We are currently looking to hire Exam Invigilators and a Cover Supervisor and Tutor/ Link Tutor.

For more information about school roles please click here.

Community News

HappyMaps Website- Providing resources for Parents and Carers around Children's mental health
HappyMaps is a website providing a one stop shop of resources around children's mental health from babies to young adults and includes websites, videos, books, Apps and links to ways to find counselling and other support. The website was funded by NHS England with input from specialist services (CAMHS) and local charities and is supported by Bristol Mind. Please click here to view the website.
High Kingsdown Brunch Saturday 12 October

High Kingsdown Community Association warmly invites students and parents to their Brunch to welcome new students and residents on Saturday 12 October between 11.30am – 2.30pm, further information can be found here.

Bristol Festival of Ideas, Wednesday 16 – Friday 18 October 2019
Lots of ins piring talks, some free, others not, at venues around the city – including Michael Rosen on Why Play Matters; Marcus du Sautoy on Creativity; Paul Mason on Radical Cities and Nadiya Hussain on Finding My Voice; plus 30 Years of Wallace & Grommit. Something for everyone.
More details at www.futurecityfestival.co.uk @FestivalofIdeas

Parent Wellbeing Partnership Talk: How to Grow a Grown Up, Friday 18 October, 19:00 – 20:00, 1532 Theatre, Elton Road, BS8 1SJ
Are you a parent or guardian of an 11-25 year old? Parents and teachers at partner schools are invited to the launch of a new book by Dr Dominique Thompson and Fabienne Vailes. Hear the authors talk about how to deal with the challenges of raising a young adult to be independent and resilient in the 21st century. Dr Dominique Thompson has worked for over seventeen years as a specialist student health GP and is now a student wellness consultant and national student health expert. Fabienne Vailes is a UK expert on emotional and mental well-being within the education sector. Copies of How to Grow a Grown Up will be available for purchase on the night. Refreshments will be provided. To book a ticket email 1532@bgs.bristol.sch.uk

Do you know someone from a non-UK EU country?
Bristol has 21,000 non-UK EU citizens living, working and studying in the city. The Government has advised that all non-UK EU citizens must apply for the EU Settlement Scheme to ensure their rights are protected post-Brexit. Bristol City Council wants everyone that lives here to have their rights protected, and is offering help with applications. If you have colleagues, friends, family or neighbours from the EU, please make sure they find out more here.