Weekly Mailing - Friday 18 October 2019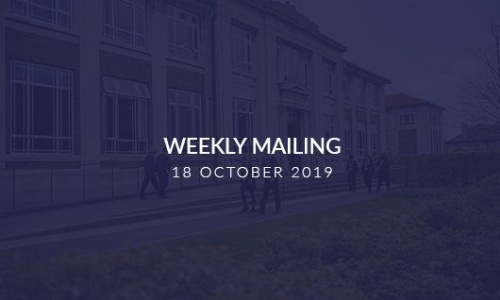 Dear Parents and Carers

Please find below this week's important information for Parents/Carers and students as well as updates on School events, activities and opportunities for your reference. I wish you a very relaxing weekend.

Ms Jo Butler
Headteacher

Good News

Bristol Education Partnership Launch Event- Cotham students and other young people in Bristol taking up the 'Climate Challenge'
A new partnership of 10 schools- state and independent- including Cotham, 2 universities and Bristol City Council, called the Bristol Education Partnership has been formed. One of our projects involves working together with environmental organisations on 'Climate Challenge' projects to help reduce carbon emissions and protect wildlife. On Monday 30 September, 10 of our Sigma House students went to the MShed to contribute to the Partnership's 'The Climate Challenge'.

Prerana in Year 10 has written the following piece to tell us more about what the Cotham team have been doing.

"At the MShed we had to come up with 2 new projects to start at our school in order to support the environment. We discovered that we already do so much as a school, but we could be better. Several charities pitched to the 10 schools, including the Avon Wildlife Trust, GenEco, SusTrans etc. 2 of us from each school had workshops with the charities and then we came together to come up with a project or two.

At the end of that day we were still undecided, however, by Wednesday 9 October we had two concrete plans. On Wednesday the team went to UWE for the official launch of the partnership, we had two hours to set up a presentation board and two of us had to plan a pitch before the afternoon. We came up with an amazing presentation and we had time to have a tour around the UWE campus before the guests arrived. The guests were governors, headteachers, council members, representatives from companies and charities. We had to present our project as they came to our stand. We had many positive comments and our headteacher was very interested. Later, each school pitched their projects, on the stage, to everyone. To end the day we had some amazing talks, our favourite being the one by Doug Allan, the cameraman for David Attenborough's Blue Planet!

Our two projects

Cotham's Compost Campaign
We are going to collect the food waste from the canteen and turn it into compost to possibly use at school.

Switch Off Campaign
In addition to the Samsung project at school, we are going to do small immediate actions, such as turning off the smart board when not in use, to reduce our electricity waste.'

A press release for the launch can be found here.

Keep us posted
It would be great if parents/carers could let the school know of any student achievements outside of school. It is sometimes only at parents' evenings that we find out what students are doing in their own time. Email us: weeklymailing@cotham.bristol.sch.uk


Important Information for Parents/Carers

NEW!!!: Cotham School Parent Information Booklet
To assist parents/carers find essential school information, we have prepared an Information Booklet (link here) which provides you with a quick reference guide to know where to go/who to contact in school if you have any questions. Hard copies of this booklet are available from both Student and Main Reception.

Notice about collecting students at the end of the school day
Can we please remind parents/carers that students should be collected promptly at the end of the school day. Student Reception closes at 3.00 pm. and staff are unable to supervise students after this time. With the darker evenings approaching we do not want students left out in the cold/dark waiting for parents.

Students are of course welcome to use the school library which is open daily until 4.15 pm. to complete homework whilst waiting for parents/carers. Arrangements for collecting students need to be made between parents/carers and students at the beginning of the school day as we do not have staff able to locate students after the end of the school day.

School Uniform
How to purchase school uniform
School uniform can be purchased at any time from Harris Sports, you can call them on 0127 587 4351 order and pay by phone and they will deliver direct to School. You can also purchase uniform from Famous Branches (School Uniform Suppliers) their shop is located at 186-190 Henleaze Road, BS9 4NE, telephone number 0117 962 0011.

Dates for your Diary

Thursday 7 November 2019 – Harris Sports will be in School (Main Reception) from 2.30 – 4.00pm.

Friday 8 November 2019 – Cotham Parents Support Group will be in School (Main Reception from 2.30 – 4.00pm selling pre-owned school uniform for just £1.00 per item. We also have Year 11 Navy Sweatshirts for sale at 50p each.

The pre-owned school uniform sales are held on the first Friday of every term from 2.30pm - 4.00pm in Main Reception. All money goes to school funds. Donations of good condition uniform can be handed in to Main/Student Reception at any time. If you are interested in volunteering to help for a few hours with the pre-owned uniform sale please contact Ms Ryan on Main Reception.

Bristol Teen Book Award 2019
For information about the Bristol Teen Book Awards and how to take part please speak to Miss Davies in the library, a poster about the event can also be found here.

Year 11 - North Bristol Post-16 Centre Open Evening
Parents and carers of Year 11 students are warmly invited to the North Bristol Post 16 Centre Open Evening on Thursday 24 October (Cotham Learning Community) 6.30 pm. to 8.30 pm. No need to book we look forward to seeing you there, further information can be found here.

Design the School Christmas Card Competition
Every year we run this competition and are always impressed with the standard of entries. The competition is open to all year groups. Further information on the poster attached here.

Word of the week
Each week at Cotham we promote a Word of the Week. This is to help students expand the range of vocabulary they use. Please find the word for the week ahead by clicking here.

Cyberbullying Guide
An online organisation called HomeGuides has developed guidance to help children, parents and teachers to understand what cyberbullying is and what can be done about it. Download the guide here.

Online Safety Newsletter
Please click here to view this month's online safety newsletter.
Please click here to view an online Safety booklet which includes an overview of key parental controls.

Subject Area News

Physical Education (PE)
Fixtures Week Commencing 21 October

Tuesday 22 October
Years 7 and 8 netball at RGS (return to school by 5pm)

Wednesday 23 October
Year 9 netball festival at Clifton College Sports Centre (return to school by 5.30pm)
Bristol Schools Cross Country at Ashton Park School (return to school by 5.45pm)

Bristol Schools Swimming Gala
Any students who swim or have swam for a swimming club and would like to represent the school at the Bristol Schools Swimming Gala (Heat 2), please see Mr Collin in the PE office. This gala will take place on Tuesday 12 November at Easton Leisure Centre, 5pm-8pm.

Extra-Curricular Clubs

Please click here for a list of all of the PE/Sports Extra-Curricular activities available to students in Term 1.

Please click here to view an updated fixture list for all upcoming fixtures for Terms 1 & 2.

Follow @CothamPE on Twitter for all the latest news and updates from the Cotham School PE department

Parental Consent for Sports Fixtures 2019- 2020

Please complete the parental consent form which can be found here and return to school as soon as possible if your child is taking part in school fixtures this year. Once on file we can then select your child for these fixtures and we will confirm by email or text the details nearer the date that these are taking place.

Modern Foreign Languages (MFL)
German Family visit - 8ZO

Last Friday period 1, 8ZO welcomed Constance, Clemens and Casper to their lesson. Clemens delivered a short talk in German on life in Potsdam and at school. Students were able to ask questions then interview the three guests in German. It was a great opportunity to listen to and speak German and Cotham students discovered that life isn't so much different for a Year 8 student living in Germany compared to Bristol. Thank you to Constance, Clemens and Casper for taking part in our lesson and to 8ZO for demonstrating excellent Cotham Manners.
Frau Bingham
Science
Authentic Biology

Authentic Biology will not be running on Thursday 24 November due to the post 16 open evening. Authentic Biology will start again on Thursday 7 November.

Key Stage 3 News

KS3 Information Evening
Thank you to those that attended the KS3 Information evening. Please find attached here the slides that were shared with parents/carers on the night.


Key Stage 4 News

Year 10 Work Experience Monday 29 June - Friday 3 July 2020
Year 10 Work Experience week will be 29 June- 3 July 2020 and all students will need to arrange a placement with an employer for this period. This is a hugely exciting opportunity for students to experience a week in the professional world. Every student will have a 1-2-1 meeting with the careers advisor between now and the end of Term 2 to help them explore areas of interest.

A copy of the work experience letter can be found here

Further details and key dates will be shared via the Weekly Mailing throughout the school year.

Year 10 Parents' Information Evening Thursday 7 November 2019
All parents of Year 10 students are warmly invited to attend a Year 10 Parents' Information Evening on Thursday 7 November. The session will feature presentations from the English, Maths, Science, Languages and Humanities leaders, as well as general information on how best to support your child through their GCSE studies.

The event will take place in our North Bristol Post 16 Charnwood Centre from 5.00 pm to 6.00 pm. Parents and carers should enter the building, and follow the signs directing them downstairs towards G001.
We hope you are able to join us.

Year 11 'in class' Mock Exams Monday 4 November - Friday 16 November
These exams will take place between Monday 4 November - Friday 16 November during students' lessons.
Attached is a summary of the content that will be tested in these mocks. The final column shows the date and time of these exams (not all of these are complete but they will be complete soon). We wanted to share the information sooner rather than later so that parents and carers are able to support their children with their preparations for these mock exams.

Strategies for success in Year 11 GCSE Mathematics
Please click here for important information about strategies to enable students' success in Mathematics GCSE in Year 11.

Year 11 'Off the Record' Workshops
Next week, we are pleased to welcome Off the Record to our school. Off the Record are a counselling organisation who offer a range of support services to young people aged 11 to 25 years old. They will be delivering workshops to the whole year group which offer strategies for managing stress and avoiding negative thinking traps. These should be really useful practical skills, both for now and in the future and I am sure our students will get a lot from them.
If you want to know more about Off the Record please visit their website a link is here.

Year 11 Parents' Information Evening Thursday 14 November
All parents of Year 11 students are warmly invited to attend a Year 11 Parents' Information Evening on Thursday 14 November. The session will feature presentations from the English, Maths, Science, Languages and Humanities leaders (plus presentations from some of our options subject leaders), as well as general information on how best to support your child through their GCSE studies.

The event will take place in our North Bristol Post 16 Charnwood Centre from 5.00 pm to 6.30 pm. Parents and carers should enter the building, and follow the signs directing them downstairs towards G001.
We hope you are able to join us.

Post 16 News

Dates for your diary
21/10/19- UWE careers adviser in G101 all morning to hold drop in sessions to support Year 13 students with their personal statements and university applications.
23/10/19- Polly Wardle from the Robins Foundation in to speak to students about the new BA in Sports Business and Entrepreneurship Degree and Sports Coaching and Development course at 12pm in G102
24/10/19- NBP16 Open Evening: Cotham and Charnwood House
25/10/19 - INSET day, no lessons for all Cotham and Charnwood lessons, RGS lessons will be AS NORMAL and students must attend if they have RGS lessons.

Year 12

Attendance - please ensure that your son/daughter has spoken to their tutor about their attendance and completed blue forms for any absence.

Core programme lesson 3 on a Wednesday Week B (this week) is compulsory for all students who do not have a lesson. This week's Core Programme is run by the Black Dog Project, a volunteer initiative run by students from the University of Bristol who aim to increase mental health awareness amongst young people. Please see letter here.

A reminder that if your son/daughter had any Exam Access Arrangements (EAA) in Year 11 and they did not attend Cotham School then they must see Mrs Kempt as soon as possible to get re tested.

Year 13

Students must ensure that they have contacted their form tutor to make an appointment for their 1:1 meeting. They should be emailing drafts of their personal statement to their form tutor in the first instance.

Students are encouraged to meet with Ms Paice our school careers adviser on a Wednesday, she can be emailed directly to make an appointment paices@cotham.bristol.sch.uk and is available every Wednesday registration in the canteen.

Student Wellbeing

We take your child's well being very seriously, we have many avenues of support available. A reminder that there is a school counsellor, a Post 16 Reflection room which is available for all students and many places that your son/daughter can study alone should they wish to. Please see Mrs Kempt for more information. There is a also a mindfulness drop in session on a Thursday lunchtime. Mrs Kempt also has lots of self help books available - just pop into G206 to borrow some.

Off the Record (OTR)

OTR are offering weekly Resilience Lab drop in sessions on Perry Road there is no waiting list and all students are very welcome. More information can be found here.

Careers and guidance

On Monday 21 October we are fortunate to have a brilliant careers adviser coming into Charnwood all morning in G101 to discuss personal statements and university applications to our year 13 students, all welcome.

This week, students participated in a virtual employability event hosted by Class Careers and PwC. Class Careers are a social enterprise, who focus on ensuring access for all students to high quality careers conversations with prestigious employers via a virtual chat platform in a secure, school based environment.

PwC are a leading professional services firm, offering early career opportunities and work experience in business, accounting and technology. They offer some fantastic school-leaver options, including funded degrees and apprenticeships, blending paid work with study and recognised qualifications. They also have a dedicated Parent Zone, where you can find out more if your child was interested following the conversations they had this week.

Work Experience for Year 12

For any students in Year 12, PwC offer Insight Weeks. These are one-week paid work experience programmes in the Summer Holidays focusing around Business, Accountancy or the Digital World. Applications open this Autumn for the Summer 2020 work experience.

The PwC brochures are also available to download as a PDF from the PwC website and students can sign up for a student newsletter here if they haven't already done so.

We have suggested to year 12 that they might download the mobile phone app called "Springpod" to help them to find meaningful work experience placements. Please encourage them to use this mobile app to build a profile, find work experience and ask questions via "Springpod" who are intermediates to ensure safety. This may also result in "Fast track" opportunities to Higher and Degree Apprenticeships in the future.

Please also keep an eye on the NBP16 Bulletin for work experience opportunities. Coming soon to the NBP16 website, a page dedicated to work experience, in the meantime the Cotham School website has many advertised opportunities for Year 12.

Here is the link to our Careers Bulletin which is updated weekly.

Student Careers News

Apprenticeships

City of Bristol College Apprenticeship Bulletin and South West Apprenticeship Company have apprenticeship vacancies here and here.

Other apprenticeships can be found through the Gov website here, Target Careers, Success at School , Get My First Job and Not Going to Uni.


Saturday jobs
Students looking for Saturday jobs can find good advice through this website

Please keep your eyes on the Careers section of the website for updates.

Community News

HappyMaps Website- Providing resources for Parents and Carers around Children's mental health
HappyMaps is a website providing a one stop shop of resources around children's mental health from babies to young adults and includes websites, videos, books, Apps and links to ways to find counselling and other support. The website was funded by NHS England with input from specialist services (CAMHS) and local charities and is supported by Bristol Mind. Please click here to view the website.

Advanced Cycle Training
Life Cycle Uk supported by Bristol City Council are offering Level 3 Bikeability Courses during the October half term for children aged between 11 - 15 Years old. The course is £35 per child, more information can be found here, bookings can be made online or by calling 0117 3534580.

Do you know someone from a non-UK EU country?
Bristol has 21,000 non-UK EU citizens living, working and studying in the city. The Government has advised that all non-UK EU citizens must apply for the EU Settlement Scheme to ensure their rights are protected post-Brexit. Bristol City Council wants everyone that lives here to have their rights protected, and is offering help with applications. If you have colleagues, friends, family or neighbours from the EU, please make sure they find out more here.