Weekly Mailing - Friday 8 November 2019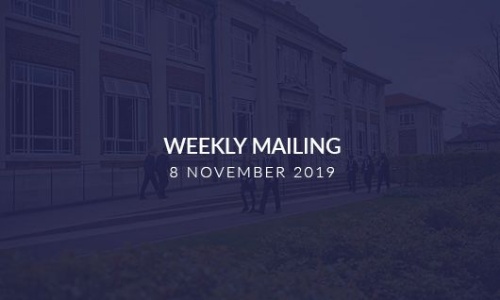 Dear Parents and Carers

Please find below this week's important information for Parents/Carers and students as well as updates on School events, activities and opportunities for your reference. I wish you a very relaxing weekend.

Ms Jo Butler
Headteacher

Good News

Mascot for England Women's Football team
Finley Currie Year 7 entered into a competition to be a mascot for England Women's Football team playing Germany on Saturday 9 November at Wembley stadium in front of a full capacity crowd! He won!

He will be walking out onto the pitch at Wembley in front of 89,000 people, given a kit and will meet all the players, high five them before lining up in the tunnel and accompanying the players out!

Well done Finley, what a great honour!

Pay it Forward Campaign
Pay it Forward' is an international movement which promotes the undertaking of random (or not so random) acts of kindness. Using the ethos of 'Pay it Forward', the Governors and I felt that this was exactly the sort of campaign that we wanted to launch.

Thank you so much to our parents, carers, students, staff and supporters who have supported the 'Pay it Forward Campaign' launched in July. We have got off to a really good start and have received generous donations of pre-loved uniform and equipment, books, GCSE and A Level Revision Guides, pledges from volunteers who want to help with maths, music and science; and monetary gifts of £10,800.00.

This term we will begin to put the monetary donations received to good use and will let you know what we buy, using the wishes specified by our donors, to help support our students even more whilst they are here at Cotham School.

However… we still have eight months left of our 'paying it forward' campaign. We would be so grateful if you could get behind our campaign and 'Pay it Forward' in whatever way you can.

For those parents and carers who have joined the Cotham School community since September and have not yet heard of our fundraising campaign, please see below. In particular please see our letter that explains how you can get involved.

For a twelve month period from July 2019 and subsequently through campaign updates and new regular initiatives throughout the year, we will be providing details of how parents, carers, ex-students, our community and alumni can 'Pay it Forward' to support Cotham School students. Please find a letter here explaining more about the campaign and how you can take part, your 'Pay it Forward' contributions will make a significant difference to our school whether they are financial, helping with resource upcycling or the giving of your time and skills.


Bristol Universities Digimaker Event
"Cotham teachers, Mr Lawrence and Mr Watts ran an Arcade build and programme day for the Royal Academy of Engineering at the Bristol Universities Digimaker Event in June. A team of Cotham students completed the workshop alongside students from three other local schools. It was a fantastic day with each school taking home the arcade machine they had built and programmed!" A video from the event can be viewed here.

Netball Match Report
Cotham's tournament against Bristol Free School took place on 5 November and the Year 7 team won by an amazing 23:1. Sophia was awarded player of the match by their team for her excellent attacking and shooting. Connie (me) was awarded managers player. To improve upon our team's play we should spread out and create space to drive into as well as not having two people in the same space; other than this we work extremely well as a team and did a lot of good quality play.

Written by Connie Year 7

Keep us posted
It would be great if parents/carers could let the school know of any student achievements outside of school. It is sometimes only at parents' evenings that we find out what students are doing in their own time. Email us: weeklymailing@cotham.bristol.sch.uk

Important Information for Parents/Carers

Parent Governor Vacancies
Cotham School needs more Parent Governors. Have you ever thought of being a Parent Governor? See linked leaflet here for your consideration.

Further information about Parent Governor Elections will follow soon. We encourage applications from all members of our community, regardless of background, gender, ethnicity, disability or age (as long as you're over 18).

Word of the week
Each week at Cotham we promote a Word of the Week. This is to help students expand the range of vocabulary they use. Please find the word for the week after half term by clicking here.

Cyberbullying Guide
An online organisation called HomeGuides has developed guidance to help children, parents and teachers to understand what cyberbullying is and what can be done about it. Download the guide here.

Online Safety Newsletter
Please click here to view this month's online safety newsletter.
Please click here to view an online Safety booklet which includes an overview of key parental controls.

Subject Area News

Physical Education (PE)
Fixtures Week Commencing 11 November

Tuesday 12 November- Swimming Gala at Easton Leisure Centre 5.00pm

Wednesday 13 November- Year 8 Netball festival at Clifton Sports Centre 2.30pm-5.00pm

Old Bristolians Girls Rugby Taster Session

Old Bristolians Girl Rugby are holding a taster session on Sunday 24 November, for more information and contact details please click here.

Extra-Curricular Clubs

Please click here for a list of all of the PE/Sports Extra-Curricular activities available to students in Term 2.

Please click here to view a fixture list for all upcoming fixtures for Term 2.

Follow @CothamPE on Twitter for all the latest news and updates from the Cotham School PE department

Parental Consent for Sports Fixtures 2019- 2020

Please complete the parental consent form which can be found here and return to school as soon as possible if your child is taking part in school fixtures this year. Once on file we can then select your child for these fixtures and we will confirm by email or text the details nearer the date that these are taking place.

Modern Foregin Language (MFL)
French Exchange Bristol - Bordeaux

The French Exchange is a fantastic opportunity to learn more French and make life-long friends. For more information and application forms click here.
First leg in Bristol between 7 - 21 July 2020
Second leg in Bordeaux between 23 July - 6 August 2020
Deadline for applications is Friday 15 November 2019

STEAM
GCSE Visual Art and Photography examination groups who completed in August 2019 can collect Art/PG work during the week of 11 November to 14 November from 3.00pm to 3.30pm. Please arrive at student reception. Work is stored in the classroom in which each student had their Art Lessons.

Key Stage 3 News

The Malcolm X Elders Theatre Company perform to Year 9
On Thursday 24 October, The Malcolm X Elders Theatre Company performed their play 'We Have Overcome' which is a devised piece about the actors own experiences of The windrush scandal. The oldest performer was 85! Please click here to see a photo of the performers. It was a fantastic performance and a great celebration to end Black History Month. A 5 star performance. Please see below reviews from some students.

"In this performance the performers showed how life was in 1960.They experienced how one day, their friends were there with them and then they went off to England. They described England as "dull and grey". They were used to sunshine everyday all day. When they came to England it was freezing and snowing.
When they arrived in England they saw signs with the words "No Blacks, No Irish, No Dogs"
The rooms they were offered were very small but they were grateful for anything. Most of them were often turnt away for not having the "right papers" but it was because of their skin colour.
They were given bad and low paid jobs (factory,cleaning and potato picking) It didn't matter what qualification they had or that they had the certificate to prove it. When the black children went to school, the white children were very interested in them and often asked them why their skin was different.

In conclusion, I think this performance was very educational and emphasised. The description of England was very realistic. "This will not define us nor will it defect us!" "We are staying put"
Me personally, I collected more information about this period with this play. Our year group loved this exciting show.

Thank you." Taja

"I loved how they came in, they were so traditional. They were wearing colourful clothes. One of the actors said that one day her friend came to visit her and told her that all her friends had gone to England, so she decided to go to England. She was told that the sidewalks were plated with gold but when she arrived it was dull and grey. She had to share a single bed with her sister, but her sister snored so she went to see if she could rent a room herself. There were many rooms free but when she arrived they changed the signs to "No Blacks, No Irish, No Dogs" One room was available but it was a tiny room in the attic with a leaking roof.
When looking for a job, it didn't matter how many qualifications you had you were given low paid jobs in a crisp factory! They found it hard to find the food they liked. One day they brought rice to make rice and peas, it was no good as they had been sold pudding rice!
When they started school, the white children would pinch them and ask lots of questions.
They sang songs and talked about the St Pauls Carnival. One of the ladies had started the carnival up over 50 years ago. I loved the play and their ambition to stay put."

Sumaya

Key Stage 4 News

Year 10 Parents' Information Evening
Many thanks to all the parents and carers who attended our Parents' Information Session this week. The slides from the presentation can be found here.

Year 10 Work Experience Monday 29 June - Friday 3 July 2020
Year 10 Work Experience week will be 29 June- 3 July 2020 and all students will need to arrange a placement with an employer for this period. This is a hugely exciting opportunity for students to experience a week in the professional world. Every student will have a 1-2-1 meeting with the careers advisor between now and the end of Term 2 to help them explore areas of interest.

A copy of the work experience letter can be found here

Further details and key dates will be shared via the Weekly Mailing throughout the school year.

Year 11 'in class' Mock Exams Monday 4 November - Friday 16 November
These exams will take place between Monday 4 November - Friday 16 November during students' lessons.
Attached is a summary of the content that will be tested in these mocks. The final column shows the date and time of these exams (not all of these are complete but they will be complete soon). We hope that student revision is well underway so your children can demonstrate their knowledge and skills.

Essential Examination Equipment
Your child will be more successful in their mocks if they have the correct equipment. Please support them by purchasing any missing items over the next month:
Clear pencil case
Black Pens x2, pencils x2, eraser, sharpener, ruler, protractor, compass,
highlighter, working non-programmable scientific calculator (preferably Casio).
Students taking examinations in Design and Technology will also need coloured pencils.
Students should have calculators

Supporting your child's revision
Some helpful resources to support your child's final revision preparations:
Strategies for success in Year 11 GCSE Mathematics
Please click here for important information about strategies to enable students' success in Mathematics GCSE in Year 11.

Year 11 Parents' Information Evening Thursday 14 November
All parents of Year 11 students are warmly invited to attend a Year 11 Parents' Information Evening on Thursday 14 November. The session will feature presentations from the English, Maths, Science, Languages and Humanities leaders (plus presentations from some of our options subject leaders), as well as general information on how best to support your child through their GCSE studies.

The event will take place in our North Bristol Post 16 Charnwood Centre from 5.00pm to 6.30pm. Parents and carers should enter the building, and follow the signs directing them downstairs towards G001.
We hope you are able to join us.

Post 16 News

Dates for your diary
Post 16 Open Mornings: 14 and 21 November 2019 at 9.00am
Year 12 parent consultation day: 20 November 2019
Oxbridge Support day at RGS for Year 12 and 13: 19 November 2019

Year 12

Family Consultation Day- Wednesday 20 November
Your son/daughter must arrange an appointment with their form tutor as soon as possible. There are no timetabled Year 12 lessons on this day. Letters have been emailed out. Mrs Kempt (Student Services Leader) and Ms Quirke (Assistant Head and Head of Sixth Form) will also be available to meet. Please email them to make an appointment kemptc@cotham.bristol.sch.uk and quirkee@cotham.bristol.sch.uk

Core Programme this week is with the excellent 1625 Independent People whose talks are always very informative and inspiring.

For any student interested in Oxbridge there is a launch session on 19 November at 11.05am (lesson 3) at RGS - more details to follow.

Year 13

Students must ensure that they have contacted their form tutor to make an appointment for their 1:1 meeting. They should be emailing drafts of their personal statement to their form tutor in the first instance, the internal deadline for UCAS submissions is the beginning of December 2019.

Students are encouraged to meet with Ms Paice our school careers adviser on a Wednesday, she can be emailed directly to make an appointment paices@cotham.bristol.sch.uk and is available every Wednesday registration in the canteen.

Student Wellbeing

We take your child's well being very seriously, we have many avenues of support available. A reminder that there is a school counsellor, a Post 16 Reflection room which is available for all students and many places that your son/daughter can study alone should they wish to. Please see Mrs Kempt for more information. There is a also a mindfulness drop in session on a Thursday lunchtime. Mrs Kempt also has lots of self help books available - just pop into G206 to borrow some.

Creative Youth Network

Creative Youth Network also offer a lot of support and one to one therapy - please ask your son/daughter to see Mrs Kempt for more information a link to their website can be found here.

Off the Record (OTR)

OTR are offering weekly Resilience Lab drop in sessions on Perry Road there is no waiting list and all students are very welcome. More information can be found here.

Careers

A reminder that Ms Paice is available every Weds in G402 at Charnwood to meet students and all Year 12 students should have signed up to SpringPod which is a work experience platform.

Here is the link to our Careers Bulletin which is updated weekly.

Student Careers News

Invitation to The Changing Face of Career Pathways Event at Clifton College

Please see letter here regarding this event being held on Friday 17 January 2020 between 5.15pm – 7.00pm

Apprenticeships

City of Bristol College Apprenticeship Bulletin and South West Apprenticeship Company have apprenticeship vacancies here and here.

Other apprenticeships can be found through the Gov website here, Target Careers, Success at School , Get My First Job and Not Going to Uni.


Saturday jobs

Students looking for Saturday jobs can find good advice through this website

Please keep your eyes on the Careers section of the website for updates.

Staff Vacancies

Cotham School are currently recruiting new members of staff to work with us at the school. We are currently looking to hire a Science teacher, a Chemistry teacher, a English teacher and an Assistant Library Coordinator.

For more information about school roles please click here.

Community News

HappyMaps Website- Providing resources for Parents and Carers around Children's mental health
HappyMaps is a website providing a one stop shop of resources around children's mental health from babies to young adults and includes websites, videos, books, Apps and links to ways to find counselling and other support. The website was funded by NHS England with input from specialist services (CAMHS) and local charities and is supported by Bristol Mind. Please click here to view the website.

Single Parents Fair- Saturday 9 November
A local free activity day is being held on Saturday 9 November at the Greenway Centre in Southmead. The parent can get a free haircut, manicure, or massage whilst the children enjoy craft activities or various sports. We also give each family a professional family photo to take home. More information on this event can be found here.

Charade Amatueur Dramatics presents Murder on Cue 21 - 23 November 2019
Charade Amatueur Dramatics presents Murder on Cue 21 - 23 November 2019. Click here to view flyer and how to obtain tickets

Colston Hall Bristol's Home of Music- What's New?
There are lots of things happening at the Colston Hall, click here to find out more. Announced and on sale this week- Sean McConnell who has been independently releasing albums since the age of 15. Now, aged 34 and with 13 albums to his name, his songs have also been recorded by Tim McGraw, Martina McBride, Brad Paisley, Rascal Flatts, Meat Loaf, Jake Owen, Brothers Osborne, Christina Aguilera, Buddy Miller and more.

Friends of Alalay
Ex-Cotham student Annie Syrett has provided an update on her charity, Friends of Alalay. To read more about the work with the street children at Alalay at the moment, please click here

Useful quick links

Key Dates
Please click here to view the Key Dates by year group for the 2019-20 academic year. You will be notified of any significant changes/additions, but please can we ask that you check the dates for your year group regularly as they are subject to change.

Parents' Evening Booking System (PES)
Please click here to access the online appointment booking system for Parents Evenings/Family Consultation Day. Please note this is only available if an event is due. We will email you to let you know when booking opens. If you encounter any difficulties with booking your appointments please contact the admin team by email to adminoffice@cotham.bristol.sch.uk or tel: 0117 919 8000

Assessment Calendars for KS3
We have created Assessment Calendars for 2019/20. Each Assessment Calendar contains details of the class assessments that will take place in their subjects. The final column contains a link which gives information about each of the assessments.
To see the Year 7 Assessment Calendar click here
To see the Year 8 Assessment Calendar click here
To see the Year 9 Assessment Calendar click here
To see the Year 10 Assessment Calendar click here
To see the Year 11 Assessment Calendar click here

Parents Information Sessions
KS3 Parent Information Session 3 October 2019 - click here
Year 10 Parent Information Session 7 November 2019 - click here

Homework and Independent Learning timetables
Please see the attached link describing our Homework Guidelines for students in the school.
In KS3 we do not have homework timetables.
Homework and Independent Learning Timetable for Year 10
Homework and Independent Learning Timetable for Year 11

GCSEpod
Click here to access GCSEpod which contains lots of revision resources for most GCSEs. Students self register through the website using their name and school details.

Diagnostic Questions
Click here to access. This site contains self marking quizzes with lots of templates including some from a range of exam boards. It's easy to make your own questions in Microsoft PowerPoint too. Students sign up with their school Google account using the G+ button to automatically create a school account

Edmodo
Edmodo is an application that can be used on both mobile devices and in the web environment to create an online community of practice. Edmodo is a free social learning platform that allows students to access the course content uploaded by their teachers.
https://www.edmodo.com/

Seneca
All students and teachers now have free access to Seneca - a revision and homework platform making studying more fun. Seneca is an interactive way to learn official course content. Their web app covers 150+ exam board specific courses condensing what students need to know for their exams. The software is able to identify gaps in learning. For instance, when you get a question wrong, the platform will repeat the topic in different formats and their smart algorithm has proven to make students remember topics 2x faster. Seneca is totally free for students, teacher and parents. You can sign up via senecalearning.com

WisePay
WisePay is the Online Payment Service at Cotham School which allows you to pay for trips and visits as well as to add credit to your child's Cashless Catering account. Click here to access your account now. If you have any queries about your account please contact the support team by email to wisepay@cotham.bristol.sch.uk

School Uniform
Please click here to view the compulsory uniform requirements of Cotham School, along with visual examples of uniform and details of our uniform suppliers.

Contact Details
Please note the following contact numbers and email addresses if you need to contact the school:

Main Reception - 0117 919 8000/ reception@cotham.bristol.sch.uk
Student Reception - 0117 919 8013 / studentreception@cotham.bristol.sch.uk
Absence - 0117 919 8019/ absence@cotham.bristol.sch.uk
NBP16C - 0117 919 8100/ post16@cotham.bristol.sch.uk
Finance - 0117 919 8016/ finance@cotham.bristol.sch.uk
Exams - 0117 919 8024/ exams@cotham.bristol.sch.uk
Admin Office - 01179198053/ adminoffice@cotham.bristol.sch.uk
Library- library@cotham.bristol.sch.uk