Weekly Mailing - Friday 22 November 2019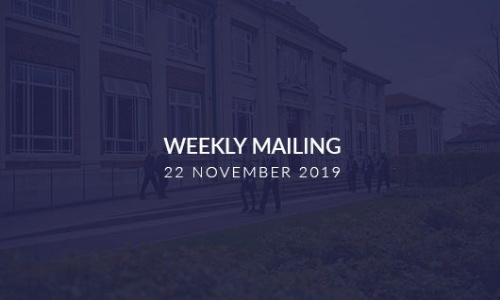 Dear Parents and Carers

As Cotham's Headteacher I have signed up to the 'Stop School Cuts Campaign' as have many of my colleagues across the country. You may also want to add your voice to the campaign as a parent or carer. If you'd like to read more please see the communication sent to me this week from Kevin Courtney on behalf of the Campaign below.

Please also find below this week's important information for Parents/Carers and students as well as updates on School events, activities and opportunities for your reference. I wish you a very relaxing weekend.

Ms Jo Butler
Headteacher

The 'Stop School Cuts' Campaign

"Friend,

In this election, every candidate has a choice: to fix the school funding crisis once and for all – or compromise on children's education.

Every concerned parent, headteacher, teacher or staff member is also a voter.

We all have the power to hold our politicians to account at elections by showing them that we will only elect people who guarantee to protect our schools.

Let's find out where they really stand on school funding - by asking every candidate running for election to pledge to stop school cuts.

Ask your candidates to pledge

Our pledge tool is easy to use. All you need to do is fill in your details and hit send.

You'll be asking your candidates for a straight-forward promise for schools based on six tests:

Reverse cuts to per-pupil funding suffered since 2015 for every school
Guarantee new money from the Treasury to reverse the cuts
Restore funding to all ages and all needs, including early years, SEND and post-16
Provide a ten-year funding plan so schools can plan for the long term
Address historic underfunding by levelling up all areas of the country
Fully fund new commitments such as pay rises and other new costs

These six tests are crucial to giving every school the funding they need and to stop politicians getting away with fudging the figures.

Over the course of the election, we'll list every candidate on schoolcuts.org.uk so everyone can see who has committed to adequate school funding. Or who continues to ignore the crisis.

The more people that use our tool, the more pressure candidates will feel.

There's no time to lose — email your candidates now and ask them to pledge to give every school in your area the funding it needs.

Our schools can't go on like this. There are so many issues at this election, but properly funding our children's education has to be at the top of the list.

No matter the results, we will hold every candidate to account on their promises if they are elected.

Let's see who takes the pledge.

Kevin Courtney

Joint General Secretary

National Education Union"

Good News

NEW!!! Pay it Forward Campaign - Easyfundraising
We have added to the campaign this week with an easy, no cost way where all can contribute and Cotham can 'Pay it Forward'

We have now joined 'Easyfundraising'. When you shop with the 4,000 retailers registered with Easyfundraising, each retailer pays the school a small donation to say 'thank you'. The donation is sent to the school with no cost or deduction.

This is a simple and free way to help us with our campaign! Please register with easyfundraising today!

For more information or to sign up please click here.

Thank you to the parent who contacted me to tell us about this organisation; it's much appreciated. If you have any other fundraising ideas we'd love to hear about them. Please email info@cotham.bristol.sch.uk with 'Fundraising Idea' in the subject heading.

Pay it Forward Campaign- What is it?
Pay it Forward' is an international movement which promotes the undertaking of random (or not so random) acts of kindness. Using the ethos of 'Pay it Forward', the Governors and I felt that this was exactly the sort of campaign that we wanted to launch.

Thank you so much to our parents, carers, students, staff and supporters who have supported the 'Pay it Forward Campaign' launched in July. We have got off to a really good start and have received generous donations of pre-loved uniform and equipment, books, GCSE and A Level Revision Guides, pledges from volunteers who want to help with maths, music and science; and monetary gifts of £10,800.00.

This term we will begin to put the monetary donations received to good use and will let you know what we buy, using the wishes specified by our donors, to help support our students even more whilst they are here at Cotham School.

However… we still have eight months left of our 'paying it forward' campaign. We would be so grateful if you could get behind our campaign and 'Pay it Forward' in whatever way you can.

For those parents and carers who have joined the Cotham School community since September and have not yet heard of our fundraising campaign, please see below. In particular please see our letter that explains how you can get involved.

For a twelve month period from July 2019 and subsequently through campaign updates and new regular initiatives throughout the year, we will be providing details of how parents, carers, ex-students, our community and alumni can 'Pay it Forward' to support Cotham School students. Please find a letter here explaining more about the campaign and how you can take part, your 'Pay it Forward' contributions will make a significant difference to our school whether they are financial, helping with resource upcycling or the giving of your time and skills.

Netball Match Report
On Tuesday 12 November, the Cotham Year 7 Girls Netball team played against Oasis Academy (OAB). We were pleased to win 10-2 and picked Connie as our player of the match and they picked Fran as theirs.
Players this week were: Fran, Martha, Connie, Inez, Isabel, Lucia, Lucia, Lois

Written by Lois, Year 7


Keep us posted
It would be great if parents/carers could let the school know of any student achievements outside of school. It is sometimes only at parents' evenings that we find out what students are doing in their own time. Email us: weeklymailing@cotham.bristol.sch.uk

Important Information for Parents/Carers

Parent Governor Vacancies
You will by now have received a communication from the school about the two Parent Governor Vacancies on the Governing Body. The letter linked here explains the process for selection and appointment of Parent Governors. The nomination form is here. Completed nomination forms need to be returned to the Headteacher by Wednesday 27 November 2019.

We encourage applications from all members of our community, regardless of background, gender, ethnicity, disability or age (as long as you're over 18).

'Stand Against Violence' Assembly
This week a special assembly was given to students by an organisation called 'Stand Against Violence' .

This was very moving and hard to watch. We hope the session highlighted the potential consequences of violence and will help students stay safe. Further information can be found here.

Year 9 Meningococcal ACWY & Diphtheria/Polio/Tetanus Vaccinations
Vaccinations will take place for ALL Year 9 students on Wednesday 18 December 2019.
Next week your child will bring home a consent form regarding these vaccinations.
The consent form allows for permission to be given OR permission to be refused.

We must have the form completed and returned by all students even if they are not having the vaccination.
Please return completed form to Student Reception by Friday 6 December 2019.

Mobile phones
There has been much media coverage about the topic of 'students and their mobile phones in school' and whether they should be banned completely as they are in France. There have also been articles on the dangerous effect that social media, mostly accessed by mobile phones, can have on young people's mental health with a number of very sad personal stories.

The Department for Education (DfE) has also raised concerns. However, the Education Secretary has said that it should be down to individual Headteachers to set their own mobile phone policy although the DfE would support any school which did choose to ban mobiles.

At Cotham School we firmly believe that mobile phones can be detrimental to learning, relationships and mental health and that they are not needed in school. We believe that young people should be learning and socialising in school without the pressures and distractions of mobiles. However, we have adopted a sensible policy which we expect all students to comply with and parents and carers to support us with. Students' phones should be switched off and in their bags at all times during the school day.

Old Jigsaw Puzzles wanted
Please can you send in any unwanted jigsaw puzzles for the library. We aim to provide them for the students after school to help them with relaxation, problem-solving, and mindfulness. We would be grateful for any size jigsaw puzzles, please can you check the pieces are all still in the box before sending in!
Many thanks.
Miss Davies, Librarian

Word of the week
Each week at Cotham we promote a Word of the Week. This is to help students expand the range of vocabulary they use. Please find the word for the week ahead by clicking here.

Cyberbullying Guide
An online organisation called HomeGuides has developed guidance to help children, parents and teachers to understand what cyberbullying is and what can be done about it. Download the guide here.

Online Safety Newsletter
Please click here to view this month's online safety newsletter.
Please click here to view an online Safety booklet which includes an overview of key parental controls.


Subject Area News

Physical Education (PE)
Fixtures Week Commencing 25 November

Monday 25 November - Year 9 and 10 boys and girls Sportshall Athletics at St Bedes (6pm return)

Tuesday 26 November - Junior Basketball vs St Bedes (h)

Wednesday 28 November - Senior Basketball vs St Bedes (h)

All students must have a Parent/Carer Consent form completed to allow them to take part in all fixtures.

Parental Consent for Sports Fixtures 2019- 2020

Please complete the parental consent form which can be found here and return to school as soon as possible if your child is taking part in school fixtures this year. Once on file we can then select your child for these fixtures and we will confirm by email or text the details nearer the date that these are taking place.

Extra-Curricular Clubs

Please click here for a list of all of the PE/Sports Extra-Curricular activities available to students in Term 2.

Please click here to view a fixture list for all upcoming fixtures for Term 2.

Follow @CothamPE on Twitter for all the latest news and updates from the Cotham School PE department

Key Stage 4 News

Year 10 Parents' Evening- Thursday 28 November 4.30pm - 6.00pm
Year 10 Parents' evening will take place on Thursday 28 November 4.30pm - 6.00pm. This is an opportunity for you to meet with your child's subject teachers to review their progress and discuss their GCSE learning. Please click here to access the online appointment booking system. If you encounter any difficulties with booking your appointments please contact the admin team by email at adminoffice@cotham.bristol.sch.uk or tel: 0117 919 8000

Year 10 Work Experience Monday 29 June - Friday 3 July 2020
Year 10 Work Experience week will be 29 June- 3 July 2020 and all students will need to arrange a placement with an employer for this period. This is a hugely exciting opportunity for students to experience a week in the professional world. Every student will have a 1-2-1 meeting with the careers advisor between now and the end of Term 2 to help them explore areas of interest.

A copy of the work experience letter can be found here

Further details and key dates will be shared via the Weekly Mailing throughout the school year.

Year 11 Parent Information Evening
Thank you to those parents who attended this event last Thursday 14 November. Please find attached here the powerpoint from the evening which includes information from faculty areas, on student safety and wellbeing and also Post-16 pathways.

Year 11 January Mock Examinations
Please find attached here the exam timetable for the January mock exams. These take place between Monday 20 January and Friday 31 January 2020. Individual student timetables will provided to students nearer the time.

It is important that your child gets into good routines with revision early and a revision timetable can help them to organise their time effectively. Students need a quiet place to work, away from distractions, so it may be necessary to limit mobile phone time when revision is taking place.

A template revision timetable can be found here.
Information on revision resources can be found here.

There are also a number of online revision resources including the Cotham VLE as well as Kerboodle, GCSE Pod and BBC Bitesize.

Year 11 Prom
Last year, a number of our parents got together and organised the Year 11 Prom to celebrate the end of our students' Key Stage 4 education. The Prom, which was held at the Mercure Bristol Grand (near St Nicholas' Market) was a real success and was well attended by both our students and our Parent Prom group.
If you are interested in working with a group of parents to organise a Prom for Year 11 students next summer then we would be more than happy to share each of your names and contact details with each other so that you can achieve this.

Last year, the school was able to provide advice and support with communications to students and parents, suggesting possible venues, as well as organising payment for tickets using our wisepay system.
Please get in touch with us if you would like to be involved in organising the prom by contacting Ms Allender the Learning Coordinator for Year 11 by email at allendera@cotham.bristol.sch.uk.

House News

Sigma, Delta, Gamma and Omega House have lots of exciting news to share, please click on the following links to hear more from each house. Please click here to hear from Sigma, click here for Delta's download, find out about Gamma here and Omega here.


Post 16 News

Dates for your diary
Monday 25 November, lunchtime- LSE University are coming in to do a study skills workshop with Year 12 and 13 students and will also be able to answer questions about university life and transition to university.
Year 12
Wednesday's lesson 3 Core Programme this week will be run by "We are Donors" who are a brilliant company and really inspiring. To view their website please click here.

A reminder that all Year 12s should be working in the LRC or the main school library or in Upgrade in G001 and not in the canteen. There are quiet study rooms available, students should ask Ms Quirke or Ms Kempt to be shown the rooms.

Year 13
UCAS internal deadline for all applications is Monday 2 December.

Students must ensure that they have contacted their form tutor to make an appointment for their 1:1 meeting. They should be emailing drafts of their personal statement to their form tutor in the first instance and once ready they should pay, send and upload their personal statement.

Students are encouraged to meet with Ms Paice our school careers adviser on a Wednesday, she can be emailed directly to make an appointment paices@cotham.bristol.sch.uk and is available every Wednesday registration in the canteen.

Year 13 mock exams and BTEC External exams
Please find the Year 13 mock and BTEC External exam timetable here.

Student Wellbeing
We take your child's well being very seriously, we have many avenues of support available. A reminder that there is a school counsellor, a Post 16 Reflection room which is available for all students and many places that your child can study alone should they wish to. Please see Mrs Kempt for more information. There is a also a mindfulness drop in session on a Thursday lunchtime. Mrs Kempt also has lots of self help books available - just pop into G206 to borrow some.

Creative Youth Network
Creative Youth Network also offer a lot of support and one to one therapy - please ask your son/daughter to see Mrs Kempt for more information a link to their website can be found here.

Off the Record (OTR)
OTR are offering weekly Resilience Lab drop in sessions on Perry Road there is no waiting list and all students are very welcome. More information can be found here.

Careers
A reminder that Ms Paice is available every Wednesday in G402 at Charnwood to meet students and all Year 12 students should have signed up to SpringPod which is a work experience platform.

Here is the link to our Careers Bulletin which is updated weekly.

Student Careers Update

Careers magazine for parents/carers of school leavers
Please click here to view the careers magazine.

Invitation to The Changing Face of Career Pathways Event at Clifton College
Please see letter here regarding this event being held on Friday 17 January 2020 between 5.15pm – 7.00pm

Apprenticeships
City of Bristol College Apprenticeship Bulletin and South West Apprenticeship Company have apprenticeship vacancies here and here.

Other apprenticeships can be found through the Gov website here, Target Careers, Success at School , Get My First Job and Not Going to Uni.


Saturday jobs
Students looking for Saturday jobs can find good advice through this website

Please keep your eyes on the Careers section of the website for updates.

Staff Vacancies

Cotham School are currently recruiting new members of staff to work with us at the school. We are currently looking to hire a Catering Assistant.

For more information about school roles please click here.

Community News

BBC Film casting search - Casting workshop invite
Julie Harkin Casting are on the search for a young female with a physical disability to play a lead role in a new BBC and BFI backed feature film, Tuesday. Casting workshops are being held across the country and they would like to invite anyone who is suitable and interested to apply!

More information can be found here.

Bristol Election Debates- Climate and Ecological Emergency
An environmental election hustings has been organised by Extinction Rebellion at Easton Community Centre on Monday 25 November between 7-9 pm. More information can be found here.

The Great British Bake Off kneads you
The Great British Bake Off are looking for a new set of Star Bakers to enter the tent for the eleventh series.
If you or someone you know could add a bit of charm & skill to the tent, then why not apply now, visit www.applyforbakeoff.co.uk. A poster with more information can be found here.

Stapleton Road Station Survey
Funding has been secured to deliver an improvement package between Stapleton Road and St Marks Road. Severnside Community Rail Partnership are collating data around what the community feel about the environment now and will conduct a further survey once the work is completed to gauge the success of the project.
They are keen to hear the views of people using the Stapleton Road station and in particular the views of young people who may use this station.
Link to survey here

HappyMaps Website- Providing resources for Parents and Carers around Children's mental health
HappyMaps is a website providing a one stop shop of resources around children's mental health from babies to young adults and includes websites, videos, books, Apps and links to ways to find counselling and other support. The website was funded by NHS England with input from specialist services (CAMHS) and local charities and is supported by Bristol Mind. Please click here to view the website.

Useful quick links

Key Dates
Please click here to view the Key Dates by year group for the 2019-20 academic year. You will be notified of any significant changes/additions, but please can we ask that you check the dates for your year group regularly as they are subject to change.

Parents' Evening Booking System (PES)
Please click here to access the online appointment booking system for Parents Evenings/Family Consultation Day. Please note this is only available if an event is due. We will email you to let you know when booking opens. If you encounter any difficulties with booking your appointments please contact the admin team by email to adminoffice@cotham.bristol.sch.uk or tel: 0117 919 8000

Assessment Calendars for KS3
We have created Assessment Calendars for 2019/20. Each Assessment Calendar contains details of the class assessments that will take place in their subjects. The final column contains a link which gives information about each of the assessments.
To see the Year 7 Assessment Calendar click here
To see the Year 8 Assessment Calendar click here
To see the Year 9 Assessment Calendar click here
To see the Year 10 Assessment Calendar click here
To see the Year 11 Assessment Calendar click here

Parents Information Sessions
KS3 Parent Information Session 3 October 2019 - click here
Year 10 Parent Information Session 7 November 2019 - click here
Year 11 Parent Information Session 14 November 2019 - click here

Homework and Independent Learning timetables
Please see the attached link describing our Homework Guidelines for students in the school.
In KS3 we do not have homework timetables.
Homework and Independent Learning Timetable for Year 10
Homework and Independent Learning Timetable for Year 11

GCSEpod
Click here to access GCSEpod which contains lots of revision resources for most GCSEs. Students self register through the website using their name and school details.

Diagnostic Questions
Click here to access. This site contains self marking quizzes with lots of templates including some from a range of exam boards. It's easy to make your own questions in Microsoft PowerPoint too. Students sign up with their school Google account using the G+ button to automatically create a school account

Edmodo
Edmodo is an application that can be used on both mobile devices and in the web environment to create an online community of practice. Edmodo is a free social learning platform that allows students to access the course content uploaded by their teachers.
https://www.edmodo.com/

Seneca
All students and teachers now have free access to Seneca - a revision and homework platform making studying more fun. Seneca is an interactive way to learn official course content. Their web app covers 150+ exam board specific courses condensing what students need to know for their exams. The software is able to identify gaps in learning. For instance, when you get a question wrong, the platform will repeat the topic in different formats and their smart algorithm has proven to make students remember topics 2x faster. Seneca is totally free for students, teachers and parents. You can sign up via senecalearning.com

WisePay
WisePay is the Online Payment Service at Cotham School which allows you to pay for trips and visits as well as to add credit to your child's Cashless Catering account. Click here to access your account now. If you have any queries about your account please contact the support team by email to wisepay@cotham.bristol.sch.uk

School Uniform
Please click here to view the compulsory uniform requirements of Cotham School, along with visual examples of uniform and details of our uniform suppliers.

Contact Details
Please note the following contact numbers and email addresses if you need to contact the school:

Main Reception - 0117 919 8000/ reception@cotham.bristol.sch.uk
Student Reception - 0117 919 8013 / studentreception@cotham.bristol.sch.uk
Absence - 0117 919 8019/ absence@cotham.bristol.sch.uk
NBP16C - 0117 919 8100/ post16@cotham.bristol.sch.uk
Finance - 0117 919 8016/ finance@cotham.bristol.sch.uk
Exams - 0117 919 8024/ exams@cotham.bristol.sch.uk
Admin Office - 01179198053/ adminoffice@cotham.bristol.sch.uk
Library- library@cotham.bristol.sch.uk