Weekly Mailing - Friday 6 December 2019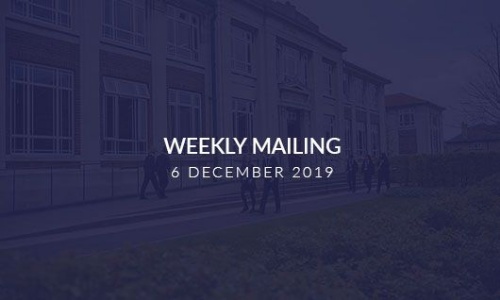 Dear Parents and Carers

As Cotham's Headteacher I have signed up to the 'Stop School Cuts Campaign' as have many of my colleagues across the country. You may also want to add your voice to the campaign as a parent or carer. If you'd like to read more please see the communication sent to me this week from Kevin Courtney on behalf of the Campaign below.

Please also find below this week's important information for Parents/Carers and students as well as updates on School events, activities and opportunities for your reference. I wish you a very relaxing weekend.

Ms Jo Butler
Headteacher

The 'Stop School Cuts' Campaign
"Friend,

In this election, every candidate has a choice: to fix the school funding crisis once and for all – or compromise on children's education.

Every concerned parent, headteacher, teacher or staff member is also a voter.

We all have the power to hold our politicians to account at elections by showing them that we will only elect people who guarantee to protect our schools.

Let's find out where they really stand on school funding - by asking every candidate running for election to pledge to stop school cuts.

Ask your candidates to pledge

Our pledge tool is easy to use. All you need to do is fill in your details and hit send.

You'll be asking your candidates for a straight-forward promise for schools based on six tests:

Reverse cuts to per-pupil funding suffered since 2015 for every school
Guarantee new money from the Treasury to reverse the cuts
Restore funding to all ages and all needs, including early years, SEND and post-16
Provide a ten-year funding plan so schools can plan for the long term
Address historic underfunding by levelling up all areas of the country
Fully fund new commitments such as pay rises and other new costs

These six tests are crucial to giving every school the funding they need and to stop politicians getting away with fudging the figures.

Over the course of the election, we'll list every candidate on schoolcuts.org.uk so everyone can see who has committed to adequate school funding. Or who continues to ignore the crisis.

The more people that use our tool, the more pressure candidates will feel.

There's no time to lose — email your candidates now and ask them to pledge to give every school in your area the funding it needs.

Our schools can't go on like this. There are so many issues at this election, but properly funding our children's education has to be at the top of the list.

No matter the results, we will hold every candidate to account on their promises if they are elected.

Let's see who takes the pledge.

Kevin Courtney

Joint General Secretary

National Education Union"


Good News

NEW!!! Pay it Forward Campaign - Easyfundraising
We are now into the 10s with the number of people who have signed up since we launched easyfundraising. It's really easy to register, let's make it into the 50s before the end of term. Help us and register today!

What is Easyfundraising?
When you shop with the 4,000 retailers registered with Easyfundraising, each retailer pays the school a small donation to say 'thank you'. The donation is sent to the school with no cost or deduction.

This is a simple and free way to help us with our campaign! Please register with easyfundraising today!

For more information or to sign up please click here.

Thank you to the parent who contacted me to tell us about this organisation; it's much appreciated. If you have any other fundraising ideas we'd love to hear about them. Please email info@cotham.bristol.sch.uk with 'Fundraising Idea' in the subject heading.

Pay it Forward Campaign- What is it?
Pay it Forward' is an international movement which promotes the undertaking of random (or not so random) acts of kindness. Using the ethos of 'Pay it Forward', the Governors and I felt that this was exactly the sort of campaign that we wanted to launch.

Thank you so much to our parents, carers, students, staff and supporters who have supported the 'Pay it Forward Campaign' launched in July. We have got off to a really good start and have received generous donations of pre-loved uniform and equipment, books, GCSE and A Level Revision Guides, pledges from volunteers who want to help with maths, music and science; and monetary gifts of £10,800.00.

This term we will begin to put the monetary donations received to good use and will let you know what we buy, using the wishes specified by our donors, to help support our students even more whilst they are here at Cotham School.

However… we still have eight months left of our 'paying it forward' campaign. We would be so grateful if you could get behind our campaign and 'Pay it Forward' in whatever way you can.

For those parents and carers who have joined the Cotham School community since September and have not yet heard of our fundraising campaign, please see below. In particular please see our letter that explains how you can get involved.

For a twelve month period from July 2019 and subsequently through campaign updates and new regular initiatives throughout the year, we will be providing details of how parents, carers, ex-students, our community and alumni can 'Pay it Forward' to support Cotham School students. Please find a letter here explaining more about the campaign and how you can take part, your 'Pay it Forward' contributions will make a significant difference to our school whether they are financial, helping with resource upcycling or the giving of your time and skills.

Year 10 Envision Team "Cotham Keys" Fundraising
This week the Envision Year 10 team, "Cotham Keys" raised a whopping £250 for their chosen charity "Key4Life". The team visited our host Business "Potato" to sell cakes and cookies, run quizzes, prizes and sell mugs with the logo of Potato and Key4Life. Thank you to the DT team for helping the students to make their designer key rings to sell - they were particularly sought after.

The students worked extremely well together and networked effectively with Potato learning key employability skills as they went along. It is noticeable how much confidence the team have built in their presentation skills, creativity and ability to stay strong and focused in the face of a task they had never been challenged to do before. Some students stood out as clear leaders, others shone in their creativity or problem solving ability. All the time they aimed high and were determined to do well for their charity and we are extremely proud of all of them. Later in the term they will battle against other teams to win the Envision prize, we wish them the best of luck in their "pitch battle".

Keep us posted
It would be great if parents/carers could let the school know of any student achievements outside of school. It is sometimes only at parents' evenings that we find out what students are doing in their own time. Email us: weeklymailing@cotham.bristol.sch.uk

Important Information for Parents/Carers

KS3 House Christmas Disco
KS3 House Christmas Disco is on Friday 13 December 5-7pm. Tickets are £3 and are available from WisePay to purchase, they are also available from house prefects.

Year 9 Meningococcal ACWY and Diphtheria/Polio/Tetanus Vaccinations
Vaccinations will take place for ALL Year 9 students on Wednesday 18 December 2019.
Your child should have brought home their consent form regarding these vaccinations.
The consent form allows for permission to be given OR permission to be refused.

We must have the form completed and returned by all students even if they are not having the vaccination.

Please return completed form to Student Reception as soon as possible .

Student Christmas Lunch - Wednesday 18 December
This years Christmas lunch will be held on Wednesday 18 December for students and will be £2.35 or £1.70 without pudding. Please see the menu below.

Roast Turkey with Apricot & Thyme Stuffing or Moroccan Spiced Vegetarian Pie
Served with Pigs in Blankets, Roast Potatoes, Carrots & Peas and Brussel Sprouts
Chocolate & Orange Iced Muffin or Ice Cream Cake

We will also be selling pasta, soup, jackets, sandwiches and baguettes

Early School Closure- Friday 20 December 2019
Please be advised that the school will close early and students dismissed at 12.05pm on Friday 20 December 2019 (Last day of Term 2).

Year 9 and Year 10 Parent Drug Awareness Information Evening - Tuesday 11 February 2020 6-7pm
We will be holding an event on Tuesday 11 February 2020 for Year 9 and 10 parents and carers looking at the issues of drink, drugs, smoking, self harm that could affect young people and how to keep your child safe.

Below are some links to resources which you may find helpful in the meantime.

https://www.themix.org.uk/drink-and-drugs
https://www.talktofrank.com/
https://www.bdp.org.uk/
https://www.commonsensemedia.org/alcohol-drugs-smoking/age/teens
https://drive.google.com/file/d/0BwhR26qfYleFRTNrR0w2NkRIR2dVdFNMaTNTUUp5Z3dpWXdn/view?usp=sharing

School Uniform
School uniform can be purchased at any time from Harris Sport by calling on 01275 874351 to order and pay by phone and they will deliver direct to School. Alternatively Famous Brands (School Uniform Suppliers) have a Shop located at 186-190 Henleaze Road, BS9 4NE.

Dates for your Diary
Thursday 9 January, 2020 – Harris Sport will be in School (Main Reception) from 2.30 – 4.00pm.

Friday 10 January 2020 – Cotham Parents Support Group will be in School (Main Reception from 2.30 – 4.00pm selling pre-owned school uniform for just £1.00 per item. We also have Year 11 Navy Sweatshirts for sale at 50p each.

The pre-owned school uniform sales are held on the first Friday of every term 2.30pm to 4pm in Main Reception. All money goes to school funds. Donations of good condition uniform can be handed in to Main/Student Reception at any time. If you are interested in volunteering to help for a few hours with the Pre-owned uniform sale please contact Ms Ryan on Main Reception.

Word of the week
Each week at Cotham we promote a Word of the Week. This is to help students expand the range of vocabulary they use. Please find the word for the week ahead by clicking here.

Cyberbullying Guide
An online organisation called HomeGuides has developed guidance to help children, parents and teachers to understand what cyberbullying is and what can be done about it. Download the guide here.

Online Safety Newsletter
Please click here to view this month's online safety newsletter.
Please click here to view an online Safety booklet which includes an overview of key parental controls.

Subject Area News

Physical Education (PE)
Parental Consent for Sports Fixtures 2019- 2020

Please complete the parental consent form which can be found here and return to school as soon as possible if your child is taking part in school fixtures this year. Once on file we can then select your child for these fixtures and we will confirm by email or text the details nearer the date that these are taking place.

PE Kit

Just a reminder to all parents/carers that all students must have the correct PE kit for PE lessons (see the school website and planners for kit information). A number of students are arriving to lessons without trainers and a change of socks, and the wrong coloured tracksuit bottoms.

Also, as it is now getting colder and wetter, all students should have a black PE jumper to keep them warm, especially if they are outside and football boots for when they are at Stoke Lodge. The playing fields are getting very wet and muddy therefore trainers are not adequate for lessons.

Please can you make sure your child comes to PE with the correct and appropriate kit for lessons.


Extra-Curricular Clubs

Please click here for a list of all of the PE/Sports Extra-Curricular activities available to students in Term 2.

Please click here to view a fixture list for all upcoming fixtures for Term 2.

Follow @CothamPE on Twitter for all the latest news and updates from the Cotham School PE department

Key Stage 4 News

Year 10 Knife Crime Workshop
Last week, Year 10 took part in a workshop on knife crime run by Avon and Somerset Police. Knife crime has received increasing national and local attention in recent years and this was a great opportunity to educate and inform our students on the issue.
Year 10 engaged brilliantly with the session and learned a lot about the law, risks and impact of knife crime. The visiting police officers were very impressed by our students mature and respectful behaviour and their thoughtful questions at the end of the workshop.

Year 10 Work Experience Monday 29 June - Friday 3 July 2020
Year 10 Work Experience week will be 29 June- 3 July 2020 and all students will need to arrange a placement with an employer for this period. This is a hugely exciting opportunity for students to experience a week in the professional world. Every student will have a 1-2-1 meeting with the careers advisor between now and the end of Term 2 to help them explore areas of interest.

A copy of the work experience letter can be found here

Further details and key dates will be shared via the Weekly Mailing throughout the school year.

Year 11 North Bristol Post 16 Interviews next week
All Year 11 students are being given the opportunity to have an interview for our Post 16 Centre. These are taking place on Tuesday 10, Wednesday 11 and Thursday 12 December. Whether or not your child intends to stay with us for Post 16, we feel this is a useful experience and are keen for all students to have the chance to discuss the options available to them at the North Bristol Post-16 Centre.
Students and parents have been notified of the date and time of their meeting by email and via their tutors and we strongly encourage students to attend this appointment. Please encourage your child to attend. Parents are not required to attend these meetings.

Year 11 January Mock Examinations
Please find attached here the exam timetable for the January mock exams. These take place between Monday 20 January and Friday 31 January 2020. Individual student timetables will provided to students nearer the time.

It is important that your child gets into good routines with revision early and a revision timetable can help them to organise their time effectively. Students need a quiet place to work, away from distractions, so it may be necessary to limit mobile phone time when revision is taking place.

A template revision timetable can be found here.
Information on revision resources can be found here.

There are also a number of online revision resources including the Cotham VLE as well as Kerboodle, GCSE Pod and BBC Bitesize.

Examination rules
I would like to draw your attention to the examination rules we adhere to at school. We legally have to comply to the JCQ's guidelines and rules which can be found here. We also have our own set of standards which it is necessary our students comply with which can be found here. It is important that your child is familiar with and understands these expectations for both their January mock exams as well as their actual GCSEs. These will be shared with our students in tutor time and a version will appear on the reverse of their individual exam timetable.

Year 11 Prom
Last year, a number of our parents got together and organised the Year 11 Prom to celebrate the end of our students' Key Stage 4 education. The Prom, which was held at the Mercure Bristol Grand (near St Nicholas' Market) was a real success and was well attended by both our students and our Parent Prom group.
If you are interested in working with a group of parents to organise a Prom for Year 11 students next summer then we would be more than happy to share each of your names and contact details with each other so that you can achieve this.

Last year, the school was able to provide advice and support with communications to students and parents, suggesting possible venues, as well as organising payment for tickets using our wisepay system.
Please get in touch with us if you would like to be involved in organising the prom by contacting Ms Allender the Learning Coordinator for Year 11 by email at allendera@cotham.bristol.sch.uk.

Student Wellbeing

Should I be worried?
It can be really difficult to know whether your child's behaviour or feelings are a normal part of growing up or a sign that something isn't going well. The MindEd website is a good place to start. The website aims to give you information if you feel concerned about your child's behaviour or emotional wellbeing. You will be given links to various organisations that can help, advise or give you more information if needed. All children are different. They have different rates of growth and development and have had different experiences that contribute to this.
Follow this link to their website
You can also download an easy to read PDF with information about:
What worrying behaviours/emotional states you might see
What you can do to help
Cause for concern – red flags in behaviour
Where you can get support
A link to the PDF can be found here.

Upcoming House Events

KS3 House Christmas Disco is on Friday 13 December 5-7pm. Tickets are £3 and are available from WisePay to purchase, they are also available from house prefects.

Sigma Charity Christmas Raffle, lots of prizes tickets 20p on sale in the HUB from Monday 2 December.

Sigma Charity Bake sale Friday 13 December in the Hub- 50p

Omega Santa Dash taking place at lunchtime on Thursday 19 December - 50p

Omega - Cotham Charity Christmas Collection.We are looking for donations for the Julian Trust. A night shelter located close to us in St Pauls. The items we are looking for are the following:
• Non-perishable foods. E.g. canned food/jars/pasta/rice
• Toothbrushes/Dental hygiene
• Toiletries- Deodorants/soap/ shower gels
• Sanitary products

Over the next 4 weeks, we are looking to collect any donations. Donation boxes will be by student reception, in tutor bases and in room C203.

Post-16 News

We are collecting for the Help Bristol's Homeless Project, please encourage your son/daughter to bring in cans of food/toiletries/warm clothing etc.
A reminder that there are NO Cotham or Charnwood Lessons on Friday 20 December
For more information please see the "This Term at Cotham Post 16" Section of the website here
Year 12
Core Programme on Wednesday 11 December will be run by the brilliant Future Quest and will be a money management workshop - all Year 12 students must attend unless they have a scheduled lesson at that time 11.05am.

Year 13
The internal UCAS deadline has passed, please ensure that your child has contacted either Mrs Kempt or Ms Beaver if they are planning on applying for 2020 entry or 2021 deferred entry. It is essential that we are aware of those students still wishing to apply.
Students are encouraged to meet with Ms Paice our school careers adviser on a Wednesday, she can be emailed directly to make an appointment paices@cotham.bristol.sch.uk and is available every Wednesday registration in the canteen. This is especially important if they are not applying to university for Sept 2020 entry.

Year 13 mock exams and BTEC External exams
Please find the Year 13 mock and BTEC External exam timetable here.

Student Wellbeing
We take your child's well being very seriously, we have many avenues of support available. A reminder that there is a school counsellor, a Post 16 Reflection room which is available for all students and many places that your child can study alone should they wish to. Please see Mrs Kempt for more information. There is a also a mindfulness drop in session on a Thursday lunchtime. Mrs Kempt also has lots of self help books available - just pop into G206 to borrow some.

Creative Youth Network
Creative Youth Network also offer a lot of support and one to one therapy - please ask your son/daughter to see Mrs Kempt for more information a link to their website can be found here.

Off the Record (OTR)
OTR are offering weekly Resilience Lab drop in sessions on Perry Road there is no waiting list and all students are very welcome. More information can be found here.

Careers
A reminder that Ms Paice is available every Wednesday in G402 at Charnwood to meet students and all Year 12 students should have signed up to SpringPod which is a work experience platform.

Here is the link to our Careers Bulletin which is updated weekly.

Student Careers Update

Apprenticeships
City of Bristol College Apprenticeship Bulletin and South West Apprenticeship Company have apprenticeship vacancies here and here.

Other apprenticeships can be found through the Gov website here, Target Careers, Success at School , Get My First Job and Not Going to Uni.

Saturday jobs
Students looking for Saturday jobs can find good advice through this website

Please keep your eyes on the Careers section of the website for updates.

Staff Vacancies

Cotham School are currently recruiting new members of staff to work with us at the school. We are currently looking to hire a Chemistry teacher.

For more information about school roles please click here.

Community News

The Bristol Education Partnership
Cotham School is a founder member of the Bristol Education Partnership (BEP), a collaboration between a small number of Bristol State and Independent Schools, UWE and the Local Authority to encourage collaborative working across the sectors for the benefit of young people in Bristol. Please see below a number of opportunities that you may be interested in.

Drugs Awareness Talk, Tuesday 3 December, 18.30, Bristol Grammar School, 1532 Theatre, Elton Road BS8 1SJ
Bristol Grammar School will be hosting a talk on Drugs Awareness, led by Jo Mallinson from the Bespoke Education Project and Bristol Drugs Project. This talk is open to parents, staff and students across BEP schools. To reserve a place, sign up via this link.

Inspiring Evenings Lecture Series, Badminton School, Westbury Road, Westbury-on-Trym, Bristol BS9 3BA
Badminton School is hosting a series of evening events as follows:

5 December 2019 - Carole Bent, Creative Catalyst and Adviser
9 January 2020 - Tracey Logan, Plastics Campaigner
6 February 2020 - Women in Cyber, PGI
5 March 2020 - Special 'Pecha Kucha' evening

All events take place on a Thursday evening at 17.00 in the Peace Memorial Hall.

To book tickets please contact: nabishop@badmintonschool.co.uk

How To Grow a Grown Up - Book Launch – 9 December 2019, 19.00, 1532 Performing Arts Centre, Elton Road, BS3 1SJ
Join award winning GP and author Dr Dominique Thompson for an enlightening talk with Q&A about raising teenagers to thrive in the modern world. The talk is aimed primarily at parents of secondary school age children, as part of a national tour coinciding with the launch of Dominique's new book How to Grow a Grown Up (Penguin Random House), co-authored with education expert Fabienne Vailes. It will also be of interest to teachers, and those who work with young adults. Tickets are available to parents and staff at BEP schools at a discounted rate of £10 (plus £1 booking fee). To access the BEP discount go to the 1532 website, what's on page (link below), book the number of tickets required for "How to Grow and Grown Up" then log on if you have booked tickets before or set up an account; the next page will have promo code box type: PARENT into this box to gain discount. Link to booking page here

The Changing Face of Career Pathways, Friday 17 January 2020, 17.15pm – 19.00 , The Redgrave Theatre, Percival Road, BS8 3LE
Parents, teachers and students in Years 11-13 at BEP schools are invited to this evening event to discuss some of the choices that are now available to young people on leaving school, with a special focus on Degree Apprenticeships. The talk is aimed at Years 11 and 12 as students begin to consider their options but may also be relevant for students in Year 13 who do not anticipate taking a place at university. Drinks and light refreshments will be available. Deadline for booking tickets is 10 December.

For more details or to book places contact Emilie Castellano: ecastellano@cliftoncollege.com

National Youth Jazz Orchestra Workshop and Concert - Tuesday 21 January 2020, Bristol Grammar School, 1532 Theatre, Elton Road BS8 1SJ
Bristol Grammar School will be hosting an evening concert and afternoon schools' workshop led by the National Youth Jazz Orchestra.

Evening Concert - Tickets to the evening concert, starting at 19.00, are available to the public via the 1532 Performing Arts Centre website.

Bristol Learning Festival, 30 March – 5 April 2020
Would you or even a personal contact like to take part in Bristol's first Learning Festival?

This is a call for learning activities to be held in all corners of Bristol. All that is asked is that events are free, accessible and open to all, weekday or weekend, daytime or evening. The programme is fast filling up with a wide range of learning activities.

If you are able to offer an event or know of any potentially interested partners based in Bristol please get in touch by contacting learning.city@bristol.gov.uk

Opportunities from UWE
Post 16 activities at UWE Bristol: Year 12 or equivalent students can have the opportunity to visit UWE Bristol, Frenchay Campus, go on a tour, meet UWE Bristol students and gain an awareness of the potential benefits of higher education. For further details please click here.

Free weekly Dance Company Class - Untold Dance Theatre, every Monday 17:00 – 18.00, 1532 Theatre, Elton Road, BS8 1SJ
A free weekly class is offered to dance students from Years 9-13 in BEP schools. The class is led by Vicki Hearne; the director of Untold Dance Company. Vicki is also a dance lecturer at Bath Spa University and teacher of Kinesis Youth Dance Company in Bristol. The hope is that this will become a cross-schools dance company, creating new pieces with Vicki, to be performed at various BEP events and youth events in Bristol. Permission would need to be given by parents for their child's attendance and it would be the child's and parent's responsibility to get them to and from the class.

For more information or to sign up students to this class, contact Kitty White: kwhite@bgs.bristol.sch.uk

HappyMaps Website- Providing resources for Parents and Carers around Children's mental health
HappyMaps is a website providing a one stop shop of resources around children's mental health from babies to young adults and includes websites, videos, books, Apps and links to ways to find counselling and other support. The website was funded by NHS England with input from specialist services (CAMHS) and local charities and is supported by Bristol Mind. Please click here to view the website.

Bristol SEND drop in event- Friday 13 December 2019
This is an open invitation for young people, parents, carers and other interested members of the community to come along and stay for as long or as little time as they wish to give views on how Bristol City Council can improve its SEND service, share ideas for a new assessment process and help us create a process that works for you. More information on the event can be found here.

Useful quick links

Key Dates
Please click here to view the Key Dates by year group for the 2019-20 academic year. You will be notified of any significant changes/additions, but please can we ask that you check the dates for your year group regularly as they are subject to change.

Parents' Evening Booking System (PES)
Please click here to access the online appointment booking system for Parents Evenings/Family Consultation Day. Please note this is only available if an event is due. We will email you to let you know when booking opens. If you encounter any difficulties with booking your appointments please contact the admin team by email to adminoffice@cotham.bristol.sch.uk or tel: 0117 919 8000

Assessment Calendars for KS3
We have created Assessment Calendars for 2019/20. Each Assessment Calendar contains details of the class assessments that will take place in their subjects. The final column contains a link which gives information about each of the assessments.
To see the Year 7 Assessment Calendar click here
To see the Year 8 Assessment Calendar click here
To see the Year 9 Assessment Calendar click here
To see the Year 10 Assessment Calendar click here
To see the Year 11 Assessment Calendar click here

Parents Information Sessions
KS3 Parent Information Session 3 October 2019 - click here
Year 10 Parent Information Session 7 November 2019 - click here
Year 11 Parent Information Session 14 November 2019 - click here

Homework and Independent Learning timetables
Please see the attached link describing our Homework Guidelines for students in the school.
In KS3 we do not have homework timetables.
Homework and Independent Learning Timetable for Year 10
Homework and Independent Learning Timetable for Year 11

GCSEpod
Click here to access GCSEpod which contains lots of revision resources for most GCSEs. Students self register through the website using their name and school details.

Diagnostic Questions
Click here to access. This site contains self marking quizzes with lots of templates including some from a range of exam boards. It's easy to make your own questions in Microsoft PowerPoint too. Students sign up with their school Google account using the G+ button to automatically create a school account

Edmodo
Edmodo is an application that can be used on both mobile devices and in the web environment to create an online community of practice. Edmodo is a free social learning platform that allows students to access the course content uploaded by their teachers.
https://www.edmodo.com/

Seneca
All students and teachers now have free access to Seneca - a revision and homework platform making studying more fun. Seneca is an interactive way to learn official course content. Their web app covers 150+ exam board specific courses condensing what students need to know for their exams. The software is able to identify gaps in learning. For instance, when you get a question wrong, the platform will repeat the topic in different formats and their smart algorithm has proven to make students remember topics 2x faster. Seneca is totally free for students, teachers and parents. You can sign up via senecalearning.com

WisePay
WisePay is the Online Payment Service at Cotham School which allows you to pay for trips and visits as well as to add credit to your child's Cashless Catering account. Click here to access your account now. If you have any queries about your account please contact the support team by email to wisepay@cotham.bristol.sch.uk

School Uniform
Please click here to view the compulsory uniform requirements of Cotham School, along with visual examples of uniform and details of our uniform suppliers.

Contact Details
Please note the following contact numbers and email addresses if you need to contact the school:

Main Reception - 0117 919 8000/ reception@cotham.bristol.sch.uk
Student Reception - 0117 919 8013 / studentreception@cotham.bristol.sch.uk
Absence - 0117 919 8019/ absence@cotham.bristol.sch.uk
NBP16C - 0117 919 8100/ post16@cotham.bristol.sch.uk
Finance - 0117 919 8016/ finance@cotham.bristol.sch.uk
Exams - 0117 919 8024/ exams@cotham.bristol.sch.uk
Admin Office - 01179198053/ adminoffice@cotham.bristol.sch.uk
Library- library@cotham.bristol.sch.uk