Weekly Mailing - Friday 13 December 2019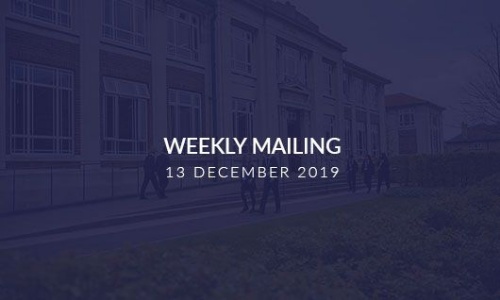 Dear Parents and Carers
Please find below this week's important information for Parents/Carers and students as well as updates on School events, activities and opportunities for your reference. I wish you a very relaxing weekend.
Ms Jo Butler
Headteacher

Good News

Year 10 Envision Project
Following a 12 week project working with Envision, our Year 10 team "Cotham Keys" managed to raise £420.24 for their chosen charity "Key4Life". On Thursday 12 December they entered into a "Pitch battle" competition to show all their efforts to a panel of judges and WON!!!!
We are extremely proud of this group of students who have worked well together and really hard to ensure they met the task and smashed it! Thank you to everyone who gave support over the past few weeks you made it all seem very easy: We could not have done it without you and the team at Envision and Potato.
The students were just amazing and all received a gift voucher as a prize.
Praise for Cotham School
"First Steel Pans concert tonight [Wednesday] - it was fantastic, great pupil musicians and a packed house of proud parents. The teachers deserve a pat on the back."
Well done to everyone involved!
NEW!!! Pay it Forward Campaign - Easyfundraising
We are now into the 10s with the number of people who have signed up since we launched easyfundraising. It's really easy to register, let's make it into the 50s before the end of term. Help us and register today!
What is Easyfundraising?
When you shop with the 4,000 retailers registered with Easyfundraising, each retailer pays the school a small donation to say 'thank you'. The donation is sent to the school with no cost or deduction.
This is a simple and free way to help us with our campaign! Please register with easyfundraising today!
For more information or to sign up please click here.
Thank you to the parent who contacted me to tell us about this organisation; it's much appreciated. If you have any other fundraising ideas we'd love to hear about them. Please email info@cotham.bristol.sch.uk with 'Fundraising Idea' in the subject heading.
Pay it Forward Campaign- What is it?
Pay it Forward' is an international movement which promotes the undertaking of random (or not so random) acts of kindness. Using the ethos of 'Pay it Forward', the Governors and I felt that this was exactly the sort of campaign that we wanted to launch.
Thank you so much to our parents, carers, students, staff and supporters who have supported the 'Pay it Forward Campaign' launched in July. We have got off to a really good start and have received generous donations of pre-loved uniform and equipment, books, GCSE and A Level Revision Guides, pledges from volunteers who want to help with maths, music and science; and monetary gifts of £10,800.00.
This term we will begin to put the monetary donations received to good use and will let you know what we buy, using the wishes specified by our donors, to help support our students even more whilst they are here at Cotham School.
However… we still have seven months left of our 'paying it forward' campaign. We would be so grateful if you could get behind our campaign and 'Pay it Forward' in whatever way you can.
For those parents and carers who have joined the Cotham School community since September and have not yet heard of our fundraising campaign, please see below. In particular please see our letter that explains how you can get involved.
For a twelve month period from July 2019 and subsequently through campaign updates and new regular initiatives throughout the year, we will be providing details of how parents, carers, ex-students, our community and alumni can 'Pay it Forward' to support Cotham School students. Please find a letter here explaining more about the campaign and how you can take part, your 'Pay it Forward' contributions will make a significant difference to our school whether they are financial, helping with resource upcycling or the giving of your time and skills.
Student Achievements
Congratulations to Cromwell in Year 11 who last week he passed his Grade 5 Music Theory exam with a Merit (equivalent to an A at GCSE) and even more impressively he passed his Grade 6 Practical exam with a Distinction which is amazing.
Congratulations to Blanche Beeston in Year 10 for her rowing achievement, a gold medal winner at Wycliffe Head WJ15 coxed quad 2000m, with impressive 37 second lead over 2nd place. Second gold in a row after her quad won Nottingham Head.
Congratulations to Giulio Mezzadri in Year 8 for passing with distinction in his grade 5 music theory exam.
Well done to all!
Keep us posted
It would be great if parents/carers could let the school know of any student achievements outside of school. It is sometimes only at parents' evenings that we find out what students are doing in their own time. Email us: weeklymailing@cotham.bristol.sch.uk

Important Information for Parents/Carers

GWR Trains - Timetable change
Please note that from Sunday 15 December there will be a Timetable Change on the Severn Beach train line.
Monday 16 December trains from Bristol Temple Meads to Redland/Clifton Down will have a timetable change along with trains from Avonmouth to Clifton Down/Redland.
Please go to the GWR website to view the changes: https://www.gwr.com/plan-journey/train-times
School Social Media
Cotham School's only official means of communication via social media are our whole school Twitter, Faculty Twitter accounts and our Facebook account
Whole School Social Media Pages:
School Facebook - https://www.facebook.com/CothamS
School Twitter - https://www.twitter.com/CothamSchool
Stoke Lodge Playing Field Facebook - https://www.facebook.com/StokeLodgePlayingField
Stoke Lodge Playing Field Twitter - https://www.twitter.com/StokeLodgePF
Faculty Social Media Pages:
Food Science and Nutrition https://www.twitter.com/cothamfood
Geography - https://www.twitter.com/CothamGeography
History - https://www.twitter.com/Cotham_History
KS5 English - https://www.twitter.com/EFMCotham
Library - https://www.twitter.com/Cotham_Library
PE - https://www.twitter.com/CothamPE
Performing Arts https://www.twitter.com/ArtsCotham
Year 9 Meningococcal ACWY and Diphtheria/Polio/Tetanus Vaccinations
Vaccinations will take place for ALL Year 9 students on Wednesday 18 December 2019.
Your child should have brought home their consent form regarding these vaccinations.
The consent form allows for permission to be given OR permission to be refused.
We must have the form completed and returned by all students even if they are not having the vaccination.
Please return completed form to Student Reception as soon as possible .
Student Christmas Lunch - Wednesday 18 December
This years Christmas lunch will be held on Wednesday 18 December for students and will be £2.35 or £1.70 without pudding. Please see the menu below.
Roast Turkey with Apricot and Thyme Stuffing or Moroccan Spiced Vegetarian Pie
Served with Pigs in Blankets, Roast Potatoes, Carrots, Peas and Brussel Sprouts
Chocolate & Orange Iced Muffin or Ice Cream Cake
We will also be selling pasta, soup, jackets, sandwiches and baguettes
Early School Closure- Friday 20 December 2019
Please be advised that the school will close early and students dismissed at 12.05pm on Friday 20 December 2019 (Last day of Term 2).
Stoke Lodge
Please see update on our Playing Fields at Stoke Lodge.here
Sign up for the Year 9 and Year 10 Parent Drug Awareness Information Evening - Tuesday 11 February 2020 6-7pm
We will be holding an event on Tuesday 11 February 2020 for Year 9 and 10 parents and carers looking at the issues of drink, drugs, smoking, self harm that could affect young people and how to keep your child safe. If you would like to attend this event please click here to sign up as places are limited.
Below are some links to resources which you may find helpful in the meantime.
https://www.themix.org.uk/drink-and-drugs
https://www.commonsensemedia.org/alcohol-drugs-smoking/age/teens
https://drive.google.com/file/d/0BwhR26qfYleFRTNrR0w2NkRIR2dVdFNMaTNTUUp5Z3dpWXdn/view?usp=sharing
School Uniform
School uniform can be purchased at any time from Harris Sport by calling on 01275 874351 to order and pay by phone and they will deliver direct to School. Alternatively Famous Brands (School Uniform Suppliers) have a Shop located at 186-190 Henleaze Road, BS9 4NE.
Dates for your Diary
Thursday 9 January, 2020 – Harris Sport will be in School (Main Reception) from 2.30 – 4.00pm.
Friday 10 January 2020 – Cotham Parents Support Group will be in School (Main Reception from 2.30 – 4.00pm selling pre-owned school uniform for just £1.00 per item. We also have Year 11 Navy Sweatshirts for sale at 50p each.
The pre-owned school uniform sales are held on the first Friday of every term 2.30pm to 4pm in Main Reception. All money goes to school funds. Donations of good condition uniform can be handed in to Main/Student Reception at any time. If you are interested in volunteering to help for a few hours with the Pre-owned uniform sale please contact Ms Ryan on Main Reception.
Word of the week
Each week at Cotham we promote a Word of the Week. This is to help students expand the range of vocabulary they use. Please find the word for the week ahead by clicking here.
Cyberbullying Guide
An online organisation called HomeGuides has developed guidance to help children, parents and teachers to understand what cyberbullying is and what can be done about it. Download the guide here.
Online Safety Newsletter
Please click here to view this month's online safety newsletter.
Please click here to view an online Safety booklet which includes an overview of key parental controls.

Subject Area News

Physical Education (PE)
Parental Consent for Sports Fixtures 2019- 2020
Please complete the parental consent form which can be found here and return to school as soon as possible if your child is taking part in school fixtures this year. Once on file we can then select your child for these fixtures and we will confirm by email or text the details nearer the date that these are taking place.
PE Kit
Just a reminder to all parents/carers that all students must have the correct PE kit for PE lessons (see the school website and planners for kit information). A number of students are arriving to lessons without trainers and a change of socks, and the wrong coloured tracksuit bottoms.
Also, as it is now getting colder and wetter, all students should have a black PE jumper to keep them warm, especially if they are outside and football boots for when they are at Stoke Lodge. The playing fields are getting very wet and muddy therefore trainers are not adequate for lessons.
Please can you make sure your child comes to PE with the correct and appropriate kit for lessons.
Extra-Curricular Clubs
Please click here for a list of all of the PE/Sports Extra-Curricular activities available to students in Term 2.
Please click here to view a fixture list for all upcoming fixtures for Term 2.
Follow @CothamPE on Twitter for all the latest news and updates from the Cotham School PE department

Key Stage 4 News

Year 10 Work Experience Monday 29 June - Friday 3 July 2020
Year 10 Work Experience week will be 29 June- 3 July 2020 and all students will need to arrange a placement with an employer for this period. This is a hugely exciting opportunity for students to experience a week in the professional world.
Every student will have a 1-2-1 meeting with the careers advisor by the end of this term to help them explore areas of interest.
All students should now have begun contacting employers and completing applications.
A copy of the work experience letter can be found here.
A copy of the WEX form can be found here. This form must be completed and returned to Ms Dutton, WEX coordinator, for a placement to go ahead. Please encourage your child to return this sooner rather than later.
Year 10 Chemistry Mock Exam
Next week, all of Year 10 will attempt their first science GCSE mock paper. This practice paper will be completed in class time. Students should be revising Chemistry C1 - C7. Please encourage your son/ daughter to organise their revision and prepare thoroughly. Kerboodle , Bitesize and Seneca Learning are all excellent supporting resources.
Year 11 January Mock Examinations
Please find attached here the exam timetable for the January mock exams. These take place between Monday 20 January and Friday 31 January 2020. Individual student timetables will provided to students nearer the time.
It is important that your child gets into good routines with revision early and a revision timetable can help them to organise their time effectively. Students need a quiet place to work, away from distractions, so it may be necessary to limit mobile phone time when revision is taking place.
A template revision timetable can be found here.
Information on revision resources can be found here.
There are also a number of online revision resources including the Cotham VLE as well as Kerboodle, GCSE Pod and BBC Bitesize.
Examination rules
I would like to draw your attention to the examination rules we adhere to at school. We legally have to comply to the JCQ's guidelines and rules which can be found here. We also have our own set of standards which it is necessary our students comply with which can be found here. It is important that your child is familiar with and understands these expectations for both their January mock exams as well as their actual GCSEs. These will be shared with our students in tutor time and a version will appear on the reverse of their individual exam timetable.
Year 11 Prom
Last year, a number of our parents got together and organised the Year 11 Prom to celebrate the end of our students' Key Stage 4 education. The Prom, which was held at the Mercure Bristol Grand (near St Nicholas' Market) was a real success and was well attended by both our students and our Parent Prom group.
If you are interested in working with a group of parents to organise a Prom for Year 11 students next summer then we would be more than happy to share each of your names and contact details with each other so that you can achieve this.
Last year, the school was able to provide advice and support with communications to students and parents, suggesting possible venues, as well as organising payment for tickets using our wisepay system.
Please get in touch with us if you would like to be involved in organising the prom by contacting Ms Allender the Learning Coordinator for Year 11 by email at allendera@cotham.bristol.sch.uk.

Student Wellbeing

Parenting teenagers: what's normal?
Parenting teenagers has never been easy and each generation of parents faces new challenges. It's natural to experience mood swings as an adolescent but many teenagers are now experiencing higher levels of anxiety and self-harm than ever before. Some young people are also having problems with social media and bullying, eating disorders, exam pressure or poor sleep. As a parent, it can be difficult to know what's normal and when you should worry.
The NHS website (link below) has got some really useful information around helping parents to tell whether the behaviour you are seeing in your teens is just them "being teens" or whether there is something more serious going on. https://www.nhs.uk/conditions/stress-anxiety-depression/worried-about-your-teenager/
If you are concerned about the mental health or emotional wellbeing of your child then you can speak to your child's GP, child's head of year at school and you can also phone First Response on 01179036444 as they can provide information, advice and guidance about services to families.

Upcoming House Events

Sigma
Charity Christmas Raffle, lots of prizes tickets 20p still on sale in the HUB
Omega
Santa Dash taking place at lunchtime on Thursday 19 December - 50p

Post-16 News

Corinne Kempt is leaving at the end of term and has thoroughly enjoyed working with all the students here - she feels very sad to be leaving but excited to start her new job as Head of Learning Support at Bristol Grammar School. She leaves you in the very capable hands of Marie Beaver who started with us 3 weeks ago. Please do ask your son/daughter to pop up to say bye and Corinne will be at the student party on the Tuesday lunchtime to say her farewells to all.
END OF TERM ARRANGEMENTS
● No Post 16 lessons on Friday 20 December at RGS or Cotham/Charnwood - lessons finish at the end of the day on Thursday 19 December.
● Lessons resume again on Monday 6 January at 8.30am
● Tuesday 17 December - lunchtime - End of term party in Charnwood canteen for all students - please bring something to add to the spread!
● Wednesday 18 December - 8.30am - End of term assembly for both Year 12 and 13
● For more information please see the "This Term at Cotham Post 16" Section of the website: https://www.cotham.bristol.sch.uk/news/?pid=130&nid=20
Year 12:
● Last week's Core Programme on Wednesday 11 December was a great success and was run by Future Quest https://www.futurequest.org.uk/ which involved a really useful and informative money and finance game.
Year 13:
● Year 13 mock exams are the week beginning 13 January.- no lessons all week except for Art and all Btec lessons which will run as normal.
● All students must collect their exam timetables from Charnwood reception next week
● The internal UCAS deadline has passed - please ensure that your son/daughter has contacted either Mrs Kempt or Ms Beaver if they are planning on applying for 2020 entry or 2021 deferred entry. It is essential that we are aware of those students still wishing to apply BY THE END OF TERM (19.12.19)
● Students are encouraged to meet with Ms Paice our school careers adviser on a Wednesday - she can be emailed directly to make an appointment: paices@cotham.bristol.sch.uk and is available every Wednesday registration in the canteen. This is especially important if they are not applying to university for Sept 2020 entry.
Student Wellbeing
● We take your son/daughter's wellbeing very seriously - we have many avenues of support available. A reminder that there is a school counsellor, a Post 16 Reflection room which is available for all students and many places that your son/daughter can study alone should they wish to. Please see Mrs Kempt for more information. There is a also a mindfulness drop in session on a Thursday lunchtime. Mrs Kempt also has lots of self help books available - just pop into G206 to borrow some.
Creative Youth Network
Creative Youth Network also offer a lot of support and one to one therapy - please ask your son/daughter to see Mrs Kempt for more information a link to their website can be found here.
Off the Record (OTR)
OTR are offering weekly Resilience Lab drop in sessions on Perry Road there is no waiting list and all students are very welcome. More information can be found here.
Careers
A reminder that Ms Paice is available every Wednesday in G402 at Charnwood to meet students and all Year 12 students should have signed up to SpringPod which is a work experience platform.
Here is the link to our Careers Bulletin which is updated weekly.

Student Careers Update

Apprenticeships
City of Bristol College Apprenticeship Bulletin and South West Apprenticeship Company have apprenticeship vacancies here and here.
Other apprenticeships can be found through the Gov website here, Target Careers, Success at School , Get My First Job and Not Going to Uni.
Saturday jobs
Students looking for Saturday jobs can find good advice through this website
Please keep your eyes on the Careers section of the website for updates.

Staff Vacancies

Cotham School are currently recruiting new members of staff to work with us at the school. We are currently looking to hire a Chemistry teacher, Data Administrator and a Maths Teacher.
For more information about school roles please click here.

Community News

Free exhibition at the Wellcome Museum London - Play Well
If you are in London anytime between now and March next year, you may want to view this free exhibition investigating how play develops social bonds, emotional resilience and physical wellbeing. Further information can be found here.
Bristol Jobs Fair- Wednesday 8 January 2020 at the Colston Hall, 10am to 2pm
The Bristol Jobs Fair is free to attend for those looking to gain employment and suitable for anyone ages 16+.
Please find more information here.
HappyMaps Website- Providing resources for Parents and Carers around Children's mental health
HappyMaps is a website providing a one stop shop of resources around children's mental health from babies to young adults and includes websites, videos, books, Apps and links to ways to find counselling and other support. The website was funded by NHS England with input from specialist services (CAMHS) and local charities and is supported by Bristol Mind. Please click here to view the website.

Useful quick links

Key Dates
Please click here to view the Key Dates by year group for the 2019-20 academic year. You will be notified of any significant changes/additions, but please can we ask that you check the dates for your year group regularly as they are subject to change.
Parents' Evening Booking System (PES)
Please click here to access the online appointment booking system for Parents Evenings/Family Consultation Day. Please note this is only available if an event is due. We will email you to let you know when booking opens. If you encounter any difficulties with booking your appointments please contact the admin team by email to adminoffice@cotham.bristol.sch.uk or tel: 0117 919 8000
Assessment Calendars for KS3
We have created Assessment Calendars for 2019/20. Each Assessment Calendar contains details of the class assessments that will take place in their subjects. The final column contains a link which gives information about each of the assessments.
To see the Year 7 Assessment Calendar click here
To see the Year 8 Assessment Calendar click here
To see the Year 9 Assessment Calendar click here
To see the Year 10 Assessment Calendar click here
To see the Year 11 Assessment Calendar click here
Parents Information Sessions
KS3 Parent Information Session 3 October 2019 - click here
Year 10 Parent Information Session 7 November 2019 - click here
Year 11 Parent Information Session 14 November 2019 - click here
Homework and Independent Learning timetables
Please see the attached link describing our Homework Guidelines for students in the school.
In KS3 we do not have homework timetables.
Homework and Independent Learning Timetable for Year 10
Homework and Independent Learning Timetable for Year 11
GCSEpod
Click here to access GCSEpod which contains lots of revision resources for most GCSEs. Students self register through the website using their name and school details.
Diagnostic Questions
Click here to access. This site contains self marking quizzes with lots of templates including some from a range of exam boards. It's easy to make your own questions in Microsoft PowerPoint too. Students sign up with their school Google account using the G+ button to automatically create a school account
Edmodo
Edmodo is an application that can be used on both mobile devices and in the web environment to create an online community of practice. Edmodo is a free social learning platform that allows students to access the course content uploaded by their teachers.
Seneca
All students and teachers now have free access to Seneca - a revision and homework platform making studying more fun. Seneca is an interactive way to learn official course content. Their web app covers 150+ exam board specific courses condensing what students need to know for their exams. The software is able to identify gaps in learning. For instance, when you get a question wrong, the platform will repeat the topic in different formats and their smart algorithm has proven to make students remember topics 2x faster. Seneca is totally free for students, teachers and parents. You can sign up via senecalearning.com
WisePay
WisePay is the Online Payment Service at Cotham School which allows you to pay for trips and visits as well as to add credit to your child's Cashless Catering account. Click here to access your account now. If you have any queries about your account please contact the support team by email to wisepay@cotham.bristol.sch.uk
School Uniform
Please click here to view the compulsory uniform requirements of Cotham School, along with visual examples of uniform and details of our uniform suppliers.
Contact Details
Please note the following contact numbers and email addresses if you need to contact the school:
Main Reception - 0117 919 8000/ reception@cotham.bristol.sch.uk
Student Reception - 0117 919 8013 / studentreception@cotham.bristol.sch.uk
Absence - 0117 919 8019/ absence@cotham.bristol.sch.uk
NBP16C - 0117 919 8100/ post16@cotham.bristol.sch.uk
Finance - 0117 919 8016/ finance@cotham.bristol.sch.uk
Exams - 0117 919 8024/ exams@cotham.bristol.sch.uk
Admin Office - 01179198053/ adminoffice@cotham.bristol.sch.uk
Library- library@cotham.bristol.sch.uk