Weekly Mailing - Friday 10 January 2020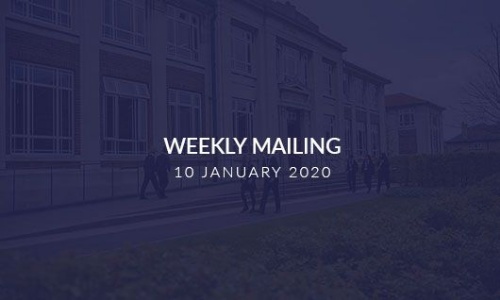 Dear Parents and Carers

Please find below this week's important information for Parents/Carers and students as well as updates on School events, activities and opportunities for your reference. I wish you a very relaxing weekend.

Ms Jo Butler
Headteacher

Good News

Pay it Forward Campaign - Easyfundraising
Thank you to all those that registered with Easyfundraising, I hope that you found it as easy as I did. We did really well with the big push to get as many people registered before the end of last term. 29 people registered and each and everyone has raised money for the campaign. Lets keep registering to hit the 50 mark and beyond as soon as possible .

What is Easyfundraising?

When you shop with the 4,000 retailers registered with Easyfundraising, each retailer pays the school a small donation to say 'thank you'. The donation is sent to the school with no cost or deduction.

This is a simple and free way to help us with our campaign! Please remember anyone can register, friends and family. Help us and register today!

For more information or to sign up please click here.

Pay it Forward Campaign- What is it?
Pay it Forward' is an international movement which promotes the undertaking of random (or not so random) acts of kindness. Using the ethos of 'Pay it Forward', the Governors and I felt that this was exactly the sort of campaign that we wanted to launch.

Thank you so much to our parents, carers, students, staff and supporters who to date have supported the 'Pay it Forward Campaign' launched in July. We have got off to a really good start and have received generous donations of pre-loved uniform and equipment, books, GCSE and A Level Revision Guides, pledges from volunteers who want to help with maths, music lessons, science and grant applications; and monetary gifts of £10,800.00.

It's really easy to donate, to make a single donation, all you need to do is click here. For those that would like to make a regular donation, please set up a payment with your bank. Our details are: Lloyds Bank plc Sort code: 309483 Account number: 41658468.

Student Achievements
Many congratulations to Maya Neville Year 12 who was awarded her Black Belt in Kickboxing (Tai Sho Ryo Freestyle) on 19 December 2019. This was in addition to the Blue Belt (two tabs) that she also achieved for Aikido in December. She had already gained a Brown Belt in Karate (Henshou Ishinryu) and qualified for her Black Belt grading. What a brilliant achievement!

Congratulations also to the Year 7 girls sportshall athletics team who have been selected to represent Bristol at the Avon Schools Sportshall Athletics final which will be held at UWE on Monday 27 January. We'll let you know how they get on!

Keep us posted
It would be great if parents/carers could let the school know of any student achievements outside of school. It is sometimes only at parents' evenings that we find out what students are doing in their own time. Email us: weeklymailing@cotham.bristol.sch.uk

Staff Vacancies

Cotham School are currently recruiting new members of staff to work with us at the school. We are currently looking to hire a Lead Cover Supervisor, Higher Level Teaching Assistant, Chemistry teacher, and a Maths Teacher.

For more information about school roles please click here.

Student Wellbeing

How to beat the winter blues this January
There are lots of good reasons why people often feel down in January, whether teenagers or adults. But teenagers have extra triggers, such as exams and specific teenage stresses and turmoil. The Christmas period often produces a feeling of anti-climax – either you had a great time and now it's over or you didn't but it feels as though everyone else did. Nicola Morgan the author of 'blame my brain the amazing teenage revealed' shares some strategies for teenagers that will help.

1. Understand that this is normal
There are biological reasons why many people feel low and lack energy during the dark months. Understanding that it's a natural response is helpful.

2. Get as much daylight as possible
Lack of daylight is partly why people suffer "winter blues". So, take every chance to be outside during the day.

3. Beware of New Year resolutions!
People tend to make resolutions now because of guilt, and that's not the best long term motivator. They tend to make difficult and vague resolutions, such as "save money", "be more organised" or "lose weight". Then they fail, and feel worse. If you're going to make a resolution, make sure it's one you can manage and measure, such as "On school evenings, do an hour of homework with my phone off, because I'll work better." Then do it and feel better! (Which will encourage you to do it again.)

4. Exercise
One of the best ways to fight depression and improve wellbeing and mood. The good news (for me!) is that it doesn't have to mean getting hot and sweaty – a brisk walk is perfect (and gives you daylight, too.) You may not fancy exercise but you'll feel much better afterwards.

5. Identify your worries
If you have specific things that are making you feel anxious or sad, make a list and add possible solutions. If a solution is "ask someone for help", do it! Writing things down helps.

6. Do something new
Every year is different. How will you make this one different rather than waiting for it to happen to you? On your own or with a friend, throw ideas around till you find one thing you'd love to achieve, do or learn this year. Work out what steps you need to take. Make a plan and start the first step.

7. Read for pleasure
Burying yourself in a gripping book of your choice is a great way to take your mind off feeling low. Reading for pleasure has so many health benefits that I see it as a necessity, not a luxury!

8. Eat properly
When feeling down, we are often drawn to sugar and junk food and we eat too little or too much. You can improve how you feel by eating a good, varied diet with things like nuts, fruit and veg, dairy, fish, pulses and grains. Learn to cook! What we put in our bodies makes a difference.

9. See a doctor if necessary
If your low mood is severe and lasts more than a couple of weeks, see a GP, in case you need treatment. Although my other advice will help, it won't be enough if you have clinical depression.

10. You are not alone
Lots of your friends and peers will be going through the same or similar feelings, but you may not realise it. Find someone to talk to – a friend or a trusted adult. Or team up with a friend to support each other. If the first person you talk to doesn't understand, try someone else. We're all in this life together and there are people out there who want to help you.

Spring and lighter days are not far away! Until then, take care of yourself and let the people who love you help you.

Important Information for Parents/Carers

Parent Governor Elections
As advised last term, we will be running an election to fill the two Parent Governor Vacancies on the Governing Body.

We have 3 Candidates; their details can be found here.

At the end of next week, you will receive information on how to vote for your preferred candidates and voting will continue until Friday 31 January 2020. We look forward to lots of people taking part in the election process! Good luck to the 3 candidates.

Junk Food ban
As you will be aware, the bringing in and consumption of junk food is completely banned at Cotham. We have become increasingly concerned about students bringing 'junk' food and drinks into school. The cheapness of large 'family size' bags of crisps, sweets and bars/ 4 packs of chocolate and large bottles/ cartons of sugary and fizzy drinks, energy drinks has led to an increase in such items being brought into school. The impact on children's long term health is considerable. In addition the additional litter created is phenomenal and represents a huge burden on our site team.

In order to help your children please provide a packed lunch or pre- pay their cards via WisePay and please don't give them cash! All junk food is bought on the way to or from school in large supermarkets or corner shops.

Please can we also ask you to remind your children that they should be drinking plenty of water during the day. There are water fountains across the school site.

Cyberbullying Guide
An online organisation called HomeGuides has developed guidance to help children, parents and teachers to understand what cyberbullying is and what can be done about it. Download the guide here.

Online Safety Newsletter
Please click here to view this month's online safety newsletter.
Please click here to view an online Safety booklet which includes an overview of key parental controls.

E Safety for your child- Tik ToK Safety tips
Please see here for important safety information for parents about the app Tik Tok.

Themed Lunch to celebrate Chinese New Year - Thursday 23 January 2020
Please see the menu below which will be on offer on Thursday 23 January 2020 to celebrate the Chinese New Year - the Year of the Rat.

Speedy Noodle Soup

Hot and Sour Aubergine & Green Bean

Chinese Style Lemon Marmalade Chicken

Oriental Egg Fried Rice

Singapore Noodles

Pineapple and Toffee Muffin

Prayer/Reflection Room
Just a reminder that there is a supervised Prayer/Reflection Room available lunchtime Mon to Thurs from 1.10pm to 1.30 pm in A118.
This space is open to all students and staff to use as a place for prayer, reflection and quiet contemplation.

Sigma House News
Sigma would like to share some good news: the outdoor table tennis table is now on school site! Bats and balls can be borrowed from Mrs Arnold and the Prefects. Students are welcome to bring in their own.
Look out for Inter-House table tennis competitions.

Lily in Year 7 is the Sigma superstar, Lily made some amazing christmas tree decorations for the Sigma Tree.

Sign up for the Year 9 and Year 10 Parent Drug Awareness Information Evening - Tuesday 11 February 2020 6-7pm
We will be holding an event on Tuesday 11 February 2020 for Year 9 and 10 parents and carers looking at the issues of drink, drugs, smoking, self harm that could affect young people and how to keep your child safe. If you would like to attend this event please click here to sign up as places are limited.
Here are some links to resources which you may find helpful in the meantime, The Mix, Talk to Frank, Bristol Drugs Project, Common Sense Media, Information on Self Harm.

Word of the week
Each week at Cotham we promote a Word of the Week. This is to help students expand the range of vocabulary they use. Please find the word for the week ahead by clicking here.

Subject Area News

Physical Education (PE)
Fixtures

Tuesday 14 January - Senior Basketball vs Fairfield (h)

Parental Consent for Sports Fixtures 2019- 2020

Please complete the parental consent form which can be found here and return to school as soon as possible if your child is taking part in school fixtures this year. Once on file we can then select your child for these fixtures and we will confirm by email or text the details nearer the date that these are taking place.

Extra-Curricular Clubs

Please click here for a list of all of the PE/Sports Extra-Curricular activities available to students in Term 3.

All clubs will start on Monday 13 January 2020.

Follow @CothamPE on Twitter for all the latest news and updates from the Cotham School PE department

Visual Arts
Work of the Week
Please click here to view the work of the week for Visual Arts created by Ebba in Year 8.


Key Stage 3 News

Year 9 Key Stage 4 Pathways Evening on Wednesday 15 January 2020 5.30pm - 7.30pm
We warmly invite you to the Year 9 Key Stage 4 Pathways Evening on Wednesday 15 January. There will be presentations in the main hall at 5.45pm and 6.45pm. There will also be a mini Careers Fair taking place in the student hub where 11 education providers and employers have been invited to come to talk to parents/students throughout the evening. The Careers Leader, Ms Paice, will also be present to offer advice on possible Post 16 education and careers options.

The focus of the presentation will be the 2020-22 Key Stage 4 Curriculum and an outline of the procedure and the timeline for finalising options. There will also be an opportunity to take individual questions at the end of each presentation. Subject staff will be available to answer any questions that you may have.

Year 9 Parents Evening Wednesday 22 January 2020 4pm - 6.30pm
Year 9 Parents' evening will take place on Wednesday 22 January 2020 4.00pm - 6.30pm. This is an opportunity for you to meet with your child's subject teachers to review their progress and discuss suitability for particular subjects at Key Stage 4. The booking system is live, please click here to access the online appointment booking system. If you encounter any difficulties with booking your appointments please contact the admin team by email at adminoffice@cotham.bristol.sch.uk or tel: 0117 919 8000.

Key Stage 4 News

Year 10 Work Experience Monday 29 June - Friday 3 July 2020
Year 10 Work Experience week will be 29 June- 3 July 2020 and all students will need to arrange a placement with an employer for this period. This is a hugely exciting opportunity for students to experience a week in the professional world.
Every student has now had a 1-2-1 meeting with the careers advisor and all students should now have begun contacting employers and completing applications.

A copy of the work experience letter can be found here.
A copy of the WEX form can be found here. This form must be completed and returned to Ms Dutton, WEX coordinator, for a placement to go ahead. Please encourage your child to return this sooner rather than later.

Year 11 Mock Exams Monday 20 January - Friday 31 January 2020
Our next set of formal mock exams for Year 11 take place from Monday 20 January to Friday 31 January. It is not possible to ensure that students will have mock exams that will match the exams that they will have in next summer (there are simply too many exams in certain subjects to fit them all in without extending the mock exam period). As a result, the mocks will be used to assess students knowledge in certain papers / topics and a sheet summarising these papers / topics can be found here.

Students will be given a copy of their own exam timetable this week. This contains important information regarding their mock exams and the seats which they will occupy in the exam hall. It is important that students carry this with them at all times during the mock exam season and arrive to each of their exams promptly. An electronic copy of the timetable will be added to the Year 11 Google classroom page (by tutor group) in case they lose it.

Support your child in preparing a mock exam preparation schedule so that they complete revision tasks - a template revision schedule can be found here.

Ensure your child has revision guides that can help to support their learning - a list of these can be found here along with details of useful revision websites for each subject.

Examination Command Words document here - examples of command words that students need to be using with confidence.

If you're worried that your child is not revising enough, a single page sheet for each subject with ideas of what they could be doing now can be found here

See the Top Tips for Parents sheet attached here which contains useful reminders about supporting with revision.

GCSEpod and Seneca contain lots of valuable online revision activities for most subjects (log on details for these sites can be found at the end of every weekly mailing to parents and carers).

Examination rules
I would like to draw your attention to the examination rules we adhere to at school. We legally have to comply to the JCQ's guidelines and rules which can be found here. We also have our own set of standards which it is necessary our students comply with which can be found here. It is important that your child is familiar with and understands these expectations for both their January mock exams as well as their actual GCSEs. These will be shared with our students in tutor time and a version will appear on the reverse of their individual exam timetable.

Essential Examination Equipment
Your child will be more successful in their summer exams if they have the correct equipment. Please support them by purchasing any missing items over the next month:
Clear pencil case
Black Pens x2, pencils x2, eraser, sharpener, ruler, protractor, compass,
highlighter, working non-programmable scientific calculator (preferably Casio).
Students taking examinations in Design and Technology will also need coloured pencils.
Students should have calculators with them for Maths, Science, DT, Geography, Psychology.
Year 11 Parent Information Session Thursday 6 February 2020
We will be holding a Year 11 Parent Information Session on Thursday 6 February. This will take place following the January mock exams and before the end of Term 3 on Friday 14 February. During the meeting we will share advice about how to support your child in advance of the summer exams and also share with you the feedback given to students following their mock exams. It is important that you attend so that you are aware of the advice and feedback given to students and can encourage them to use the February holiday to target their areas of weakness. The session will run from 5.30pm to 6.30pm and take place in Charnwood, our Post 16 Centre on Cotham Park. Parents should enter the building and take the flight of stairs down to the lower floor and make their way to the large conference room G001 (signs will direct you on the night).

Year 11 Prom
Thank you to those parents who have come forward and offered their time and help to organise our Year 11 Prom. We have a committee of parents who are working on this and if you are interested in joining them, please get in touch.

Last year, the school was able to provide advice and support with communications to students and parents, suggesting possible venues, as well as organising payment for tickets using our wisepay system.
Please get in touch with us if you would like to be involved in organising the prom by contacting Ms Allender the Learning Coordinator for Year 11 by email at allendera@cotham.bristol.sch.uk.

Post-16 News

We were pleased to welcome back the students after the break. This week has been busy with exams and preparing for mock exams next week. It's great to see the students focused and keen to do their best.
We were lucky enough to have ex-students Theo Davies and Gabriel Osborne come in to share their experiences of studying at Oxford and Cambridge universities. They were brilliant and gave a great insight into the application process and the transition to Oxbridge. Thank you both.
We are keen for other ex-students to come and share their progression experiences so if there are any parents or carers who think their child would be interested in doing this please encourage them to get in touch.
For more information please see the "This Term at Cotham Post 16" Section of the website: https://www.cotham.bristol.sch.uk/news/?pid=130&nid=20

Year 12

GCSE retake exams on 13 January 2020

During the week beginning 13 January 2020 GCSE retake exams will take place. Exam timetables are available from Charnwood reception.

External BTEC exams on 8 and 20 January 2020

External BTEC exams will also be taking place between 8 and 20 January 2020. Lessons will continue as normal during this week.

Year 13

Year 13 mock exams - week beginning 13 January

Year 13 mock exams are the week beginning 13 January. There will be no lessons all week except for Art and all Btec lessons which will run as normal.

UCAS deadline is 15 January 2020

The internal UCAS deadline has passed- please ensure that your son/daughter has contacted Ms Beaver if they are planning on applying for 2020 entry or 2021 deferred entry. The UCAS deadline is 15 January 2020. Once students have paid and sent their applications via UCAS references and predicted grades need to be added by school staff. This can take time to complete so students should not wait to submit until the last minute.
Students are encouraged to meet with Ms Paice our school careers adviser on a Wednesday - she can be emailed directly to make an appointment, paices@cotham.bristol.sch.uk and is available every Wednesday registration in the canteen. This is especially important if they are not applying to university for September 2020 entry.

Student Wellbeing
We take your child's wellbeing very seriously - we have many avenues of support available. A reminder that there is a school counsellor, a Post 16 Reflection room which is available for all students and many places that your child can study alone should they wish to. Please see Ms Beaver for more information. There is a also a mindfulness drop in session on a Thursday lunchtime. Ms Beaver also has lots of self help books available - just pop into G206 to borrow some.


Creative Youth Network
Creative Youth Network also offer a lot of support and one to one therapy - please ask your child to see Mrs Beaver for more information a link to their website can be found here.

Off the Record (OTR)
OTR are offering weekly Resilience Lab drop in sessions on Perry Road there is no waiting list and all students are very welcome. More information can be found here.

Careers
A reminder that Ms Paice is available every Wednesday in G402 at Charnwood to meet students and all Year 12 students should have signed up to SpringPod which is a work experience platform.

Here is the link to our Careers Bulletin which is updated weekly.

Student Careers Update

Apprenticeships
City of Bristol College Apprenticeship Bulletin and South West Apprenticeship Company have apprenticeship vacancies here and here.

Other apprenticeships can be found through the Gov website here, Target Careers, Success at School , Get My First Job and Not Going to Uni.


Saturday jobs
Students looking for Saturday jobs can find good advice through this website

Please keep your eyes on the Careers section of the website for updates.


Community News

HappyMaps Website- Providing resources for Parents and Carers around Children's mental health
HappyMaps is a website providing a one stop shop of resources around children's mental health from babies to young adults and includes websites, videos, books, Apps and links to ways to find counselling and other support. The website was funded by NHS England with input from specialist services (CAMHS) and local charities and is supported by Bristol Mind. Please click here to view the website.

Drug and Alcohol Use Among Young People, Talk for parents, Wednesday 22 January, 18.00, Chatterton Hall, Colston's School, Bell Hill, Stapleton BS16 1BJ
Parents are invited to hear Joanna Mallinson speak about the reality of young people's drug and alcohol use. The Bespoke Education Project aims to alleviate unhelpful fears and give pragmatic advice for reducing the risk of, or managing, problematic drug and alcohol use.

Joanna Mallinson started working with young people in 2002 and became a drug and alcohol specialist in 2010. Through various roles, including 7 years at Bristol Drugs Project, she has built extensive practice-based knowledge and an insight into the lives and needs of young people. The BE project combines Jo's public health knowledge and harm reduction expertise to deliver high quality education and training packages that are congruent with young people's experiences. Jo's passion is to affect change in young people's attitudes and risk-taking behaviour through the influence of parents and peers, and better self-awareness.

Tickets to this free event can be booked via this link: Ticket Booking

Ask me Anything, Monday 27 January 2020, 17.00 - 19.00, Engine Shed, Temple Meads, BS1 6QH
'Ask me Anything' is a networking event for students aged 14-18 to find out about opportunities in the Creative Industries sector. It is hosted by boomsatsuma and BristolWorks as part of the BBC Digital Cities Week 2020. Young people will be able to meet, network with and ask questions of professionals in the Creative sector. Set up as a speed networking event and with representatives from games, music, film and TV production, young people will be able to find out about the skills needed to pursue a career in these fields.

This is a free event and tickets can be booked via this link

Useful quick links

Key Dates
Please click here to view the Key Dates by year group for the 2019-20 academic year. You will be notified of any significant changes/additions, but please can we ask that you check the dates for your year group regularly as they are subject to change.

Parents' Evening Booking System (PES)
Please click here to access the online appointment booking system for Parents Evenings/Family Consultation Day. Please note this is only available if an event is due. We will email you to let you know when booking opens. If you encounter any difficulties with booking your appointments please contact the admin team by email to adminoffice@cotham.bristol.sch.uk or tel: 0117 919 8000

Assessment Calendars for KS3
We have created Assessment Calendars for 2019/20. Each Assessment Calendar contains details of the class assessments that will take place in their subjects. The final column contains a link which gives information about each of the assessments.
To see the Year 7 Assessment Calendar click here
To see the Year 8 Assessment Calendar click here
To see the Year 9 Assessment Calendar click here
To see the Year 10 Assessment Calendar click here
To see the Year 11 Assessment Calendar click here

Parents Information Sessions
KS3 Parent Information Session 3 October 2019 - click here
Year 10 Parent Information Session 7 November 2019 - click here
Year 11 Parent Information Session 14 November 2019 - click here

Homework and Independent Learning timetables
Please see the attached link describing our Homework Guidelines for students in the school.
In KS3 we do not have homework timetables.
Homework and Independent Learning Timetable for Year 10
Homework and Independent Learning Timetable for Year 11

GCSEpod
Click here to access GCSEpod which contains lots of revision resources for most GCSEs. Students self register through the website using their name and school details.

Diagnostic Questions
Click here to access. This site contains self marking quizzes with lots of templates including some from a range of exam boards. It's easy to make your own questions in Microsoft PowerPoint too. Students sign up with their school Google account using the G+ button to automatically create a school account

Edmodo
Edmodo is an application that can be used on both mobile devices and in the web environment to create an online community of practice. Edmodo is a free social learning platform that allows students to access the course content uploaded by their teachers.
https://www.edmodo.com/

Seneca
All students and teachers now have free access to Seneca - a revision and homework platform making studying more fun. Seneca is an interactive way to learn official course content. Their web app covers 150+ exam board specific courses condensing what students need to know for their exams. The software is able to identify gaps in learning. For instance, when you get a question wrong, the platform will repeat the topic in different formats and their smart algorithm has proven to make students remember topics 2x faster. Seneca is totally free for students, teachers and parents. You can sign up via senecalearning.com

WisePay
WisePay is the Online Payment Service at Cotham School which allows you to pay for trips and visits as well as to add credit to your child's Cashless Catering account. Click here to access your account now. If you have any queries about your account please contact the support team by email to wisepay@cotham.bristol.sch.uk

School Uniform
Please click here to view the compulsory uniform requirements of Cotham School, along with visual examples of uniform and details of our uniform suppliers.

Contact Details
Please note the following contact numbers and email addresses if you need to contact the school:

Main Reception - 0117 919 8000/ reception@cotham.bristol.sch.uk
Student Reception - 0117 919 8013 / studentreception@cotham.bristol.sch.uk
Absence - 0117 919 8019/ absence@cotham.bristol.sch.uk
NBP16C - 0117 919 8100/ post16@cotham.bristol.sch.uk
Finance - 0117 919 8016/ finance@cotham.bristol.sch.uk
Exams - 0117 919 8024/ exams@cotham.bristol.sch.uk
Admin Office - 01179198053/ adminoffice@cotham.bristol.sch.uk
Library- library@cotham.bristol.sch.uk