Weekly Mailing - Friday 24 January 2020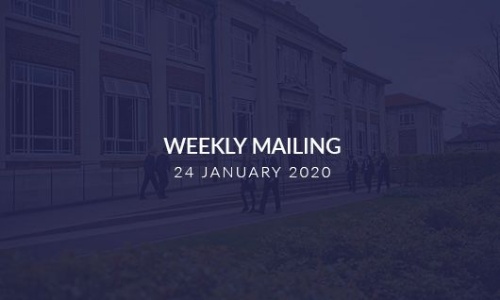 Dear Parents and Carers

Please find below this week's important information for Parents/Carers and students as well as updates on School events, activities and opportunities for your reference. I wish you a very relaxing weekend.

Ms Jo Butler
Headteacher

Good News

Cotham School Sports Team Results

Football

Year 10 boys won 8-0 vs Blaise High School

Basketball

Junior boys lost 27-29

Senior boys won 25-24

Well done to all!

New Outdoor Table Tennis Table

Sigma House thought that it would be good for students to have an outdoor table tennis table and applied for funding from the Cofund and the Pay it Forward Campaign donations to support this purchase.

Part of Sigma's role in the school is to be responsible for the environment and this house feels that a table tennis table will support students by giving them the opportunity to enjoy a new activity outdoors. Playing table tennis is good for your health and brain. It is fun and sociable and everyone can play. It improves hand-eye coordination and it stimulates mental alertness, concentration and tactical strategy.

Sigma will be holding inter house table tennis competitions.

Bats and balls are available to borrow from Mrs Arnold and the sigma prefects.

We would like to thank the Cofund and all those that donated through the pay it forward campaign for their kind donation, without these donations this purchase would not have been possible. Please click here for some action shots of the new table tennis table.

The Sigma team


Year 9 Pathways Evening
Cotham School welcomed Post 16 Education providers who joined us to provide information and advice at our Mini Careers Fayre for our Year 9 students and parents at the Pathways Evening. Please click here to view a press release from the event. Thank you to all who attended.

Pay it Forward Campaign - Easyfundraising
Thank you to all those that registered with Easyfundraising, I hope that you found the process easy. We did really well with the big push to get as many people registered before the end of last term. 29 people registered and each and everyone has raised money for the campaign. Lets keep registering to hit the 50 mark and beyond as soon as possible .

What is Easyfundraising?
When you shop with the 4,000 retailers registered with Easyfundraising, each retailer pays the school a small donation to say 'thank you'. The donation is sent to the school with no cost or deduction.

This is a simple and free way to help us with our campaign! Please remember anyone can register, friends and family. Help us and register today!

For more information or to sign up please click here.

Pay it Forward Campaign- What is it?
Pay it Forward' is an international movement which promotes the undertaking of random (or not so random) acts of kindness. Using the ethos of 'Pay it Forward', the Governors and I felt that this was exactly the sort of campaign that we wanted to launch.

Thank you so much to our parents, carers, students, staff and supporters who to date have supported the 'Pay it Forward Campaign' launched in July. We have got off to a really good start and have received generous donations of pre-loved uniform and equipment, books, GCSE and A Level Revision Guides, pledges from volunteers who want to help with maths, music lessons, science and grant applications; and monetary gifts of £10,800.00.

It's really easy to donate, to make a single donation, all you need to do is click here. For those that would like to make a regular donation, please set up a payment with your bank. Our details are: Lloyds Bank plc Sort code: 309483 Account number: 41658468.

Keep us posted
It would be great if parents/carers could let the school know of any student achievements outside of school. It is sometimes only at parents' evenings that we find out what students are doing in their own time. Email us: weeklymailing@cotham.bristol.sch.uk


Student Wellbeing

Online mental health support available for young people
XenZone is a provider of online mental health services for children, young people and adults. Kooth, from XenZone, is an online counselling and emotional well-being platform for children and young people, accessible through mobile, tablet and desktop and free at the point of use.

Kooth is a transformational digital mental health support service. It gives children and young people easy access to an online community of peers and a team of experienced counsellors. Access is free of the typical barriers to support: no waiting lists, no thresholds, no cost and complete anonymity. Launched in 2004 and accredited by the BACP, more than 1,500 children and young people across the country login to Kooth every day.

More information can be found on their website: https://www.kooth.com/

Important Information for Parents/Carers

Parent Governor Elections
Voting is currently underway for the 2 parent governor vacancies. Please make sure you cast your vote before 3.30 p.m. on Friday 31 January 2020.

Information on how to vote was sent to parents/carers last week. Details of the 3 Candidates can be found here.

PE Kit Reminder
All students need to have as part of their Cotham PE kit, trainers and either long black socks or white sports socks for their PE lessons. School shoes and socks are not acceptable for PE lessons, particularly if the lesson is at Stoke Lodge. Ideally if the lesson is at Stoke Lodge, football boots would be a better option.

It is also important for hygiene reasons for students to change footwear and socks after playing sports. Trainers and socks will get hot and sweaty as well as getting wet and muddy if worn at Stoke Lodge.

Please can all parents/carers make sure that their child packs the correct kit for their PE lessons, along with a plastic bag/boot bag to put wet and muddy footwear into after their lesson at Stoke Lodge. This makes sure that no mud is brought onto the coach at the end of the lesson.

Thank you for your continuing support, Mr Collin

Norovirus
At this time of year, in periods of cold weather, in schools, nurseries and healthcare settings the norovirus or winter vomiting bug can spread quite quickly. Please click here for some NHS advice.

Sign up for the Year 9 and Year 10 Parent Drug Awareness Information Evening - Tuesday 11 February 2020 6-7pm
We will be holding an event on Tuesday 11 February 2020 for Year 9 and 10 parents and carers looking at the issues of drink, drugs, smoking, self harm that could affect young people and how to keep your child safe. If you would like to attend this event please click here to sign up as places are limited.

Here are some links to resources which you may find helpful in the meantime, The Mix, Talk to Frank, Bristol Drugs Project, Common Sense Media, Information on Self Harm.

National Online Safety- What parents need to know about Social Pressures
Links between children's use of social media and their mental health and wellbeing readily receives attention in the news. There are an array of features which parents and carers should be aware of which can contribute towards children experiencing 'social pressures' online. National Online Safety have created a series of free guides for parents, please click on the following links for Facebook and Twitter to view the guides.

Exciting Dance opportunity for Boys who Dance
Swindon dance is offering a free day of dance for boys on Sunday 16 February. One of the tutors, Liam Wallace, is an ex-student who studied Dance A Level here before training at Northern School for Contemporary Dance. It will be a fabulous experience for anyone who is interested in Dance. Click here for details.

Fused Dance Company- Free Youth Dance Company
Fused Dance Company is a free youth dance company for Bristol schools that rehearse at Bristol Grammar School on a Monday evening. The company is currently looking for new dancers from Year 8-13. Click here for details

Try Handball- Handball training sessions
The Bristol Handball Club, organise Handball training sessions for children aged between 14 to 16 years old every Thursday between 4.30pm and 5.30pm at Orchard School Bristol. Please click here for more information.

Pondering happiness at Bristol Grammar School
A group of Year 9 students visited Bristol Grammar School on 23 January to attend a lecture entitled the 'Science of Happiness' by Professor Bruce Hood. The lecture raised more questions than it answered, resulting in a lengthy, thought provoking and at times highly philosophical conversation about what was shared after the event, to the point the discussion was almost as long as the lecture! It was clear that our students have an appetite for wanting to know more about the concept of happiness, what the research says and whether 'happiness hacks' can really lead to us being happy. Watch this space for more information as this has unlocked a whole web of wonder and thinking to the point whereby the students want to dig a bit deeper into the what and the how of happiness.

If there are parents / members of the community who know of somebody in the field of 'happiness' and would like to share more with our students, we would welcome the opportunity. Please get in touch with Miss McDonagh.

Bristol Education Partnership Events
French Hub for A Level students, Wednesday 22 January and Wednesday 18 March 2020, 16:15-17:30, Badminton School, Westbury Rd, BS9 3BA

For students interested in studying French at university and pursuing their interest in languages beyond the classroom, this is an opportunity to meet up with other A Level students from schools in Bristol to enhance their knowledge. There will be a variety of activities such as discussing current affairs, reviewing films, reading short stories, perhaps some poetry. These hub events are not just to tick another box in the UCAS process, but to provide something extra for those who love the subject. Sixth form students are invited to come and spend time with like-minded linguists - with some tea and cake.
For further details please contact Natasha Walton: nwalton@badmintonschool.co.uk

Ask me Anything, Monday 27 January 2020, 17.00 - 19.00, Engine Shed, Temple Meads, BS1 6QH

'Ask me Anything' is a networking event for students aged 14-18 to find out about opportunities in the Creative Industries sector. It is hosted by boomsatsuma and BristolWorks as part of the BBC Digital Cities Week 2020. Young people will be able to meet, network with and ask questions of professionals in the Creative sector. Set up as a speed networking event and with representatives from games, music, film and TV production, young people will be able to find out about the skills needed to pursue a career in these fields.

This is a free event and tickets can be booked via this link

Health and Social Sciences Student Symposium, Tuesday 4 February 2020, 09:45 – 14:30, UWE Bristol, Frenchay Campus

First and second year A-Level/BTEC students (or equivalent) are invited to an engaging and interactive event which brings together the disciplines of Criminology, Philosophy, Politics, Sociology and Psychology to focus on this year's theme: 'Who's afraid of social media? Challenges of the digital age'. Students will have the opportunity to attend an array of talks from a panel of invited speakers who have been doing research on issues surrounding social media and the digital age within the social sciences. Following this there will be a question and answer session with the panel, to spark further discussion and debate.

The day also provides the opportunity to explore UWE's Frenchay campus as part of a campus tour and talk to current students about life at UWE Bristol.

Places can be booked by following this link: Register here

Inspiring Evenings Lecture Series, Badminton School, Westbury Road, Westbury-on-Trym, Bristol BS9 3BA
Badminton School is hosting evening events as follows:
6 February 2020 - Women in Cyber, PGI
5 March 2020 - Special 'Pecha Kucha' evening
Events take place on a Thursday evening at 17.00 in the Peace Memorial Hall.
To book tickets please contact: nabishop@badmintonschool.co.uk

Sex and Relationships Talk for parents, Monday 10 February 6.30pm, 1532 Performing Arts Centre, Elton Road, BS8 1SJ

Bristol Grammar School will be hosting a talk on sex and relationships and the keynote speaker will be Amy Forbes-Robertson. Amy has worked in education for over 15 years and is a partner in the organisation It Happens, who have been delivering Relationship and Sex Education talks at Bristol Grammar School for more than 4 years now. During her career, Amy has been closely involved in pastoral care and safeguarding issues, and is familiar with the challenges that face young people as they experiment with their own identity, friendships and relationships. She believes that providing young people with good information is vital and that talking honestly about bodies, relationships, sex and their recreational lives is a key factor in enabling young people to make better choices. Her talks are frank and open, covering everything from puberty to pleasure and consent to pregnancy choices in a very inclusive way.

The talk will be held in the MacKinnon Theatre at 1532 Performing Arts Centre and will start at 6.30pm. Hot and cold drinks will be available from 6pm. If you would like to attend, please reserve a place using this link
Please be aware of the other talks planned for this year, with more details to follow about each of the talks nearer the date on which they are taking place.
Tuesday 10 March: Exams and revision – advice from the BGS team led by Lead Academic Tutor Ben Fellows on supporting your child through revision and exam periods.
Wednesday 22 April: ICT – the annual ICT evening led by Matt Nice, BGS Director of ICT.

Festival of Care, Thursday 19 March 2020, City Hall, College Green, BS1 5TR
This event is being organised to celebrate careers in care across the region. Students are invited to come along and learn about all the career options that are available across the care sector. They will be able to access job vacancies on the day, as well as attend workshops, meet employers from across the region and much more.

Matrix Challenge – An online competition for budding cyber security experts
Complete the online challenge before 14 February 2020 to see if you can get selected to progress on to the next stage. You will require 30-40 minutes free time, a laptop or computer with an internet connection. Your computer for optimum performance should ideally be running chrome (but other browsers are supported). Please click here for the Matrix challenge, follow the simple on-screen instructions and good luck.

Word of the week
Each week at Cotham we promote a Word of the Week. This is to help students expand the range of vocabulary they use. Please find the word for the week ahead by clicking here.

Cyberbullying Guide
An online organisation called HomeGuides has developed guidance to help children, parents and teachers to understand what cyberbullying is and what can be done about it. Download the guide here.

Online Safety Newsletter
Please click here to view this month's online safety newsletter.
Please click here to view an online Safety booklet which includes an overview of key parental controls.

Subject Area News

Physical Education (PE)
Fixtures Week Commencing 27 January 2020

Monday 27 January
Year 7 girls Sportshall Athletics County Final (a)

Tuesday 28 January
Year 10 and 11 Football vs Bristol Free School (a)

Wednesday 29 January
Junior Basketball vs RGS (a)

Thursday 30 January
Senior Basketball vs RGS (a)

Parental Consent for Sports Fixtures 2019- 2020

Please complete the parental consent form which can be found here and return to school as soon as possible if your child is taking part in school fixtures this year. Once on file we can then select your child for these fixtures and we will confirm by email or text the details nearer the date that these are taking place.

Extra-Curricular Clubs

Please click here for a list of all of the PE/Sports Extra-Curricular activities available to students in Term 3.

Follow @CothamPE on Twitter for all the latest news and updates from the Cotham School PE department


Key Stage 3 News

Year 7 and Year 9 Homework Club
Mrs Arnold and Ms George are running a Homework club for Year 7 and Year 9 students on a Thursday after school between 2.45pm-3.15pm. Please click here for details.


Key Stage 4 News

Year 10 Work Experience Monday 29 June - Friday 3 July 2020
Any student wishing to undertake a WEX placement outside of Bristol must return their completed WEX form by Friday 7 February.

All students who intend to take up a WEX placement within Bristol should now be submitting applications to organisations/ businesses. Placements are competitive and we encourage students to do this sooner rather than later.
The final deadline to return forms for in-Bristol placements is Friday 3 April.

All Year 10 students are expected to organise a work experience placement.

Any students who require additional support can drop in to see Ms Dutton, Work Experience Coordinator, on Monday, Tuesday or Wednesday lunchtimes.

A copy of the work experience letter can be found here.
A copy of the WEX form can be found here. This form must be completed and returned for a placement to go ahead.

Year 10 Academic Monitoring Sheet
Year 10 Monitoring Reports will be issued on Friday 31 January. This report will give you an update on your child's attitude to learning, completion of homework and a current academic grade in line with the GCSE grades 9-1.

GCSE Provisional Examination Timetable Summer 2020
Please find the provisional summer exam timetable here. Please note that all students must be available up to Wednesday 24 June 2020 to complete any GCSE exam that may need to be cancelled as a result of national emergency or disaster.

Year 11 Mock Exams Monday 20 January - Friday 31 January 2020
Our next set of formal mock exams for Year 11 take place from Monday 20 January to Friday 31 January. It is not possible to ensure that students will have mock exams that will match the exams that they will have in next summer (there are simply too many exams in certain subjects to fit them all in without extending the mock exam period). As a result, the mocks will be used to assess students knowledge in certain papers / topics and a sheet summarising these papers / topics can be found here.

Students will be given a copy of their own exam timetable this week. This contains important information regarding their mock exams and the seats which they will occupy in the exam hall. It is important that students carry this with them at all times during the mock exam season and arrive to each of their exams promptly. An electronic copy of the timetable will be added to the Year 11 Google classroom page (by tutor group) in case they lose it.

Support your child in preparing a mock exam preparation schedule so that they complete revision tasks - a template revision schedule can be found here.

Ensure your child has revision guides that can help to support their learning - a list of these can be found here along with details of useful revision websites for each subject.

Examination Command Words document here - examples of command words that students need to be using with confidence.

If you're worried that your child is not revising enough, a single page sheet for each subject with ideas of what they could be doing now can be found here

See the Top Tips for Parents sheet attached here which contains useful reminders about supporting with revision.
GCSEpod and Seneca contain lots of valuable online revision activities for most subjects (log on details for these sites can be found at the end of every weekly mailing to parents and carers).

Examination rules
I would like to draw your attention to the examination rules we adhere to at school. We legally have to comply to the JCQ's guidelines and rules which can be found here. We also have our own set of standards which it is necessary our students comply with which can be found here. It is important that your child is familiar with and understands these expectations for both their January mock exams as well as their actual GCSEs. These will be shared with our students in tutor time and a version will appear on the reverse of their individual exam timetable.

Essential Examination Equipment
Your child will be more successful in their summer exams if they have the correct equipment. Please support them by purchasing any missing items over the next month:
Clear pencil case
Black Pens x2, pencils x2, eraser, sharpener, ruler, protractor, compass,
highlighter, working non-programmable scientific calculator (preferably Casio).
Students taking examinations in Design and Technology will also need coloured pencils.
Students should have calculators with them for Maths, Science, DT, Geography, Psychology.
Year 11 Parent Information Session Thursday 6 February 2020
We will be holding a Year 11 Parent Information Session on Thursday 6 February. This will take place following the January mock exams and before the end of Term 3 on Friday 14 February. During the meeting we will share advice about how to support your child in advance of the summer exams and also share with you the feedback given to students following their mock exams. It is important that you attend so that you are aware of the advice and feedback given to students and can encourage them to use the February holiday to target their areas of weakness. The session will run from 5.30pm to 6.30pm and take place in Charnwood, our Post 16 Centre on Cotham Park. Parents should enter the building and take the flight of stairs down to the lower floor and make their way to the large conference room G001 (signs will direct you on the night).


Post 16 News


Year 12

Year 12 students had two guest speakers in their core session this week. Mitch from Unifrog introduced students to the many features of the website and demonstrated how it can help them gain valuable information on careers, University, apprenticeships and gap years. He also showed students how they can use the features to enter their skills, CVs and qualities to build a profile that will identify opportunities relevant to them. All students have been emailed login details and please encourage them to log on and start to build their profile.

Lucy from Burgess Salmon gave a talk on the law apprenticeships that they offer. The presentation will be emailed to all Year 12 and 13 students. Applications for their apprenticeships open between November 2020 and February 2021.

Year 12 work experience will take place this year between 29 June - 1 July and is compulsory for all Year 12 students. Please encourage students to start seeking placements as soon as possible. If any student in Year 12 has already completed a work experience placement or is planning to do so prior to the 29 June please let Ms Beaver know so she can see if this can be counted as you compulsory work experience

Year 13

The Year 13 parents' evening is on Thursday 13 February between 4 -6.30pm and will take place at Cotham school.

Congratulations to all the Year 13 students who have completed their UCAS applications. Please contact Marie Beaver if anyone requires help in managing their offers or still wishes to apply for university.

The Year 13 student finance presentation from 15 January is available on the Post 16 website here. You can also find dates and times of the summer exams on the Post 16 website here.

Student Wellbeing

We take your child's wellbeing very seriously - we have many avenues of support available. A reminder that there is a school counsellor, a Post 16 Reflection room which is available for all students and many places that your child can study alone should they wish to. Please see Ms Beaver for more information. There is a also a mindfulness drop in session on a Thursday lunchtime. Ms Beaver also has lots of self help books available - just pop into G206 to borrow some.

Creative Youth Network
Creative Youth Network also offer a lot of support and one to one therapy - please ask your child to see Mrs Beaver for more information a link to their website can be found here.

Off the Record (OTR)
OTR are offering weekly Resilience Lab drop in sessions on Perry Road there is no waiting list and all students are very welcome. More information can be found here.

Careers
A reminder that Ms Paice is available every Wednesday in G402 at Charnwood to meet students and all Year 12 students should have signed up to SpringPod which is a work experience platform.

Here is the link to our Careers Bulletin which is updated weekly.

Staff Vacancies

Cotham School are currently recruiting new members of staff to work with us at the school. We are currently looking to hire a Maths Teacher, Chemistry Teacher and an English Teacher.

For more information about school roles please click here.

Student Careers Update

Apprenticeships
City of Bristol College Apprenticeship Bulletin and South West Apprenticeship Company have apprenticeship vacancies here and here.

Other apprenticeships can be found through the Gov website here, Target Careers, Success at School , Get My First Job and Not Going to Uni.


Saturday jobs
Students looking for Saturday jobs can find good advice through this website

Please keep your eyes on the Careers section of the website for updates.

Community News

Never Such Innocence Art Engagement Activity
Please see the information below received from one of our local Army units about an art activity as an interesting way to engage young people and give them an awareness of conflict around the world, both historical and present.

The military has partnered with Never Such Innocence (NSI), a charity focussed on giving children and young people across the world a voice on war and conflict.

This is a competition for U18s to explore conflict through art, poetry, speech writing and song. This year's competition is at the following link. There is an additional strand this year which is called "A fight for Freedom" and focuses on the contribution made by Africa and the Caribbean to the British Armed Forces.

Bristol City Robins Foundation February Half Term Football Camp
Bristol City Robins Foundation are holding a February Half Term Football Camp at South Bristol Sports Centre during the February Half term for children aged 6-12. For further information click here, booking onto holiday camps can be made through this link.

CBBC Restaurant show Casting- Step up to the Plate 2
Step up to the Plate are now casting children in school Years 5 – 9 (ages 9-14) for the next series. Kitchen Crew members need to have a passion for food, a sound knowledge of ingredients and an ability to keep cool when it gets hot in the kitchen. The Restaurant Crew need to be organised, welcoming and calm throughout the chaos of service. Please click here for more information and here for the application form.

Advanced Cycle Training- Wednesday 19 and Thursday 20 February 2020
Life Cycle Uk supported by Bristol City Council are offering Level 3 Bikeability Courses during the February half term for children aged between 11 - 15 Years old. The course is £35 per child, more information can be found here, bookings can be made online or by calling 0117 353 4580.

HappyMaps Website- Providing resources for Parents and Carers around Children's mental health
HappyMaps is a website providing a one stop shop of resources around children's mental health from babies to young adults and includes websites, videos, books, Apps and links to ways to find counselling and other support. The website was funded by NHS England with input from specialist services (CAMHS) and local charities and is supported by Bristol Mind. Please click here to view the website.

Concert for Bolivian street children at Alalay
A concert is being held on Saturday 8 February at 7.30 pm (doors open at 7 pm) in St Matthew's Church, Kingsdown, Bristol, BS6 5TB in support of Annie's street children at Alalay, and everyone is warmly welcomed. In part the concert celebrates the 350th birthday of Beethoven, with his arrangement of three Irish folk songs, but there is also music by Brahms, Borodin, Hadyn and Handel, with baritone, piano, cello and flute. There is no charge for the concert

Useful quick links

Key Dates
Please click here to view the Key Dates by year group for the 2019-20 academic year. You will be notified of any significant changes/additions, but please can we ask that you check the dates for your year group regularly as they are subject to change.

Parents' Evening Booking System (PES)
Please click here to access the online appointment booking system for Parents Evenings/Family Consultation Day. Please note this is only available if an event is due. We will email you to let you know when booking opens. If you encounter any difficulties with booking your appointments please contact the admin team by email to adminoffice@cotham.bristol.sch.uk or tel: 0117 919 8000

Assessment Calendars for KS3
We have created Assessment Calendars for 2019/20. Each Assessment Calendar contains details of the class assessments that will take place in their subjects. The final column contains a link which gives information about each of the assessments.
To see the Year 7 Assessment Calendar click here
To see the Year 8 Assessment Calendar click here
To see the Year 9 Assessment Calendar click here
To see the Year 10 Assessment Calendar click here
To see the Year 11 Assessment Calendar click here

Parents Information Sessions
KS3 Parent Information Session 3 October 2019 - click here
Year 10 Parent Information Session 7 November 2019 - click here
Year 11 Parent Information Session 14 November 2019 - click here

Homework and Independent Learning timetables
Please see the attached link describing our Homework Guidelines for students in the school.
In KS3 we do not have homework timetables.
Homework and Independent Learning Timetable for Year 10
Homework and Independent Learning Timetable for Year 11

GCSEpod
Click here to access GCSEpod which contains lots of revision resources for most GCSEs. Students self register through the website using their name and school details.

Diagnostic Questions
Click here to access. This site contains self marking quizzes with lots of templates including some from a range of exam boards. It's easy to make your own questions in Microsoft PowerPoint too. Students sign up with their school Google account using the G+ button to automatically create a school account

Edmodo
Edmodo is an application that can be used on both mobile devices and in the web environment to create an online community of practice. Edmodo is a free social learning platform that allows students to access the course content uploaded by their teachers.
https://www.edmodo.com/

Seneca
All students and teachers now have free access to Seneca - a revision and homework platform making studying more fun. Seneca is an interactive way to learn official course content. Their web app covers 150+ exam board specific courses condensing what students need to know for their exams. The software is able to identify gaps in learning. For instance, when you get a question wrong, the platform will repeat the topic in different formats and their smart algorithm has proven to make students remember topics 2x faster. Seneca is totally free for students, teachers and parents. You can sign up via senecalearning.com

WisePay
WisePay is the Online Payment Service at Cotham School which allows you to pay for trips and visits as well as to add credit to your child's Cashless Catering account. Click here to access your account now. If you have any queries about your account please contact the support team by email to wisepay@cotham.bristol.sch.uk

School Uniform
Please click here to view the compulsory uniform requirements of Cotham School, along with visual examples of uniform and details of our uniform suppliers.

Contact Details
Please note the following contact numbers and email addresses if you need to contact the school:

Main Reception - 0117 919 8000/ reception@cotham.bristol.sch.uk
Student Reception - 0117 919 8013 / studentreception@cotham.bristol.sch.uk
Absence - 0117 919 8019/ absence@cotham.bristol.sch.uk
NBP16C - 0117 919 8100/ post16@cotham.bristol.sch.uk
Finance - 0117 919 8016/ finance@cotham.bristol.sch.uk
Exams - 0117 919 8024/ exams@cotham.bristol.sch.uk
Admin Office - 01179198053/ adminoffice@cotham.bristol.sch.uk
Library- library@cotham.bristol.sch.uk