Weekly Mailing - Friday 7 February 2020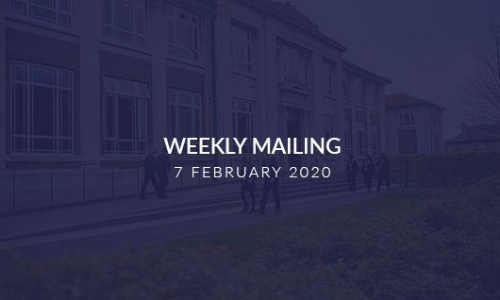 Dear Parents and Carers

Please find below this week's important information for Parents/Carers and students as well as updates on School events, activities and opportunities for your reference. I wish you a very relaxing weekend.

Ms Jo Butler
Headteacher

School Shoes Clarification
School shoes should be black and made of leather or leather type material. Trainer style shoes are acceptable. However, they must be completely black and have no non-black sports logos on them. They should be made of leather or leather type material (they should not be made of a mixture of fabrics, ie leather and canvas, canvas and nylon). The soles of the trainers should not contain air bubble soles.

Correct footwear for PE
Please can all students ensure that they have the correct PE kit, including a separate pair of sport shoes. Students are unable to wear their school shoes for PE due to the muddy conditions on our playing fields at this time of year. Muddy shoes are not allowed to be worn on the coaches or around school, which explains the need for a pair of sport shoes that can be used during the lesson and then put in a plastic bag after PE.

Good News

Bristol Young Heroes Award
On Monday evening this week Mrs Arnold attended the Bristol Young Heroes nominee's reception at the City Hall. Cotham School has two students who have been nominated for the Environmental Hero award. It was a chance for nominees of the Bristol Young Heroes to meet each other and the event sponsors. Bristol Deputy Mayor Asher Craig addressed the audience and said how proud she was of the young people of Bristol who had been nominated.

Congratulations to Elvey in Year 8 and Oscar in Year 9.

Elvey has been nominated by Bristol Waste. Elvey has been involved in litter picking in central Bristol, cleaning up the harbour and been involved with the Bristol Plastic Fishing tour.

Oscar has been nominated by Cotham School for his enthusiasm and dedication to the environment both in and out of school and Sigma House.

We wish them both luck for the Awards Ceremony in May at We the Curious.

Sigma House Events
Sigma Valentine Cookie Sale Friday 14 February- At break time in the HUB- All cookies 50p

Charity Swimarathon - Sunday 8 March 9.30am - 10.30am Clifton High Swimming Pool. Be sponsored to Swim. Your lengths are counted. It is not a race, you can swim at your own pace. It is great fun, raising money for The Rainbow Centre for Children. Students are to speak to Mrs Arnold if they are interested.

Inter House Photography competition - Look at the natural world from different perspectives. What would a tree look like from a bird's eye view, or a bug's eye view? Close up or from beneath? Prizes for the top three entries. Entries in by Monday 24 February. Students to send or give printed photos to Mrs Arnold. arnoldl@cotham.bristol.sch.uk

Pay it Forward Campaign - Easyfundraising
Thank you to all those that registered with Easyfundraising, I hope that you found the process easy. We did really well with the big push to get as many people registered before the end of last term. 29 people registered and each and everyone has raised money for the campaign. Lets keep registering to hit the 50 mark and beyond as soon as possible .

What is Easyfundraising?
When you shop with the 4,000 retailers registered with Easyfundraising, each retailer pays the school a small donation to say 'thank you'. The donation is sent to the school with no cost or deduction.

This is a simple and free way to help us with our campaign! Please remember anyone can register, friends and family. Help us and register today!

For more information or to sign up please click here.

Pay it Forward Campaign- What is it?
Pay it Forward' is an international movement which promotes the undertaking of random (or not so random) acts of kindness. Using the ethos of 'Pay it Forward', the Governors and I felt that this was exactly the sort of campaign that we wanted to launch.

Thank you so much to our parents, carers, students, staff and supporters who to date have supported the 'Pay it Forward Campaign' launched in July. We have got off to a really good start and have received generous donations of pre-loved uniform and equipment, books, GCSE and A Level Revision Guides, pledges from volunteers who want to help with maths, music lessons, science and grant applications; and monetary gifts of £10,800.00.

It's really easy to donate, to make a single donation, all you need to do is click here. For those that would like to make a regular donation, please set up a payment with your bank. Our details are: Lloyds Bank plc Sort code: 309483 Account number: 41658468.


Keep us posted
It would be great if parents/carers could let the school know of any student achievements outside of school. It is sometimes only at parents' evenings that we find out what students are doing in their own time. Email us: weeklymailing@cotham.bristol.sch.uk



Student Wellbeing

Time to Talk Day 6 February 2020
We all have mental health, like we all have physical health. It's important we take care of both as they are part of our overall wellbeing. When someone experiences a mental health problem, it can affect their thinking, their mood, and their ability to relate to others as they usually would.

Actually, you might be surprised how common mental health problems are. 1 in 4 of us are affected in any year. (It's 1 in 10 young people, or 3 people in the average classroom). So, even if your family isn't affected directly, you or your children will know someone who's going through the experience right now.

Considering all this, you'd think we'd speak about mental health more, wouldn't you? But it's still often a topic we avoid. If discussing mental health isn't everyday and ordinary in your house, you're not alone. It's really important though, and just being open to speaking and listening as a parent can make a real difference.

Find out more about mental health, stigma and discrimination, and how you can start your conversation by clicking here.

Important Information for Parents/Carers

Last chance to Sign up for the Year 9 and Year 10 Parent Drug Awareness Information Evening - Tuesday 11 February 2020 6-7pm
We will be holding an event on Tuesday 11 February 2020 for Year 9 and 10 parents and carers looking at the issues of drink, drugs, smoking, self harm that could affect young people and how to keep your child safe. If you would like to attend this event please click here to sign up as places are limited.
Here are some links to resources which you may find helpful in the meantime, The Mix, Talk to Frank, Bristol Drugs Project, Common Sense Media, Information on Self Harm.

Safer Internet Day Tuesday 11 February 2020
Safer Internet Day 2020 will be celebrated globally with the theme: Together for a better Internet. Everyone has their part to play in making the internet a better place, including you!

Have a look at the links here and here for some tips and some suggestions on how to get you started.

INSET Day Reminders
A reminder that Monday 24 February and Wednesday 18 March 2020 are INSET days. The School will be closed to students for staff training on these dates.

Non Uniform Day - Friday 14 February 2020
All students should bring £1 in cash, which will be collected at the Student Entrance by House Prefects. All funds raised will support the House Charities. Please remind your child to have their £1 ready to avoid any queues.

2021 Ski Trip - Vallnord, Andorra Saturday 3 April to Saturday 10 April 2021
Please click here to see an information letter about the proposed 2021 Ski trip to Andorra. Students can also pick up a copy of the letter from the PE office. Deadline for deposits is Friday 14 February 2020.

Cue Bristol Youth Theatre Sharing Evening Monday 10 February
Cotham's Cue Bristol Youth Theatre Group invites all family and friends to come to the Dance Studio on Monday 10 February at 6pm. We would like to give you a taster of the sort of work we do every Monday night at Cue Bristol. Tickets are £3 on the door. Everyone welcome. If you have any questions about Cue Bristol or if your child would like to join, please email: ashcrofth@cotham.bristol.sch.uk

Youth Strike 4 Climate
The next Youth Strike 4 Climate protest is scheduled for Friday 14 February between 11.00am and 2.00pm. Please click here to see the Headteacher's letter about this together with a link to a form to advise if you give permission for your child to attend the protest. As per previous events, parents or guardians must collect students from the Student Reception on Cotham Road at 10.15am. If this doesn't happen students will not be released to attend and will be sent back to class.

Bristol Education Partnership Events
Inspiring Evenings Lecture Series, Badminton School, Westbury Road, Westbury-on-Trym, Bristol BS9 3BA

Badminton School is hosting evening events as follows:
5 March 2020 - Special 'Pecha Kucha' evening
Events take place on a Thursday evening at 5.00pm in the Peace Memorial Hall.
To book tickets please contact: nabishop@badmintonschool.co.uk

Astronomy Evening, Wednesday 11 March, 6.00pm - 8.30pm, Redmaids' High School, Westbury Rd, Bristol BS9 3AW

An evening of moon gazing and astronomical activities for teachers and students. Please note that any students attending will need to be accompanied by an adult, and that places are limited to 5 students per school (due to the size of the telescope).
Please contact Miss McDonagh to book places.

French Hub for A Level students Wednesday 18 March 2020, 4.15pm-5.30pm, Badminton School, Westbury Rd, BS9 3BA

For students interested in studying French at university and pursuing their interest in languages beyond the classroom, this is an opportunity to meet up with other A Level students from schools in Bristol to enhance their knowledge. There will be a variety of activities such as discussing current affairs, reviewing films, reading short stories, perhaps some poetry. These hub events are not just to tick another box in the UCAS process, but to provide something extra for those who love the subject. Sixth form students are invited to come and spend time with like-minded linguists - with some tea and cake.
For further details please contact Natasha Walton: nwalton@badmintonschool.co.uk

Festival of Care, Thursday 19 March 2020, City Hall, College Green, BS1 5TR

This event is being organised to celebrate careers in care across the region. Students are invited to come along and learn about all the career options that are available across the care sector. They will be able to access job vacancies on the day, as well as attend workshops, meet employers from across the region and much more.

2020 Clifton Carnegie Contest - Invitation for entries

Students are invited to choose any book from the 2020 Carnegie shortlist (to be announced on 19 March) and to put together a 5 minute creative presentation (music/drama/dance/art/animation) on why their chosen book deserves to win the 2020 Carnegie Medal. This competition is aimed at students in Year 8 and above. The presentations will be delivered in the Redgrave Theatre, Clifton College, on 22 June. The contest will be judged by Carnegie shortlisted author Anthony McGowan who will also talk about his books. Refreshments will be provided. Please contact Miss McDonagh if your child is interested in taking part.

Easter Family Show - Stella and the Star Shiners, Thursday 9 April 11.00am and 2.00pm 1532 Performing Arts Centre, Bristol Grammar School, Elton Road, BS3 1SJ

1532 is hosting Stella and the Star Shiners during the Easter holidays and is offering a 20% discount for any parents of children at BEP schools.

In a secret place at the top of everything stands the tallest mountain in the world. On the peak of the mountain sits a tiny little village. In the centre of the village leans the tallest ladder in the world. At the bottom of the ladder is Stella. Stella is afraid of heights. With their celebrated brand of puppetry, live music and dazzling storytelling, join Open Attic Company as they make unexpected new friends and reach for the stars at the 'Greatest Ever Star Shiner Competition… EVER!'. Stella has been ignored for too long and she's determined to show the other villagers that she can shine a star as well as anyone. All she has to do is climb that ladder…from top to bottom. This is a tale about bravery and overcoming the things that stop us from really looking up. Could this finally be Stella's time to shine…?

Age Recommendation 4+, under 1's go free. To access the Bristol Education Partnership parents' discount follow the link below, book the number of tickets required, then log on if you have booked tickets with 1532 before, or set up an account: the next page will have promo code box: type BSPP into this box to gain discount.
To book tickets, follow the link here.

Year 12 Higher Ed Evening - 8 June 2020, 18.30pm Redmaids' High School, Westbury Rd, Bristol BS9 3AW

An information evening for students in Year 11 and above about higher education options. Students may attend unaccompanied, but names should be advised in advance.
Please book places with Alice England: a_england@redmaidshigh.co.uk

IB Diploma Evening, Monday 15 June 2020, 19.00pm Redmaids' High School, Westbury Rd, Bristol BS9 3AW

An information evening for students in Years 9 and 10 and their parents to find out about the International Baccalaureate. Students may attend unaccompanied, but names to be advised in advance.
Please contact Alice England to book places: a_england@redmaidshigh.co.uk

Word of the week
Each week at Cotham we promote a Word of the Week. This is to help students expand the range of vocabulary they use. Please find the word for the week ahead by clicking here.

Online Safety Newsletter- February Edition
Please click here to view this month's online safety newsletter.
Please click here to view an online Safety booklet which includes an overview of key parental controls.

Cyberbullying Guide
An online organisation called HomeGuides has developed guidance to help children, parents and teachers to understand what cyberbullying is and what can be done about it. Download the guide here.


Subject Area News

Physical Education (PE)
Fixtures week commencing 10 February

Tuesday 11 February - Years 7, 8 & 9 Football vs St Bedes (a)

Wednesday 12 February - Years 10 & 11 Football vs St Bedes at Stoke Lodge


Parental Consent for Sports Fixtures 2019- 2020

Please complete the parental consent form which can be found here and return to school as soon as possible if your child is taking part in school fixtures this year. Once on file we can then select your child for these fixtures and we will confirm by email or text the details nearer the date that these are taking place.

Extra-Curricular Clubs

Please click here for a list of all of the PE/Sports Extra-Curricular activities available to students in Term 3.

Follow @CothamPE on Twitter for all the latest news and updates from the Cotham School PE department

Visual Arts
Work of the Week- Environment in the style of Hundertwasser competition for Year 7 students
Please click here to view the work of the week for Visual Arts. The work this week is a selection of entries from a competition run in Visual Arts open to Year 7 students. Students had to create a poster about the Environment in the style of Hundertwasser - the artist they've been studying this term. We had some amazing submissions!


Key Stage 4 News

Year 10 Work Experience Monday 29 June - Friday 3 July 2020
Any student wishing to undertake a WEX placement outside of Bristol must return their completed WEX form by Friday 7 February.

All students who intend to take up a WEX placement within Bristol should now be submitting applications to organisations/ businesses. Placements are competitive and we encourage students to do this sooner rather than later. The final deadline to return forms for in-Bristol placements is Friday 3 April.
All Year 10 students are expected to organise a work experience placement.

Any students who require additional support can drop in to see Ms Dutton, Work Experience Coordinator, on Monday, Tuesday or Wednesday lunchtimes.

A copy of the work experience letter can be found here.
A copy of the WEX form can be found here. This form must be completed and returned for a placement to go ahead.

Year 11

Year 11 Mock Exams

Year 11 have completed their mock exams and have started to receive their mock exam results.
All students will be given very clear feedback about their areas of strength and weakness in each of their mock exams.
This will allow them to create a plan so that they can work on any areas of weakness identified by the mock exam.
We are encouraging all of our students to think carefully about how they will add 10 / 15 / 20 raw marks to their mock exam result. 20 Raw Marks will often be enough to move a student from their current grade to the next grade. With this in mind we are encouraging all of our students to use the attached Challenge Plan to structure their revision around the feedback given to them.

It is important that all of our students are using the February Revision week break to consolidate their learning and address their areas of weakness.

If you are worried that your child is not revising enough at home then the following may be helpful resources:
Support your child in preparing a summer exam preparation schedule so that they complete revision tasks - a template revision schedule can be found here
Ensure that all homework assignments are completed
Ensure your child has revision guides that can help to support their learning - a list of these is enclosed and attached here along with details of useful revision websites for each subject
Read and discuss the Examination Command Words document attached here with your child
See the Top Tips for Parents sheet attached here which contains useful reminders about 'what to do' and 'what not to do'
The Year 11 January mock exams can be accessed here. There is value in students re-completing these and demonstrating that they can recall knowledge previously assessed, and act on feedback already given to them to improve their original raw mark. Our school challenge is for all students to increase their recent mock exam result by 10 or 15 or 20 marks over the February Revision week break.
Use the Subject 'to do' sheets which highlight the type of acts that students should be completing as part of their revision.
Academic Monitoring Reports will be sent home in the week commencing 24 February. However all students will know their mock exam grade now so please do ask them about their grades and marks and plans for revision.

Thank you to those parents that attended the Parent Post Mock Information Session this week. The presentation contains lots of useful links to many of the resources designed to support Year 11 students with their revision.

GCSE Provisional Examination Timetable Summer 2020
Please find the provisional summer exam timetable here. Please note that all students must be available up to Wednesday 24 June 2020 to complete any GCSE exam that may need to be cancelled as a result of national emergency or disaster.

Year 11 Prom Date
The group of parents who are kindly arranging the Year 11 Prom have set a date. It will be held on Thursday 25 June 2020. Further details to follow.


Post 16 News

This week we held a women in STEM event. Students were invited to meet employers, organisations and individuals to ask questions and gain a valuable insight into the opportunities for women in STEM careers. The event was a great success and it was good to see so many students attend and engage with the STEM staff. Thank you to Ms Skinner for organising this.
Year 12

Work Experience
Year 12 work experience will take place this year between 29 June - 1 July and is compulsory for all Year 12 students. Please encourage students to start seeking placements as soon as possible. If any student in Year 12 has already completed a work experience placement or is planning to do so prior to the 29 June please let Ms Beaver know so she can see if this can be counted as your compulsory work experience. This week students have been encouraged to sign up to Spring Pod which is an excellent resource showing vacancies for work experience and providing support for students with the application process.

Year 13

Year 13 Exam timetable
A reminder that the Year 13 exam timetable is available on the Post 16 website. Just to highlight that sometimes exam times and dates change so please be aware of this when booking holidays. Please also be aware that the 24 June is an exam contingency day so this needs to be kept free.

Parents' Evening- Thursday 13 February 4.30pm - 7pm
The Year 13 parents' evening is on Thursday 13 February between 4.30pm - 7pm and will take place at Cotham school.

UCAS Applications
Congratulations to all the Year 13 students who have completed their UCAS applications. Please contact Marie Beaver if anyone requires help in managing their offers or still wishes to apply for university.

Student Wellbeing

We take your child's wellbeing very seriously - we have many avenues of support available. Further information can be found via this link.

Creative Youth Network
Creative Youth Network also offers a lot of support and one to one therapy - please ask your child to see Mrs Beaver for more information a link to their website can be found here.

Off the Record (OTR)
OTR are offering weekly Resilience Lab drop in sessions on Perry Road there is no waiting list and all students are very welcome. More information can be found here.
Careers

A reminder that Ms Paice is available every Wednesday in G402 at Charnwood to meet students and all Year 12 students should have signed up to SpringPod which is a work experience platform.

Here is the link to our Careers Bulletin which is updated weekly.

Staff Vacancies

Cotham School are currently recruiting new members of staff to work with us at the school. We are currently looking to hire an Assistant Headteacher, a Faculty Leader- Modern Foreign Languages and a Learning Support Assistant.

For more information about school roles please click here.

Student Careers Update

Apprenticeships
City of Bristol College Apprenticeship Bulletin and South West Apprenticeship Company have apprenticeship vacancies here and here.

Other apprenticeships can be found through the Gov website here, Target Careers, Success at School , Get My First Job and Not Going to Uni.


Saturday jobs
Students looking for Saturday jobs can find good advice through this website

Please keep your eyes on the Careers section of the website for updates.

Community News

Redland Library events – February 2020
The Friends of Redland Library are a voluntary group set up to support Redland Library, helping to sustain and improve its service, and also connecting it with the local and wider community. Redland Library is situated on Whiteladies Road, close to Clifton Down train station. They have organised an event on archaeology, plus a book launch both happening in February.

Click here to see further information about their 'Books That Made Me An Archaeologist' event where four local archaeologists talk about the books that have influenced their life journey.

Click here for further information about their 'Jane Shemilt introduces 'Little Friends' event.


HappyMaps Website- Providing resources for Parents and Carers around Children's mental health
HappyMaps is a website providing a one stop shop of resources around children's mental health from babies to young adults and includes websites, videos, books, Apps and links to ways to find counselling and other support. The website was funded by NHS England with input from specialist services (CAMHS) and local charities and is supported by Bristol Mind. Please click here to view the website.

Useful quick links

Key Dates
Please click here to view the Key Dates by year group for the 2019-20 academic year. You will be notified of any significant changes/additions, but please can we ask that you check the dates for your year group regularly as they are subject to change.

Parents' Evening Booking System (PES)
Please click here to access the online appointment booking system for Parents Evenings/Family Consultation Day. Please note this is only available if an event is due. We will email you to let you know when booking opens. If you encounter any difficulties with booking your appointments please contact the admin team by email to adminoffice@cotham.bristol.sch.uk or tel: 0117 919 8000

Assessment Calendars for KS3
We have created Assessment Calendars for 2019/20. Each Assessment Calendar contains details of the class assessments that will take place in their subjects. The final column contains a link which gives information about each of the assessments.
To see the Year 7 Assessment Calendar click here
To see the Year 8 Assessment Calendar click here
To see the Year 9 Assessment Calendar click here
To see the Year 10 Assessment Calendar click here
To see the Year 11 Assessment Calendar click here

Parents Information Sessions
KS3 Parent Information Session 3 October 2019 - click here
Year 10 Parent Information Session 7 November 2019 - click here
Year 11 Parent Information Session 14 November 2019 - click here

Homework and Independent Learning timetables
Please see the attached link describing our Homework Guidelines for students in the school.
In KS3 we do not have homework timetables.
Homework and Independent Learning Timetable for Year 10
Homework and Independent Learning Timetable for Year 11

GCSEpod
Click here to access GCSEpod which contains lots of revision resources for most GCSEs. Students self register through the website using their name and school details.

Diagnostic Questions
Click here to access. This site contains self marking quizzes with lots of templates including some from a range of exam boards. It's easy to make your own questions in Microsoft PowerPoint too. Students sign up with their school Google account using the G+ button to automatically create a school account

Edmodo
Edmodo is an application that can be used on both mobile devices and in the web environment to create an online community of practice. Edmodo is a free social learning platform that allows students to access the course content uploaded by their teachers.
https://www.edmodo.com/

Seneca
All students and teachers now have free access to Seneca - a revision and homework platform making studying more fun. Seneca is an interactive way to learn official course content. Their web app covers 150+ exam board specific courses condensing what students need to know for their exams. The software is able to identify gaps in learning. For instance, when you get a question wrong, the platform will repeat the topic in different formats and their smart algorithm has proven to make students remember topics 2x faster. Seneca is totally free for students, teachers and parents. You can sign up via senecalearning.com

WisePay
WisePay is the Online Payment Service at Cotham School which allows you to pay for trips and visits as well as to add credit to your child's Cashless Catering account. Click here to access your account now. If you have any queries about your account please contact the support team by email to wisepay@cotham.bristol.sch.uk

School Uniform
Please click here to view the compulsory uniform requirements of Cotham School, along with visual examples of uniform and details of our uniform suppliers.

Contact Details
Please note the following contact numbers and email addresses if you need to contact the school:

Main Reception - 0117 919 8000/ reception@cotham.bristol.sch.uk
Student Reception - 0117 919 8013 / studentreception@cotham.bristol.sch.uk
Absence - 0117 919 8019/ absence@cotham.bristol.sch.uk
NBP16C - 0117 919 8100/ post16@cotham.bristol.sch.uk
Finance - 0117 919 8016/ finance@cotham.bristol.sch.uk
Exams - 0117 919 8024/ exams@cotham.bristol.sch.uk
Admin Office - 01179198053/ adminoffice@cotham.bristol.sch.uk
Library- library@cotham.bristol.sch.uk