Weekly Mailing - Monday 2 March 2020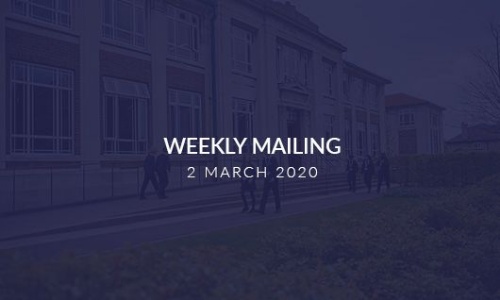 Dear Parents and Carers

Please find below this week's important information for Parents/Carers and students as well as updates on School events, activities and opportunities for your reference. Thank you again for your understanding over the difficult decision to close the school last Friday and once again please accept our apologies for any inconvenience this caused you.

Ms Jo Butler
Headteacher

Good News

Greenpeace assemblies
On Thursday all students received an inspiring and sobering assembly from Richard Lancaster (Greenpeace Bristol) on the devastating effects of climate change. We used the assembly to launch our new lunchtime club, Green Team (name tbc), to be run by Miss Hennessey (Maths teacher) and Mr Bays (Humanities teacher) which 42 students signed up for at the end of the day! They will work closely with our Sigma House climate committee to even further develop the great environmental work that our students already do.

We are officially an Eco School!
This week we became the 20,000th Eco School in Britain a project run by the Keep Britain Tidy organisation. The organisation said "listening to all the great work that your staff and students do already with environmental issues makes us feel happy and excited that you are the 20,000th Eco School. We look forward to publicising this for you nationally and internationally."

On Friday, Ms Leong (Deputy Headteacher) and two of our students nominated for the Bristol Young Heroes Awards for the environmental heroes category, Elvey (Yr8) and Oscar (Yr9), met with the directors of Keep Britain Tidy to talk about the environmental work of the school and of our two young hero nominees.
We look forward to evidencing all the work of our amazing students and staff, particularly Sigma House students and Mrs Arnold (Head of Sigma House), to obtain our first green flag for our Eco School status. Watch this space for further national and international press coverage as we share the environmental work of our fantastic and passionate students and staff with the world!

BBC Radio Bristol Interview - Well done Elvey!
One of our nominees for the Bristol Young Heroes Award under the environmental heroes category, Elvey (Yr8), was interviewed by BBC Radio Bristol last week following an online film that they made of him in May last year. Some years ago, Elvey recognised the damage and destruction that plastics can have on our planet and decided to take steps to make a difference: he picks up litter around the Harbourside, knowing the harm that it does to our oceans, and has inspired others to do the same. He says that people who stop him always say thank you and that spurs on his wonderful efforts.

Since BBC Bristol aired the film of Elvey on BBC Bristol and BBC Earth, Elvey has teamed up with Bristol
Waste on Hubbub's special 'plastic fishing' trip around the harbour on 'The Poly Roger'. Elvey also made a successful application in the Action for Conservation competition, although regrettably he couldn't use the prize of a holiday. Elvey says he is now planning to partner with UWE design students, to help him create a design for raising awareness of how to be a better recycler. We're very proud of you Elvey!

Positive Feedback
This morning, we were very pleased to receive the following feedback on the school's Open Evening event.

"I just wanted to say a big thank you for the wonderful open day you put on last year.
We went to many of the Bristol school open days but your school was hands down the best open day we attended. We were shown round by two of your pupils who were very informative and friendly and really made an effort to make our visit a happy and fun experience.
Having some of the children talk in the speech part of the visit was also a lovely touch, this unfortunately wasn't duplicated at any of the other schools visited.
Anyway I just wanted to pass on a big thanks, it is a daunting experience applying for secondary schools and you definitely made it a lovely experience."

House Events for Everyone
Charity Swimathon- open to all students - Sunday 8 March 9.30am - 10.30am Clifton High Swimming Pool. We have three lanes booked. Be sponsored to Swim. Your lengths are counted. It is not a race, you can swim at your own pace. It is great fun, raising money for The Rainbow Centre for Children which is part of Grief encounter. More information can be found here, please email student names to Mrs Arnold- arnoldl@cotham.bristol.sch.uk if they are interested in taking part. If you would like to donate for the event please do so via our Just Giving page here.

Sigma House News
Thank you to everyone who supported our recent fundraising charity events. The Valentine cookie sale and Pancake fun. We raised over an amazing £100 for our charity.

The Prefects worked hard and baked over 90 heart shortbread cookies. Thank you to the School kitchen and The local Coop who also donated cookies to us

Pancake fun - As well as treating themselves to tasty pancakes - students had the chance to flip as many pancakes as they could in 30 seconds, congratulations to Rayyan who managed to flip an amazing 40 times.

Student Achievements - congratulations Fiontan!
Fiontan Firth-Williams trains twice a week with Bristol Bears Rugby in their elite player development group and was selected during half term to play for Bristol Bears u15s V Worcester Warriors u15s academy. He also was selected by Bristol Schools RFU in their game against Cornish Pirates academy. Well done Fiontan, we're very proud of you!

Bristol's first Learning Festival
Bristol's first ever Learning Festival is set to launch with over 200 free learning activities taking place across the city, for people from all backgrounds, ages and abilities. Over 60 organisations will come together to share the joy of learning, encourage people to try something new, and, most importantly, have fun.

A range of events, activities, skills sessions and workshops will be available throughout the week including crime scene – fingerprinting, equine experiences and laughter yoga.

Come along to Underfall Yard, Cumberland Road, BS1 6XG on Monday 30 March between 11am and 2pm for the launch of the festival and to see what's on offer!

Learning Festival is taking place from 30 March to 5 April 2020 at various venues across Bristol.

Find out more and view the full festival programme at: https://www.bristollearningcity.com/events
@BristolLearning #LearningFestival2020 #LoveLearning

Pay it Forward Campaign - Easyfundraising
Thank you to all those that registered with Easyfundraising, I hope that you found the process easy. We did really well with the big push to get as many people registered before the end of last term. 29 people registered and each and everyone has raised money for the campaign. Lets keep registering to hit the 50 mark and beyond as soon as possible .

What is Easyfundraising?
When you shop with the 4,000 retailers registered with Easyfundraising, each retailer pays the school a small donation to say 'thank you'. The donation is sent to the school with no cost or deduction.

This is a simple and free way to help us with our campaign! Please remember anyone can register, friends and family. Help us and register today!

For more information or to sign up please click here.

Pay it Forward Campaign- What is it?
Pay it Forward' is an international movement which promotes the undertaking of random (or not so random) acts of kindness. Using the ethos of 'Pay it Forward', the Governors and I felt that this was exactly the sort of campaign that we wanted to launch.

Thank you so much to our parents, carers, students, staff and supporters who to date have supported the 'Pay it Forward Campaign' launched in July. We have got off to a really good start and have received generous donations of pre-loved uniform and equipment, books, GCSE and A Level Revision Guides, pledges from volunteers who want to help with maths, music lessons, science and grant applications; and monetary gifts of £10,800.00.

It's really easy to donate, to make a single donation, all you need to do is click here. For those that would like to make a regular donation, please set up a payment with your bank. Our details are: Lloyds Bank plc Sort code: 309483 Account number: 41658468.

Keep us posted
It would be great if parents/carers could let the school know of any student achievements outside of school. It is sometimes only at parents' evenings that we find out what students are doing in their own time. Email us: weeklymailing@cotham.bristol.sch.uk


Important Information for Parents/Carers

World Book Day Thursday 5 March
Thursday 5 March is World Book Day and students are being invited to dress as book characters in exchange for £1 for Book Aid International.

National Online Safety- From Online Gaming to Online Gambling: Recognising the Signs
Gaming disorder is now a recognised medical condition as recognised by the World Health Organisation (WHO). There are a number of facets associated with an online gaming addiction however one that has attracted a lot of attention is how it may encourage gambling habits in children. That's why we've partnered with gambling charity, GamFam, to shed a bit more light on the links between online gaming and online gambling.

Click here for more information from National Online Safety.

Extra- Curricular Activities Term 4
A current list of extra-curricular activities available can be found here.

Places remaining on the 2021 Easter ski trip to Vallnord, Andorra Saturday 3 April to Saturday 10 April 2021
There are still some places remaining on the 2021 Ski trip, if your child is interested in going please ask them to speak to Mr Collin.

Word of the week
Each week at Cotham we promote a Word of the Week. This is to help students expand the range of vocabulary they use. Please find the word for the week by clicking here.

Online Safety Newsletter- March Edition
Please click here to view this month's online safety newsletter.
Please click here to view an online Safety booklet which includes an overview of key parental controls.

Cyberbullying Guide
An online organisation called HomeGuides has developed guidance to help children, parents and teachers to understand what cyberbullying is and what can be done about it. Download the guide here.

Subject Area News

Physical Education (PE)
Fixtures week commencing 2 March 2020

Monday 2 March - Year 9 vs Oasis Brightstowe (a)

Tuesday 3 March - Year 7 and 11 vs Blaise High (a)
Year 10 vs Castle School (a)

Wednesday 4 March - Year 8 vs Blaise High (a)


Parental Consent for Sports Fixtures 2019- 2020

Please complete the parental consent form which can be found here and return to school as soon as possible if your child is taking part in school fixtures this year. Once on file we can then select your child for these fixtures and we will confirm by email or text the details nearer the date that these are taking place.

Extra-Curricular Clubs

Please click here for a list of all of the PE/Sports Extra-Curricular activities available to students in Term 4.

Follow @CothamPE on Twitter for all the latest news and updates from the Cotham School PE department

Key Stage 3 News

Year 7 Parents' Evening - Tuesday 10 March 4.00pm - 6.30pm
This is an opportunity for you to meet with your child's subject teachers to review their progress and discuss their learning.

Booking opens on Monday 17 February at 6am.

Please click here to access the online appointment booking system. If you encounter any difficulties with booking your appointments please contact the admin team by email at adminoffice@cotham.bristol.sch.uk or tel: 0117 919 8000.


Key Stage 4 News

Year 10 Work Experience Monday 29 June - Friday 3 July 2020
Students should now be finalising their Work Experience placements. The final deadline to return completed WEX forms is Friday 3 April.

All Year 10 students are expected to organise a work experience placement.

Any students who require additional support can drop in to see Ms Dutton, Work Experience Coordinator, on Monday, Tuesday or Wednesday lunchtimes.

A copy of the work experience letter can be found here.
A copy of the WEX form can be found here. This form must be completed and returned for a placement to go ahead.

Year 11
North Bristol NHS, Southmead Hospital. Pathways into Medicine Conference for Year 11 Pupils
On Friday 26 June 2020 North Bristol NHS will be holding a one-day conference at Southmead Hospital, to which they invite all pupils who have a genuine interest in studying medicine. They will be discussing the varied work of doctors, the practicalities of applying to medical school, how doctors are trained, and hearing from doctors in different branches of medicine and at different stages of their training.

There is a registration fee of £10 to cover administrative expenses, lunch, and refreshments. There are around 120 places which will be allocated on a first come, first served basis. Registration forms should be returned by Friday 5 June at the latest.

Please ask Ms Paice, Careers Adviser, for a copy of the form - which does ask students to be expecting to achieve 8 GCSEs at grade 7/8/9.

Year 11 Exam Preparation
If you are worried that your child is not revising enough at home then the following may be helpful resources:
Support your child in preparing a summer exam preparation schedule so that they complete revision tasks - a template revision schedule can be found here
Ensure that all homework assignments are completed
Ensure your child has revision guides that can help to support their learning - a list of these is enclosed and attached here along with details of useful revision websites for each subject
Read and discuss the Examination Command Words document attached here with your child
See the Top Tips for Parents sheet attached here which contains useful reminders about 'what to do' and 'what not to do'
The Year 11 January mock exams can be accessed here. There is value in students re-completing these and demonstrating that they can recall knowledge previously assessed, and act on feedback already given to them to improve their original raw mark. Our school challenge is for all students to increase their recent mock exam result by 10 or 15 or 20 marks over the February Revision week break.
Use the Subject 'to do' sheets which highlight the type of acts that students should be completing as part of their revision.
Academic Monitoring Reports will be sent home in the week commencing 24 February. However all students will know their mock exam grade now so please do ask them about their grades and marks and plans for revision.

Thank you to those parents that attended the Parent Post Mock Information Session this week. The presentation contains lots of useful links to many of the resources designed to support Year 11 students with their revision.

GCSE Provisional Examination Timetable Summer 2020
Please find the provisional summer exam timetable here. Please note that all students must be available up to Wednesday 24 June 2020 to complete any GCSE exam that may need to be cancelled as a result of national emergency or disaster.

Year 11 Prom Date
The group of parents who are kindly arranging the Year 11 Prom have set a date. It will be held on Thursday 25 June 2020. Further details to follow.

Post 16 News

Year 12 parents evening is on Thursday 26 March between 4.30pm - 7pm at Redland Green School
Summer exam timetables are now available from Charnwood reception. Timetables are for Year 12 students who are sitting formal BTEC exams and Year 13 students. Please encourage students to check through these and talk to their tutors if there are any issues with them.


Year 12

Work Experience

Year 12 work experience will take place this year between 29 June - 1 July and is compulsory for all Year 12 students. Please encourage students to start seeking placements as soon as possible. If any student in Year 12 has already completed a work experience placement or is planning to do so prior to the 29 June please let Ms Beaver know so she can see if this can be counted as compulsory work experience. All students have access to 'Springpod' which shows work experience vacancies and helpful tips for securing placements.

The Oxbridge conference in Birmingham- Tuesday 24 March

The parents/carers of Year 12 students who have asked to attend will have received a permission slip and payment details. Please can these be completed as soon as possible to confirm the booking

Year 13

Year 13 Exam timetable

A reminder that the Year 13 exam timetable is available here. Please also be aware that the 24 June is an exam contingency day so this needs to be kept free.

UCAS Applications

Congratulations to all the Year 13 students who have completed their UCAS applications. Please contact Marie Beaver if anyone requires help in managing their offers or still wishes to apply for university. UCAS extra is now open for any students who have not received any offers. This will allow them to make an additional choice.

Student Wellbeing

We take your child's wellbeing very seriously - we have many avenues of support available. Further information can be found via this link.

Creative Youth Network

Creative Youth Network also offers a lot of support and one to one therapy - please ask your child to see Mrs Beaver for more information a link to their website can be found here.

Off the Record (OTR)

OTR are offering weekly Resilience Lab drop in sessions on Perry Road there is no waiting list and all students are very welcome. More information can be found here.

Careers

A reminder that Ms Paice is available every Wednesday in G402 at Charnwood to meet students and all Year 12 students should have signed up to SpringPod which is a work experience platform.

Here is the link to our Careers Bulletin which is updated weekly.

Staff Vacancies

Cotham School are currently recruiting new members of staff to work with us at the school. We are currently looking to hire a Teacher of Maths and Form Tutor and a Learning Support Assistant.

For more information about school roles please click here.

Student Careers Update

Monthly "Pop up Shop"
Our monthly "Pop up shop" saw The Royal Navy and https://babbasa.com/ visit Cotham HUB at lunchtime to chat to interested students about opportunities and careers.

ASK Amazing Apprenticeships
Please click here to view the latest Newsletter from ASK Amazing Apprenticeships, including the February Parents pack, The Apprenticeship A-Z of Women at Work and the The Secret Career Quiz.


NCSC Trailblazer and Adventurers

The National Cyber Security Centre (NCSC) provides free short courses designed to introduce the younger generation to the world of cyber security.

There are two courses taking place at UWE, Bristol on Saturday 28 March. Each lasts for 3 ½ hours. All young people are invited to attend. Parents and carers are welcome to accompany them.

Trailblazers (9am - 12.30pm). This event is for students in Year 8

Adventurers (1.30pm – 5pm). This event is for students in Year 9

Both events are free to attend. Further details can also be found here.

Registration

Trailblazers – Year 8 morning session (9am – 12.30pm)

Adventurers – Year 9 afternoon session (1.30pm – 5pm)


Energus Cyber Security Apprenticeships Available in Bristol
Energus are inviting people to apply for their Cyber Security Apprenticeships. These positions are available in Bristol, Cumbria and Oxford.

Entry requirements for this Cyber Security Level 4 Apprenticeship include at least five GCSEs grades A – C (9 – 4) and Level 3 qualifications, including A-levels, NVQ/SVQ Level 3 or a BTEC National – ideally in IT, Cyber Security, STEM (Science, Technology, Engineering or Mathematics) or other relevant subject.

The deadline for Bristol applications is Friday 1 May.

For further details click here.

Apprenticeships
City of Bristol College Apprenticeship Bulletin and South West Apprenticeship Company have apprenticeship vacancies here and here.

Other apprenticeships can be found through the Gov website here, Target Careers, Success at School , Get My First Job and Not Going to Uni.

Saturday jobs
Students looking for Saturday jobs can find good advice through this website

Please keep your eyes on the Careers section of the website for updates.

Bristol Education Partnership Events

Inspiring Evenings Lecture Series, Badminton School, Westbury Road, Westbury-on-Trym, Bristol BS9 3BA
Badminton School is hosting evening events as follows:
5 March 2020 - Special 'Pecha Kucha' evening
Events take place on a Thursday evening at 5.00pm in the Peace Memorial Hall.
To book tickets please contact: nabishop@badmintonschool.co.uk

Astronomy Evening, Wednesday 11 March, 6.00pm - 8.30pm, Redmaids' High School, Westbury Rd, Bristol BS9 3AW
An evening of moon gazing and astronomical activities for teachers and students. Please note that any students attending will need to be accompanied by an adult, and that places are limited to 5 students per school (due to the size of the telescope).
Please contact Miss McDonagh to book places.

French Hub for A Level students Wednesday 18 March 2020, 4.15pm-5.30pm, Badminton School, Westbury Rd, BS9 3BA
For students interested in studying French at university and pursuing their interest in languages beyond the classroom, this is an opportunity to meet up with other A Level students from schools in Bristol to enhance their knowledge. There will be a variety of activities such as discussing current affairs, reviewing films, reading short stories, perhaps some poetry. These hub events are not just to tick another box in the UCAS process, but to provide something extra for those who love the subject. Sixth form students are invited to come and spend time with like-minded linguists - with some tea and cake.
For further details please contact Natasha Walton: nwalton@badmintonschool.co.uk

Festival of Care, Thursday 19 March 2020, City Hall, College Green, BS1 5TR
This event is being organised to celebrate careers in care across the region. Students are invited to come along and learn about all the career options that are available across the care sector. They will be able to access job vacancies on the day, as well as attend workshops, meet employers from across the region and much more.
2020 Clifton Carnegie Contest - Invitation for entries

Students are invited to choose any book from the 2020 Carnegie shortlist (to be announced on 19 March) and to put together a 5 minute creative presentation (music/drama/dance/art/animation) on why their chosen book deserves to win the 2020 Carnegie Medal. This competition is aimed at students in Year 8 and above. The presentations will be delivered in the Redgrave Theatre, Clifton College, on 22 June. The contest will be judged by Carnegie shortlisted author Anthony McGowan who will also talk about his books. Refreshments will be provided. Please contact Miss McDonagh if your child is interested in taking part.

Easter Family Show - Stella and the Star Shiners, Thursday 9 April 11.00am and 2.00pm 1532 Performing Arts Centre, Bristol Grammar School, Elton Road, BS3 1SJ

1532 is hosting Stella and the Star Shiners during the Easter holidays and is offering a 20% discount for any parents of children at BEP schools.

In a secret place at the top of everything stands the tallest mountain in the world. On the peak of the mountain sits a tiny little village. In the centre of the village leans the tallest ladder in the world. At the bottom of the ladder is Stella. Stella is afraid of heights. With their celebrated brand of puppetry, live music and dazzling storytelling, join Open Attic Company as they make unexpected new friends and reach for the stars at the 'Greatest Ever Star Shiner Competition… EVER!'. Stella has been ignored for too long and she's determined to show the other villagers that she can shine a star as well as anyone. All she has to do is climb that ladder…from top to bottom. This is a tale about bravery and overcoming the things that stop us from really looking up. Could this finally be Stella's time to shine…?

Age Recommendation 4+, under 1's go free. To access the Bristol Education Partnership parents' discount follow the link below, book the number of tickets required, then log on if you have booked tickets with 1532 before, or set up an account: the next page will have promo code box: type BSPP into this box to gain discount.
To book tickets, follow the link here.

Year 12 Higher Ed Evening - 8 June 2020, 18.30pm Redmaids' High School, Westbury Rd, Bristol BS9 3AW
An information evening for students in Year 11 and above about higher education options. Students may attend unaccompanied, but names should be advised in advance.
Please book places with Alice England: a_england@redmaidshigh.co.uk

IB Diploma Evening, Monday 15 June 2020, 19.00pm Redmaids' High School, Westbury Rd, Bristol BS9 3AW
An information evening for students in Years 9 and 10 and their parents to find out about the International Baccalaureate. Students may attend unaccompanied, but names to be advised in advance.
Please contact Alice England to book places: a_england@redmaidshigh.co.uk

Community News

HappyMaps Website- Providing resources for Parents and Carers around Children's mental health
HappyMaps is a website providing a one stop shop of resources around children's mental health from babies to young adults and includes websites, videos, books, Apps and links to ways to find counselling and other support. The website was funded by NHS England with input from specialist services (CAMHS) and local charities and is supported by Bristol Mind. Please click here to view the website.

Useful quick links

Key Dates
Please click here to view the Key Dates by year group for the 2019-20 academic year. You will be notified of any significant changes/additions, but please can we ask that you check the dates for your year group regularly as they are subject to change.

Parents' Evening Booking System (PES)
Please click here to access the online appointment booking system for Parents Evenings/Family Consultation Day. Please note this is only available if an event is due. We will email you to let you know when booking opens. If you encounter any difficulties with booking your appointments please contact the admin team by email to adminoffice@cotham.bristol.sch.uk or tel: 0117 919 8000

Assessment Calendars for KS3
We have created Assessment Calendars for 2019/20. Each Assessment Calendar contains details of the class assessments that will take place in their subjects. The final column contains a link which gives information about each of the assessments.
To see the Year 7 Assessment Calendar click here
To see the Year 8 Assessment Calendar click here
To see the Year 9 Assessment Calendar click here
To see the Year 10 Assessment Calendar click here
To see the Year 11 Assessment Calendar click here

Parents Information Sessions
KS3 Parent Information Session 3 October 2019 - click here
Year 10 Parent Information Session 7 November 2019 - click here
Year 11 Parent Information Session 14 November 2019 - click here

Homework and Independent Learning timetables
Please see the attached link describing our Homework Guidelines for students in the school.
In KS3 we do not have homework timetables.
Homework and Independent Learning Timetable for Year 10
Homework and Independent Learning Timetable for Year 11

GCSEpod
Click here to access GCSEpod which contains lots of revision resources for most GCSEs. Students self register through the website using their name and school details.

Diagnostic Questions
Click here to access. This site contains self marking quizzes with lots of templates including some from a range of exam boards. It's easy to make your own questions in Microsoft PowerPoint too. Students sign up with their school Google account using the G+ button to automatically create a school account

Edmodo
Edmodo is an application that can be used on both mobile devices and in the web environment to create an online community of practice. Edmodo is a free social learning platform that allows students to access the course content uploaded by their teachers.
https://www.edmodo.com/

Seneca
All students and teachers now have free access to Seneca - a revision and homework platform making studying more fun. Seneca is an interactive way to learn official course content. Their web app covers 150+ exam board specific courses condensing what students need to know for their exams. The software is able to identify gaps in learning. For instance, when you get a question wrong, the platform will repeat the topic in different formats and their smart algorithm has proven to make students remember topics 2x faster. Seneca is totally free for students, teachers and parents. You can sign up via senecalearning.com

WisePay
WisePay is the Online Payment Service at Cotham School which allows you to pay for trips and visits as well as to add credit to your child's Cashless Catering account. Click here to access your account now. If you have any queries about your account please contact the support team by email to wisepay@cotham.bristol.sch.uk

School Uniform
Please click here to view the compulsory uniform requirements of Cotham School, along with visual examples of uniform and details of our uniform suppliers.

Contact Details
Please note the following contact numbers and email addresses if you need to contact the school:

Main Reception - 0117 919 8000/ reception@cotham.bristol.sch.uk
Student Reception - 0117 919 8013 / studentreception@cotham.bristol.sch.uk
Absence - 0117 919 8019/ absence@cotham.bristol.sch.uk
NBP16C - 0117 919 8100/ post16@cotham.bristol.sch.uk
Finance - 0117 919 8016/ finance@cotham.bristol.sch.uk
Exams - 0117 919 8024/ exams@cotham.bristol.sch.uk
Admin Office - 01179198053/ adminoffice@cotham.bristol.sch.uk
Library- library@cotham.bristol.sch.uk