Weekly Mailing - Friday 20 March 2020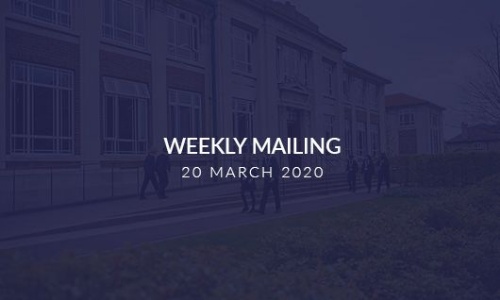 Dear Parents and Carers

Today I had the absolute pleasure of seeing our wonderful Year 11 students celebrating their time at Cotham with as many staff as could possibly be there with them. They did it in style and with a bang! There were tears, yes, but also the sharing of five years of happy memories, fun times and much raucous laughter. What a spirit lifter! If nothing else, this week has made me realise just how privileged I am to be the headteacher of this school and how proud I am of all of our students and staff.

In future weeks and months I will do my best to keep you regularly updated as developments occur during this unprecedented time of school closures.

Thank you for your continued messages of support.

Take care and I wish you a very relaxing weekend

Ms Jo Butler
Headteacher
Processes for continuing to ensure the safeguarding of our students during school closure
If you have urgent concerns about the safety of a child, First Response (Bristol Children's Services) should be your first port of call. Information on how to make a referral can be found here or by calling 0117 903 6444 (or if the offices are closed call the Emergency Duty Team on 01454 615 165). If the child is at immediate risk call the Police on 999.

To provide information to the Cotham School Safeguarding Team contact our dedicated email address: safeguarding@cotham.bristol.sch.uk

Where we have concerns about vulnerable students and families, we will aim to stay in touch with you by phone so please accept a phone call from a withheld number.

This is and will continue to be an extremely challenging time for all of us. Please stay in touch with your immediate community and family where possible and ask for help if you need it. Below are some links for places to get support:

Information can be found here about accessing universal credit/Employment and Support allowance for a loan.

Here is list of links to Mutual Aid (community support groups in Bristol by postcode area):

Bristol Community Care (via Bristol Mutual Aid)

BS1 Mutual Aid, BS2 Mutual Aid, BS3 Mutual Aid, BS4 Mutual Aid, BS5 Mutual Aid, BS6 Mutual Aid, BS7 Mutual Aid, BS8 Mutual Aid, BS9 Mutual Aid, BS10 Mutual Aid, BS11 Mutual Aid, BS13 Mutual Aid, BS14 Mutual Aid.

Support for those experiencing domestic abuse can be found here.

The Samaritans are there for you if you need someone to listen https://www.samaritans.org/ or call 116123 for free

Childline provides support online or on the phone for young people https://www.childline.org.uk/ or call 08001111

Information about Covid-19 in Somali can be found here



Good News

Inter House Photography Competition
Thank you to the students who entered the competition, we had amazing photographs and thank you to Ms King who judged the entries.

The winner of the competition was Connie in Year 7 her entry can be viewed here.

Runners up were Evie in Year 7 and Rosie in Year 8, please click here to View Evie's photograph and here for Rosie's.

All of the entries can be seen here.

Woodland Trust Green Tree Schools award
Congratulations to Sigma house who have been working towards the Woodland Trust Green Tree Schools Award. They have been awarded the Woodland Trust Silver Award for activities around school, what a great achievement.
Pay it Forward Campaign - Easyfundraising
Good News, we have hit the 46 supporters mark and these supporters have raised £250.00 to date for Cotham School through their shopping activities. Thank you for your support, it's much appreciated.

It's very easy to register, new people are registering all the time, let's make the last big push to have 50 supporters and then aim beyond that, if you haven't registered yet please do.

What is Easyfundraising?
When you shop with the 4,000 retailers registered with Easyfundraising, each retailer pays the school a small donation to say 'thank you'. The donation is sent to the school with no cost or deduction. We can use this to help our students.

This is a simple and free way to help us with our campaign! Please remember anyone can register, friends and family. Help us, don't delay, register today!

For more information or to sign up please click here

Pay it Forward Campaign - An update
We are pleased to thank you for getting behind the Pay it Forward Campaign and donating so generously.

Since September we have received £11,680.00 in donations. We also are receiving a constant stream of generous donations in the form of pre-loved uniform and equipment, books, GCSE and A Level Revision Guides, office equipment and pledges from volunteers who are helping with maths, music lessons, science and grant applications.

We have been very fortunate recently to receive a box of several hundred Graphic Comics
including Batman, Star Wars and many more Comic heroes. These were donated by Henry Arnold, he had seen a collection like this in Clifton Library and wanted students at Cotham to have the opportunity to read and enjoy his comics.

These generous donations are really making a difference to our students and how we can support them in their learning journey.

If you have not heard of our campaign yet, it's not too late to get involved, this is continuing for the rest of this school year!

Pay it Forward' is an international movement which promotes the undertaking of random (or not so random) acts of kindness. Using the ethos of 'Pay it Forward', the Governors and I felt that this was exactly the sort of campaign that we wanted to launch.

Here's the many ways you can Pay it Forward today!

It's really easy to donate, to make a single donation, all you need to do is click here. For those that would like to make a regular donation, please set up a regular payment with your bank. Our details are: Lloyds Bank plc Sort code: 309483 Account number: 41658468.

To donate your pre-loved items, please call into the school, main reception, Cotham Lawn Road and if you have time to spare and would like to volunteer, please ring the main school number on 0117 919 8000 or email into info@cotham.bristol.sch.uk

Keep us posted
It would be great if parents/carers could let the school know of any student achievements outside of school. It is sometimes only at parents' evenings that we find out what students are doing in their own time. Email us: weeklymailing@cotham.bristol.sch.uk


Important Information for Parents/Carers

Cotham Parent/Carer Facebook Discussion Group for Coronavirus
The Cotham Parent Discussion Group is a Facebook group for all years set up and run for parents and carers, by parents and carers to provide a platform to talk to each other, share useful information and support each other. We have been asked to share this by parents as they said there has been some helpful and supportive chat on there regarding Coronavirus, including with a parent who is self-isolating, it may be of interest to those who may want to offer or receive help, or would be reassured by an additional support network.

This Social Media page is run by parents and carers themselves and not the school; therefore any comments shared are not official school communication and are not endorsed by the school.

Online resources from the Public Library
All Bristol Libraries are closed as of Thursday 19 March but they have a fantastic selection of online resources (you do not need to have a library card to access them). Bristol Libraries are letting people join online and use the online resources for four months so you do not need to have existing physical library cards.

To search the Libraries West catalogue click here.

Free Magazines and Newspapers

All you need is a device.

Go to: https://www.bristol.gov.uk/libraries-archives/online-newspapers-and-magazines

Free audiobooks and ebooks- these are REALLY GOOD!
Go to https://www.bristol.gov.uk/libraries-archives/library-online-resources for more information.

The public library also pays for many online resources that you can access for free including:

· Driving Theory Test software
· Over 1.5 million academic articles and papers
· International English Language Testing System (IELTS)
· Naxos: free streaming music
· Oxford Dictionary of National Biography
· Oxford English Dictionary
· Oxford Reference: over 135 reference works
· Who's Who and Who Was Who: 1897 to date
· Ancestry.com

Just follow the link and input your borrower details.

We also have lots of (paid for) resources through our own library software which you can access from home at: https://uk.accessit.online/cth05/ . Students have been sent their login information on their school email address. Please email library@cotham.bristol.sch.uk if you are unable to access this from home.

University of Bristol- ADHD in the Classroom Research Project
• Are you a young person with ADHD aged between 11 and 18?
• Are you a parent/ carer of a young person with ADHD?

The University of Bristol are looking for pupils, parents, teachers and other professionals to participate in a 90-minute workshop as part of a project to develop a pilot ADHD Teacher Toolkit.
In the workshop, they will present new research findings and then engage in an interactive practical activity to get your views into how this research can best be put into practice in the classroom.

If you are interested in taking part? Please complete this form to let them know your availability:
https://forms.gle/KxokuLuhWyJT1L6E8

For more information please contact: jennifer.norris@bristol.ac.uk

Word of the week
Each week at Cotham we promote a Word of the Week. This is to help students expand the range of vocabulary they use. Please find the word for the week after half term by clicking here.

Online Safety Newsletter- March Edition
Please click here to view this month's online safety newsletter.
Please click here to view an online Safety booklet which includes an overview of key parental controls.

Cyberbullying Guide
An online organisation called HomeGuides has developed guidance to help children, parents and teachers to understand what cyberbullying is and what can be done about it. Download the guide here.


Student Careers Update

Order your copies of APPLY 2020®
The Annual University & Careers Guide for Sixth Formers. It is a fantastic resource for students to have at home with them, and consider their future plans (and how to successfully apply to them) with parents and guardians.

The 11th edition of APPLY® has been edited and streamlined to cover everything bright, ambitious sixth formers need with the next steps on their journey; whether they choose to apply to university through UCAS, take a gap year, apply for an apprenticeship or write an absolutely outstanding CV to start employment.

HOW TO ORDER

Single copies are now available on Amazon

CONTENTS - Topics include:

Personal Statements - a 12-page, step-by-step masterclass on how to impress admissions tutors at leading universities

Apprenticeships - why they are now the respected alternative to undergraduate study in a wide range of industries

Job Applications - CV Masterclass with covering letters that shine; plus the new methods of assessment (gamification, situational judgement tests and more)

Studying Abroad - studying a degree in America, Europe, Australia or New Zealand with a piece by Harvard

Gap Years - why you might consider taking a year out after leaving school

Student Finance - an exclusive for APPLY by Martin Lewis, Money Saving Expert

You'll also find useful information on choosing a career path, interview skills, freshers' week, using university league tables, sponsored degree apprenticeships plus featured articles from the Fulbright Commission, LinkedIn, the Institute of Student Employers and Save the Student.

Apprenticeships
City of Bristol College Apprenticeship Bulletin and South West Apprenticeship Company have apprenticeship vacancies here and here.

Other apprenticeships can be found through the Gov website here, Target Careers, Success at School , Get My First Job and Not Going to Uni.


Saturday jobs
Students looking for Saturday jobs can find good advice through this website

Please keep your eyes on the Careers section of the website for updates.


Community News

HappyMaps Website- Providing resources for Parents and Carers around Children's mental health
HappyMaps is a website providing a one stop shop of resources around children's mental health from babies to young adults and includes websites, videos, books, Apps and links to ways to find counselling and other support. The website was funded by NHS England with input from specialist services (CAMHS) and local charities and is supported by Bristol Mind. Please click here to view the website.

Update from Bristol Plays Music regarding Coronavirus 
Please click here to read an update from Bristol Plays music.

Useful quick links

GCSEpod
Click here to access GCSEpod which contains lots of revision resources for most GCSEs. Students self register through the website using their name and school details.

Diagnostic Questions
Click here to access. This site contains self marking quizzes with lots of templates including some from a range of exam boards. It's easy to make your own questions in Microsoft PowerPoint too. Students sign up with their school Google account using the G+ button to automatically create a school account

Edmodo
Edmodo is an application that can be used on both mobile devices and in the web environment to create an online community of practice. Edmodo is a free social learning platform that allows students to access the course content uploaded by their teachers.
https://www.edmodo.com/

Seneca
All students and teachers now have free access to Seneca - a revision and homework platform making studying more fun. Seneca is an interactive way to learn official course content. Their web app covers 150+ exam board specific courses condensing what students need to know for their exams. The software is able to identify gaps in learning. For instance, when you get a question wrong, the platform will repeat the topic in different formats and their smart algorithm has proven to make students remember topics 2x faster. Seneca is totally free for students, teachers and parents. You can sign up via senecalearning.com

Library Access
The library system is available to access from home at https://uk.accessit.online/cth05/ . Please log in to the site to gain the full advantage of the online library resources, such as OneSearch. Please email us on library@cotham.bristol.sch.uk for your username and password.

Free School Meals
To apply or check if your child is eligible for Free School Meals please click on this link.
If you have any questions or need assistance please do not hesitate to contact Mrs Hopkins at Student Reception.

Contact Details
Please note the following contact numbers and email addresses if you need to contact the school:

Main Reception - 0117 919 8000/ reception@cotham.bristol.sch.uk
Student Reception - 0117 919 8013 / studentreception@cotham.bristol.sch.uk
Absence - 0117 919 8019/ absence@cotham.bristol.sch.uk
NBP16C - 0117 919 8100/ post16@cotham.bristol.sch.uk
Finance - 0117 919 8016/ finance@cotham.bristol.sch.uk
Exams - 0117 919 8024/ exams@cotham.bristol.sch.uk
Admin Office - 01179198053/ adminoffice@cotham.bristol.sch.uk
Library- library@cotham.bristol.sch.uk