Weekly Mailing - Tuesday 31 March 2020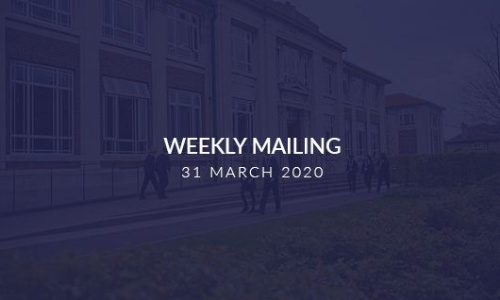 Dear Parents and Carers

As promised here is a mailing to update you and hopefully support you a little during this unprecedented time of school closures.

Many thanks for the messages of support and gratitude still coming into school staff.

Please say hello to your children from all of us at Cotham. School is a very quiet place without them all. I already miss my daily interactions with our students and the sound of their voices in the corridors and play space.

I do hope you are all keeping well.

With very best wishes,

Ms Jo Butler
Headteacher

Further important information involving the Coronavirus
Please click here to view a letter providing further important information involving the Coronavirus that we need to share with you.

Information about Covid-19 in Somali can be found here

Coronavirus specific advice
For Parents and Carers
Some excellent and simple resources to support you as parents and carers to help your child make sense of what is happening in the world now can be found from the Common Sense media organisation which aims to sift through the misinformation and overexposure of some news coverage that might be causing anxiety in some children.

Please click on the following website links, Child Mind, Mind.org, BBC News.

For Students
Young Minds
BBC Bitesize Article - keeping calm in difficult situations

Good News

Universify- Oxford University Programme- Places offered to Four Year 10 Students!!!
We are delighted to learn that four Year 10 Cotham students have been offered a place for the Universify Oxford University Programme. More information is available in the linked Flyer here.

This is a brilliant outcome as we thought the school was only entitled to two places. Our students clearly impressed the decision panel!

The successful applicants are Zara, Osian, Ahmed and Fadumo

Thank you to all for being excellent ambassadors for Cotham School. We are very proud of you all!

Cotham Students helping in the Community
We have received an email from St Matthews church informing us of some of the excellent work our students are doing to help the community at this difficult time. We are very proud of all of our students, please see an extract from their email below.

"Finally, I know that we've had the odd difficulty with school students on our streets in past months. But as we all know, it's invariably a smallish minority who cause the problems. I just wanted you to know that it's been a team of students from Cotham School (who live locally) who have been amongst those working hard to help distribute food in the area. For which our enormous thanks. Very well done!"
Keep us posted
It would be great if parents/carers could let the school know of any student achievements outside of school. It is sometimes only at parents' evenings that we find out what students are doing in their own time. Email us: weeklymailing@cotham.bristol.sch.uk

General Updates

Remote Learning Plans
Remote Learning Plans for each of the year groups can be found on the school website.
Remote Learning Plans will cover a 2 week period and will come into effect from Monday 23 March.

Cycle 1 covering the period from Monday 23 March to Friday 3 April.

Cycle 2 covering the period from Monday 20 April to Friday 1 May.

Further cycles will be produced and posted to the website as we approach the cycle date.
Each subject will create work that students should complete for each of the lessons that students will miss as a result of the school closure;
Students should follow their usual school timetable and complete the work for each lesson that they miss using the instructions provided;
The school plans to continue to produce these Remote Learning Plans in 2 week cycles throughout the period of school closure;
Instructions for each lesson and the supporting resources will be posted on Google Classroom for students to access there. The plans are intended to give parents an overview of the work being set so that they can support their children with their learning.
Any questions that students may have about the work set should be sent via Google Classroom or email to their usual class teacher so that they can respond appropriately. Staff will feedback to students individually or collectively where appropriate.
The website also contains links to these other resources which may be support:
A Home Learning Guide for Parents and carers
Parent Guides to Exam revision
A helpsheet for parents to support them in keeping their child safe online whilst they are at home
Resources targeted to parents and carers
We have created the linked document here to respond to Frequently Asked Questions (FAQs) raised by some of our parents and carers over the last two weeks with links to other agencies that can support families in different ways, such as finding employment, accessing welfare benefits, mental health support and other agencies.

General Parenting Advice and Support: Happy Maps, Young Minds

The British Dyslexia Association has scheduled a free webinar on Wednesday 1 April 7.30-8.30pm to support parents and carers in managing their child's anxiety which can be booked here.

Finally, Bristol City Council have released an information pack for parents, carers and families please see here with a large number of resources and links in one place that you may find useful during this time.

Resources to support your child's wellbeing at this time
We have set up a Google Classroom called 'Mental Health and Wellbeing' and, three times a week, are posting bitesize chunks of useful information, tools, resources and strategies to support your child with their wellbeing at this time. Your child will receive an email alert every time that something new is uploaded to this classroom but please do browse the classroom with your child as we build up our resources.

Remember that it is as important for us all to take care of our mental health as well as our physical health at this time. Here are some further tips help with this:
Avoid over exposure to social media and the news and try to fact check what you hear if you are worried
Keep to a routine
Stay in touch with other people - by phone, email, social media, video calls
Set yourself goals
Stay active
If you feel overwhelmed give yourself a break
If you're not sure what to do and can't stop worrying, grounding or mindfulness activities (like the one here, 5, 4, 3,2,1) can be really helpful.
The Anna Freud website has a great section for young people on self care which is full of ideas.

Processes for continuing to ensure the safeguarding of our students during school closure
If you have urgent concerns about the safety of a child, First Response (Bristol Children's Services) should be your first port of call. Information on how to make a referral can be found here or by calling 0117 903 6444 (or if the offices are closed call the Emergency Duty Team on 01454 615 165). If the child is at immediate risk call the Police on 999.

To provide information to the Cotham School Safeguarding Team contact our dedicated email address: safeguarding@cotham.bristol.sch.uk

Where we have concerns about vulnerable students and families, we will aim to stay in touch with you by phone so please accept a phone call from a withheld number.

This is and will continue to be an extremely challenging time for all of us. Please stay in touch with your immediate community and family where possible and ask for help if you need it. Below are some links for places to get support:

Information can be found here about accessing universal credit/Employment and Support allowance for a loan.

Here is list of links to Mutual Aid (community support groups in Bristol by postcode area):

Bristol Community Care (via Bristol Mutual Aid)
BS1 Mutual Aid, BS2 Mutual Aid, BS3 Mutual Aid, BS4 Mutual Aid, BS5 Mutual Aid, BS6 Mutual Aid, BS7 Mutual Aid, BS8 Mutual Aid, BS9 Mutual Aid, BS10 Mutual Aid, BS11 Mutual Aid, BS13 Mutual Aid, BS14 Mutual Aid.

Support for those experiencing domestic abuse can be found here.

The Samaritans are there for you if you need someone to listen https://www.samaritans.org/ or call 116123 for free

Childline provides support online or on the phone for young people https://www.childline.org.uk/ or call 08001111

The provision of Free School Meals
From Tuesday 31 March 2020, the school has arranged that all Parents and Carers whose children are entitled to receive free school meals will receive a voucher to use at a choice of one of the large supermarkets. The voucher will cover a three week period and as part of that will also cover the two weeks of the easter holidays. The voucher will be for the value of £15.00 per child per week.

We will continue to provide vouchers in three week cycles until school reopens fully for students. The first voucher due tomorrow may need to be posted to parents but if we are able to, we will email this to the most updated email address that we have on file. From then on, we will be able to email it directly to you to your email address. The vouchers should be able to be used directly from your device and there should be no need to print these vouchers to take to the supermarket.

Keeping your child safe online during social distancing and lockdown
This time at home is a good opportunity for parents and carers to do some work with your children on how they can be safe online. The National Online Safety website has made available all their easy to follow interactive resources which cover the following topics: Self Image & Identity, Online Relationships, Online Reputation, Online Bullying, Managing Online Information, Health, Well-being & Lifestyle, Privacy & Security and Copyright & Ownership. This video shows you how you can now access the resources from their website.

The Think U Know organisation are producing fortnightly activity packs that you print / use on screen to teach your child more about online safety. The first packs for 11-13 year olds and for 14+ year olds are linked but you can find appropriate packs for other ages on their website here.

Pay it Forward Campaign - Easyfundraising
Good News, we have hit the 46 supporters mark and these supporters have raised £250.00 to date for Cotham School through their shopping activities. Thank you for your support, it's much appreciated.

It's very easy to register, new people are registering all the time, let's make the last big push to have 50 supporters and then aim beyond that, if you haven't registered yet please do.

What is Easyfundraising?
When you shop with the 4,000 retailers registered with Easyfundraising, each retailer pays the school a small donation to say 'thank you'. The donation is sent to the school with no cost or deduction. We can use this to help our students.

This is a simple and free way to help us with our campaign! Please remember anyone can register, friends and family. Help us, don't delay, register today!

For more information or to sign up please click here

Pay it Forward Campaign - An update
We are pleased to thank you for getting behind the Pay it Forward Campaign and donating so generously.

Since September we have received £11,680.00 in donations. We also are receiving a constant stream of generous donations in the form of pre-loved uniform and equipment, books, GCSE and A Level Revision Guides, office equipment and pledges from volunteers who are helping with maths, music lessons, science and grant applications.

We have been very fortunate recently to receive a box of several hundred Graphic Comics
including Batman, Star Wars and many more Comic heroes. These were donated by Henry Arnold, he had seen a collection like this in Clifton Library and wanted students at Cotham to have the opportunity to read and enjoy his comics.

These generous donations are really making a difference to our students and how we can support them in their learning journey.

If you have not heard of our campaign yet, it's not too late to get involved, this is continuing for the rest of this school year!

Pay it Forward' is an international movement which promotes the undertaking of random (or not so random) acts of kindness. Using the ethos of 'Pay it Forward', the Governors and I felt that this was exactly the sort of campaign that we wanted to launch.

Here's the many ways you can Pay it Forward today!

It's really easy to donate, to make a single donation, all you need to do is click here. For those that would like to make a regular donation, please set up a regular payment with your bank. Our details are: Lloyds Bank plc Sort code: 309483 Account number: 41658468.

To donate your pre-loved items, please call into the school, main reception, Cotham Lawn Road and if you have time to spare and would like to volunteer, please ring the main school number on 0117 919 8000 or email into info@cotham.bristol.sch.uk


Resources Update

Please see below for further information of some excellent resources that have been brought to our attention.

National Theatre Live Play Streaming every Thursday Evening
The National Theatre is going to stream a free full length play every Thursday evening, more information can be found here.

Patrick Stewart is reading a sonnet a day on Instagram
A link for this can be found here.

Rosetta Stone- Free Access for Students
Rosetta Stone is offering students 3 months free access to help learn a language, click here for more information.

Minecraft
Minecraft has made all their Educational world's/games free. They can be accessed here.

Online resources from the Public Library
All Bristol Libraries are closed as of Thursday 19 March but they have a fantastic selection of online resources (you do not need to have a library card to access them). Bristol Libraries are letting people join online and use the online resources for four months so you do not need to have existing physical library cards.
To search the Libraries West catalogue click here.

Free Magazines and Newspapers

All you need is a device.
Go to: https://www.bristol.gov.uk/libraries-archives/online-newspapers-and-magazines

Free audiobooks and ebooks- these are REALLY GOOD!

Go to https://www.bristol.gov.uk/libraries-archives/library-online-resources for more information.
The public library also pays for many online resources that you can access for free including:
Driving Theory Test software
Over 1.5 million academic articles and papers
International English Language Testing System (IELTS)
Naxos: free streaming music
Oxford Dictionary of National Biography
Oxford English Dictionary
Oxford Reference: over 135 reference works
Who's Who and Who Was Who: 1897 to date
Ancestry.com
Just follow the link and input your borrower details.

We also have lots of (paid for) resources through our own library software which you can access from home at: https://uk.accessit.online/cth05/ . Students have been sent their login information on their school email address. Please email library@cotham.bristol.sch.uk if you are unable to access this from home.

Important Information for Parents/Carers

Easter Holiday opening times
The school will be open to the children of those Key Workers who have contacted us every day during the Easter Holidays between 8.30am - 2.45pm apart from the 2 bank holiday days on Friday 10 April and Monday 13 April 2020. Key Worker Parent/Carers will need to advise us if students will be attending school using the form emailed to them on Monday 30 March 2020.

Public Health England guidance on mental health and wellbeing
This weekend Public Health England has published new advice to support mental health during the Coronavirus outbreak. Public Health England has also updated the Every Mind Matters platform with specific advice on maintaining good mental wellbeing during the outbreak.

Update from Ofqual (for students in Year 11 and Year 13 who were due to take terminal exams this summer)
Please see below for an update from Ofqual

"We are rapidly working up plans to implement the arrangements the Secretary of State for Education has set out for exams this summer and, with exam boards and teaching bodies, are making considerable progress.

Students understandably want reassurance, and teachers urgently need to know what to do, and when. We expect to publish detailed information about the process and timetable which will apply this summer next week. This will include the steps we would like teachers to follow and more detailed guidance on how to consider the full range of evidence they will have available when submitting their assessment grades. We are talking to teaching representatives to make sure that what we are planning is manageable and appropriate, so that students, parents, carers and teachers can have confidence in the approach.

We will outline by Easter the process we will follow to make sure grades are fair across schools and colleges, as well as our proposals for appeals. We will also say more as soon as possible about the arrangements for additional exams in the new academic year.

We want to reassure students waiting for news that we are doing everything we can to make sure they are not disadvantaged by these unprecedented circumstances."

Free parent guide on coping with school closures
The Parents guide to…. website have written an online guide The Parents' Guide to coping with school closures which they are sharing free of charge. It provides up-to-date, practical information on how parents can look after their children's physical and mental health as well as how to help them study at home.

This free guide can be viewed and downloaded here or by visiting www.theparentsguideto.co.uk/coronavirus

Touchbase
TouchBase is a Community Interest Company that supports all those impacted by adverse childhood experiences to function well at home, school and in their wider communities. They have provided the following resources which may be of help during these unprecedented times. Please click here to view their support through this season leaflet and here for their Five Top tips for Adoptive Parents and Foster Carers.

Year 8 Parents Evening- Cancelled
Due to the current school closure Year 8 Parents evening has been cancelled on Thursday 2 April. Student Reports have been sent home to advise you of your child's progress.

Online Safety Newsletter- March Edition
Please click here to view this month's online safety newsletter.
Please click here to view an online Safety booklet which includes an overview of key parental controls.

Cyberbullying Guide
An online organisation called HomeGuides has developed guidance to help children, parents and teachers to understand what cyberbullying is and what can be done about it. Download the guide here.


Student Careers Update

Order your copies of APPLY 2020®
The Annual University & Careers Guide for Sixth Formers. It is a fantastic resource for students to have at home with them, and consider their future plans (and how to successfully apply to them) with parents and guardians.

The 11th edition of APPLY® has been edited and streamlined to cover everything bright, ambitious sixth formers need with the next steps on their journey; whether they choose to apply to university through UCAS, take a gap year, apply for an apprenticeship or write an absolutely outstanding CV to start employment.

HOW TO ORDER

Single copies are now available on Amazon

CONTENTS - Topics include:

Personal Statements - a 12-page, step-by-step masterclass on how to impress admissions tutors at leading universities
Apprenticeships - why they are now the respected alternative to undergraduate study in a wide range of industries
Job Applications - CV Masterclass with covering letters that shine; plus the new methods of assessment (gamification, situational judgement tests and more)
Studying Abroad - studying a degree in America, Europe, Australia or New Zealand with a piece by Harvard
Gap Years - why you might consider taking a year out after leaving school
Student Finance - an exclusive for APPLY by Martin Lewis, Money Saving Expert

You'll also find useful information on choosing a career path, interview skills, freshers' week, using university league tables, sponsored degree apprenticeships plus featured articles from the Fulbright Commission, LinkedIn, the Institute of Student Employers and Save the Student.

Apprenticeships
City of Bristol College Apprenticeship Bulletin and South West Apprenticeship Company have apprenticeship vacancies here and here.

Other apprenticeships can be found through the Gov website here, Target Careers, Success at School , Get My First Job and Not Going to Uni.

Please click here to view the March 2020 Apprenticeship Information Parents Pack.


Saturday jobs
Students looking for Saturday jobs can find good advice through this website

Please keep your eyes on the Careers section of the website for updates.


Community News

HappyMaps Website- Providing resources for Parents and Carers around Children's mental health
HappyMaps is a website providing a one stop shop of resources around children's mental health from babies to young adults and includes websites, videos, books, Apps and links to ways to find counselling and other support. The website was funded by NHS England with input from specialist services (CAMHS) and local charities and is supported by Bristol Mind. Please click here to view the website.

Useful quick links

GCSEpod
Click here to access GCSEpod which contains lots of revision resources for most GCSEs. Students self register through the website using their name and school details.

Diagnostic Questions
Click here to access. This site contains self marking quizzes with lots of templates including some from a range of exam boards. It's easy to make your own questions in Microsoft PowerPoint too. Students sign up with their school Google account using the G+ button to automatically create a school account

Edmodo
Edmodo is an application that can be used on both mobile devices and in the web environment to create an online community of practice. Edmodo is a free social learning platform that allows students to access the course content uploaded by their teachers.
https://www.edmodo.com/

Seneca
All students and teachers now have free access to Seneca - a revision and homework platform making studying more fun. Seneca is an interactive way to learn official course content. Their web app covers 150+ exam board specific courses condensing what students need to know for their exams. The software is able to identify gaps in learning. For instance, when you get a question wrong, the platform will repeat the topic in different formats and their smart algorithm has proven to make students remember topics 2x faster. Seneca is totally free for students, teachers and parents. You can sign up via senecalearning.com

Library Access
The library system is available to access from home at https://uk.accessit.online/cth05/ . Please log in to the site to gain the full advantage of the online library resources, such as OneSearch. Please email us on library@cotham.bristol.sch.uk for your username and password.

Free School Meals
To apply or check if your child is eligible for Free School Meals please click on this link.
If you have any questions or need assistance please do not hesitate to contact Mrs Hopkins at Student Reception.

Contact Details
Please note the following contact numbers and email addresses if you need to contact the school:

Main Reception - 0117 919 8000/ reception@cotham.bristol.sch.uk
Student Reception - 0117 919 8013 / studentreception@cotham.bristol.sch.uk
Absence - 0117 919 8019/ absence@cotham.bristol.sch.uk
NBP16C - 0117 919 8100/ post16@cotham.bristol.sch.uk
Finance - 0117 919 8016/ finance@cotham.bristol.sch.uk
Exams - 0117 919 8024/ exams@cotham.bristol.sch.uk
Admin Office - 01179198053/ adminoffice@cotham.bristol.sch.uk
Library- library@cotham.bristol.sch.uk
Safeguarding- safeguarding@cotham.bristol.sch.uk