Weekly Mailing - Monday 27 April 2020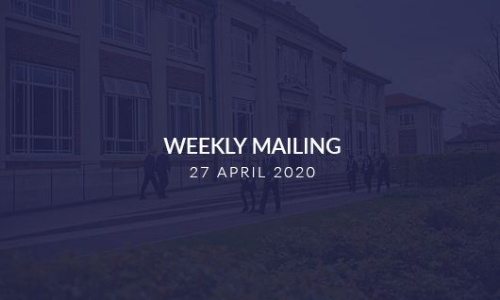 Dear Parents and Carers

Thank you again for all of the positive feedback that you have sent us during this period of lockdown. Staff appreciate that remote learning is nevertheless challenging as each of our students have different needs and responsibilities. Some of you have been in touch with us directly to let us know that the quality and quantity of work being set remotely is right, others have expressed that they would like more / less work. Finding the right balance is always going to be difficult but we're keen to receive all of your feedback. With that in mind, below you'll find a link to a questionnaire to allow us to gather your feedback. Please also find a range of information which I hope will be of assistance to you over the coming week.
I wish you, our students and your families the very best.

Ms Jo Butler
Headteacher


Good News

Student Achievements
Najib in Year 9 achieved his solid green belt in karate on 15 March, before lockdown. Not only this, he was 1 of 2 participants to be awarded a 'commended' badge, for going up & beyond the requirements of the course! What a fantastic achievement, well done Najib!

Ezra Penny in Year 10 gained a Distinction in Grade 5 Music Theory (scoring 95/100). What an amazing score! Very well done Ezra.

Keep us posted
It would be great if parents/carers could let the school know of any student achievements outside of school. It is sometimes only at parents' evenings that we find out what students are doing in their own time. Email us: weeklymailing@cotham.bristol.sch.uk

New Information for Parents/Carers

Remote Learning Plans
We are aware that many students are reliant on ipads or iphones to access their remote learning. Please find some tips on how to make the most of this set-up here. The document also includes some advice on how to use ipad/iphone accessibility features to support students with dyslexia, Irlen syndrome or low reading ability.

Parent and Carer Feedback on Remote Learning Plans
Separate letters have been sent to our parents and carers of students in Year 11 and Year 13 to update them on the process for awarding Centre Assessed Grades this year and the suggestions regarding completion of Remote Learning.
We are keen to ensure that our students and parents find the Remote Learning plans helpful and supportive during this period of school closure. It is particularly important that students in Year 10 and Year 12 try to complete all of the work being set so as not to disadvantage them too much when they return to us.

However, if your child is younger and struggling with the volume of work, please use your judgement to help your child prioritise the work being set.

Moving forward, we hope to be able to change the format of the work being set so that there is greater clarity about the work and the steps that students should take to complete it. We're also currently working on providing more resources with a narrated 'voice over' so that students can listen to teacher explanations. At this stage, we do not have plans to commence 'live lessons' as there are significant logistical and safeguarding challenges in doing this. We will nevertheless listen to your feedback and try to accommodate it where this is practical and possible for us.

Our tutors in Years 7 to Year 11 started making welfare calls to our students last week and we plan to continue with these in 2 week cycles. We hope that our tutors have been able to answer any questions that you may have but if not our Learning Coordinators are also available on email should you wish to contact them.

Remote Learning Questionnaire
Please find a link to a questionnaire here to allow us to gather your feedback. We would be really grateful if you could spend a few minutes completing this.

Can you help? - Acetate Donations Required
We are looking for donations of A4 acetate (150-300 Microns) to help us provide replacement visors for our face shields to colleagues in the NHS, local hospices, care homes. If you can help or know someone who can please email faceshields@cotham.bristol.sch.uk.

Student Voice: Wellbeing Survey
You may have seen on your child's 'Mental Health and Wellbeing' Google Classroom page that a survey has been posted.

We would very much like to get the views of our students in terms of how well they feel they are getting on as we navigate ourselves through unchartered territories. We want to ensure that we are doing what we can albeit remotely to support them in their learning and beyond. The survey will take no more than 5 minutes to complete. Many thanks for your support, stay safe and be well. Miss McDonagh.


Student Wellbeing

Off the Record support groups
From next week, Off The Record will be delivering their Mind Aid, hARMED and Shameless groups on a digital platform and they still have some spaces left. The workshops, all aimed at 11 to 17 years-old, will include:

Mind Aid: for anyone struggling with difficult feelings related to stress, anxiety, low mood, or depression. Learn more here.
Shameless: for anyone feeling impacted by issues around body image and low self-esteem.Learn more here.
hARMED: for anyone struggling with self-harm or thoughts of self-harm. Learn more here.

The workshops consist of one hour session on a digital platform, once a week for six weeks.
Signing-up is either via the links above or directly here.

Body Confidence for Teens
Dove's Body Confidence campaign is all about young people growing up and feeling confident about their looks. That's why Dove have developed some resources as part of their Confident Me campaign. Please follow the link here to a resource that can be downloaded which gives parents advice and tools to teach children and young people about self esteem whilst they are at home.

Guidance for families
Please follow the link here to a free video which has been produced by SAFECiC - The Safeguarding Specialists which has some guidance for families and some FAQ's during this period.

Criminal exploitation: A guide for parents
Criminal Exploitation is when individuals or gangs target children and force them to carry out criminal activity. Exploiters may force young people to deal drugs, steal, commit violent or sexual acts and traffic them. Children who are being criminally exploited will usually be subject to physical violence and threats – but exploiters are smart: they'll spend months or years grooming their victims, and parents often aren't even aware it's happening. For more information about the signs to look out for and advice on what to do if you think your child is being exploited, please click here for guidance from The Children's Society.

Leading Lights Education and Wellbeing
Leading Lights Education and Wellbeing work with families, children and young people. They offer one to one tuition from primary to undergraduate including specialist needs, homeschooling, mentoring, advocacy and specialist advice, and therapeutic services like counselling. Tel: 0117 3660079. Website: https://leadinglightseducationandwellbeing.org.uk/

They also have a FREE Young People Telephone Helpline. This is OPEN to any young people affected by mental health and SEND needs as well as parents and professionals. You can phone or text Shona, Ben or Sarah Louise using the contact numbers below:
• Shona - 07497308748
• Ben - 07397851890
• Sarah Louise - 07869146087

For more information about the Telephone helplines and their services, please click here.

Muslim Youth Helpline
The Muslim Youth Helpline (MYH) is an award winning registered charity which provides pioneering faith and culturally sensitive services to Muslim youth in the UK. They offer a free and confidential Helpline, available nationally via the telephone, email, live chat and letters. They respond to any issues that people call them about. In line with their non-judgmental ethos, they treat all enquiries seriously. The helpline service is open 7 days a week, 365 days a year including Bank Holidays and Eid. Their current opening hours are: Monday to Sunday : 4pm-10pm. Website: https://www.myh.org.uk/helpline Helpline: 0808 808 2008 Email: info@myh.org.uk

Relevant information also contained in our last mailing

Safeguarding students
Processes for continuing to ensure the safeguarding of our students during school closure
If you have urgent concerns about the safety of a child, First Response (Bristol Children's Services) should be your first port of call. Information on how to make a referral can be found here or by calling 0117 903 6444 (or if the offices are closed call the Emergency Duty Team on 01454 615 165). If the child is at immediate risk call the Police on 999.

To provide information to the Cotham School Safeguarding Team contact our dedicated email address: safeguarding@cotham.bristol.sch.uk

Where we have concerns about vulnerable students and families, we will aim to stay in touch with you by phone so please accept a phone call from a withheld number.

Important information involving the Coronavirus
Information about Covid-19 in Somali can be found here

An Important Parent Information poster from the NHS is here.

Remote Learning Plans
Remote Learning Plans for each of the year groups can be found on the school website.
Remote Learning Plans will cover a 2 week period.
We are currently in Cycle 2 covering the period from Monday 20 April to Friday 1 May.
Each subject will create work that students should complete for each of the lessons that students will miss as a result of the school closure;
Students should follow their usual school timetable and complete the work for each lesson that they miss using the instructions provided;
The school plans to continue to produce these Remote Learning Plans in 2 week cycles throughout the period of school closure; these will be posted to the website as we approach the cycle date.
Instructions for each lesson and the supporting resources will be posted on Google Classroom for students to access there. The plans are intended to give parents an overview of the work being set so that they can support their children with their learning.
Any questions that students may have about the work set should be sent via Google Classroom or email to their usual class teacher so that they can respond appropriately. Staff will feedback to students individually or collectively where appropriate.
The website also contains links to these other resources which may be support:
A Home Learning Guide for Parents and carers
Parent Guides to Exam revision
A help sheet for parents and carers to support them in keeping their child safe online whilst they are at home
Resources from Oak Academy
Oak National Academy has launched online lessons and resources, which has launched to support students, parents and teachers until schools re-open. The online classroom will provide free lessons and resources for pupils from reception through to year 10. All resources, lessons and more information can be accessed here.

As part of a collective response to the crisis, 40 teachers will be producing over 180 free online lessons each week, which will cover a range of subjects from English and maths to arts and languages.

These resources are new, and we are currently considering how we might be able to integrate them into our Remote Learning Plans going forward. Please bear with us as we consider this new package of resources.

The BBC is delivering an education package across TV and online, featuring celebrities and teachers – helping to keep children learning and supporting parents.
Stephen Lawrence Day Competition
Watch the video on this document to hear some great spoken word poetry produced by teenagers to mark Stephen Lawrence Day. If you feel inspired to write your own, there are thinking activities to help you on this document. Record your spoken word poem and submit it to Ms Leong via email at leongd@cotham.bristol.sch.uk by Friday 1 May. There will be prizes sent in the post for the Top 5 spoken word poems received, as judged by the Senior Leadership Team.

Student Wellbeing

Resources to support your child's wellbeing and online safety at this time
We have set up a Google Classroom called 'Mental Health and Wellbeing' and, three times a week, are posting bitesize chunks of useful information, tools, resources and strategies to support your child with their wellbeing at this time. You and your child will receive an email alert every time that something new is uploaded to this classroom but please do browse the classroom with your child as we build up our resources.

Other resources targeted at parents and carers
NHS Mental Health 24/7 Telephone Helpline: If you know of anyone who is experiencing significant mental health difficulties during the Covid 19 shutdown and cannot access their GP or A&E as a result of Covid 19 restrictions, please inform them of this helpline as it gives an opportunity for individuals to speak with mental health specialists in Bristol about what is going on for them and what pathways may be helpful to them.

The Samaritans are there for you if you need someone to listen https://www.samaritans.org/ or call 116123 for free.

Resources to help with Stress, Anxiety and Depression
Please find attached some resources that help support during COVID 19, this booklet summarises information on stress, anxiety and depression (SAD) including self help measures, the other here is a flowchart of some key mental health services.

Coronavirus specific advice
For Parents and Carers
Some excellent and simple resources to support you as parents and carers to help your child make sense of what is happening in the world now can be found from the Common Sense media organisation which aims to sift through the misinformation and overexposure of some news coverage that might be causing anxiety in some children. Please click on the following website links, Child Mind, Mind.org, BBC News.

For Students
Young Minds
BBC Bitesize Article - keeping calm in difficult situations

North Bristol Post 16 Resources
Please find some COVID 19 lockdown tips here, click here for information on Managing your Wellbeing, here for tips on Entertainment and Enrichment and here for tips on entertaining younger siblings.

Cyberbullying Guide
An online organisation called HomeGuides has developed guidance to help children, parents and teachers to understand what cyberbullying is and what can be done about it. Download the guide here.

HappyMaps Website- Providing resources for Parents and Carers around Children's mental health
HappyMaps is a website providing a one stop shop of resources around children's mental health from babies to young adults and includes websites, videos, books, Apps and links to ways to find counselling and other support. The website was funded by NHS England with input from specialist services (CAMHS) and local charities and is supported by Bristol Mind. Please click here to view the website.

Online Safety Newsletter- May Edition
Please click here to view this month's online safety newsletter.
Please click here to view an online Safety booklet which includes an overview of key parental controls.


Resources Update

Please see below for further information of some excellent resources that have been brought to our attention.

Online resources from the Public Library

All Bristol Libraries are closed as of Thursday 19 March but they have a fantastic selection of online resources (you do not need to have a library card to access them). Bristol Libraries are letting people join online and use the online resources for four months so you do not need to have existing physical library cards.
To search the Libraries West catalogue click here.

Free Magazines and Newspapers
All you need is a device.
Go to: https://www.bristol.gov.uk/libraries-archives/online-newspapers-and-magazines

Free audiobooks and ebooks- these are REALLY GOOD!
Go to https://www.bristol.gov.uk/libraries-archives/library-online-resources for more information.
The public library also pays for many online resources that you can access for free including:
Driving Theory Test software
Over 1.5 million academic articles and papers
International English Language Testing System (IELTS)
Naxos: free streaming music
Oxford Dictionary of National Biography
Oxford English Dictionary
Oxford Reference: over 135 reference works
Who's Who and Who Was Who: 1897 to date
Ancestry.com
Just follow the link and input your borrower details.
We also have lots of (paid for) resources through our own library software which you can access from home using this link. Students have been sent their login information on their school email address. Please email library@cotham.bristol.sch.uk if you are unable to access this from home.

Student Careers Update

Year 10 Work Experience Questionnaire
Even though it looks likely that Year 10 students will not be able to take up their work experience placement this year, we would like to know students' thoughts about how the process was managed (whether they found a place or not). Please could we ask all year 10 students to complete the questionnaire here to help make sure we keep doing this better and better in the future.

Sixth Form/College offers
City of Bristol College, SGS College and St.Brendan's Sixth Form College have all written to schools to reassure parents that all existing offers of a place will be honoured. For all students who would like a place but have not yet applied, applications can still be made on their websites. Reassurance that places are still guaranteed for all students 16 -19. Some short assessment tests may be administered at enrollment to ensure students are placed on courses at the right level for their learning. Please contact careers@cotham.bristol.sch.uk if you have any worries or questions.

Nationalonlinesafety.com have produced this lovely song dedicated to all of you lovely parents doing an awesome job whilst we are all in lockdown. #WakeUpWednesday we're bringing parents & carers some fun! Teaming up with MusicAlternative, here's our brand new 'Lockdown Learning' #OnlineSafety song... ENJOY!

Follow @CareersCotham on twitter and see the retweeted song.

Post 16 and Year 11 students
Careers at Cotham School are following many useful organisations and retweeting interesting posts. Lucy Parsons is offering webinars to share her insights into applications to Russell Group Universities and with special emphasis on Oxford and Cambridge. Worth a look if you are unsure how to get started with your University preparations during the remainder of Year 12, click here for more information.

Careermap
"Careermap" is an organisation helping young people to find Apprenticeships at all levels. https://careermap.co.uk/. You can find Apprenticeships to apply for NOW, help and advice on how to complete application forms and what to say and do at interviews that are online as well as in person. Take a look at their fabulous resources, watch videos from current Apprentices and perhaps take in a Webinar with top employers to speak directly about what it takes to be successful.

Careermap has put together a research pack for you, which includes lots of information about degree apprenticeships, where to find them, what they are plus much more. FREE Research pack, FREE worksheet, Vacancies to apply for.

Careermag for Parents is sponsored by NCFE, a National Awarding Organisation.
It's packed full of labour market information and qualification routes so teenagers can seek guidance from their parents to make well informed decisions on their futures. Please click here to view.

Vital updates and exciting opportunities can be found on the weekly NBP16 Careers Bulletin updated every Thursday morning, here.

Apprenticeships
City of Bristol College Apprenticeship Bulletin and South West Apprenticeship Company have apprenticeship vacancies here and here.

Other apprenticeships can be found through the Gov website here, Target Careers, Success at School , Get My First Job and Not Going to Uni.

Please click here to view the March 2020 Apprenticeship Information Parents Pack.

Please keep your eyes on the Careers section of the website for updates.


Community News

Help regarding Energy Bills
The government has agreed with energy suppliers that they will make sure that vulnerable customers who fall into debt remain supplied with energy while in self-isolation. More generally, suppliers promise to help customers in financial distress. If you encounter any problems please contact your supplier.

Help on energy related problems can also be sought from, CSE helpline 0800 082 2234.

StarLine home learning helpline
StarLine – a new home learning telephone helpline - is now live to support parents and carers nationwide.

A group of partners including David Ross Education Trust, Freshworks, Future Academies, Inspiration Trust, Mumsnet, Oak National Academy, PLMR, StarAcademies, Triple P Positive Parenting Program and United Learning have come together to create and deliver StarLine. Each partner has pledged their people, expertise and resources to support StarLine.

StarLine can help parents and carers in the following ways:

By providing access to a team of qualified teachers, education and parenting experts.
By focussing on providing practical ideas, support and reassurance.
By offering tips, techniques and resources to enable parents to give their children the support they need to continue learning while schools are closed.
By supporting family wellbeing and mental health.
By covering all phases of education and subjects plus behaviour, pupil wellbeing and SEND.
StarLine is available to parents and carers of pupils from all schools nationwide. Free, confidential advice is available six days a week by phoning the StarLine team on 0330 313 9162. For more information, visit www.starline.org.uk or follow @StarLineSupport on Twitter.

The team behind StarLine will also be broadcasting a weekly programme on YouTube. In each episode of StarLive, a guest presenter will share practical ideas for home learning. Further details can be found on the StarLine website.


Worried about buying food?
Thousands of emergency food parcels are being delivered by a network of council, voluntary and community organisations so no one in Bristol goes hungry during the coronavirus pandemic. However we are worried that over the coming weeks and months, more people will struggle with affording to buy food. We need more help with volunteers and donations.
If you, or someone you know can't afford or get food please call the We Are Bristol support hotline on 0800 694 0184 open 8:30am-5:00pm, Monday to Friday and 10:00am-2:00pm Saturday, Sunday and bank holidays.
You can help in three ways:
Volunteer - we are matching volunteers up with people who need support, so please register on Can Do Bristol. Alternatively there are lots of networks of volunteers being organised in local areas on Facebook
If you have food you want to donate, or are a business/community group that could help with distribution, please email: coronavirus@bristol.gov.uk
You can donate money and food donations to individual Food Banks. You can also donate money to The Quartet Community Foundation Coronavirus Response Fund.
Social workers invited to come back to care
Bristol City Council are inviting anyone who has worked in children's or adult social care to consider re-joining social work during the coronavirus pandemic to support the most vulnerable in Bristol.
Under emergency government powers given to Social Work England, any social worker who has left the Social Work register since 18 March 2018 will have their registration renewed automatically (on a temporary basis) so they can return to social care work as quickly as possible during the pandemic.

Posts are available for minimum of 18.5 hours per week Monday-Friday with some evening/weekend hours for adult social workers. Returning social workers will receive a full package of induction, training and support.

Applications are now open for the child and adult social care roles. Current closing date is 26 April however the council may extend the application deadline if needed. For more information before applying contact childsocialwork@bristol.gov.uk or adultsocialwork@bristol.gov.uk

Working at home
You may be able to claim tax relief for some of the bills you have to pay because you have to work at home on a regular basis. You cannot claim tax relief if you choose to work from home.

You can only claim for things to do with your work, for example, business telephone calls or the extra cost of gas and electricity for your work area.

You cannot claim for things that you use for both private and business use, for example, rent or broadband access.

From 6 April 2020 your employer can pay you up to £6 a week (£26 a month) to cover your additional costs if you have to work from home. For previous tax years the rate is £4 a week (£18 a month). You can find out more and see if you are eligible on the government's website.

Frequently Asked Questions
We have created the linked document here to respond to Frequently Asked Questions (FAQs) raised by some of our parents and carers with links to other agencies that can support families in different ways, such as delivering free food packages, finding employment, accessing welfare benefits, mental health support and other agencies.

Information can be found here about accessing Universal Credit/Employment and Support Allowance for a loan.

Mutual Aid Community Support Groups
Here is list of links to Mutual Aid (community support groups in Bristol by postcode area):
Bristol Community Care (via Bristol Mutual Aid)
BS1 Mutual Aid, BS2 Mutual Aid, BS3 Mutual Aid, BS4 Mutual Aid, BS5 Mutual Aid, BS6 Mutual Aid, BS7 Mutual Aid, BS8 Mutual Aid, BS9 Mutual Aid, BS10 Mutual Aid, BS11 Mutual Aid, BS13 Mutual Aid, BS14 Mutual Aid.

Support for those experiencing domestic abuse can be found here.

Useful quick links

GCSEpod
Click here to access GCSEpod which contains lots of revision resources for most GCSEs. Students self register through the website using their name and school details.

Diagnostic Questions
Click here to access. This site contains self marking quizzes with lots of templates including some from a range of exam boards. It's easy to make your own questions in Microsoft PowerPoint too. Students sign up with their school Google account using the G+ button to automatically create a school account

Edmodo
Edmodo is an application that can be used on both mobile devices and in the web environment to create an online community of practice. Edmodo is a free social learning platform that allows students to access the course content uploaded by their teachers.
https://www.edmodo.com/

Seneca
All students and teachers now have free access to Seneca - a revision and homework platform making studying more fun. Seneca is an interactive way to learn official course content. Their web app covers 150+ exam board specific courses condensing what students need to know for their exams. The software is able to identify gaps in learning. For instance, when you get a question wrong, the platform will repeat the topic in different formats and their smart algorithm has proven to make students remember topics 2x faster. Seneca is totally free for students, teachers and parents. You can sign up via senecalearning.com

Library Access
The library system is available to access from home at https://uk.accessit.online/cth05/ . Please log in to the site to gain the full advantage of the online library resources, such as OneSearch. Please email us on library@cotham.bristol.sch.uk for your username and password.

Free School Meals
To apply or check if your child is eligible for Free School Meals please click on this link.
If you have any questions or need assistance please do not hesitate to contact Mrs Hopkins at Student Reception.

Contact Details
Please note the following contact numbers and email addresses if you need to contact the school:

Main Reception - 0117 919 8000/ reception@cotham.bristol.sch.uk
Student Reception - 0117 919 8013 / studentreception@cotham.bristol.sch.uk
Absence - 0117 919 8019/ absence@cotham.bristol.sch.uk
NBP16C - 0117 919 8100/ post16@cotham.bristol.sch.uk
Finance - 0117 919 8016/ finance@cotham.bristol.sch.uk
Exams - 0117 919 8024/ exams@cotham.bristol.sch.uk
Admin Office - 01179198053/ adminoffice@cotham.bristol.sch.uk
Library- library@cotham.bristol.sch.uk
Safeguarding- safeguarding@cotham.bristol.sch.uk