Weekly Mailing - Tuesday 19 May 2020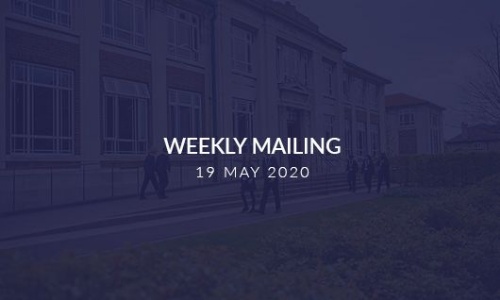 Dear Parents and Carers

I wanted to write to you again following my last letter of 11 May. The Governors and I are consulting with staff about how to implement the government's plans for some face-to-face support to supplement the remote education of Year 10 and Year 12 students from 1 June at the earliest. We have a duty of care to all members of our school community and will need to feel confident that the measures we are able to put in place reduce the level of risk to a reasonable and manageable level.

In addition, national union and professional association leaders are still meeting regularly with the DfE on behalf of their members to gain answers and reassurance on some key issues that staff are concerned about. They are continuing to provide information to the DfE and school leaders about how any guidance affects their members and whether sufficient safe working practices can be implemented to safeguard their members in a wider return to school.

During the last week I have met with other headteachers and representatives from the Local Authority twice, the last time being last Friday. It is clear that there will be no LA-driven decision making in Bristol as there has been in other cities, for example Liverpool. The LA have confirmed that they are happy for individual headteachers to plan for any partial reopening in their own schools during Term 6. However, Cotham and Redland Green School are liaising closely to consider our Year 12 return for the North Bristol Post 16 Centre (NBP16). There are obvious benefits to both schools and our respective communities if we can align our return plans for those students.

The actual decision on whether schools do re-open as the government currently intends, is still reliant on scientific tests. We have been advised that this evidence will be reviewed on 28 May.

We want to do our utmost to provide the best education we can during this time of crisis and the safety of your children, you and our staff remains our utmost priority. I will continue to share information and plans with you over the coming days. Thank you for all of your understanding and support.

I wish you, our students and your families the very best and hope you are all staying well.

Ms Jo Butler
Headteacher

Letter to Parents and Carers from Alison Hurley
Please find a letter from Alison Hurley, Director of Education and Skills at Bristol City Council attached to this mailing.

Ramadan
Please find a linked document here from the Bristol Muslim Cultural Society with tips for a safer Ramadan during lockdown, a version in Somali can also be found here.

Opportunities for Students

Sigma House Competition- Design a poster: Switch it Off
Please design a poster that we can use in school to encourage staff and students to switch off lights and projectors when not in use. You can design it on the computer, hand draw or even make a collage. Whatever you feel makes a great poster with an important message. To see some example posters please click here.

All entries to be in by Monday 8 June. Please email Mrs Arnold your entries. arnoldl@cotham.bristol.sch.uk

House Points for all entries and Prize for the winner.

Good luck!

Turning off the lights when you leave your room can help save energy. It can also help reduce carbon emission and other harmful greenhouse gases. Hence, turning off your lights is a simple way to help protect the environment and save the planet.


Good News

Student Achievements
Lucas in Year 8 achieved a bronze art award in Music as a result of a 10 week music course he completed at Creative Youth Network. What a fantastic achievement, well done Lucas, we're very proud of you!

GCSE Food
Superb effort from Kachaya Yr 10 who is studying GCSE Food. Kachaya has regularly been cooking during school closure. Please see pictures here of brownies, mac 'n' cheese, saltfish fritters, eton mess and high- in- iron tacos to name just a few!

We would love to see pictures of the dishes and meals prepared by our students at home. Please follow @Cothamfood on twitter and email pictures to brockj@cotham.bristol.sch.uk

Keep us posted
It would be great if parents/carers could let the school know of any student achievements outside of school. It is sometimes only at parents' evenings that we find out what students are doing in their own time. Email us: weeklymailing@cotham.bristol.sch.uk


New Information for Parents/Carers

Year 10 GCSE Mock Examinations
Year 10 Mock GCSE Examinations 15 - 26 June 2020 will not be going ahead this year. The opportunity for students to prepare for and experience a full set of exams under formal conditions is highly valuable. However, with the current circumstances, it is not possible or in our students' best interests for these to go ahead at this time. We will seek to arrange an additional opportunity in Year 11.

Year 9 - KS4 Subject Allocations
We are now in the process of finalising the Key Stage 4 subject allocations for Year 9 students. We have a final few checks to perform before releasing them out.

We are intending to release the allocations out to parents and students in the first week back after half term.

Facebook Group for Parents and Carers of Students Joining Cotham School in September 2020
A Facebook group has been set up for parents and carers of children starting Cotham in 2020. The group offers a place to introduce yourself, ask questions, post information and chat. If you would like to join the group the following link will take you to the page 2020 entry Cotham School Parents and Carers Facebook .

The Facebook page is run by parents of Cotham School and none of the comments on the page are endorsed by the school.

Student Wellbeing

The Safer Schools App
The online world can be a bit overwhelming at times but it is important we understand what our children are doing online so we can help make them safer. The Safer Schools App aims to help with this.

We are delighted to invite you to download our new Safer Schools App provided by our school insurance provider Zurich Municipal. See the letter here for more information. The entry code for parents is 7675.

FREE Practical resources to support your child's wellbeing
Bristol City Council's Educational Psychologist Team have put together some simple, effective and evidence-based resources to help support wellbeing during COVID 19. Each week this resource is posted on the Bristol City council Twitter page and will be emailed out in the parent mail.

This week's resource for parents and children to use at home focuses on connecting with, and appreciating, the present moment.

Just click on the link here to go to the page and then click the link under the "Downloads" section.


Online Safety Newsletter: Online Bullying
Please click here to view the Online safety newsletter regarding Online Bullying.


Resources Update


Please see below for further information of some excellent resources that have been brought to our attention.

Library Update
Click the link for more Information about Teen Book Awards and for a reminder about our ebook subscription for students.

Women of the World Festival to take place online - Saturday 16 and Sunday 17 May 2020
Over two days, there are talks, sports, workshops and stories from the serious to the joyful. There's everything from the Great Big WOW Quiz and emergency haircut workshops through to serious discussions on domestic abuse, care, and the devastating social and economic consequences for women and girls the pandemic is having. More information can be found here, all events will be available to watch at bbc.co.uk/arts

Rife Magazine - co-produced by Watershed - Online
A platform for the opinions of Bristol's young people, for more information click here.

Relevant information also contained in our last mailing

Safeguarding students
Processes for continuing to ensure the safeguarding of our students during school closure
If you have urgent concerns about the safety of a child, First Response (Bristol Children's Services) should be your first port of call. Information on how to make a referral can be found here or by calling 0117 903 6444 (or if the offices are closed call the Emergency Duty Team on 01454 615 165). If the child is at immediate risk call the Police on 999.

To provide information to the Cotham School Safeguarding Team contact our dedicated email address: safeguarding@cotham.bristol.sch.uk

Where we have concerns about vulnerable students and families, we will aim to stay in touch with you by phone so please accept a phone call from a withheld number.

FREE! Microsoft Office for all students
A reminder that all students are entitled to download the latest version of Microsoft Office for free on upto 5 devices for as long as they are a pupil at Cotham School. Instructions on how to complete the installation can be found on the school website under the useful links section.

Government childcare offers
Temporary measures have been announced to ensure critical workers will still be eligible for childcare offers if their income has changed due to coronavirus. Parents who are normally eligible for the government's childcare offers will continue receiving the entitlements during the summer term if their income levels fall due to the impact of coronavirus.

The Government has announced that any working parent usually eligible for 30 hours free childcare or Tax-Free Childcare will remain eligible if they fall below the minimum income requirement due to COVID-19. Subject to Parliamentary approval, parents who are critical workers will also remain eligible for these entitlements if their income has increased over the maximum threshold during the COVID-19 pandemic.

Remote Learning Plans
Remote Learning Plans for each of the year groups can be found on the school website.
Remote Learning Plans will cover a 2 week period.
We are currently in Cycle 4 covering the period from Monday 18 May to Friday 5 June.
Each subject will create work that students should complete for each of the lessons that students will miss as a result of the school closure;
Students should follow their usual school timetable and complete the work for each lesson that they miss using the instructions provided;
The school plans to continue to produce these Remote Learning Plans in 2 week cycles throughout the period of school closure; these will be posted to the website as we approach the cycle date.
Instructions for each lesson and the supporting resources will be posted on Google Classroom for students to access there. The plans are intended to give parents an overview of the work being set so that they can support their children with their learning.
We have changed the format of our Remote Learning plans so that the instructions are presented sequentially, and so that there are opportunities for support and challenge.
Any questions that students may have about the work set should be sent via Google Classroom or email to their usual class teacher so that they can respond appropriately. Staff will feedback to students individually or collectively where appropriate.
The website also contains links to these other resources which may be support:
A Home Learning Guide for Parents and carers
Parent Guides to Exam revision
A help sheet for parents and carers to support them in keeping their child safe online whilst they are at home
Resources from Oak Academy
Oak National Academy has launched online lessons and resources, which has launched to support students, parents and teachers until schools re-open. The online classroom will provide free lessons and resources for pupils from reception through to year 10. All resources, lessons and more information can be accessed here.

As part of a collective response to the crisis, 40 teachers will be producing over 180 free online lessons each week, which will cover a range of subjects from English and maths to arts and languages.

These resources are new, and we are currently considering how we might be able to integrate them into our Remote Learning Plans going forward. Please bear with us as we consider this new package of resources.

The BBC is delivering an education package across TV and online, featuring celebrities and teachers – helping to keep children learning and supporting parents.

Tips for students using an ipad or iphone to access remote learning plans
We are aware that many students are reliant on ipads or iphones to access their remote learning. Please find some tips on how to make the most of this set-up here. The document also includes some advice on how to use ipad/iphone accessibility features to support students with dyslexia, Irlen syndrome or low reading ability.

Student Wellbeing

Resources to support your child's wellbeing and online safety at this time
We have set up a Google Classroom called 'Mental Health and Wellbeing' and, three times a week, are posting bitesize chunks of useful information, tools, resources and strategies to support your child with their wellbeing at this time. You and your child will receive an email alert every time that something new is uploaded to this classroom but please do browse the classroom with your child as we build up our resources.

Other resources targeted at parents and carers
NHS Mental Health 24/7 Telephone Helpline: If you know of anyone who is experiencing significant mental health difficulties during the Covid 19 shutdown and cannot access their GP or A&E as a result of Covid 19 restrictions, please inform them of this helpline as it gives an opportunity for individuals to speak with mental health specialists in Bristol about what is going on for them and what pathways may be helpful to them.

The Samaritans are there for you if you need someone to listen https://www.samaritans.org/ or call 116123 for free.

Coronavirus specific advice
For Parents and Carers
Some excellent and simple resources to support you as parents and carers to help your child make sense of what is happening in the world now can be found from the Common Sense media organisation which aims to sift through the misinformation and overexposure of some news coverage that might be causing anxiety in some children. Please click on the following website links, Child Mind, Mind.org, BBC News.
For Students
Young Minds
BBC Bitesize Article - keeping calm in difficult situations

Cyberbullying Guide
An online organisation called HomeGuides has developed guidance to help children, parents and teachers to understand what cyberbullying is and what can be done about it. Download the guide here.

HappyMaps Website- Providing resources for Parents and Carers around Children's mental health
HappyMaps is a website providing a one stop shop of resources around children's mental health from babies to young adults and includes websites, videos, books, Apps and links to ways to find counselling and other support. The website was funded by NHS England with input from specialist services (CAMHS) and local charities and is supported by Bristol Mind. Please click here to view the website.

Online Safety Newsletter- May Edition
Please click here to view this month's online safety newsletter.
Please click here to view an online Safety booklet which includes an overview of key parental controls.


Student Careers Update

Even more young people are now struggling when thinking about what the future holds for them and whether they'll find employment or be able to go into education or training when the lockdown is over.

West of England Works support have put together an information sheet about the help being offered to 15-25 year olds who are not in employment, education or training.

Their service has changed while in lockdown, of course, but they are still taking referrals and contacting young people. They deliver all of their support through telephone, video call and text messages.

Refer a young person now for long term support or encourage them to book an appointment at Step to Future, our weekly employability sessions.

For all immediate and short term Careers and "what next" enquiries please contact Cotham School Careers Adviser - Miss Paice - Email: Paices@cotham.bristol.sch.uk with a suitable time to call and telephone number.

A guide to help parents and carers steer their children through the confusing world of careers choices
With the support of our sponsor JP Morgan, we are creating a guide to help parents and carers steer their children through the confusing world of career choices. From university and apprenticeships to work experience and gap years, our guide has it all.

Please see this lovely Parents & carers eBook: The full guide will be out next academic year - but we wanted to share a preview version to help you as lockdown continues.

To access the eBook, parents just need to sign up to our special mailing list for parents.

Please click on this link to access the sign-up form which explains the eBook.

Careermap
"Careermap" is an organisation helping young people to find Apprenticeships at all levels. https://careermap.co.uk/. You can find Apprenticeships to apply for NOW, help and advice on how to complete application forms and what to say and do at interviews that are online as well as in person. Take a look at their fabulous resources, watch videos from current Apprentices and perhaps take in a Webinar with top employers to speak directly about what it takes to be successful.

Careermap has put together a research pack for you, which includes lots of information about degree apprenticeships, where to find them, what they are plus much more. FREE Research pack, FREE worksheet, Vacancies to apply for.

Careermag for Parents is sponsored by NCFE, a National Awarding Organisation.
It's packed full of labour market information and qualification routes so teenagers can seek guidance from their parents to make well informed decisions on their futures. Please click here to view.

Vital updates and exciting opportunities can be found on the weekly NBP16 Careers Bulletin updated every Thursday morning, here.

Apprenticeships
City of Bristol College Apprenticeship Bulletin and South West Apprenticeship Company have apprenticeship vacancies here and here.

Other apprenticeships can be found through the Gov website here, Target Careers, Success at School , Get My First Job and Not Going to Uni.

Please click here to view the March 2020 Apprenticeship Information Parents Pack.

Please keep your eyes on the Careers section of the website for updates.


Community News

Bristol's Local Food Update May
#BristolFoodKind have had an incredible response so far, with individuals and organisations across the city sharing how they're supporting local businesses, reducing waste, and growing their own as a contribution to Bristol's food response to the pandemic.

In response to the massive efforts of many community organisations, projects and groups in getting food to the people of Bristol during lockdown, they have created the COVID-19 Community Resources. You'll find up to date information on best practices around working with food during the outbreak, details of your local community hubs, advice for where to direct volunteer and food parcel interest, funding guidance and more. These are specifically aimed at food provisioning groups, community outreach organisations and any project who works in food and growing in Bristol.

You'll also find a link to their new Community Switchboard, where you can easily share Asks and Offers between other groups in our network. If you find that there is something missing from their community resources, or you need additional support, please let them know by emailing aisling@bristolfoodnetwork.org

Sustrans- Outside In
Sustrans Outside In, is a free resource to help parents who are looking after their children at home.
Walking, cycling and scooting are great ways to keep active and healthy in body and mind. During this time where we are mostly required to stay at home, these activities become harder to do. Sustrans Outside In provides fun ideas and inspiration for parents to bring education, health and wellbeing activities into their home.

Parents can access resources by registering for the free parent newsletter. Over four weeks, you will receive weekly videos, themed activities, games and challenges designed by our experienced school officers. For more information please click here.

Call Companion Service
The call companion's idea is very simple: a volunteer call companion calls the same older person between two and four times a month at a mutually agreed time for an informal chat. Calls will last for around 30 minutes. The service will continue as part of the services offered by Reengage in the future, there is not a time limit.

The call companions programme is aimed at people who are

· 75 or older
· living alone or in sheltered housing with little or no contact with family or friends
· Struggle to leave their house in normal times

In addition, for call companions they ask that the older people have sufficiently good hearing to take on regular phone conversations.

The volunteers all receive training, which includes safeguarding, signposting to other services, and how to engage in difficult conversations. Call companions are supported by call coordinators who monitor the success of the partnership for both the older person and volunteer. If an older person takes part and subsequently decides it is not for them, there is an easy way for them to leave.

If you know anyone who would benefit from call companions, please refer them by using their simple online form.

Don't forget to get the older person's consent first. You can find the form on their website here.

Online learning platform to boost workplace skills launched
Free courses are available through the new online platform, the Skills Toolkit. This platform signposts to free, high-quality digital and numeracy courses to help people build up their skills, progress in work and boost their job prospects and confidence whilst at home.

Courses on offer cover a range of levels, from everyday maths and the use of email and social media at work to more advanced training. All courses are available online and are flexible so that people can work through them at their own pace. The Skills Toolkit can be accessed here.

Help regarding Energy Bills
The government has agreed with energy suppliers that they will make sure that vulnerable customers who fall into debt remain supplied with energy while in self-isolation. More generally, suppliers promise to help customers in financial distress. If you encounter any problems please contact your supplier.

Help on energy related problems can also be sought from, CSE helpline 0800 082 2234.

StarLine home learning helpline
StarLine – a new home learning telephone helpline - is now live to support parents and carers nationwide.

A group of partners including David Ross Education Trust, Freshworks, Future Academies, Inspiration Trust, Mumsnet, Oak National Academy, PLMR, StarAcademies, Triple P Positive Parenting Program and United Learning have come together to create and deliver StarLine. Each partner has pledged their people, expertise and resources to support StarLine.

StarLine can help parents and carers in the following ways:

By providing access to a team of qualified teachers, education and parenting experts.
By focussing on providing practical ideas, support and reassurance.
By offering tips, techniques and resources to enable parents to give their children the support they need to continue learning while schools are closed.
By supporting family wellbeing and mental health.
By covering all phases of education and subjects plus behaviour, pupil wellbeing and SEND.
StarLine is available to parents and carers of pupils from all schools nationwide. Free, confidential advice is available six days a week by phoning the StarLine team on 0330 313 9162. For more information, visit www.starline.org.uk or follow @StarLineSupport on Twitter.

The team behind StarLine will also be broadcasting a weekly programme on YouTube. In each episode of StarLive, a guest presenter will share practical ideas for home learning. Further details can be found on the StarLine website.

Worried about buying food?
Thousands of emergency food parcels are being delivered by a network of council, voluntary and community organisations so no one in Bristol goes hungry during the coronavirus pandemic. However we are worried that over the coming weeks and months, more people will struggle with affording to buy food. We need more help with volunteers and donations.
If you, or someone you know can't afford or get food please call the We Are Bristol support hotline on 0800 694 0184 open 8:30am-5:00pm, Monday to Friday and 10:00am-2:00pm Saturday, Sunday and bank holidays.
You can help in three ways:
Volunteer - we are matching volunteers up with people who need support, so please register on Can Do Bristol. Alternatively there are lots of networks of volunteers being organised in local areas on Facebook
If you have food you want to donate, or are a business/community group that could help with distribution, please email: coronavirus@bristol.gov.uk
You can donate money and food donations to individual Food Banks. You can also donate money to The Quartet Community Foundation Coronavirus Response Fund.
Frequently Asked Questions
We have created the linked document here to respond to Frequently Asked Questions (FAQs) raised by some of our parents and carers with links to other agencies that can support families in different ways, such as delivering free food packages, finding employment, accessing welfare benefits, mental health support and other agencies.

Information can be found here about accessing Universal Credit/Employment and Support Allowance for a loan.

Mutual Aid Community Support Groups
Here is list of links to Mutual Aid (community support groups in Bristol by postcode area):
Bristol Community Care (via Bristol Mutual Aid)
BS1 Mutual Aid, BS2 Mutual Aid, BS3 Mutual Aid, BS4 Mutual Aid, BS5 Mutual Aid, BS6 Mutual Aid, BS7 Mutual Aid, BS8 Mutual Aid, BS9 Mutual Aid, BS10 Mutual Aid, BS11 Mutual Aid, BS13 Mutual Aid, BS14 Mutual Aid.

Support for those experiencing domestic abuse can be found here.


Useful quick links

GCSEpod
Click here to access GCSEpod which contains lots of revision resources for most GCSEs. Students self register through the website using their name and school details.

Diagnostic Questions
Click here to access. This site contains self marking quizzes with lots of templates including some from a range of exam boards. It's easy to make your own questions in Microsoft PowerPoint too. Students sign up with their school Google account using the G+ button to automatically create a school account

Edmodo
Edmodo is an application that can be used on both mobile devices and in the web environment to create an online community of practice. Edmodo is a free social learning platform that allows students to access the course content uploaded by their teachers.
https://www.edmodo.com/

Seneca
All students and teachers now have free access to Seneca - a revision and homework platform making studying more fun. Seneca is an interactive way to learn official course content. Their web app covers 150+ exam board specific courses condensing what students need to know for their exams. The software is able to identify gaps in learning. For instance, when you get a question wrong, the platform will repeat the topic in different formats and their smart algorithm has proven to make students remember topics 2x faster. Seneca is totally free for students, teachers and parents. You can sign up via senecalearning.com

Library Access
The library system is available to access from home at https://uk.accessit.online/cth05/ . Please log in to the site to gain the full advantage of the online library resources, such as OneSearch. Please email us on library@cotham.bristol.sch.uk for your username and password.

Free School Meals
To apply or check if your child is eligible for Free School Meals please click on this link.
If you have any questions or need assistance please do not hesitate to contact Mrs Hopkins at Student Reception.

Contact Details
Please note the following contact numbers and email addresses if you need to contact the school:

Main Reception - 0117 919 8000/ reception@cotham.bristol.sch.uk
Student Reception - 0117 919 8013 / studentreception@cotham.bristol.sch.uk
Absence - 0117 919 8019/ absence@cotham.bristol.sch.uk
NBP16C - 0117 919 8100/ post16@cotham.bristol.sch.uk
Finance - 0117 919 8016/ finance@cotham.bristol.sch.uk
Exams - 0117 919 8024/ exams@cotham.bristol.sch.uk
Admin Office - 01179198053/ adminoffice@cotham.bristol.sch.uk
Library- library@cotham.bristol.sch.uk
Safeguarding- safeguarding@cotham.bristol.sch.uk