Weekly Mailing Friday 10 February 2017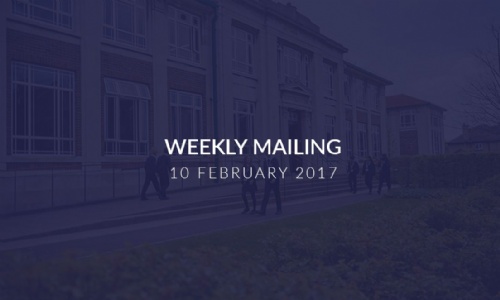 Dear Parents / Carers
Please find my usual information, letters and updates on events that have taken place this week.
Best wishes to all students, parent and carers for a lovely Half Term break.
Ms Jo Butler
Headteacher
GOOD NEWS!
WWF Thank Sigma for fundraising
This week we received a letter of thanks from Kerry Blackstock, Head of Fundraising for WWF following the donation of £107.23 that was raised by SIGMA house during the recent non-uniform day. Click here to view. Well done SIGMA!
Cotham School: A leader in Careers!
We are delighted to have been informed that Cotham is being used a case study for Careers, Education, Information, Advice and Guidance (CEIAG). Cotham is committed to not just fulfilling its statutory requirements in this area but providing students with exceptional support and guidance throughout their time at school. We are extremely proud of this recognition
Sporthall Athletics
Well done to Abdifatah Hasan, Nyheam Kefentse and Keni Wilks who have been selected to represent the Avon Sportshall Athletics Team at the South West Championships next month.
SCHOOL NEWS
Next week (Week commencing Monday 13 February) is a Half Term Holiday.
We return to school on Monday 20 February at 8.35am (it will be a WEEK A)
Punctuality
Students' Tutor registration time is 8.40am. Therefore any student passing through the school gate after 8.35am (allowing them 5 minutes to get to their Tutor base) will be marked as "late". We thank you for making sure students arrive to school on time.
Early Closure - Date for your diary
The school day will finish for students at 12.45pm on Thursday 6 April (the last day of term for students) to allow for essential staff training to take place.
School Uniform and Shoes
Just a reminder to parents/carers about acceptable shoes as part of the Cotham School uniform.
Footwear: Black, leather type shoes only (no trainer-type shoes, no boots, raised heel, canvas, logos or brands). No 'dolly'/ballet type shoes. Shoes must fasten securely, preferably with laces or a strap and the foot must be fully enclosed. Uniform shoes must be worn throughout the day.
Click here to view examples of unacceptable school footwear.
Please note that these examples can never be exhaustive due to the constant updates to new products by retailers. If in doubt please check with your child's Learning Coordinator before purchasing new school shoes.
INFORMATION FOR ALL YEAR GROUPS
SEND Parents' Information Evening - Wednesday 1 March at 7.00pm.
At this event for parents/carers we will be looking at how we can support the needs of all students with Autism at Cotham School. Further information will follow after half term.
Safer Internet Day 2017 – Tuesday 7 February 2017
To celebrate Safer Internet day a tutorial programme of activities were run on the day. It was also used to launch the Safer Internet Day competition. The competition deadline is after half term and has amazon vouchers as prizes. Please click here for more information.
Last chance to apply for Cotham Co Fund!
Students can apply for money of between £50 and £500 to set up a project that makes our school even better!
Four Steps to applying:
Think of a project that would make Cotham School even better and find out from your friends whether they agree.
Work out how much your project would cost (you can ask a teacher or the Co fund to help)
Download and fill out a grant form and get a teacher to sign it (forms available here)
Submit your form by 20 February 2017 to cofundgrants@cotham.bristol.sch.uk
You will know whether you have a grant by 27 February 2017
There are three more deadlines during the school year if you miss this one. If you have any questions please email cofundgrants@cotham.bristol.sch.uk For full details of the rules of the Co Fund please see the rule book on the school website. Funds must be used for projects that benefit a significant number of students and are also available to teachers or members of the Cotham Co operative Forum constituencies.
Cotham Parents' Cultural Group meeting
A big thank you to parents who attended the cultural diversity meeting on Wednesday evening. It was a great success. Thank you for all your contributions.
Outcome of the meeting:
It was agreed that we would organise a cultural and social event for parents and students, which would take place on a Saturday in the not too distant future (date and time to be confirmed). The aim of this event will be to celebrate our diversity and help parents and students to feel an integral part of our school community. We discussed sharing culinary delights from different cultures, music etc. All ideas welcome.

We also deliberated on setting up regular coffee mornings/evenings and to run workshops on issues such as: Online Safety, Drug awareness, Stress management. By empowering our parents, we empower students.

A number of parents expressed a desire to volunteer to support parents for whom English is not their first language. This is an excellent suggestion. We will keep you updated.
If you would like to be part of the planning group for the cultural event, please contact me on: 01179198050 or email me. Kellym@cotham.bristol.sch.uk
World book Day - Book Swap event
Next term we are running our annual book swapping event to celebrate World Book Day (Thursday 2 March)
The Book Swap is a great opportunity to pass on unwanted books to a new home and pick up something new. It will run on Wednesday 1, Thursday 2 and Friday 3 March at lunch-time in the main library. This will be open to all students and staff. Click here for more information.
KEY STAGE 3 (KS3) INFORMATION
YEAR 7
Parents Evening - Thursday 2 March
At this event you will be able to meet with subject teachers to discuss your child's progress. Subject teachers are available from 5.00pm until 7.30pm. Appointments can be made using the online booking system (PES) accessed via the school website or by clicking here.
YEAR 9
Science Exam
Year 9 will start their GCSE after half term. There will be an exam at the end of the year to determine which students are offered to do Separate Sciences, and which will do Combined Sciences. Click here to find out more.
KEY STAGE 4/5 (KS4/5) INFORMATION
National Citizen Service (NCS)
NCS is a government funded initiative for all 15 - 17 year olds in England. It's a chance to embark on exhilarating challenges, make a mark in the local community and build valuable skills for work and life. The NCS Team will be in school on Thursday 23 February to talk to Year 11. Click here to find out more about this once-in- a-lifetime opportunity!
Maths resources
Click here to visit the new page that has now been added to the maths website, under Key Stage 4, for revision advice and resources. Information from the recent year 11 support meeting is also available on this page and more resources will be added throughout the year.
YEAR 11
City of Bristol College open evening
Ashley Down site - Tuesday 21 February, 5.00-7.30pm
Find out about all their courses, but especially those based at Ashley Down, like Construction, Public Services, Hair & Beauty, Health & Social Care, Childcare.
Safeguarding - Friday Lunchtime
Due to the school's increasing need to adhere to current Safeguarding guidelines for schools, Year 11 students will no longer be allowed off-site during Friday lunchtime. We strongly advise that Year 11 students ensure that they have sufficient credit for school meals on their school cards (this can be done via your wisepay account online or with cash in the machine in the Student Hub) as the canteen is unable to accept cash payment. Post-16 students will continue to be allowed off-site as usual
GCSE exam timetable
Please note that the GCSE Visual Arts exams have now been added to this. Click here to view the timetable. This is 'provisional' at this stage and therefore subject to some changes by the Exam Boards. The GCSE exam period will finish on 28 June. Students will receive their individual timetable after Half term (Week commencing 20 February).
Year 11 Prom
Year 11 Prom is at Ashton Court on 23 June. The next instalment of £11.50 is due NOW. Please can this payment be made via your wisepay account as a matter of urgency. If you have not yet paid the £10 deposit for Prom then you will need to pay £21.50.
SUBJECT AREA NEWS
PE/SPORTS UPDATE
Please click here to view all of the results, congratulations and upcoming fixtures.
PERFORMING ARTS UPDATE
Drama - Work of the Week
This week the Drama WOW goes to Kashygha Wray (8AWS) and Kyah Tunnicliffe (8SHA). Click here to view.
Macbeth - Whole School Show – Tickets now on Sale!
Macbeth will be showing on 22, 23 and 24 February in the Main Hall at 7.30pm. Click here for more information. Tickets are available now on Wisepay. (£7/£5 Conc.)

VISUAL ARTS UPDATE
Artwork of the Week
Artwork of the week goes to Kris Henry (7GC) with his Millie Marotta inspired illustration. Click here to view.
The Visual Arts department are offering all year 7s the chance to win a copy of illustrator Millie Marotta's latest book by drawing their own animal inspired by Millie Marotta. The closing date for entries is Friday 3 March, click here to see the poster for more info.

TECHNOLOGY UPDATE
Technology Work of the Week
Lots of fantastic Mobile App Design Challenge homework outcomes from Year 7 this week. Click here to view some excellent examples, by Youny Kwon, Luke McLaughlin, Isla Brand and one mystery ubmission, which just goes to show you really should put your name on every piece of work you hand in!
GCSE Catering
Students in Year 11 have now completed the practical element of Task 2 which accounts for 40% of their final GCSE grade. Students had to make a two course meal for a hotel which is hosting an international week. Please click here to view their delicious results!
Extra Curricular Activities
To view the timetables of extra curricular activities available to your child at Cotham please click on the links below:
CAREERS NEWS
Focus On Engineering event
With GKN, Airbus, Network Rail, UCW, BEMA, ICE, Cavendish Nuclear, University of Bath... and many more
Target: Years 10, 11, 12 and 13 from all schools, with a focus on options after sixth form
Date: Thursday 23 Feb 5.45-8.00pm
Venue: Churchill Academy & Sixth Form, Churchill, North Somerset BS25 5QN (15 minutes south of the Airport just off the A38)
If your child would like to attend please click here to register.
Bank of England Scholarship Programme for black or mixed African/Caribbean students
Please click here to find out more about this fantastic opportunity for financial support to study. - Deadline for applications is 26 February 2017
Co-op News
Please click here to view this week's newsletter from the Co-operative College
Community News
Do you have strong views on Brexit?
RDF, the television company who make The Secret Life of 4 Years Olds and Eat Well for Less are currently working on a fascinating new television programme about Brexit and are looking for families to take part. Click here for more information.
Bristol Plays Music
Click here to view the February newsletter. Find out more about Music projects for young people taking place in the City in the coming weeks as well as a sneak peak at the very exciting development plans for the Colston Hall.
St Georges Bristol
Click here to view the Secondary Newsletter from this Bristol venue
National Autistic Society Masquerade Ball
This exciting event in aid of World Autism Awareness Day takes place on Saturday 1 April at the Gloucestershire County Cricket Ground. We strongly encourage you to support the valuable work of the Bristol Autism Society who we work closely with as a school. A special guest appearance has just been announced: John Williams - author of 'My Son's Not Rainman' will be attending (and speaking) at the ball. Click here for more information.
Bristol Children's Hospital - Grand Appeal
Please click here to view the 2017 fundraising events guide for this very important Bristol Charity
Shakespeare at the Tobacco Factory
The Tobacco Factory are offering Saturday morning Drama workshops. Suitable for ages 13-18. Please click here for more information.
Life Cycle UK
Life Cycle UK are running Bikeability level 2 & 3 courses during the February schools break – ideal catch up for anyone who has missed the training in school. Please click here for more information.
Windmill Hill City Farm - Half Term Activities
Please click here to view the list of activities that are taking place for children in the coming half term break
What's happening in your local Library?
Please click here to view the February newsletter for the Bristol area
Clifton Library Drama Performance of Jane Austen on Saturday 11 February at 7.30pm
RECENT LETTERS HOME
| Topic (week ending 10/02/2017) | For the attention of: |
| --- | --- |
| | Year 9 |
All files are in PDF format. You need Adobe Reader to open these files.
You can download Adobe Reader for free from adobe.com/reader