Weekly Mailing Friday 16 September 2016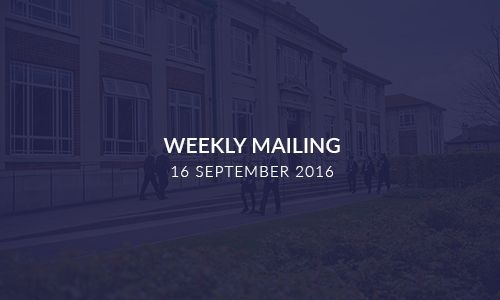 I am pleased to update you on events that have taken place this week and to let you know about some of those that will take place in the near future. I would like to take this opportunity to apologise to those of you who did not receive the weekly mailing last week, or indeed those who may have received it more than once! We have been experiencing some technical issues which have caused a few minor problems in the past few days. We are confident that these issues have now been resolved and there should be no further disruption to our systems. May I also remind you that the weekly mailing, along with all additional information related to the life of the school and a link to letters that have been sent home in the last week are available to view at any time on the school website: http://www.cotham.bristol.sch.uk/.
Ms Jo Butler
Headteacher
---
Multi-Academy Trust (MAT) Consultation Update
For further consultation information on plans to set up a new multi-academy trust please click here. If English if not your first language please click here.
---
Reminder about early school closure Wednesday 21 September 2016
I would like to remind parents/carers that the school will close at 1.05 p.m. for students in Years 7 - 11 on Wednesday 21 September to help staff prepare for our Open Evening. Any student eligible for a free school meal will be able to collect it from the dining hall before they leave.
Work will be set for students to complete as independent study in lieu of the single lesson missed. Sixth Form lessons will continue as normal at the Charnwood site for all Post-16 students.
---
My Ed App- Message the school for free
Of paramount importance to our school is the safety of the students and effective communication with parents/carers. Therefore we are currently updating our registration system in order to improve this communication. RS ConnectEd system securely sends text messages, automated voice broadcasts and emails direct to parents and carers.
If your child is absent you may receive a text or voice message informing you of the absence and requesting that you either text or call the school to explain this. You may also receive emails or text messages from time to time, informing you of events, such as parents' evenings or school closure etc.
By sending messages directly to you we can all ensure that if your child is absent you can reply quickly and easily to inform us of any reason for an absence thus ensuring your child's safety.
You can also download the My Ed app which is available for both Android and iPhone. Please download this app as it enables free communication between parents and the school. Whilst we are only using it for messaging at present, the app is packed with fantastic features which we hope to use further in the future
If you have any questions about this new method of school communication, or if you do not wish to be communicated with in this manner, please call Cotham School Reception on 0117 919 8000
---
Teenagers and Alcohol
Do you sometimes wonder how to talk to your children about alcohol? Public Health Bristol has added a new section to the 4YP for Parents website to support you with this. It gives you information and advice and provides activities that you can share with your children. You can find it all at https://www.4ypbristol.co.uk/for-parents/for-parents/alcohol/
---
Year 7 SS Great Britain
The Education Officer at SS Great Britain offered new Year 7 starters and their families the opportunity to visit this historic ship during the summer holidays.
'It was lovely to welcome some of the new Cotham School students and their families to the SS Great Britain on 25 August. It was a wonderfully positive atmosphere with lots of families enjoying themselves and, hopefully, leaving with a few new friends and excited about starting at Cotham.
The whole event was quite busy with 354 people from 7 North Bristol Secondary schools attending.
Here are some lovely quotes from parents/carers who attended 'Lived in Bristol all my life and never been aboard the ship'. 'We had such a fantastic evening'. 'A great experience for new Year 7s starting at a new school' and from new Year 7s too 'I had a great time. It was an adventure! I met a new friend going to my school.' You can see some photos here and here (Credit SS Great Britain - Zoe Parry)
---
Headteacher Welcome and Skills Evening for Year 7 Parents and Carers
Thank you to those parents and carers who have contacted Miss McDonagh regarding the upcoming Headteacher Welcome and Skills evening being held on 26 September 2016. If you have already emailed to request places for the workshops, please be assured that your request has been duly noted. As well as welcoming you to our school community the aim of the evening is for us to share with you what we are doing to help develop and nurture your child's literacy, numeracy and soft skills. If you would like to attend please email McDonaghK@Cotham.bristol.sch.uk
---
Cotham World Challenge - Java, Indonesia July-August 2016
During the summer break, Mr Helliwell and Miss Allender accompanied a group of Year 11's and 12's on what was to be the most amazing month in Indonesia.
The month was spent climbing volcanoes, visiting cultural hotspots, working at a Wildlife Rescue Centre, and a Primary School, immersing ourselves in the culture, and eventually relaxing for a few days in Bali.
The nature of this adventure led to the group not only planning their packed itinerary, but also making all the decisions whilst we were in Indonesia. The group controlled where we stayed, how we travelled, and where we ate. In taking control of their visit the group demonstrated significant independence, resilience and developed their leadership skills.
The students involved were Lucy Davis-Jenkins, Amber Rawlinson, Shanice Lindsay, Maudie Mellish, Esme Britton, Tilly Berger, Bryony Dale, Ruby Barnes, Billie Sanderson, Laura Eacott, and Carlos Davey. The experiences that we shared will have changed us all for ever. The students worked really hard for eighteen months to fund their trip, and as well as sharing incredible experiences they should be very proud of their achievements. You can see some of Mr Helliwell's photos here
---
Post 16 Choices - What to do in Year 11
The law states that Young People have to stay in education, training or employment with training, until they are 18 years of age. This does not mean staying on at school but it does mean they need to think carefully about where they want to go after your GCSE examinations.
The move into Post 16 is an important one and often difficult to make! There are many different options: Further education at 6th forms or Further Education establishments; Traineeship or Apprenticeship; Training at work or with a Training Provider. Click here for a list of Post-16 choices available in Bristol
---
PE
Extra Curricular Activities
Extra-curricular clubs have now started. Last week all Year 7, 8, 9 and 10 students attended a Sports Fayre in the sportshall and we had over 400 students signing up to take part in a variety of activities either at lunch time or after school. Clubs are open to all students no matter their ability and it is a great opportunity for them to develop their interests, social skills and practical skills in a variety of sports. Clubs run from 3:15pm-4:15pm. Click here for further details of all PE extra-curricular clubs at Cotham
Student Achievements outside of School
Well done to Fran Funnell (8JSB) who was part of the Bristol Rowing Quad team that finished first in the Under 13s race at the Worcester Regatta last weekend. Link to image here
It would be great if parents and carers could let the school and PE department know of any students achievements outside of school. It is sometimes only at subject evenings that we find out what students are doing outside of school. We like to know because we are proud of their successes and want to celebrate and share them!
Please either send us an email info@cotham.bristol.sch.uk or if you are following the PE department on Twitter, you can tweet us @cothampe
---
Visual Arts
This week's 'Artwork of the Week' goes to Will Tarling (10CB) with a close up pen drawing of a natural form produced for his summer homework. Click here to see Will's work.
---
Recent Letters Home:
| | |
| --- | --- |
| Topic (week ending 16/09/2016) | For the attention of: |
| | Year 7 students |
| | Year 8 students |
All files are in PDF format. You need Adobe Reader to open these files. You can download Adobe Reader for free from adobe.com/reader