Weekly Mailing Friday 24 February 2017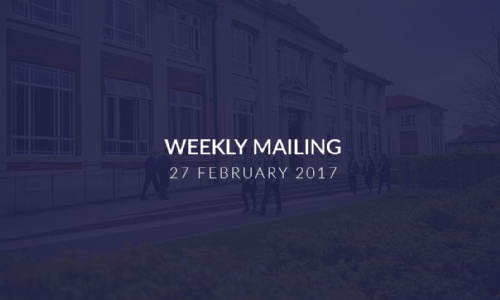 Dear Parents / Carers
I do hope that you all had an enjoyable half term break. A slightly smaller mailing this week as the staff and students settle back into teaching and learning.
Please find below my usual information, letters and updates on events that have taken place this week and coming up in the week ahead.
Ms Jo Butler
Headteacher
GOOD NEWS!
Visitor Feedback
We have had a number of visitors to Cotham this week and we have been delighted by the positive feedback that we have received from them:
"Many thanks for your time today. Cotham felt purposeful, happy and calm as we toured, lovely!" - Mr Rod MacKinnon, Headteacher of BGS
"I am very grateful for the visit this morning. All of the teachers we great" - Ms Aileen Morrison, Headteacher of St Matthias Park Pupil Referral Unit
Thangam Debbonaire, Member of Parliament (MP) for Bristol West also visited us this Friday 24 February 2017. It was great to welcome Thangam to Cotham and show her our fantastic school. Thangam has had 6 nephews and nieces pass through Cotham with two more still to come and is a great supporter of the school.
Macbeth - Opening night goes down a storm!
This years school production is Macbeth and it opened on Wednesday. We have received some great feedback already!
"I thought last night's production of Macbeth was outstanding! The energy, innovation and quality of production was truly exceptional and kept us completely engaged throughout. It could certainly rival, if not beat, those Shakespeare plays I have seen at the National, Barbican and Donmar Warehouse in London. it was a great credit to the school and to Mr Geoghegan's' direction as Head of Drama" - Yr10 Parent
The final performance takes place tonight (Friday) and is sold out! We hope you were able to come along and enjoy the show!
Talk to us
If you would like to tell us about any student achievements outside of school or to promote a community event etc via our weekly mailing please do not hesitate to contact us with details
SCHOOL NEWS
Next week (Week commencing Monday 27 February is a WEEK B
Punctuality
Students' Tutor registration time is 8.40am. Therefore any student passing through the school gate after 8.35am (allowing them 5 minutes to get to their Tutor base) will be marked as "late". We thank you for making sure students arrive to school on time.
Early Closure - Date for your diary
The school day will finish for students at 12.45pm on Thursday 6 April (the last day of term for students) to allow for essential staff training to take place.
School Uniform and Shoes
Just a reminder to parents/carers about acceptable shoes as part of the Cotham School uniform.
Footwear: Black, leather type shoes only (no trainer-type shoes, no boots, raised heel, canvas, logos or brands). No 'dolly'/ballet type shoes. Shoes must fasten securely, preferably with laces or a strap and the foot must be fully enclosed. Uniform shoes must be worn throughout the day.
Click here to view examples of unacceptable school footwear.
Please note that these examples can never be exhaustive due to the constant updates to new products by retailers. If in doubt please check with your child's Learning Coordinator before purchasing new school shoes.
INFORMATION FOR ALL YEAR GROUPS
SEND Parents' Information Evening - Wednesday 1 March at 7.00pm - 8.00pm.
Parents/Carers are invited to attend a SEND information evening here at school. At the event we will be looking at how we can better support the needs of all our students with Autistic Spectrum Condition. It will be an opportunity for you to share your experiences with other parents/ carers. The meeting will start in the Student Hub at 7.00 pm, and entry into the school will be via the gate at the car park side of the school on Cotham Lawn Road.
World Book Day
Thursday 2 March is World Book Day: students may dress as a recognisable book character in return for a £1 donation to Book Aid International. Staff will collect money at the school gave. Prizes are up for grabs for the best costumes, so do get creative!
Students should keep an eye out for reading related activities happening all week. On Thursday some staff will be dressing up as characters from books. Students can take part in a treasure hunt competition to see if they can name all the characters the staff are dressed as. Entries will be pulled out of a hat and the winner will be announced on Friday. If students would like to take part they can bring a list of staff and the characters they are dressed as to the English office by 3.15pm on Thursday.
Staff will be reading extracts from their favourite books in assemblies and students can have a go at the Who's Reading Shelfie competition, where they try to identify which teacher is behind which book.
Click here for more information.
Key Stage 3 (KS3) Information
YEAR 7
Parents Evening - Thursday 2 March
If you have not already done so please do remember to book your appointments with your child's subject teachers for this event. Subject teachers are available from 5.00pm until 7.30pm and spaces are limited. Appointments can be made using the online booking system (PES) accessed via the school website or by clicking here. If you are experiencing problems using the booking system please do not hesitate to contact us by email to lts@cotham.bristol.sch.uk or telephone 01179198053 to speak to the Leadership Secretary who can assist you.
SUBJECT AREA NEWS
PE/SPORTS UPDATE
Please click here to view all of the results, congratulations and upcoming fixtures.
PERFORMING ARTS UPDATE
New Year 8 Drama Club
Friday lunchtimes with Mrs Mochrie, 1.15pm-2.00pm in E212. The first session will take place on Friday 3 March. Please click here for more information.
Visual Arts Update
The Visual Arts department are offering all Year 7 the chance to win a copy of illustrator Millie Marotta's latest book by drawing their own animal inspired by Millie Marotta. The closing date for entries is Friday 3 March, click here to see the poster for more info.
TECHNOLOGY UPDATE
Sainsbury's 2017 Active Kids School Vouchers
It is that time of year again when Sainsbury's hand out their Active Kids Vouchers. The FOOD Department would be very grateful if you can pass them to a member of staff in Food department.
Extra Curricular Activities
To view the timetables of extra curricular activities available to your child at Cotham please click on the links below:
CO-OP NEWS
Please click here to visit the Co-operative College website, an educational charity dedicated to the promotion of co-operative values, ideas and principles within co-operatives, communities and society.
COMMUNITY NEWS
Early Help Bulletin - February 2017
Please click here to view the latest information regarding parenting support available in East Central Bristol
What's happening in your local Library?
Please click here to view the March newsletter for the Bristol area
Author Event at Redland Library Tuesday 7 March
Please click here to see details of an author event (and Friends group AGM) at Redland Library
International Women's Day
Please click here to find out about the International Women's Day Author Event at Junction 3 Library, 8 March.