Weekly Mailing Friday 3 March 2017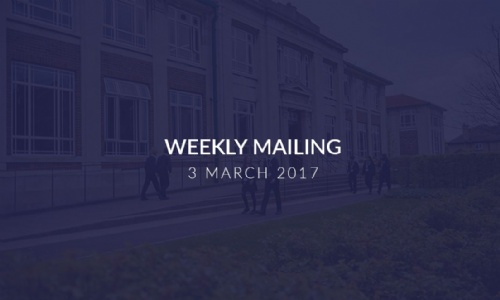 Dear Parents / Carers
Please find below my usual information, letters and updates on events that have taken place this week. Please also note the information given regarding a consultation on expansion of the school, from 8 to 9 form entry from September 2018. We would welcome your views on this proposal.
Ms Jo Butler
Headteacher
GOOD NEWS!
Macbeth
The school production of Macbeth was a huge success! The audiences for the three night run were "blown away" by the "incredibly high standard of performance, staging and direction".
One parent commented "My husband & I were extremely impressed by the school production last week; it was professional & beautifully acted, and the stage set was so creative. Our daughter loved every minute of being involved. Many thanks for having faith in her & involving her; at just 12 years old she was absolutely delighted to be acting with sixth formers."
"Thank you for all your hard work; you gave up many hours of your own time to support our children at Cotham and we appreciate it a great deal. The students are incredibly lucky to have such a wonderful Drama Department"
A huge well done to all of the cast and crew and the Performing Arts Team. Please check the mailing again next week for a full review and photos
World Book Day - Book Swap
Many thanks to all the staff and students who participated in the Book Swap in the library for World Book Day. We swapped a massive 48 books! This was the most successful Swap we've done since we started.
Please don't forget that the World Book Day Vouchers are valid in book shops until the end of March. Please can students come and speak to the Librarian if they have any questions about this scheme.
Talk to us
If you would like to tell us about any student achievements outside of school or to promote a community event etc via our weekly mailing please do not hesitate to contact us with details
SCHOOL NEWS
Next week (Week commencing Monday 6 March is a WEEK A
Cotham School Expansion Consultation
We are currently consulting on a proposal to increase the school's Planned Admission Number (PAN) from 216 to 243 students (8 to 9 Form entry) from September 2018, we are keen to get the views of all our stakeholders. The full consultation document is available on our school website here.
An Invitation to our Somali Parents
Come and join us on Tuesday 14 March 2017 at 9.30am for coffee and cake and to meet a representative from Bristol Drugs Project who will be explaining their work in the City and answer your questions. An interpreter will be available too. Click here for the invitation.
Punctuality
Students' Tutor registration time is 8.40am. Therefore any student passing through the school gate after 8.35am (allowing them 5 minutes to get to their Tutor base) will be marked as "late". We thank you for making sure students arrive to school on time.
Early Closure - Date for your diary
The school day will finish for students at 12.45pm on Thursday 6 April (the last day of term for students) to allow for essential staff training to take place.
School Uniform and Shoes
Just a reminder to parents/carers about acceptable shoes as part of the Cotham School uniform.
Footwear: Black, leather type shoes only (no trainer-type shoes, no boots, raised heel, canvas, logos or brands). No 'dolly'/ballet type shoes. Shoes must fasten securely, preferably with laces or a strap and the foot must be fully enclosed. Uniform shoes must be worn throughout the day.
Click here to view examples of unacceptable school footwear.
Please note that these examples can never be exhaustive due to the constant updates to new products by retailers. If in doubt please check with your child's Learning Coordinator before purchasing new school shoes.
INFORMATION FOR ALL YEAR GROUPS
Safeguarding Notice
Please be vigilant in ensuring that your child does not bring one of these items into school as they are making an increasing appearance in schools in Bristol, including Cotham. This toy pistol, small enough to fit in someone's palm, emits a laser and also gives someone an electric shock when they use it. This is a banned and dangerous item. Any students found to have this item in their possession will be excluded.
New Library Software
Click here to view the flyer for our new Library Management Software, Eclipse. Students should have received their login details on their school email in the first week of term. Some of the features, such as weblinks and access to the public library will be available over the coming months. If you have any problems using the new system please contact our Librarian Sarah Davies
KEY STAGE 3 (KS3) INFORMATION
YEAR 8
Year 8 Parents' Evening - Wednesday 29 March
We are aware that some parents have experienced difficulties in booking appointments with all of the subject teachers that they wanted to see due to availability. It is very difficult in some subjects to accommodate all parents, for example in ICT there are only 3 teachers for 8 classes and it would not be possible for them to see everyone. The situation is the same in any subject where there are few staff and they teach up to 5 groups or have very large sets. We are aware of this problem and we are very sorry for the inconvenience that this may cause. The SLT (Senior Leadership Team) are currently reviewing the system and looking at ways that it can be improved for future parents' evenings.
If you have been unable to book appointments for the Year 8 Parents' Evening, please can you email Miss Allender, Year 8 Learning Co-ordinator, listing the subject teachers that you would most like to hear from. Miss Allender will then liaise with teaching staff and ensure that contact is made with you by telephone or email to discuss your child's progress.
Year 8 Girls HPV first stage vaccinations - Wednesday 22 March
All girls in Year 8 have been given an information leaflet and permission form to take home, from the Community Children's Health Partnership, explaining the HPV vaccination programme taking place in school on 22 March. Please complete the form and return it to tutors by Friday 10 March at the latest.
YEAR 9
Year 9 Girls HPV second stage vaccinations - Wednesday 22 March
For those students who received first stage vaccinations in Year 8
Year 9 Meningitis vaccinations - Wednesday 29 March
All Year 9 students will be given an information leaflet and permission form in the coming week to take home regarding the meningitis vaccinations taking place in school on Wednesday 29 March. Please complete the form and return it to tutors as soon as possible and by Friday 17 March at the latest.
KEY STAGE 4 (KS4) INFORMATION
YEAR 10
Work Experience (WEX) - Atkins
This year Atkins are running two work experience weeks at its office in Aztec West, Bristol. The purpose of these weeks is to provide insight into the world of engineering and inspire the next generation of engineers.
Click here to find out more. The deadline is Friday 31 March 2017.
Maths assessments
Assessments will take place on Monday 20 March. This will be an in-class assessment. Revision lists are currently on the Year 10 page of the maths website click here to view.
YEAR 11
Year 11 students should have applied to their preferred Post-16 provider by now, but if they are still considering alternative options, it's not too late to go to open days at the following places and apply as appropriate:
South Glos & Stroud College (all sites) - Thursday 9 March, 5.30-8.00pm
BTEA (Bristol Technology & Engineering Academy) - Wednesday 15 March, 6.30pm
City of Bristol College - Advanced Engineering Centre, Parkway - Thursday 16 March, 5.00-7.30pm
Access to Music College (Hengrove) - Saturday 18 March, 11.00am or 12.00
City of Bristol College - College Green site - Thursday 23 March, 5.00-7.30pm
SUBJECT AREA NEWS
PE/SPORTS UPDATE
Please click here to view all of the results, congratulations and upcoming fixtures.
Congratulations to Abdi Hassan on a fantastic achievement of coming 29th out of 379 athletes at the English Schools Cross Country Championships at the weekend. To put this into context, Abdi only took up athletics and cross country 2 years ago and to compete at a national final and finish where he did is an amazing achievement. Abdi is taking part in the English Schools Cross-Country Championships next being held in Norwich on Saturday 18 March 2017. We wish him lots of luck!
Congratulations too to Kaylen Smith in 8TS who has been selected to compete in the South West under 13 Sports Hall Championships in Paignton on 11 March.
It would be great if parents/carers could let the school/PE department know of any students achievements outside of school please. It is sometimes only at parents' evenings that we find out what students are doing outside of school!
PERFORMING ARTS UPDATE
Bristol Old Vic - Young Directors Project
The Young Directors Project is a six-month long project in which young, up-and-coming directors work alongside students from Cotham School to devise and perform a new piece of theatre. Adapted, devised and composed by the company, this year sees the Cotham Young Directors present their latest production, Beowulf on Thursday 16 and Friday 17 March at 7pm in Cotham School Drama Studio. Doors will open at 6.45pm Click here for more info. The Performances are FREE, but spaces are limited. To reserve a seat please email: jhead@bristololdvic.org.uk Please note the show is suitable for people of 14+ years of age.
Drama Work of the Week
This weeks Drama WOW! goes to Jana Al Masri 8AF for her creative set design - Click here to view
New Year 8 Drama Club
Friday lunchtimes with Mrs Mochrie, 1.15pm-2.00pm in E212. The first session will take place on Friday 3 March. Please click here for more information.
Gamelan Performance
There will be a performance by Bath Spa's Indonesian Gamelan Orchestra and will include Javanese dancers. See more information here.
New Year 7 Samba Drumming Workshop:
Monday Lunchtimes with Miss Van der Westhuizen at 1.10 in the Recital Room (E201). Starts Monday 6 March.
VISUAL ARTS UPDATE
Tate Modern
The Visual Arts department took Year 11 students to London on Friday 24 February to visit the Tate Modern where they visited some inspiring exhibitions featuring the work of Robert Rauschenberg and Wolfgang Tillmans. Click here to see image.
Art Work of the Week
Art WOW! this week goes to Hal Butler (8JSB) with his homework collage. Click here to view.
TECHNOLOGY UPDATE
Technology Rotations: Food Technology Year 7 - 9
The Technology rotation changes on Monday 13 March Wk B. Students in Year 7 and 9 who currently have Product Design with Mr Saddler will move on to Food Technology. It is important that students are equipped with ingredients for each practical lesson and a secure container to take home their dishes. It is the student's homework to organise ingredients and weigh if possible. Click here for more information and to access ingredients lists
Sainsbury's 2017 Active Kids School Vouchers
It is that time of year again when Sainsbury's hand out their Active Kids Vouchers. The FOOD Department would be very grateful if you can pass them to a member of staff in Food department.
EXTRA CURRICULAR ACTIVITIES
To view the timetables of extra curricular activities available to your child at Cotham please click on the links below:
CAREERS NEWS
Both National Careers Week and Apprenticeship Week start on Monday 6 March. The following events are taking place:
Apprenticeship & School Leaver Programme Event
A wide range of companies and training providers will be present to tell you more about their opportunities for school leavers in finance, business, engineering, hair & beauty, hospitality, motor vehicle, local government, the Army, construction, etc.
Date: Tuesday 14 March, 4.30-6.30 pm
Venue: Brimsham Green School, Broad Lane, Yate, South Glos, BS37 7LB
Focus On Creative Industries event
Including Marketing, Journalism, Creative Writing, Music and Film Production, Games Design, Acting, Music, Costume - there will be informative talks and a lot of experts present.
Target: Years 10, 11, 12 & 13 from all schools, with a focus on options after sixth form
Date: Thurs. 23 March, 5.45-8.00pm
Venue: Churchill Academy & Sixth Form, Churchill, North Somerset BS25 5QN (15 minutes south of the Airport just off the A38)
Please register here if interested: https://www.eventbrite.co.uk/e/focus-on-creative-industries-tickets-30320845465?aff=es2
CO-OP NEWS
Please click here to view the latest newsletter from the Co-operative College
COMMUNITY NEWS
Snow Camp Opportunity
Snow-Camp is the UK's only charity using a combination of snowsports, life skills and vocational training to support inner-city young people. They are currently looking for young people (13-21) to get involved in their brand new Snow-Camp Bristol Spring First Tracks Programme, offering the opportunity for young people from across Bristol and the surrounding areas to try snowsports for the first time at Gloucester Ski and Snowboard centre. Click here to find out more.
What's happening in your local Library?
Click here to view the March newsletter for the Bristol area.
Click here to see details of an author event (and Friends group AGM) at Redland Library.
Click here to find out about the International Women's Day Author Event at Junction 3 Library, on Wednesday 8 March.