Weekly Mailing Friday 10 March 2017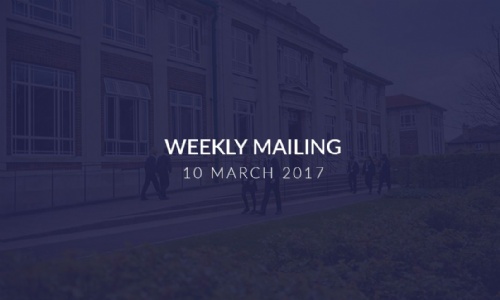 Dear Parents / Carers
Please find below my usual information, letters and updates on events that have taken place this week.
Please also note the information given in the School News section, regarding a consultation on expansion of the school, from 8 to 9 form entry from September 2018. We would welcome your views on this proposal. The deadline for this is 31 March 2017
Please can I also ask you to read the Important Safeguarding Notices in this week's mailing. At Cotham School we work hard to support you in safeguarding the health and wellbeing of your children and we will endeavour to share any and all relevant information that we receive from external agencies with staff, parents and carers and students, where appropriate. If you do have any specific concerns please do not hesitate to contact your child's Learning Co-ordinator in the first instance.
Ms Jo Butler
Headteacher
IMPORTANT - SAFEGUARDING NOTICES
Drug use
As you will be aware, illegal drug use is a concern for all parents of teenagers across the country, with Bristol being no exception. We have been working closely with colleagues from neighbouring schools, both academies and independent schools, to see how best we can support our students to make the right choices with regards drugs. Our students live varied lives outside of school and mix with young people from numerous schools, so this collaborative approach is important and allows us to share information, such as new drugs being targeted at young people, how young people are being targeted and specific young people involved. Please click here to find out more.
Musical.ly - instant music video
Parents and carers have been warned to be vigilant, after an incident of online grooming using popular music app musical.ly in a Bristol school. Musical.ly is the world's fastest growing social network around music and lifestyle. Please click here for more information
GOOD NEWS!
Macbeth
After weeks of preparation, our bleak and stripped back interpretation of Macbeth finally met its audience last week. Running from Wednesday to Friday, almost 500 people came to watch Macbeth's descent into madness and the hard work of the cast and crew was rewarded by a series of wonderful performances. Please click here for more.
World Book Day
There was a real buzz around school on World Book Day and it was lovely that so many students and staff participated. We managed to raise an excellent £243.79 for Book Aid International, a charity which supplies books to children in sub-Saharan Africa. Please click here for more.
Year 8 Council House Visit
On Monday 27 February, Mrs Kelly and Ms Allender took a group of 19 Year 8 students for a visit to the Council House, College Green to meet with Councillors and Cabinet Members, and also to meet the Mayor, Marvin Rees. Click here for more information.
New Boys in Town - CBBC
New Boys in Town is a documentary series on CBBC, following the highs and lows of children across the world, each with a unique story to tell. This week's episode feature some students from Cotham, and tells the story of Adel, who is new to Bristol after fleeing his home town in Syria three years ago. It's taken a long time to settle, but he has made lots of new friends and now helps other refugees who have made the journey to the UK.
Talk to us
If you would like to tell us about any student achievements outside of school or to promote a community event etc via our weekly mailing please do not hesitate to contact us with details
SCHOOL NEWS
Next week (Week commencing Monday 13 March) is a WEEK B
Cotham School Expansion Consultation
We are currently consulting on a proposal to increase the school's Planned Admission Number (PAN) from 216 to 243 students (8 to 9 Form entry) from September 2018, we are keen to get the views of all our stakeholders. The deadline for this is 31 March 2017. The full consultation document is available on our school website here.
Special Needs Funding - Information for Parents
Education is now facing very significant budget constraints from a range of directions, including the funding for children and young people with additional needs. Please click here to view a recent letter from Bristol City Council offering sources of further information for schools and parents.
An Invitation to our Somali Parents
Come and join us on Tuesday 14 March 2017 at 9.30am for coffee and cake and to meet a representative from Bristol Drugs Project who will be explaining their work in the City and answering your questions. An interpreter will be available too. Click here for the invitation.
Punctuality
Students' Tutor registration time is 8.40am. Therefore any student passing through the school gate after 8.35am (allowing them 5 minutes to get to their Tutor base) will be marked as "late". We thank you for making sure students arrive to school on time.
Early Closure - Date for your diary
The school day will finish for students at 12.45pm on Thursday 6 April (the last day of term for students) to allow for essential staff training to take place.
School Catering Menu and Pricing
The school operates a six week menu rotation. Please click here to view the menu and pricing for the week ahead. Next week (Week commencing Monday 13 March) is Week 6
INFORMATION FOR ALL YEAR GROUPS
Digital Literacy Competition
This competition is open to all Year groups. The Task is to create an image that demonstrates how young people can face pressure to look a certain way in the selfies they share online. The deadline for entries is Friday 7 April 2017. Please click here for more information:
The Prizes
1st Place - £15 Amazon Voucher and House Points
2nd Place - £10 Amazon Voucher and House Points
3rd Place - £5 Amazon Voucher and House Points
KEY STAGE 3 (KS3) INFORMATION
YEAR 8
Girls HPV first stage vaccinations - Wednesday 22 March
All girls in Year 8 have been given an information leaflet and permission form to take home, from the Community Children's Health Partnership, explaining the HPV vaccination programme taking place in school on 22 March. Please complete the form and return it to tutors by Friday 10 March at the latest.
YEAR 9
Girls HPV second stage vaccinations - Wednesday 22 March
For those students who received first stage vaccinations in Year 8
Meningitis vaccinations - Wednesday 29 March
All Year 9 students will be given an information leaflet and permission form in the coming week to take home regarding the meningitis vaccinations taking place in school on Wednesday 29 March. Please complete the form and return it to tutors as soon as possible and by Friday 17 March at the latest.
KEY STAGE 4 (KS4) INFORMATION
YEAR 10
Maths assessments
Assessments will take place on Monday 20 March. This will be an in-class assessment. Revision lists are currently on the Year 10 page of the maths website click here to view.
Science Mock Exams
Advance notice to all Year 10 parents: Students will sit a mock in the last week before Easter. It will cover topics 4, 5 and 6 from their Biology, Chemistry and Physics textbooks.
Please encourage students to start revising early. If you would like to purchase GCSE Science revision guides and workbooks they are for sale in the Science prep room (cash only).
Enterprise Day
On Thursday 16 March, all Year 10 students will be off-timetable for an Enterprise Day. They will be working together in teams to create ideas for a new restaurant and presenting their proposals to a panel of judges who will decide which bid to accept. As well as developing skills that are essential, along with qualifications, for getting a good job, students will learn about some of the roles people have in the working world and the importance of financial planning.
Work Experience (WEX) opportunities
St Monica Trust have Work Experience opportunities available. Please click here for more information or here for the application form.
Also Fowlers of Bristol have placements in different departments (Main Showroom, Scooters, Off Road, Workshops, Graphics and Accessories) - Places are filling up quickly so if your child is interested please ask them to speak to Mrs Arnold as soon as possible.
SUBJECT AREA NEWS
PE/SPORTS UPDATE
Please click here to view all of the results, congratulations and upcoming fixtures.
PERFORMING ARTS UPDATE
The CBBC Dance talent show 'Taking the next Step' are currently looking for solo dancers across the UK aged 9-15 to audition to perform with the cast of the hugely successful TV series, 'The Next Step'. There are many talented dancers at Cotham School so the Dance Department would urge you to take a risk and have a go! Click here for more information.
Drama Work of the Week
Drama WOW! This week goes to Jasmin Heyer (8AF) for her set design homework. Click here to view.
VISUAL ARTS UPDATE
Art Work of the Week
A big well done to all who entered the year 7 Millie Marotta drawing competition. The standard this year was very high which made judging extremely tough. The winners have been selected and will be announced next week on Monday in assembly.
Art WOW! this week goes to Huxley Leigh (7EM) with his Millie Marotta research double page spread. Click here to view.
EXTRA CURRICULAR ACTIVITIES
To view the timetables of extra curricular activities available to your child at Cotham please click on the links below:
CAREERS NEWS
This is both National Careers Week and National Apprenticeship Week - Click here to view the News section on our website for information, ideas and some amazing apprenticeship opportunities.
Badminton Opportunities Fair
You and your children aged 14+ are invited to go along on Saturday 18 March, 9.30am–12.30pm. Over 40 companies will be attending, providing an excellent opportunity for students to explore their options in terms of universities, studying abroad, gap years, summer and taster courses and employers and there will be several useful talks during the morning. If you would like to go, please email aproudman@badmintonschool.co.uk giving your name and school.
Wessex Water
Wessex Water offer a great range of apprenticeships ranging from office based to technical and engineering.
They are currently advertising and accepting applications for 2017 apprenticeships via their website. Applications close on 31/03/17. Click here for more information.
Bristol City Council
BCC have 20 vacancies available in a wide variety of areas within the Council. An Apprenticeship involves a combination of on-the-job training and studying towards a recognised qualification. Please click here for more information for more information.
CO-OP NEWS
Please click here to view the latest newsletter from the Co-operative College
COMMUNITY NEWS
The Adventure Learning Foundation (ALF)
Please click here to find out about the exciting programme of adventure days on offer to young people during the Easter Holidays.
St Andrews Bowling Club Taster Days
As the new Outdoor season starts, in April St Andrews Bowling Club are running Free Open Taster Days
advertising taster days.
The club has two, level two coaches (EBCS) and are looking to run a number of sessions over the summer for juniors to take part, in turn to form a new junior section within the club with parents participation.
Click here for more information.
RECENT LETTERS HOME
| Topic (week ending 10/03/2017) | For the attention of: |
| --- | --- |
| | All Year 10 |
All files are in PDF format. You need Adobe Reader to open these files.
You can download Adobe Reader for free fromadobe.com/reader