Weekly Mailing Friday 23 September 2016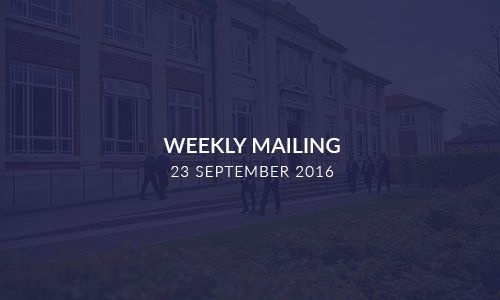 Dear Parents / Carers
I am pleased to update you on events that have taken place this week and to let you know about some of those that will take place in the near future. Please also find below additional information related to the life of the school and a link to letters that have been sent home in the last week.
Ms Jo Butler
Headteacher
IMPORTANT INFORMATION
Multi-Academy Trust (MAT) Consultation
Cotham School is proposing a major change to our governance model. For full details of the consultation, including frequently asked questions, please click here. An update from our Chair of Governors of Cotham's Multi Academy Trust developments since our original consultation in 2015, including details about the Prima Learning Trust can be found here
As part of the consultation process for this, we would value any feedback and welcome your views as stakeholders of the school. Please click here to access our online consultation form and have your say.
There will be also be a public meeting on Monday 3rd October 2016 at 6pm to answer any further questions that stakeholders may have. We do hope that you are able to attend.
Arabic
إذا لم تكن الإنجليزية لغتك الأولى وكنت في حاجة الى ترجمة يمكننا أن تحصل على واحد بالنسبة لك
---
Attendance and Punctuality
We would like to remind you of how important attendance and punctuality to school are. We expect all students in school at 8.30am and ready for registration at 8.40am. We expect attendance to be high as the prestigious triple A award is only given to the students whose achievement , attitude and attendance are exceptional. Students can participate in trips and other activities only if their attendance is in line with the school average (96% this year).
---
Open Evening 2016
On Wednesday 21 September we hosted our annual Open Evening - a chance for prospective students, parents and carers to come and visit the school. The evening was a great success, with the assembly hall packed with families to hear a welcome presentation and some fabulous insights into school life at Cotham from four of our new Year 7 students (Kris Henry 7GC, Freddie Bass 7GC, Ramla Said 7GM and Sarah Abourgebah 7GM) who captivated the audience with their eloquent and entertaining stories of their experiences so far. Visitors were also treated to some fabulous performances from some of our very talented Music students (Sean Spicer 10CB, Fenn Elliot 9EP, Christabel Robinson 12SH, Fran Funnell 8JSB and Aineias Arango 9EP)
Visitors were treated to a wonderful array of experiences from our school community, from stimulating science experiments to maths and skills puzzles and challenges. There were beautiful displays of student work throughout the site as well as an opportunity to see our amazing 3D printer in action! Pizza and Profiteroles were on the menu in Catering and visitors were entertained in the Performing Arts department by an open door into the rehearsals taking place in our Drama and Dance Studios and so much more took place across the school. The feedback from guests was so positive, with many commenting on the students' and staff's enthusiasm for the school. Sincere thanks to everyone who made the event such a success.
Click here to view some photos of the event
---
Open Morning Dates
Our Open Mornings will now take place on: Wed. 28 Sept, Fri. 30 Sept., Thurs. 6 Oct., Tues. 11 Oct. and Weds 19 Oct. These events offer our visitors an opportunity to see the school in action on a normal working day. Places are limited and filling fast, so to avoid disappointment please do contact the school to reserve your place asap by clicking here to email including the following information:
Child name
Current school
School Year to enter
Contact number
Email address
Alternatively, you can telephone the school reception on 0117 9198000 to book your place over the phone. Please note that at this late stage there are currently only spaces available for the 11/19 October events.
---
Headteacher Welcome and Skills Evening for Year 7 Parents and Carers
Thank you to those parents and carers who have contacted Miss McDonagh regarding the upcoming Headteacher Welcome and Skills evening being held on 26 September 2016. If you have already emailed to request places for the workshops, please be assured that your request has been duly noted. As well as welcoming you to our school community the aim of the evening is for us to share with you what we are doing to help develop and nurture your child's literacy, numeracy and soft skills. If you would like to attend please email McDonaghK@Cotham.bristol.sch.uk
---
Edventure Plus Bristol - Bordeaux Exchange
We have had communication from Debbie Richards director at Edventure Plus that the 2016-2017 Bristol-Bordeaux exchange cycle will no longer be going ahead as planned. They have offered their sincere apologies for this.
---
School Meals
We are committed to providing students with healthy food in school at our Breakfast, Break and Lunch services. We are currently reviewing our menus to ensure we are compliant with the Government's standards for School lunches (Click here for more information). The menus will be published on our website and included in a weekly mailing very soon.
---
European Languages Day
European Languages Day is on Monday 26 September. The school canteen will have a special menu for the day. Please click here to view the menu
---
Is your child eligible for Free School Meals/the Pupil Premium?
All children of parents in receipt of certain benefits are entitled to the extra funding provided by the Pupil Premium. It aims to help children from low income families get the best start in life and can help with the cost of school trips and additional support for learning. This funding is also a valued source of income for the school.
Not all parents and carers of eligible children know that they need to sign up for free school meals to access this funding. To find out if your child is eligible to this additional support please click here
---
Respect Project
Towards the end of the last academic year, we launched our Respect Project, building a whole school approach to healthy relationships and gender equality. As part of this work, a group of volunteers (now in Years 11 and 13) have been fully trained, with support from Survive and Women's Aid, as ambassadors for the project and will represent and promote a zero tolerance approach to sexual bullying and violence.
Later this term, they will be running lunchtime drop in sessions for students to come and discuss their thoughts and feelings around the issue, as well as accessing support if they have any related concerns for themselves or a friend / family member. Ambassadors have been issued with a comprehensive handbook to support this work, collated by a former student of the North Bristol Post 16 Centre.
The school's adopted statement for this project is: The students and staff of Cotham School take a ZERO TOLERANCE approach to gender-based violence and sexual discrimination in any form. Together, we stand up for the right to a safe and unprejudiced experience both inside and outside of school. Where there is assault, abuse and/or discrimination on the basis of gender, we are united in agreement that the victim is never at fault. All people, regardless of their gender, age, sexuality, race or religion, are entitled to RESPECT.
This project makes up part of the school's work towards the Bristol Ideal. We are awaiting confirmation of this award.
---
PE Update
Extra-curricular clubs have now started. Clubs are open to all students regardless of their ability or previous experience and it is a great opportunity for students to develop their interests, social skills and practical skills in a variety of sports. Clubs run from 3:15pm-4:15pm. Click here to view the full list of PE extra curricular activities that your child can take advantage of at Cotham School. For further information about any specific activity please do encourage your child to speak to the staff member involved to find out more.
Bristol Spartan Dodgeball Club run a junior session every Tuesday evening 5:30pm - 6:30pm at Cotham School. All students can attend for free if they bring their Cotham ID with them to the session.
---
Student Achievements outside of School
Well done to Kai Sudbury (7ID)who passed his grading and is now a green belt in Kung fu.
It would be great if parents/carers could let the school/PE department know of any students achievements outside of school please. It is sometimes only at subject evenings that we find out what students are doing outside of school. Please either send us an email by clicking here or if you're following the PE department on Twitter, you can tweet us @cothampe
---
Performing Arts Update
Cue Bristol - Monday 3rd October
Cue Bristol is a lively, friendly drama company based out of the drama department, open to all pupils from any Bristol secondary school from Year 7 to Year 11. Our weekly sessions run in term-times, the first session is scheduled for Monday 3rd October from 5.45pm-7.15pm (year 7 and 8); and from 7.30-9pm (year 9 to 11). Our directors are professionals with a wide range of experience in teaching and in the theatre. Please see below for a link to the Cue Bristol letter to parents for more information on fees etc.
Pulse Auditions - Monday 3rd October
Pulse is a dance company for young people based out of the dance studio in the Performing Arts department, open to pupils from years 5 to 8. Weekly rehearsals run during term time on Monday evenings from 4 - 5.30pm. Auditions for Pulse are on Monday 3rd October at 4.00pm. Further information will be given out at that point regarding the start date and rehearsal schedule for the year. Pulse will run subject to recruitment.
Performing Arts Extra-curricular
The extra-curricular programme for Performing Arts is now up and running! There are a range of exciting opportunities in dance, drama and music for pupils to take-up and develop skills, take part in performances and make new friends. Groups run during lunchtimes and afterschool. If pupils have any questions all they need to do is speak with their dance, drama or music teacher to find out more. It's never too late to start!
Click here for the full list of activities available in Performing Arts
CPAN - Cotham Performing Arts Network
We are very proud of the range and variety of extracurricular activities that we offer at Cotham School, as well as the excellent standard of the performance opportunities we provide for your children to showcase their skills and talents.
One of the things that has made these evenings so special in the past has been the support of Cotham Performing Arts Network (CPAN), our parent support group for the Performing Arts. They do an amazing job providing refreshments at all our events. This has been a significant fundraiser for Performing Arts and also added greatly to the events, making them so much more sociable and enjoyable for the audiences.
Funds raised by CPAN in the past have bought a number of CD players and Camcorders as well as contributing towards Stage Lighting and Music Technology equipment for the school. If you are interested in supporting at Performing Arts events then please get in touch with CPAN via the email address below: CPAN@cotham.bristol.sch.uk. Thank you and we look forward to your support!
---
Visual Arts Update
This week we took Year 12 fine art, textiles and photography students to Bristol docks to explore the area. They were all given photography and drawing challenges to support their work in class. Click here for image
Click here to view this week's 'Artwork of the Week' which goes to Oliver Kirkham (8AWS) for his excellent observational shoe drawing.
---
Modern Foreign Languages (MfL)
Vocab Express
The MFL department at Cotham School have invested in a software package to revolutionise vocabulary learning for our students in Years 7 - 11. Vocab Express is dynamic, mobile, simple, intelligent and competitive.
To take advantage of this fantastic tool for learning, students should log on using their normal network username and the password is: Password1. Click here to log in and start learning!
---
Severnside Rail Passes
The Severnside Community Rail Partnership was formed in 2004 to work with local communities, local authorities and the rail industry to improve local stations and train services. As part of their provision they are able to offer negotiated rates on some journeys to and from School for eligible students. To find out if your child is eligible please click here for further information. The partnership also works with local schools encouraging them to sponsor displays of pupils' artwork at their local station. Cotham School has done some work on this project in recent months.
Severnside are also involved in the 'Days Out by Train' project. Days Out by Train in the West of England aims to remove financial barriers to rail use for low-income, disadvantaged communities living in the West of England area: Bristol, Bath & North East Somerset, North Somerset and South Gloucestershire. To achieve this, the project will provide FREE RAIL TRAVEL for groups of people from disadvantaged communities wishing to spend a day out in a variety of destinations in the West of England area. To find out more please click here
---
Car Parking in Cotham Lawn Road
If you pick up your child on Cotham Lawn Road, can we please ask you to park considerately. We have had complaints from local residents to say that cars are parking across driveways Please observe the zig zag lines outside our Student Entrance/Exit and double yellow lines.. It is not only dangerous for motorists to park in this area but can restrict the view of children crossing the road and of motorists driving down the road. Thank you in advance for your understanding.
---
Cycling to school
Whilst we are very supportive of students cycling to school, staff have become concerned at the number of our students who do not wear helmets. We also have concerns about students attempting to give their friends a ride on the back of their bikes on their way home. Of course, at the school gate staff can talk to students about the danger of this on busy roads and ensure the activity stops. However, we are concerned at the number of phone calls the school receives about our students riding recklessly, often downhill and at speed during their journeys home.
Bearing these concerns in mind, if your child cycles to school we would be grateful if you also speak to them about cycling safety. We would like to refer you to this recent Guardian article which references a recent worldwide study which has shown that wearing a helmet can reduce the risk of a serious head injury by nearly 70%. Please click here to view
---
Bristol Family Cycling Centre
The Hengrove centre has launched its autumn programme of sessions for children and adults. The centre has a range of traffic-free paths and tracks to allow children and adults to perfect their cycling skills safely. For more information please click here and here
---
Recent Letters Home:
| | |
| --- | --- |
| Topic (week ending 23/09/2016) | For the attention of: |
| | Year 7 students |
| | Year 8 students |
| | All Students |
All files are in PDF format. You need Adobe Reader to open these files. You can download Adobe Reader for free from adobe.com/reader