Weekly Mailing Friday 17 March 2017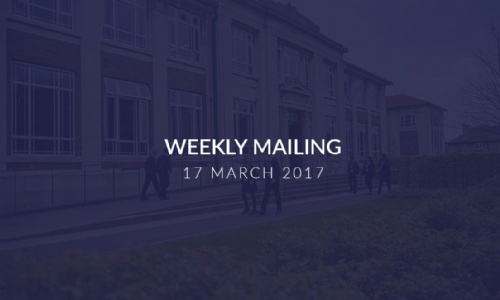 Please find below my usual information, letters and updates on events that have taken place this week.
Ms Jo Butler
Headteacher
GOOD NEWS!
Volunteer work
Well done to Gabriel Evans, Huxley Leigh and Ezra Penny (Year 7) who have been volunteering at Sefton Park Primary school every Thursday for most of this academic year supporting children in the Coding Club. Your efforts have been much appreciated by the school and children that you have been working with.
Student fundraising for Marathon run
Barney Johnson (Year 13) has secured a place in this year's London Marathon which takes place on Sunday 23 April. Barney will be running to raise money for the charity 500 Miles, which supports the delivery and development of prosthetic limbs in underdeveloped countries; making a huge difference to people's quality of life where it is needed most. If you would like to support Barney's fundraising efforts please please click here to access his fundraising page.
Congratulations
To Tom Edwardes and Dan Hodges (Year 11) who have both been offered places on the full-time Professional Acting Course at Boomsatsuma following success in the competitive auditions.
African and Caribbean Academic Mentors
22 university students from the University of Bristol's African and Caribbean Student Society created a buzz of excitement and intrigue when they visited Cotham School this week for the final part of the training they have been receiving in preparation for them to work 1:1 with some of the school's students as volunteer academic mentors. This joint university and school venture aims to provide inspirational role models for the diverse community at Cotham School and engage younger students in thinking about their future choices. Click here to view image.
National Autistic Society AGM
Cotham hosted the AGM for the Bristol branch of the National Autistic Society on the evening of Wednesday 15 March. Click here to find out more. Cotham School looks forward to continuing our collaboration with the NAS in continuing our commitment to being a fully inclusive school.
Enterprise Day - Thursday 16 March
Year 10 students worked together in teams on an Enterprise Day to create ideas for a new restaurant. Their skills in project management, financial planning, marketing and menu planning were put to the test and they rose to the challenge. In the afternoon, the winning proposal from each tutor group was presented to a panel of judges, including businesswoman Jackie Matthews, who gave positive feedback and especially praised the creativity and teamwork she had observed throughout the day. The overall winners were Kayan Patel, Ella Bragonier, Mathilda Edmunds and Peter Stables for their viable Japanese themed restaurant Oishi Sushi - healthy food on the go! with its calming aquarium and authentic cuisine.
BBC School Report
Nine of our year 8 students became reporters for the day on Thursday 16 March. Click here to find out more.
Sporthall Athletics
Congratulations to Kaylen Smith and Tyie Thomas-Smith (U/13) and Keni Wilks and Nyheam Kefenste (U/15) who were part of the Avon boys Sportshall Athletics teams that won the South West Competition last weekend. They will now go onto compete in Manchester at the UK Championships after Easter. We wish them all the best for the finals.
Talk to us
If you would like to tell us about any student achievements outside of school or to promote a community event etc via our weekly mailing please do not hesitate to contact us with details
SAFEGUARDING NOTICES
Drugs Information Evening - Tuesday 4 April
We will be hosting a parent information evening on Tuesday 4 April 6-7pm in the Main Hall at Cotham School on the topic of drugs, with support from Bristol Drugs Project (BDP) and the Developing Health and Independence (DHI) organisations. The session will cover information about the most common drugs in use amongst young people today, the signs and symptoms to look out for, and how you can access support for your children and your whole family if someone is affected by drug use.
Anaphylaxis Support Group - Wednesday 26 April
Anaphylaxis Campaign has set up a group to give support and information for adults with severe allergies or parents of children with severe allergies. The next meeting is on 26 April and the guest speaker will be Dr Unsworth, Consultant in Immunology and Allergy at SouthMead Hospital. We have been asked to promote this event to our school community. Places are free but limited, and so must be reserved in advance. To book or for more information click here.
Vaccinations in Bristol Schools
​Recent data published by Public Health England shows Bristol to have some of the poorest uptake for school aged immunisations in the country. ​The two vaccines currently delivered to all secondary schools in Bristol are the Human Papillomavirus (HPV) vaccine, which protects girls against cervical cancer, and Meningococcal ACWY, which was introduced in 2015 to respond to the national increase of cases of Meningitis W disease, which particularly affects young people. Both these vaccines are highly effective and will protect ​young people for many years. Click here for sources of further information.
SCHOOL NEWS
Next week (Week commencing Monday 20 March) is a WEEK A
Cotham School Expansion Consultation
We are currently consulting on a proposal to increase the school's Planned Admission Number (PAN) from 216 to 243 students (8 to 9 Form entry) from September 2018, we are keen to get the views of all our stakeholders. The deadline for this is 31 March 2017. The full consultation document is available on our school website.
One World Celebration Day
At our last Cultural Diversity meeting it was decided that we would organise a 'One World Celebration Day' to take place in the summer term. The aim of this event will be to celebrate our school diversity and to foster greater collaboration between all the different communities. This will be a fantastic opportunity for parents, teachers, governors and the community to come together. There will be a planning meeting for this event on Thursday 6 April at 6-7pm in Cotham School Library. Refreshments will be provided. Please confirm your attendance and/or express an interest in getting involved by email to: kellym@cotham.bristol.sch.uk
INFORMATION FOR ALL YEAR GROUPS
Non-Uniform Day - Friday 24 March
On Friday 24 March, there will be a whole school non-uniform day in support of famine relief in South Sudan, Somalia, Ethiopia and Kenya. This is a cause our students feel very strongly about. Students who wish to participate should bring a minimum donation of £1 (they are of course welcome to bring more!). We hope all students will be able to get involved in this fundraising, whether by making a donation or by helping to organise activities. We will circulate more information to students themselves next week about the programme of events taking place in the week commencing Monday 27 March
Punctuality
Students' Tutor registration time is 8.40am. Therefore any student passing through the school gate after 8.35am (allowing them 5 minutes to get to their Tutor base) will be marked as "late". We thank you for making sure students arrive to school on time.
Early Closure - Date for your diary
The school day will finish for students at 12.45pm on Thursday 6 April (the last day of term for students) to allow for essential staff training to take place.
School Catering Menu and Pricing
The school operates a six week menu rotation. Please click here to view the menu and pricing for the week ahead. Next week (Week commencing Monday 20 March) is Week 1
KEY STAGE 3 (KS3) INFORMATION
Year 7 - 9 Maths assessments
Assessments are in class and an hour long (see dates below, by year group). Students will need to bring all the usual maths equipment including a calculator. Detailed revision lists are provided on the Maths department website.
We would encourage students to work through the revision list alongside their textbook to help support their revision. In addition, we provide extra support through the Maths Homework Club after school every Monday and Wednesday in A209. Students are encouraged to bring revision along and are able to gain help on difficult topics.
YEAR 7
Maths assessments
German side of year group - Monday 3 April
French side of year group - Wednesday 5 April
Parents Evening - Thursday 2 March
Thank you to the 87%! of Year 7 parents and carers who were able to attend this event, a valuable opportunity for our subject staff to meet parents and carers to discuss progress in Year 7.
YEAR 8
Maths assessments
French and German side of the year group - 5 April
YEAR 9
Maths assessments
Will be the last lesson in the first week back after Easter. Teachers will inform them the date of their test.
Year 9 Subject Exams
Exams will take place during the weeks commencing 3 April and 24 April. Please click here to view the content of the exams to assist students in focusing their revision.
KEY STAGE 4 (KS4) INFORMATION
YEAR 10
All of Year 10 will have their maths test during their maths lessons on Monday 20 March. The test is non-calculator and will last for the entire lesson. Revision lists are still available on the Cotham School maths website. MyMaths and Kerboodle are both great resources to help with revision.
KEY STAGE 5 (KS5) INFORMATION
YEAR 13
Please click here to view a short video that our staff and students have made about our hugely successful Spanish Exchange Programme
SUBJECT AREA NEWS
PE/SPORTS UPDATE
Please click here to view all of the results, congratulations and upcoming fixtures.
PERFORMING ARTS UPDATE
Spring Concert - Thursday 30 March 2017
As the memory of Macbeth fades, time moves towards the next exciting offering from the Performing Arts Department. The Spring Concert takes place on Thursday 30 March in the Main Hall. A veritable smorgasbord of musical styles will be on offer from orchestral through Modern Pop and Jazz to Steel Pans. So please come and support our hard working and creative students. Refreshments will be available. Doors are open at 6.30pm and the performance begins at 7pm. Tickets are available now on WisePay at £4 for Adults and £2 for concessions. Click here to book your tickets now!
Drama Work of the Week
Drama WOW! This week goes to Arran Kinnear in 7GM for his costume design homework. Arran created this costume for the character Nanna from the play Shadow of a Boy. Click here to view.
VISUAL ARTS UPDATE
We regularly share work from the department on our Instagram page. Click here to view and add us to your favourites!
Art Work of the Week
Art WOW! this week goes to Alice Wells (12LW) with some photographic experiments. Click here to view.
Millie Marotta competition
The winners are Holly Puttick and Madeleine Spilling (7GC) with their collaborative illustration of snakes. Millie Marotta was very impressed with the standard this year and would like to congratulate all students for their efforts. Click here to view the artwork.
EXTRA CURRICULAR ACTIVITIES
To view the timetables of extra curricular activities available to your child at Cotham please click on the links below:
COMMUNITY NEWS
English Conversation Club
Do you need more English conversation practice? Do you want to feel more confident when speaking in English? Do you know someone who might benefit from practising their English? Or are you someone who speaks fluent English and could help by volunteering? Click here to find out more
Exciting Free Easter Holiday Workshops
The Creative College (Access to Music)have 3 creative workshops taking place during the easter holidays, they are completely free and suitable for those aged 14 and up. Click here to find out more
This is Classical Bristol
Click here to view the latest issue of Classical Bristol, your one-stop e-newsletter for all things classic at Colston Hall, The Lantern and St George's Bristol
Bristol Plays Music - March ENews
Click here to view the latest issue of the Bristol Plays Music Newsletter for upcoming Music events and dates for your diary.
Clifton Amateur Dramatics Society
This year - all is fair in love and war in Clifton Village. From star-crossed lovers to dastardly kings, the show will include some of the most-loved Shakespearian scenes of romance, tragedy, and history from the likes of Much Ado About Nothing, Romeo and Juliet, Richard III and Henry V.
There will be three shows a day on both the 22 and 23 of April: 1pm, 3pm and 5pm. Meeting at The Fringe 32 Princess Victoria Street, Clifton Village, Bristol BS8 4BZ. With the performance starting half an hour later outside Clifton Library. Tickets are available in person from Clifton Library or click here to visit the website.