Weekly Mailing Friday 24 March 2017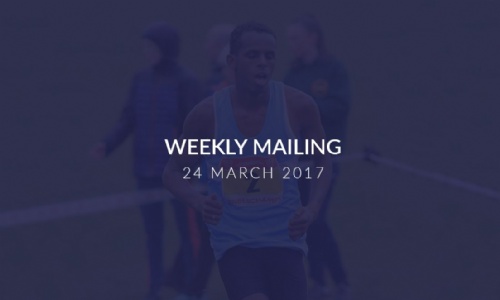 Dear Parents / Carers
Please find below my usual information, letters and updates on events that have taken place this week.
Ms Jo Butler
Headteacher
GOOD NEWS!
English Schools Cross Country Championships
Huge Congratulations to Abdifataah Hasan Year 10 (photo above) who competed at the English Schools Cross Country Championships last weekend at Norwich. Abdi finished 12th out of 300+ athletes in the Intermediate Boys (Year 10 and 11) competition. A top 10 finish would have been Abdi selected for the national team so to finish 12th is a fantastic achievement and we are very proud of Abdi. Click here to see further photos.
Fundraising Success
Congratulations to all of our students who entered the dodgeball competitions last week and contributed to the British Heart Foundation. We managed to raise £78 and have a lot of fun in the process. Thank you to everyone who got involved.
Inspirational Marathon Runner Ben Smith visits Cotham
This week Delta house were very lucky to have the marathon runner, Ben Smith, as a guest speaker in house assembly. He shared with our students his amazing story of how he turned his life around. Click here to read a report from Delta House Captain Emily Galliford (Year 11).
Talk to us
If you would like to tell us about any student achievements outside of school or to promote a community event etc via our weekly mailing please do not hesitate to contact us with details
Bristol Schools Bouldering Competition
The final round of the Bristol Schools Bouldering Competition was a highly competitive and energetic round. With around 20 schools and 170 individuals over the four rounds, the competition was high. Click here for more information. Well done to all involved.
Rucksack Club Dartmoor Expedition
Last weekend the Cotham Rucksack Club undertook a wet and windy weekend on Dartmoor for the final part of Ten Tors training. Click here for more information.
Duke of Edinburgh Award
Under the excellent leadership of Ms Coney, our students have the opportunity to take part in the Duke of Edinburgh Award Scheme and work through the various awards with many of them achieving a Gold. The school has been awarded a Licence until 2020 to continue to work with our students to give them this fantastic opportunity. Our thanks to Ms Coney for managing this in school. Click here to see the beautiful award.
SAFEGUARDING NOTICES
London Terrorist Attacks
The tragic events in Westminster on Wednesday, will be no doubt be at the forefront of everybody's minds this week. We at Cotham School are aware of our role in supporting our young people in making some sort of sense of this event and looking at the ways in which we can to help them further their understanding of the world and of the issues, challenges and struggles within it. In supporting our school community at this time we would like to direct you to a useful resource that can be used to help discussions both at school and at home. Please click here to view.
Drugs Information Evening - Tuesday 4 April
We will be hosting a parent information evening on Tuesday 4 April 6-7pm in the Main Hall at Cotham School on the topic of drugs, with support from Bristol Drugs Project (BDP) and the Developing Health and Independence (DHI) organisations. The session will cover information about the most common drugs in use amongst young people today, the signs and symptoms to look out for, and how you can access support for your children and your whole family if someone is affected by drug use.
Anaphylaxis Support Group - Wednesday 26 April
Anaphylaxis Campaign has set up a group to give support and information for adults with severe allergies or parents of children with severe allergies. The next meeting is on 26 April and the guest speaker will be Dr Unsworth, Consultant in Immunology and Allergy at SouthMead Hospital. We have been asked to promote this event to our school community. Places are free but limited, and so must be reserved in advance. To book or for more information click here.
SCHOOL NEWS
Next week (Week commencing Monday 27 March) is a WEEK B
Cotham School Expansion Consultation
We are currently consulting on a proposal to increase the school's Planned Admission Number (PAN) from 216 to 243 students (8 to 9 Form entry) from September 2018, we are keen to get the views of all our stakeholders. The deadline for this is 31 March 2017. The full consultation document is available on our school website here.
INFORMATION FOR ALL YEARS GROUPS
Every term we run a Scholastic Book Club to earn free books for our school. The Book Club leaflets are available from the library and students can choose from the latest exciting selection of books. For every £1 spent on this term's Book Club, our school will earn 20p in Scholastic Rewards.
Please place this term's orders by Friday 28 April. Orders can be placed by filling in the order form on the back of the leaflet or to order online click here. If you have any questions about ordering with Scholastic please contact our librarian, Miss Davies.
School Catering Menu and Pricing
The school operates a six week menu rotation. Please click here to view the menu and pricing for the week ahead. Next week (Week commencing Monday 27 March) is Week 2
Junk Food ban
We have become increasingly concerned about students bringing 'junk' food and drinks into school. The cheapness of large 'family size' bags of crisps, sweets and bars/ 4 packs of chocolate and large bottles/ cartons of sugary and fizzy drinks has led to an increase in such items being brought into school. The impact on children's long term health is considerable. In addition the additional litter being created is phenomenal and represents a huge burden on our site team.
The bringing in and consumption of such items is to be completely banned at Cotham and we will be speaking to students about this over the next few weeks to complement the education work on healthy choices and care of the school environment already done as part of the curriculum.
To help students adapt, leading up to the Spring break, students who bring these items to school can expect staff to confiscate and keep them in the attendance office until the end of the day. From Term 5 they will be routinely disposed of.
In order to help your children please provide a packed lunch or pre- pay their cards via WISEpay and please don't give them cash! All junk food is bought on the way to or from school in large supermarkets or corner shops.
KEY STAGE 3 (KS3) INFORMATION
YEAR 7
Maths assessments
German side of year group - Monday 3 April
French side of year group - Wednesday 5 April
YEAR 8
Maths assessments
French and German side of the year group - 5 April
Monitoring Reports
Year 8 reports have been distributed to students this week to bring home.
YEAR 9
Maths assessments
Will be the last lesson in the first week back after Easter. Teachers will inform them the date of their test.
Year 9 Subject Exams
Exams will take place during the weeks commencing 3 April and 24 April. Please click here to view the content of the exams to assist students in focusing their revision.
Year 9 Meningitis Immunisations on Wednesday 29 March
If you have not already done so please return the consent form as soon as possible, we need to know your wishes even if you do not want your child to receive the immunisation.
KEY STAGE 5 (KS5) INFORMATION
Click here to see our Post-16 Centre destinations and celebration of students' successes.
SUBJECT AREA NEWS
FOOD TECHNOLOGY UPDATE
Food
We would welcome any donations to the department of celebrations style sweet tins the plastic ones are ideal as we can stack these. If students are able to bring these in they can be taken to the Food rooms.
Ramekin dishes or the 'Gu' pudding dishes are also used in the department if you have any of these please drop to reception and we will collect.
Competition
The following competition is open to all students, the competition is run by the Guild of Food Writers and asks students to whip up their best 500 (age 11-14) or 750 (15-18) words on 'The Perfect Food Partnership'. Perfect food partnerships could include lamb and mint sauce, sausage and mash, avocado and poached egg, maple syrup with pancakes and bacon, carrot sticks and hummus, apples and cheese, pork and apple, strawberries and cream. Students should describe the sensory properties and also consider the occasions when the food is eaten. The competition closes on the 30 April but if students are interested please could they hand in any entries to the department by the end of term.
Further details can be found here https://www.pinkladyapples.co.uk/competitions/the-guild-of-food-writers-write-it
Year 12 Food Science and Nutrition
Year 12 Food students have just completed the practical element of this course. The brief asked them to produce a meal suitable to be served at a Spa which also needed to include nutritious and seasonal ingredients. Students prepared dishes such as rabbit ragu with pappardelle, Beef Wellington, scallops served with samphire and another Scallop dish served with cauliflower puree and bacon and homemade chicken kiev. to gain the highest mark bands students are expected to prepare their fresh fish and portion their chosen meat.
Click here to see photos of the wonderful mouthwatering dishes.
Year 10 GCSE Food Preparation and Nutrition.
Students have a test on Friday 31 March on Milk, Cheese and Yogurt. Details and a revision list are on Google classroom.
As part of this we have been studying at milk production and the secondary processing of milk into cheese. Students have been looking at how cheese is made and categorised and this included a very popular cheese tasting lesson. We would like to thank the Co-op at Kingsdown and the manager Sam Warren for their support in providing cheese for tasting and fruit for a Year 9 lesson.
Click here to view photos of the cheese tasting pictures and cheesecake!

PE/SPORTS UPDATE
Please click here to view all of the results, congratulations and upcoming fixtures.
PERFORMING ARTS UPDATE
Spring Concert - Thursday 30 March 2017
The Spring Concert takes place on Thursday 30 March in the Main Hall. A wide selection of musical styles will be on offer from orchestral through Modern Pop and Jazz to Steel Pans. So please come and support our hard working and creative students. Refreshments will be available. Doors are open at 6.30pm and the performance begins at 7pm. Tickets are available now on WisePay at £4 for Adults and £2 for concessions. Click here to book your tickets now!
Cue Bristol Welcomes "Drama Queen" to Cotham
On the evening of Monday 27 March, Drama Queen Theatre Company will be performing "Hammered" here at Cotham. This is a one-woman show performed by actor Kate Morris. Kate writes and performs her own work on issues relevant to today's young people. She has visited Cotham before with her show about body image. Mondays performance of "Hammered" explores the issue of underage drinking.
This performance has been arranged by Cue Bristol Youth Theatre group who meet at Cotham every Monday evening. However, you do not have to be a member of Cur to attend.
If you would like to watch "Hammered" on Monday, please arrive at the Performing Arts foyer at 6.15pm with £3 in cash to pay for your ticket. Cue members are also able to pay in advance on WISEPAY if preferred.
Visual Arts Update
GCSE Art, Photography and Textiles students are in the final weeks of their exam project which ends with a 10-hour exam during the week of 2 May. This will be the end of their GCSE. There are only three weeks of time in school before the exams and these two weeks before Easter are critical for completing preparatory work. Students should attend a minimum of one catch up a week, they can talk to any teacher in the department - rooms are open and advice is available every day from 3.05pm to 4.30pm.
We've been really impressed with the work being produced by Year 10 Visual Arts students this term. Love of the subject and a great working atmosphere across the department has resulted in some beautiful creations.
This week we have four Year 10 Fine Art students for artwork of the week with some sketchbook work for their Text and Image project. Click here to view their work.
From top left clockwise:
Ella Burgess (10CB)
Amber Davis (10JPG)
Laszlo Brennan (10RBI)
Saul Bhaidani (10RA)
We regularly share work from the department on our Instagram page. Click here to view and add us to your favourites!
EXTRA CURRICULAR ACTIVITIES
To view the timetables of extra curricular activities available to your child at Cotham please click on the links below:
Sports/PE
Performing Arts
All Subjects
CO-OP NEWS
Please click here to view the latest newsletter from the Co-operative College
COMMUNITY NEWS
Young Bristol (YB)
YB is a Youth-Driven Charity that works to offer a choice of opportunities and experiences for all young people. They offer over 25+ Youth Clubs across Bristol, Workshops to learn essential new skills to help career development and a wide range of fun and engaging outdoor activities. Click here for more information.
Child Contact Centres
Children's Contact Services offer assistance to families during the difficult process of separation/divorce to support positive contact between the child and any non-resident family members. They offer a free information /advice service. Click here to visit their website for more information
All files are in PDF format. You need Adobe Reader to open these files. You can download Adobe Reader for free from adobe.com/reader